Introducing Minnie – Our Enclosed Trailer Camper Conversion
This post may contain affiliate links, please see our policy for details.
Introducing Minnie…she's our enclosed trailer camper conversion that we will be working on.
The day is here! I'm finally ready to share our next big project.
You know, the one I've been teasing you with the last few months?
Here she is… introducing "Minnie".
She's our soon to be tiny home away from home enclosed cargo trailer.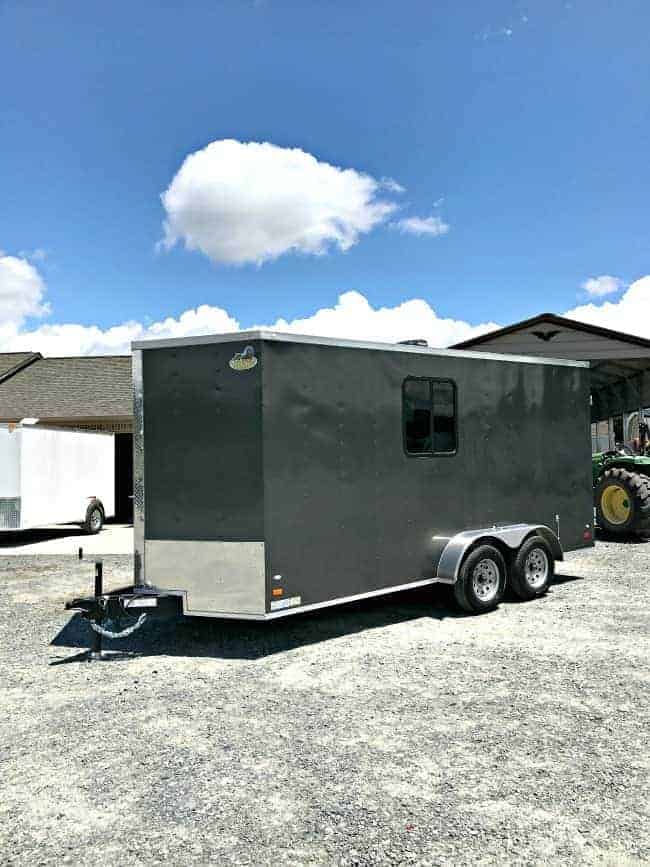 Yes, it's an empty enclosed landscape trailer, with an unattractive temporary stick protector over it, but soon enough it will be ready for the road.
I'll explain a bit about how it came to be but I also did a little video tour so make sure you check it out.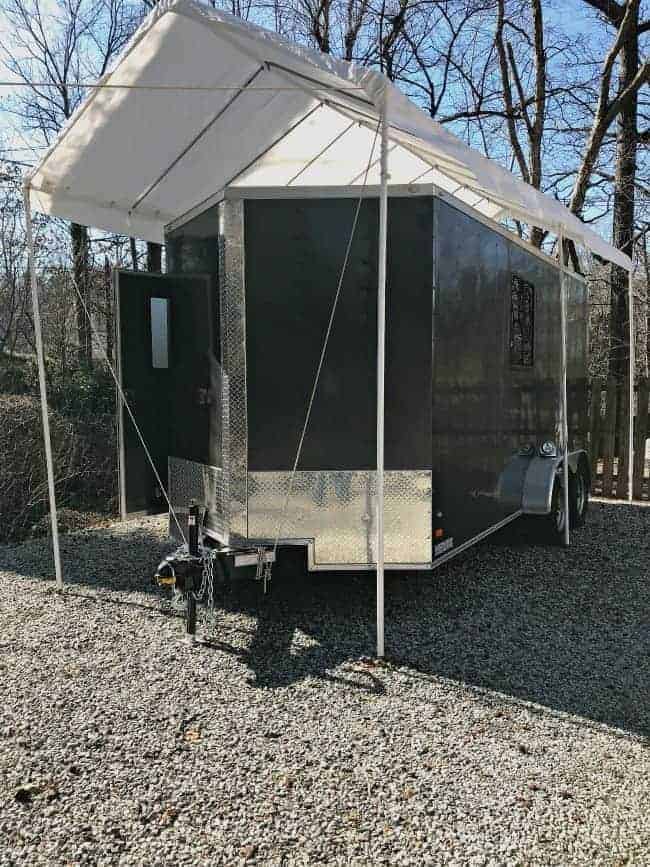 The hubs and I have been talking about doing this for years and it's finally time to get it started.
We both grew up camping, and we even met camping with our families (when I was 16), so it's fair to say that it's our passion.
We've had several trailers over the years.
We started with a tent then moved to a popup and finally to a 31 foot trailer, but building our own has always been a dream of ours.
The last time we had a camper was when we lived in Florida, 7 years ago, so it's time to get back on the road.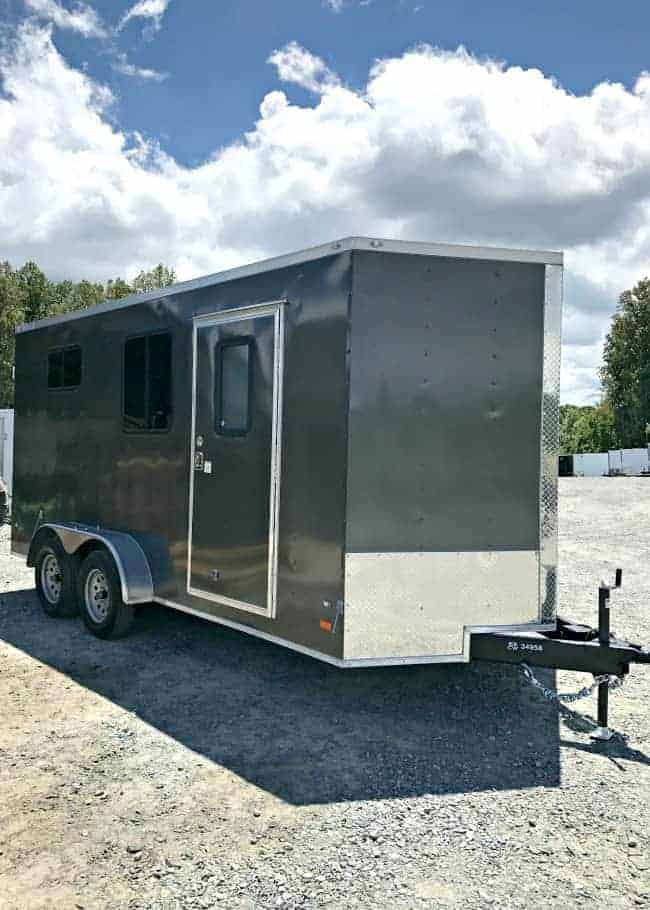 I know…this doesn't actually look like a traditional camper but it will be one when we're done with it (on the inside at least).
We looked at a lot of different trailers, all older and used, but this seemed like the best option.
I really wanted a cute little vintage trailer but we never found the perfect one, that was the perfect size at a good price.
Vintage trailers are expensive. Once you have them you have to gut and rebuild them. Not practical for us, no matter how cute they are.
Sure, we looked at older (not cute), cheaper trailers but most were rotted out and in desperate need of a complete gut job. Again, not ideal.
The hubs tried to sell me on the landscape trailer idea for years, I mean years, and his reasoning finally won out.
It's a small enough size that we can pull it easily with our current car
It's small enough that we can store it in our driveway (and not pay for storage)
The outside is all metal so it shouldn't rot, like most older trailers (this was a big one for the hubs)
It's empty on the inside (no need to gut it) so we can start fresh and do what we want
I didn't want to give in, I wanted cute, but I told him that if I did I needed a few things.
A big bed (we are both tall and I have a bad back so I need my space)
I wanted a shower and toilet (this was not negotiable)
I wanted free reign on decorating, which meant it was going to look decorated inside to my taste and not look like a hunting lodge. Hey, he'd be happy with a mattress on the floor and that's it. That wasn't going to cut it for me.
He finally wore me down so we went to a dealer that sold landscape trailers and looked around.
Most of the time these trailers are used by landscapers for the storage of their tools and equipment. The majority that you see are white and they don't have windows.
We looked at used ones first but decided that, since a new one wasn't that much more than used, we'd go with new. That meant we could customize it.
We ended up getting it to our specifications. Of course we paid extra for every extra but, compared to vintage trailers, it really wasn't bad.
Here's what we got…
It's 16×7 (112 square feet inside – Eeek, that's tiny!)
Barn doors on the back
4 axels
Gray metal (instead of white or black)
We got the taller trailer, 7 feet inside
3 windows were added as well as a regular trailer door with a window
We did get all of that but we also got a big empty box inside.
Yup, it's just a big empty space waiting for us to fill it up.
Let's take a look.
Here we are looking toward the back of the trailer. Notice the barn doors and the window. That is where the bed will be.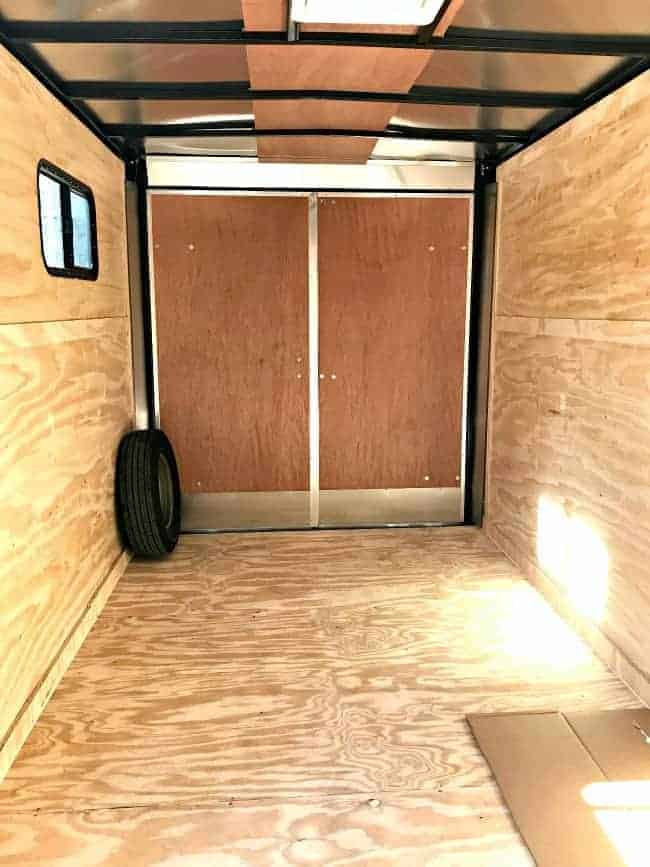 The plan is to put a table under the big window and a couple of portable stools, with storage.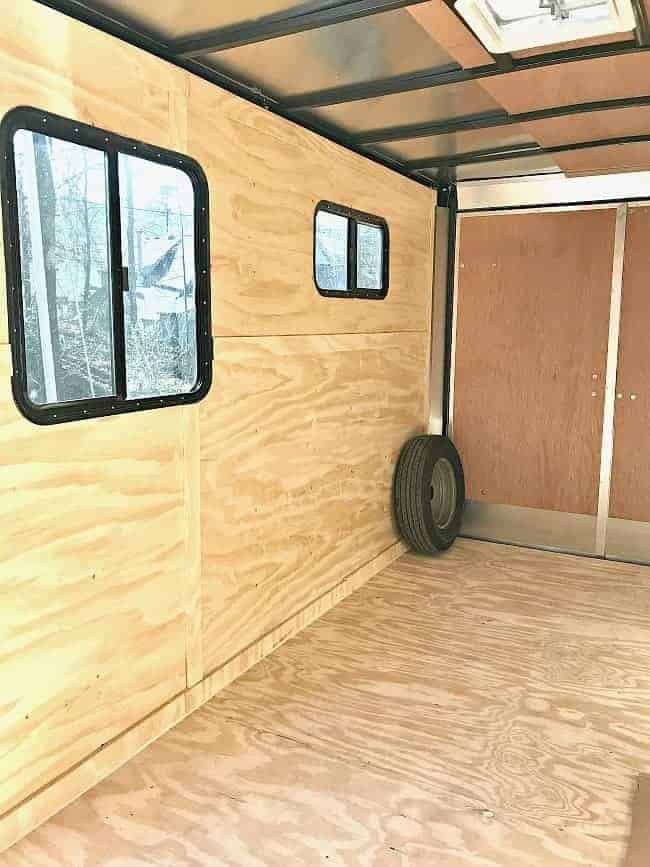 This area will be the kitchen. It will be small but efficient. Some cabinets, a small fridge and a sink under the window.
Hopefully the placement of all the windows will work out once we put everything in place.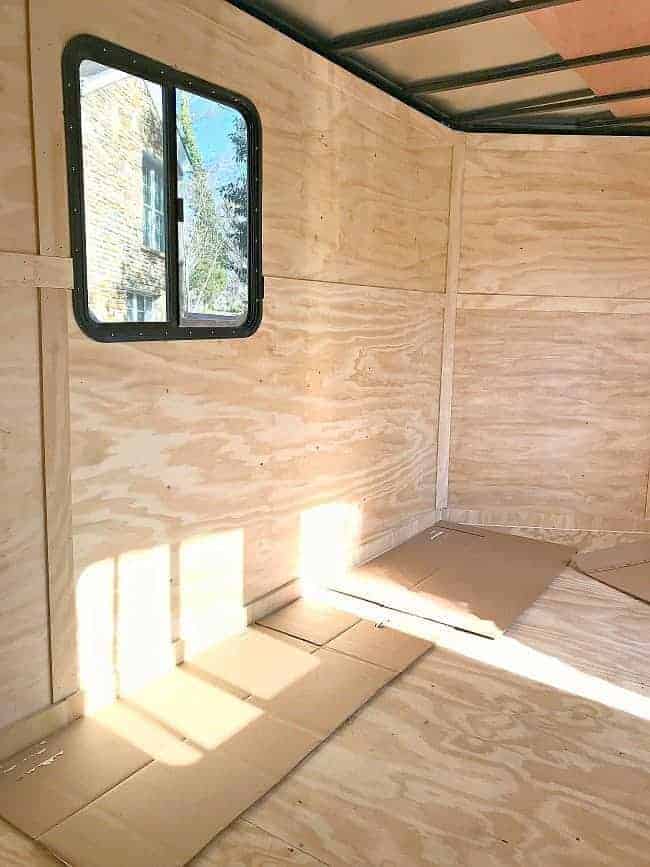 This view is the front of the RV. There is a v-nose, which gives us a bit more space, but I'm not sure how useful it will be.
This is where the bathroom will go.
The shower, toilet and a closet will take up this space.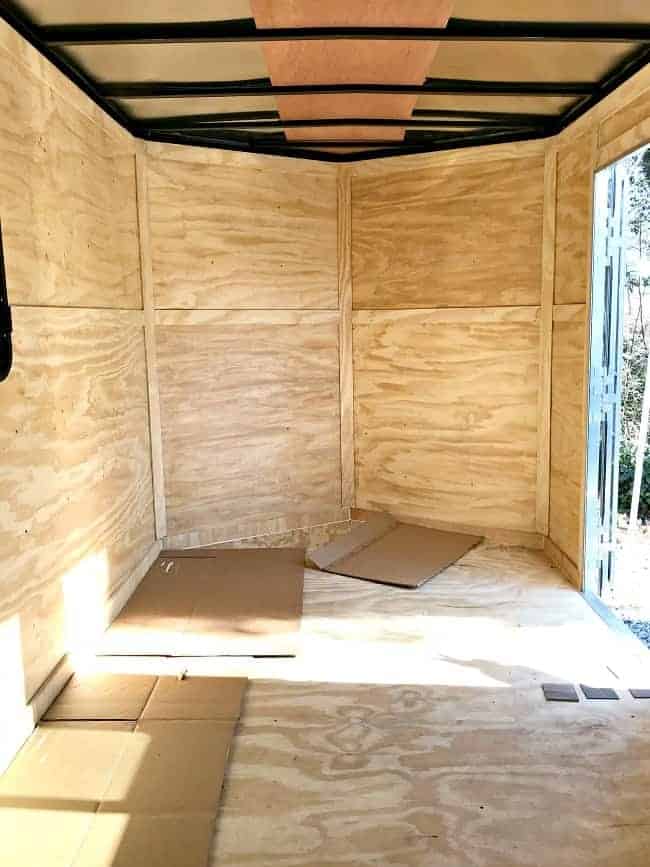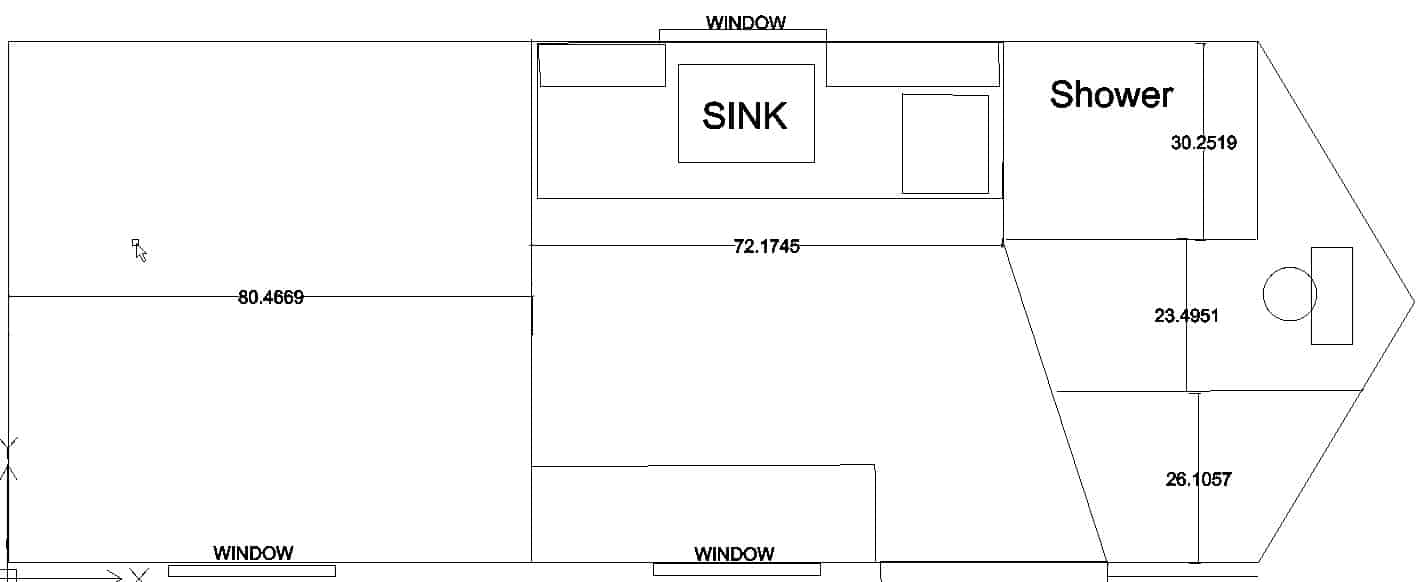 We've been sketching out plans for months and this is the latest layout.
Of course we'll incorporate as much storage as possible. As always everything will be done by the two of us.
Don't worry…the blog won't be all about the camper. I'll share the projects we do, and updates, but we still have plenty going on in the house.
I think that the camper fits in well with small space living that we talk so much about and I though we could share some great ideas for working in storage, that still looked good, in a small space.
My hope is that it will give you some good ideas and inspiration that you can use in your own home.
So there you have it…our very own tiny enclosed trailer camper conversion all ready for a makeover.
The cat's out of the bag and the tour is over. Now the real fun starts and we are so excited.
We've completed our first big project, the tongue and groove wood ceiling and it completely changes the way the inside of this compact RV trailer looks.
Or skip ahead and check out the completed cargo trailer conversion. We stayed pretty true to our vision, even if it did take us 2 years to finish.