Are you ready for Christmas yet? I have to confess that all of my decor is up and my first craft is complete, a magnolia leaf garland that I made for our big kitchen window.
This window is one of the reasons why I love our little cottage so much. It lets so much light in and the view of the woods next to the house is beautiful. There's nothing like it. I think we appreciate it so much because we had 2 small windows in our Illinois kitchen. Not only did they face North but they also looked out onto our neighbors back door, that was about 25 feet from our house. They were nice enough neighbors but they could sit on their deck and see everything we were doing. Needless to say we always had the windows covered.
Anyway, last year I wanted to do something special to decorate our big kitchen window and bought a beautiful live garland. I loved it but it was expensive and, of course, it didn't last long. (you can check out last year's holiday kitchen here)
This year I wanted to use a garland again but I wanted to try magnolia leaves. I've used them in my decor before and they always dry beautifully, so you can keep them a bit longer.
I looked online and the prices for a magnolia leaf garland were way more than I was willing to spend. Our window is 8 foot long so we need something that's about 13 feet in length.  Eeek…that equals a lot of money.
Not giving up on my plan (because those words aren't in my vocabulary), I started looking into making my own. I don't have a magnolia tree in my yard, and I don't know anyone who does, so I bought a box on Etsy (affiliate link).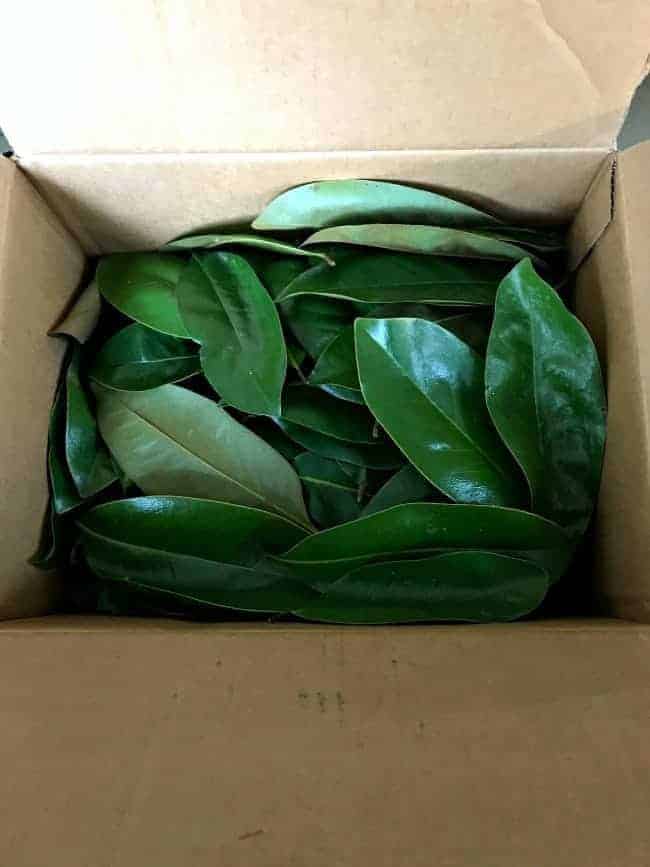 Yup, you can even buy a box of fresh magnolia leaves. 350 to be exact for right around $50. I know…it would be better to get them for free. Maybe I need to plant a magnolia tree in our yard.
I've never done this kind of craft before but figured out a plan and, as soon as they arrived, the hubs and I set to work wrapping 350 magnolia leaves.
Supplies for a DIY Magnolia Leaf Garland
magnolia leaves (we used about 325 for a 13′ long garland)
floral wire
natural covered craft wire
wire cutters
work gloves
This was really easy to do but it did take some time. We ended up spending about 2 hours, over the course of 2 evenings, to make our garland.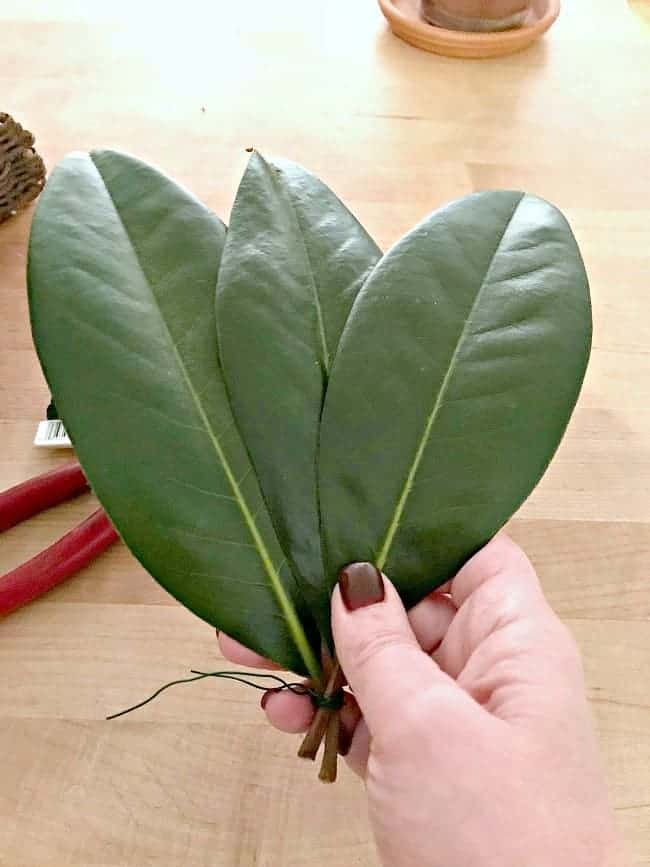 We started out by wrapping 3 leaves together using floral wire. Once we got a good pile going, hubs continued wrapping while I started attaching each trio to the covered craft wire.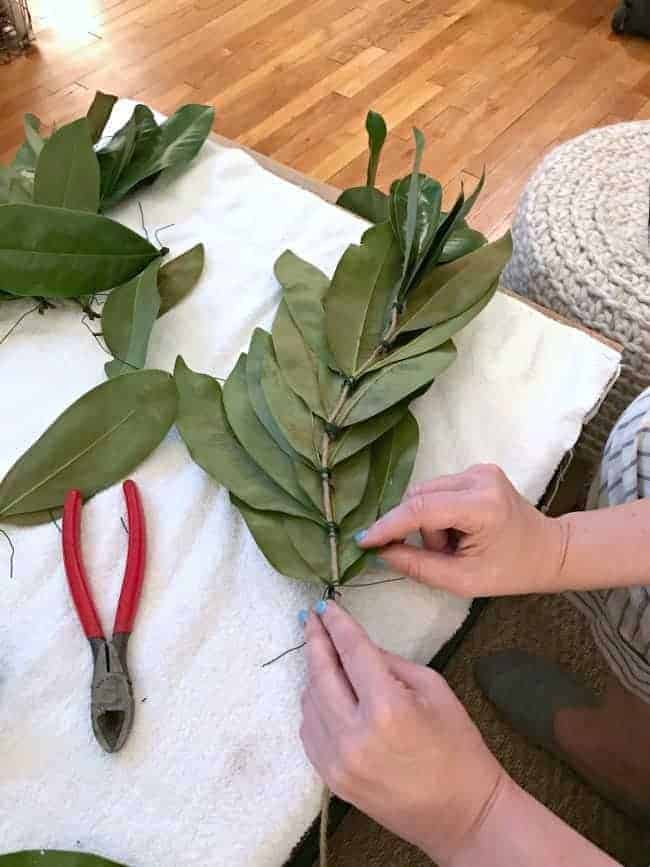 There was no measuring involved. I just started attaching them so that the stems all faced one way, about 1 1/2″ apart. The goal was to hide the stems and wire. You'll notice too that this is a flat garland. Meaning that there is only one pretty side. I would have loved to do both sides but it would have been difficult to hang it in the window (and the hubs would have killed me 😉 ).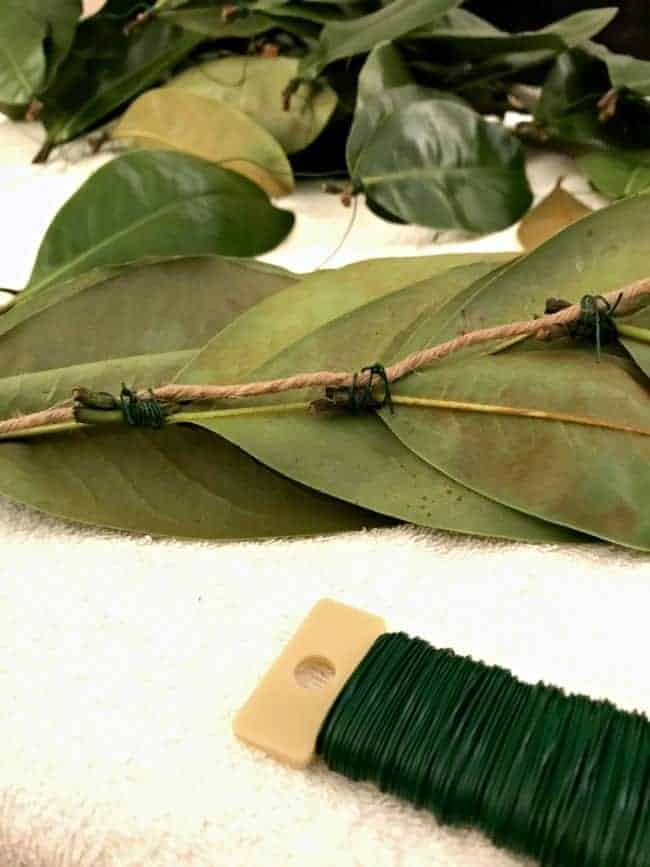 I didn't wear gloves to do this but I recommend them, if you can. The floral wire really did a number on my fingers.
A little tip about the natural covered craft wire I used. Hubs wanted me to use cotton string we already had but, with that big expanse and the weight of the leaves, it probably would have stretched and drooped. I thought it would be wiser to use the covered wire and I was really glad that we did. It was inexpensive and easy to use. There's no worry about it drooping either.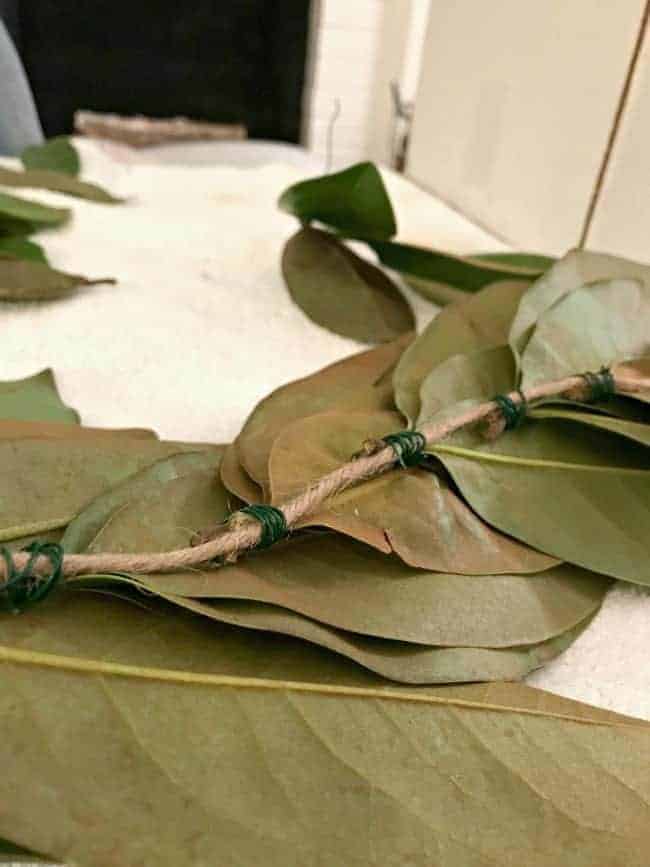 I would have liked it to be a bit fuller but I love how it turned out. Maybe next time I'll put my trios closer together and experiment with using the top and underside of the leaves.
They've already started to dry and turn color. That's what I love most about magnolia leaves.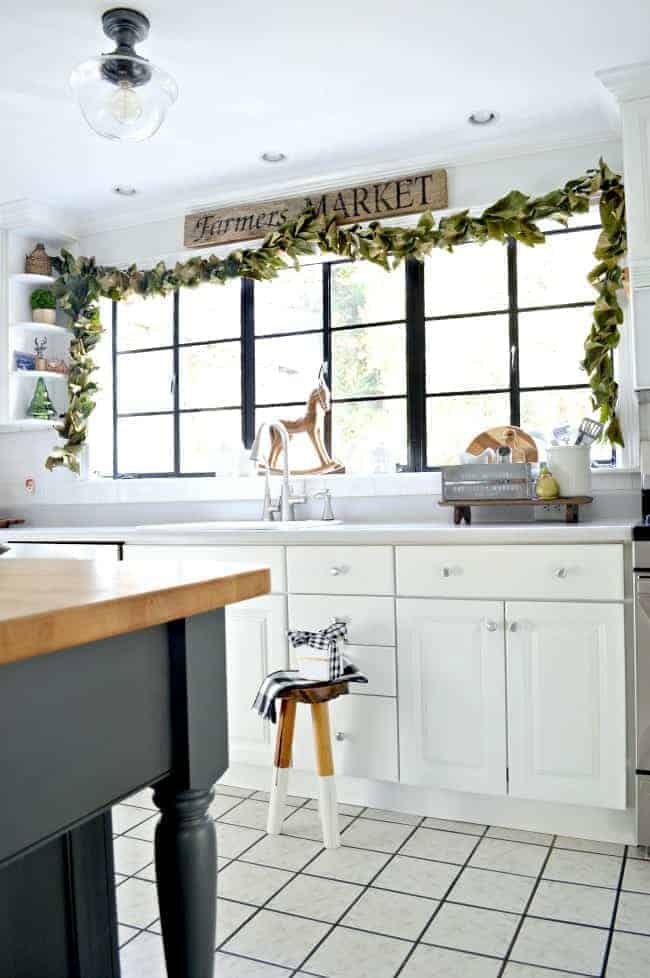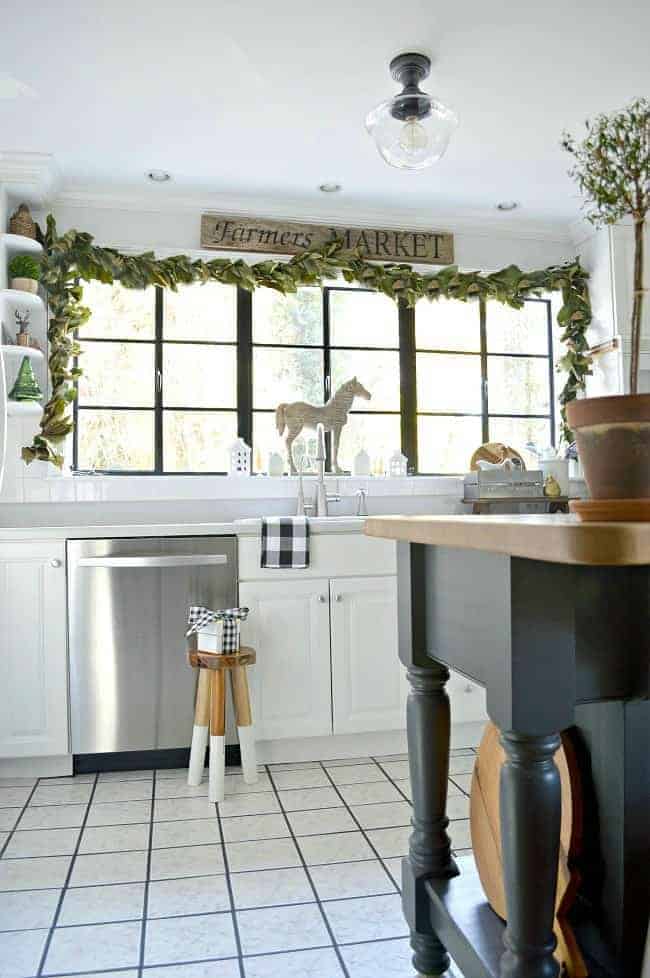 I don't want to share too much of the Christmas kitchen just yet, although the window does take up most of the space. 😉
I'll be joining in with a group of bloggers next Friday, Dec. 1, to share the rest of the space. Next Tuesday, Nov. 28, I'm hosting a special 1 day tour with 4 of my blogging friends. I hope you'll come back to check it out.
It's going to be a busy week with Thanksgiving on Thursday, but I'll be back on Wednesday to share some holiday shopping goodies.
I'm joining in with some of my blogging friends for fun link party. Make sure you check out all of the creative Christmas decorating ideas at the bottom of the post.
Hope you have a great day!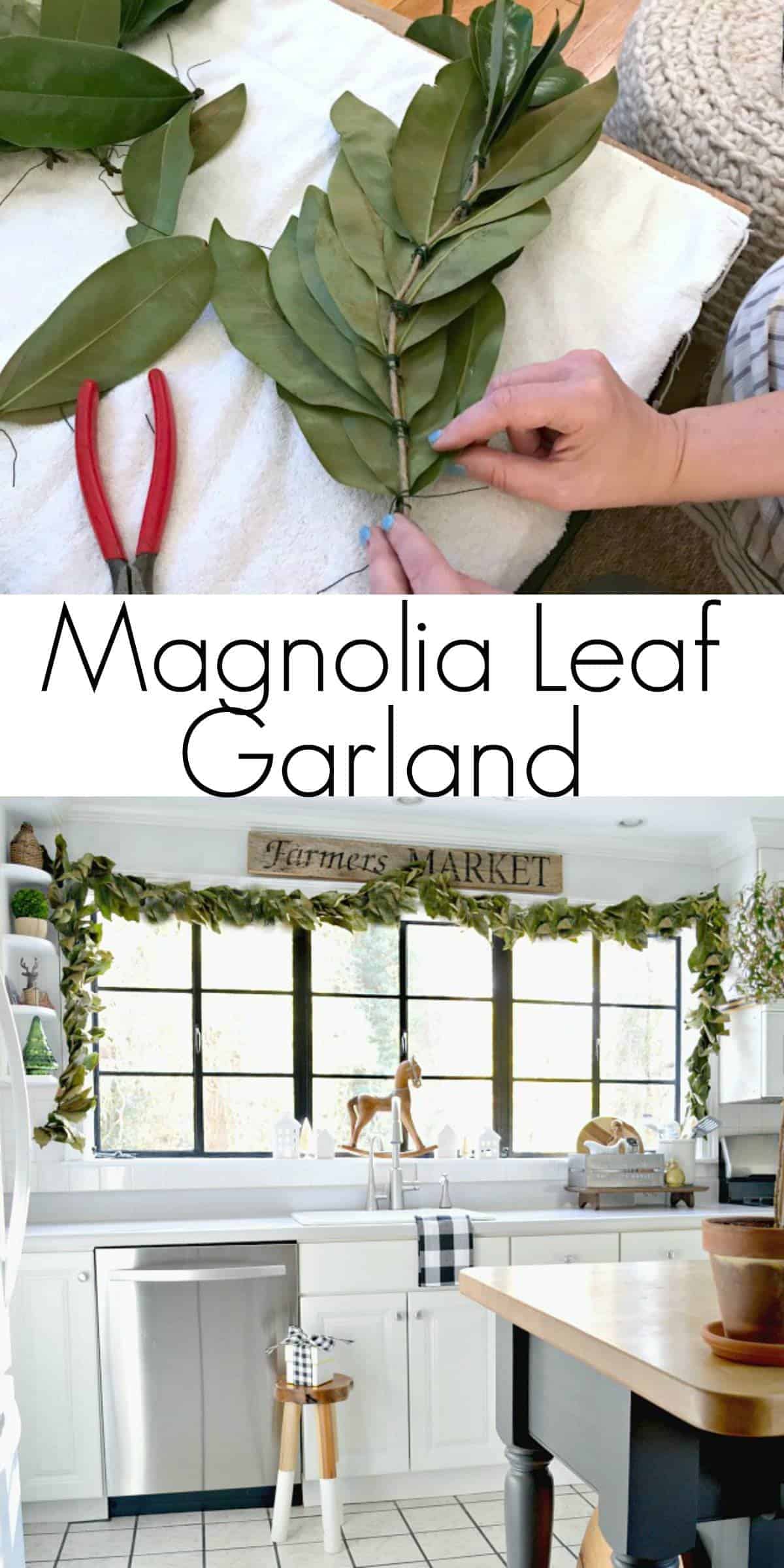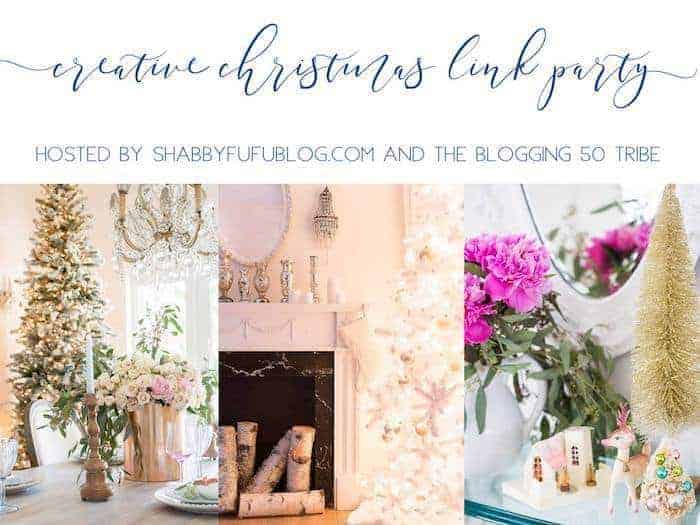 The Creative Christmas Link Party is hosted by Janet of 
Shabbyfufu
and the the bloggers of Blogging 50. Please visit all of the talented bloggers below!