*As an Amazon Associate and member of other affiliate programs, I earn from qualifying purchases.
How to make an easy DIY magnolia wreath, with fresh magnolia leaves, for your holiday front door.
What do you do when a neighbor cuts down a behemoth magnolia tree?
You take a moment, shed a tear for the poor tree (that had to get cut down) and then gather some of the branches to make a magnolia wreath for your front door.
I've already tried my hand at making a magnolia leaf garland so I wanted to do something different this year. If you're more visual, check out my how-to video.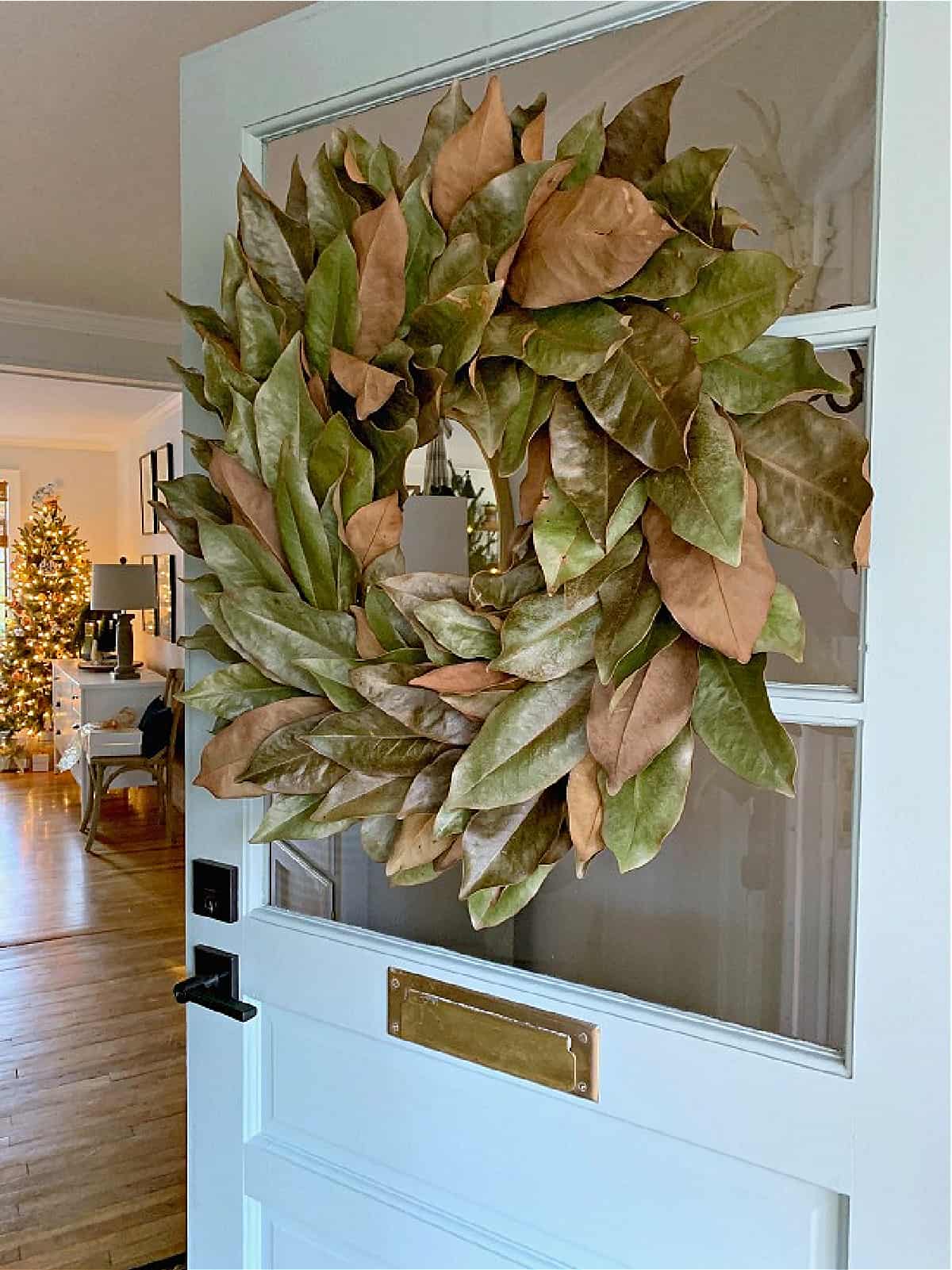 I always like to make and and hang a wreath on our front door for the holidays so I'm always looking for fun and easy craft ideas to try.
When I came across the downed magnolia tree in our neighborhood I knew it would be perfect for this year's holiday front door.
As with most of my wreath crafts, this is simple to do and cost me almost nothing to make.
The only thing I had to buy was a grapevine wreath.
Supplies to make a DIY magnolia wreath
How to Make a Magnolia Wreath with Fresh Leaves
When I made my DIY magnolia leaf garland for our kitchen window I used fresh green magnolia leaves that slowly dried over time.
The leaves for this wreath were already dried out by the time I got around to making it.
There were some brown, and even some black spots, and lots of curling so I sorted through them and picked out the ones that were decent.
I had to keep reminding myself that these were real leaves and that it was ok if they weren't perfect (because 90% of them were not).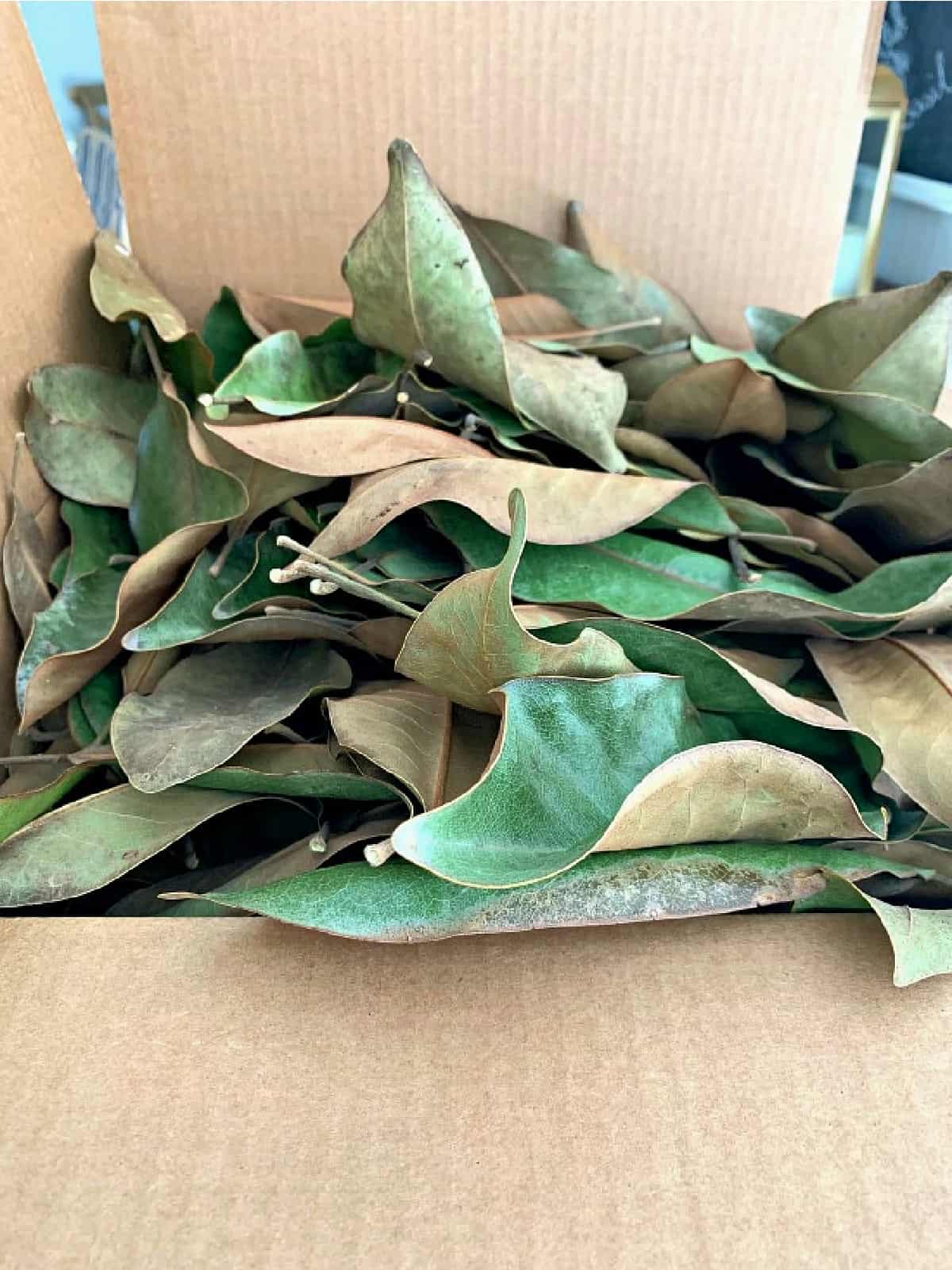 Before I started to add leaves, I made a hook on the back of the wreath with a small piece of wire.
It makes things a lot easier if you do this first.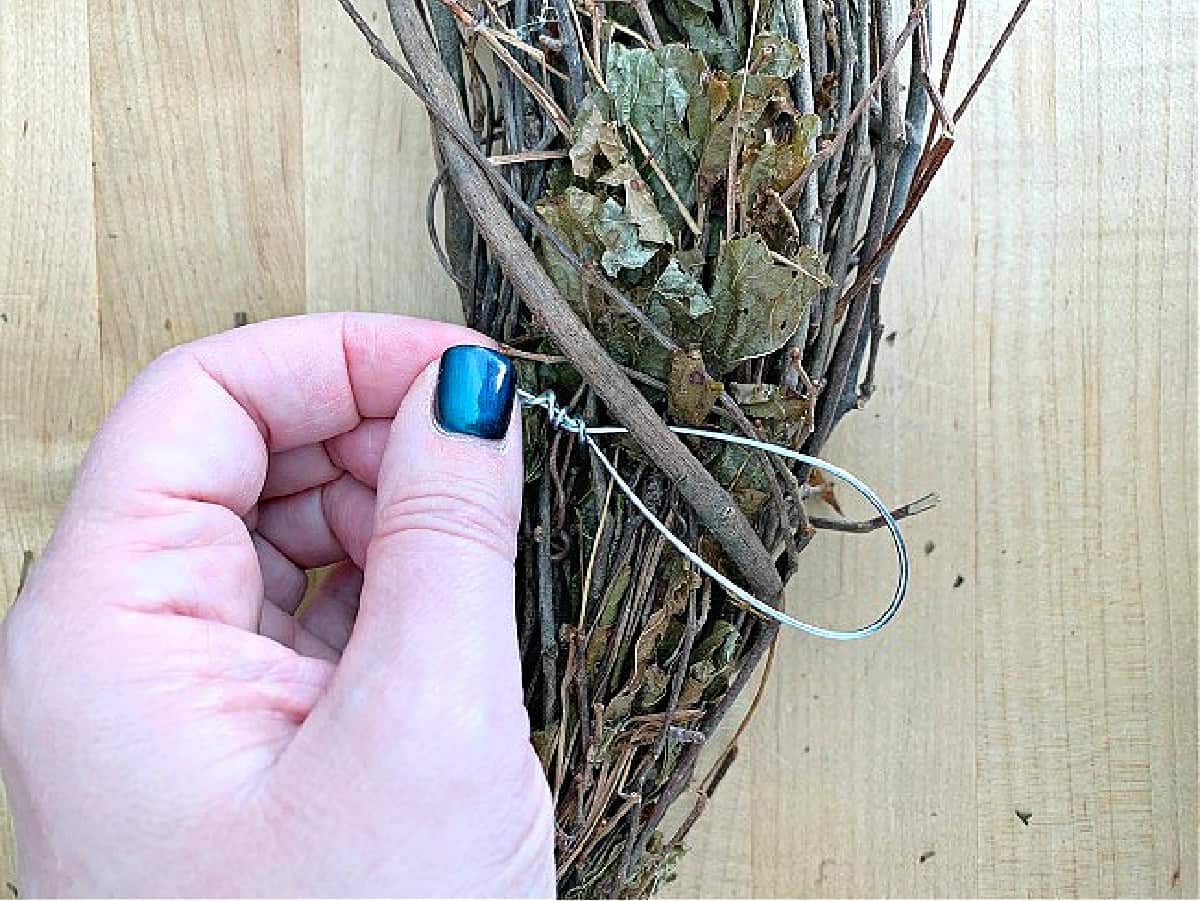 With the hook done, I started to assemble my wreath.
To begin, I just simply applied some hot glue to a magnolia leaf stem and stuck it in the grapevine wreath.
I worked in one area at a time adding leaves to the top, inside and outside. Almost in "rows".
It doesn't look like much in the beginning, but don't panic (I speak from experience). It will look better after you do a few rows.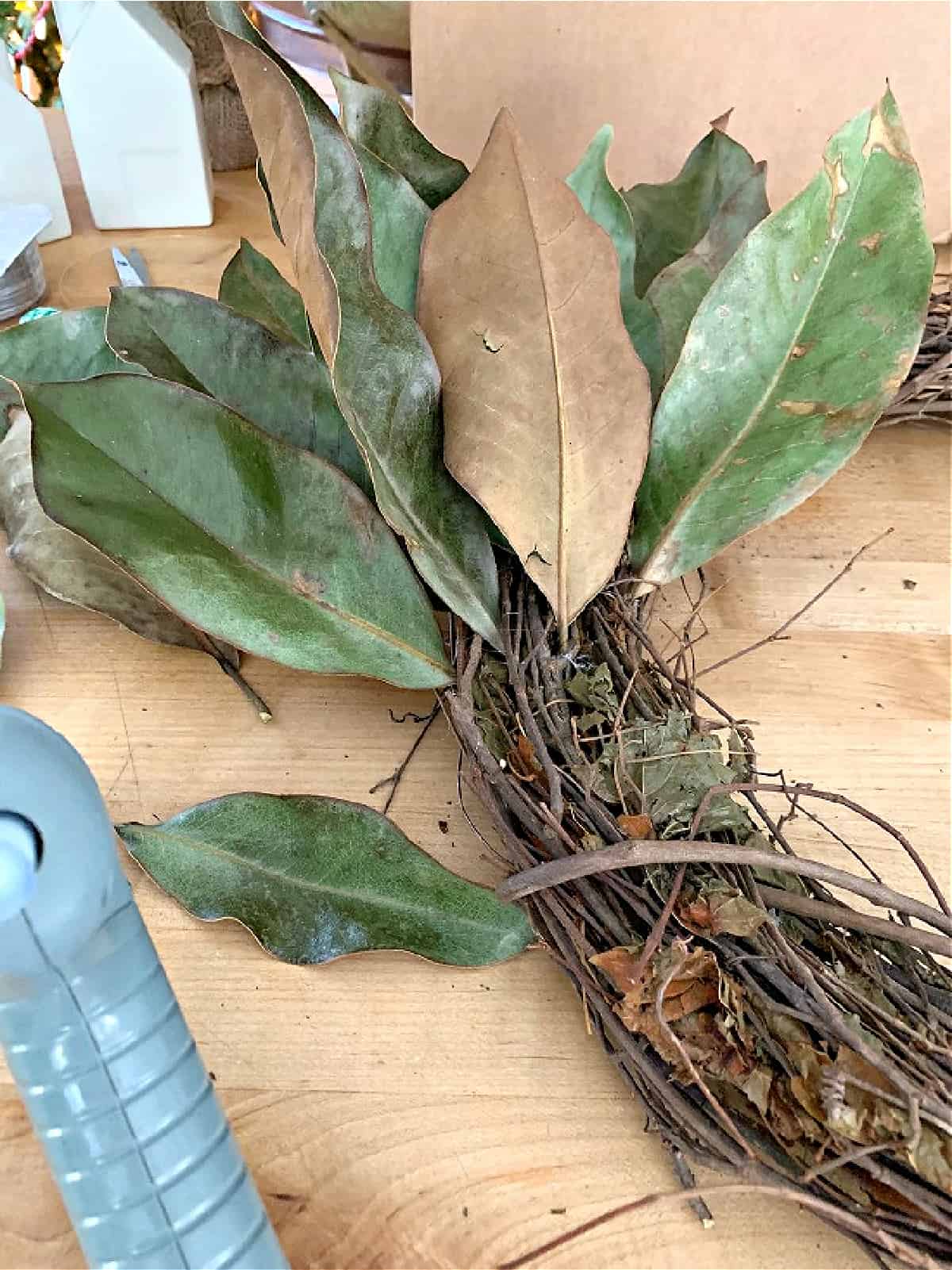 Every so often I would turn a leaf over to show the gorgeous brown side to contrast with the green.
I just eyeballed it and placed them where I thought they looked good.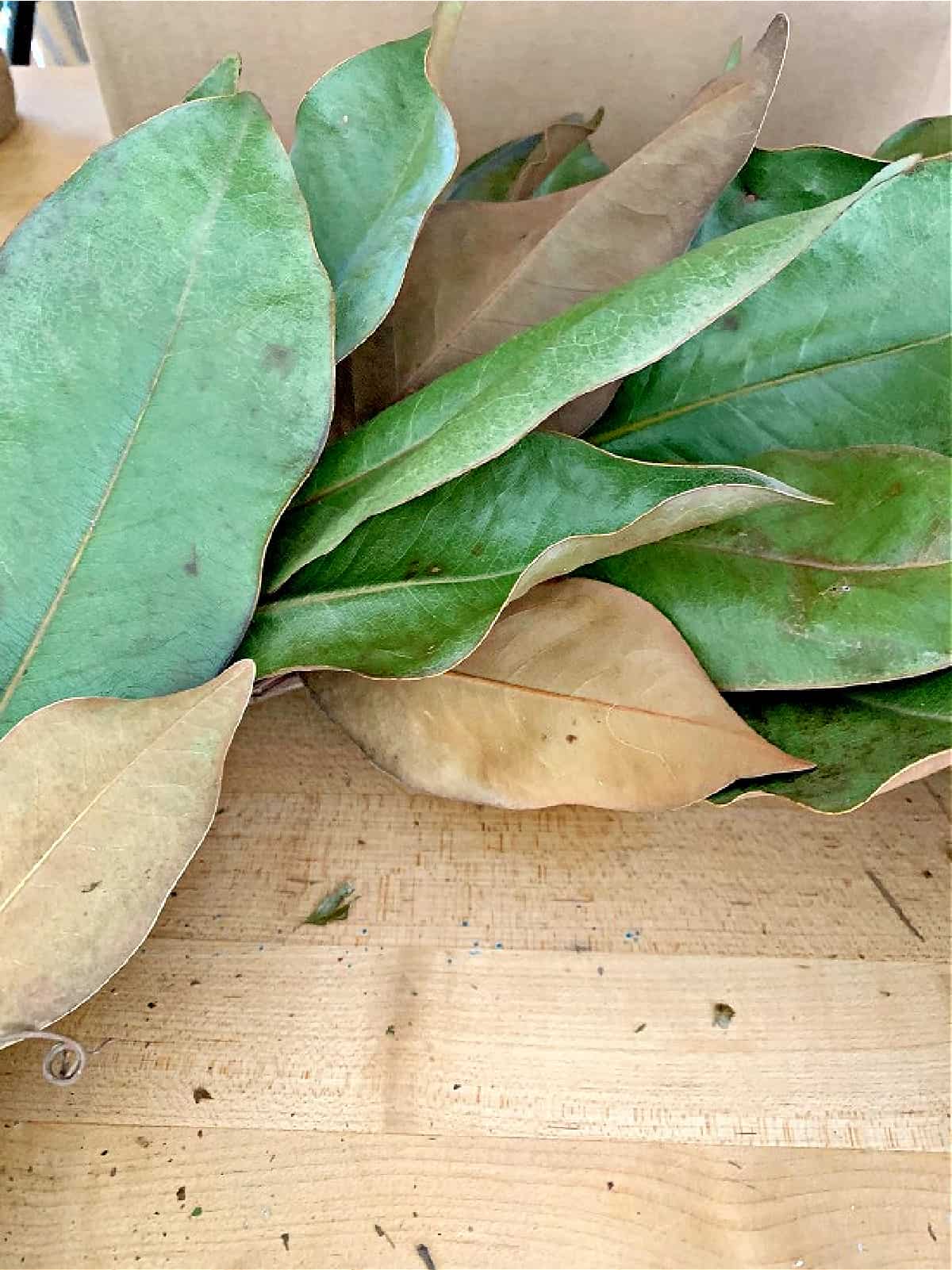 Every few "rows" I would step back and check my work.
I wanted to make sure the leaves were all going in the right direction.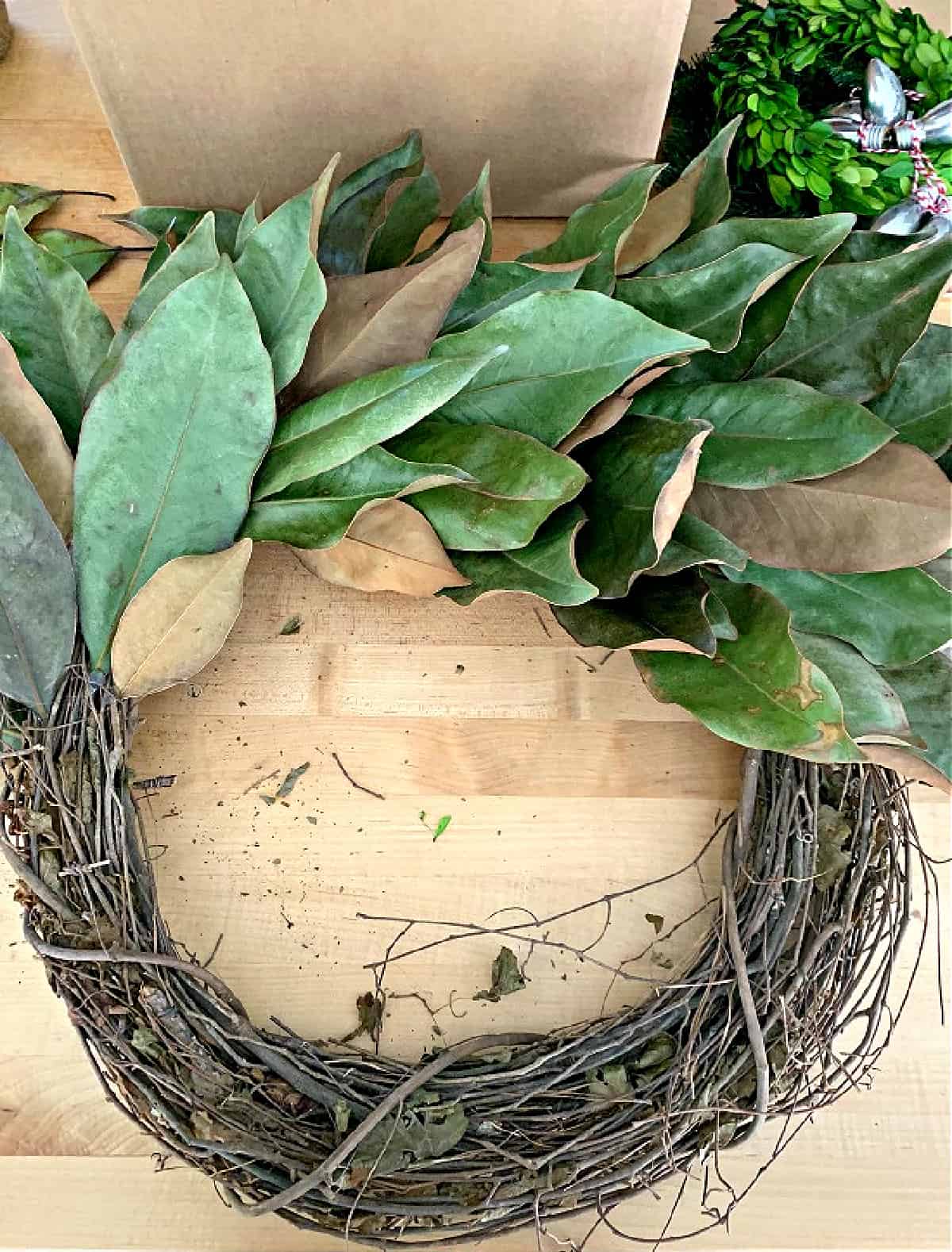 I slowly worked my way around, using big and small leaves, until the wreath was full.
It probably took me about an hour to glue all the leaves in place.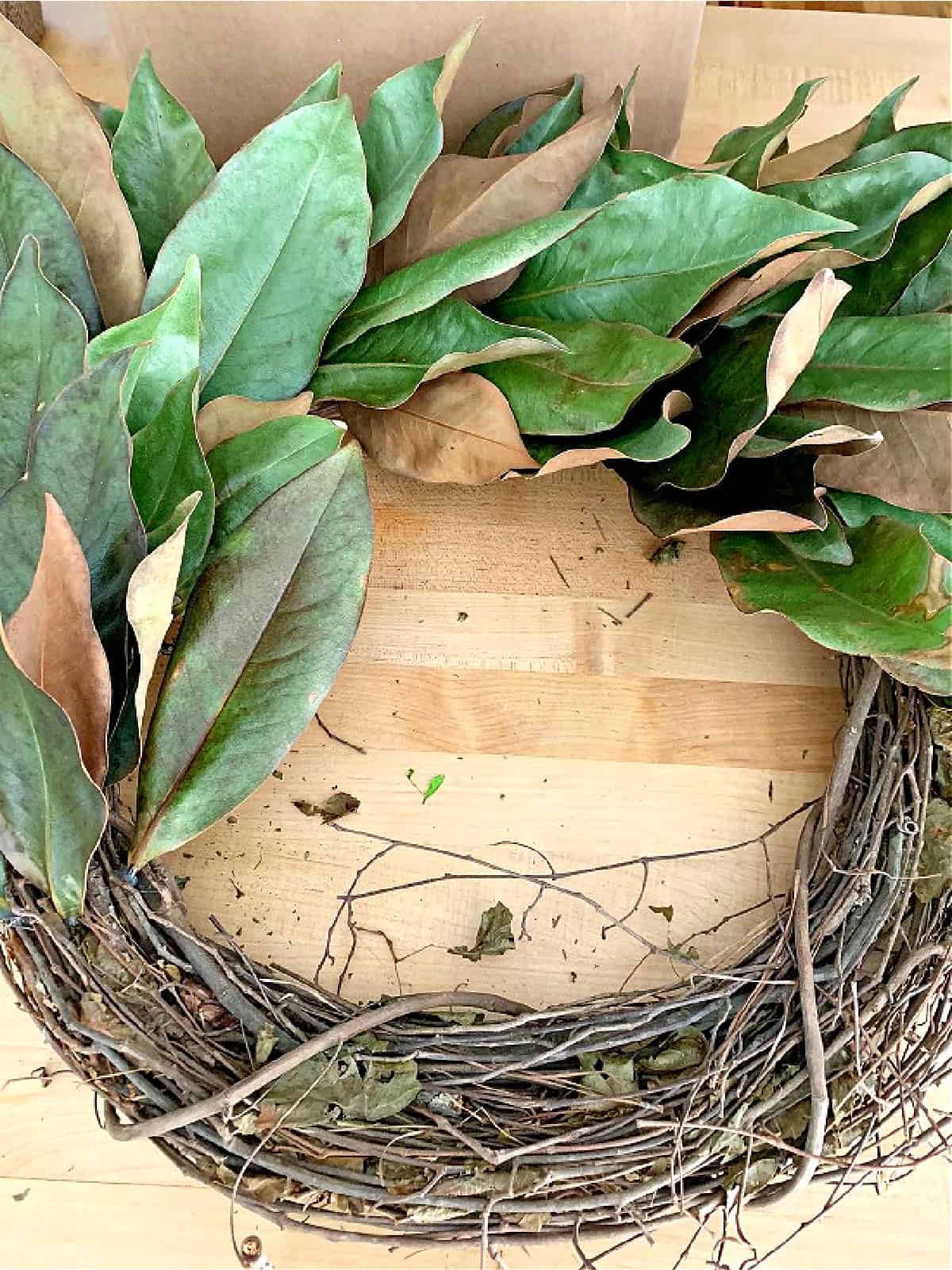 I checked for any empty spots and fixed those by adding a leaf.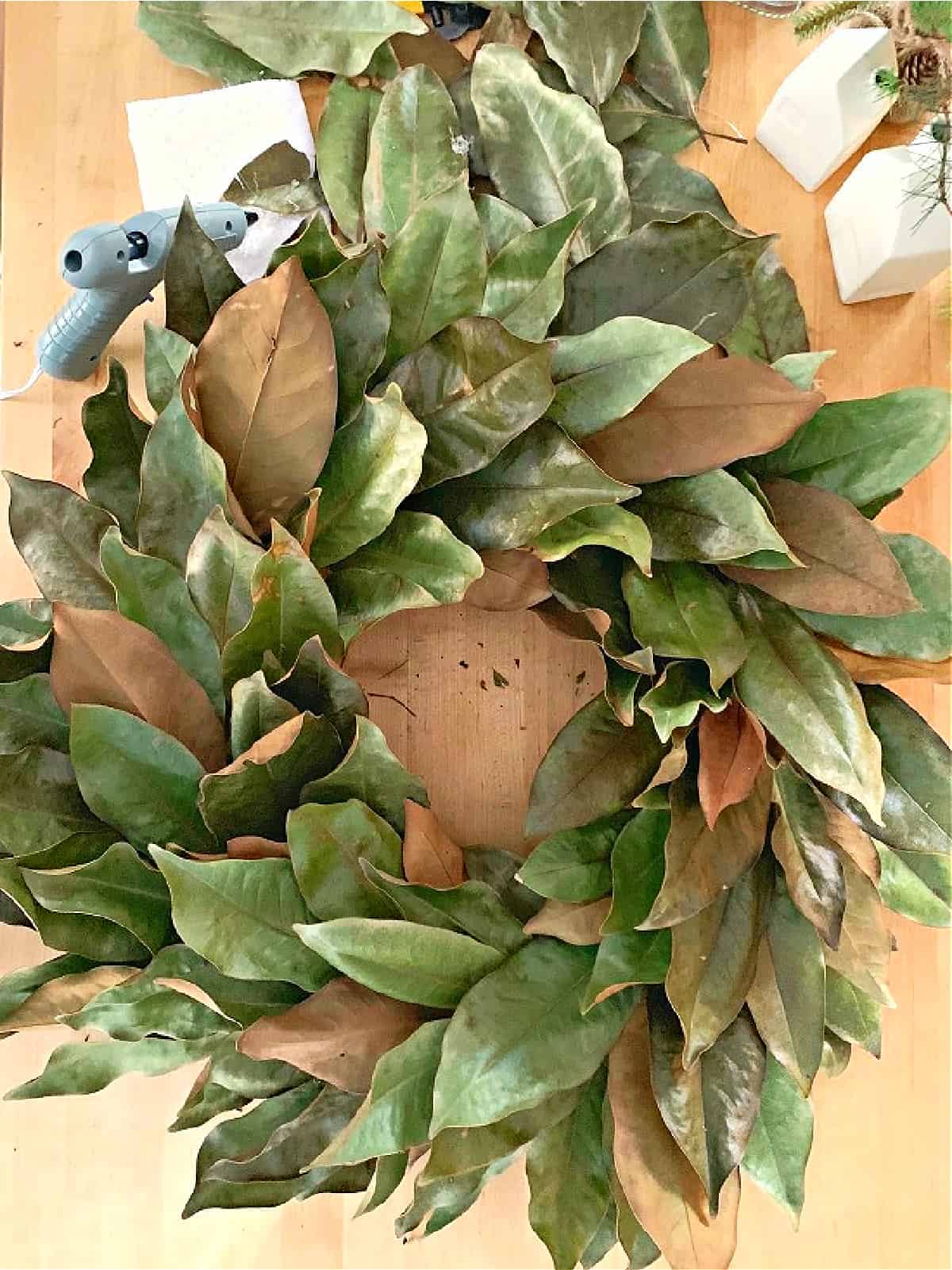 It turned out to be bigger and fuller than I thought but I love the look, and the dried leaves worked out well.
A lot better than I expected.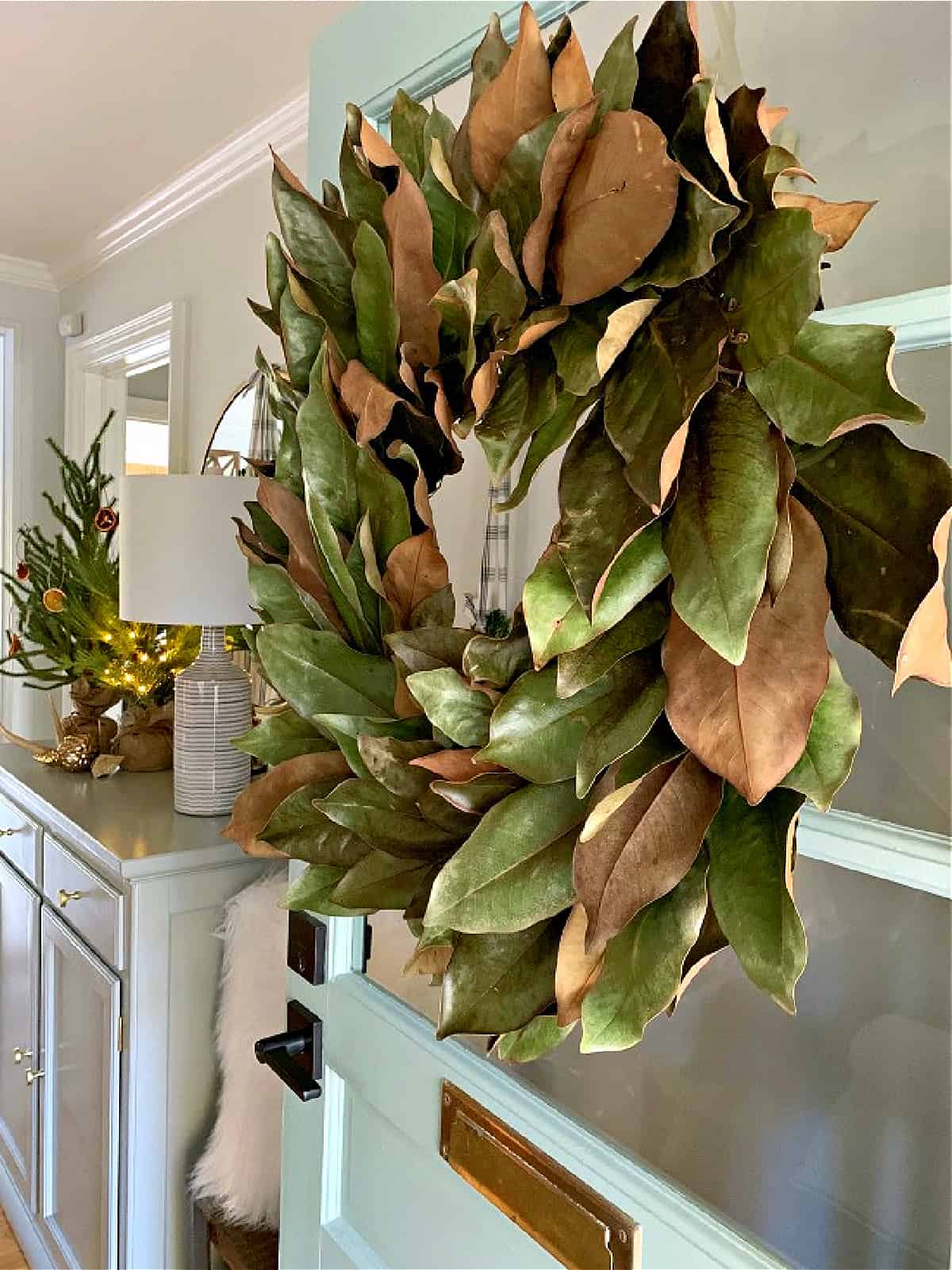 It's also nice to think that an old neighborhood tree that was cut down lives on in my wreath.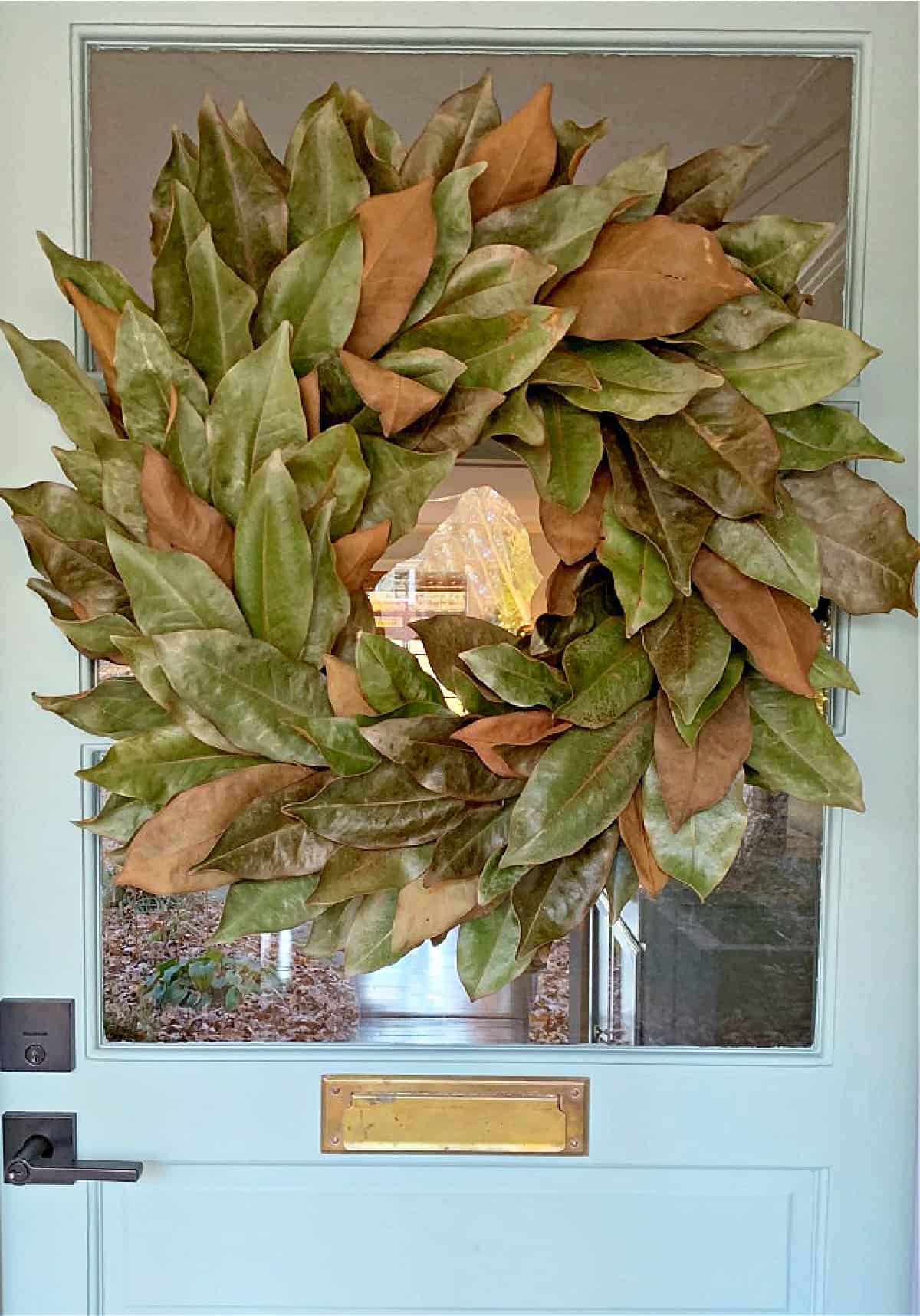 Thanks so much for stopping by!
Don't forget to check out my other fresh magnolia leaf craft…
---
Kendra, Joy in Our Home, is next on the list so stop by and check out her holiday DIY. Also, make sure you come back during the week to check out all of the awesome holiday ideas.