Tips for hanging string light on a deck using a piece of EMT (electric metallic tube) to make a deck light pole and wire rope.
We've lived in our stone cottage for 4 years and I can honestly say that we rarely use our back deck.
The back of our house is raised in the air so we actually have 2 decks, an upper and lower.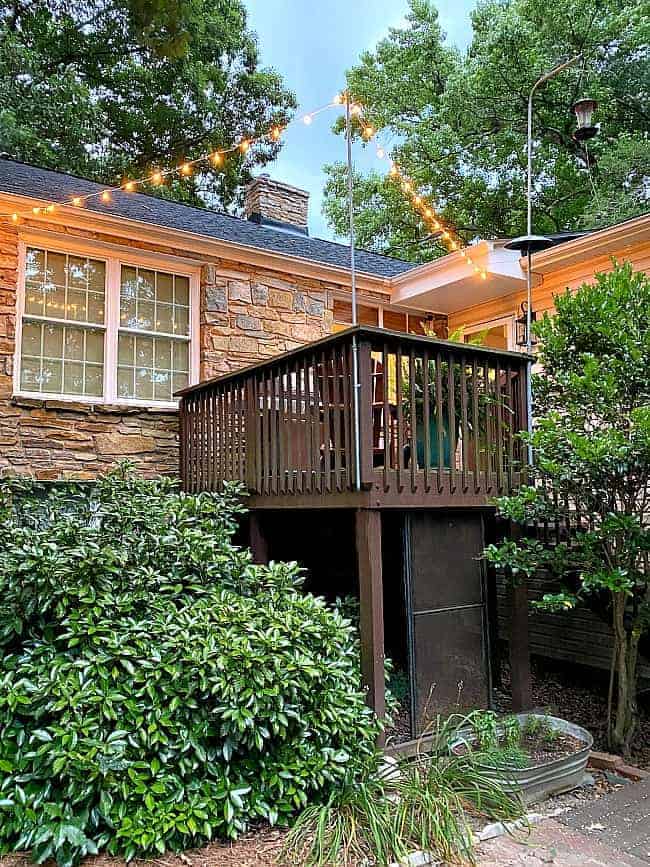 The upper deck is small, 8x8 ish, and the lower deck is larger. They were both built long before we bought the house and they are both showing their age.
Anyway...
Our patio set sits on the lower deck and our grill is on the upper deck. We set it up simply when we moved in and have barely touched it since.
The reason we finally got to work on this space was because the upper deck roof that protects the back door, collapsed.
Like most of the wood on the exterior of our cottage it has rotted away.
So we finally ripped it down and built a new roof, complete with a tongue and groove ceiling. That big change brought on the desire to keep working on the upper deck to make it more livable.
I laid an indoor/outdoor rug, moved the grill to a better position and brought out my Adirondack chair.
I've wanted to install outdoor string lights for awhile and this seemed like the perfect time.
We installed outdoor string lights on our deck in our Illinois house several years ago, so we knew what it would take to add hanging lights to this space.
Like I said, the upper deck is small so we weren't going to do some elaborate set-up. Just a couple strings of hanging lights and a pole would do the job.
Supplies to hang outdoor string lights
As an Amazon Associate and member of other affiliate programs, I earn from qualifying purchases.
Tools needed: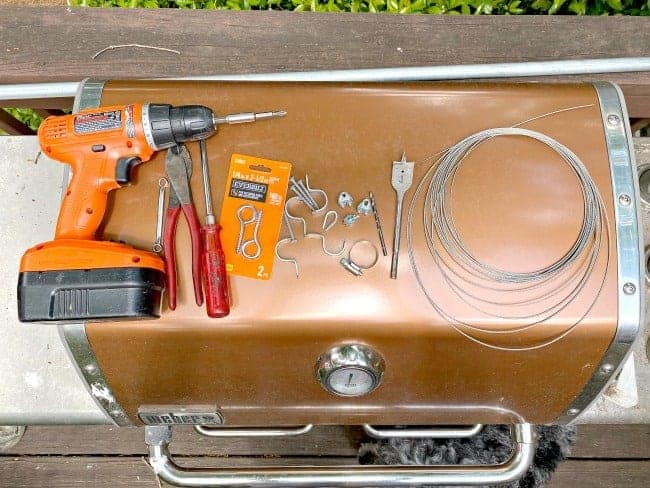 Making a deck pole for string lights
We already had a DIY bird feeder hanging from the deck so we had to work around that.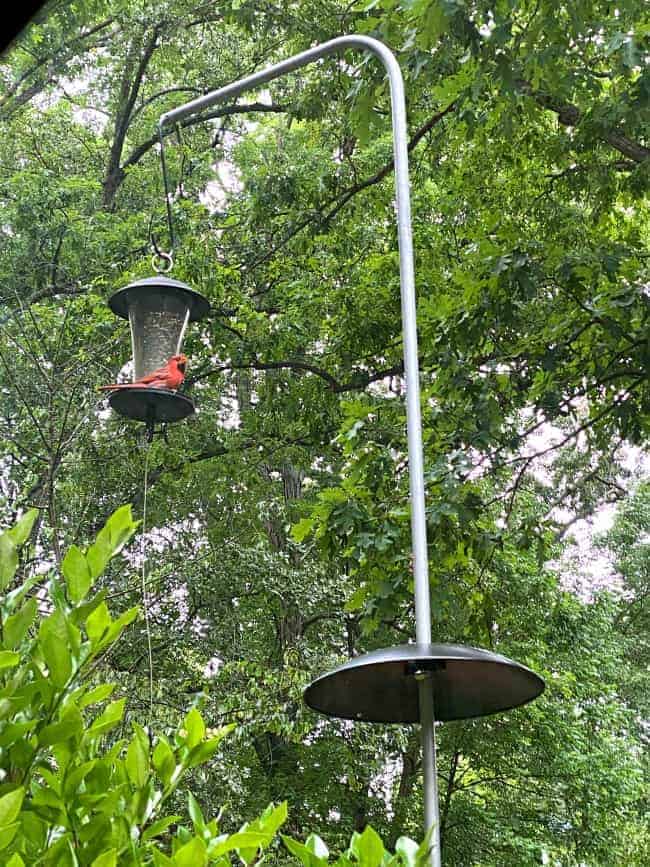 Once again we are using EMT, which is used to run electrical wire through. I like it because it's cheap at around $5, and it's very sturdy.
You can also paint it to match your space.
I painted the poles that we made last time we did this project but we did this really quickly, in about 20 minutes, so I didn't paint it.
Besides, the bird feeder pole is still in its natural state, so I just kept the metal look for both.
The first thing we did was drill a hole for the EMT in the deck railing.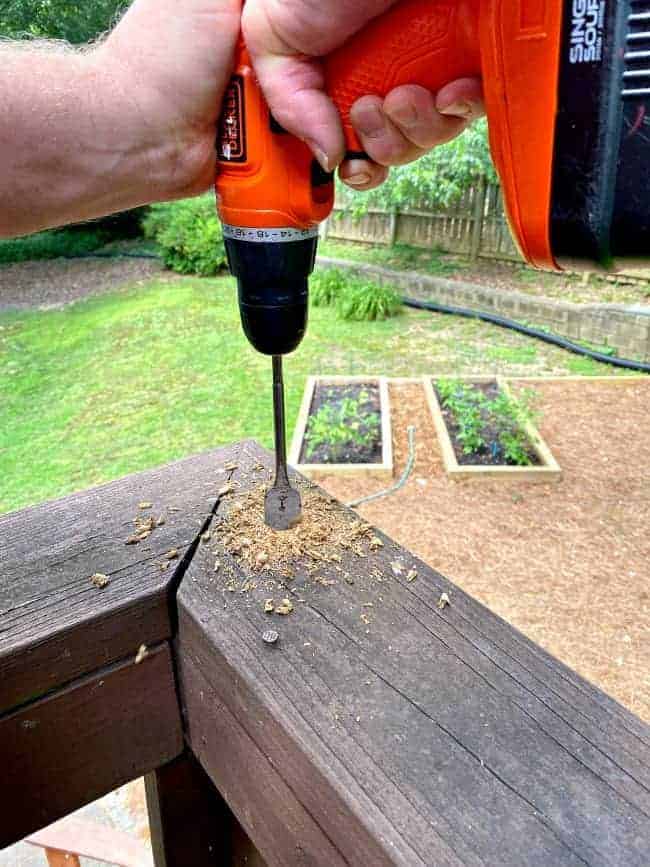 Then I added my two hose clamps to the EMT. One went on the top to keep the wire rope in place, and one at the bottom to keep it from sliding down through the 2 hole straps that we attached to the deck post.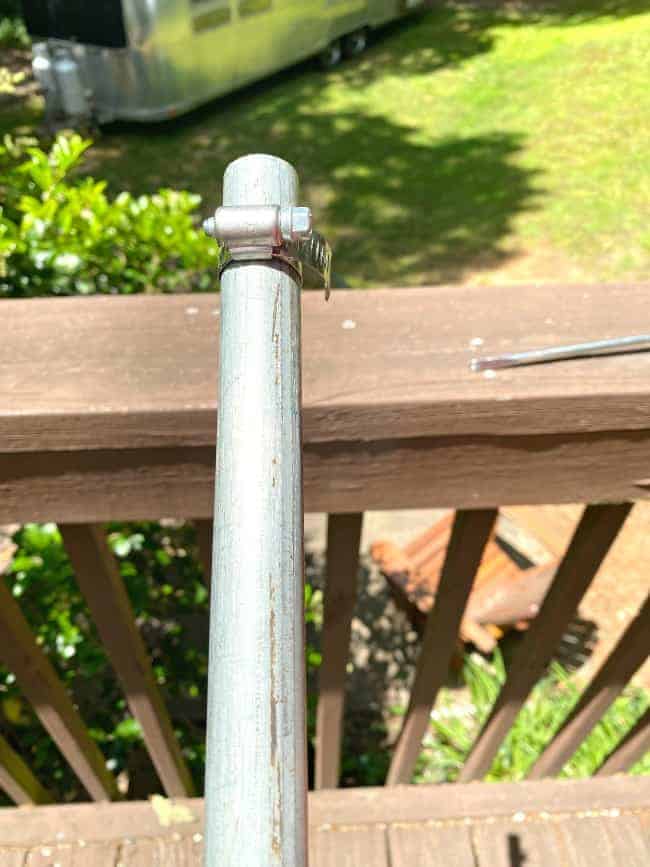 Next, I slipped the tubing into the hole Roger drilled in the deck rail, and used the hole straps to secure it to the bottom of the deck.
Hanging a cable guide wire for string lights
With the pole ready to go we hung the guide wire.
We needed to attach the wire and lights to something and since the house is all stone (and hard to drill into) we had to put a screw eye into my brand new tongue and groove porch ceiling.
I know...it killed me to put a hole in my beautiful ceiling but it was the only way if I wanted lights.
The idea was to string the lights starting at the screw eye, over to the EMT that we put up and then over to a big, old hook that was attached to the house by a previous homeowner.
Almost in a V formation.
From there we would use an outdoor extension cord that we ran to an outdoor outlet to give us power.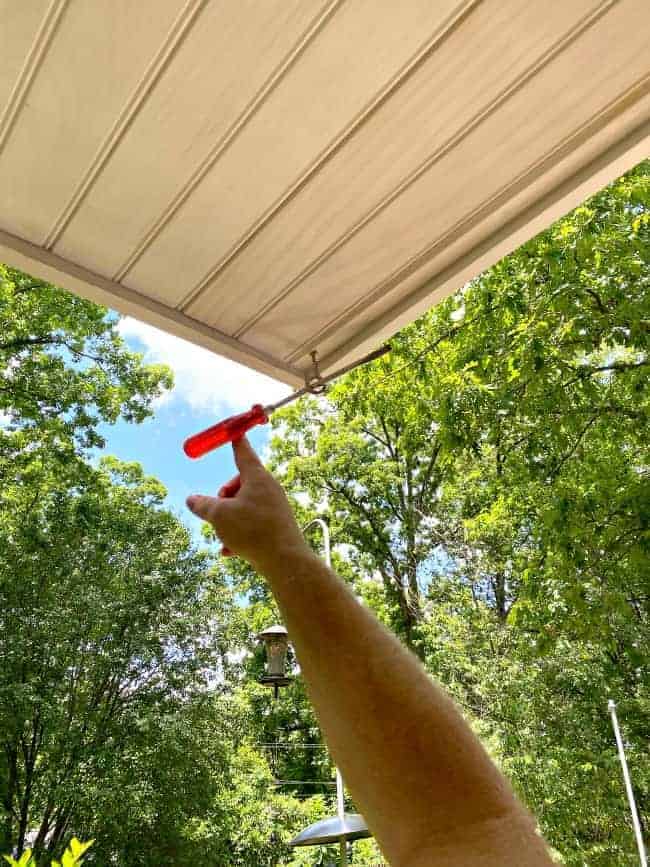 With the screw eye in place we strung our rope guide wire.
Let's talk about using rope wire to hang outdoor string lights....
Roger has worked with electric his whole adult life so he knows a thing or two about it. I know that a lot of people skip this step but he says it's important to use some kind of guide wire to hang your string lights. The reason that you shouldn't just string the lights without wire is because the string light wire can stretch (it's not made to hold the weight of the lights).
Let's hang string lights!
With that out of the way, we can move on to securing the wire. This is where the wire rope clamps come in to play. They keep the wire in place and taut.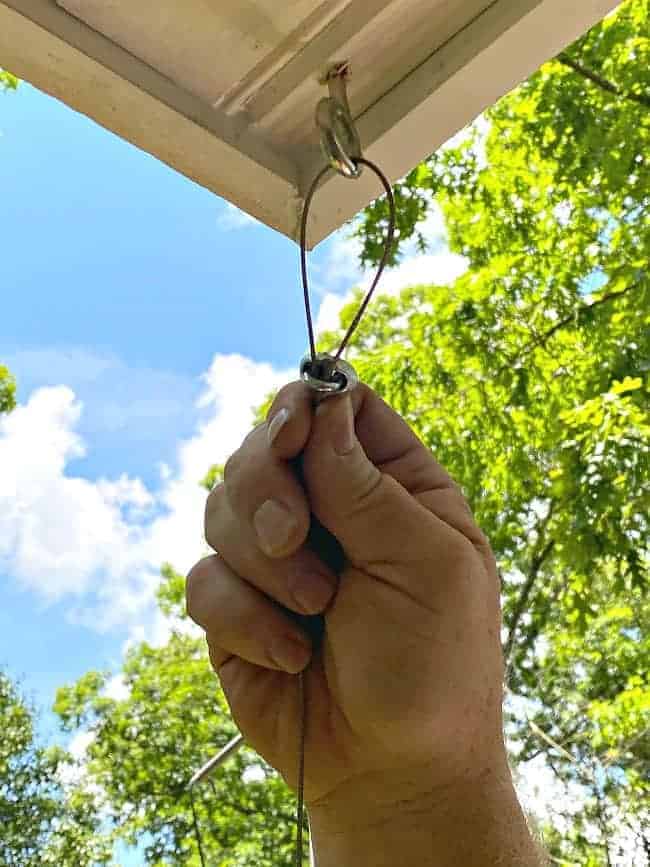 Once the wire was taut we were ready to hang the string lights. These particular lights had hooks on them (to hang them on wire) so hanging them was easy.
To keep them from sliding down the EMT, Roger looped the lights around the top of the hose clamp that we attached to the pole.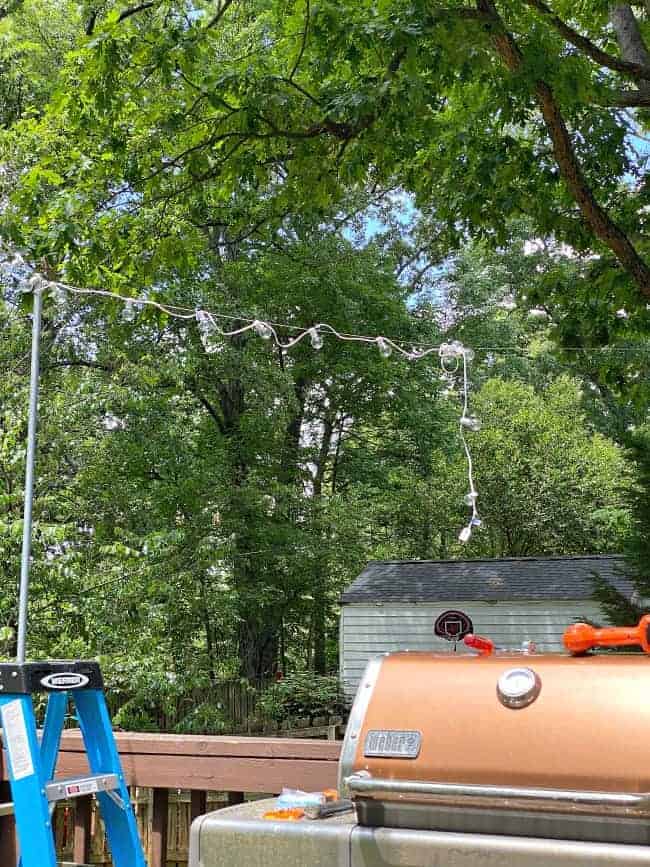 We needed to run a second string of lights so we used some white electrical tape to protect the plug on each strand.
Then we ran the second string over to the hook on the house and plugged it into the outdoor extension cord.
It took us about 20 minutes to hang our new deck lights and we were in business.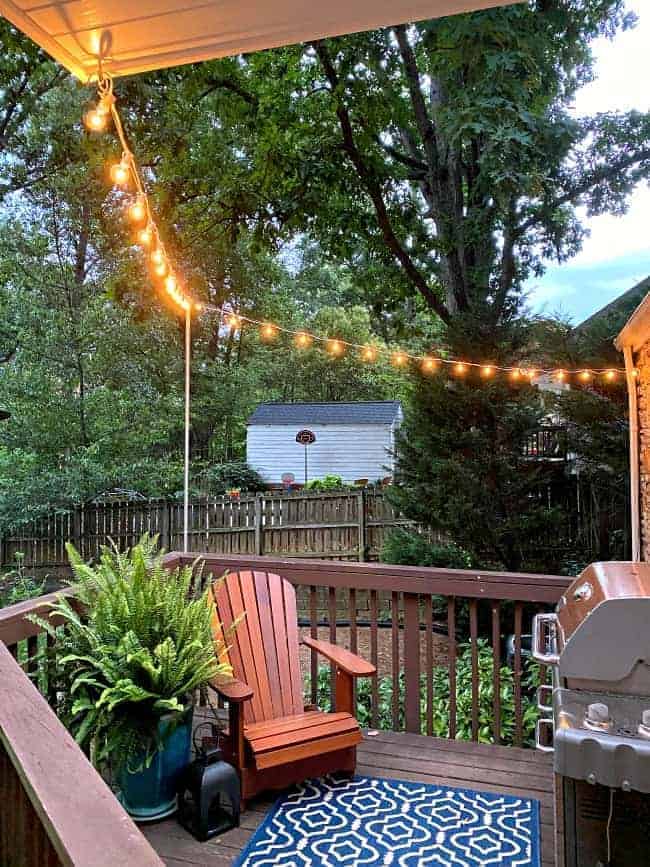 Now with the new porch roof, the deck lights and a little outdoor decor we have a great new outdoor space.
We can't do a whole lot in this small space but now it at least looks good!
It also looks great from inside the house. You can see the lights from the front door through the dining room. I just wish we had done this easy project sooner.
Next up...the neglected lower deck.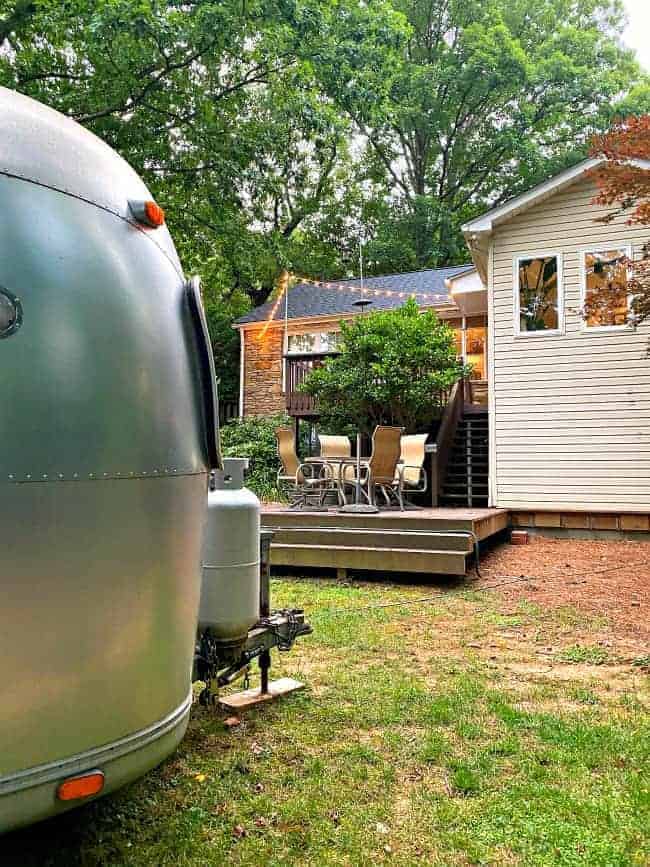 More outdoor deck projects...
Outdoor Cafe Lights - A project that was a bit more involved but it really transformed our backyard space.