DIY Bird Feeder Pole for Under $5
This post may contain affiliate links, please see our policy for details.
How to easily make your own DIY bird feeder pole from an inexpensive piece of EMT pipe.
I've wanted a bird feeder for our back deck ever since we moved into the cottage so I could do some bird watching.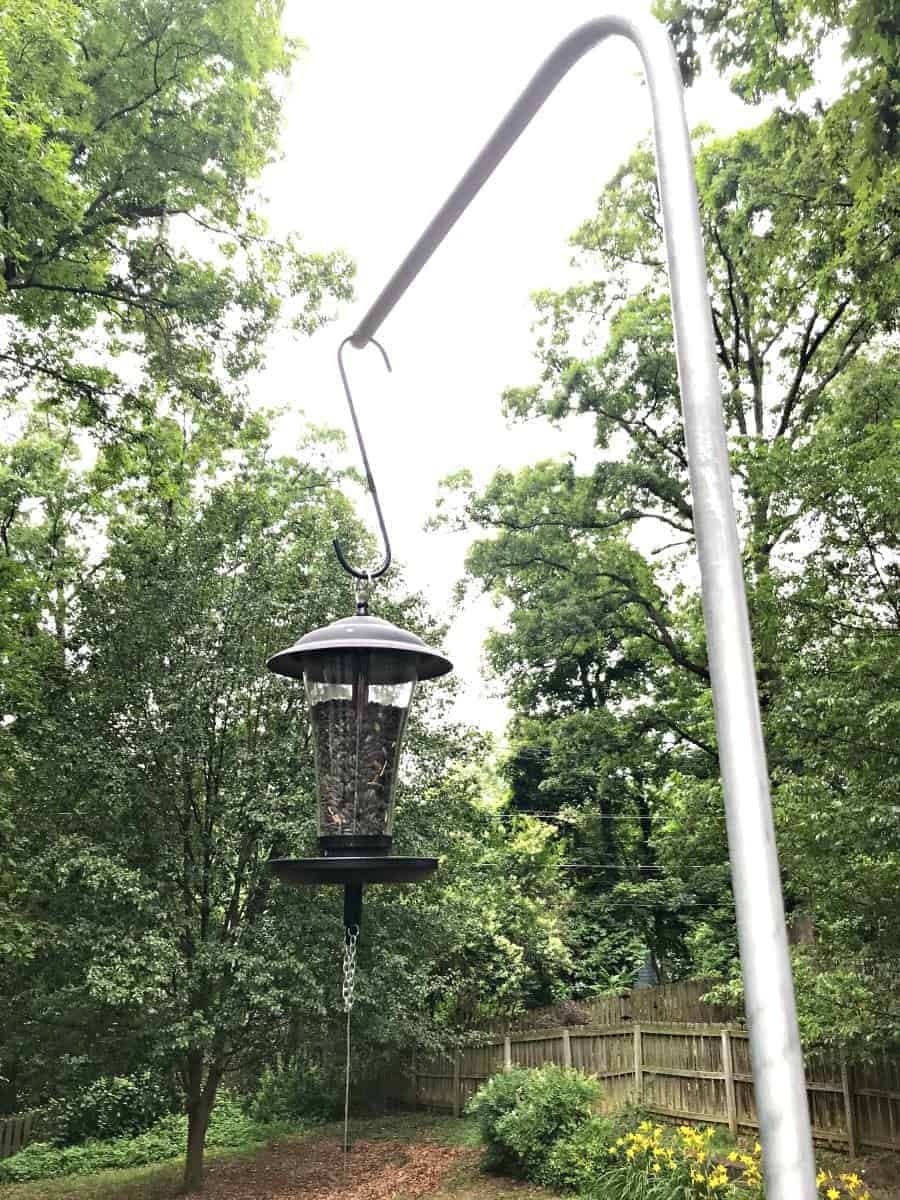 The hubs wasn't interested in having one (he didn't want to spend $$ on a feeder and food).
So, instead of waiting for him to change his mind, I went out and got supplies myself.
Supplies to make a bird feeder pole for under $5
Bird Feeder Pole DIY
The bird feeder and all of my other supplies were easily found at the hardware store but I wasn't crazy about the bird feeder poles that they offered.
They were all pretty short and skimpy, plus they cost more than I wanted to spend.
It took me a hot second to decide that I needed to find something else to make my own pole, and spend less money, so I searched the aisles.
It didn't take long to find exactly what I needed in the electrical section, a 10′ piece of ¾" EMT conduit.
I could make the perfect DIY bird feeder pole with it and it was super affordable at just under $5.
One issue though, was that the conduit was straight and I needed a bend in it so I could hang my bird feeder.
No problem. You can easily do this with a conduit bender.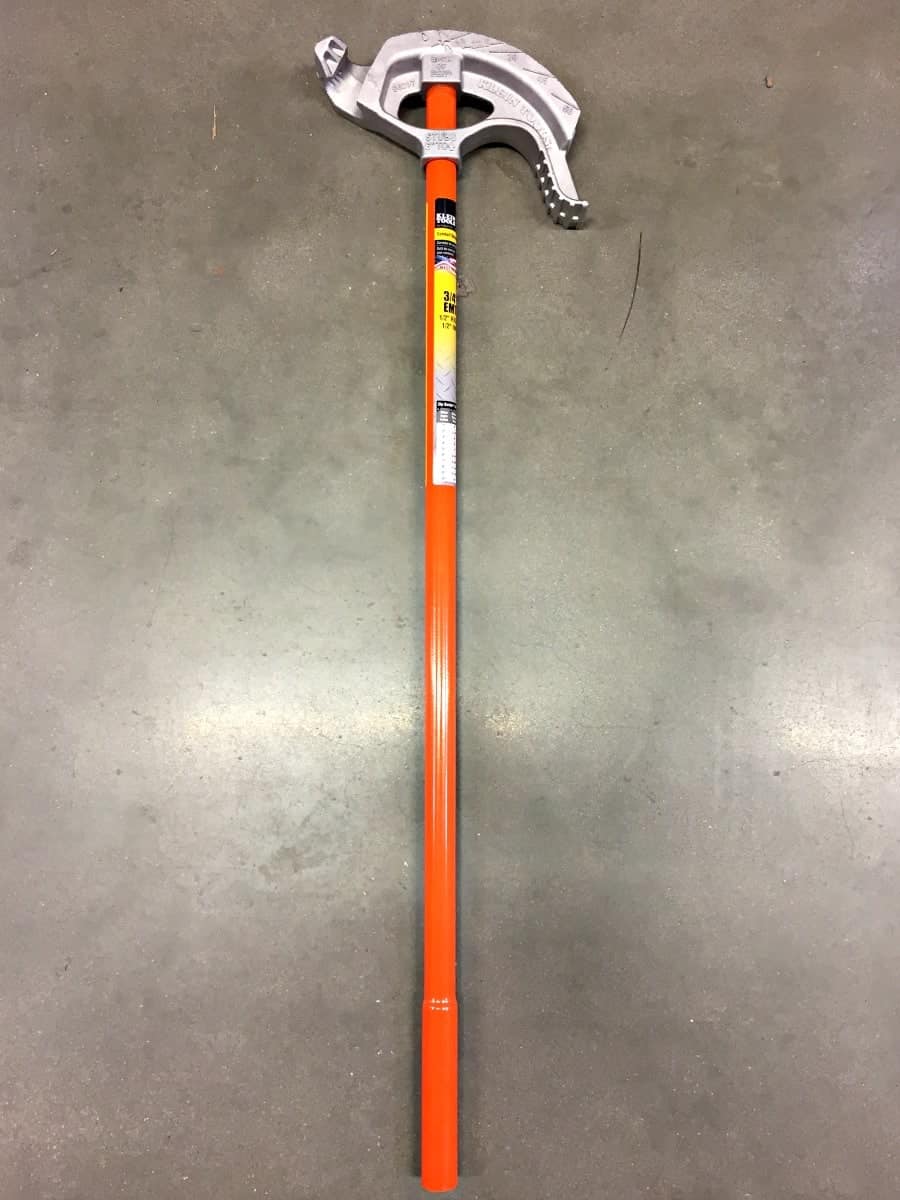 Once I was home with my new bird feeder and pole, I quickly got to work hanging it.
First I drilled a hole in the curved end for my hook.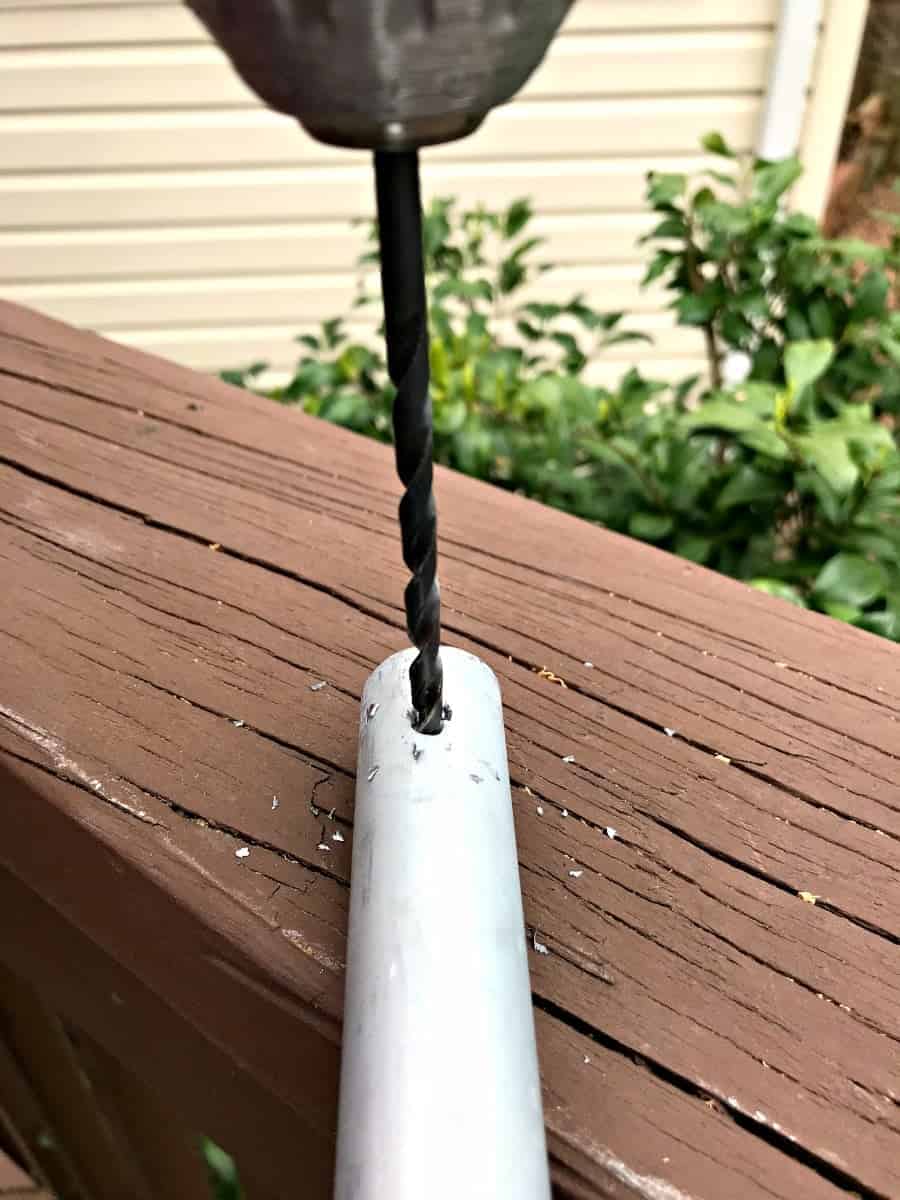 Next, I used a spade bit to drill a hole in the deck railing, making it just large enough to fit the pipe in.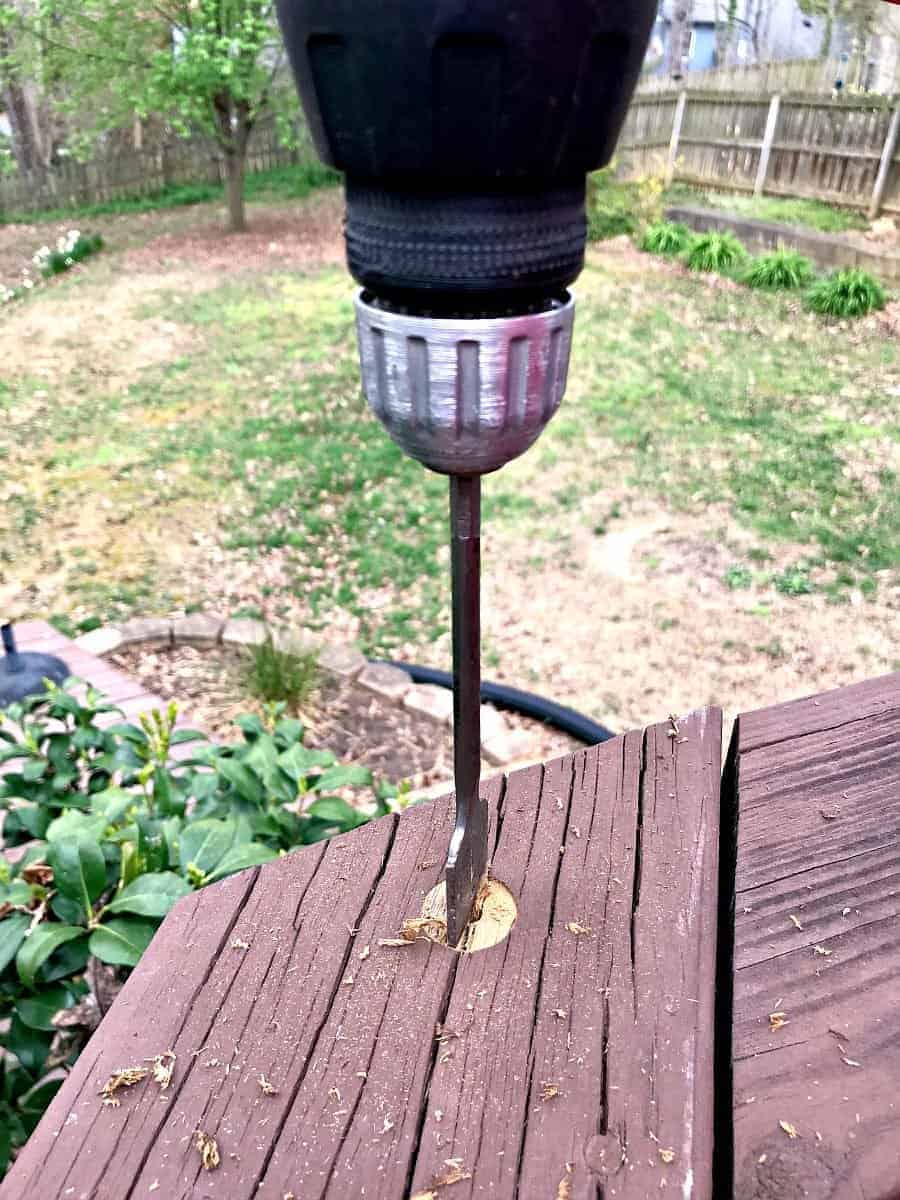 I snaked my conduit, or feeder pole, into the hole and added 2 screws at the bottom to secure it to the deck.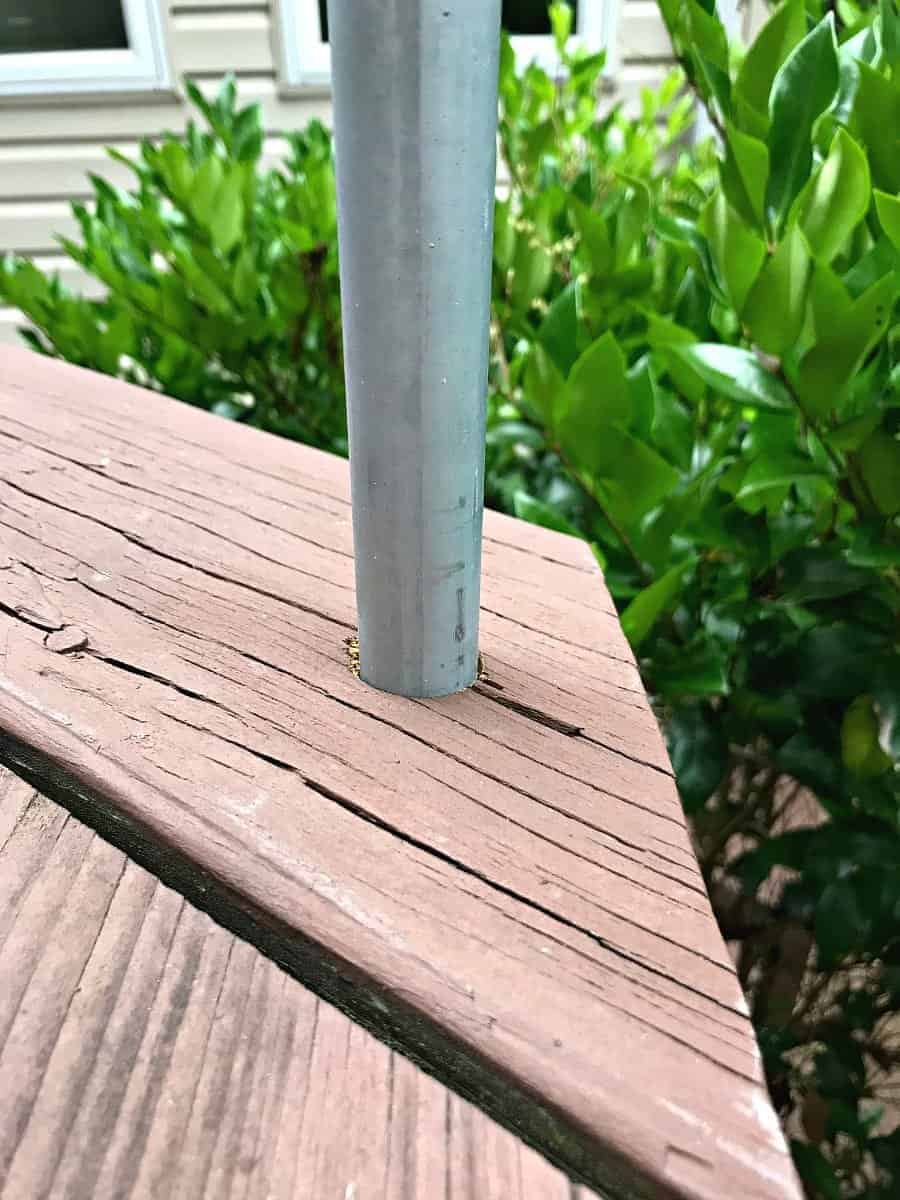 I hung the hook in the hole I drilled at the end of the conduit, and hung the filled bird feeder on that.
Easy peasy…and less money than a regular bird feeder pole.
Not only was my bird feeder going to feed my feathered friends, but I was going to be able to see them up close and right outside our window.
I was worried about the birds wanting to come so close to the house but, when I came back to the yard after putting my tools away, I already had a visitor.
Less than 5 minutes after it was up!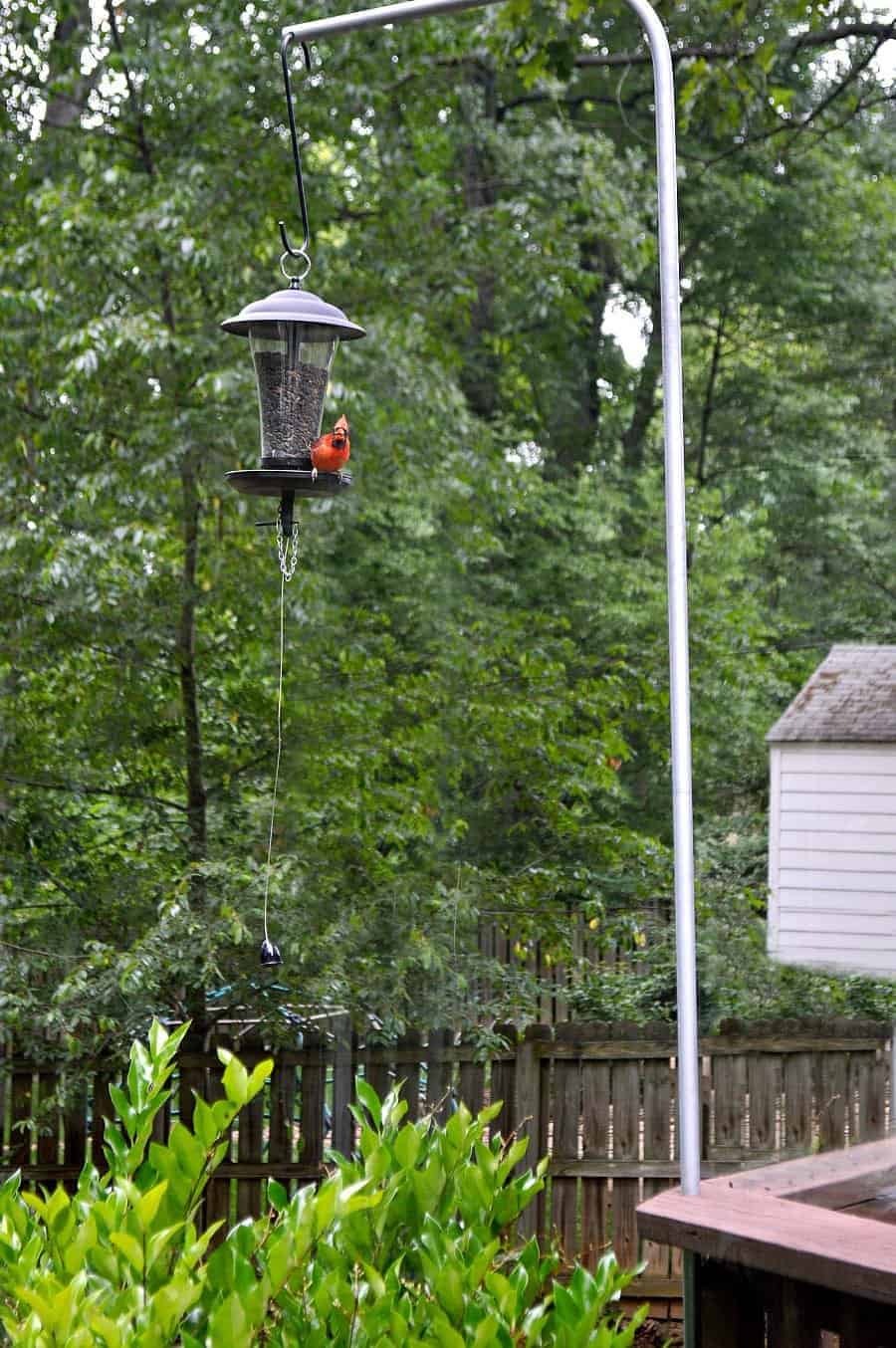 I really enjoy watching all of the different birds come to visit and trying to identify them all. Roger has also been enjoying it, just like I knew he would.
And then there were squirrels…
It didn't take long for the squirrels to come calling so we scrambled to find a solution.
It took us three tries but we finally found a way to stop the squirrels from climbing the bird feeder pole.
Now my feathered friends can eat uninterrupted and not be bothered by those nagging squirrels.
Check out more bird feeder posts