Disclosure: As an Amazon Associate and member of other affiliate programs, I earn from qualifying purchases.
Thrifty ideas for decorating a small sunroom. Phase 2 of the makeover process.
Our sunroom has really been a work in progress since we moved in in 2016. Last summer I painted the room (BM Gray Owl), rearranged the furniture and hung a new light fixture.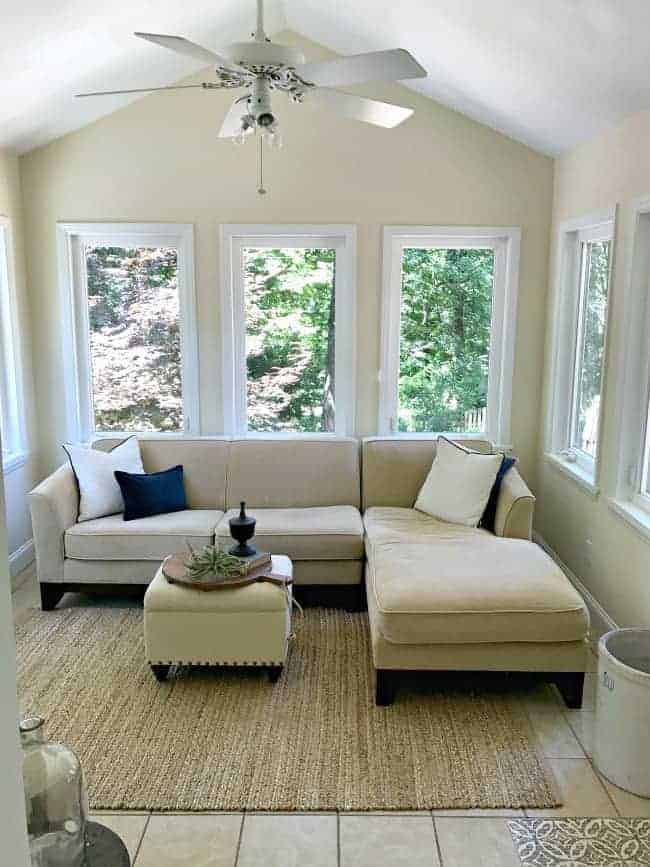 That was Phase 1 of the makeover. It's taken a while but I'm finally ready to reveal Phase 2, and it includes a few thrifty ideas for decorating.
We started with yellow walls and a ceiling fan that didn't work.
A gallon of paint and a little furniture rearranging did wonders for this small space.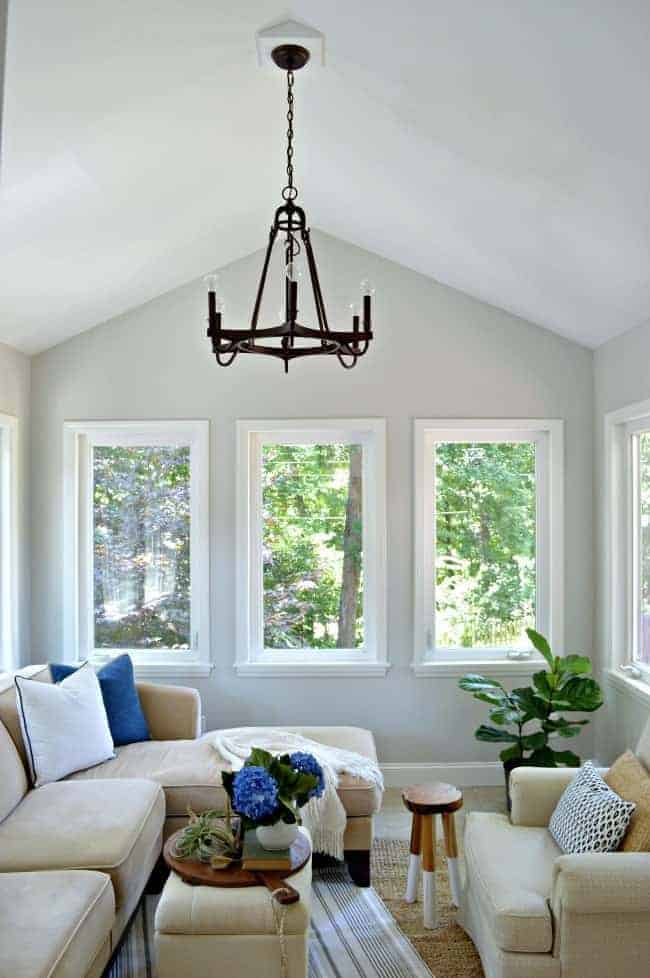 With all the big projects done, it was time to work on decor. The plain, white back door (that will eventually be replaced) was calling out for paint and we needed to hang some art.
Painting the door was a really quick and easy fix. You could even call it a thrifty change. I only used ¼ of a quart of paint and it took about an hour to do.
I ended up using the same paint that I used for the kitchen island makeover, Benjamin Moore Wrought Iron.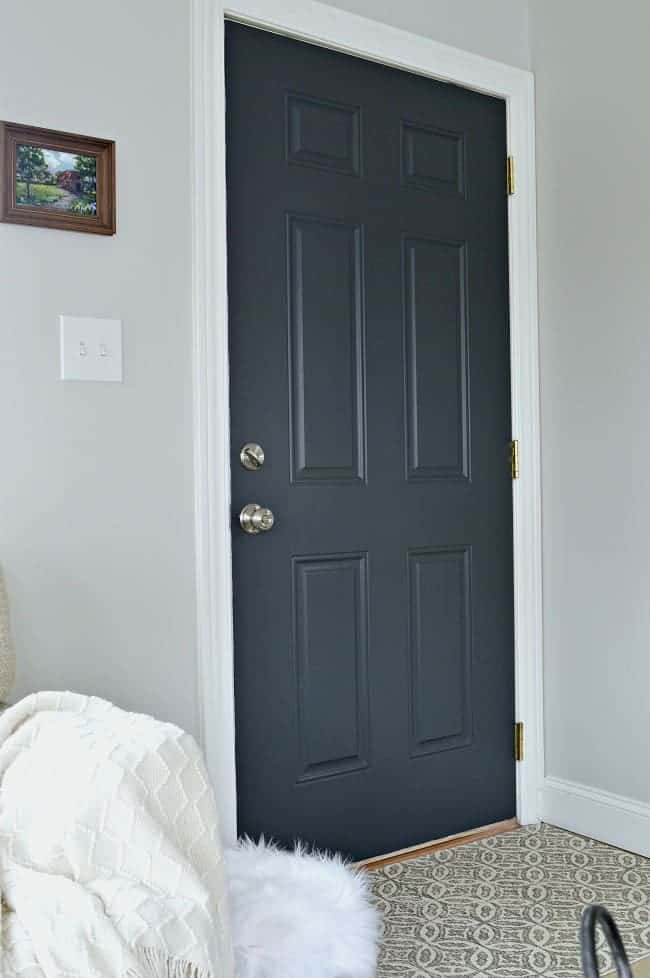 With the door done it was time to work on the next change...finding something for the one empty wall in the room.
As you can see the room is almost all windows. There is one blank wall though, and it really needed something. I've tried several things since we moved in...a standing mirror, a large picture and a wall gallery. Nothing seemed right until I walked into an estate sale and found these beautifully framed botanicals for $10 each.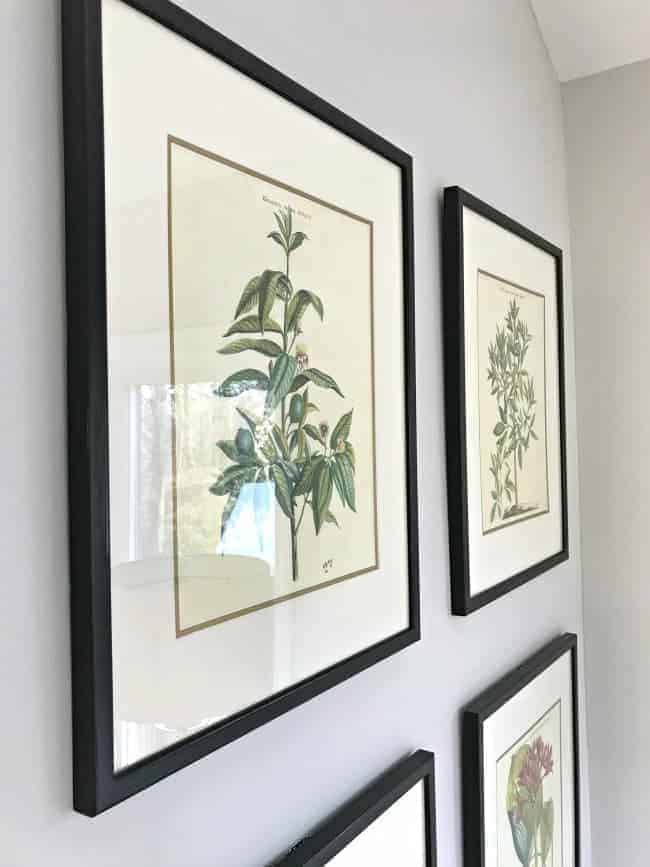 There were 8 botanicals for sale, but they are quite large, so I just ended up picking the four prints I liked best. A great find for $10 a piece.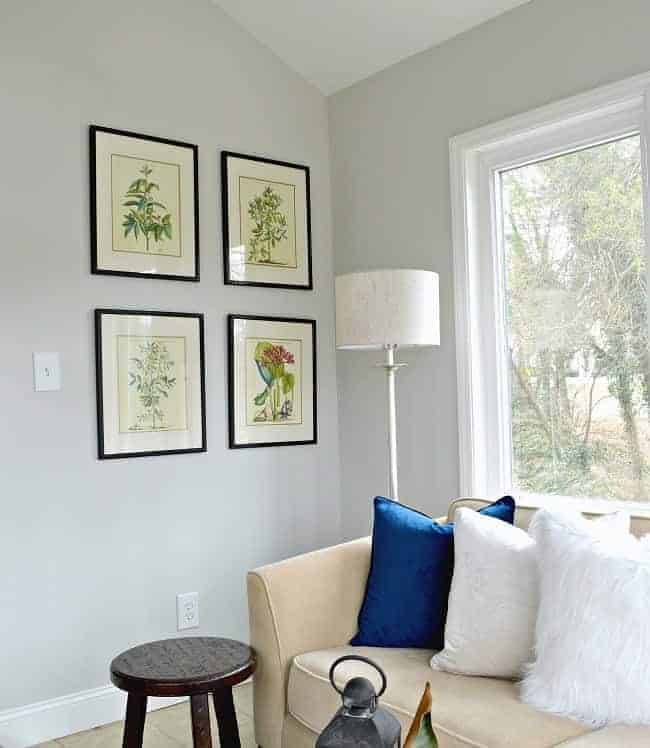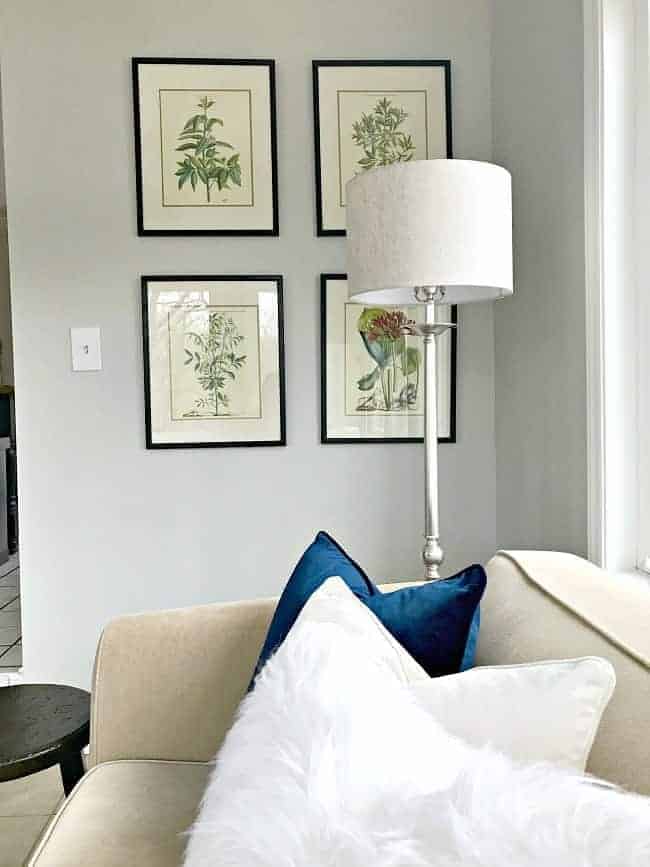 One last addition was the Bird of Paradise in the corner. I wanted a large plant for this space but was trying to decide on what kind when this lovely beast found me. She was in rough shape with torn leaves and sitting all alone in our local Home Depot. I asked a salesperson if she was for sale and they ended up selling it to me for $15. Can a plant be a "she"?
Anyway...
It was too good to pass up so she came home with us. Apparently I didn't think it all the way through though, because I didn't have a large enough pot for her. I quickly found out that large pots are pretty pricey so I picked the nicest one I could find at a price that I could live with. Not thrifty (even though it was on sale and I used a coupon) but I guess you can't win them all.
Our new imperfect plant turned out to be the perfect addition to the empty corner.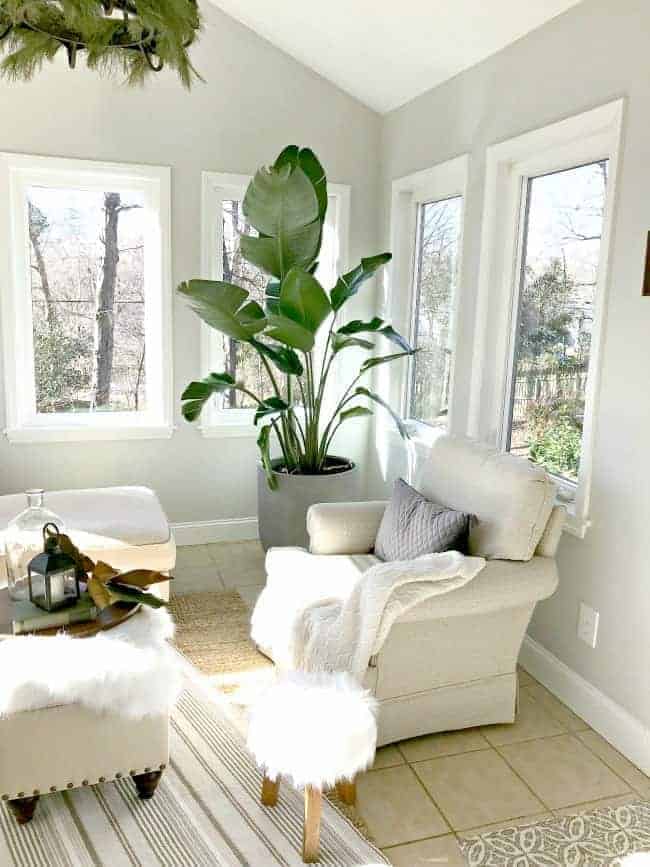 We still need to replace the floor and the back door, and I would like to add beams to the ceiling, but that's all down the road.
I'm happy with the progress we've made in here but anxious for the leaves to come out. The view is so much better when everything is blooming.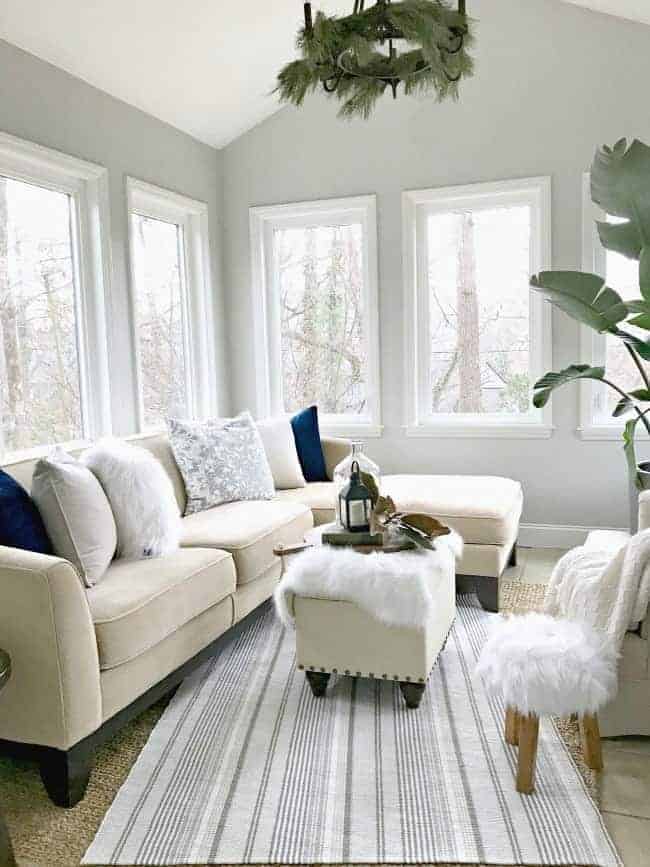 Sunroom Sources
As an Amazon Associate and member of other affiliate programs, I earn from qualifying purchases.
Hanging light - Lamps Plus
Wall paint color - Benjamin Moore Gray Owl, Regal Select, Eggshell
Door paint color - Benjamin Moore Wrought Iron, Regal Select, Pearl
Faux fur stool - DIY
Striped rug - Nordstrom
Pillow covers - all from HomeGoods
Large planter - West Elm

Want to see more on the sunroom?
Progress and a Home Tour Video