An Update on Our Cottage Kitchen
This post may contain affiliate links, please see our policy for details.
This coming July will be 2 years since we moved into our little cottage. Two years already! We've done a lot of updates over the last 18 months but our cottage kitchen has seen the most change. I thought it would be fun to go back and see how far it's come (and how far we have to go).
I loved this kitchen from the moment we stepped into this house. We left our beautiful, newly renovated kitchen in Illinois so I really wanted our new house to have a kitchen that, at the very least, had good bones. This one didn't disappoint. Sure it needs work but most of the issues in this space can be fixed with a little bit (or a lot) of work.
This is where we started, before we moved in.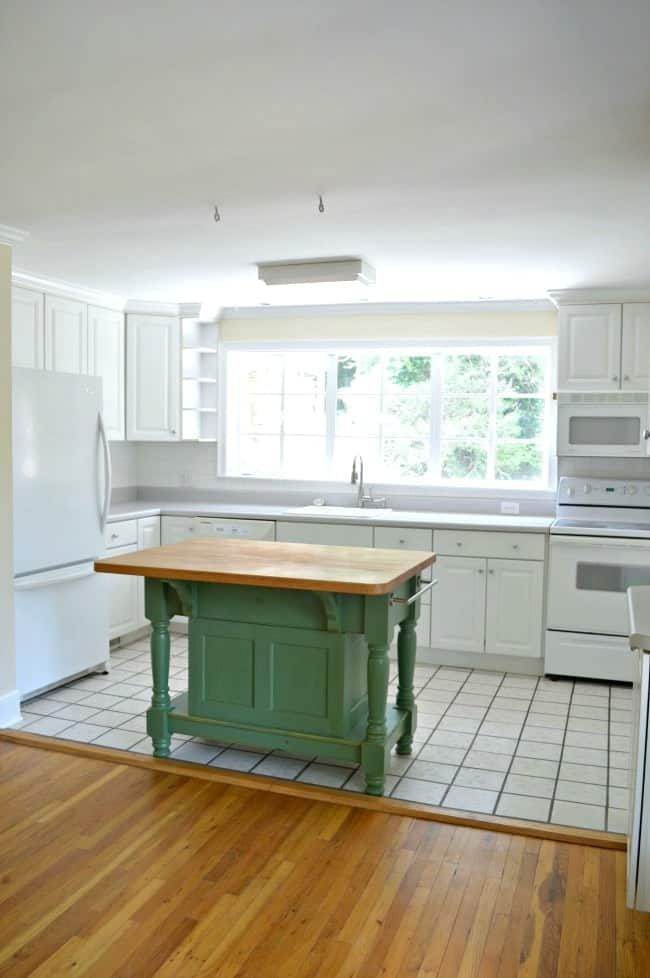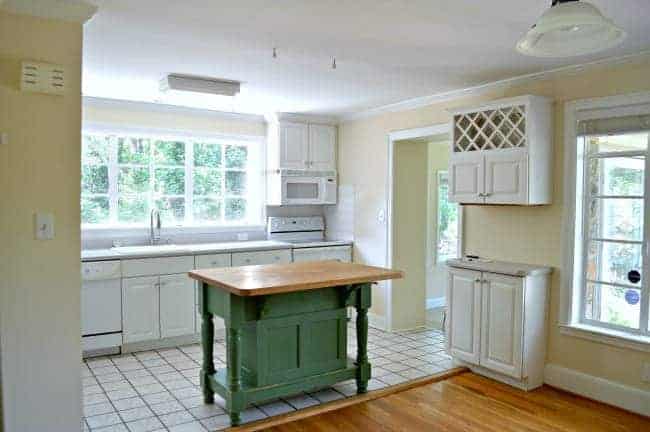 This space looks good in photos but it definitely has issues. The floor tile needs replacing, the melamine cabinets are in rough shape (every door is chipping or peeling), the sink has big chips in it and the faucet wasn't even attached.
Besides all of that, the microwave was broken, the electric stove was beyond disgusting and the dishwasher was rusty inside (and it didn't work).
Some changes could wait, like new flooring and cabinets, but the faucet, stove and dishwasher needed to be replaced right away.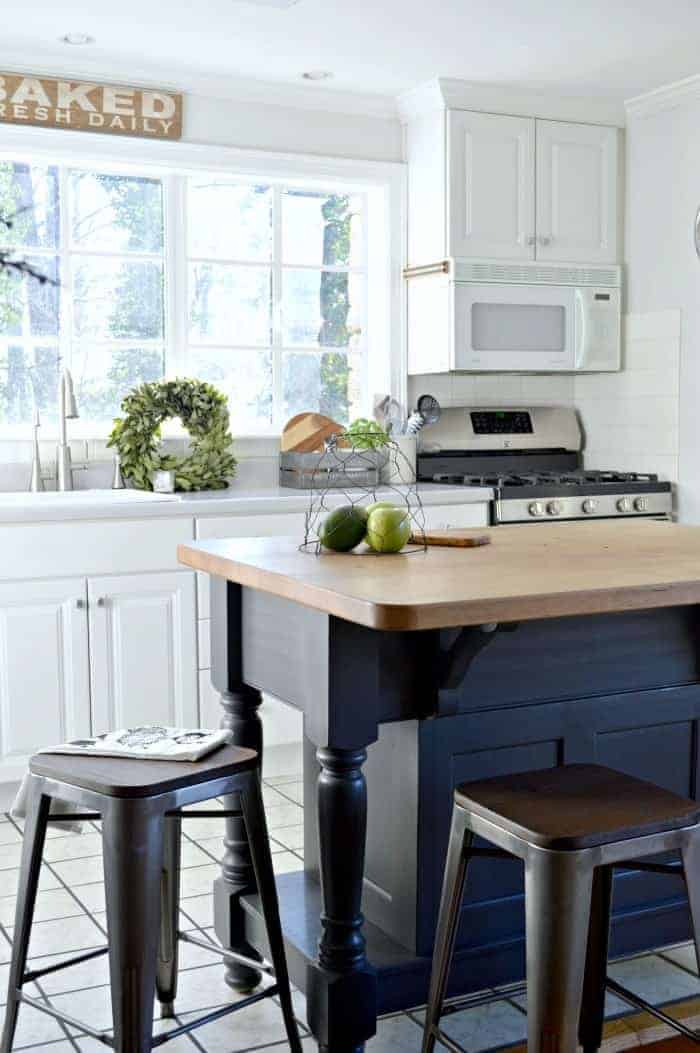 Before we could hook up our new appliances though, we had to run a new gas line. The new stove, the furnace we had to buy and our old dryer needed gas so we ran and hooked up a new gas line. It was a big job, and the first time we ever tackled something like this, but we did it (and saved a lot of money).
With the faucet, new stove and dishwasher all hooked up and working, I moved on to the next task, painting the kitchen island.
Such an easy change but it made a huge difference in the way the room felt. You can see all the details on how I transformed it here.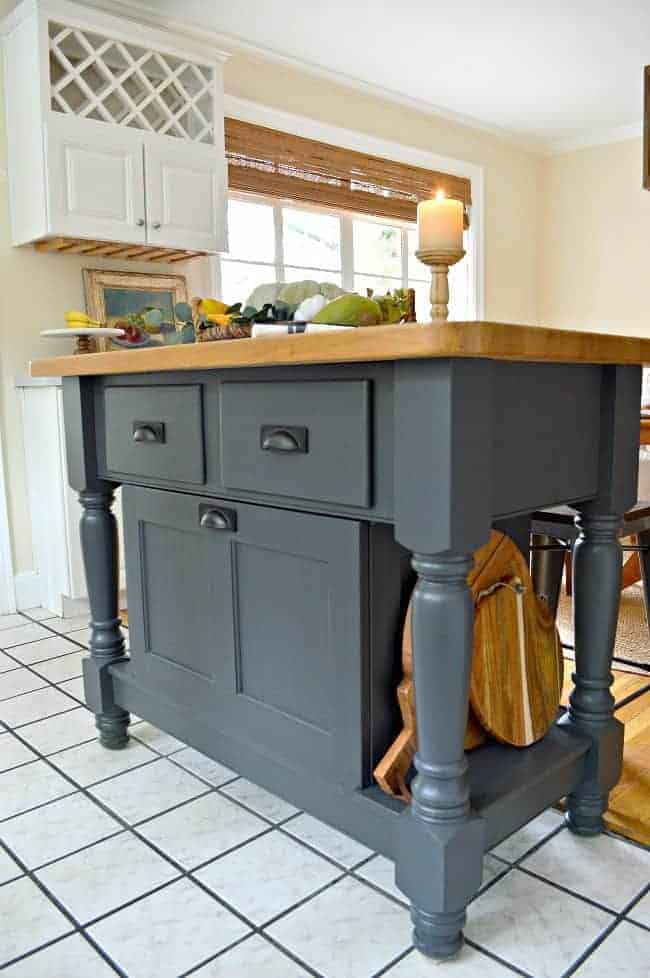 The next change on the list was the wine rack cabinet on the dining room window wall. From the moment we stepped into this space I knew it would have to go. I needed a place to keep my dining plates, and everyday dishes, and barn wood shelves were the perfect solution. Check out this easy DIY, here.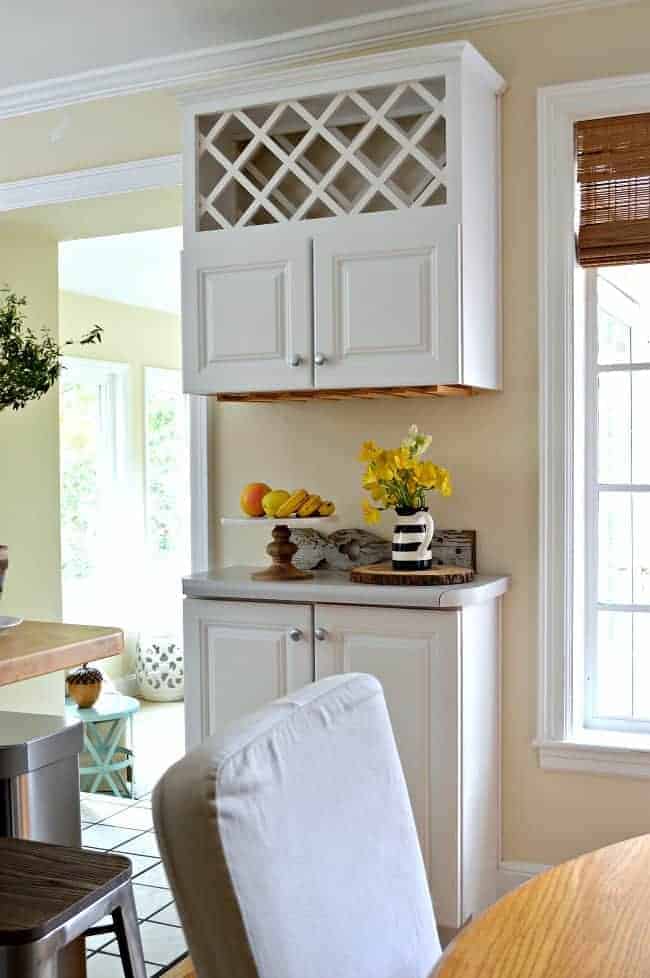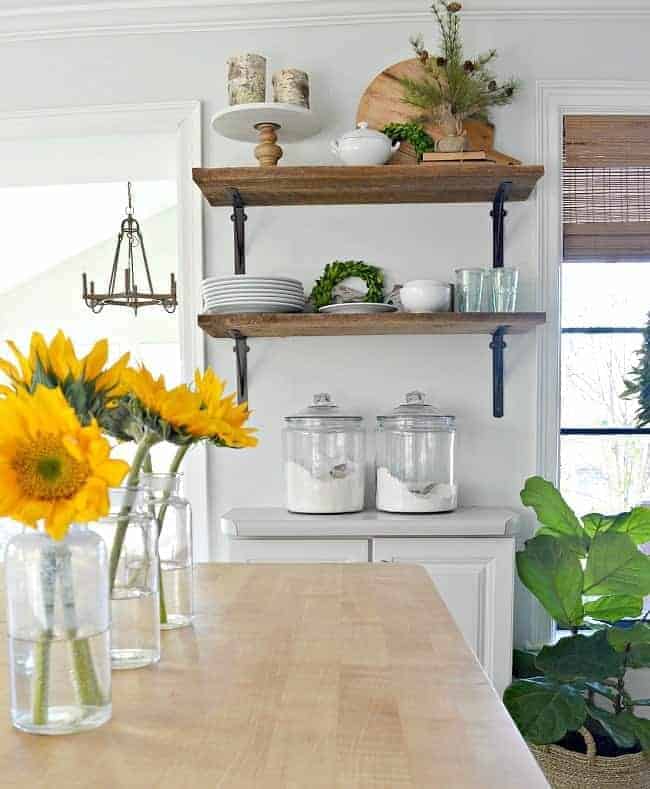 With the big things on the to-do list done, I moved on to a few cosmetic changes. The first one was fixing all the holes in the walls so I could paint. I went with Benjamin Moore Paper White, Regal Select, Eggshell. Love the new color!
I also went for a big change with our casement windows and painted them black, here. This project wasn't a quick or easy one but the results are worth it. Best. change. ever!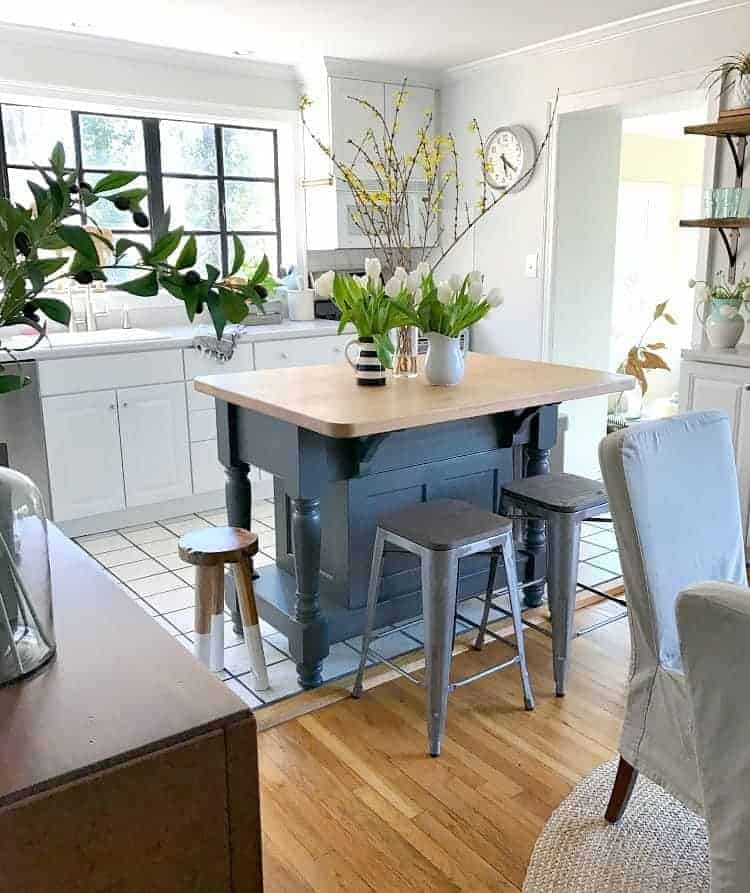 The last project we completed was the new ceiling light. We were going to wait until the renovation to tackle this one but…
Yeah, we just couldn't stand to look at the florescent light anymore. This project was way more involved than we thought it would be (plaster ceiling, ugh), but we're so glad that it's done.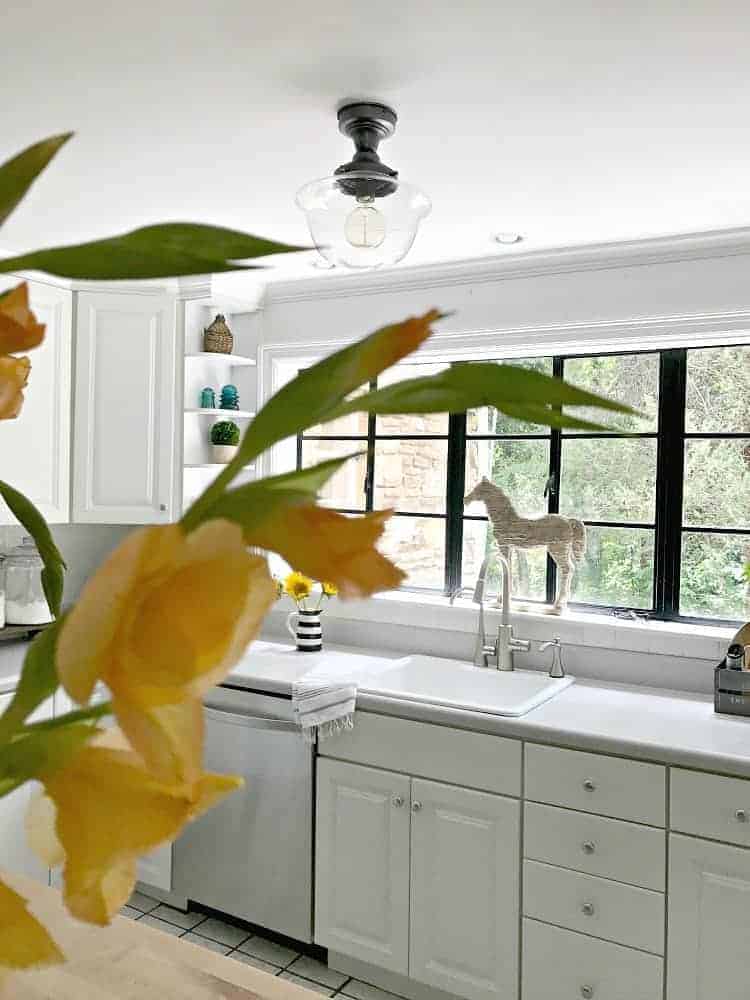 Once the window was done and the light was hung, I added my DIY farmer's market sign over the window. Love the addition of the warm wood on this wall.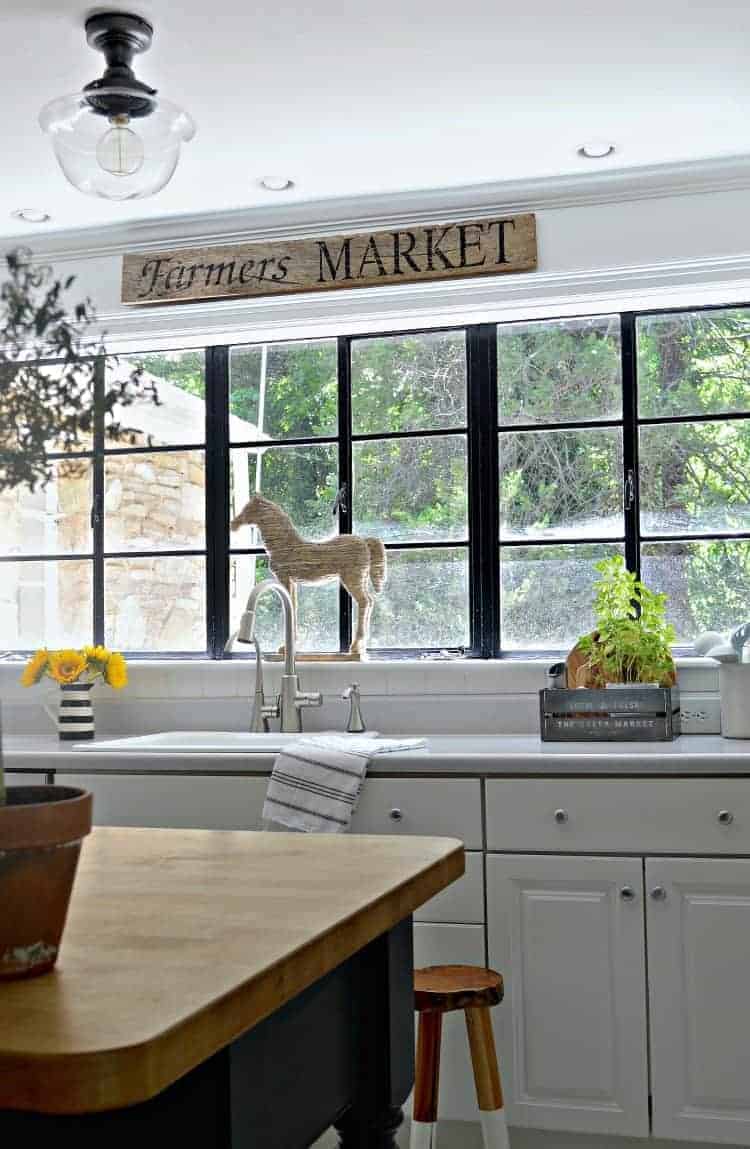 I think we're done in here. Well, at least until the renovation.
We haven't really discussed particulars but I have a ton of ideas already. Of course the floor will be replaced, as well as the cabinets, countertop, backsplash and sink. The microwave will go (we never use it anyway) and a new stove hood will be built in its place. Other than some new lighting, and maybe a new refrigerator, that will be it for this space.
One last look at where we started 18 months ago…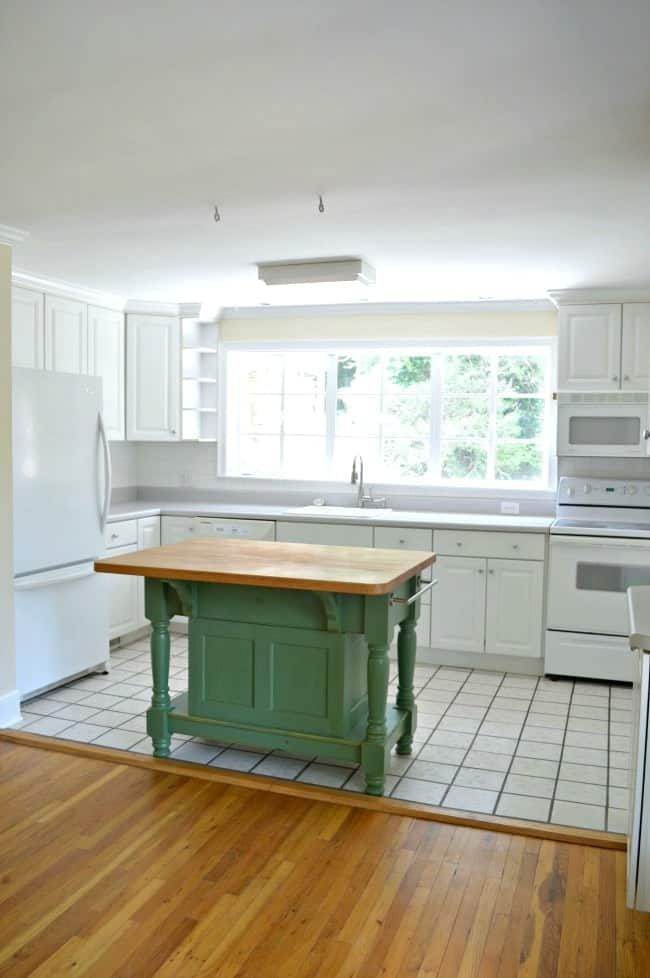 And where we are today…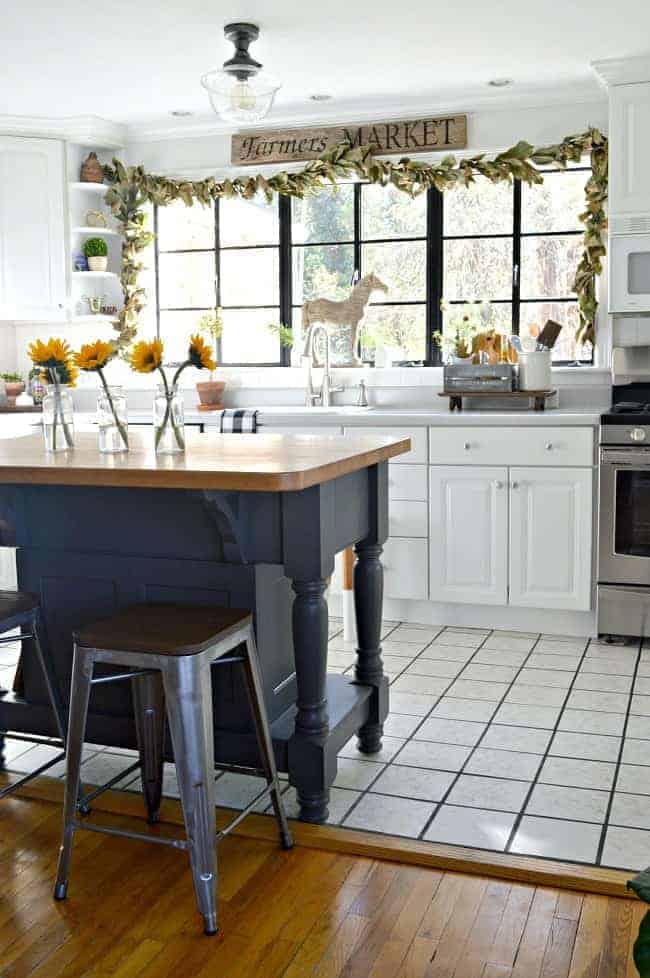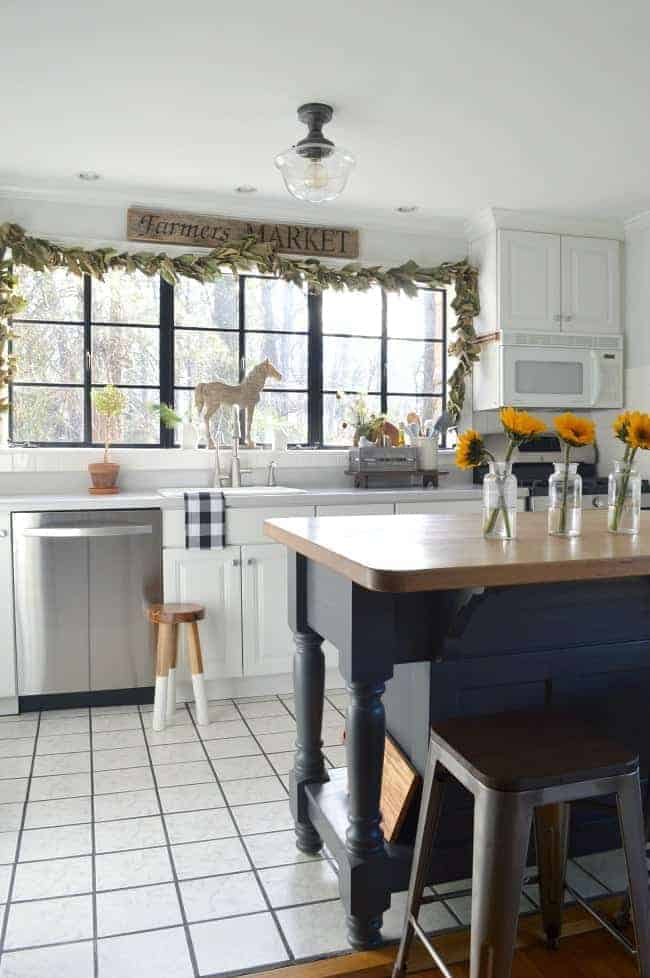 Our cottage kitchen has turned into one of our favorite spaces. I do love it but I'm really looking forward to making more changes. Hubs…not so much. 😉
You can see how the cottage looked when we first moved in (there's even a video!).
Cottage Kitchen Improvements
run and hook up a new gas line
new appliances, stove and dishwasher
new kitchen faucet – Moen (DIY here)
painting kitchen island – Benjamin Moore Wrought Iron, Regal Select, Pearl (DIY here)
DIY barn wood shelves – (DIY here)
painting casement window black – Rustoleum (DIY here)
remove and replace florescent ceiling light – Restoration Hardware (DIY here)
hang a DIY barn wood sign (DIY here)
painting the walls – Benjamin Moore, Paper White, Regal Select, Eggshell