Disclosure: As an Amazon Associate and member of other affiliate programs, I earn from qualifying purchases.
A DIY farmer's market wood sign for the kitchen.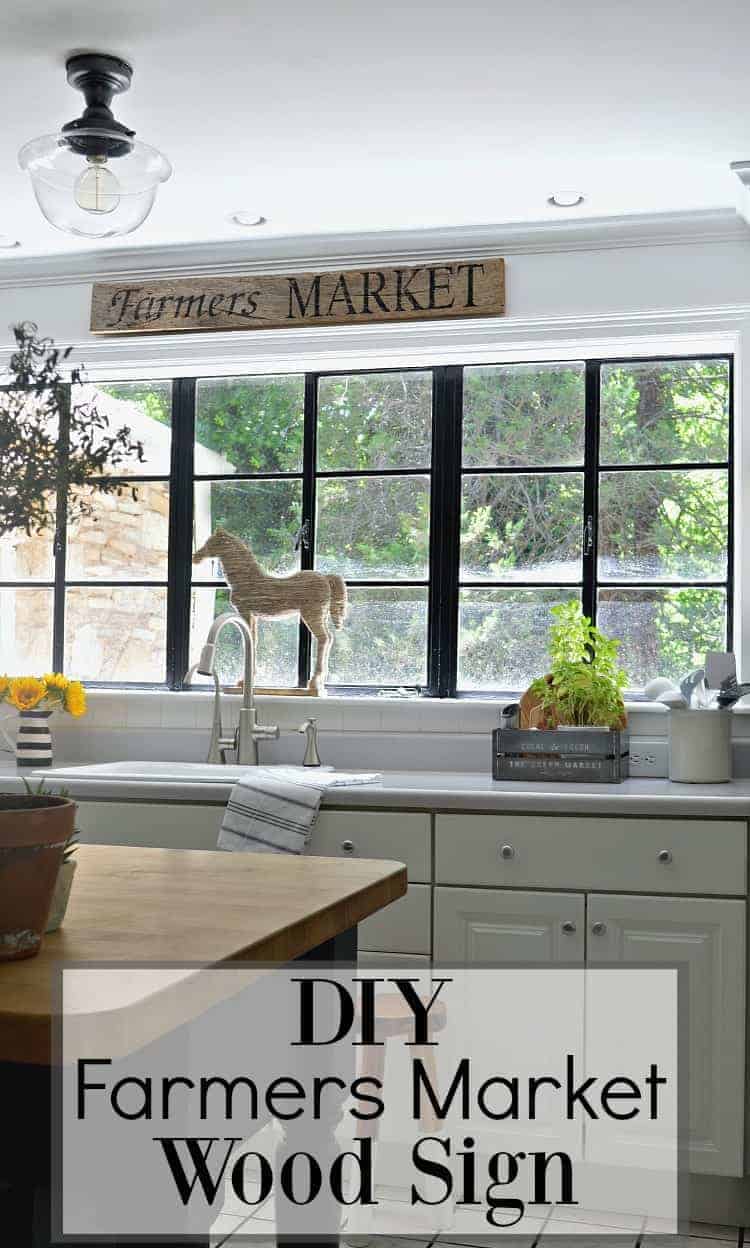 In my last post I shared my new kitchen light and hinted about the one last project I had for this space. It's a DIY wood sign that is hanging over my kitchen sink and I think it's the perfect finishing touch for my space.
I've known that I wanted to hang something in this spot since we moved in and I've been searching, but haven't found anything that fit.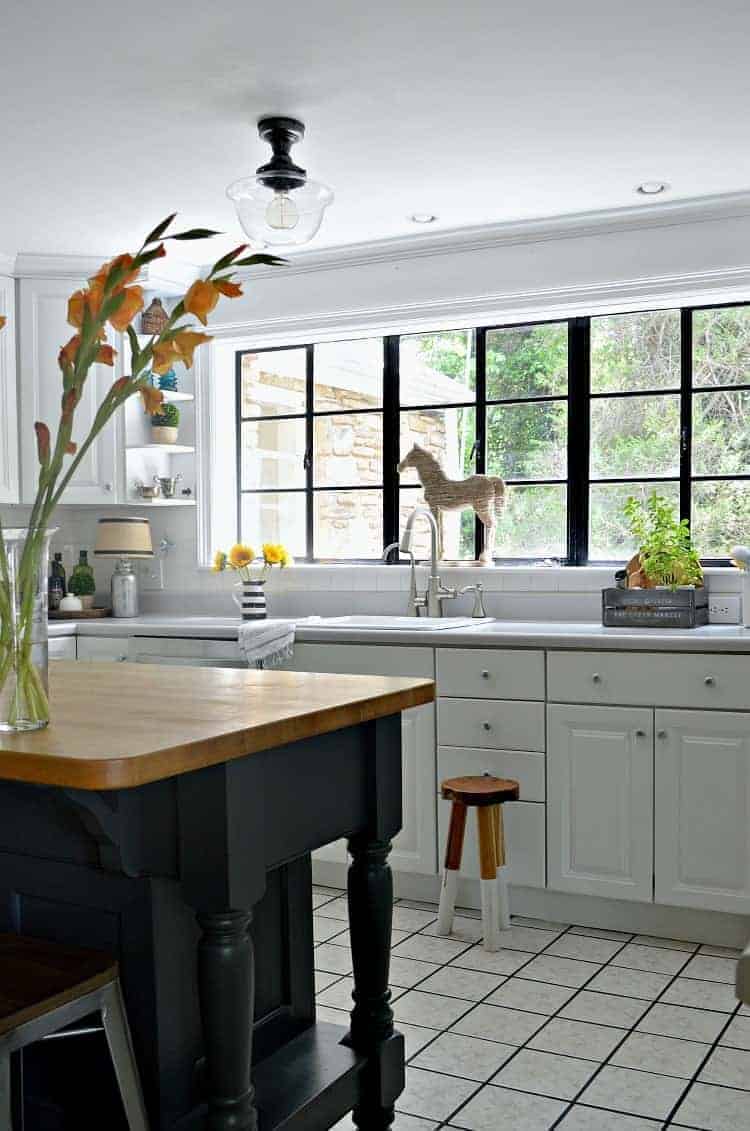 One day it hit me..."Helllloooo? Aren't you all about DIY?"
"Why yes...yes, I am!"
I could make my own and get the perfect size.
It just so happened that I had a piece of barn wood that I got from an estate sale for $2. I hadn't used it for any other projects because it was badly warped and falling apart. I thought I'd give it a shot and, if it didn't work because the condition of the wood, I would get another piece and try again.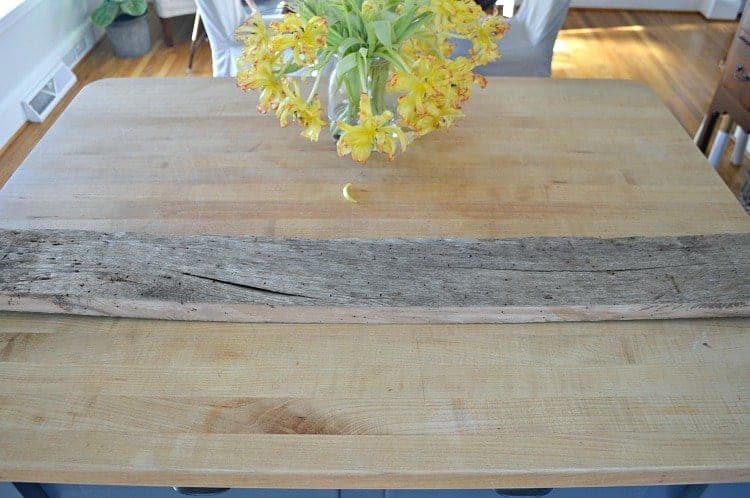 Supplies to make a DIY farmer's market wood sign
piece of wood cut to size (I used old barn wood)
stencil (or make your own)
paint
brush
picture hangers
I would usually go DIY all the way but there were a few issues to deal with that lead me to break down and buy a stencil.
The first problem was that the wood was rough and flaky with a very uneven surface. I did try to use individual stencils that I already had but, because of the condition of the wood, I couldn't get them straight. I also have very shaky hands so doing any of it freehand was just not going to work.
So I bit the bullet and I bought a stencil on Etsy. There's a ton of sellers who offer these and most will customize them to the size you need.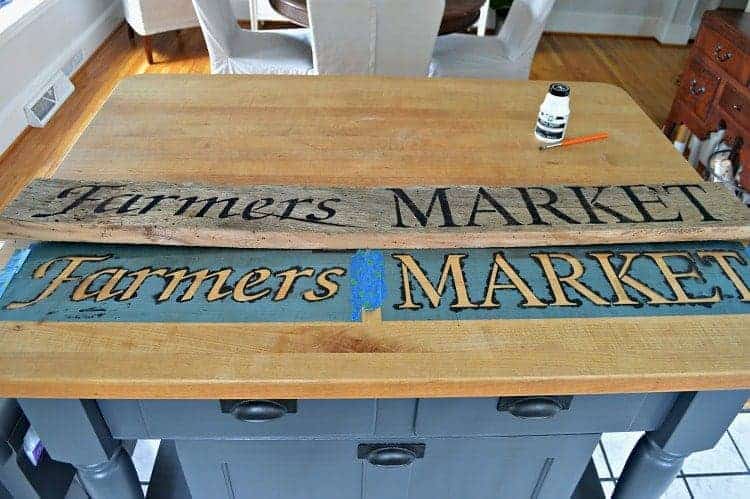 Once I had my customized stencil, my sign came together very quickly.
I centered the stencil, using some painter's tape to keep everything straight, and started to paint.
It took 11 minutes to do the whole thing. That's it!
After I was done painting, I carefully removed the stencil and let the paint dry.
Once dry, I went over some of the letters with fine sand paper, just to give it more of a rustic look.
Then I added the picture hangers and hung it up.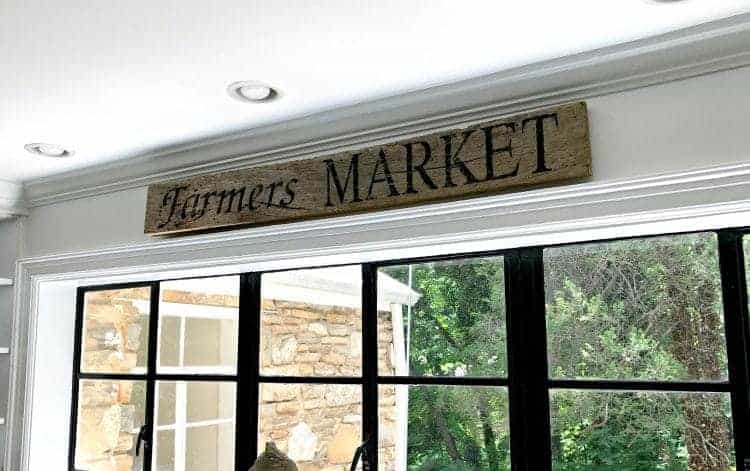 I wasn't sure how my sign would hang with the board being warped, but I think it's ok. After all, it's supposed to be rustic, right?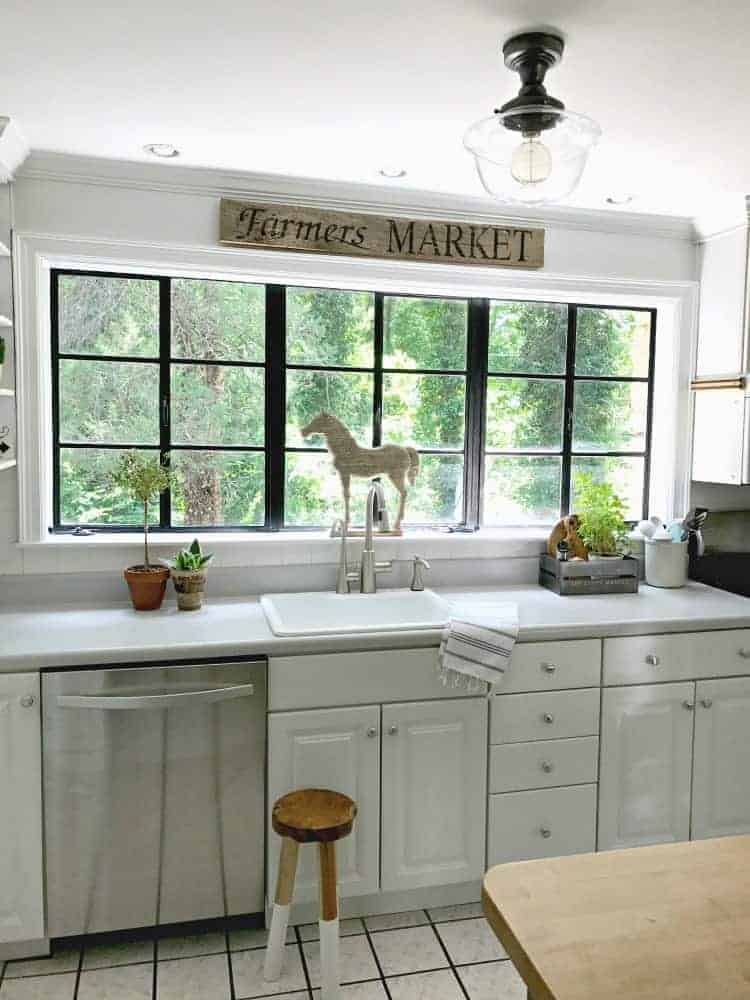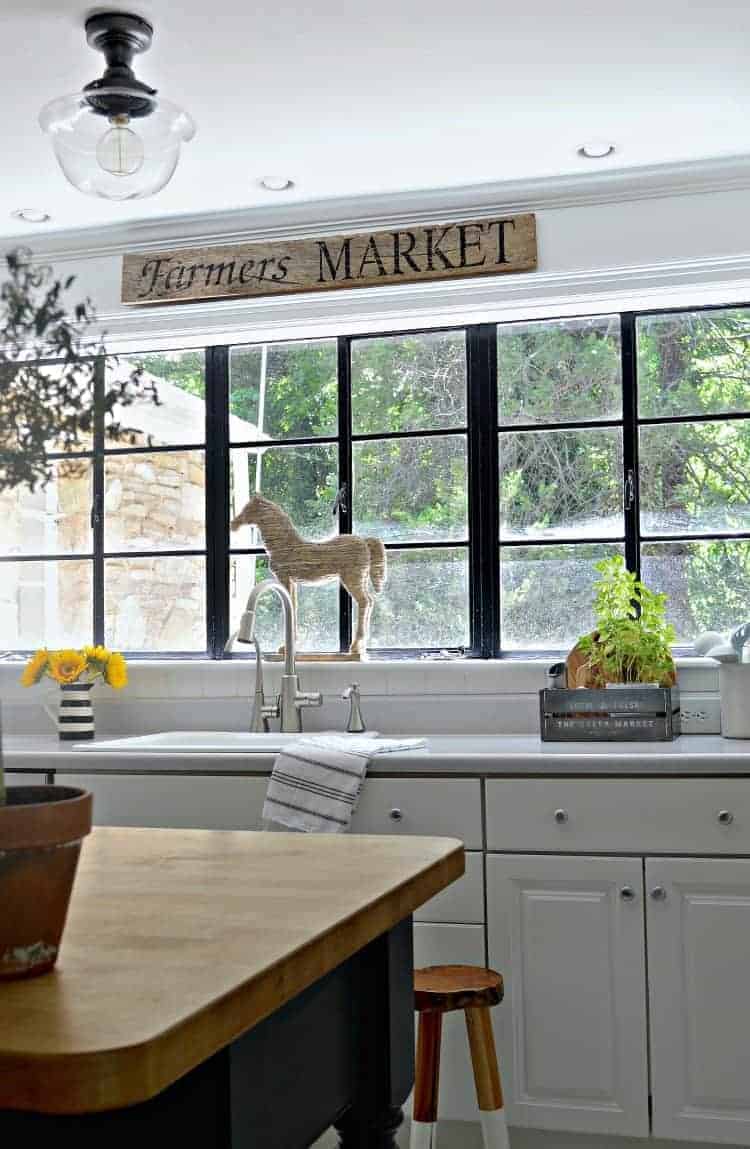 Now that my farmer's market sign is hung, I can officially call the kitchen done.
What kind of project are you working on right now?
Check out a couple more projects I've completed to put this space together.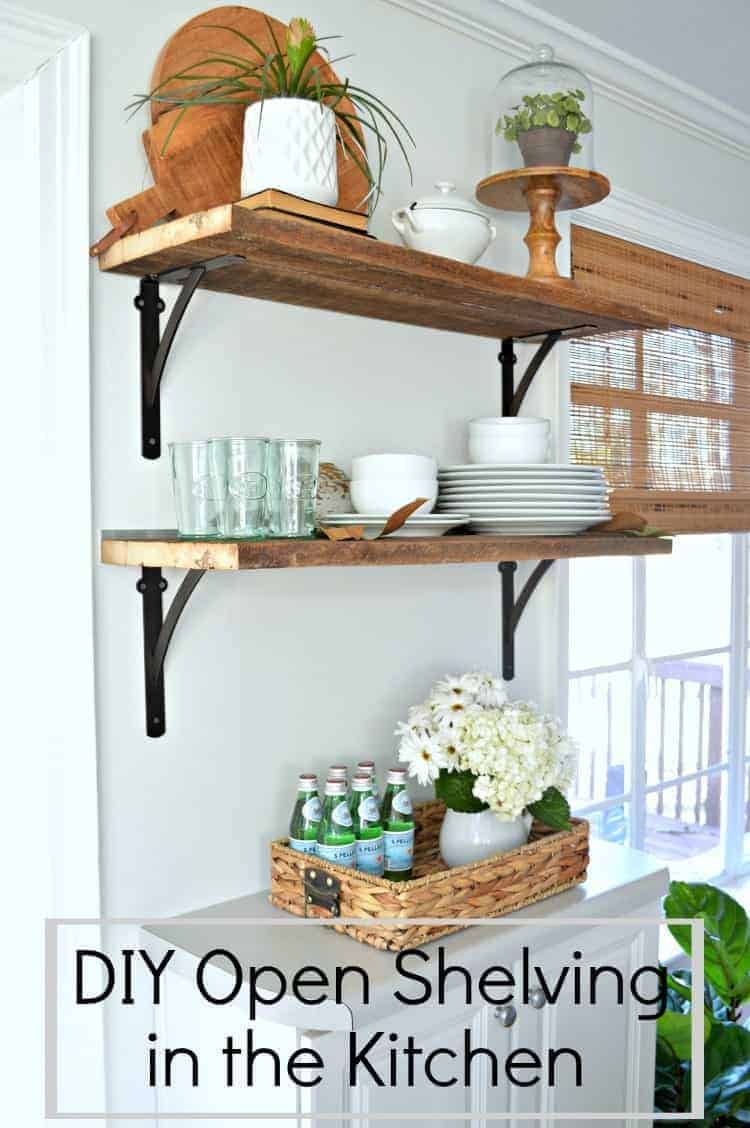 DIY Open Shelving in the Kitchen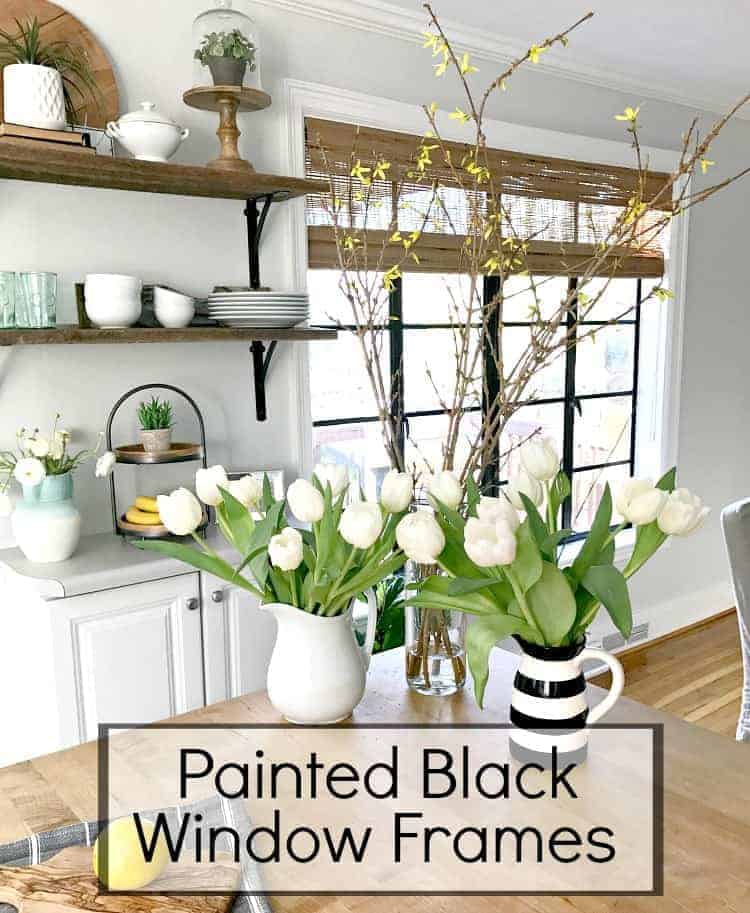 Painted Black Window Frames