Disclosure: As an Amazon Associate and member of other affiliate programs, I earn from qualifying purchases.
Let's talk about the best white paint colors for your home, and my favorite.
What is it about white paint colors?
There's no denying that white is in. White paint colors have been around for a long time and yet they are as popular as ever.
Whether you're painting kitchen cabinets white or your walls, there's a white for everyone.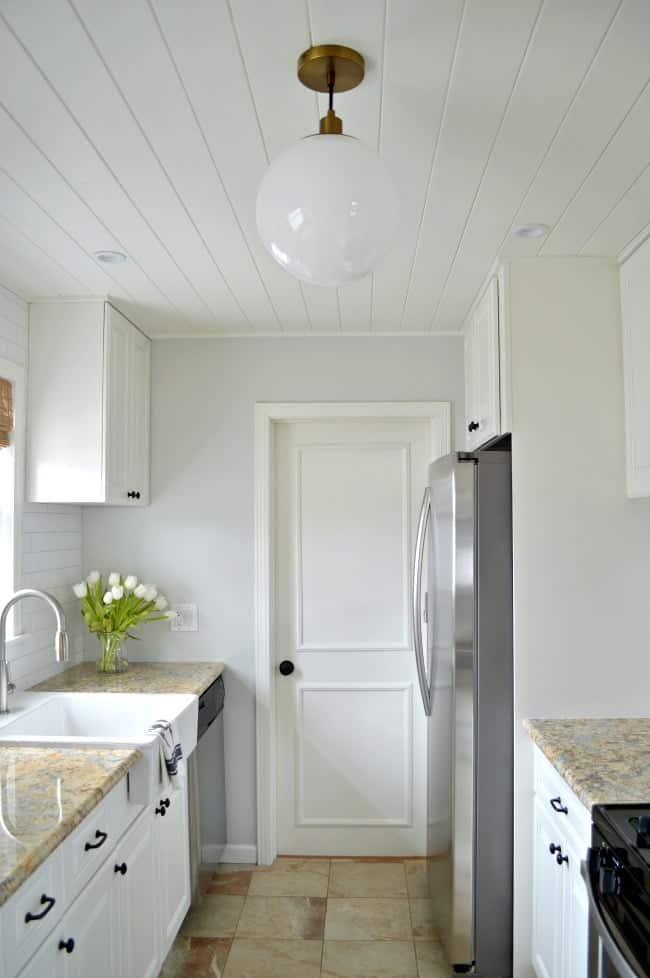 I started my quest for the perfect white paint color when we were planning our kitchen remodel in our Illinois house. I checked out a lot of whites but ultimately narrowed it down to 5 popular white paint colors for kitchen cabinets.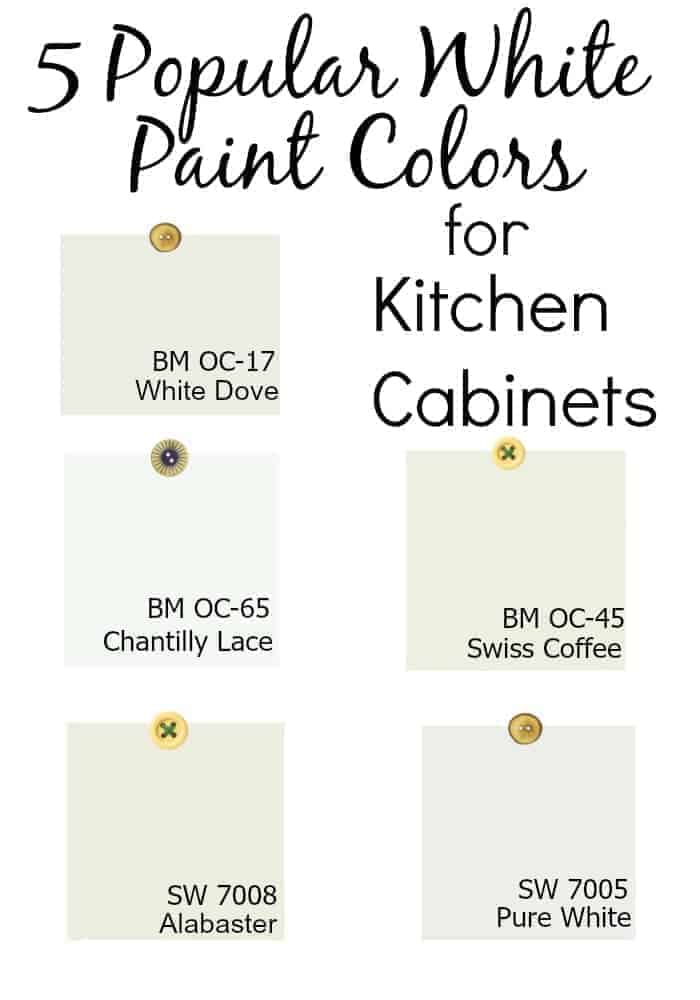 While they're all pretty colors, I did end up finding a favorite out of the 5. One thing you need to know about me is that when I find something I love, I stick with it.
I used my true love white on the kitchen cabinets, as well as the rest of the kitchen, and now use it in our little cottage.
Before we get to my all-time favorite though, I want to share another pretty white I've used.
Sherwin Williams Alabaster
I can't take credit for choosing this color because it was already in our house when we moved in. I had no idea what color it was until we started our fireplace makeover.
The previous owner was nice enough to leave all of the old paint, so I was able to figure out what it was and color match it.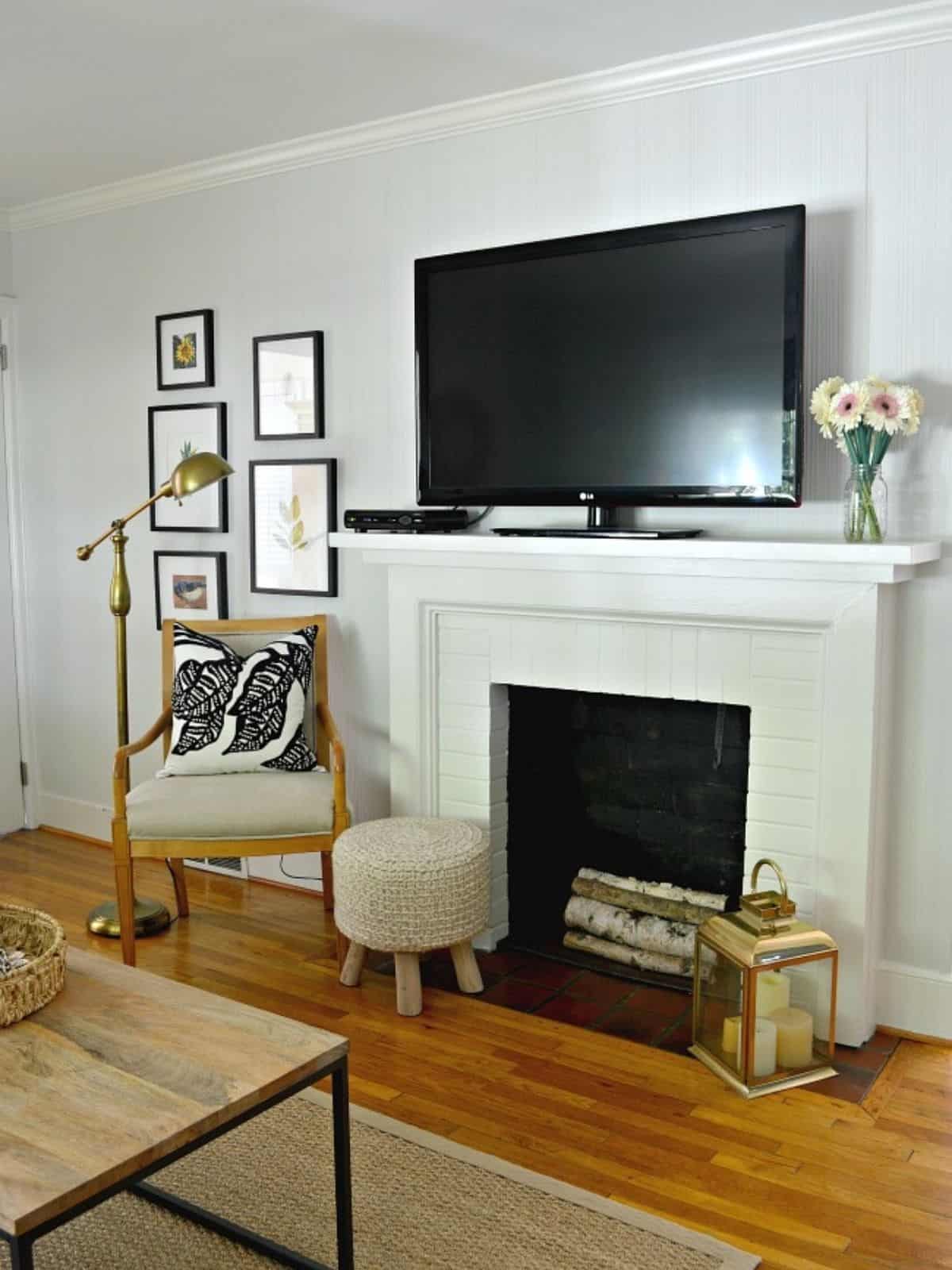 SW Alabaster is a soft, warm white. It's a pretty color but if you're looking for bright white, this isn't it.
We also used it on the bathroom door. Actually most of the doors and trim are painted with SW Alabaster.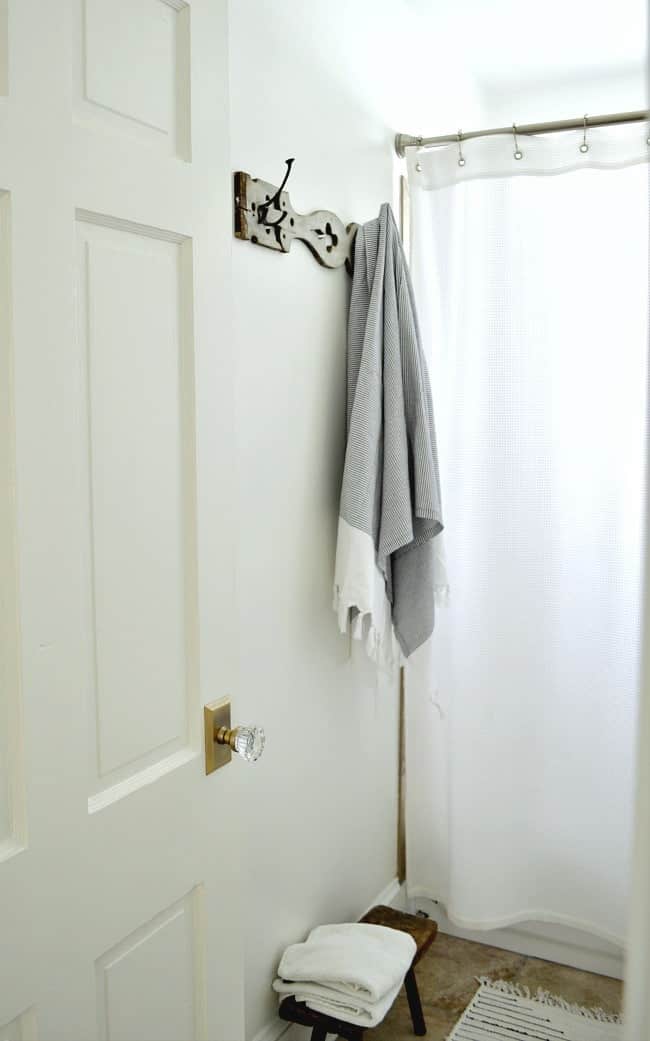 I've changed a few rooms, like the powder room and guest bedroom we're working on, but for the most part it's all SW Alabaster.
So, what is my all-time favorite white paint color?
Benjamin Moore White Dove
I can't get enough of it. It's the perfect white for kitchen cabinets, ceilings, trim, bathroom vanities...
You get the idea.
In my book you can't really go wrong with it. Just like SW Alabaster it's a soft white.
Actually, they're very similar, but I prefer BM White Dove.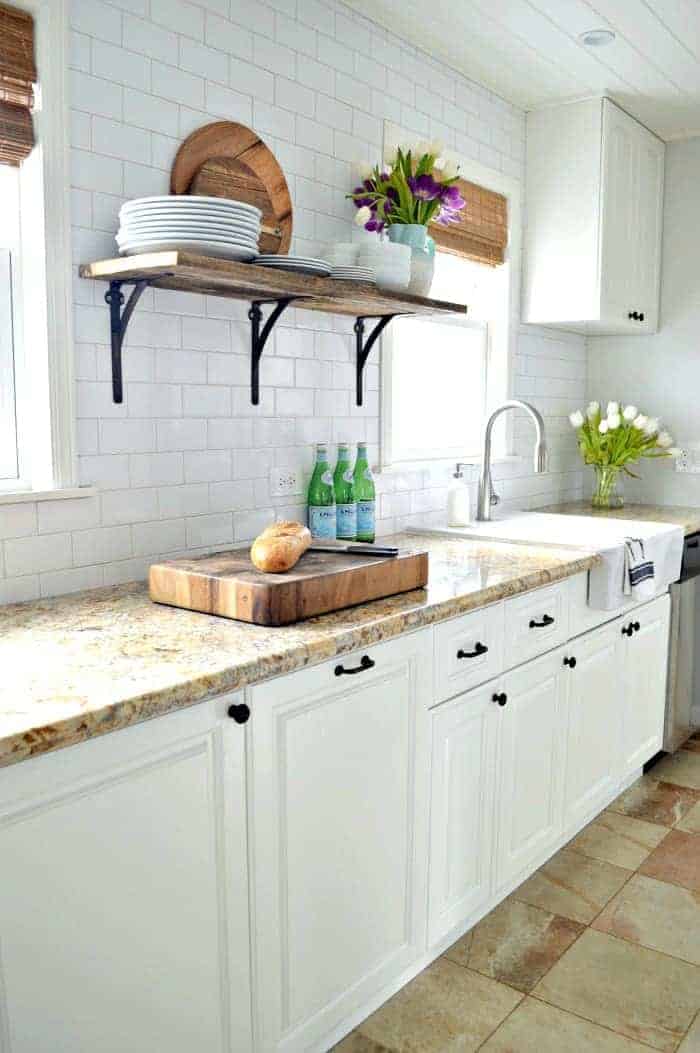 Our kitchen remodel in Illinois? The paint color turned out to be the main attraction.
We painted the tongue and groove plank ceiling in a pearl sheen and the kitchen cabinets were done in a satin sheen, as was the trim. All of it in BM White Dove.
Because I loved how it looked in our Illinois kitchen, we have continued to use it in our new little cottage. Initially, I was afraid that I wouldn't be able to use it in our new house.
After all, lighting in a room plays a big part in how paint colors look in your house.
I pulled all of my sample boards out when we moved in and I was thrilled to see that it looked just as good as it did in our old house.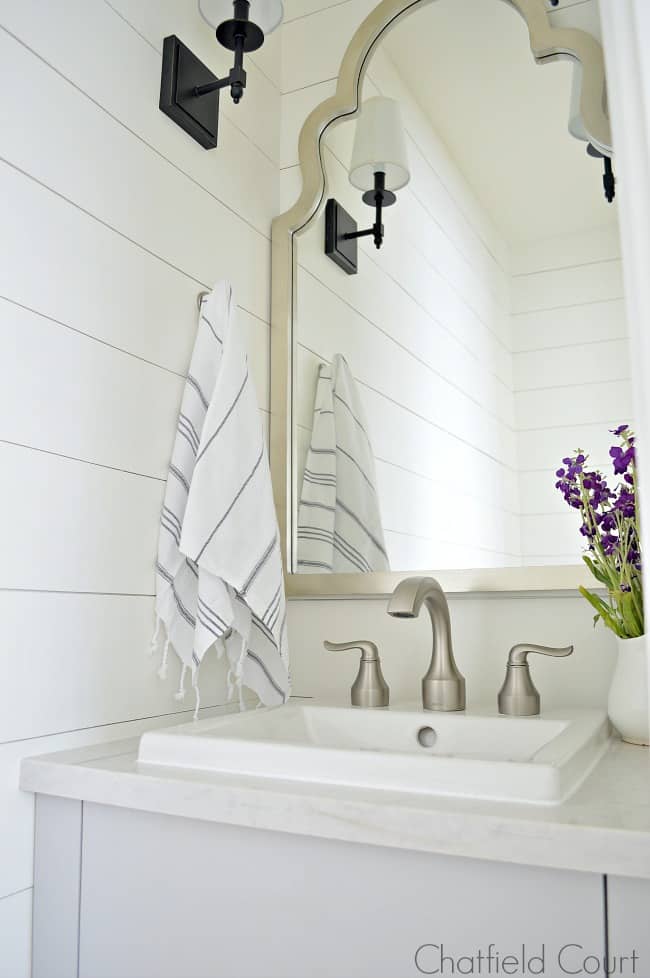 The first test to see if it really worked was in the powder room we just finished.
I used it on the plank walls, ceiling and trim. Even with no natural light it looks great.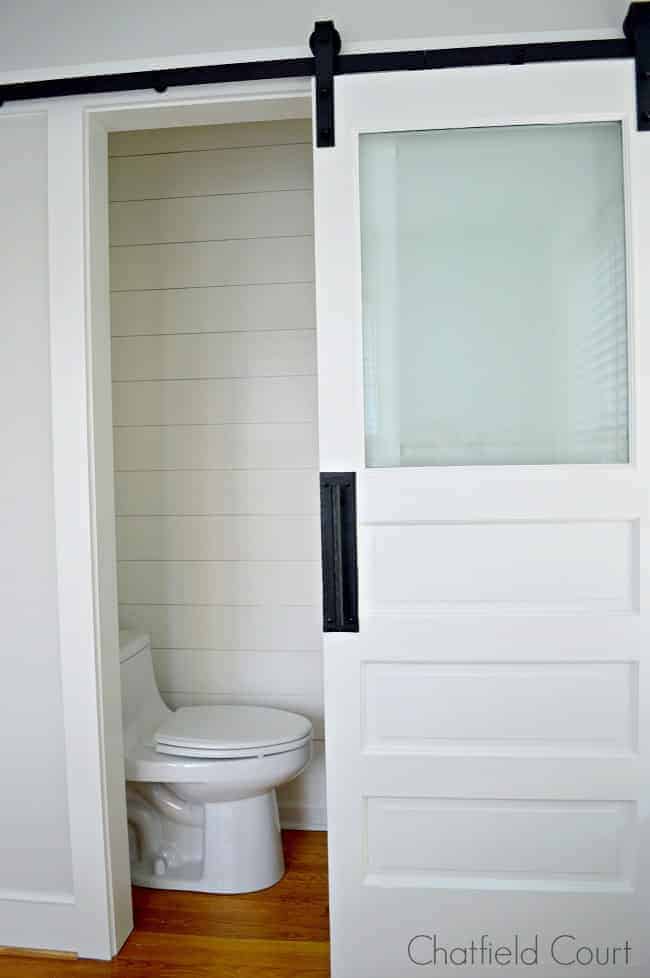 The trim in the guest bedroom, the powder room barn door and the closet mirrored barn door all got the same treatment.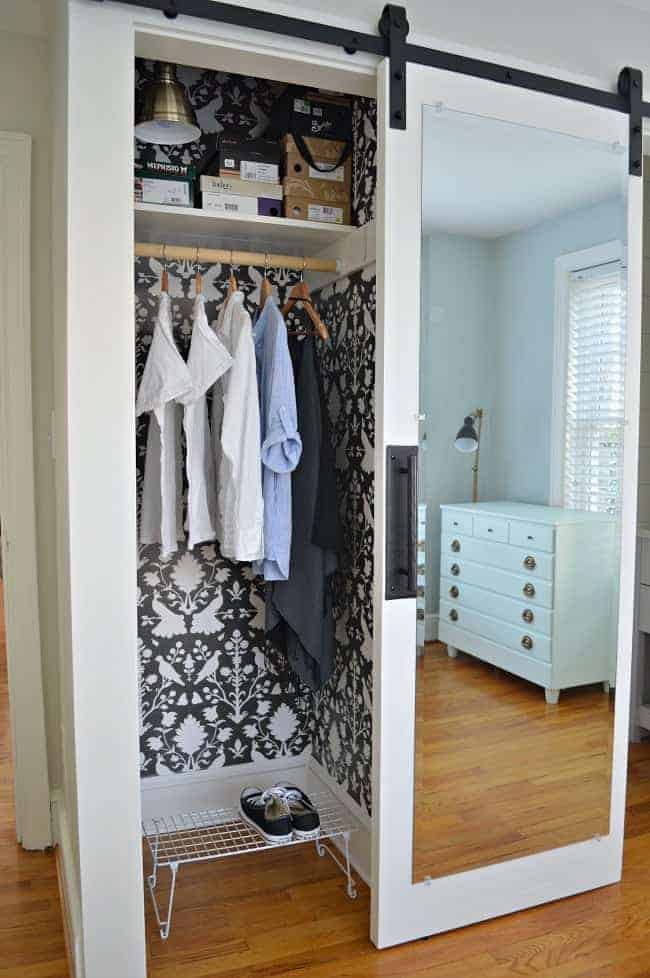 What can I say, I just love it.
So, how can you find your best white paint color out of all of the hundreds of options?
You need to buy some paint samples and test them out...in the room that you want to use it in.
Picking out a little paint chip in the store, without looking at it in your room, isn't going to cut it.
If you don't want to go out and buy samples, you could order a few online.
You could also order a few peel and stick paint samples from Samplize.
Samplize will send you a peel and stick paint sample, that you pick out, and send it to you in a few days.
It only costs $5.95, which is very reasonable considering the paper and the test can of paint that you would have to go out and purchase.
Either way this will really help you find your perfect white paint color for your home.
How do I pick the perfect white paint color?
Personally I like to paint a sample on a large piece of poster board and then I put the board in the area that I want to paint.
I keep it there a few days. Look at it in different light and then decide on the perfect color.
The best white paint colors...what are your picks?