Simple Fall Home Decor Ideas
This post may contain affiliate links, please see our policy for details.
Simple fall home decor ideas using lots of rustic textures and natural elements like pumpkins, bunny tails and dried gourds.
Happy fall! Welcome to our cozy fall home!
The cottage has changed quite a bit since last fall and I'm so excited to share it with you, along with my simple fall decor ideas. (make sure you check out the room sources and free fall printable at the bottom of the post)
We've already shared our easy fall table decor ideas so let's take a look at the rest of the fall cottage.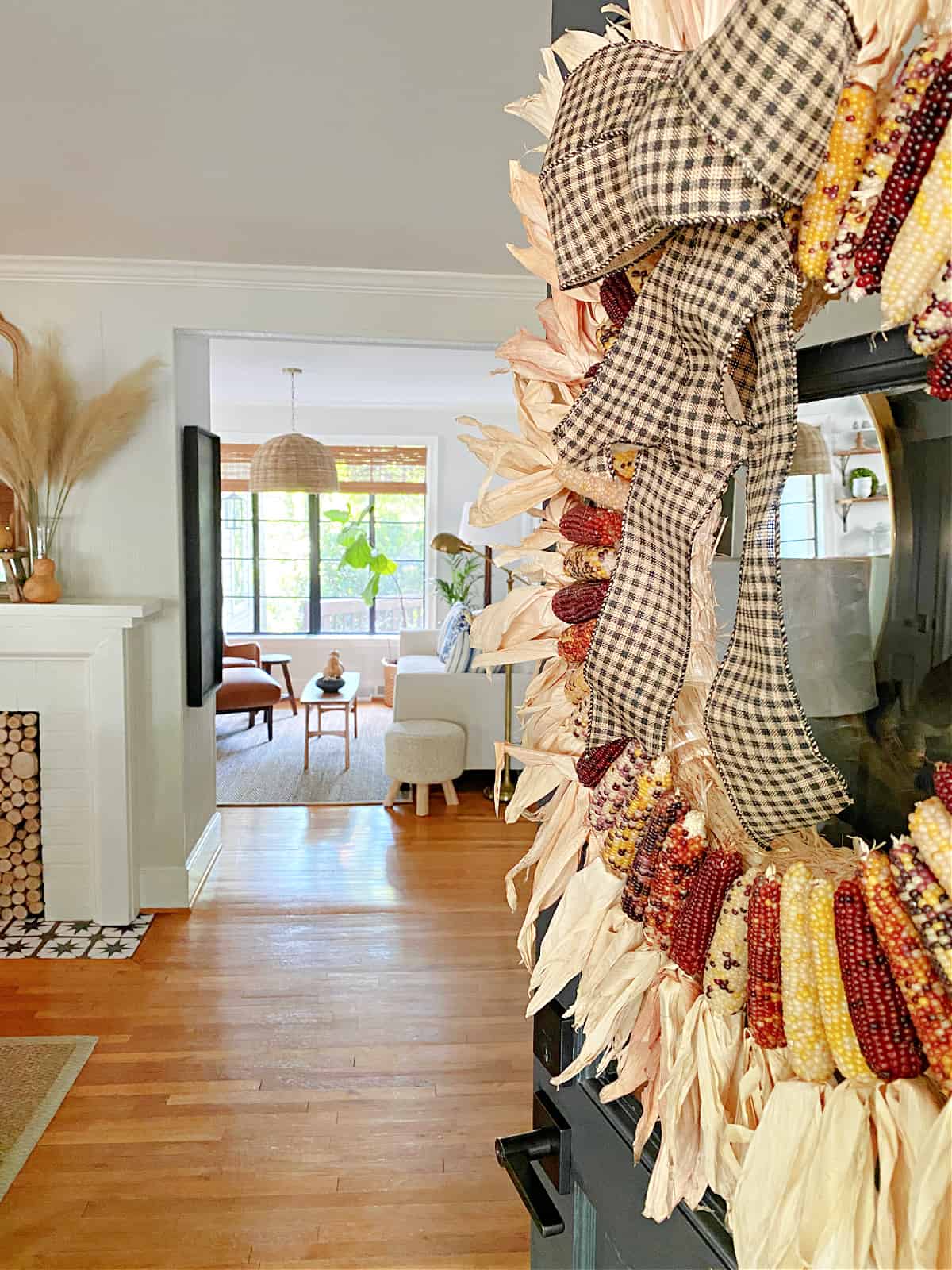 How do I approach fall decorating?
I always keep it simple and rely on 3 main elements to create a cozy, fall feel.
natural elements like pumpkins, acorns and gourds
lots of textures – baskets and woven rugs add a ton of warmth to a space
soft and cozy elements – you can't go wrong with a few cozy throws and pillows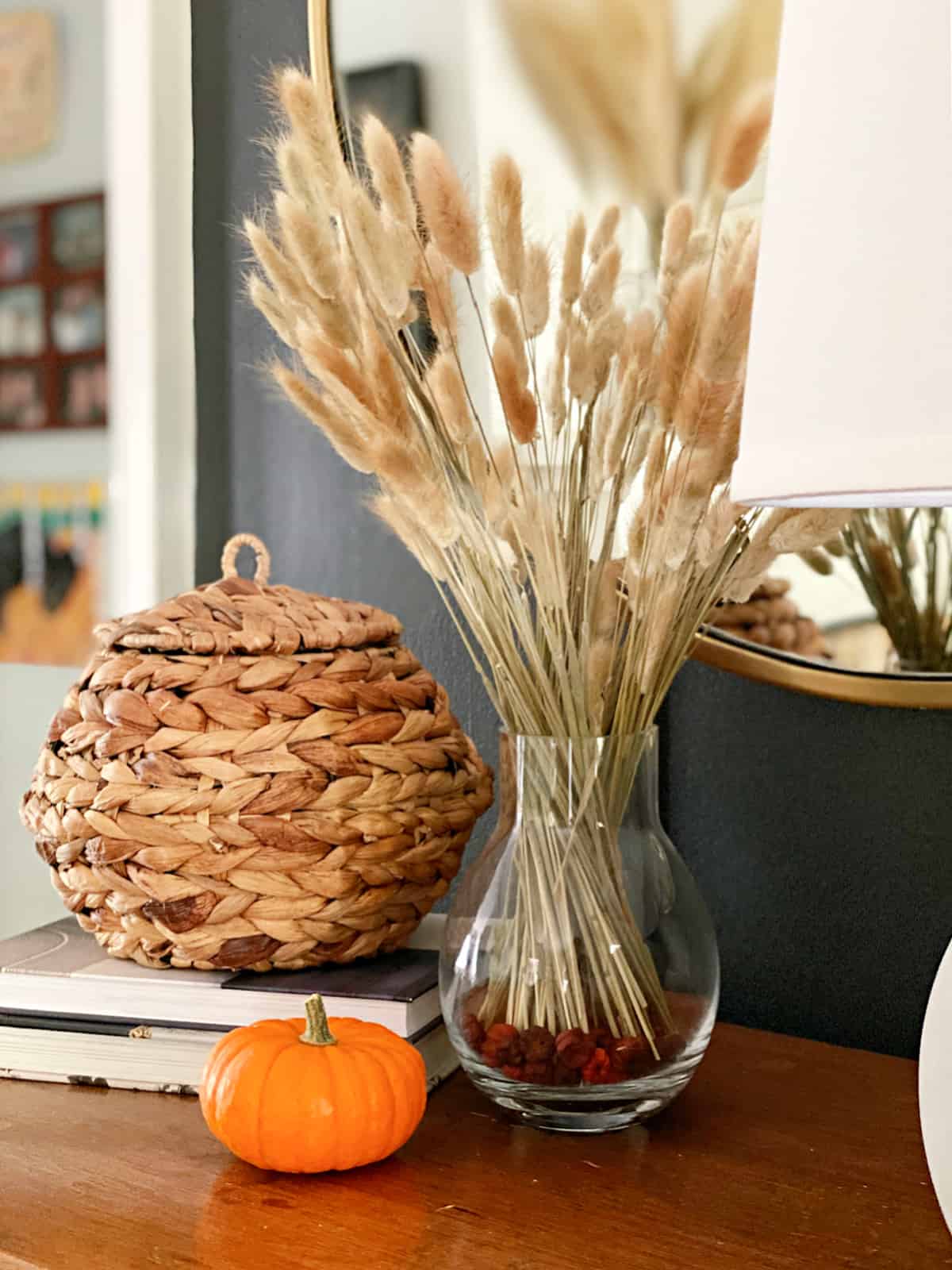 So, with the cottage all ready for fall, let's start the tour in our front entryway.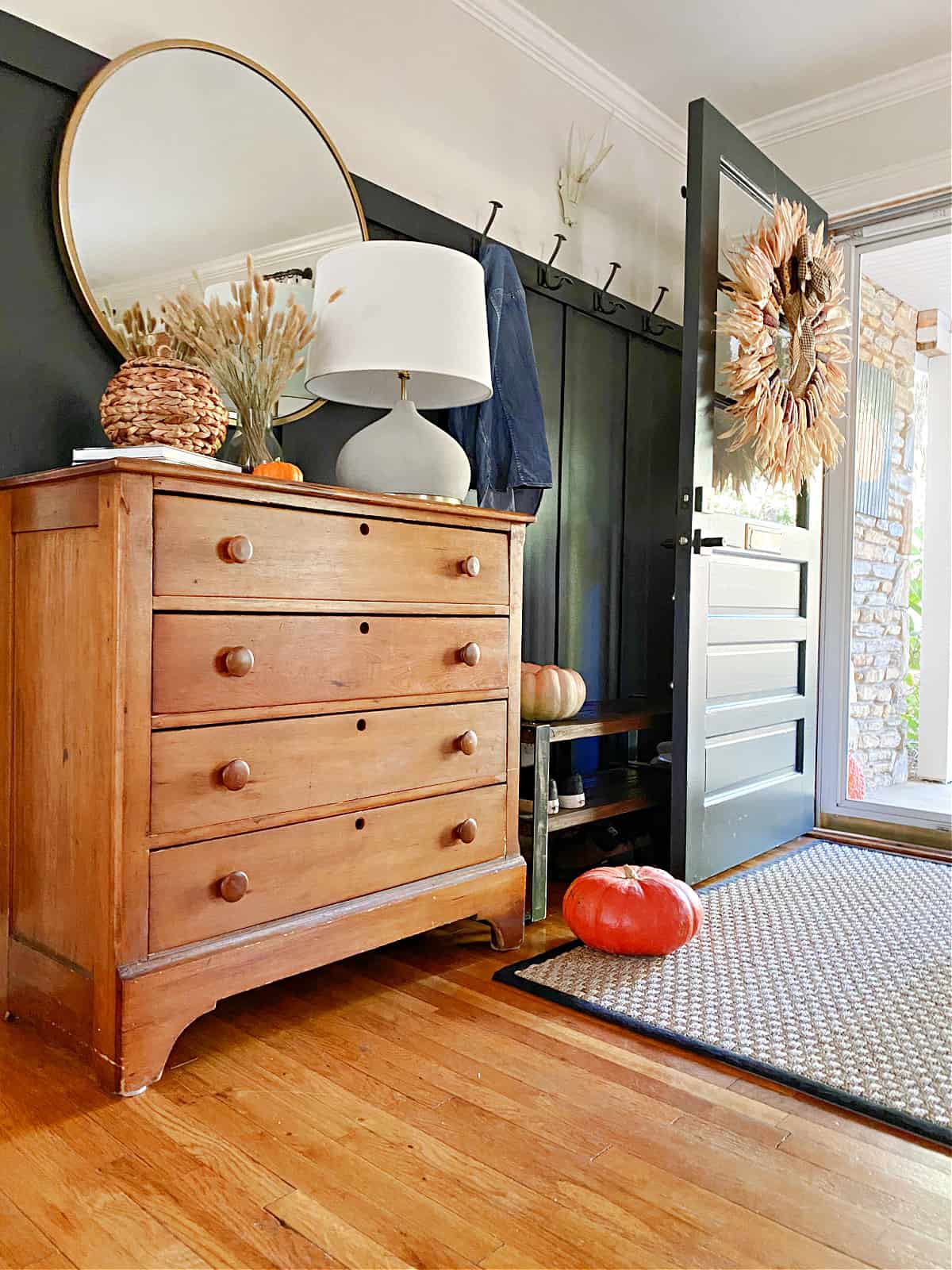 Right when you walk in our front door you'll notice a few paint changes.
The front door was dressed in a darker color and the main entry was transformed with a cheater board and batten wall and new dramatic paint.
I love how the dark color of the wall sets off the antique pine cabinet.
This is a really small, and hardworking space so just by adding a bit of texture, with bunny tails and a DIY Indian corn wreath, and a sweet mini pumpkin we've created a welcoming entrance to our fall home.
Dining Room Fall Decor Ideas
The new dining room isn't a large space so I scattered a few mini pumpkins around, set a fall table, decorated the fireplace mantel and called it done.
I went simple in this space with lots of natural elements because that suits our lifestyle.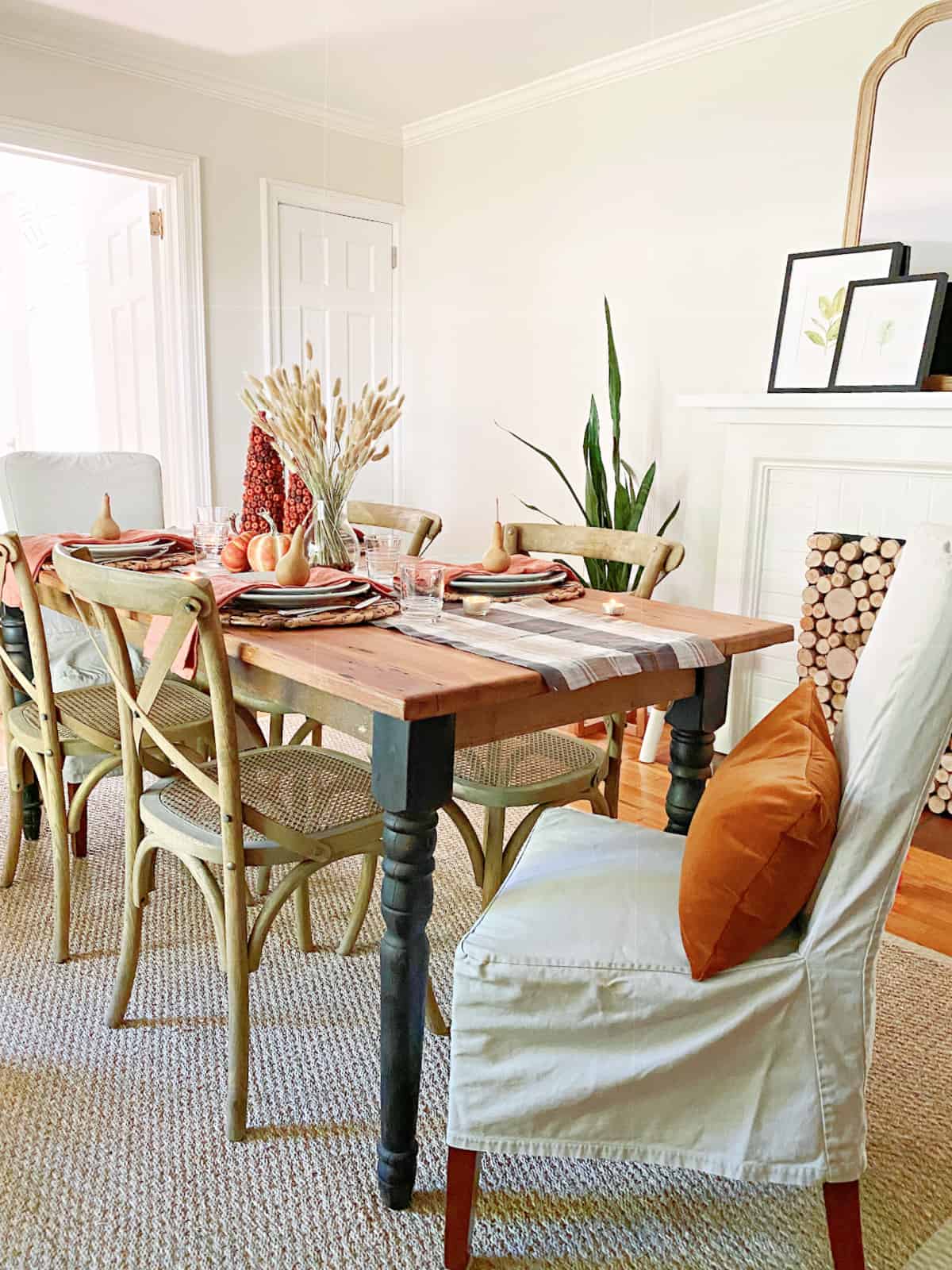 This room used to be our living room (more on that in a future post) so the tv was the only decoration on the fireplace mantel.
With the tv gone I was finally able to properly decorate.
I casually leaned a large mirror against the wall and placed a couple of framed botanicals against it.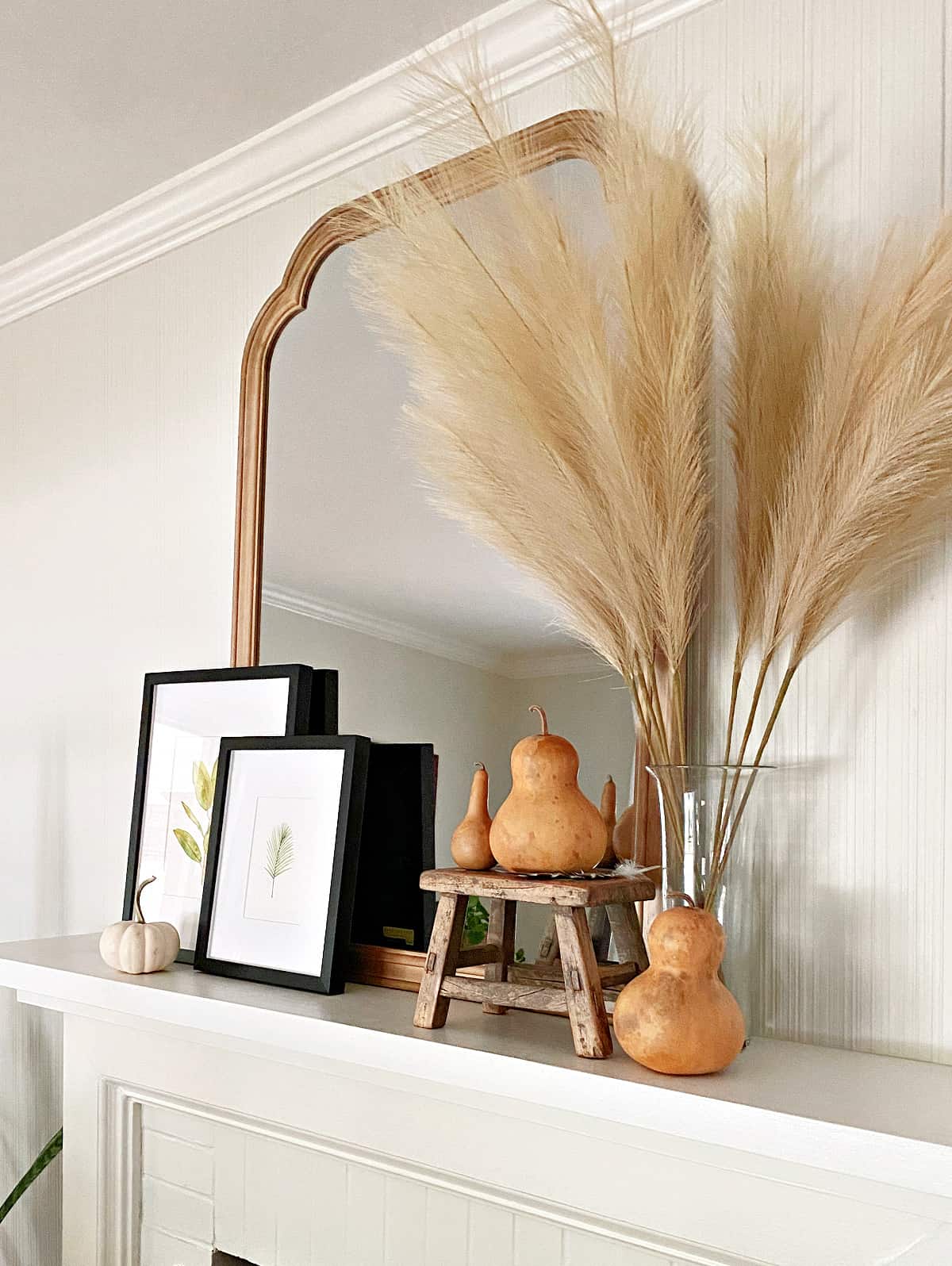 As for fall touches, I used dried gourds and a vase with faux pampas grass. I love how dramatic they are and they really draw your eye to the now pretty fireplace (plus they don't shed!).
The DIY fireplace screen really brings in a lot of texture and helps to create a rustic fall vibe.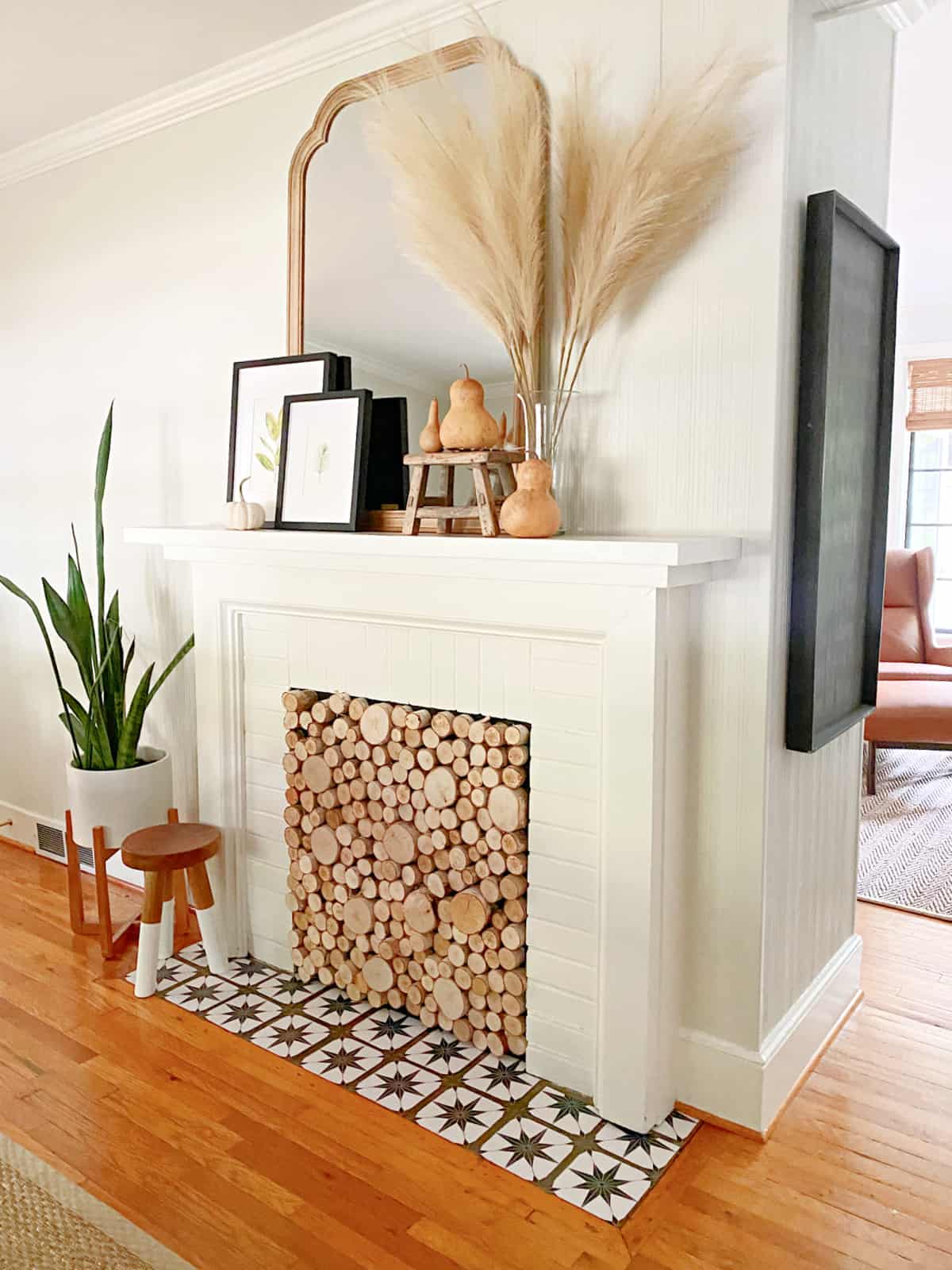 Fall Living Room Ideas
Moving in to our new living room. This space is connected to the kitchen and was formerly used as our dining room.
It's definitely smaller than the old space but it's perfect for us.
The natural lighting in here is awesome and when one of us is cooking the other can be lounging on her sofa. LOL
We'll talk more about all of the changes in my upcoming post.
I just added a few fall touches in here with dried gourds and a bowl of mini gourds.
The texture from all of the woven pieces also add to the cozy feel.
The hanging light, seagrass rug and nubby ottoman are perfect for creating a fall feel in this space. You don't have to add a lot of stuff to a room or use traditional fall colors when you decorate for autumn.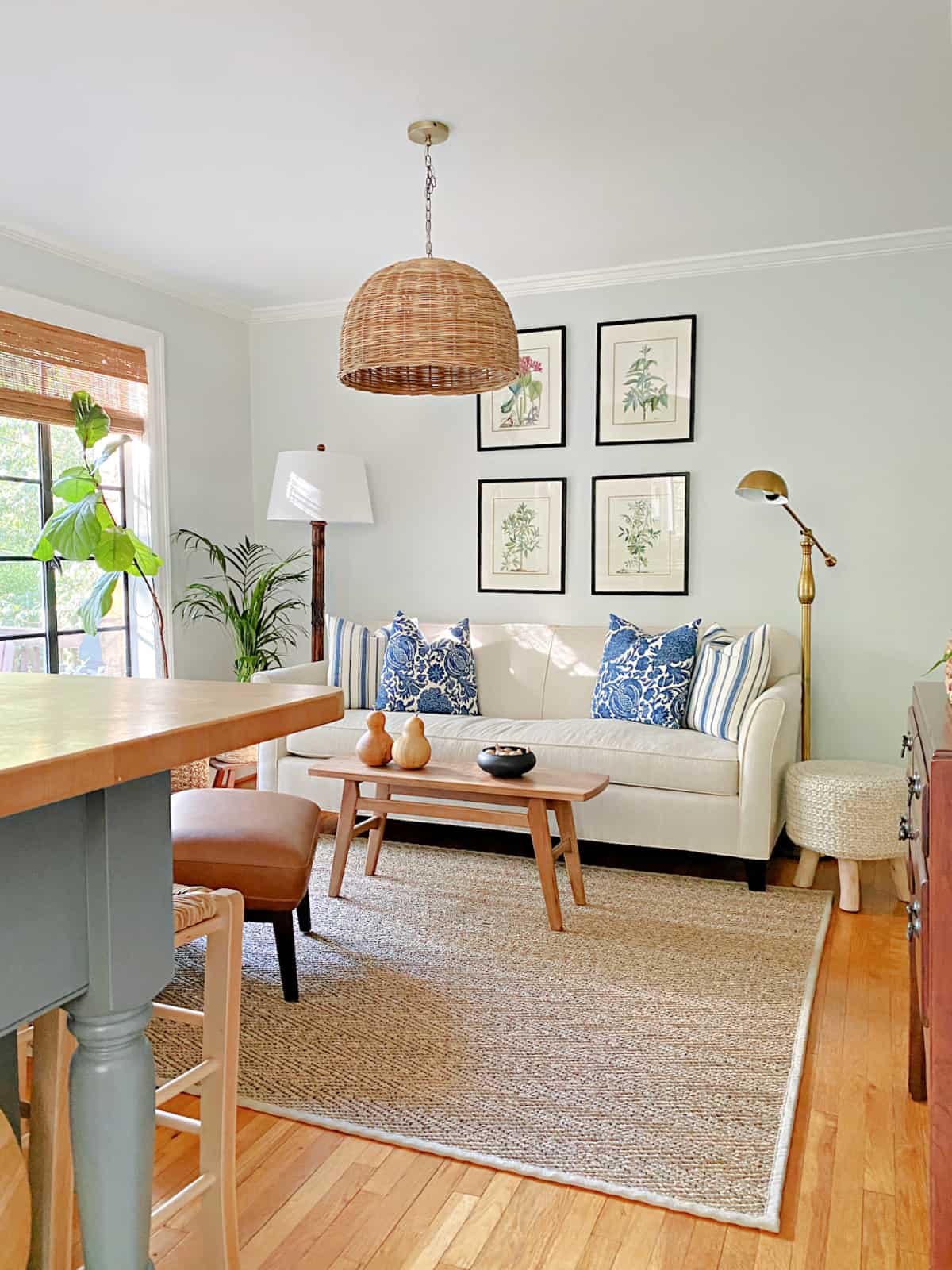 Fall Kitchen Ideas
Our kitchen is small (like all the other rooms) so I went light on fall decor.
A bowl of mini pumpkins, and a few more scattered around are mixed in with potted plants .
I also gave the kitchen island an update with a deep gray and added a couple of woven barstools.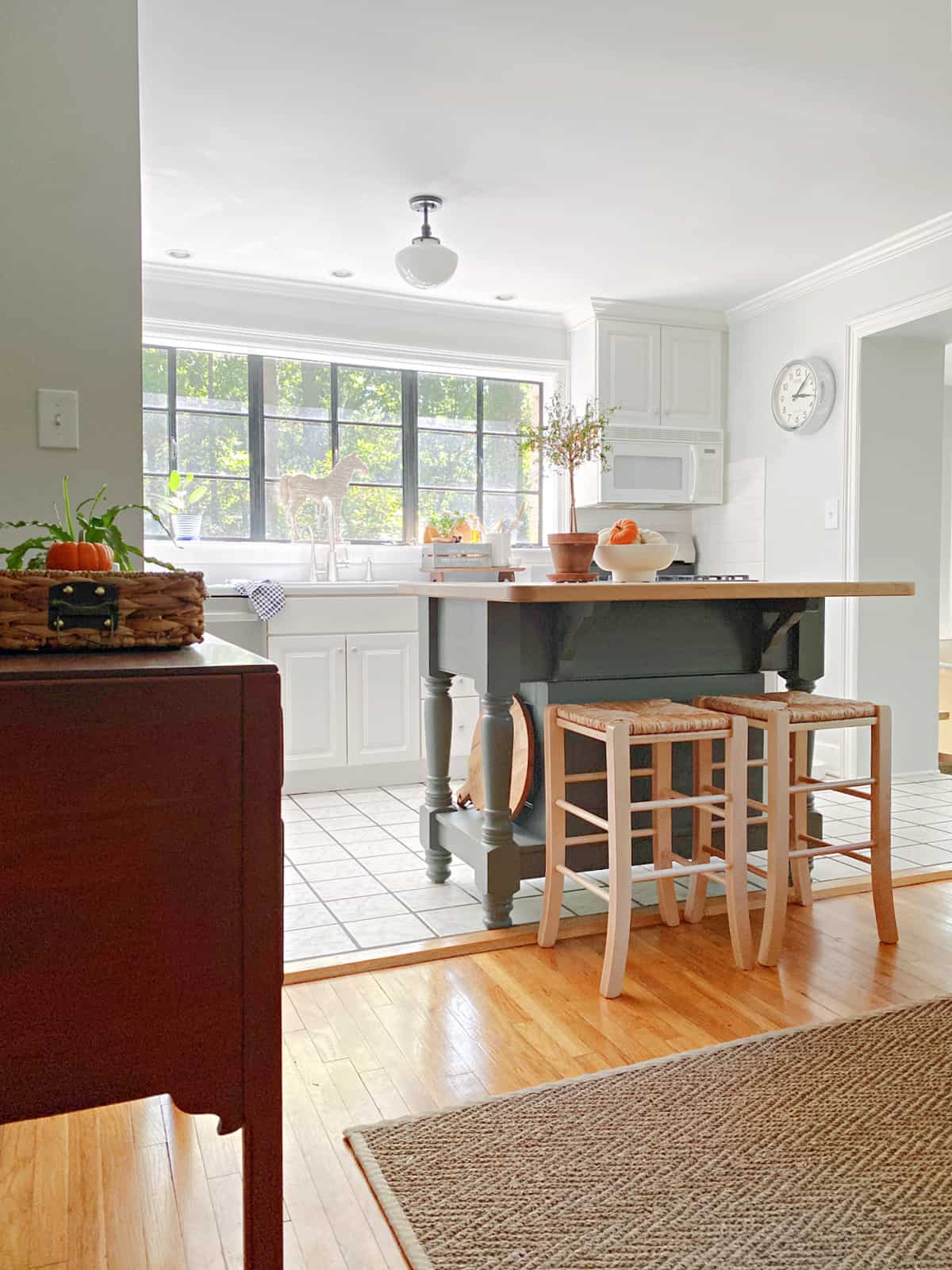 The big window is the star of this show and the ever changing view is more than enough decoration.
It's the best view in the house when the leaves start changing.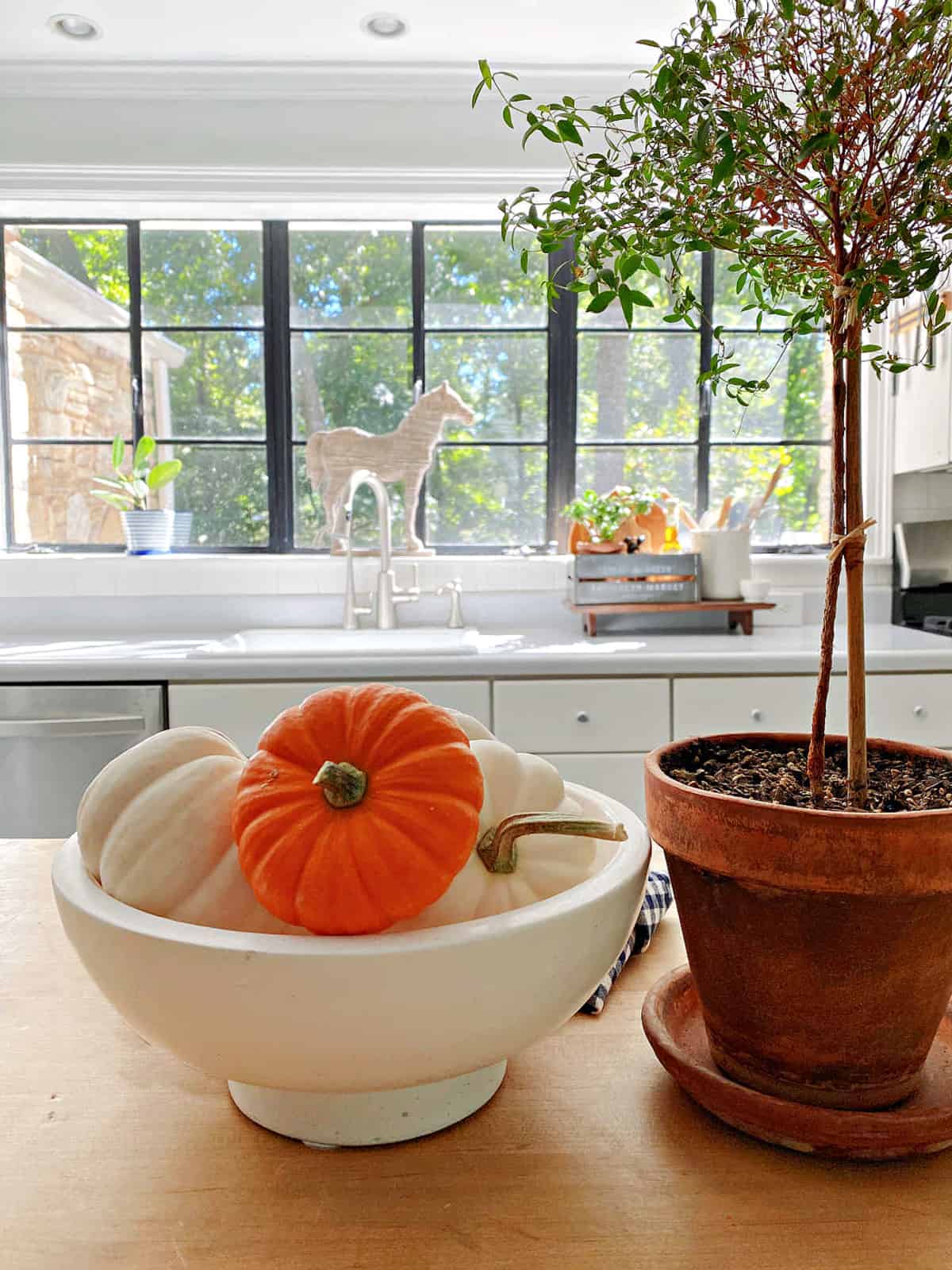 Cozy Fall Sunroom
The sunroom is definitely one of my favorite spaces in our cottage.
The views of the backyard and the high ceilings make it feel like you're in a treehouse so it's always fun to decorate this space, especially in the fall.
I moved the big black cabinet out when I did the dining room/living room switch and added a small bench in it's place.
It's a much better fit for this wall and gives me a little bit of space to add decor.
For now I've added a big woven pumpkin and my new favorite thing, gourds, for a neutral fall touch.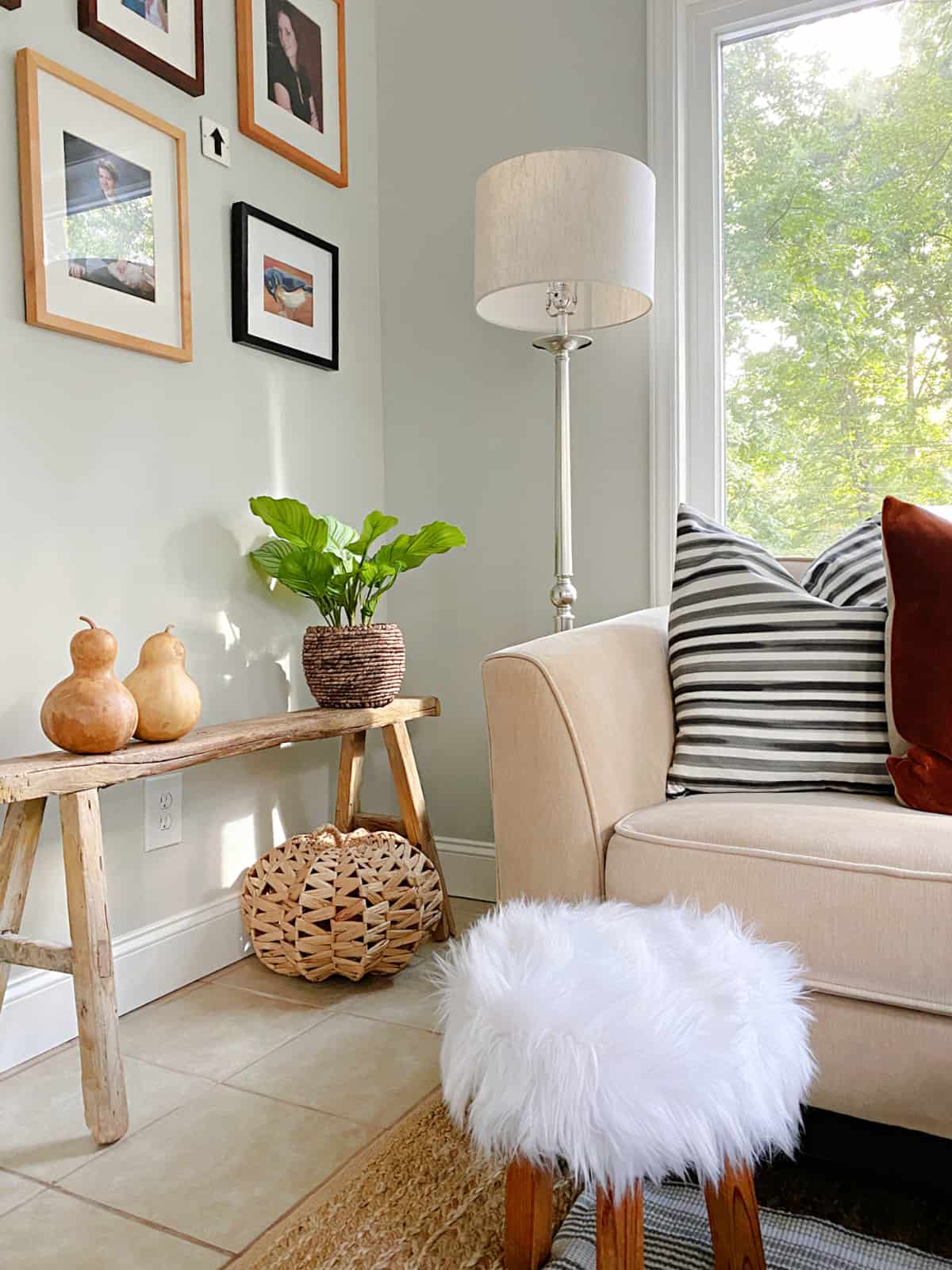 I can't let the fall season pass without putting out a few velvet pumpkins.
They're the perfect touch for adding a bit of fall color to this space, and they compliment the beautiful rust velvet pillow covers.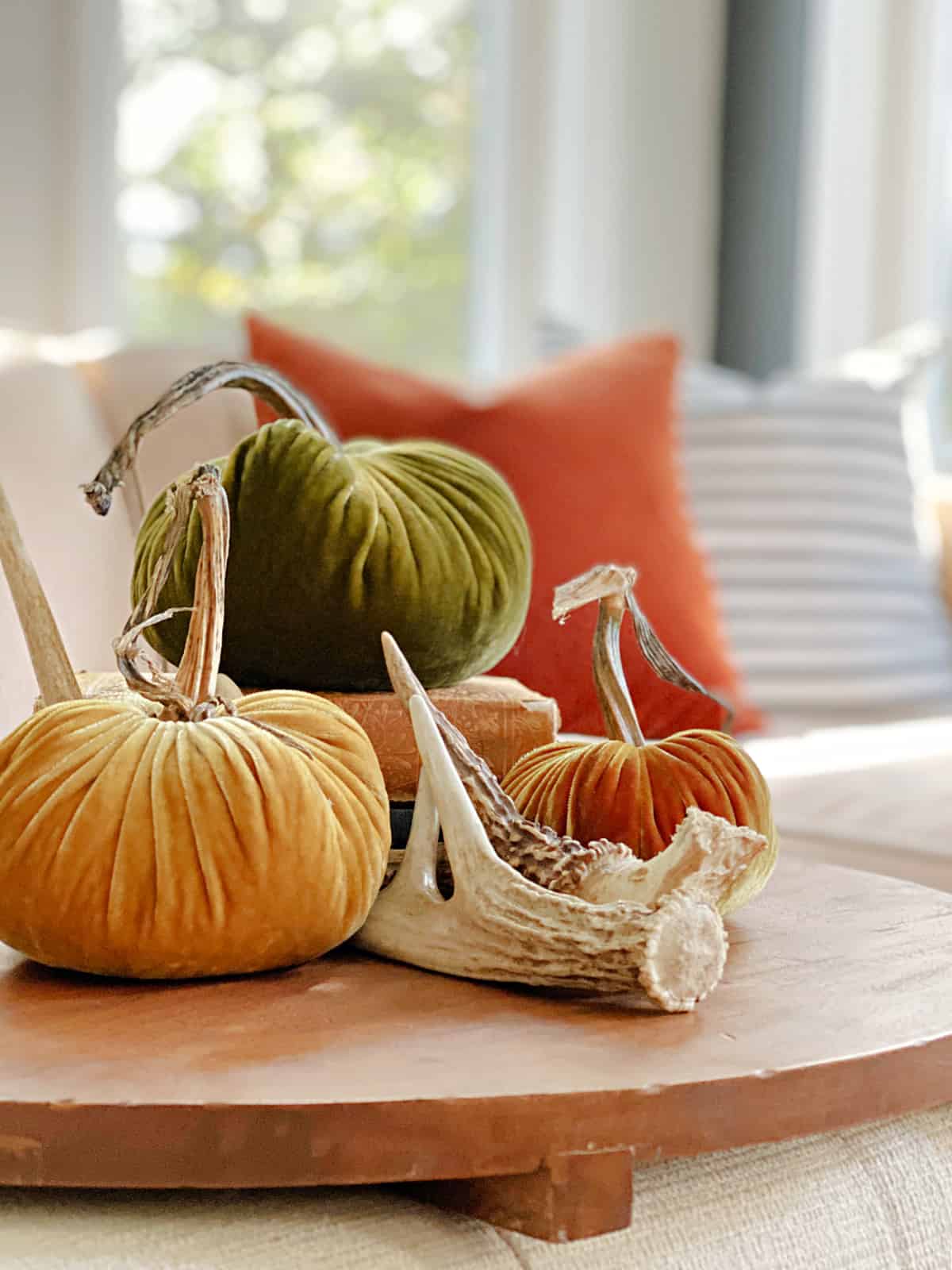 A beloved pompom throw and DIY ottoman with faux fur top off this room with warmth and coziness.
Cooper approves!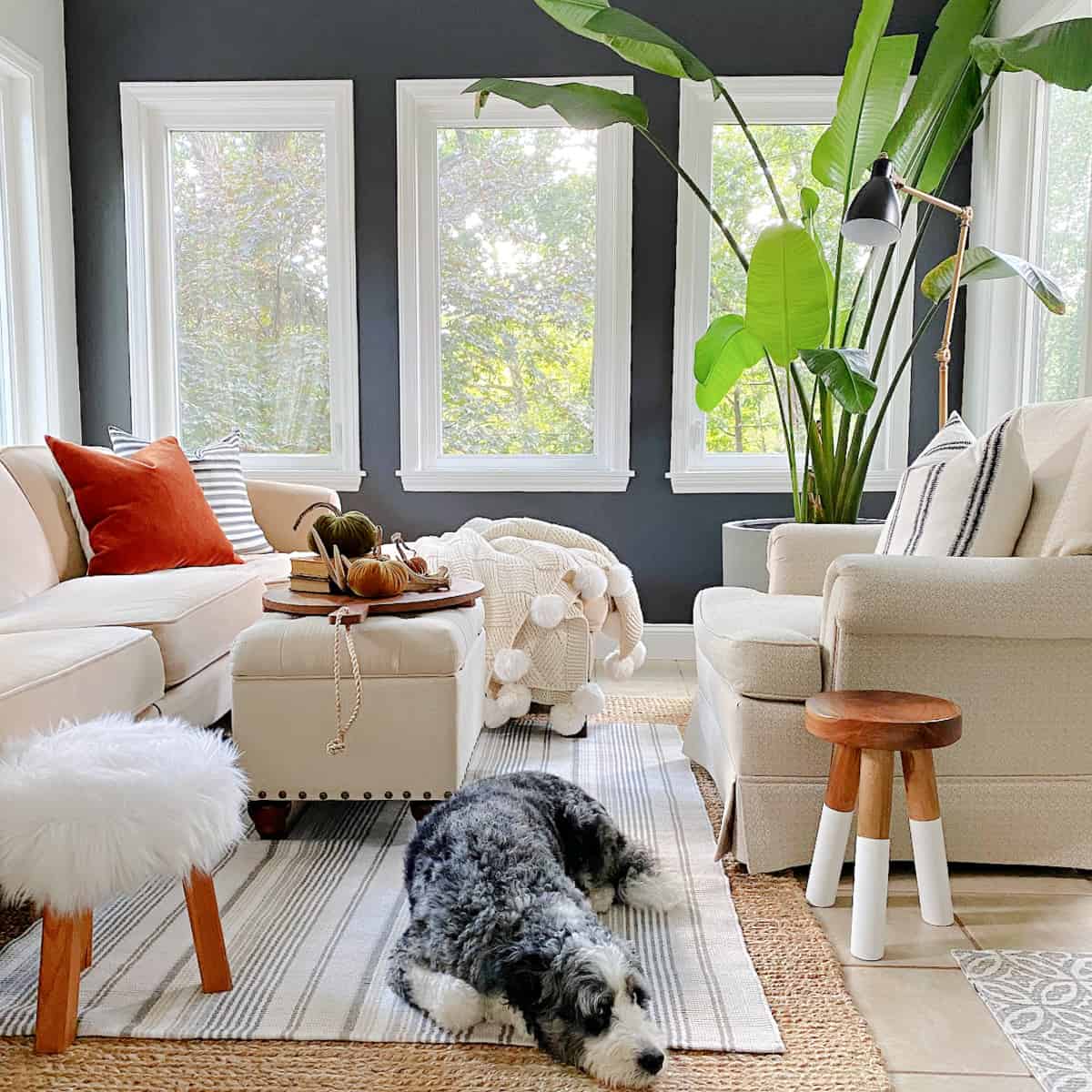 So how can you make your home cozy for fall?
By using lots of textures, some natural elements, warm throws, and a touch of rich, fall color. It doesn't take much to create that cozy fall feel we all crave this time of year.
Thanks so much for touring our cottage decorated for fall!
Don't forget to check out the fall freebie that I'm offering.
Happy fall, y'all!
Decor Sources
Fall Printable – FREE!
Pssst, we've got a free fall printable for you to enjoy. Just print and frame it. Enjoy!
Oh, and if you want to make our day brighter, consider signing up for our spam-free, rocking e-mail newsletter. You'll get all the latest decor right into your inbox!