Disclosure: As an Amazon Associate and member of other affiliate programs, I earn from qualifying purchases.
In the words of Queen B, Beyoncé, "Baby, I can see your halo. You know you're my saving grace."
The saving grace of the best off-white paint color that is!
Enter Benjamin Moore Halo, stage left.
We've discussed the finer points of the best white paint colors for kitchen cabinets, 7 great gray paint colors and the best white paint colors, so it's time to check out a beautiful off-white paint color.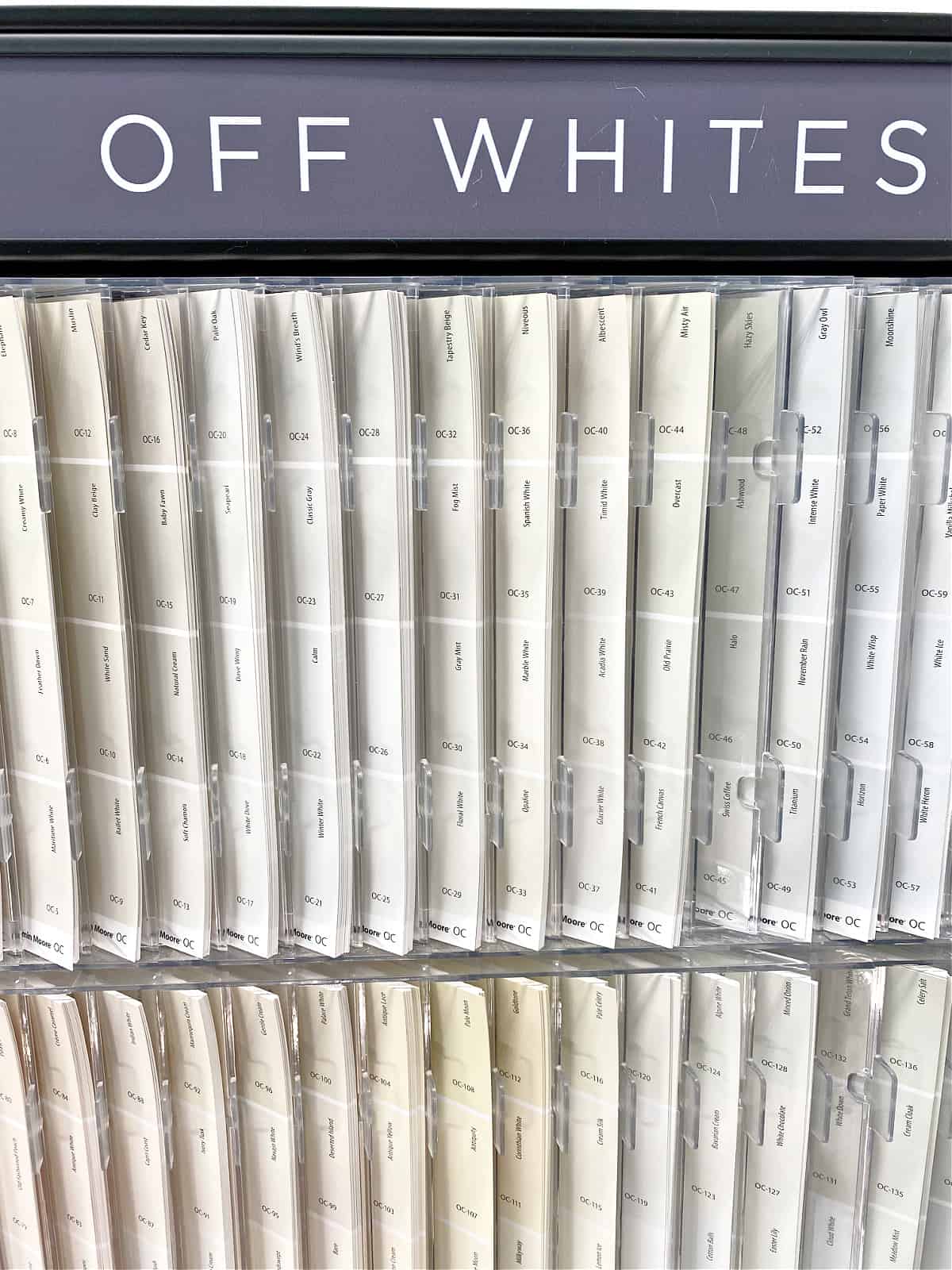 BM Halo is the sophisticated, versatile interior paint color your home is asking for.
Let's dive into BM Halo's undertones, color coordination suggestions, and where it can truly shine in your home.
Benjamin Moore Halo Undertones
Back to basics for a second, what are undertones in paint anyway, and why are they important?
Paint colors are mixed by putting different parts of the color wheel together.
For example, if you create a beige with more than an equal proportion of blue in it, it will become a blue-toned beige. That makes sense, right?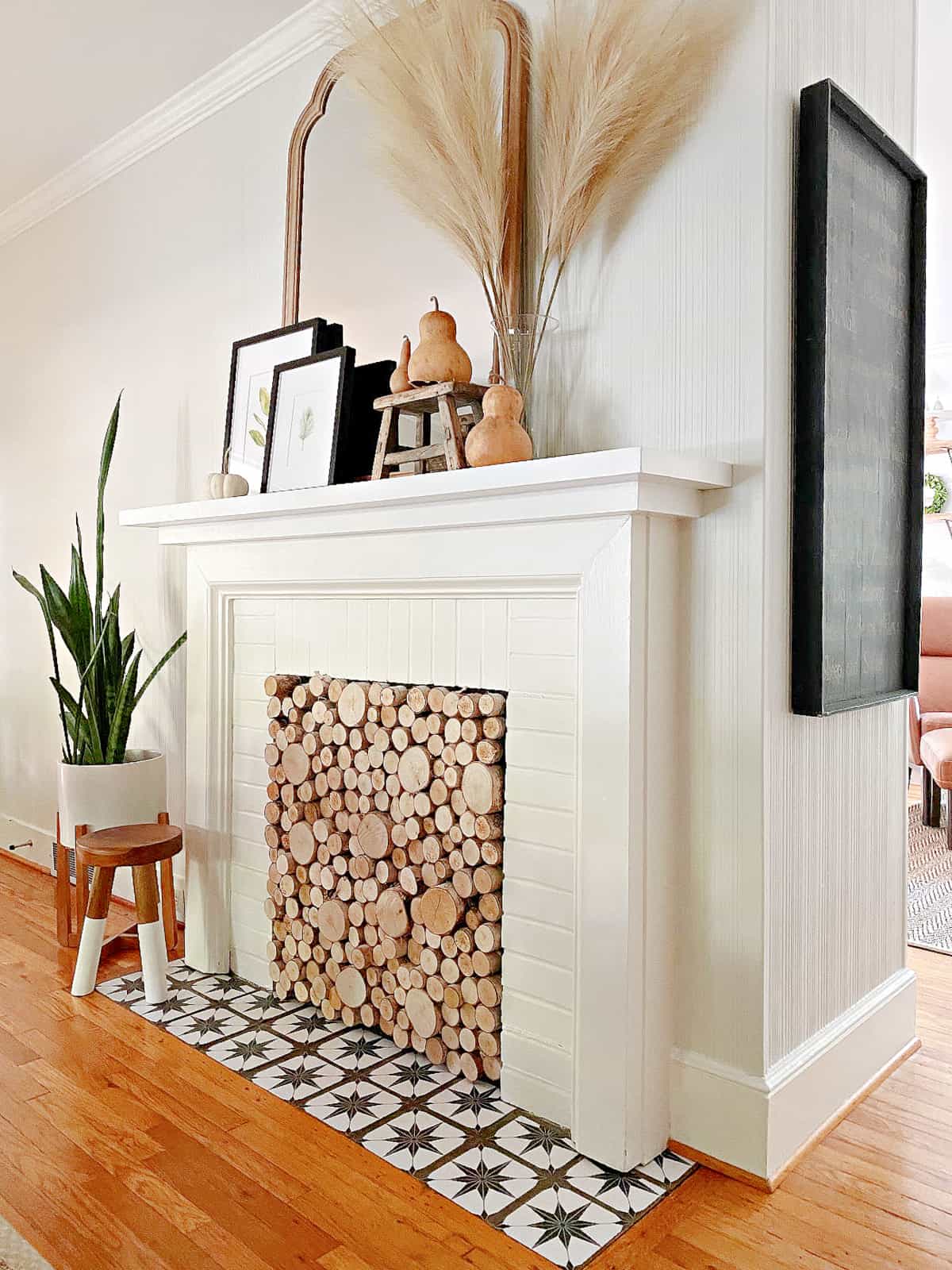 Aside from our primary colors, red, blue, and yellow, all colors will have some form of undertone to them.
Understanding what those undertones are is vital for:
Color Coordination: If you notice a specific color combo isn't feeling or looking right, it's probably due to clashing undertones. Undertones should work together harmoniously.
Color Psychology: Do you want a refreshing neutral in your bathroom or a warm, inviting neutral in your bedroom? You can achieve all this by using undertones to your advantage.
Color theory 101 aside, what undertones does Benjamin Moore Halo have?
BM Halo is an off-white neutral with subtle green undertones.
Depending on your lighting, it can look very greige (that's grey and beige for the rest of us).
The cool green undertone makes it ideally suited for tranquil environments.
Light Reflectance Value (LRV) and Your Home
Aside from looking at the undertones in your paint, another critical aspect of choosing the best paint color for your space is the light reflectance value or LRV for those in the biz.
You'll often find LRV values on the back of paint swatches.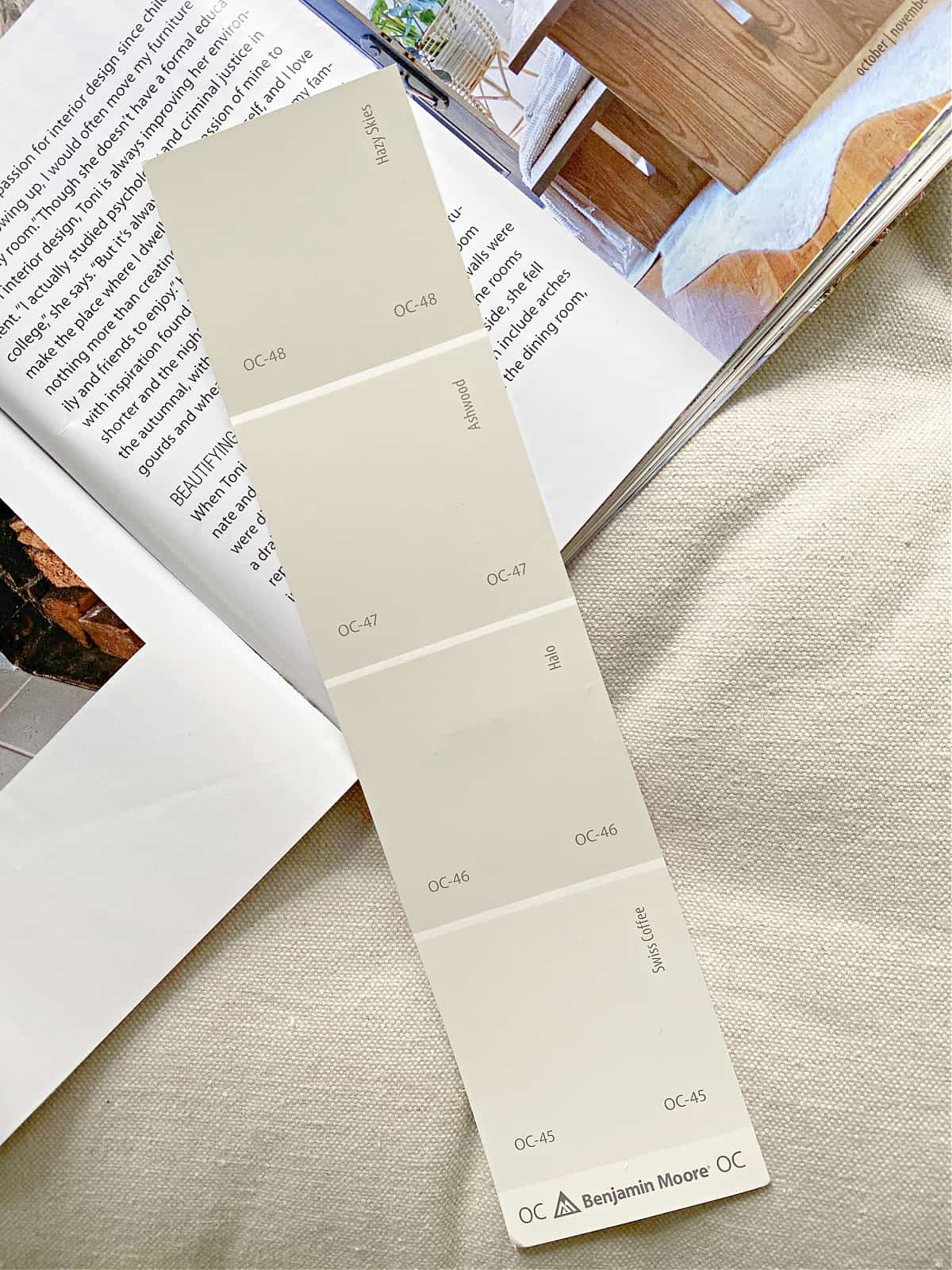 It is the total quantity of visible, useable light reflected by a surface when a light source hits it. For example, an absolute black has an LVR of close to zero, which means it appears to swallow rather than reflect light.
A pure, harsh, white-out level white, on the other hand, is closer to 100.
In the real world, we don't have anything close to either extreme of the scale.
Instead, the whitest available white is around 85, and the blackest black is at a 5.
Either way, knowing the LRV of color will give you an idea of how it will feel in your space.
BM Halo has an LRV of 73.1, making it an appropriate choice for spaces such as living rooms where you'd like to maximize color reflection.
What Colors Coordinate Well with BM Halo?
For the sake of ease, we will take a closer look at what other Benjamin Moore paint pairs well with Halo, alongside room suggestions and area suggestions.
Hint: Halo is versatile enough to be used on walls and as an accent color on trim and cabinets.
Hello to Halo in Your Living Room
BM Halo is a beautiful addition to your living room.
Guests will enter and feel the refreshing effects of the green undertones.
A classic, off-white like Halo gives off sophistication worthy of Jackie O.
It works perfectly in Andrea's, Pine and Prospect, pretty living room.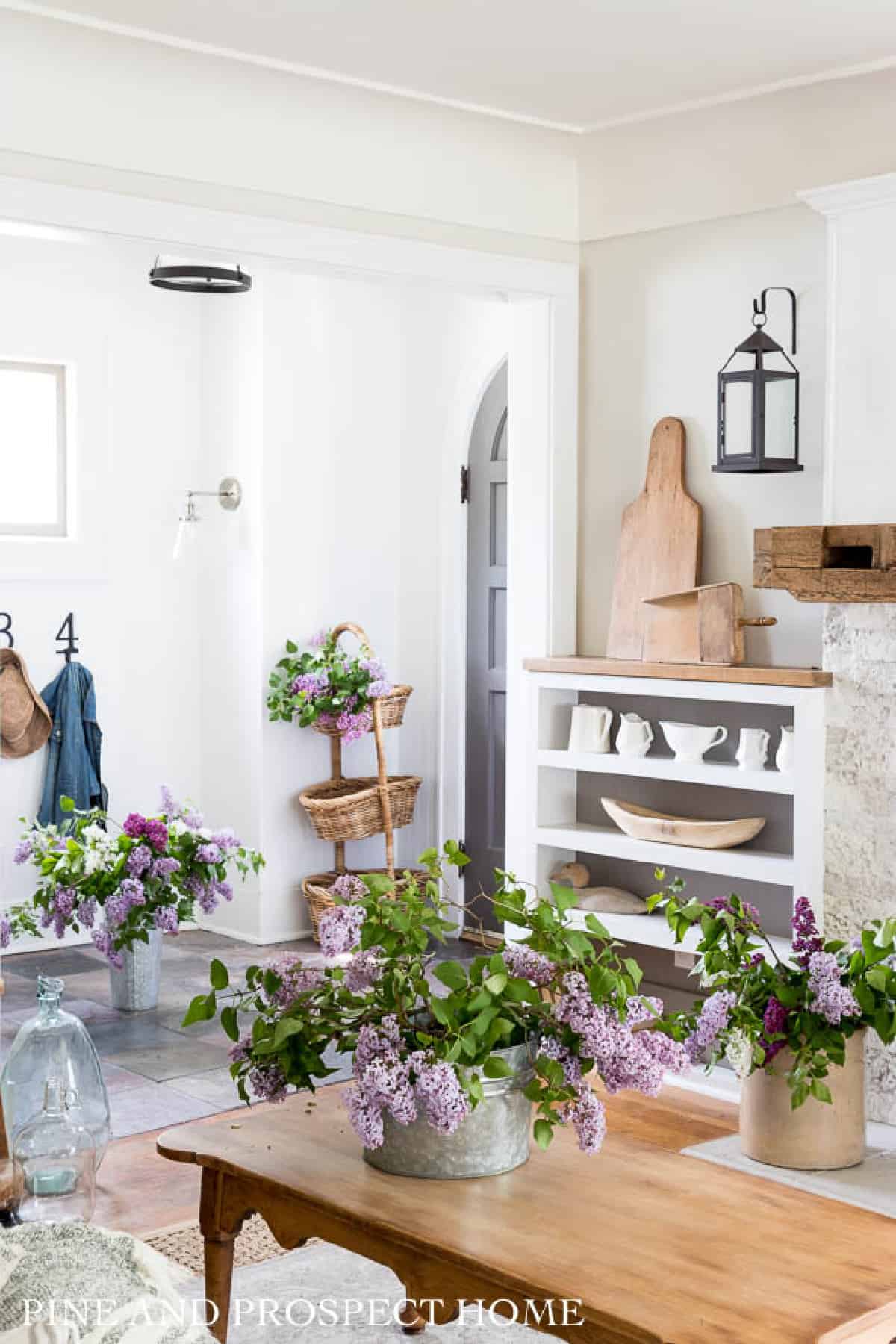 Pair Benjamin Moore Halo in your Living Room with:
Benjamin Moore Chantilly Lace: Imagine Halo as your primary wall color with your ceiling, trims, and cabinets in this crisp, clean white. Chantilly Lace will bring out the grey, green tones and show everyone that this is more than just a white wall.
Benjamin Moore Monterey White and Wedding Veil: You can bring in two more colors thanks to the use of a neutral, classic accent wall. Pair Halo with historic Monterey White on a sidewall and smooth, traditional Wedding Veil on the ceiling and trims.
Welcome In with Halo in Your Entryway
The entryway of your house is often overlooked due to being a relatively small space.
However, it is the first thing you see when you walk in the door. Why not create a welcoming effect with Halo?
Amanda, Sincerely Marie Designs, did just that with her beautiful entryway painted in this pretty off-white paint color.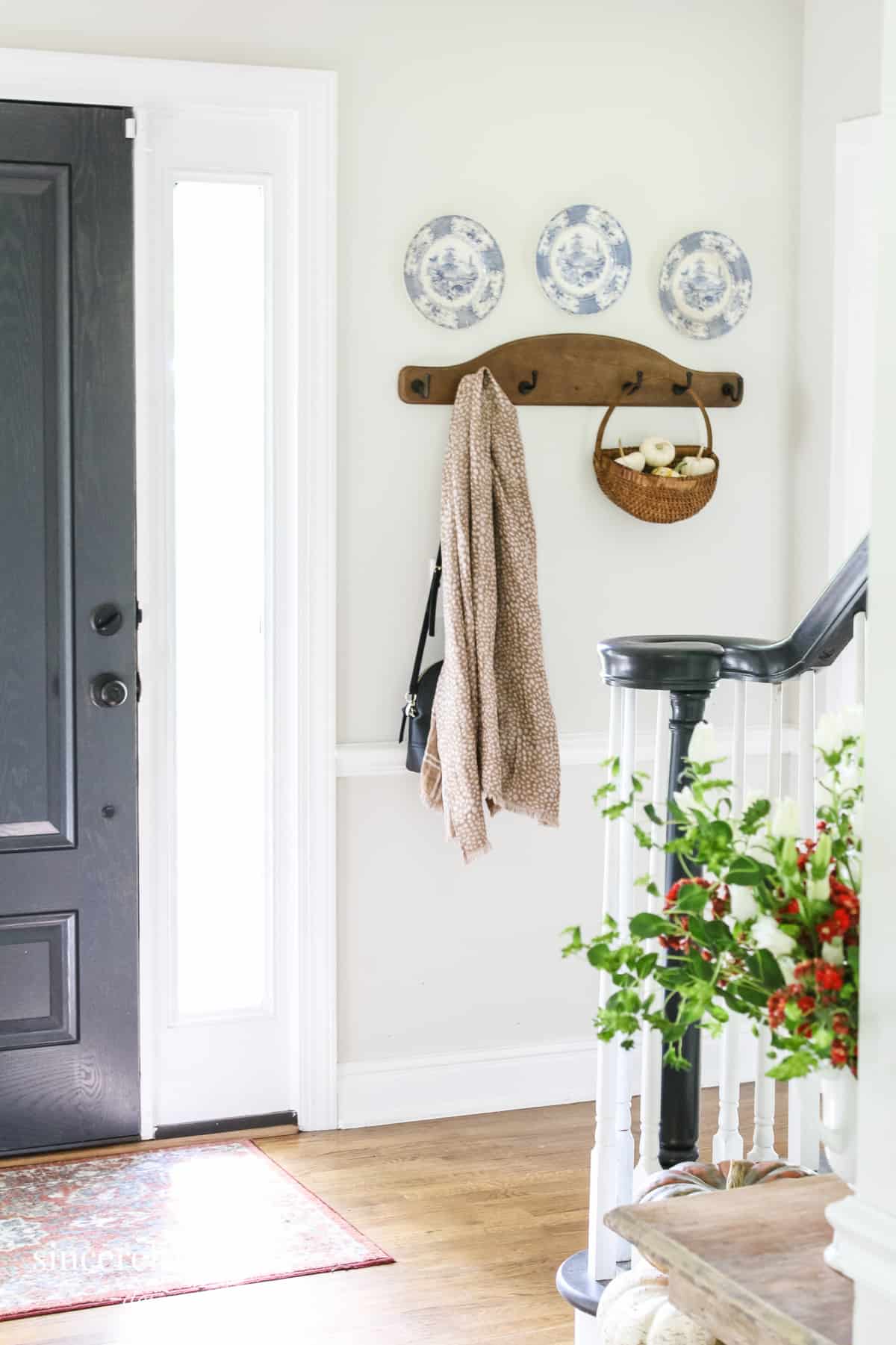 Pair Benjamin Moore Halo in your Entryway with:
Benjamin Moore Black Ink and Patriot Blue: We're straying away from neutrals on neutrals here. Create a color block effect with Halo as your wall color and smooth, deep Black Ink on your front door. Intensely saturated Patriot Blue on interior doors leading into your home will excite and inspire.
Benjamin Moore Whipple Blue and Mascarpone: Whipple Blue is BM's grown-up answer to that beloved Tiffany color. Pair Halo walls with a yellow-undertoned Mascarpone ceiling and bring out the green tones with trims and wainscotting in timeless Whipple Blue.
Soothing Halo in Your Bedroom
Bedrooms aren't the places to try out the wildest color combinations.
As you drift off to sleep, you do not want to be thinking about an intense red—thankfully, Halo pairs well with sweet dreams.
Pair Benjamin Moore Halo in your Bedroom with:
Benjamin Moore Frostine: Lovely Halo on your walls paired with cool, wintery white Frostine. Frostine will bring out those crisp tones and complement any blue or green bedding.
Benjamin Moore Ambrosia: Are you a girly girl at heart? Timeless ambrosia is a far-from juvenile rose that pairs beautifully with Halo on the ceiling and trimmings. Keeping the rest of the room bathed in neutrals will keep the room versatile.
Where have I used BM Halo?
So far I've painted 2 rooms in our cottage with BM Halo.
Our guest bedroom turned studio was the first space I painted. This room gets a ton of natural light, which brings out the warm tones.
I love it in here.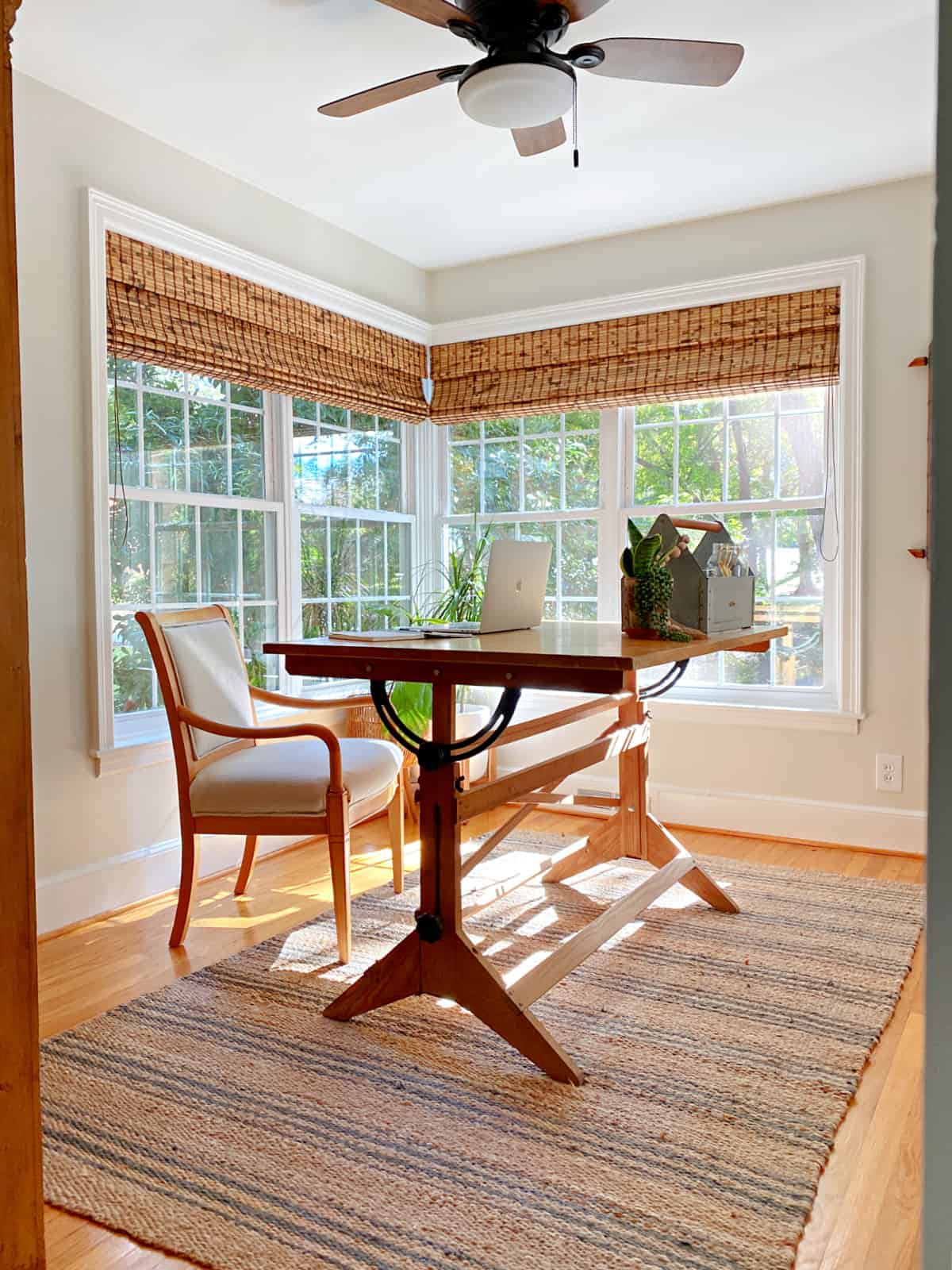 After I painted the studio I moved into our new dining room space.
5 years ago I painted the walls in BM Paper White, which is a cooler gray. This space doesn't get a lot of light though, so I wanted something warmer.
Benjamin Moore Halo to the rescue!
It really warmed up the room and since it doesn't get as much natural light as the study, it looks totally different.
You can see more of the subtle green undertones depending on the time of day.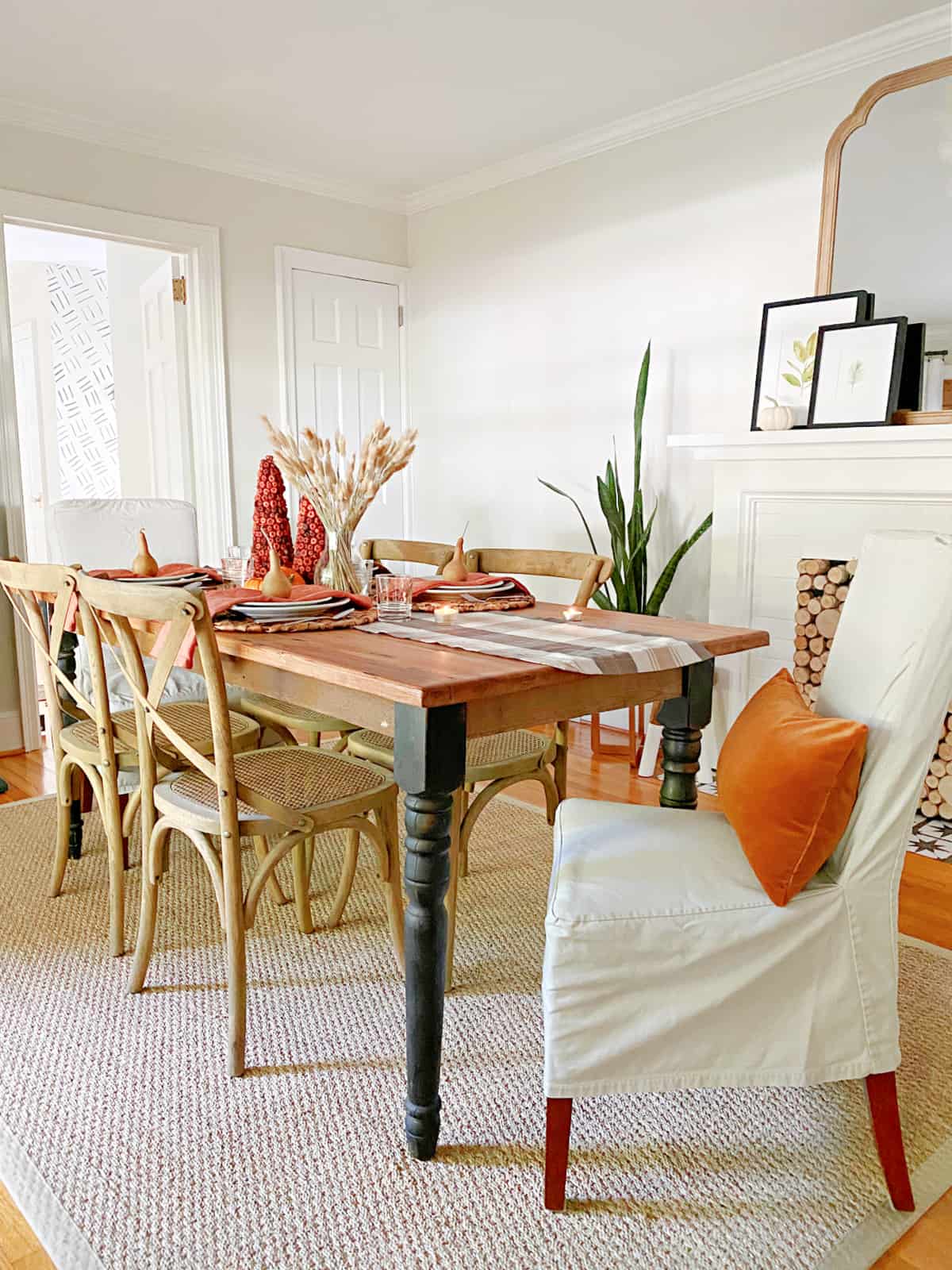 In the entryway, that's connected to the dining area, I paired BM Halo with a dark gray that's on the front door and board and batten, BM Wrought Iron.
The colors work very well together.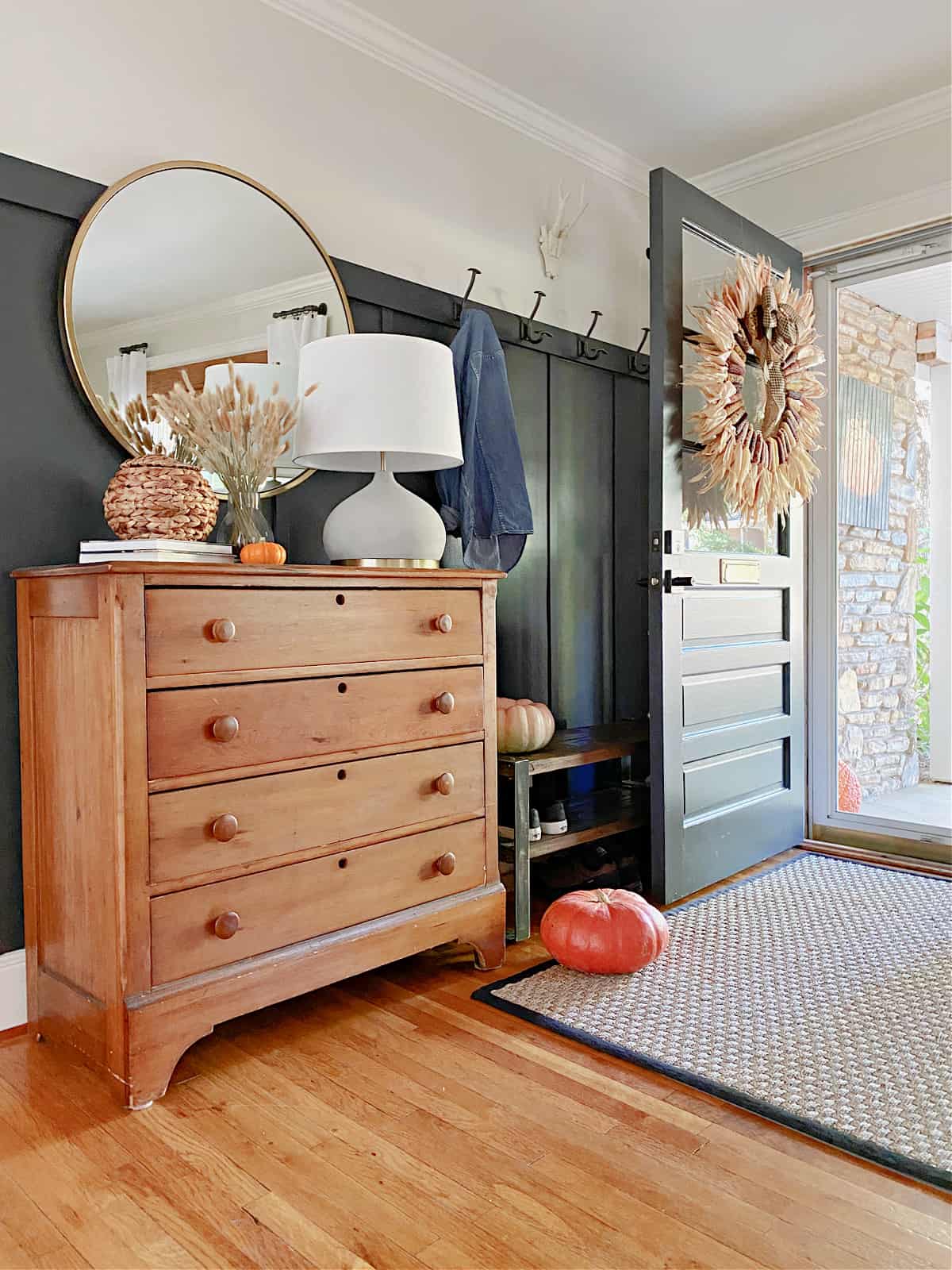 Benjamin Moore Halo has definitely won my heart...as far as paint goes.
This beautiful soft, warm off-white really is perfect in any space in your home and can be paired with so many pretty colors.
Want to try Benjamin Moore Halo in your home?
You can easily sample BM Halo or any other paint color you choose in your own home using Samplize.
Just go to Samplize.com and pick out the paint colors that you want to sample in your home.
Each re-positionable paint sample only costs $5.95, which is very reasonable, and you can move it around your room to test it in different light. So much easier than buying paint samples and painting it on poster board.
All About Chatfield Court
Chatfield Court is the place to create the home you've always wanted with budget-friendly and easy-to-do DIY projects. We hope you've enjoyed this foray into the best neutral interior wall paint. Why not have a little browse of our 1946 stone cottage in North Carolina to see how we've made color work for us in our home?
Pssst, we've also got these budget-friendly printables and building plans for you to enjoy using in your own home. Oh, and if you want to make our day brighter, consider signing up for our spam-free, rocking e-mail newsletter. You'll get all the latest DIY and decor right into your inbox!