Disclosure: As an Amazon Associate and member of other affiliate programs, I earn from qualifying purchases.
How to make a DIY fireplace screen with birch log slices. This is an easy and inexpensive solution to cover up an unused fireplace.
I love having a real wood burning fireplace in our house. Actually, this little stone cottage is one of the few houses that we've lived in that's had one.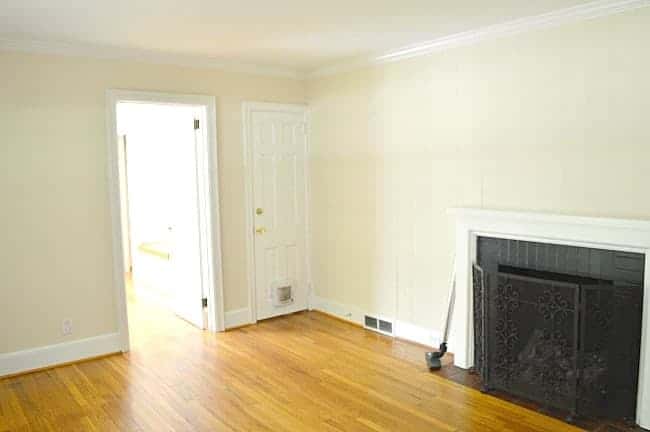 Unfortunately it's not in working order.
When we moved into Oak Cottage 4 years ago there were old propane logs in the fireplace but they were covered in layers of dust, dirt and dog hair.
It obviously hadn't been used in years so we disconnected the propane line, removed the old fireplace screen and logs, and gave the hearth a thorough cleaning.
Then I waited.
I waited for Roger to get the chimney inspected and cleaned so I could have a real fire...like it was meant to be used.
That job was way down on our list so I made the best of it with a fireplace mantel makeover. I added a fresh coat of paint, candles and old birch logs that I had hung on to and lived with it like that for a while.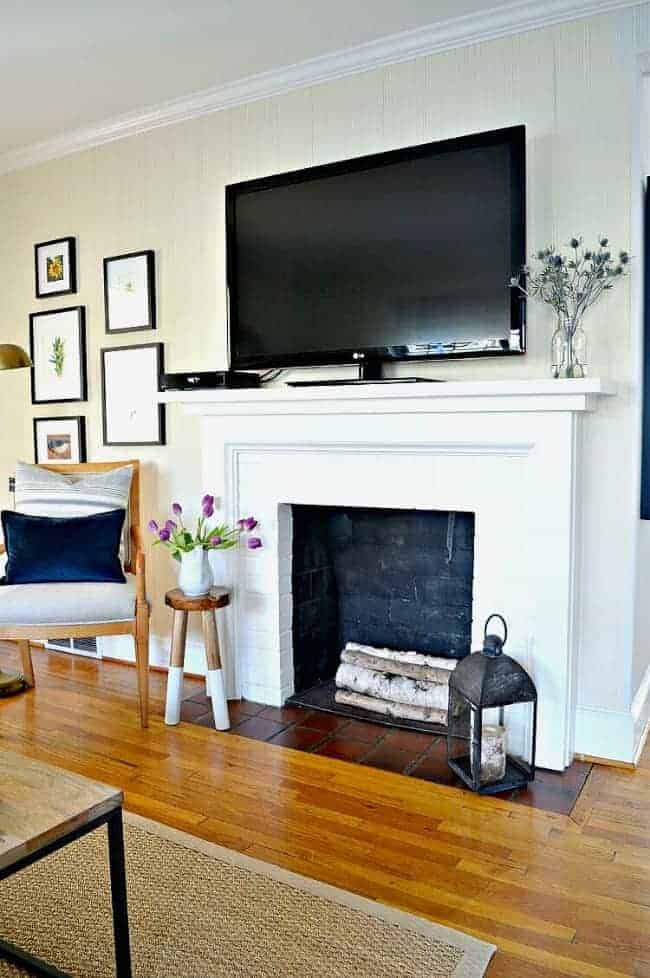 It was a huge improvement but I still longed for a toasty fire.
"We'll get it cleaned up when we do the roof" was the answer I kept getting every time I asked.
Then Cooper came along.
A puppy has a way of changing your plans...fast.
The usual spot for the dog bed is right in front of the fireplace. It was ok for Finn but Cooper is a rambunctious puppy.
He'd run around, on and off the bed and push it into the fireplace. I can't tell you how many times a day I had to pull it out or fix the logs and candles.
I needed a new solution.
Obviously a fire was out of the question...at least for the time being.
So, what can I use to cover fireplace opening?
A fireplace screen or cover would be perfect. Something that would keep an energetic pup out.
I was going to try to do something with the old iron screen that was in front of the fireplace when we moved in but it was heavy and if it got knocked over, one of the dogs would get hurt.
I knew that I could make something myself so I pulled the logs and candles out, for the last time, and went to work creating a birch log fireplace screen.
Supplies for fireplace screen
paint roller
birch logs (or any tree logs)
Tools needed
Creating a fireplace screen with birch logs
The first thing I had to do was to carefully measure the fireplace opening. The idea was to fit the screen in the opening to completely cover it.
I chose to go with a sturdy piece of ½" plywood, knowing that it would handle the weight of the logs and stand in the opening without falling.
I used a jig saw to cut the plywood from the measurements of my opening.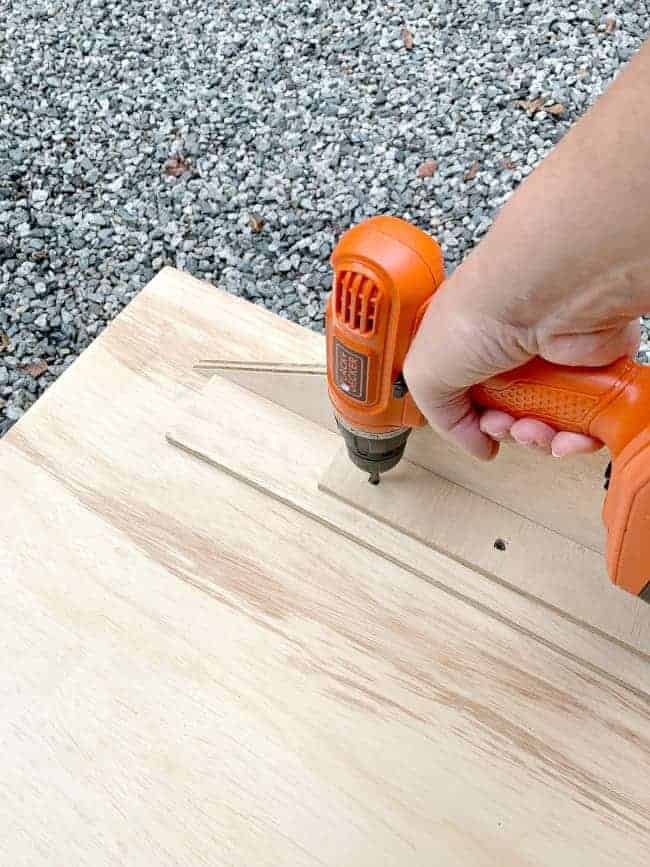 We had to be sure that the wood would sit in the fireplace and not fall over, remember Cooper plays in this area. So to make it sturdy I made a type of stand for the screen, almost like a freestanding fireplace screen.
I just cut out two "wings" out of the sheet of plywood that I had and screwed them into the piece of plywood I cut for the screen. No one would ever see the back side so I didn't worry about being too neat.
Once I finished with the base I took it up and fit it in the fireplace to test it out.
It fit perfectly...and the "wings" did a great job of holding it up.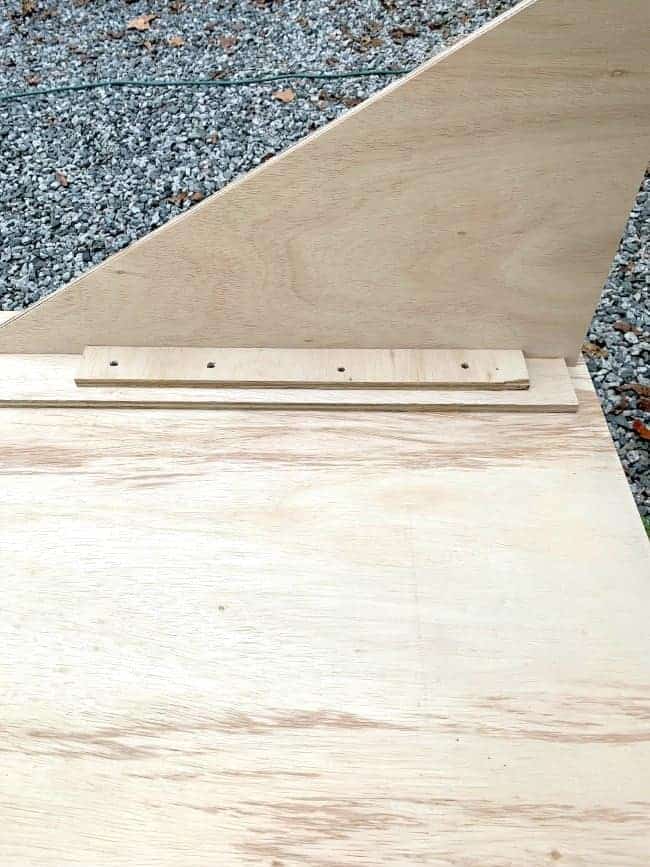 With the plywood for my screen complete, I quickly threw a couple coats of black paint on the front of it.
The idea was to completely cover the plywood so that you could only see the wood slices (as if they were stacked in the fireplace).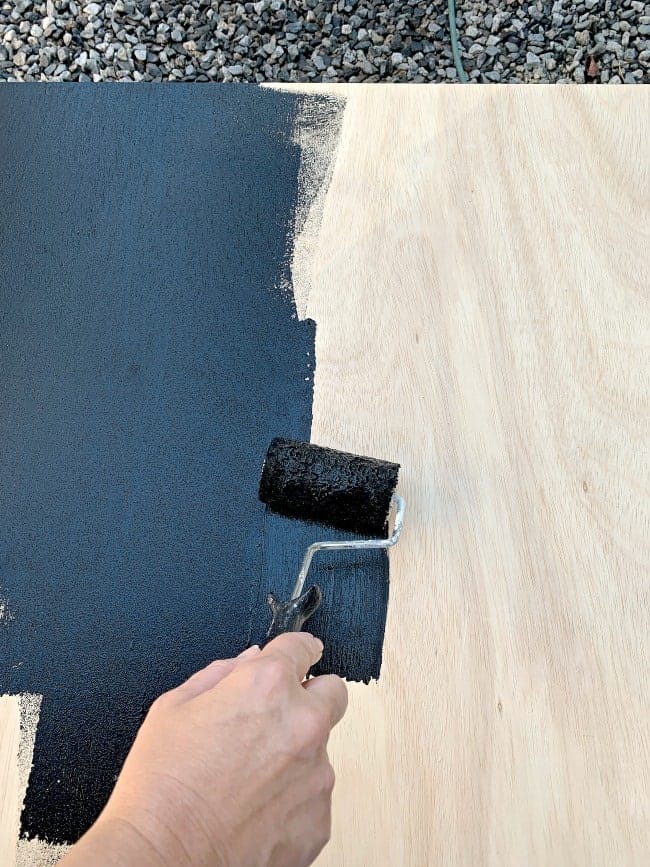 While the paint on the screen was drying, I got to work on the birch logs.
I had a large stack of logs, some in the fireplace and some hiding in the garage, so I pulled them out, along with my miter saw, and started cutting.
I didn't do any measuring, I just cut the log slices in varying lengths.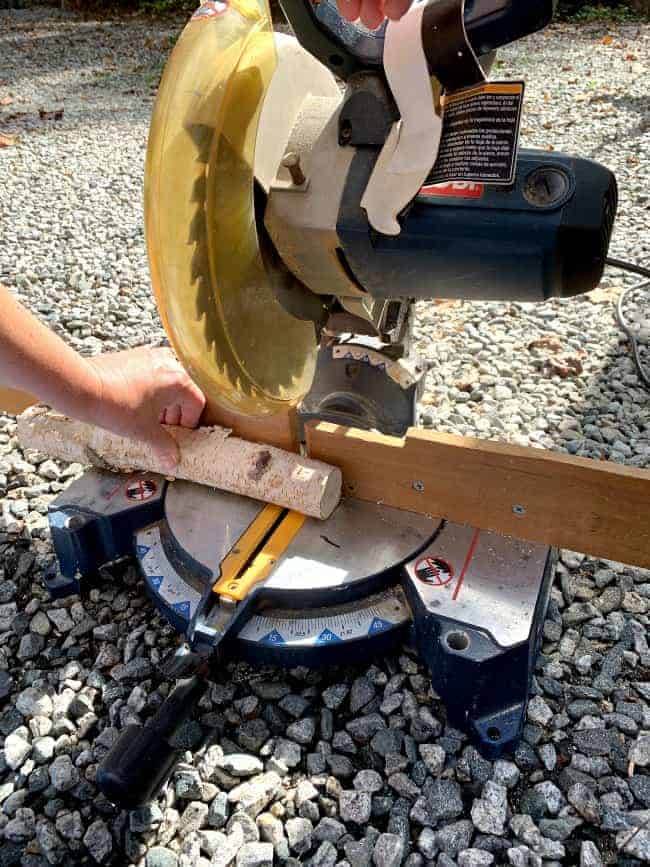 It took a while to cut them all down but once they were all cut, I began to glue the slices on the painted screen.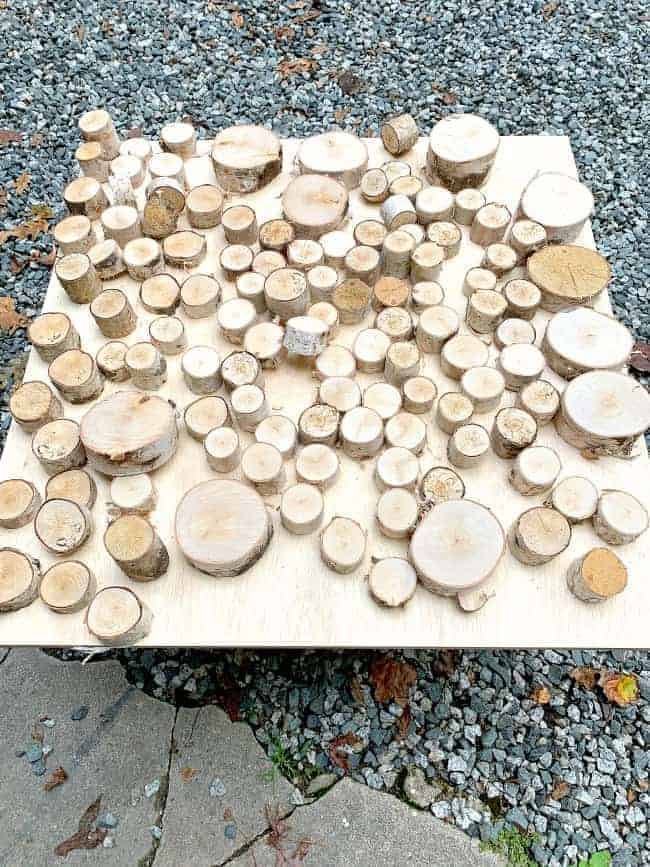 There wasn't really a method to my madness but I did start with the large diameter log slices.
I didn't have a lot of them so I made sure I sprinkled them around the screen so that they weren't all bunched up together.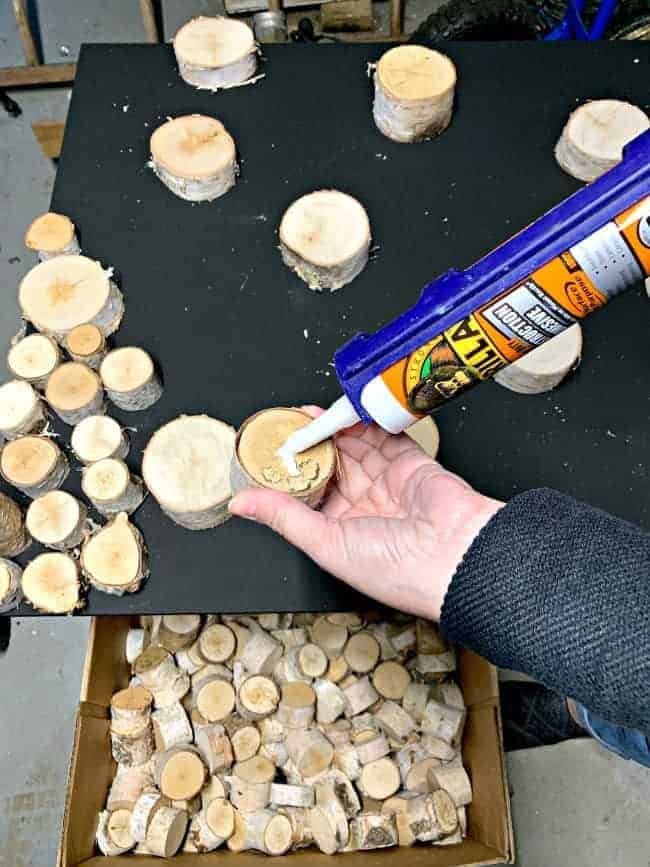 There were a lot of slices but once I got in a groove, it went pretty quickly. I just spread a bit of construction adhesive on each slice and positioned it on to the screen.
See how it worked out with the log slices cut at different lengths?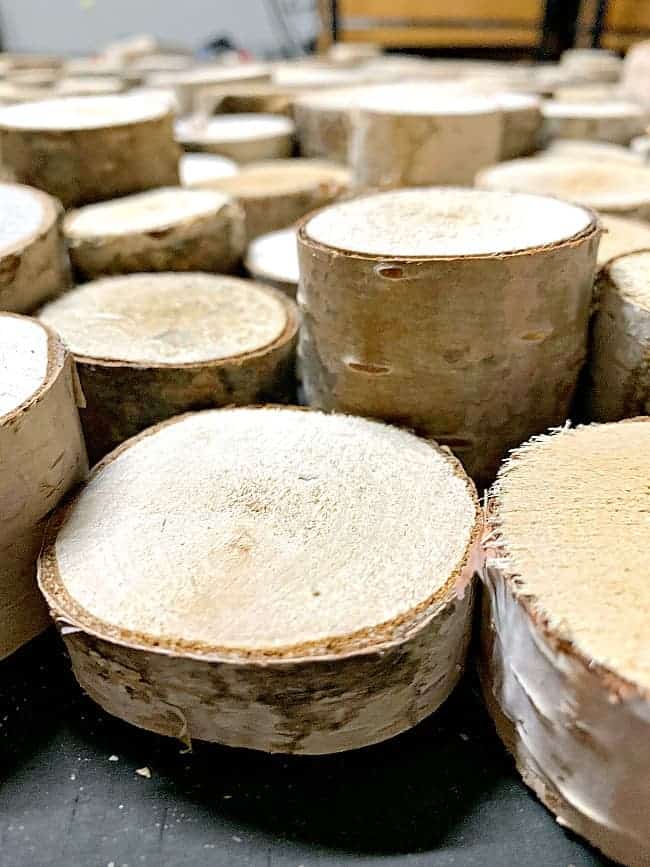 I let the adhesive dry overnight and then placed it in the fireplace. It fit perfectly and I love the different lengths of the logs.
It also helps that the background is black.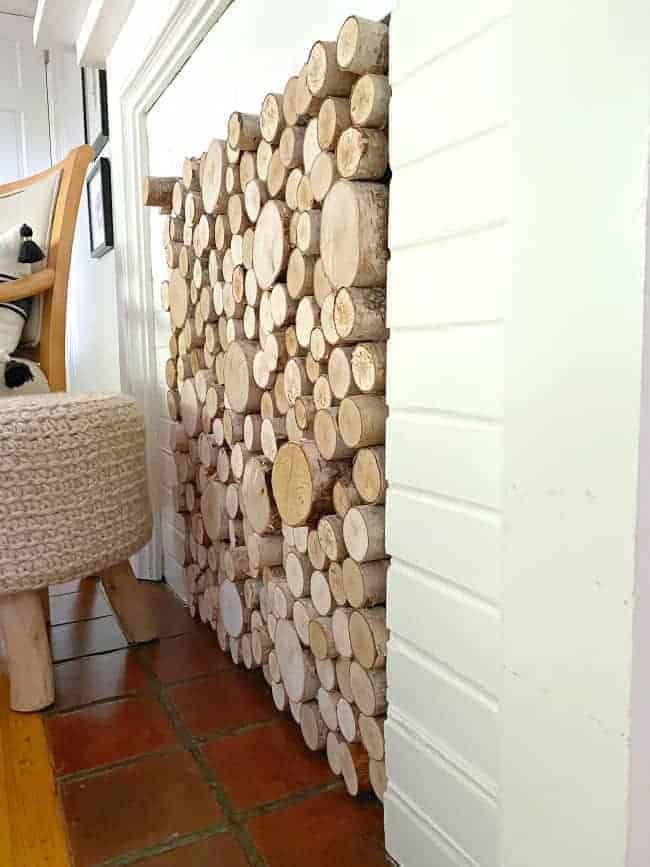 It's definitely been a conversation starter when people come to visit.
So much better than the hairy gas logs that were here when we moved in. And I'm happy to report that Cooper is no longer crashing into the fireplace.
It's almost as good as a roaring, crackling fire.
Almost...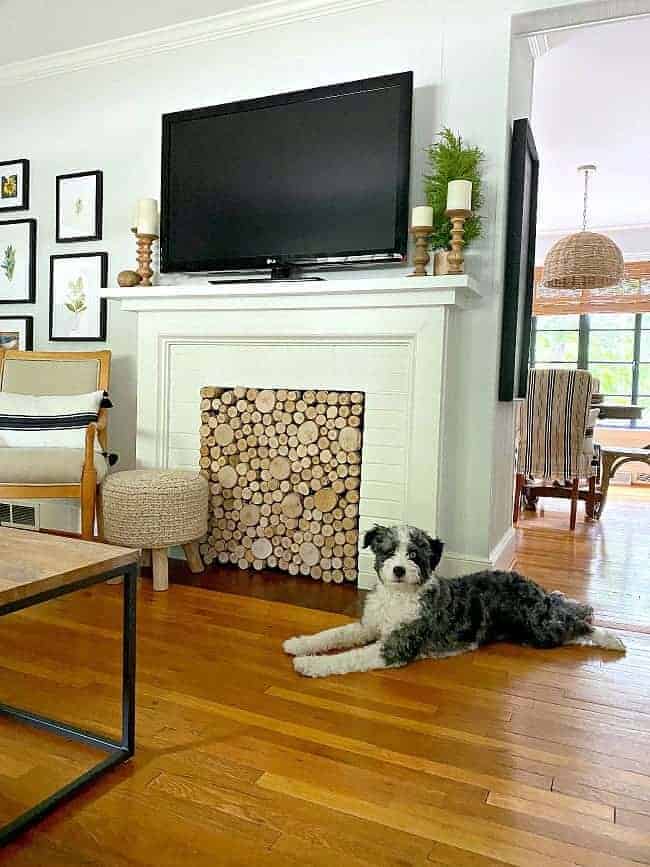 Our fireplace and mantle have gone through some changes since we moved in. Check out how we got it to where it is today.