*As an Amazon Associate and member of other affiliate programs, I earn from qualifying purchases.
Hey, hey…hope you are doing well. I was a little under the weather last week but I'm back and excited to share my Fall home tour with you (although it's really only my living, dining and entryway but home tour sounds much more grand).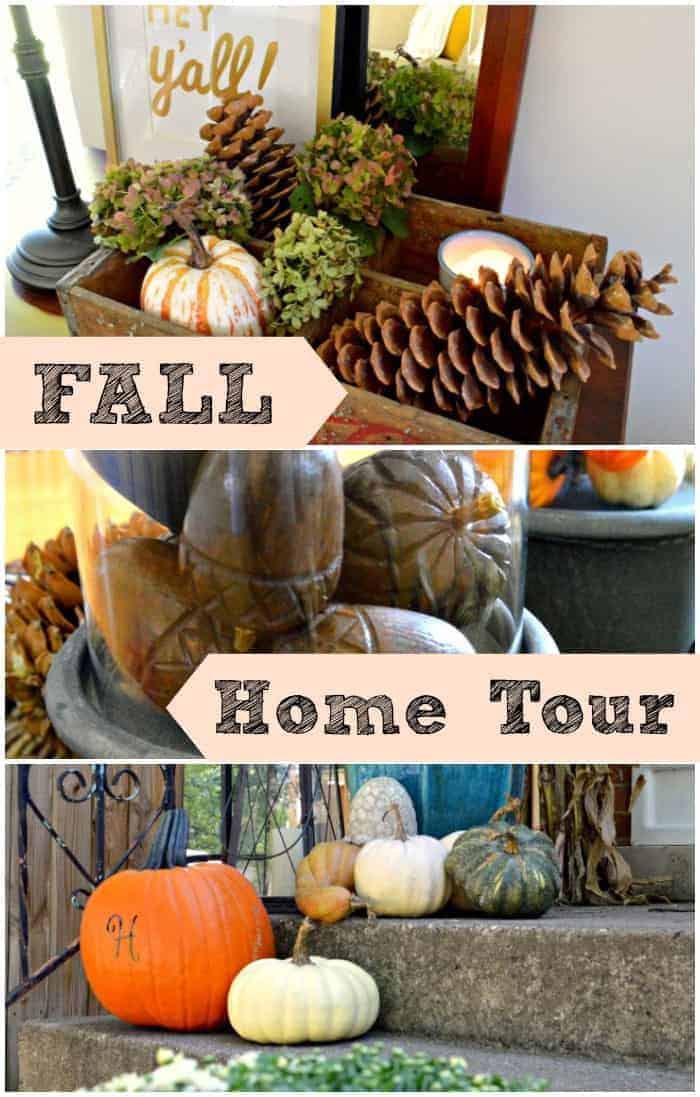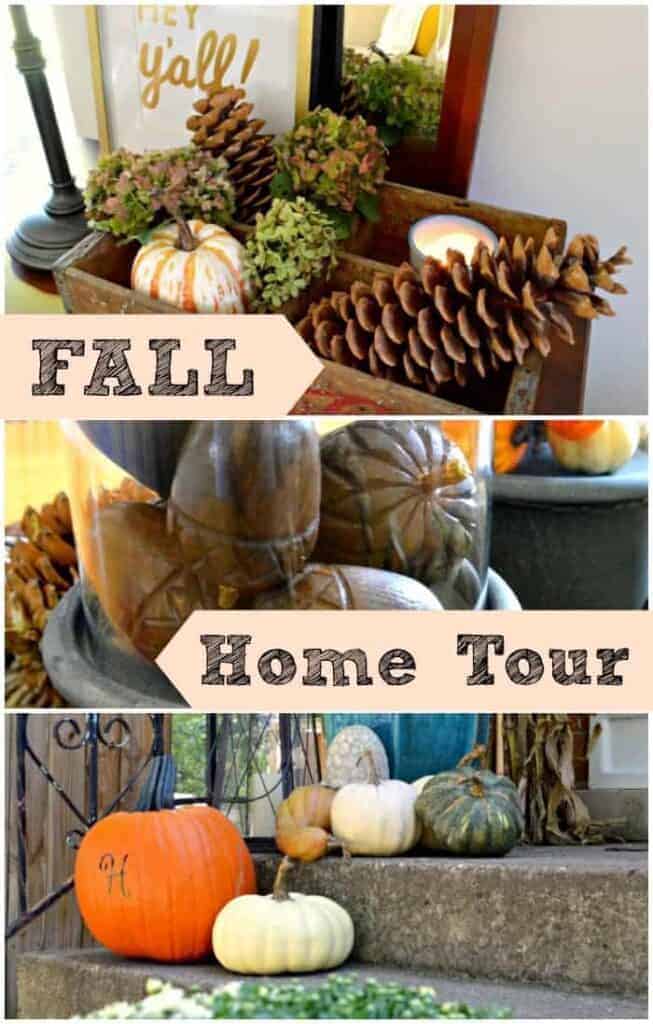 Last year, with moving in and the house renovations getting started, I didn't put too much thought into decorating, just put some things out that I already had, but this year I had fun choosing what I wanted to do. The one thing I've learned about having a small home is that you don't have a lot empty space for decor so you really need to have a plan or you could end up just having stuff all over, which is not a look that I go for. I like a look that's simple and cozy with some natural elements (and doesn't cost a lot).
The console that I have by the front door was the first good piece of furniture that I ever bought…and I still love it. The picture is an ode to our time living in Macon, GA and the Pepsi case is a recent find from the Kane County flea market.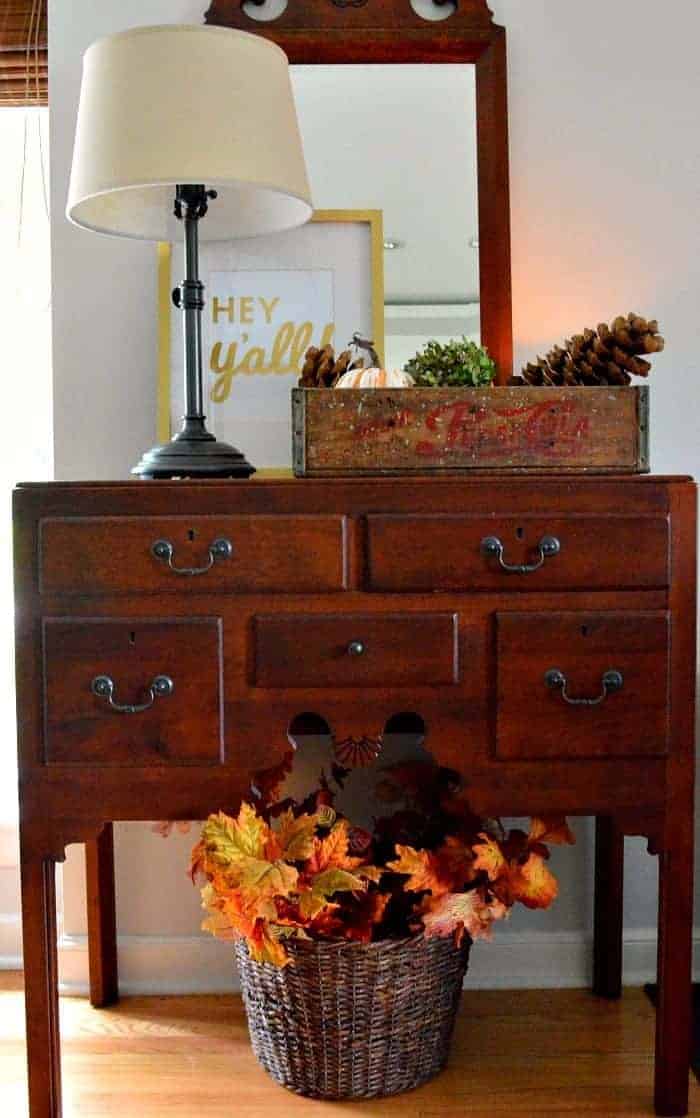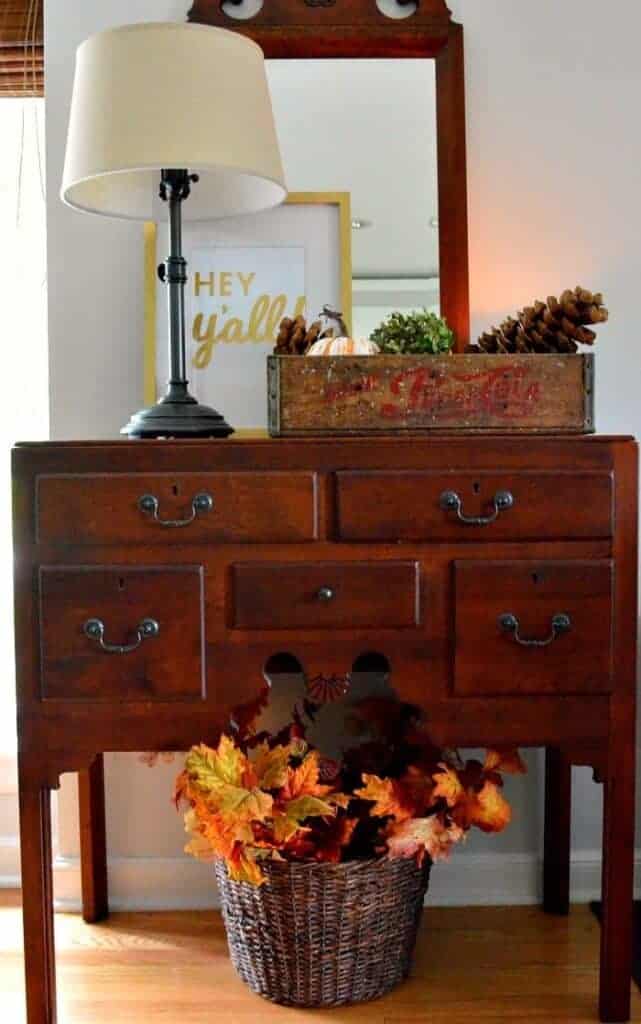 The soda case is filled with some big pine cones and my very own hydrangea. Because we lived in the South for 20 years and couldn't grow them, I was so excited to plant them in our garden this summer. Let's hope they come back next year.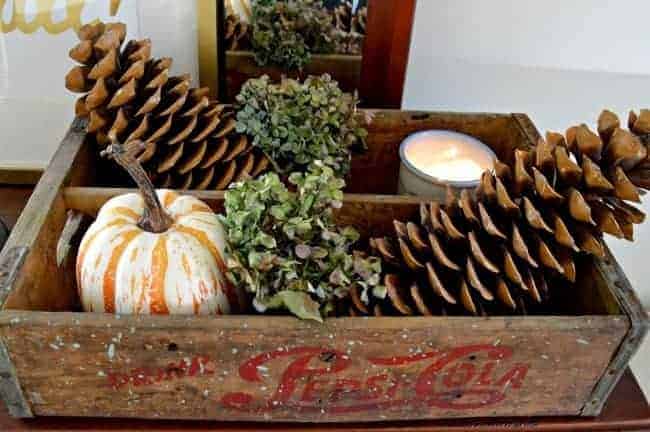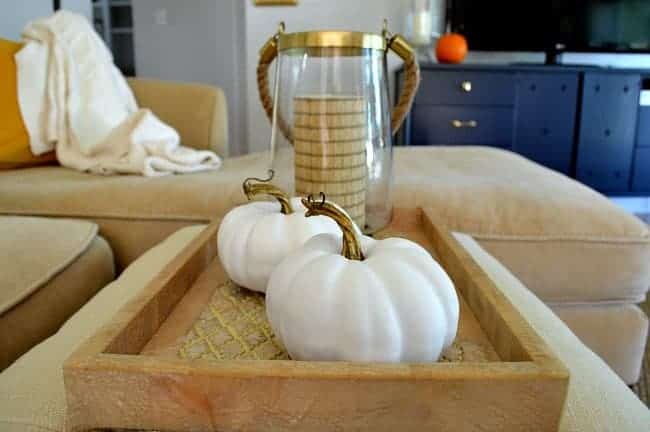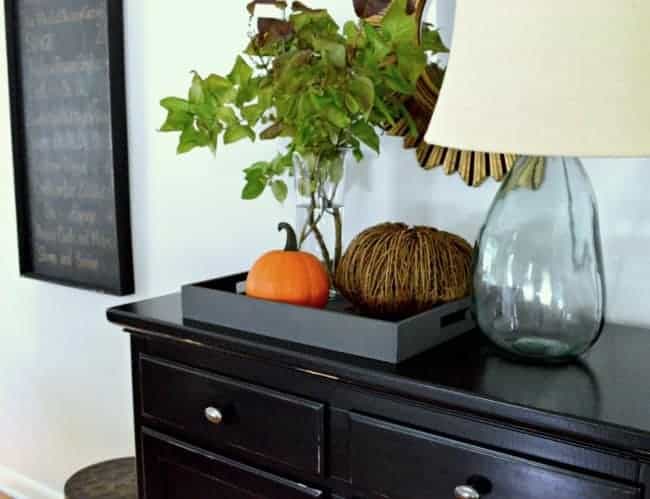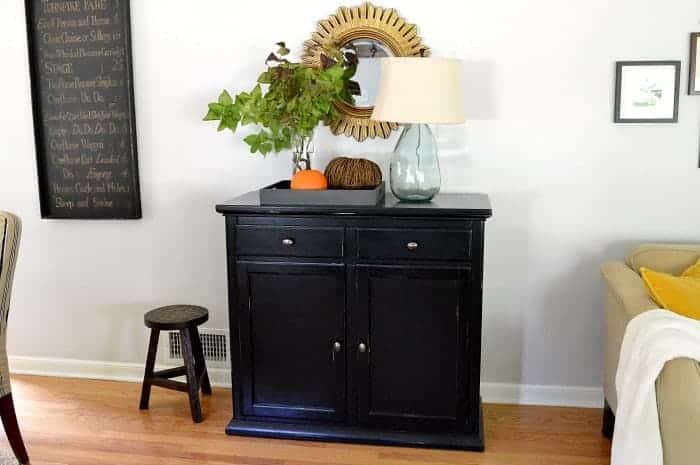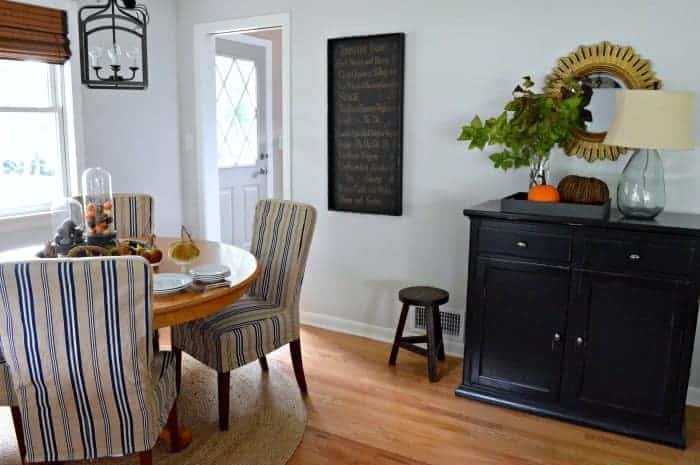 Our dining table never gets set formally but I like to decorate the large round woven tray. The cloches are new this year and the Love Feast pumpkins were from a giveaway I won last year.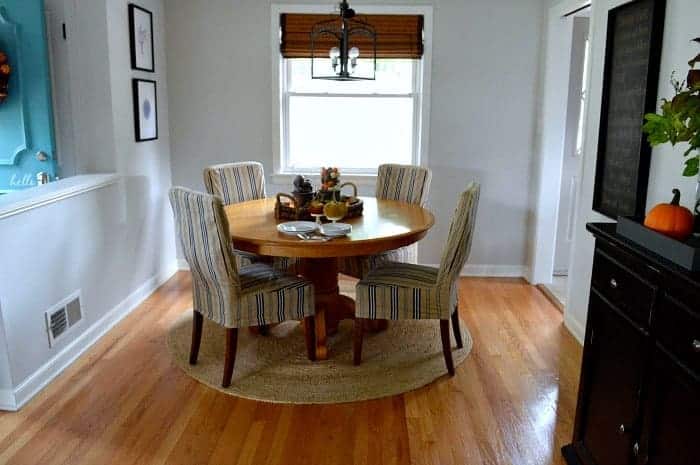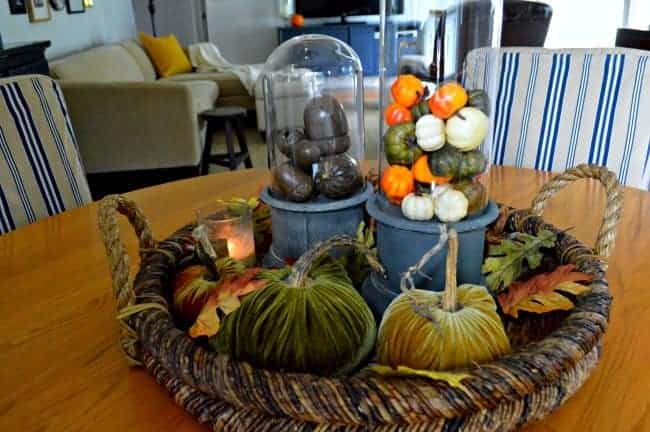 Love these wooden acorns from Hobby Lobby. I did touch up a few stems with some Rub 'n Buff.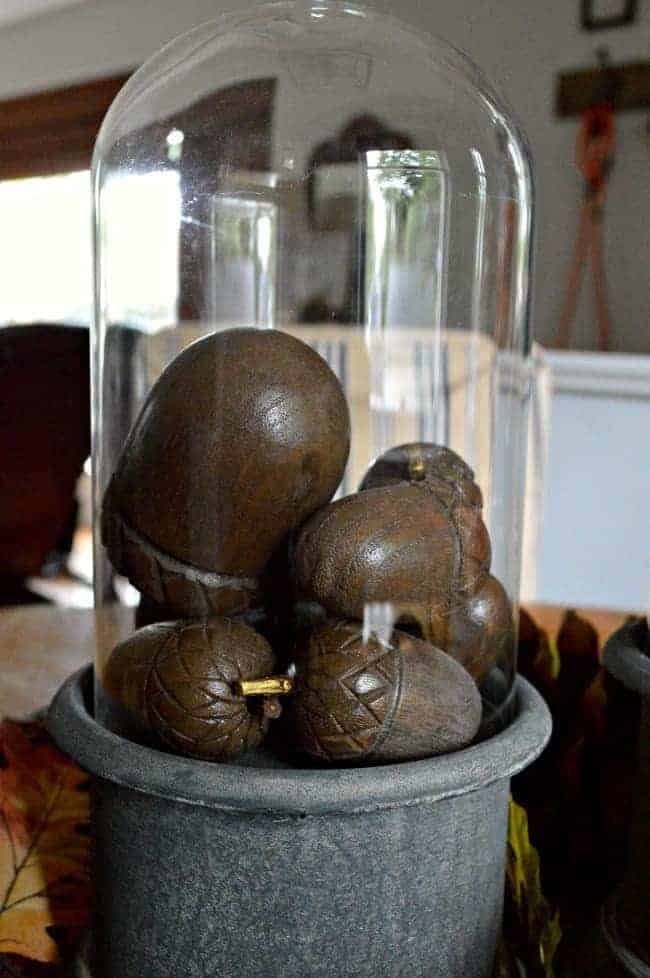 I don't have a lot of decorating space in my kitchen but I did add some cute little boo pumpkins to my navy armoire.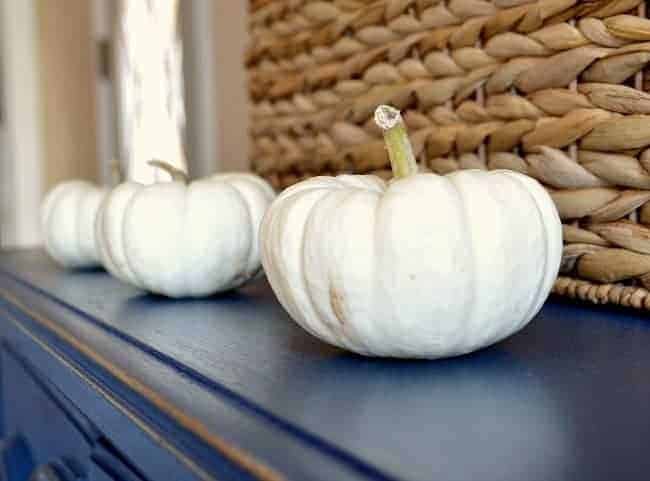 The front porch, or should I say stoop, was the most fun to decorate. I planted some kale with my purple fountain grass, added some corn stalks, a gaggle of pumpkins and a big mum. I had the big orange pumpkin out for less than 24 hours and some sneaky little squirrel nibbled away at it in several spots. We had the same problem last year and ended up coating the whole pumpkin with petroleum jelly, that's why it looks so shiny.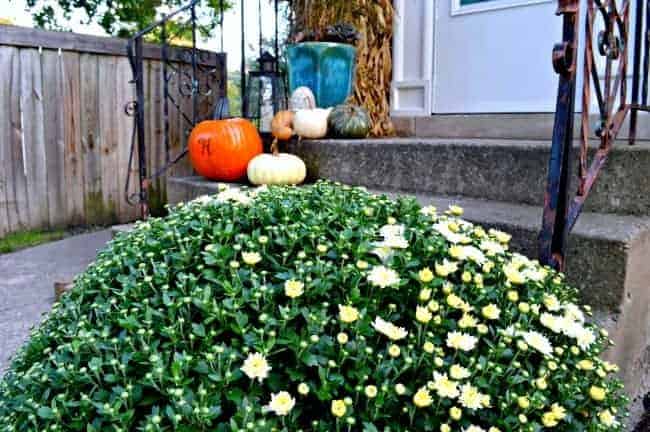 I'm happy to say that the snack bar is closed and I've seen no new nibbles.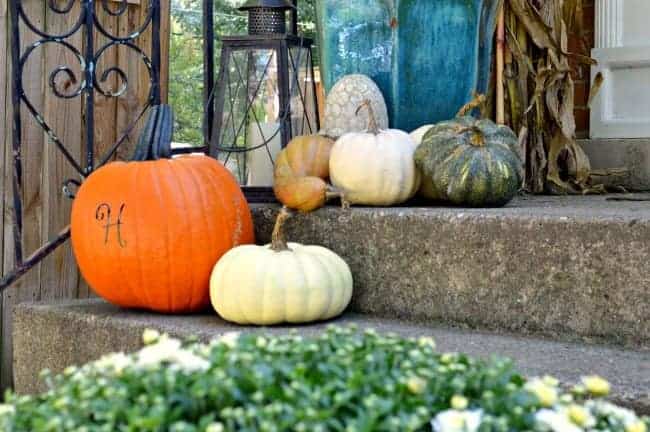 I got two bunches of corn stalks to put on either side of the door but realized the poor mail person wouldn't be able to get to our mailbox so we doubled up the stalks. Check out that trendy chippy railing…hopefully next year we'll be able to scrape and paint it. 😉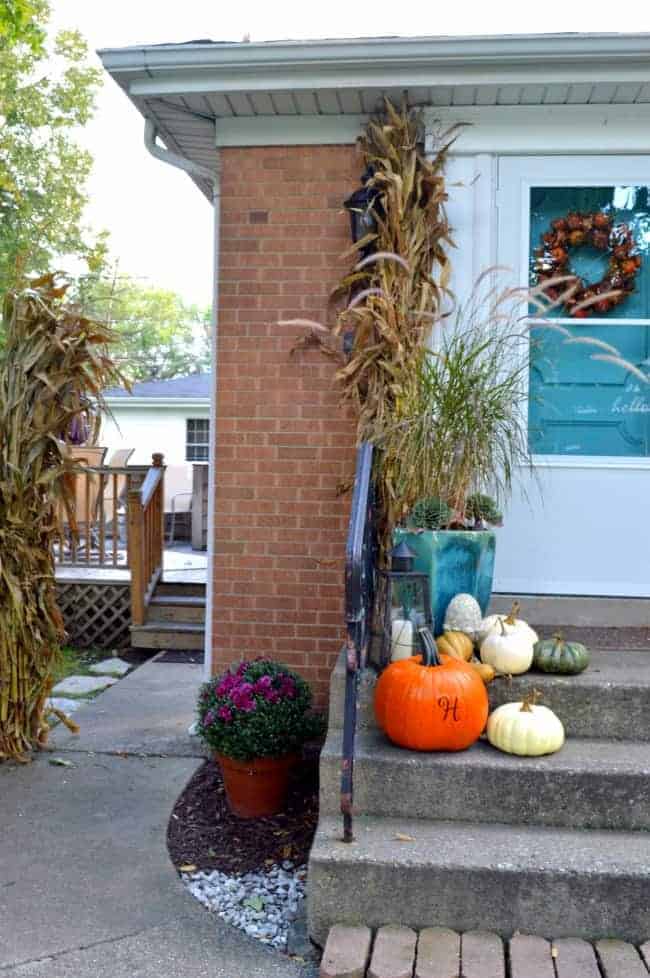 The last several days have been Fall-like here in Illinois, I've even had to turn the heat on a few mornings. I've always loved Fall but I'm not sure I'm ready to let go of the summer weather.
What about you? Are you ready for Fall yet? Has your weather begun to change too?