Disclosure: As an Amazon Associate and member of other affiliate programs, I earn from qualifying purchases.
If you're looking for the best way to clean a cast iron pan, and season it, we're sharing our best tips.
Roger has always wanted a cast iron pan but I resisted. For years!
We even had a well-remembered argument about an old cast iron pan that my mom wanted to give him.
Trust me, it was a doozy!
This Lodge 10.25" cast iron skillet has been a great addition to our kitchen for at home and camping. We use ours almost every day for cooking eggs for breakfast to fish for dinner.
Long story short...he wanted one, I did not.
The reason was because I'm not one for extra gadgets when it comes to the kitchen, we just don't have room.
I also thought that it would be hard to clean.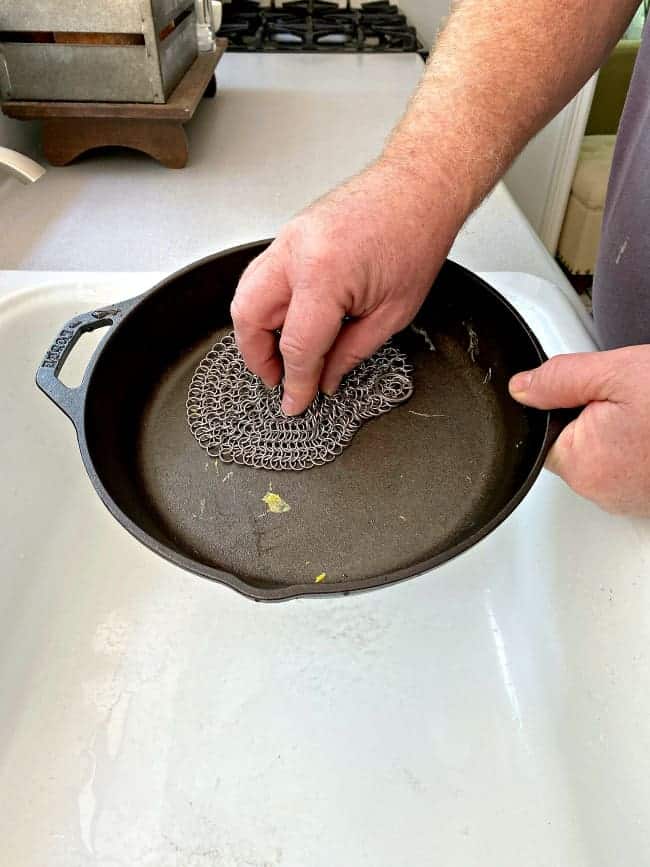 So....As you may or may not know we are big time campers. We love going out in our RV, which means a lot of outdoor cooking on a fire and camp stove.
I can even remember a trip we took to Stone Mountain, Georgia when the girls were small.
The campground had an older woman come, all dressed up in Colonial dress, to cook a full meal in a cast iron pan over a fire.
It was fun and educational, and the food was delicious.
Even after that fabulous campfire meal, Roger still couldn't convince me to get one of our own.
So we went without a cast iron pan for years. I know...tragic.
Finally, last Christmas he got his wish.
Our oldest, Addison, loves to cook and has been using a cast iron pan to cook at home and camping (the apple doesn't fall far from the tree).
She loves her cast iron so much that she wanted her dad to have one so that was his Christmas present.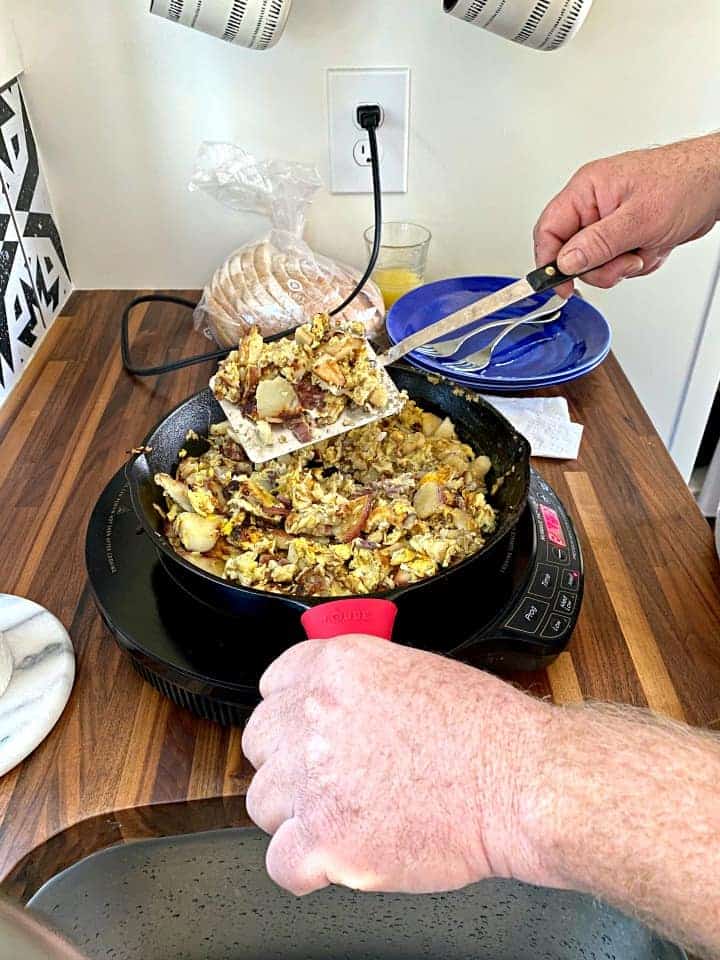 I'm not one to admit when I'm wrong but in this case, I was.
Using a cast iron pan to cook has been great but we had to learn how to clean and oil it properly.
Roger's cast iron pan cleaning method...
Right after we eat, while the pan is still warm, he wipes out the food residue with a paper towel.
Then he runs a bit of hot water in the pan and uses the cast iron chainmail scrubber to scrub the pan.
He doesn't use soap on our pan but you can (see bottom of post for DO'S AND DON'TS).
After it's clean, he rinses it well and then dries it thoroughly, right away.
He turns the stove on low and wipes it with a clean towel.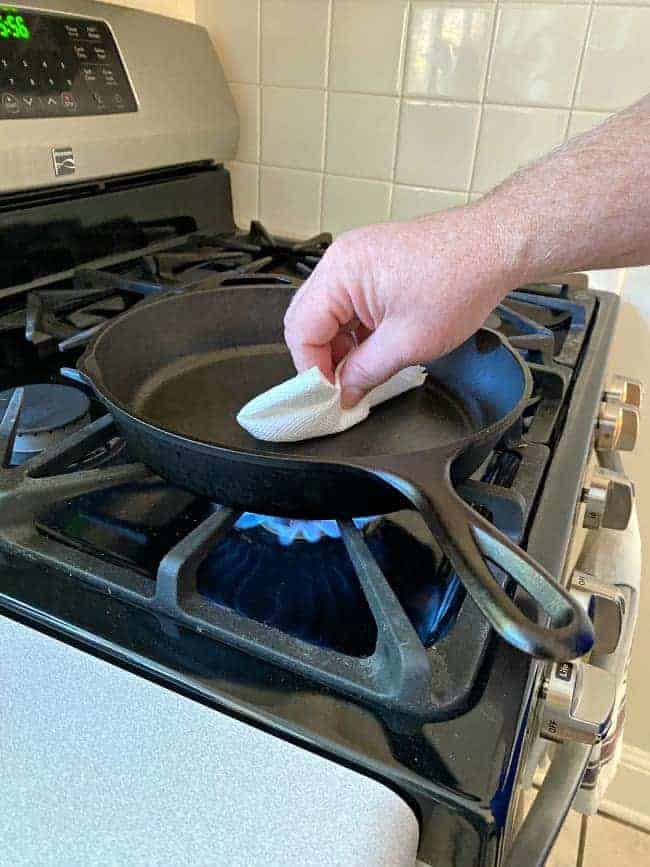 Then he oils it with a spray olive oil.
Remember to turn your gas stove off before spraying your olive oil spray.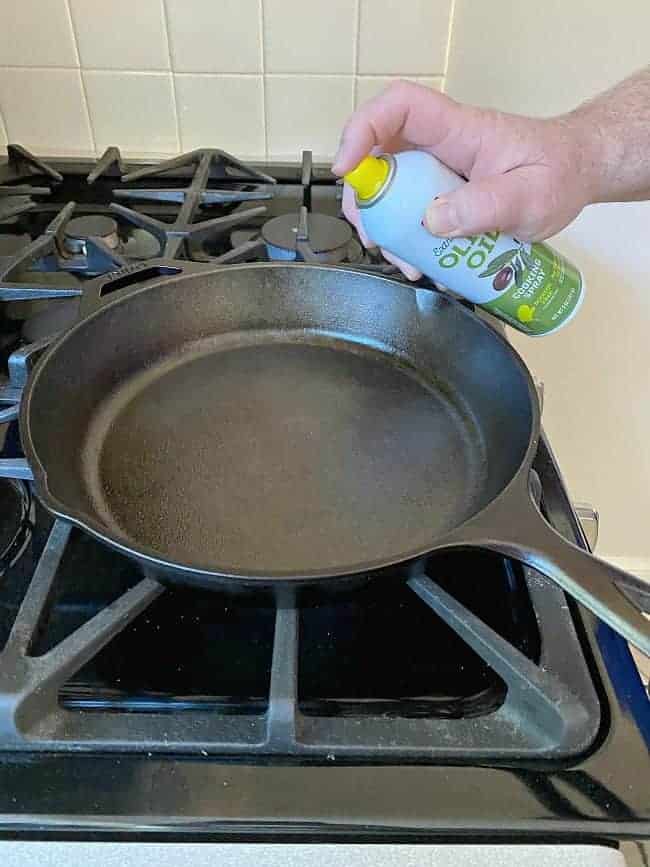 Once it's cool we put it in the oven to store it.
Now it's ready for our next meal, like our fave camping breakfast skillet recipe.
Cleaning Cast Iron Do's and Don'ts
Can you ruin a cast iron skillet?
Yes. You can definitely ruin a cast iron pan by soaking it in water. Water will make it rust and ruin your pan.
Never put cast iron in the dishwasher.
Never leave it to sit out and dry. Dry it well immediately after you clean it and then reseason.
Can you use soap on a cast iron skillet?
You can use a small amount of soap with a nonabrasive scrubber or nonmetallic brush. Don't use abrasives or steel wool to clean.
Is it ok to soak cast iron?
In a word, no. You don't ever want to soak cast iron because it will rust.
What do you use to reseason cast iron?
You can use any oil or fat to reseason a cast iron pan. We use an olive oil spray.
You may want to check the manufacturer of your pan for recommendations.
How do you reseason a cast iron pan?
You must reseason a cast iron pan after you've cleaned it with soap and water (which will wash away the oil that is on it).
Clean pan with soap and water.
Rinse well and dry thoroughly with towel.
Pour a small amount of oil or shortening in pan.
Use a clean towel to spread oil on surface of the entire pan, including outside.
Place in a 350 degree oven upside down and let bake for 1 hour.
Let cool and remove from oven.
How do you know when it's time to reseason a cast iron pan?
You'll know when your pan needs to be reseasoned when your food starts sticking.
I'm so glad that we finally got a cast iron pan and we have enjoyed using it when we go camping.
Food definitely tastes better cooked in it. My favorite right now is fried fish. Yum!
Do you have a cast iron pan? What do you like to cook in it?
Another Cast Iron Pick...
Cast Iron Pan Accessories