How to Clean a Wood Fence
*As an Amazon Associate and member of other affiliate programs, I earn from qualifying purchases.
How to clean a wood fence that is covered in mold quickly and easily without using a pressure washer.
We live on a corner lot with a small side yard, instead of a back yard.
Around the whole side yard we have a wood fence, that was here when we bought the house.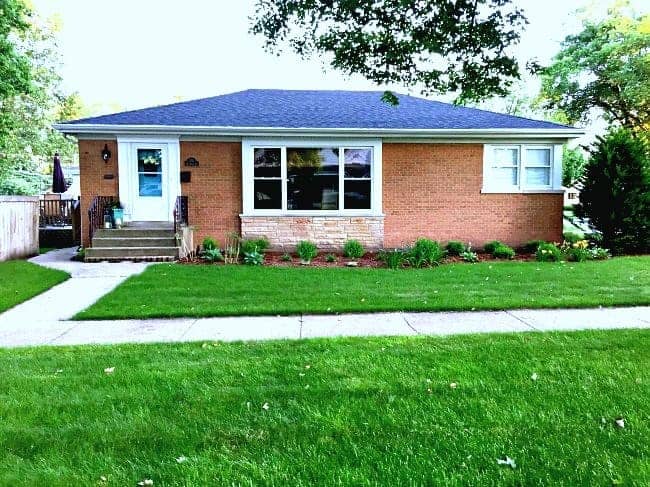 We've had a lot of conversations about this fence in those two years.
Should it stay, should it go, should we take down part of it, should I secretly take a sledgehammer to it when hubs is away on business…you get the idea.
I've never liked the fence but after two years I do see the benefits of the privacy it provides, since we are on a busy road with people walking by all the time.
We've done a few things to improve the look of the fence, including taking down the gate that hung crooked and would never close.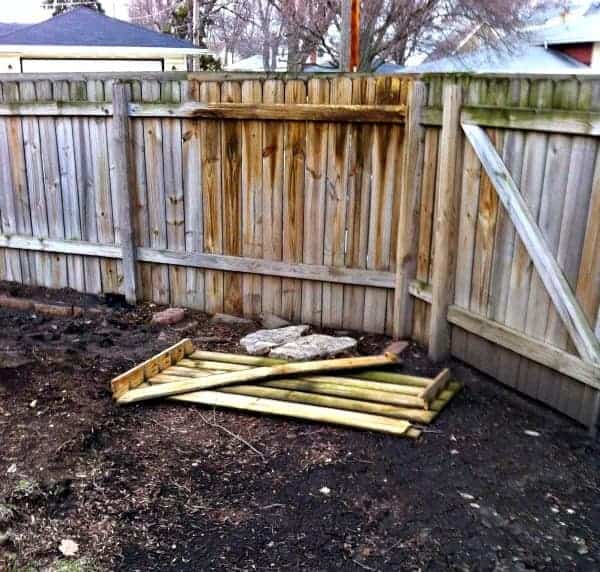 We also removed a funky little roof on one section of the fence, we think the previous owners stored their garbage cans under it.
That did make a difference but we really needed to get serious about the ugly mold covering most of the fence.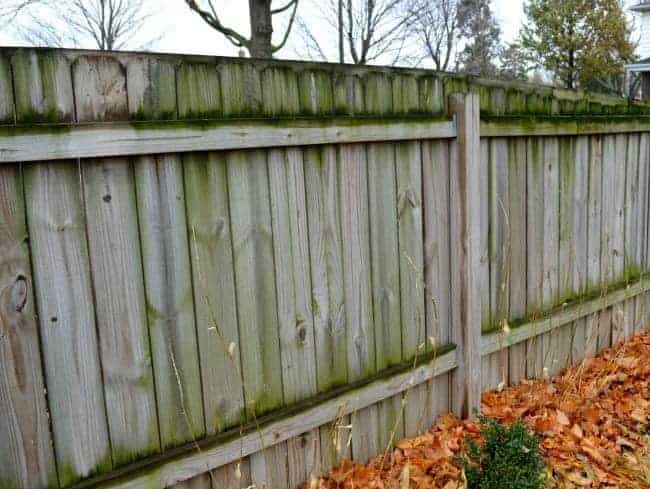 This was one of those projects that really needed to get done but was put off so many times because we thought it would take hours to do.
We couldn't stand to look at it so we finally bit the bullet and cleaned it up.
Supplies for Cleaning a Moldy Wood Fence
How Do You Clean a Wood Fence Without Pressure Washing It?
We didn't have a pressure washer at the time so we had to rely on soaps and cleaners and good ol' fashion elbow grease.
First we tried a few easy things, like taking a scrub brush and some warm soapy water to it.
We spent a little time scrubbing but it didn't do anything to the mold.
Next we tried some bleach and water in a bleach sprayer, but that did nothing to remove the mold either.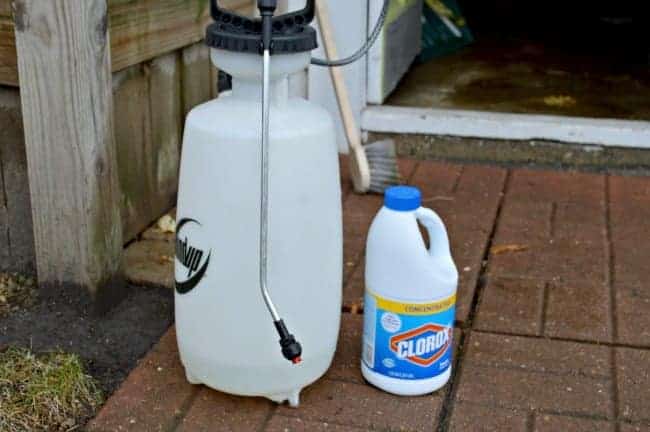 Not feeling defeated we decided it was time to bring in the big guns.
Removing Green Algae on a Wood Fence
The only thing that would touch the algae was liquid chlorine (typically used in swimming pools).
This stuff is potent so we diluted it with water in the sprayer and applied it to the fence.
First we tried mixing a solution of 25% bleach to 75% water. That didn't quite cut it so we went with a 50/50 solution.
A good tip to remember is that when you spray the solution on the fence you want to be sure to start at the bottom and work your way up (working from the top down could result in streaks). You also want to be sure to wear some old clothes and protective eyewear.
The 50/50 solution worked like magic and the mold disappeared almost immediately.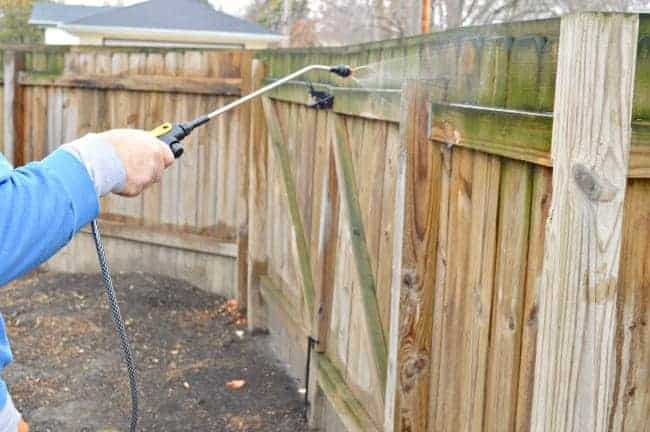 After a section of fence was sprayed, we let the solution do its job for about 15 minutes, then we rinsed it with the hose.
Because the liquid bleach is so potent, we made sure to hose the area down around the fence really, really well so we didn't harm our plants or grass.
It took no time to spray the whole fence and once it was dry it looked almost brand new.
There's still a few stubborn spots we need to scrub, but it looks 100% better.
Moldy Wood Fence Before and After
Front Side BEFORE…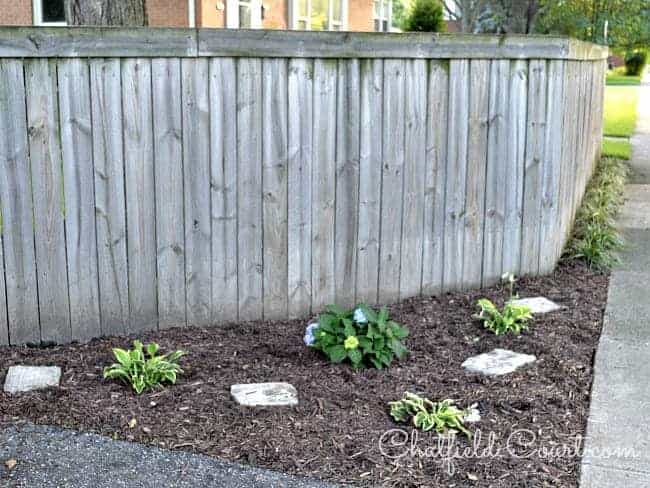 AFTER…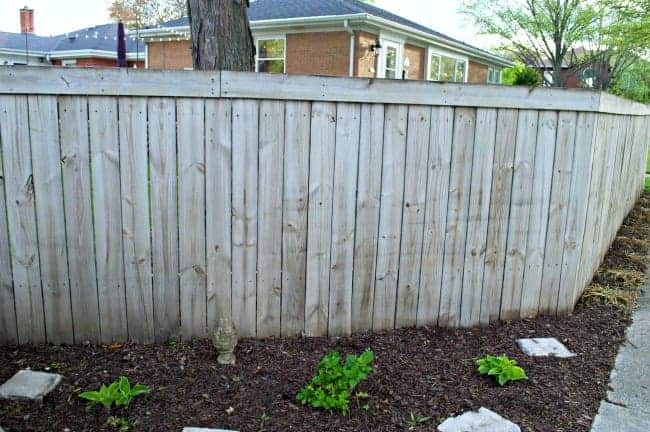 Back Side BEFORE…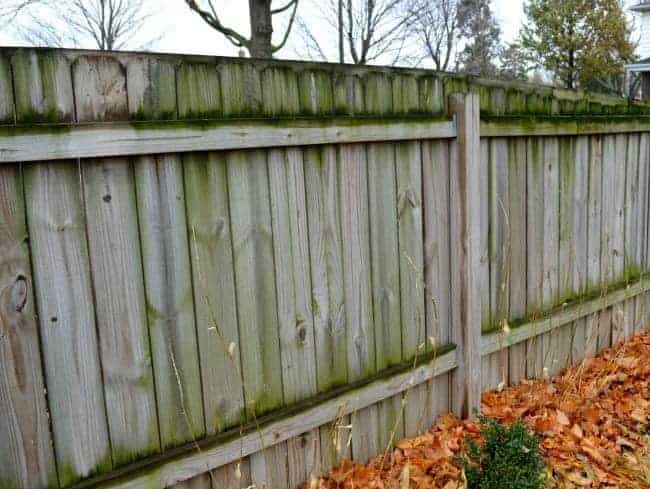 AFTER…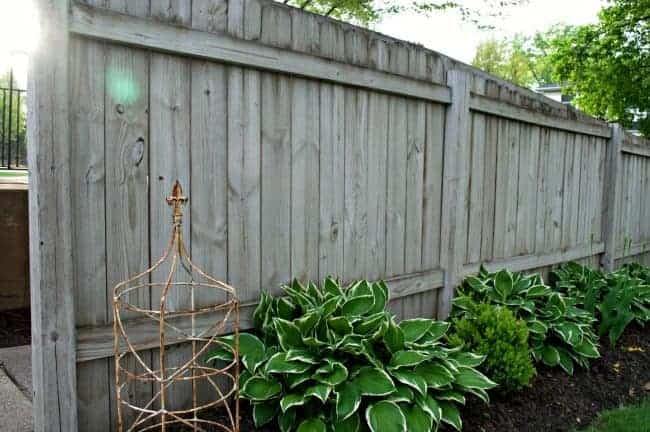 I can also report that the plants and grass were not harmed in the process.
Now I can officially cross this one off the "To Do" list. Yay!
Do you have a "To Do" list? Does it make you happy to cross completed projects off of it too?
More Outside DIY Projects: