DIY Vegetable Garden Markers
This post may contain affiliate links, please see our policy for details.
These DIY vegetable garden markers are inexpensive and so easy to do with supplies from Dollar Tree.
Spring time is always a busy season here at the cottage. You can usually find us outside every weekend working on a project or two. The past two weekends we've been busy making a DIY raised garden beds with scrap wood from the deck demolition.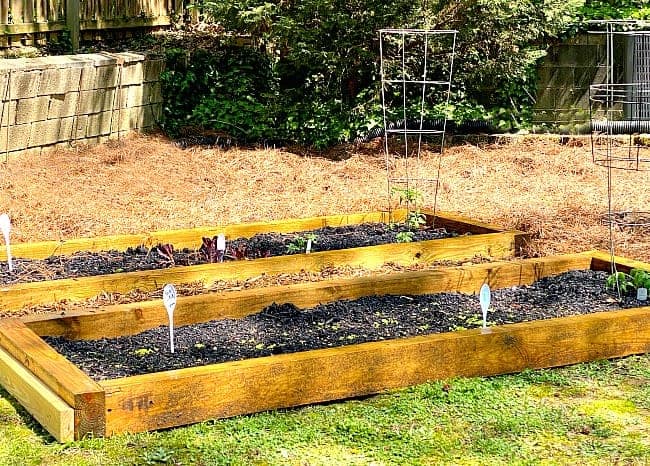 After we built the garden and added the soil, I planted some seeds.
You can't very well plant seeds without marking them so I set out to make some quick and easy vegetable garden markers…cheap!
Supplies for DIY Vegetable Garden Markers
Like I said, I didn't want to spend a lot of money for garden markers so I crafted a few. I made my own DIY garden markers before, out of clothes pins, but I wanted to try out something different.
I found the perfect solution at Dollar Tree in the kitchen utensil aisle…a pack of 4 white plastic serving spoons. They are plastic, which makes them waterproof, there's a surface to write my seed name and they have a tall leg to put in the ground. Best of all they were $1.
So…let's make some easy waterproof garden markers!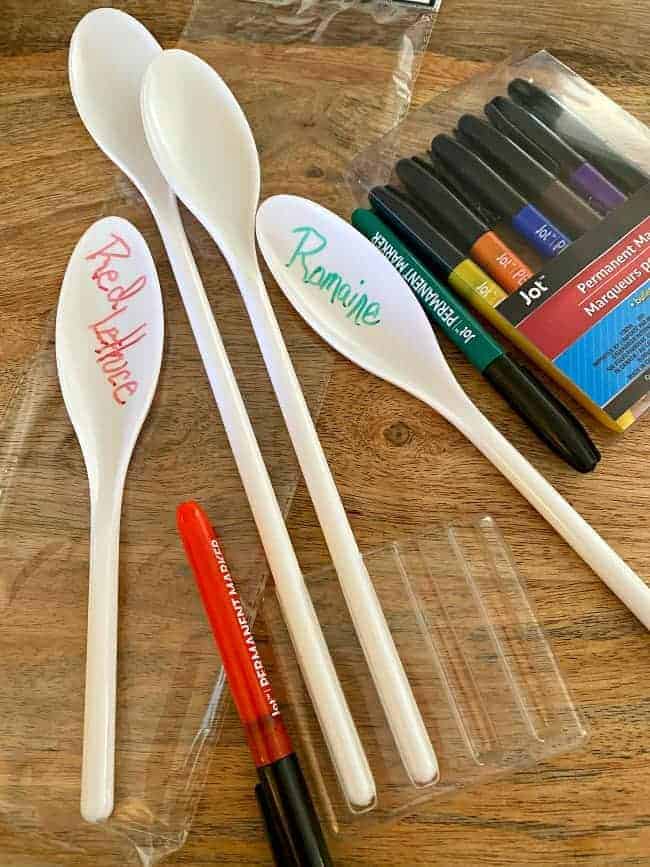 I already had a pack of Dollar Tree permanent markers at home so I just used those to write the names of my crops. That was good but the writing faded after a rain storm.
I wasn't ready to give up so I sprayed a coat of clear poly on the lettering on each spoon and that did the trick.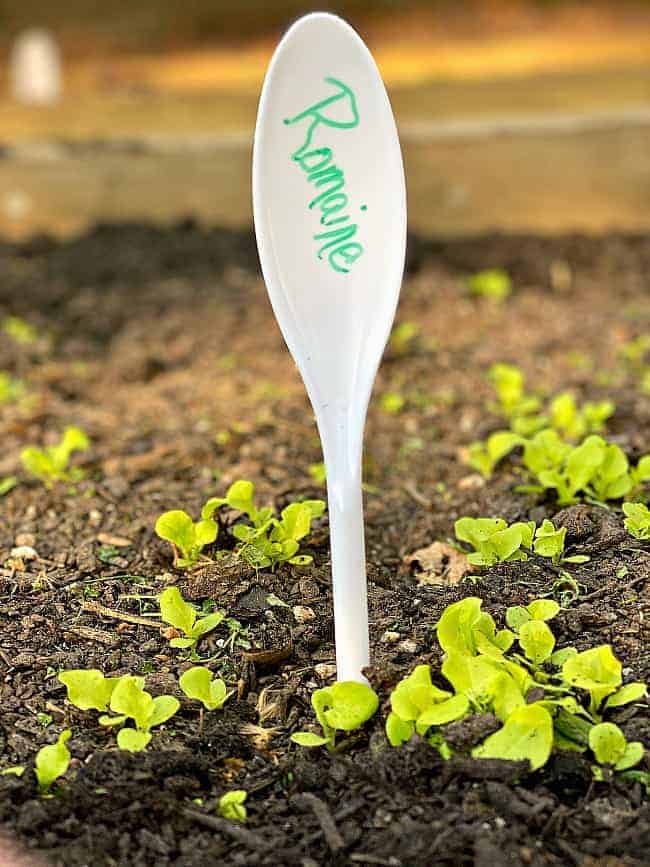 They did their thing in the garden for a week until I had an idea to add a bit of color to the greens in the garden. I pulled a couple cans of spray paint out of the cabinet and spray painted them different colors.
No rhyme or reason, just a couple of fun, bright colors. Whatever you have in your stash.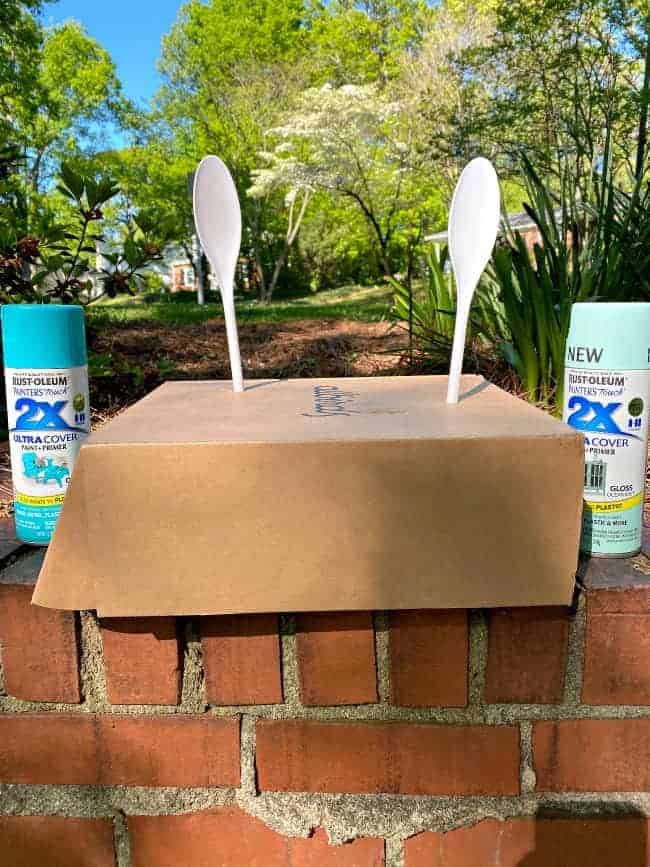 Painting your veggie garden markers
One coat of spray paint for each was enough.
To easily paint them, without making a mess, I just cut two holes in a box and stuck the handle of the spoon in. Worked like a charm!
After they dried, I used the permanent marker to write the name of my seeds and then coated it with poly again, just for added protection.
There's so many possibilities with these. You could be as crazy or as plain as you want. For me, simple lettering with the bright color does the trick. I still even like the white.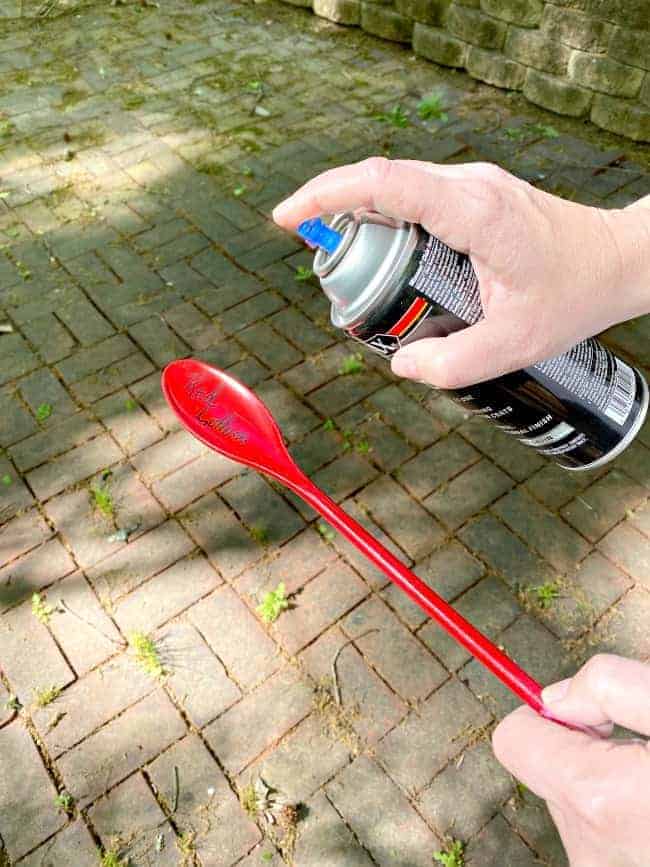 We've had rain showers and I've watered the garden several times, and the veggie garden markers are still standing bright and tall.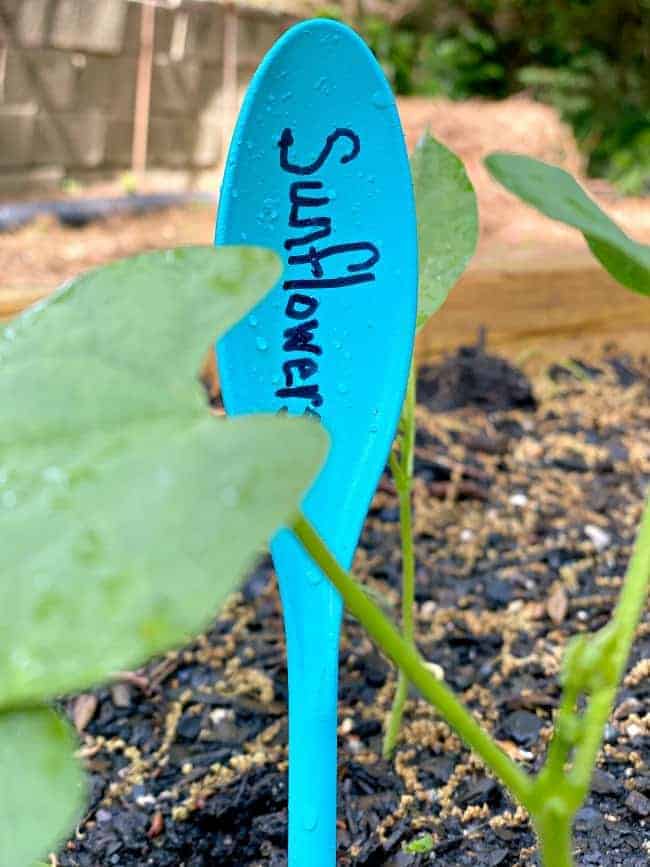 They aren't fancy but they do the trick and they're fun to look at. Maybe they'll inspire my garden to grow.