DIY Raised Garden Beds with Scrap Wood
*As an Amazon Associate and member of other affiliate programs, I earn from qualifying purchases.
How to build 2 DIY raised garden beds with scrap wood from a backyard deck. Both in less than 60 minutes.
Last year I built a DIY raised planter box for our front porch but I've been wanting to build some raised garden beds for a veggie garden.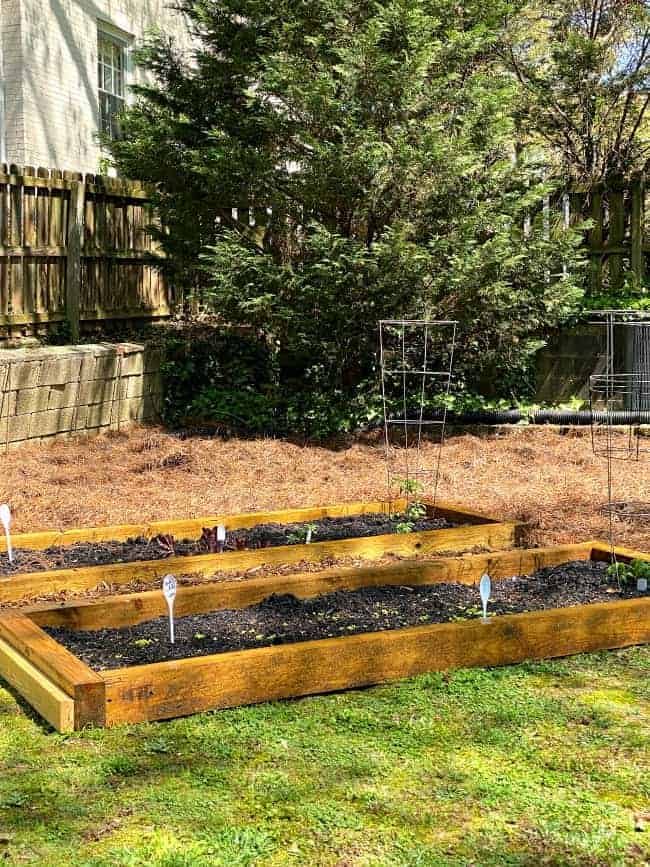 We've had the dirt stockpiled in our yard for 2 years with good intentions, but our cargo trailer conversion took all of our time and attention. Our trailer is nearly done now so it's time to turn our sights on our poor neglected back yard and build some raised garden beds.
This project really needed to be on the cheap so we tried to use up what we had around the house. Luckily we just removed half of our back deck in order to bring our Airstream in to the yard so we had a great supply of free wood to choose from.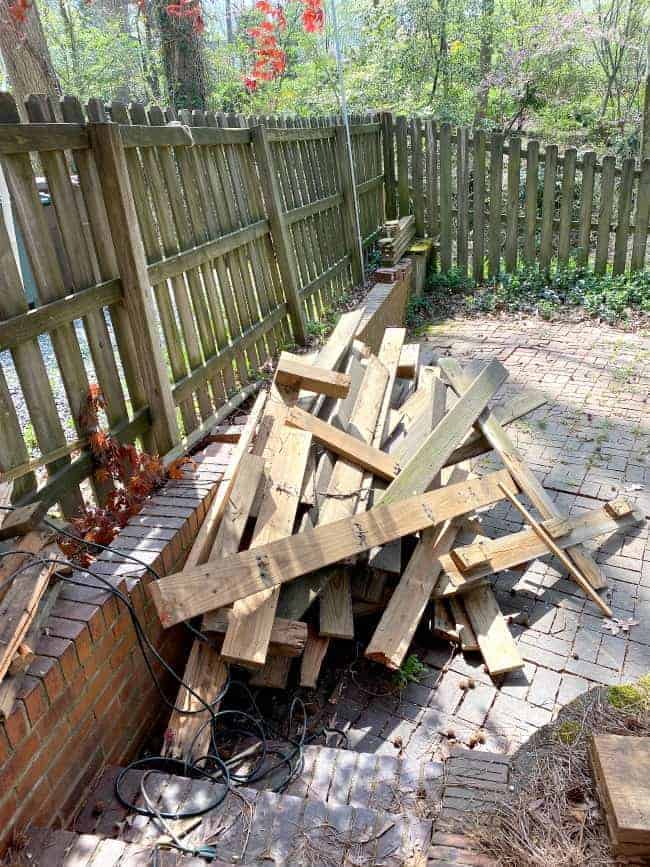 I found several pressure treated planks that were still in good shape so I lugged them over to the only spot in our yard that gets good sunlight and started my build. Fortunately our planks were the perfect size. We only had to shorten one plank to fit.
Supplies for a DIY raised garden beds
As an Amazon Associate and member of other affiliate programs, I earn from qualifying purchases.
8 scrap wood planks (we repurposed 4×6 pressure treated wood planks from our deck)
planting soil
Building your raised garden beds
This build was all about quick and easy, and inexpensive, so I didn't go through the trouble of digging up the yard.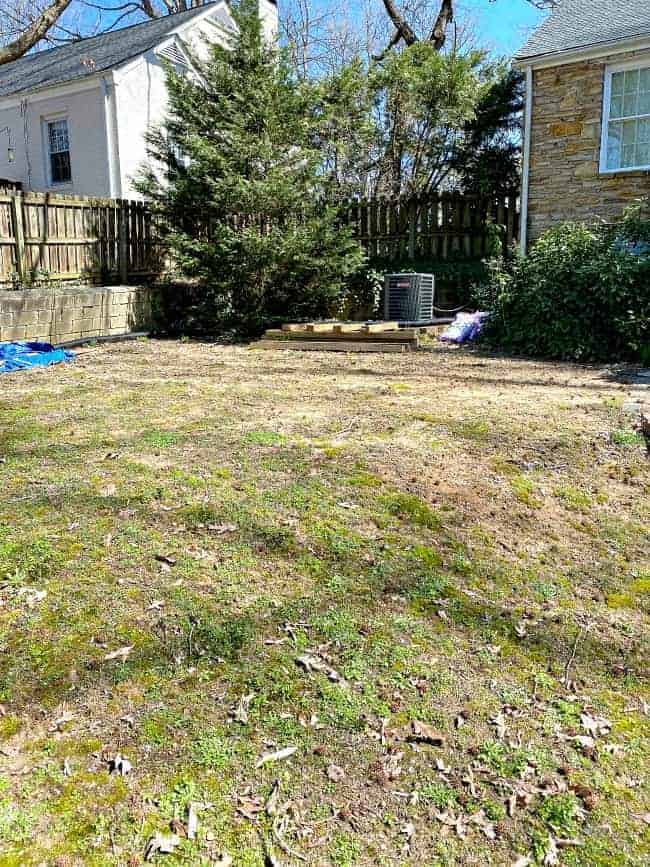 It's mostly dirt anyway, thanks to a weed company that completely killed the little bit of grass that we did have.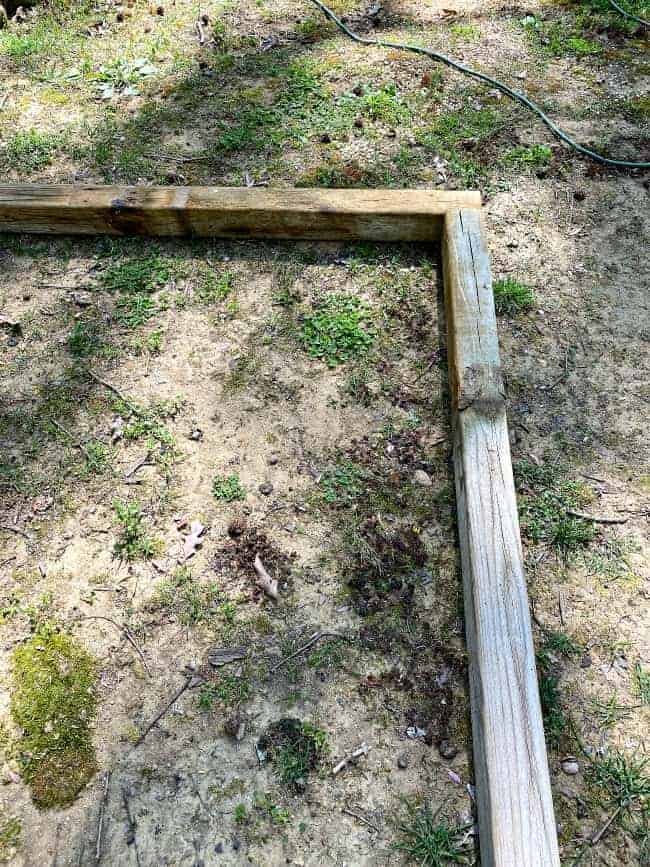 I've cried enough tears over my dead grass so let's get to making some quick garden beds.
I just placed my planks and laid down some weed blocker fabric, that was leftover from last year. The weight of the wood planks held down the edges of the weed blocker.
Garden tip: Don't have weed blocker fabric? Just use newspapers!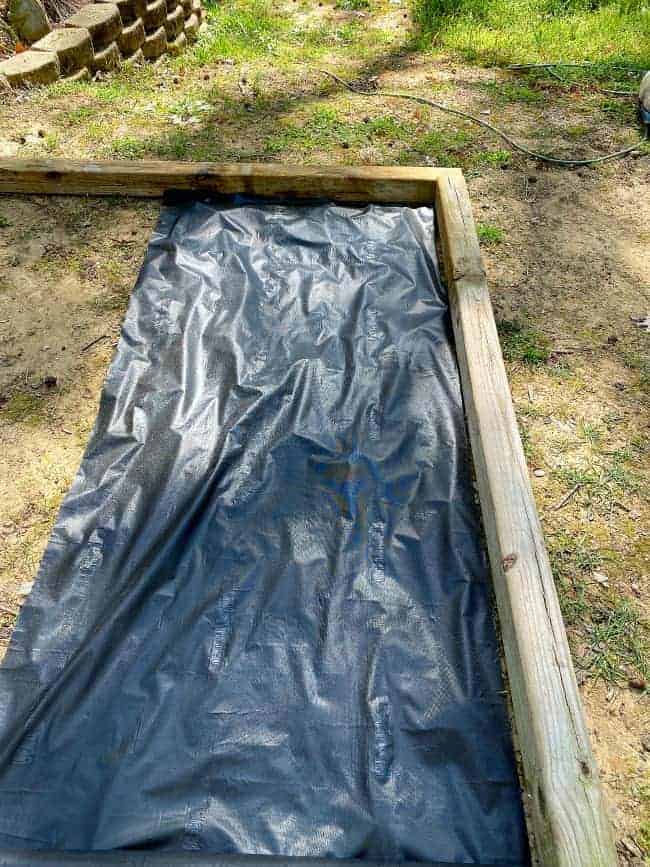 I wasn't going to go through the trouble of securing the planks in place but they were a bit wobbly. Not a big deal but I decided to secure them with a 6″ screw in each end.
First I drilled a starter hole and then I screwed in the screws. That's it…quick and easy.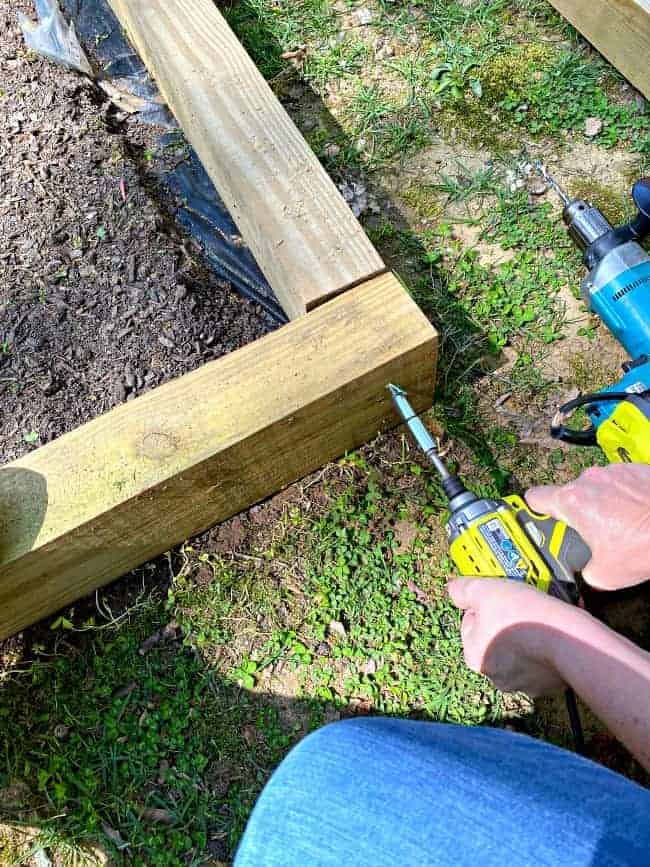 After I secured the wood planks, we added the potting soil.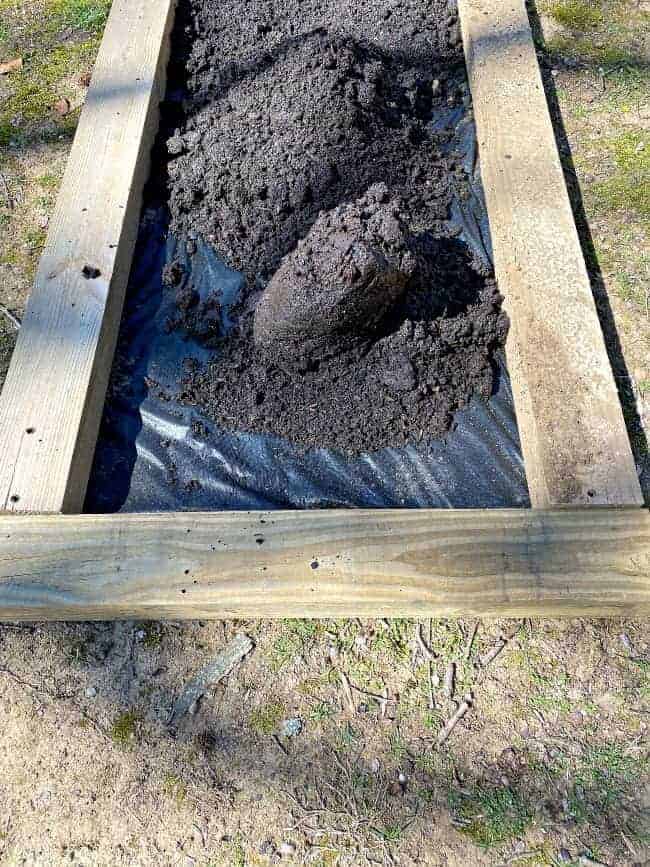 I evened out the soil and planted the few seeds that I had.
I'm not looking for a huge garden this year, just planting a few favorites.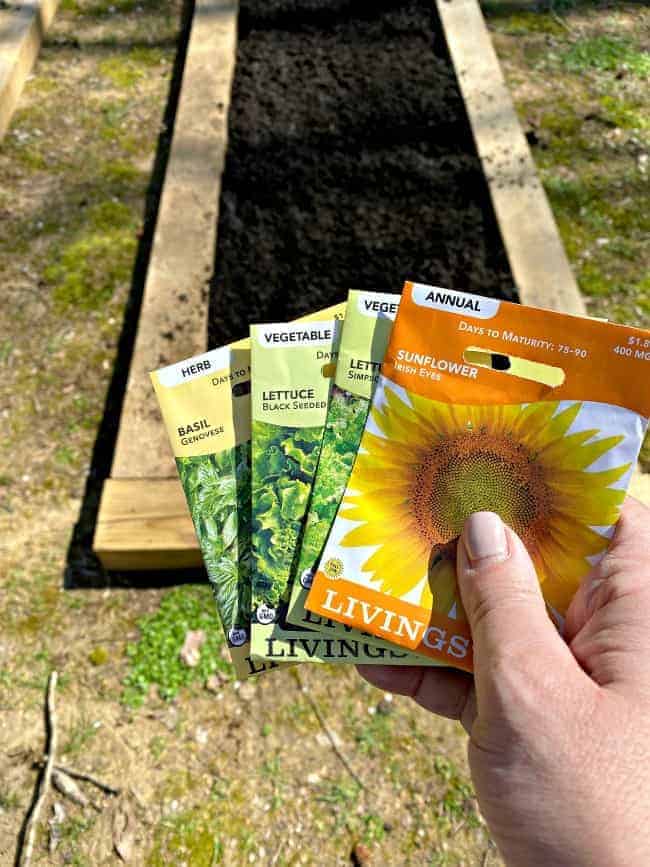 My trusty garden assistant made sure that I planted all of the seeds according to the directions.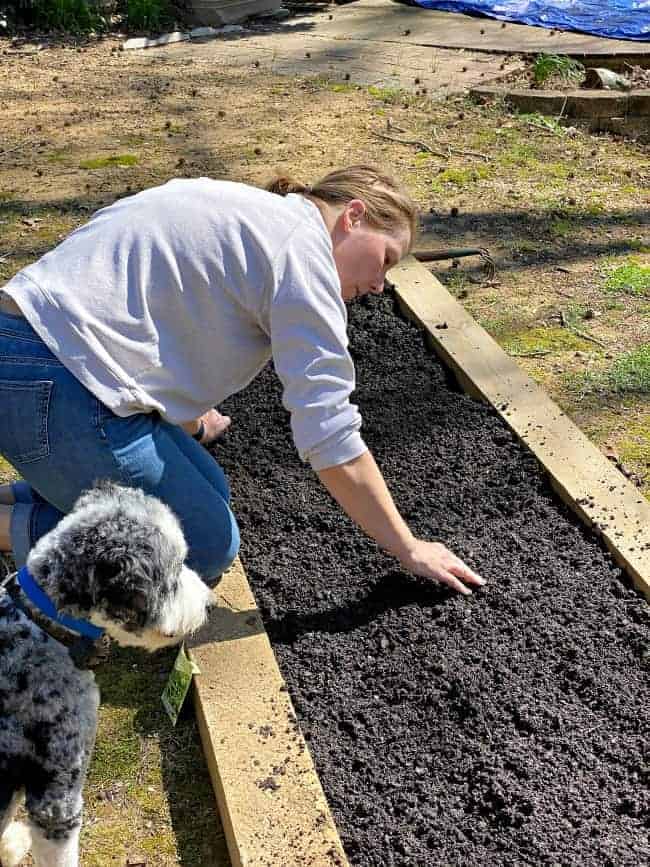 I gave the garden a thorough watering and left it go. In less than an hour I had 2 do it yourself raised garden beds using scrap wood.
The following weekend…
I love the look of the new veggie beds but wanted to spruce up the area around it. We have nothing but dirt and a few weeds so anything that we did would make this area look better.
We had pine straw laid in the front flowerbeds and had some leftover bails so we just threw that down all around the raised veggie beds.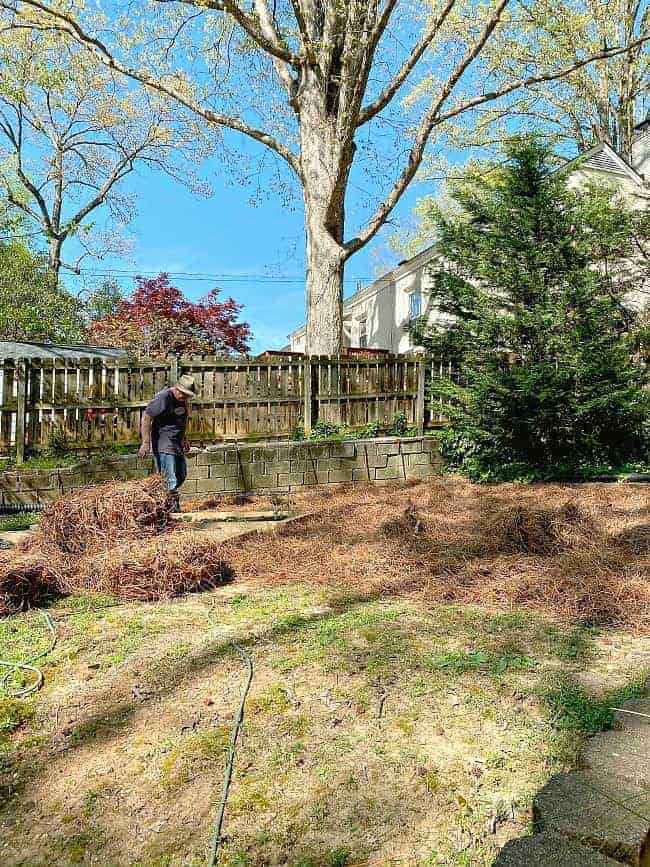 I also had a couple bags of cypress mulch left from last year. I used it between the 2 raised plant beds, after I laid the rest of weed blocker.
We ran out of supplies so my garden is complete for now. I did make a few new DIY vegetable garden markers to keep track of my plants, for about a dollar. I also created some DIY garden markers with clothespins that would work in a pinch too. 😉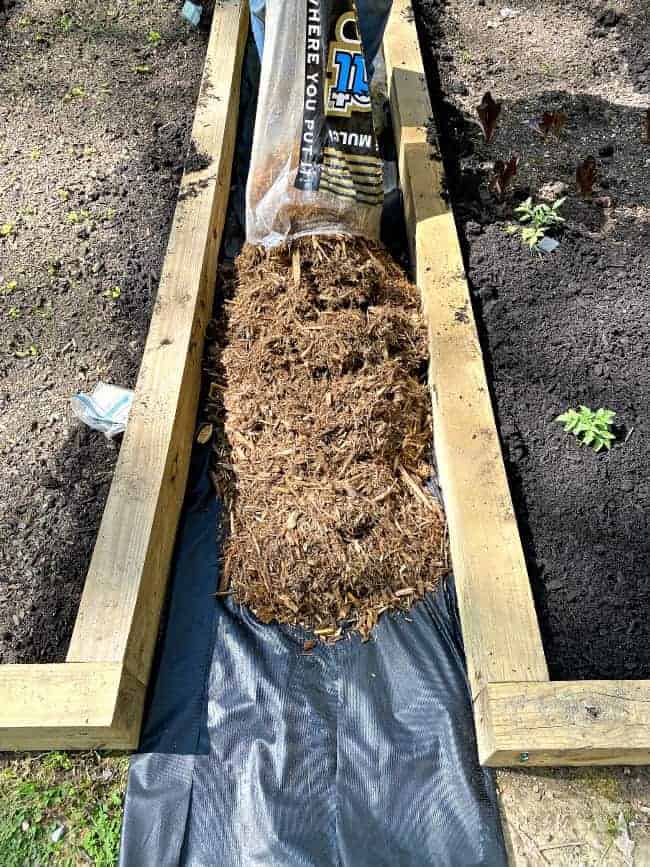 There's still a lot of work to be done in the yard but it's starting to look better. I'll share my vegetable garden's progress as the season goes by.
Hopefully we'll have good luck with it this year.
Looking for more easy DIY garden ideas, like my DIY bird feeder pole for under $5? I just shared a post with lots of great projects and tips to help you get the garden that you want.
---