We used to enjoy the tradition of dyeing Easter eggs with our girls when they were growing up. Without fail, the Saturday before Easter we would grab our store bought kit and all sit down for an hour of dip dyeing fun.
The girls are out on their own now so it's been years since we dyed Easter eggs. I've missed our tradition of dyeing eggs, so this year I set out to do a dozen just for fun. No store bought kit for me this time though, I wanted to try doing it the natural way. Years ago I'd read about using red cabbage to dye eggs, so I picked up a large head and a dozen white eggs from the grocery store and got cooking.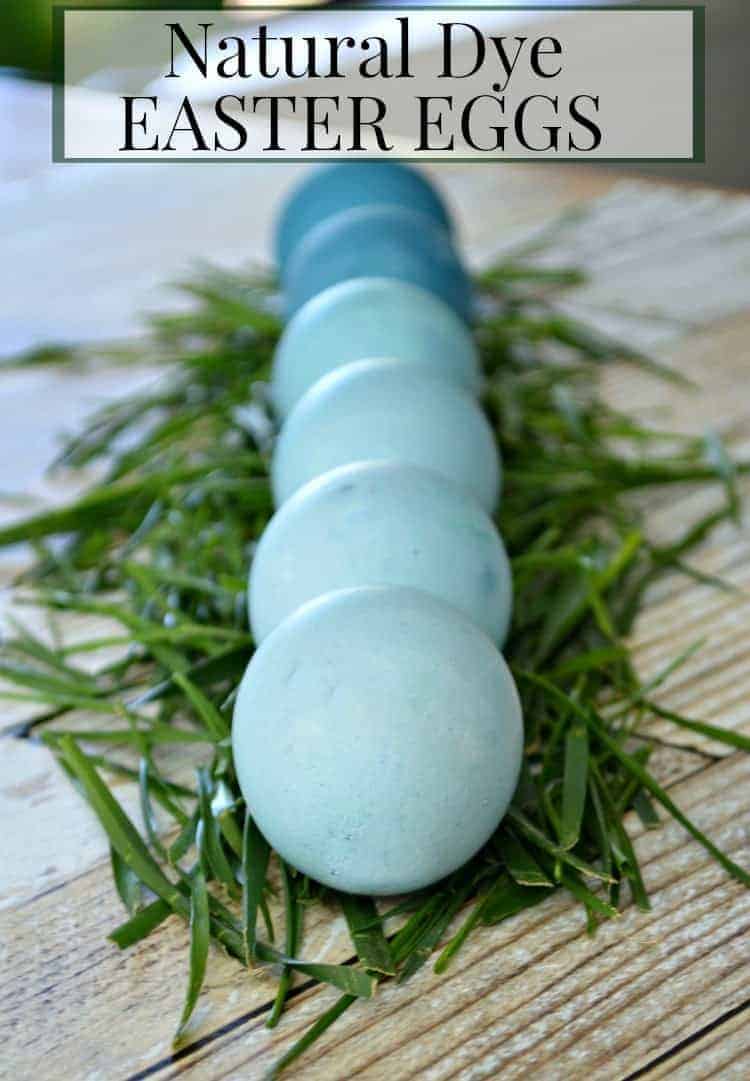 There are so many foods and spices that you can use to dye eggs but I was going for simple, and I really wanted robin's egg blue Easter eggs, so I just went with red cabbage this time.
Natural Dye Supplies for Easter Eggs
large head red cabbage
dozen hard boiled eggs
4 cups water
2 tbsp. white vinegar
pinch baking soda (optional)
The first step is to make the hard boiled eggs. Everybody has their own tried-and-true method of doing this so we won't cover that this time.
While the eggs were cooking, I prepared the red cabbage by chopping it up and putting it in a large pot with 4 cups of water.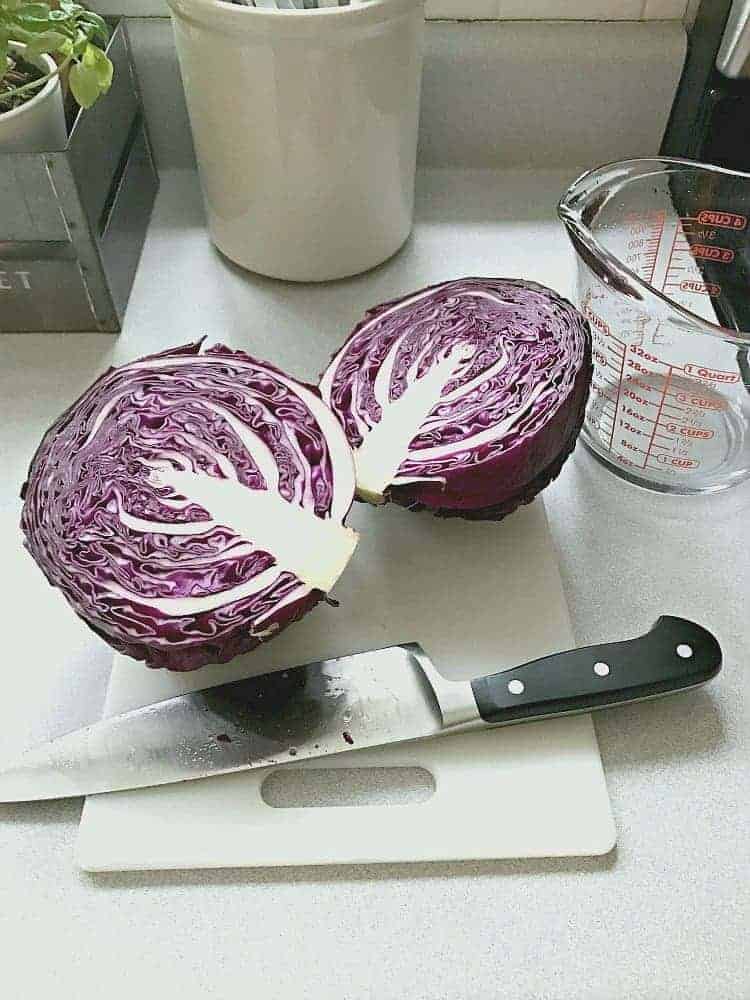 I brought the water to a boil and let it simmer for 15 minutes.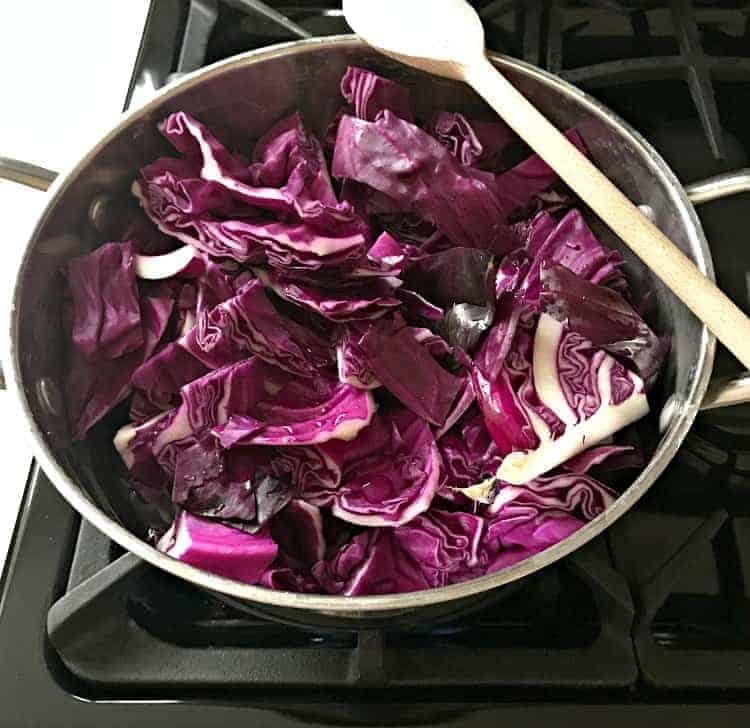 After 15 minutes, I took it off the stove and let it cool. Once it was cool, I strained out all of the cabbage so I was only left with liquid.
Next I added 2 tablespoons of white vinegar to the strained liquid.
Two glasses were filled with dye, and I was ready to color my Easter eggs.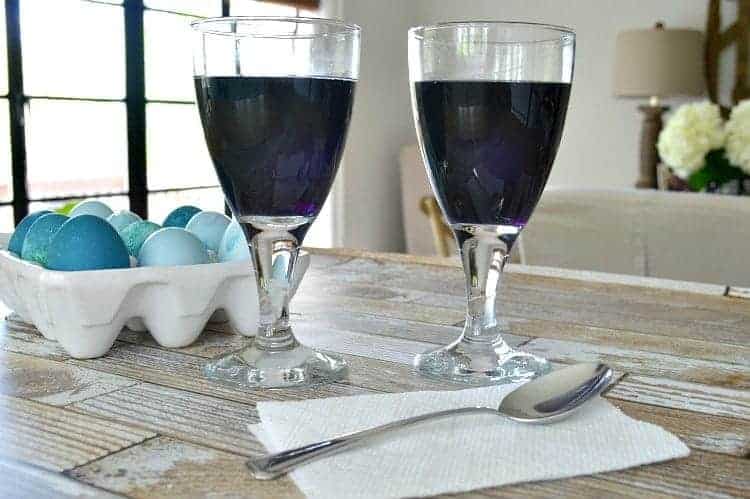 I'd never done Easter eggs this way before so I did a bit of testing to see how long the eggs needed to stay in the dye. In using red cabbage, I found that it takes a while for the eggs to turn color. My eggs were left in the dye for as little as 30 minutes and for as long as 12 hours to get different shades of blue.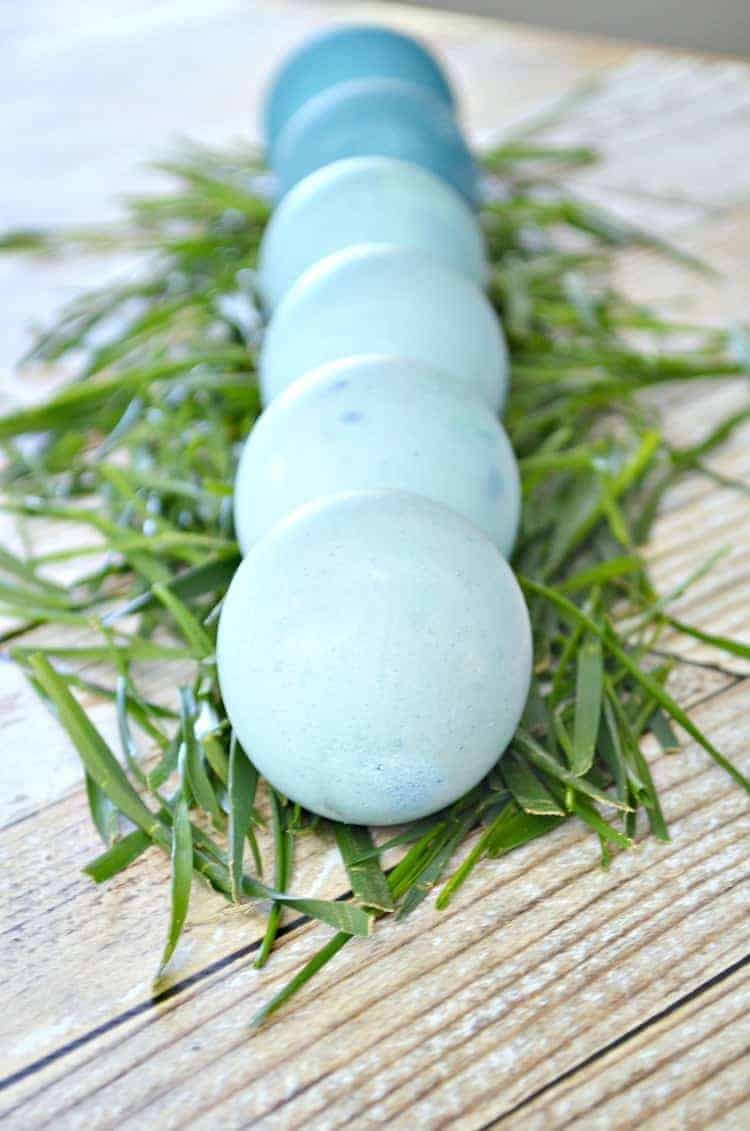 I loved the variation in color I got and the robin's egg blue was just what I was going for. The hubs had never heard of dying eggs with red cabbage so he was amazed that they turned blue.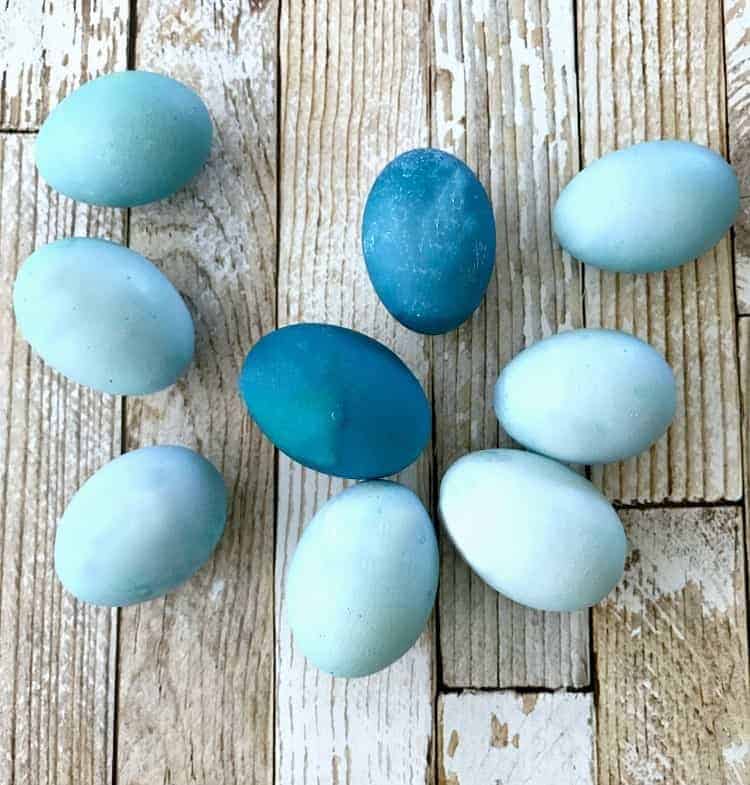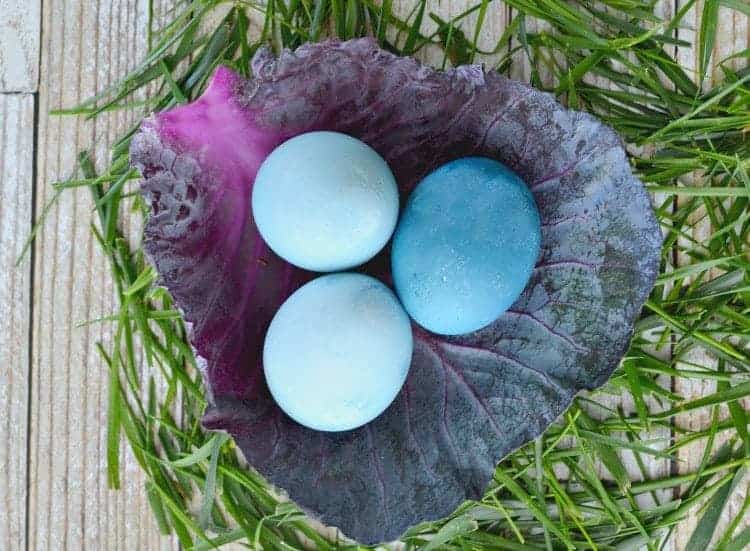 Because I can't leave well enough alone, I did a little experiment with baking soda. I'd read somewhere online that adding a pinch will help the egg turn color faster and will change the intensity of the color.
You can see the difference in the color of the dye in the glasses. The glass on the left, with the lighter liquid, has no baking soda in it and the glass on the right, which is darker, had a pinch or two of baking soda.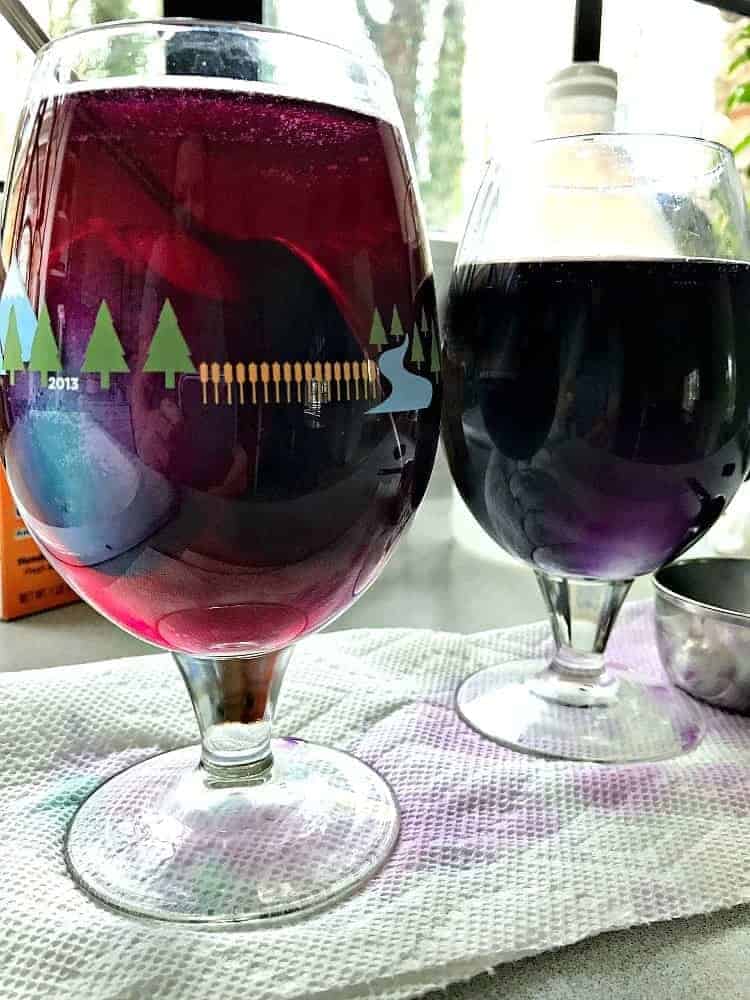 I kept one egg in each glass for the same amount of time but didn't see any difference in the color. Either way, they are beautiful..
I'm so glad I spent the time to dye a dozen eggs. It brought back wonderful memories of Easter's with our girls.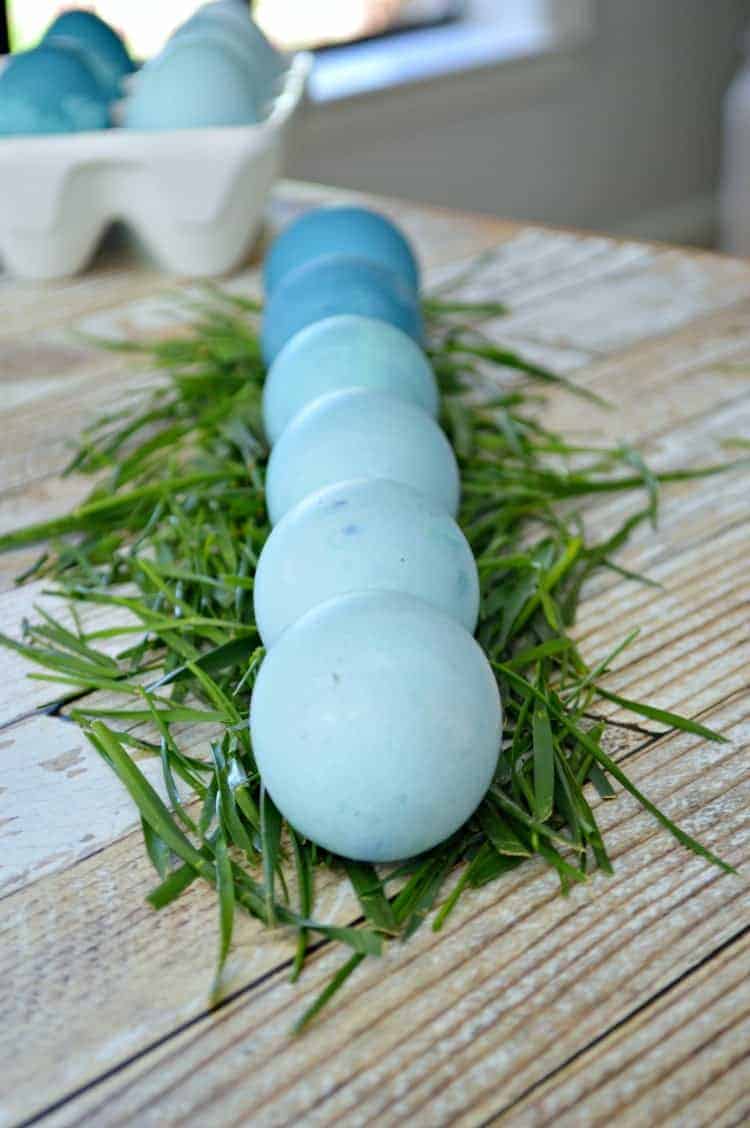 Have you ever used food to dye Easter eggs?
Thanks so much for stopping in. I hope you have a great week.
Happy Easter!!!
Check out these other easy spring crafts …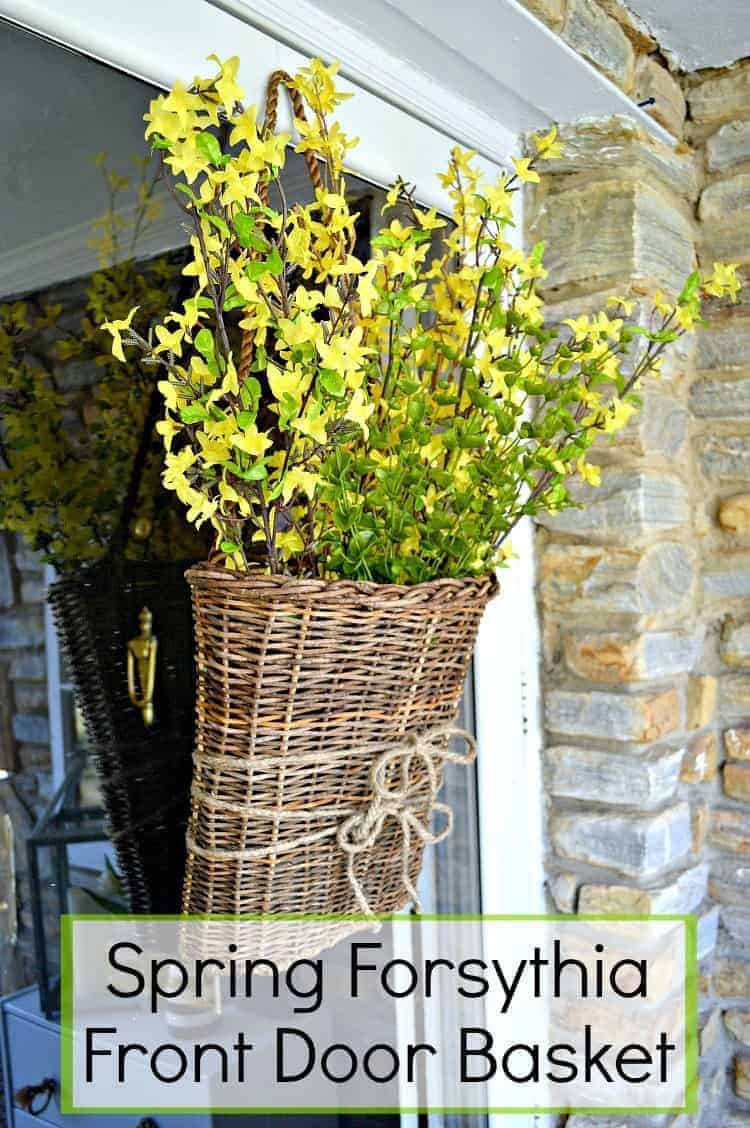 Spring Forsythia Front Door Basket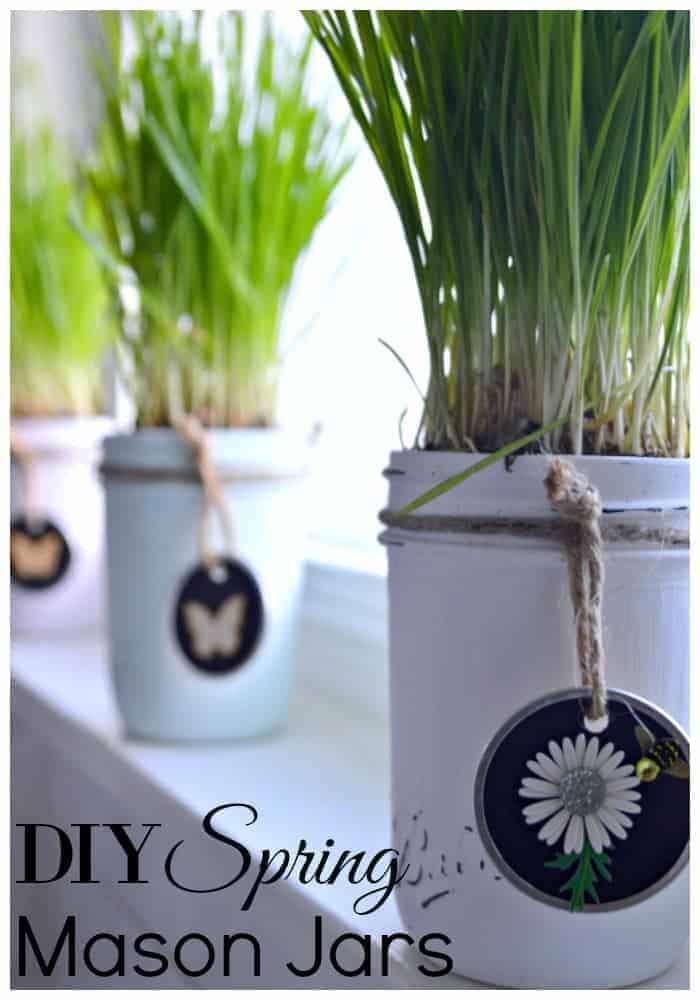 . DIY Spring Mason Jar Planters
You can also find me at Between Naps on the Porch, My Uncommon Slice of Suburbia, A Stroll Thru Life, Worthing Court, Savvy Southern Style, French Country Cottage