Easy Spring Front Door Basket
*As an Amazon Associate and member of other affiliate programs, I earn from qualifying purchases.
This time last year decorating for spring was the farthest thing from my mind. We were busy packing up our house and getting ready for our big move from Illinois to North Carolina so I wasn't able to do any spring decorating. This year though, we are more settled. We're enjoying life in our little stone cottage and I'm excited to get the house decorated for our first spring.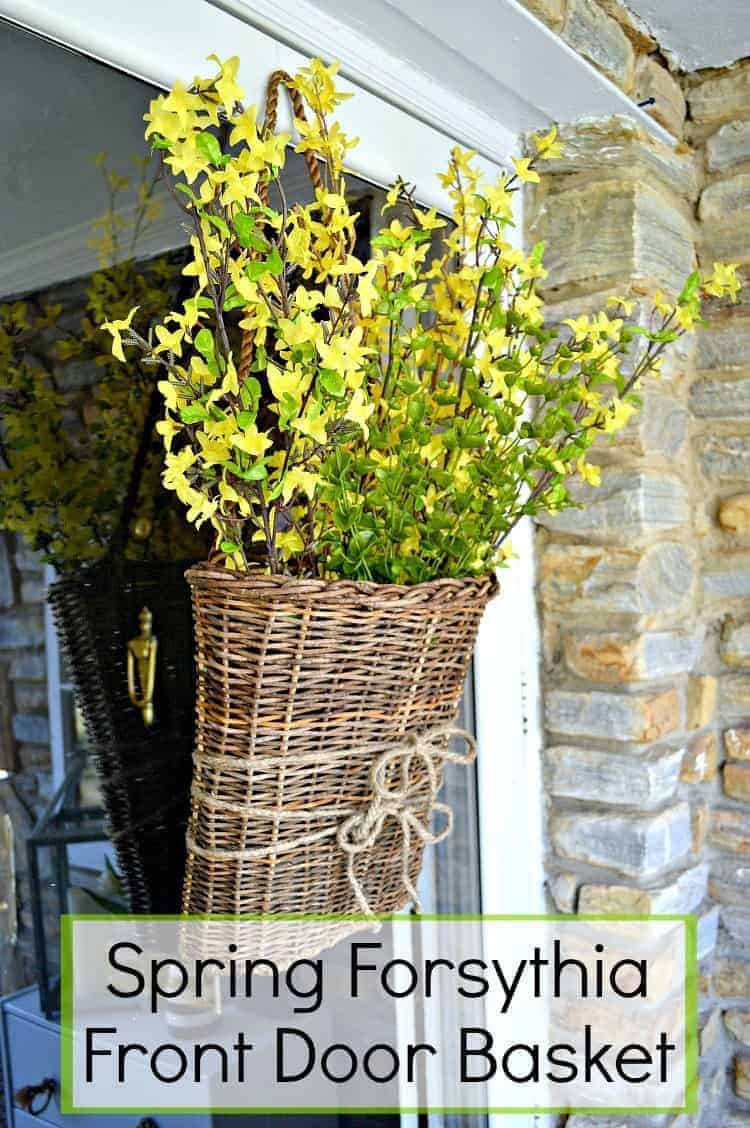 I've already busted out some of my spring pillows and I have been enjoying the pretty spring blooms I've gotten from the store, but my front door was looking sad.
I took the basket I had filled with greens off the door after Christmas thinking that I'd hang something else up, but that never happened. I thought about hanging the wreath I made a few years ago, but couldn't find it in the moving mess in the basement, so I pulled out the basket again. This time around it would be the spring front door basket of my dreams.
Just kidding…
I just wanted something that looked spring-y and was easy to do.
Usually, I keep it simple when I do something like this and I stuck with that same idea this time. On a quick trip to Hobby Lobby, I picked up a few spring stems and I was ready to create.

Supplies
Basket
6 forsythia branches
1 leafy green stem
jute rope
floral foam (optional)
I try to pick out realistic looking stems, or as close to realistic as possible, without spending a fortune. I liked the middle group the best (the 2 with the light brown stems) but they were pricey so I only got 2 and went with a cheaper bunch to mix in. In all, with the 50% off, I spent under $20 for all of the stems and I can use them again for something else.
Since it was already in there, I made use of the floral foam in the bottom of the basket. I could easily do this without it so if you don't want to buy it, or don't have any, you can still successfully build your spring basket.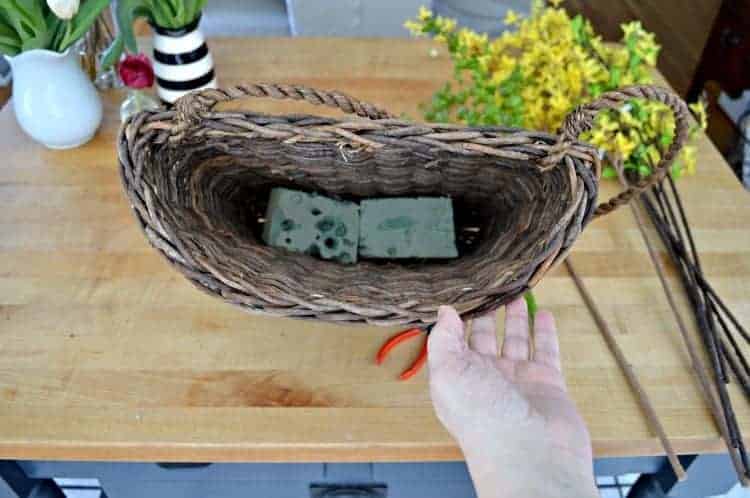 No pictures of the next part because my method is a trade secret.
Not really…
I just used my wire cutters to shorten the stems and shoved them in. I know…very technical and it took years of practice. 😉
Once all of the stems were in, I just moved them around until I liked the way they looked. Seriously, that's it.
With my flowers in place, I wanted some kind of bow on the basket. My first thought was to use burlap, but I couldn't find it (remember the mess in the basement I talked about earlier?) so I went with what I could find…jute rope.
Not my first choice but it's rustic and quirky and a little different, just like me.
I made a couple of loops around the basket, 2 bows (because 2 are better than 1) and my basket is done.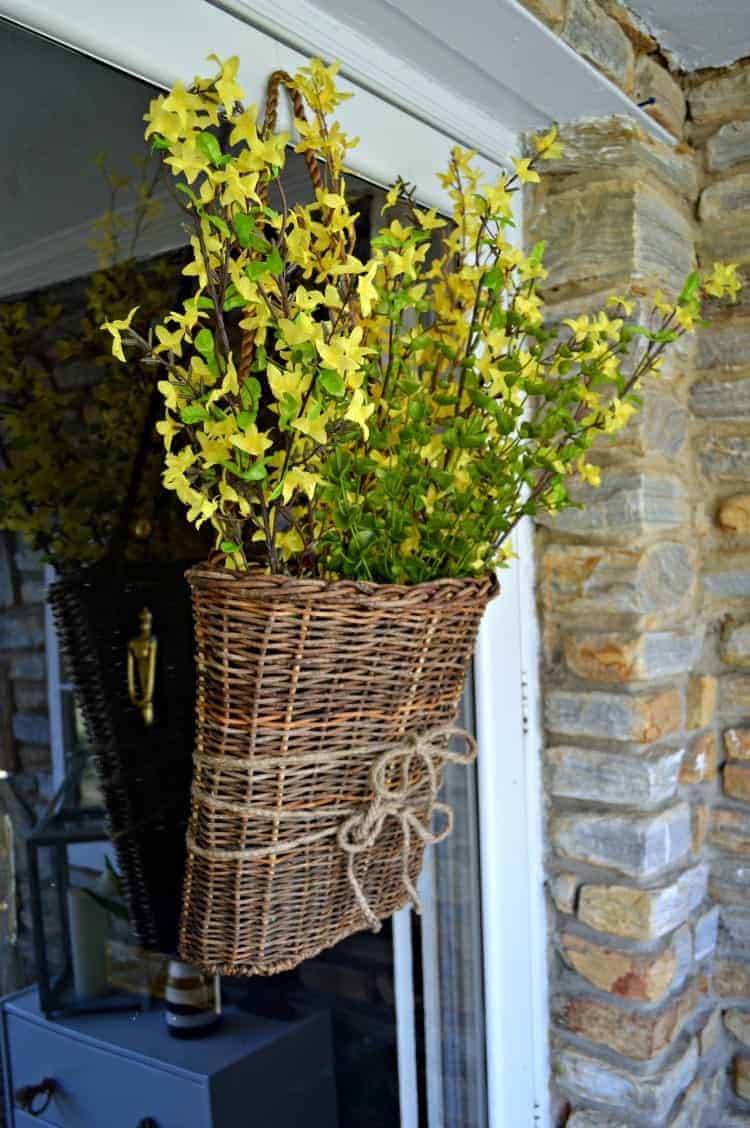 This basket is pretty big so we can only hang it on the screen door. It will be protected under the cover porch so it won't get hit with any weather.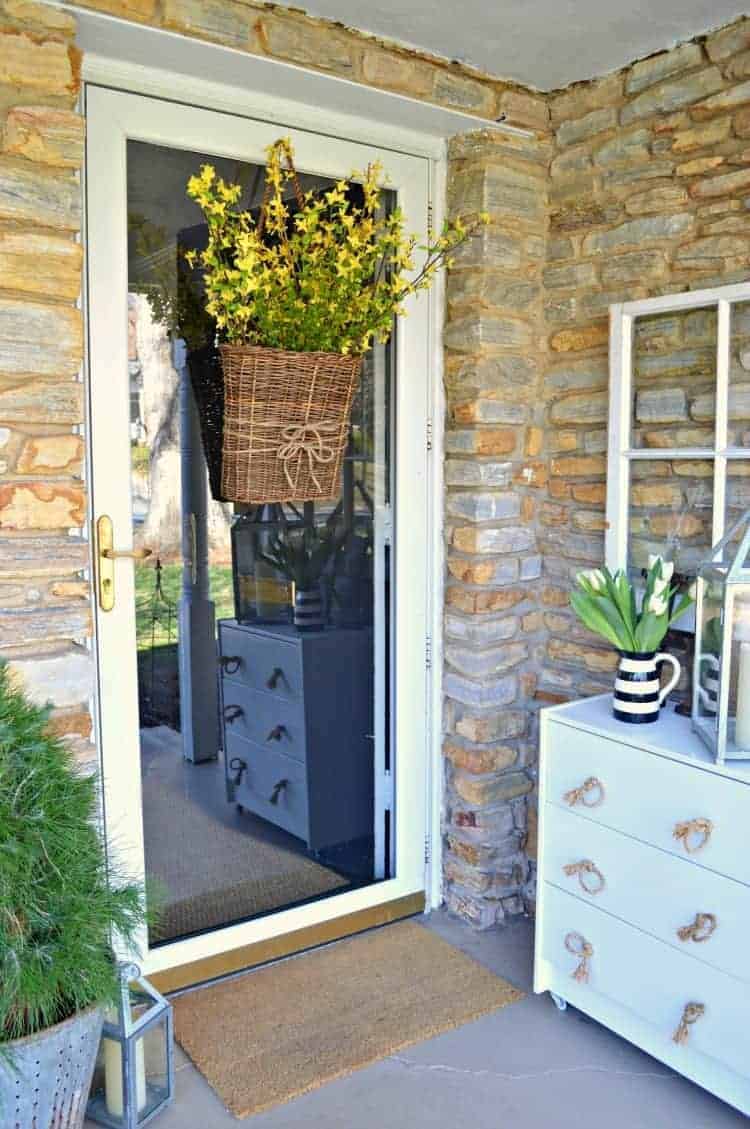 I love how my spring front door basket looks and it really brightens up my front porch. Now I feel like I'm ready for spring, if only our weather would cooperate.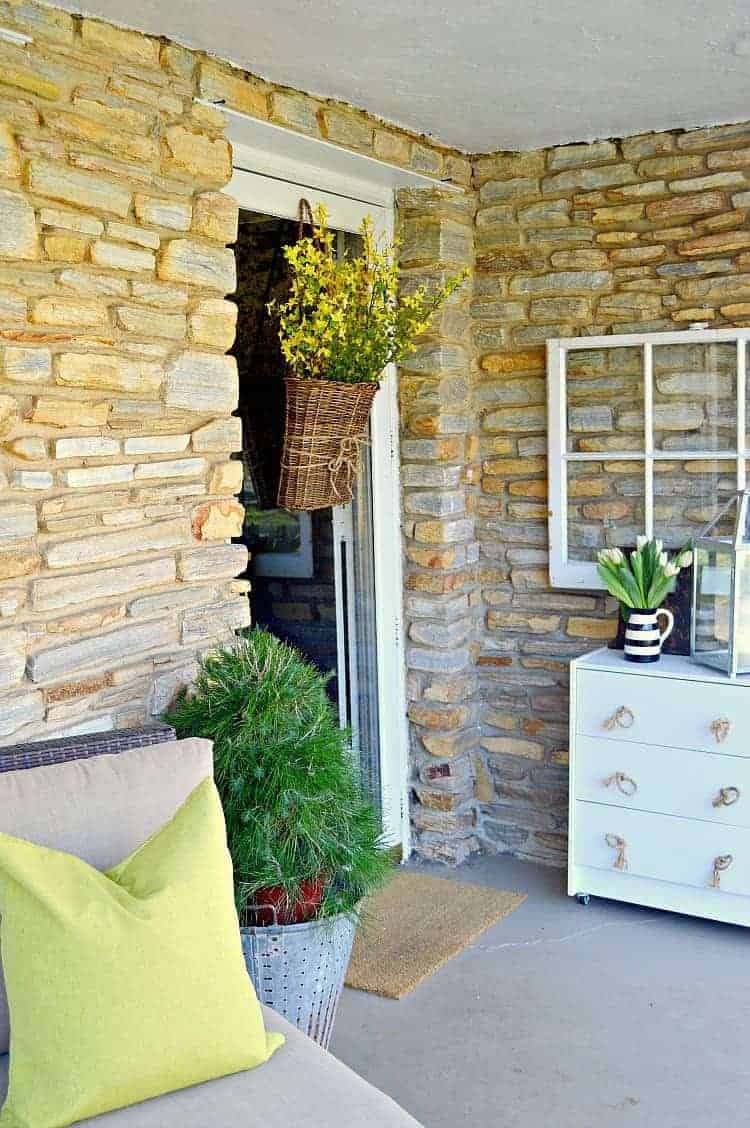 Have you pulled any of your spring stuff out yet?
As always, thanks so much for stopping by. Hope you have a great week!
Check out these other easy DIY spring projects