My first ever giveaway for 2 gift cards to HomeGoods ends tonight at 11:59 p.m. Hurry and enter by going here.
Hello and happy Monday to you. I hope you enjoyed your 4th of July long weekend. We had a great holiday. The weather on the 4th was spectacular, a sunny and warm 70 degree day. It was absolutely perfect and we spent every moment of it outside enjoying our town's festivities. The rest of the weekend's weather was warm and humid and we spent our time working on the house. We actually got a lot done and I'm excited to share our progress with you over the next week or so.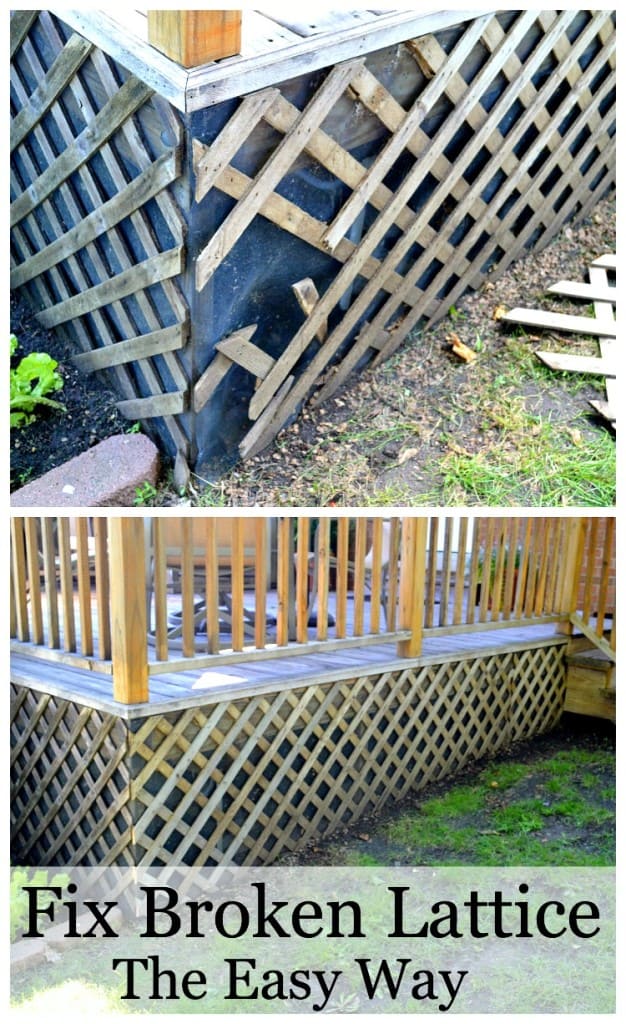 One of those little projects that we needed to do in order to finish the deck for the year was to fix the broken lattice that surrounds the bottom of the deck.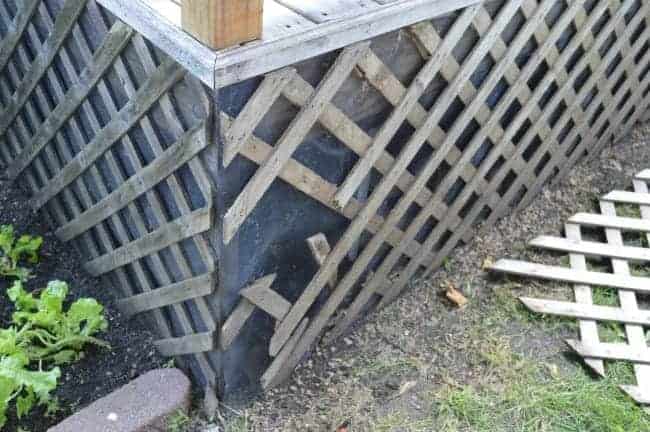 It's been broken since we moved in last year. There's screening under the lattice to deter critters so it didn't serve any purpose other than aesthetics, it was just one of those things that had to be done. We weren't sure how we were going to fix it without taking a big piece of it off and buying a new sheet, and then Mr. C² (aka the garbage picker) spotted two pieces sitting in front of a house for garbage pick up. The pieces were weathered, just like our deck, but otherwise in perfect condition so we brought them home.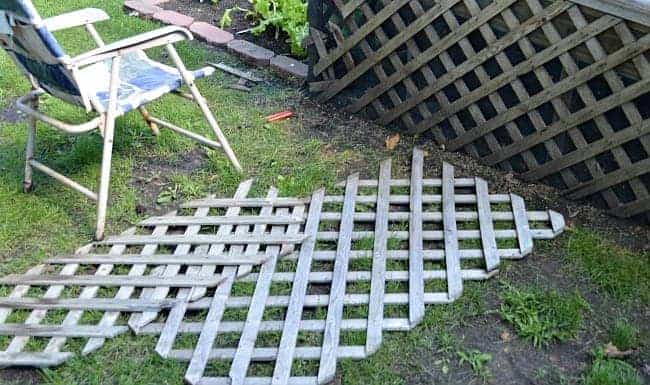 Really, this project couldn't have been any easier. Mr. C² carefully removed all of the broken lattice pieces. Then he removed the old staples that held the pieces together.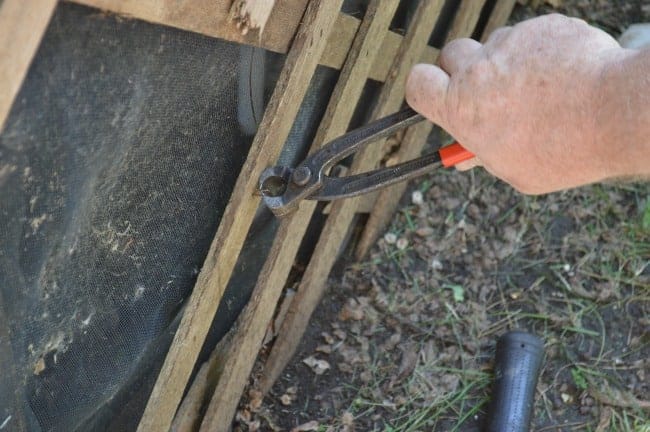 We also ended up stapling down some of the screening to the deck where it was gaping while the lattice was off and we could get to it. Next, Mr. C² used a screwdriver and a hammer to remove some of the pieces of wood from the good piece of lattice.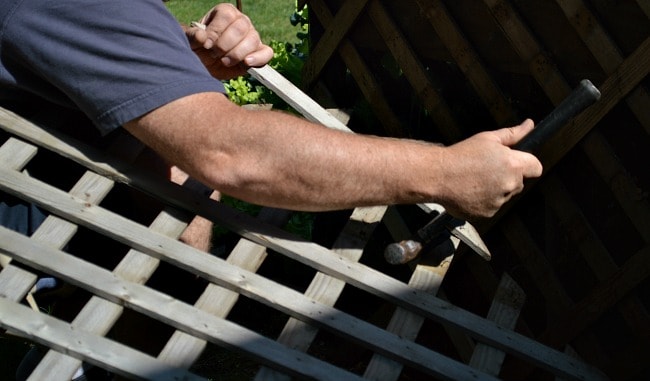 Then he removed the staples and fit the new piece into the lattice on the deck.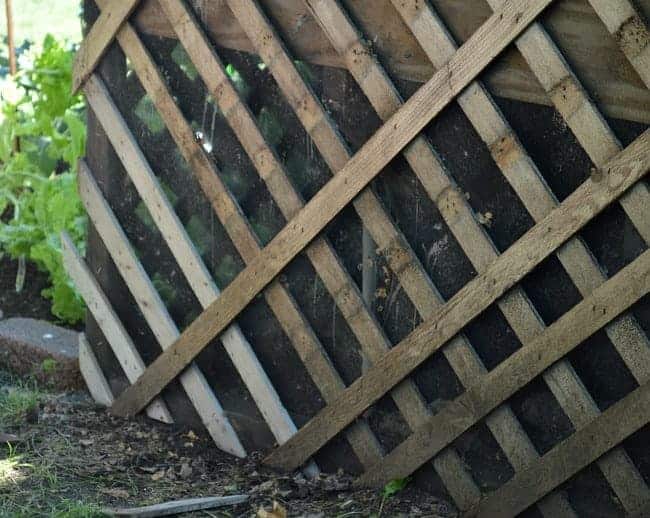 He used some small nails to attach the new pieces to the deck.
Once all of the pieces were in place, he took a small saw and cut down the pies that were too long. This week I'll apply some of the sealant we applied to the rest of the deck to protect them.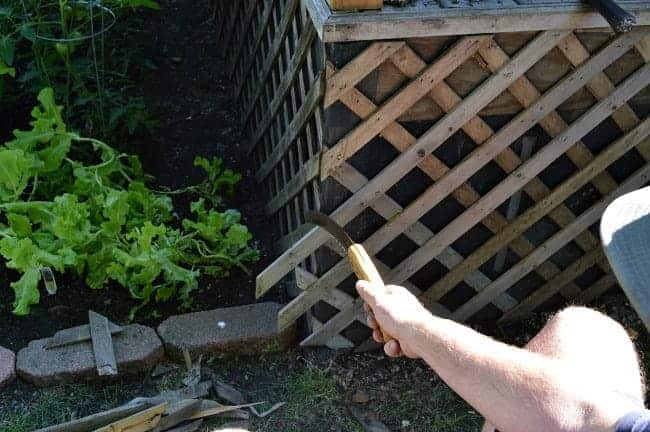 That's it. Like I said, really easy. The best part of this project, besides the fact that it's done, is that it was FREE! Can't beat that.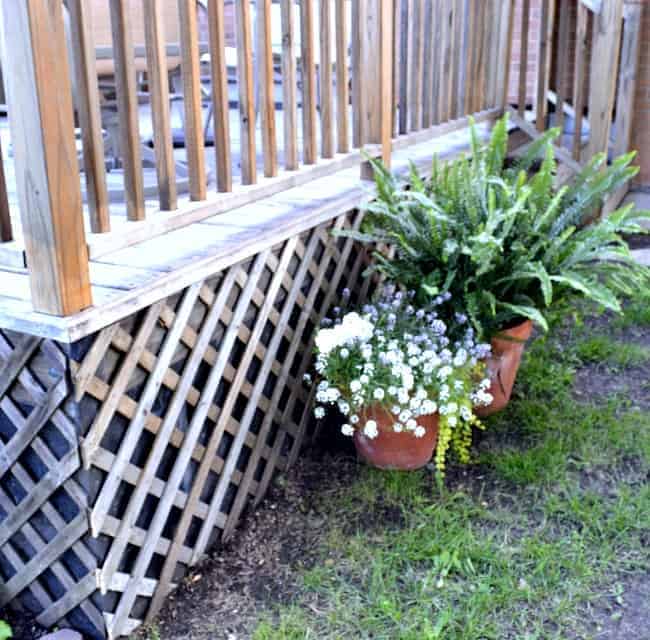 You can still see spots where the grass needs to grow in from our sidewalk redo, and the deck was never taken care of and is not the best looking, but it's livable for a year or so. We're getting there and we can at least cross another project off the list.
Outside To Do List:
front porch wrought iron railing needs to be sanded and painted
the trim around the front door needs to be painted
add a roof over the front door
add house numbers
paint front door
clean up and paint mailbox
replace front light with motion light
remove all of the juniper bushes around house
plant bushes, flowers
remove bricks from around fence flowerbed
clean up flowerbed (old landscape lights and disintegrated weed cloth need to be removed)
plant some perennials in flowerbed
remove odd roof attached to fence (used for trash cans, we think)
clean and treat fence
new sidewalk from garage to house
fill all of the holes in the yard
clean up fire pit
remove old, pine tree
do something with the old shed
put rocks or mulch around a/c
clean up rocks
repair and paint garage door a fun color
add a tree swing or bed to large tree
trim lilacs
replace the driveway, maybe with pavers?
clean (and maybe paint) garage walls
replace garage roof
clean gutters on garage
put up lights on garage
scrape and paint garage door
make and plant a veggie garden
clean and refinish deck
replace warped boards on deck
fix lattice on bottom of deck
close off openings under deck to stop critters from living in there
paint back door
fill holes in yard from skunk damage
fix roof from possum damage
add water feature by garage (?)
Have you ever found any treasures in the trash (lattice is not a treasure, I know, but it was free)?
Don't forget to enter my giveaway and come back on Wednesday to find out if your one of the lucky winners.
[powr-social-media-icons label="My Label"]