*As an Amazon Associate and member of other affiliate programs, I earn from qualifying purchases.
Easy summer front porch ideas to help you create a comfortable and welcoming entrance to your home. By adding plants, colorful pillows and DIY decor you can create a beautiful summer oasis.
Who doesn't love a "relaxing in a chair" front porch with a roof that you can decorate for the seasons?
Ours porch isn't overly large but it is bigger than the stoop that we had in Chicago (our last home).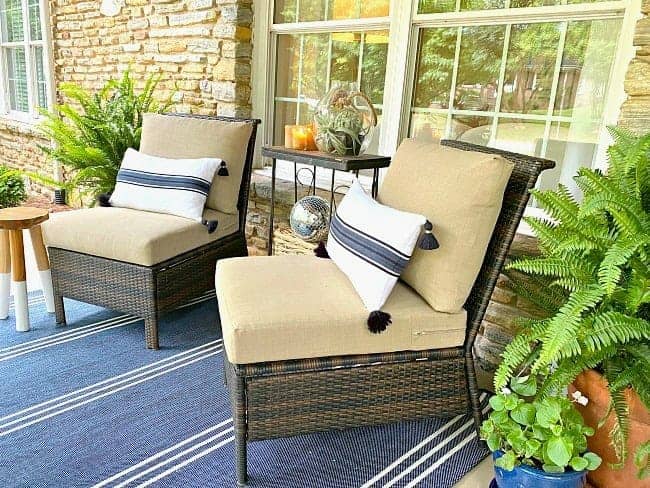 This is a case where size doesn't matter…the roof is the star on this front porch.
Unfortunately we've had a lot of issues with it.
There have been several leaks, the porch posts are rotted through, as is the trim, and the floor needs painting.
So, we ripped down the leaky ceiling and started building new porch posts.
Even though we're in the middle of construction and we don't have a ceiling, I still wanted the porch to feel comfortable and welcoming for summer.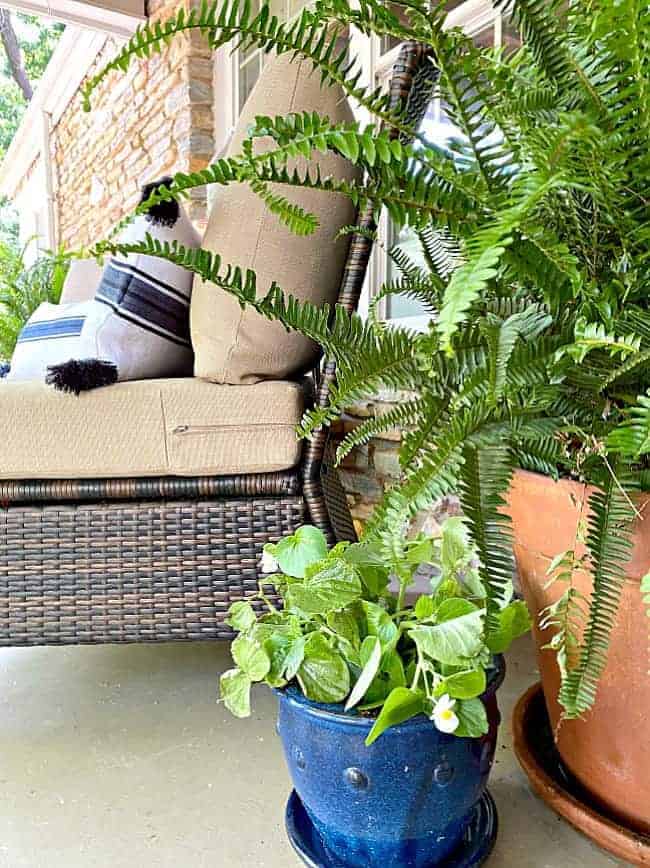 How do you decorate a front porch for summer?
Even without a proper ceiling, I always go for easy and comfortable with soothing color and plants…lots of plants.
I try keep my spaces simple and you can't go wrong with a pair of comfy chairs, pillows, an outdoor area rug for color and a couple of potted ferns.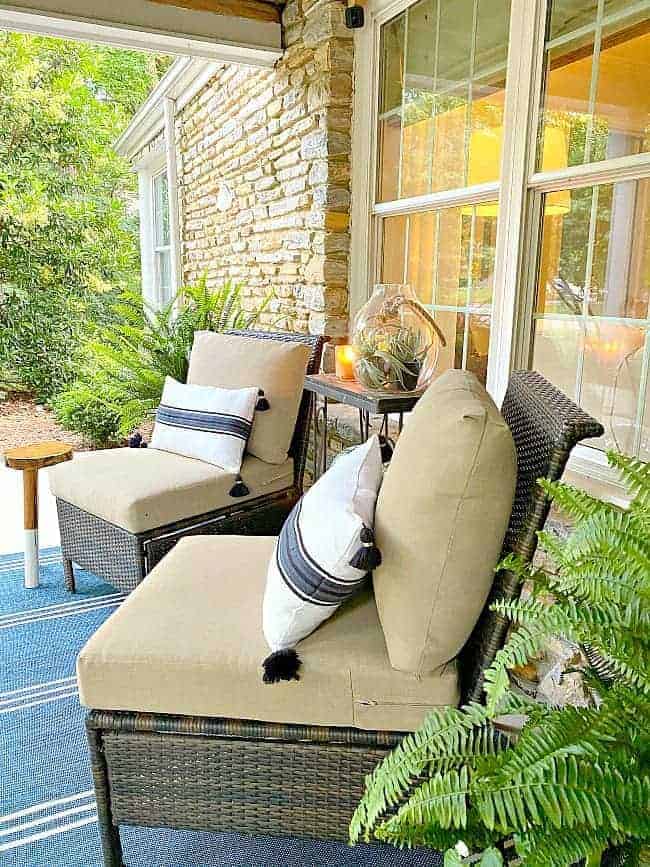 What should I put on my front porch?
Whatever you can fit? We've had small front porches, or stoops, in most of the houses we've lived in so all we could fit was a potted plant or two.
Plants are a necessity for me no matter how small the porch, along with a nice door mat.
If you have the room, creating a simple seating area is a great way to welcome guests, or to just hang out in after dinner.
Remember, you don't have to spend a lot to make a comfortable seating area.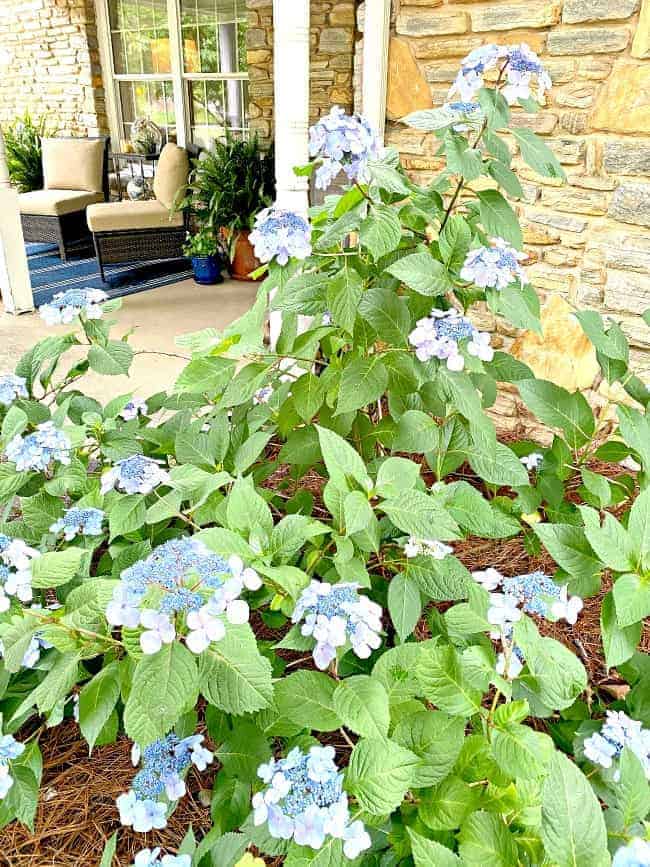 How can you make your front porch more inviting?
My trick to making any space more inviting, especially an outdoor porch that has lots of hard surfaces, is to add softness.
Pretty pillows on a comfy chair beg for someone to sit, have a glass of sweet tea and relax.
An outdoor rug is another way to soften a space, and a great way to bring in color.
How do I decorate my front porch on a budget?
There are so many things you can do to stay on budget when decorating your porch for summer. I brought several things outside from inside.
If your porch is covered, like ours, you can bring indoor pillows and decor out.
Instead of buying new I brought our pillows out that have been used in almost every room in our house.
I also brought my glass terrarium out with several faux plants inside (no water needed).
My DIY mason jar beeswax candles are perfect for this space and are totally budget-friendly to create.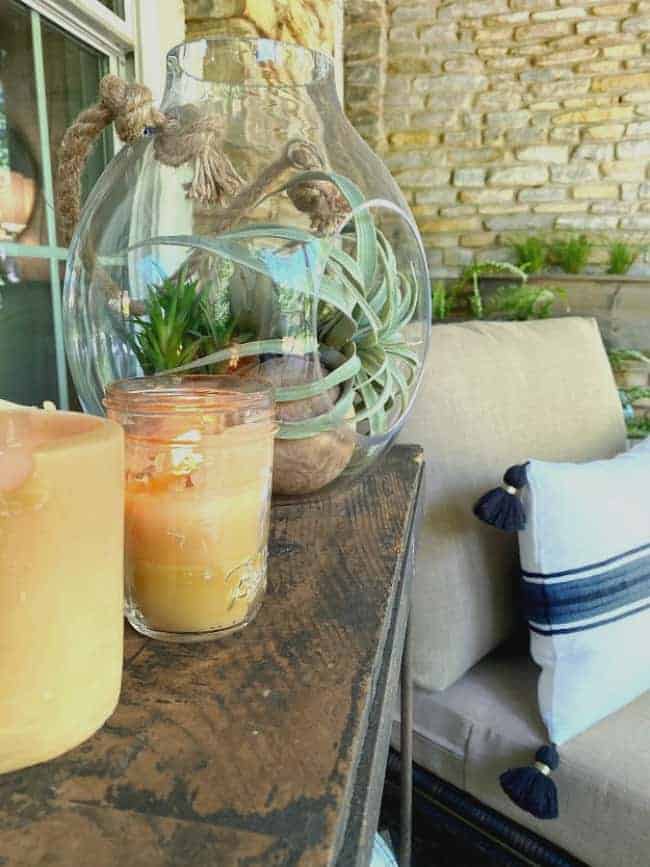 The ferns usually last me a few summers, with the proper care and winter in the basement, so I get good mileage out of them.
My DIY raised planter has been planted with easy to care for plants that will last well into fall.
The only purchase I made, except for the plants in the planter, was the outdoor rug that I added to soften the porch and add a bit of color.
It also hides the peeling paint on the porch floor.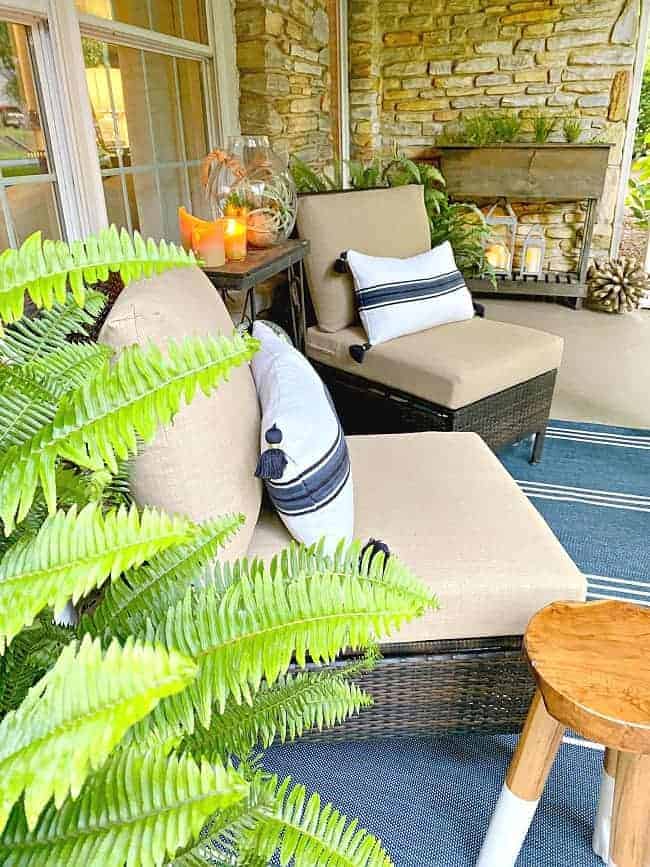 Just so you know that I'm not exaggerating about the state of the porch….
Now don't go and try to copy my one-of-a-kind hanging light bulb. It's an original creation.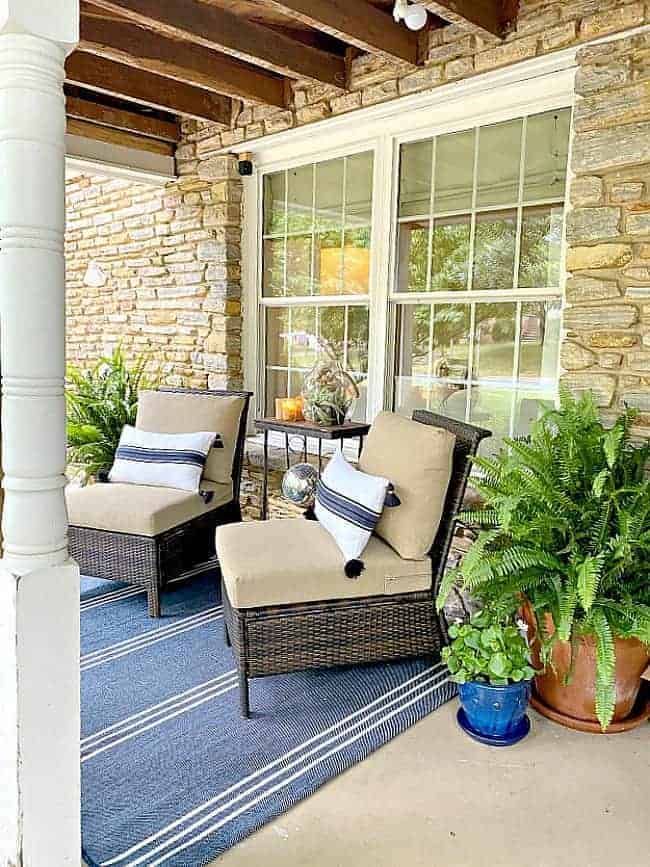 Like I said, the plaster ceiling was leaking so we had to take it all down.
We've already repaired all the wood beams so it's ready for a new ceiling, once we finish building the new porch posts.
I'll share more as we get further into this colossal project.
Besides all the construction, you can see how easy it is to create a summer porch that's welcoming enough for guests or an after dinner chat.
How do you add summer to your front porch?
Summer Front Porch Sources