Cheap Kitchen Organization Ideas
*As an Amazon Associate and member of other affiliate programs, I earn from qualifying purchases.
We've been busy and I have a lot of projects (and some updates) to share, but I know that it's the season for organizing so I thought I'd throw in my 2 cents with a few of my favorite cheap kitchen organization ideas.
Our house is small so I'm forever trying to keep it organized and neat. The kitchen is one room that's especially difficult. We have limited cabinet space and no pantry so we really have to be careful what we bring in.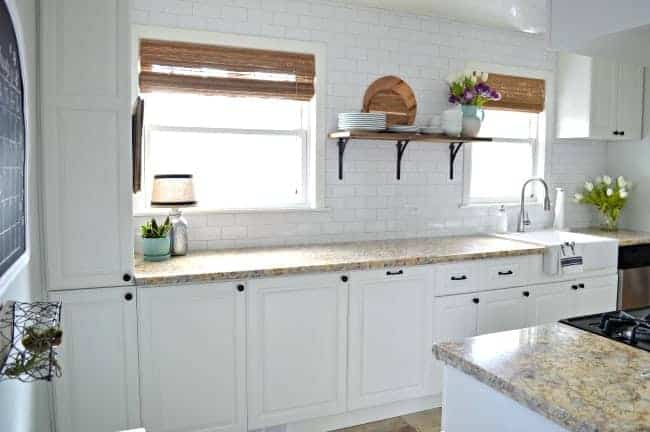 I'm not one to have things on my countertops, I don't like clutter and I don't want to clean anything extra, but, with this kitchen, we had no choice. After the remodel of our kitchen in Illinois last year, I had enough cabinet space so our counters were almost bare. I even got a few comments about how bare they were.
This kitchen though, doesn't have all of that lovely hidden storage space.
Sniff…I still miss our Illinois kitchen. All that hard work…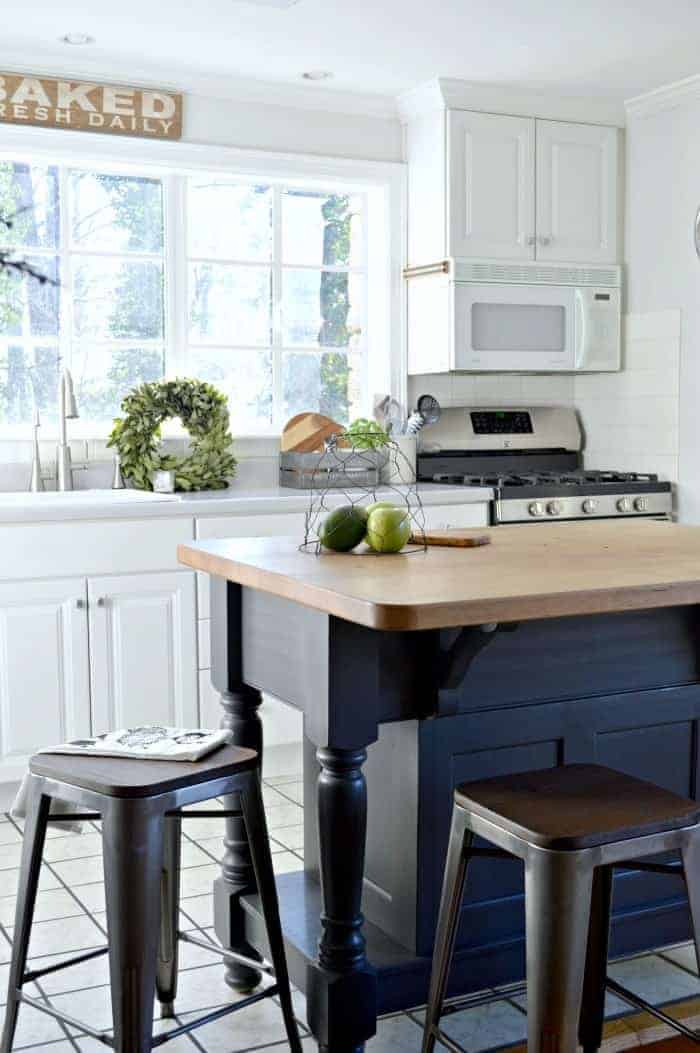 Anyway…I've found that if I corral my things in a pretty basket, jar or tin, I can have stuff out on the counters and I don't feel like they're (too) cluttered.
Crocks
Next to the stove I use a simple crock for a lot of my tall cooking utensils, that are too big for my short drawers.

Decorative Metal Bins
Also by the stove, I keep a pretty metal bin with the salt and pepper, a potted basil plant and a couple of cutting boards.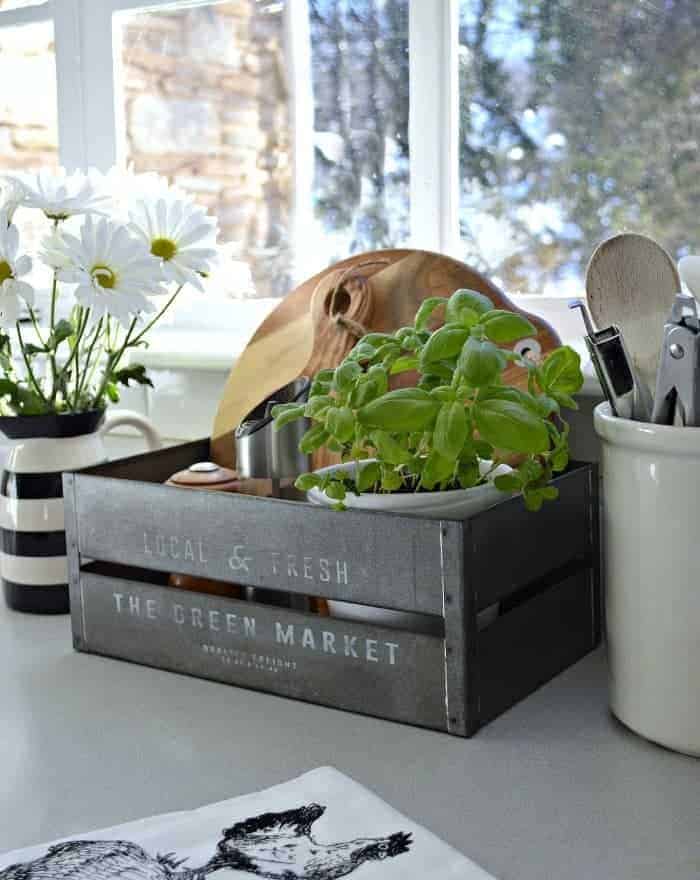 Glass Jars for Food Storage
Now this is something that so many of you do and I have never, ever done it. Never…in any house we've ever had. I've never kept my flour and sugar on the counter before (it's that clutter on the counter thing) but I'm ok with this arrangement. I have to be totally honest and say that although I like it now, it may not always stay this way.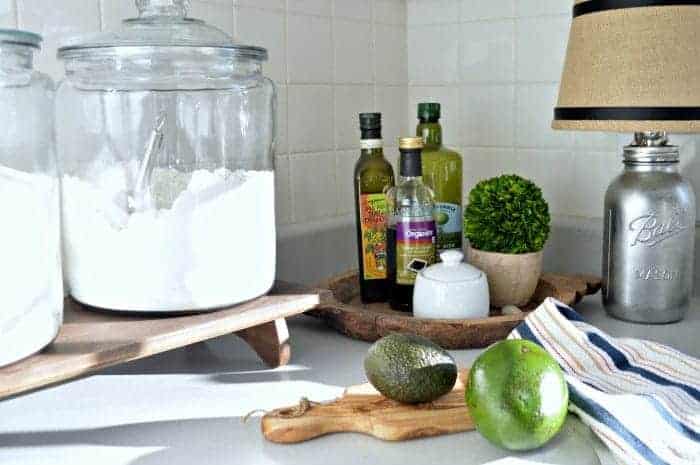 Tray for Oils and Vinegar
I found this vintage wooden tray at an estate sale and knew I would use it somewhere in the kitchen. It's a little wonky but it does what its supposed to do…corralling the cooking oils.
Large Woven Round Tray for the Dining Table
We have a round dining table so, when I found this large round woven tray, I knew it would be the perfect centerpiece. Now I can have flowers, fruit and dishes on the table and when it's time for a meal, just pick it all up and move it until we're done. I've tried other things in this spot but I always seem to go back to this tray.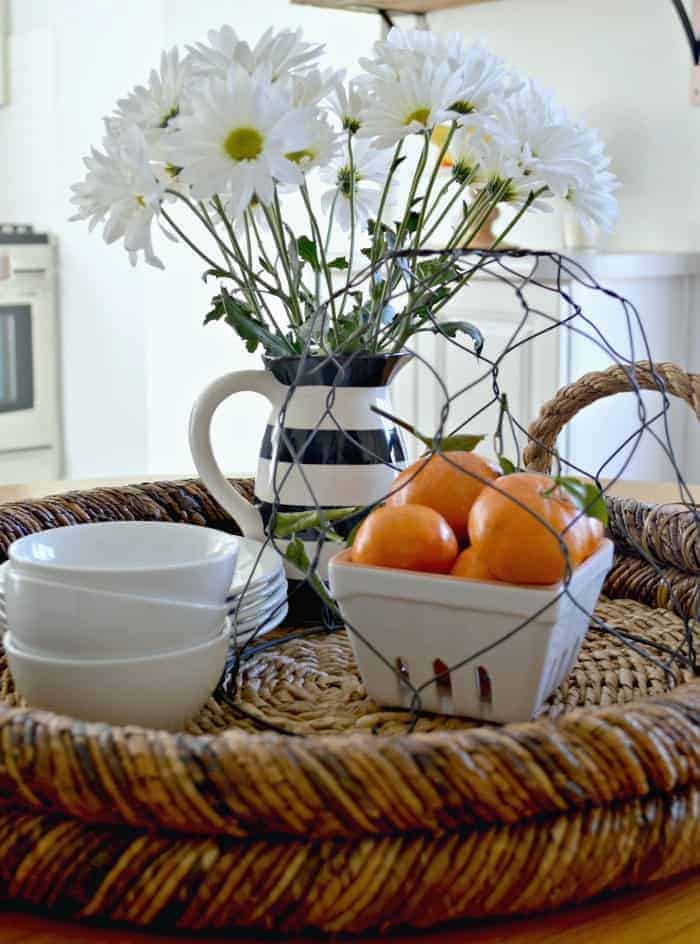 Besides having pretty vessels to hold my kitchen things, to keep my small kitchen from getting cluttered, I watch what I bring in (including food) and purge when necessary.
There's no sense in having something on the top shelf, all the way in the back of the cabinet, that you never use. It's ok…you can get rid of it. Donate it to someone who can use it.
None of this is earth-shattering or life-changing, but it helps me stay organized, and sane, in my small kitchen. What are your cheap kitchen organization tips?
Source List
(Affiliate links used. If you click on an affiliate link and make a purchase, I will receive a small commission, at no extra cost to you. Please see my Privacy Policy for more info.)
Metal bin for storage – H&M Home
Crock – Bed, Bath and Beyond (3 years ago)
Black and white striped pitcher – Target Dollar Spot (2 years ago)
Cutting boards – HomeGoods
Large glass jars – Target
Round wood tray – estate sale
Mason jar lamp – DIY by me
Preserved boxwood topiary – West Elm
Round woven tray – HomeGoods (several years ago)
White dishes – William Sonoma Apilco
Wire dome – thrift store
Ceramic fruit container – Target