Who Doesn't Love a Good Throw Pillow?
*As an Amazon Associate and member of other affiliate programs, I earn from qualifying purchases.
Right out of the gate I need to tell you that I have a problem.
Problem may be too strong a word…maybe an obsession?
I don't like that word either so let's just call it a collection and be done with it. 😉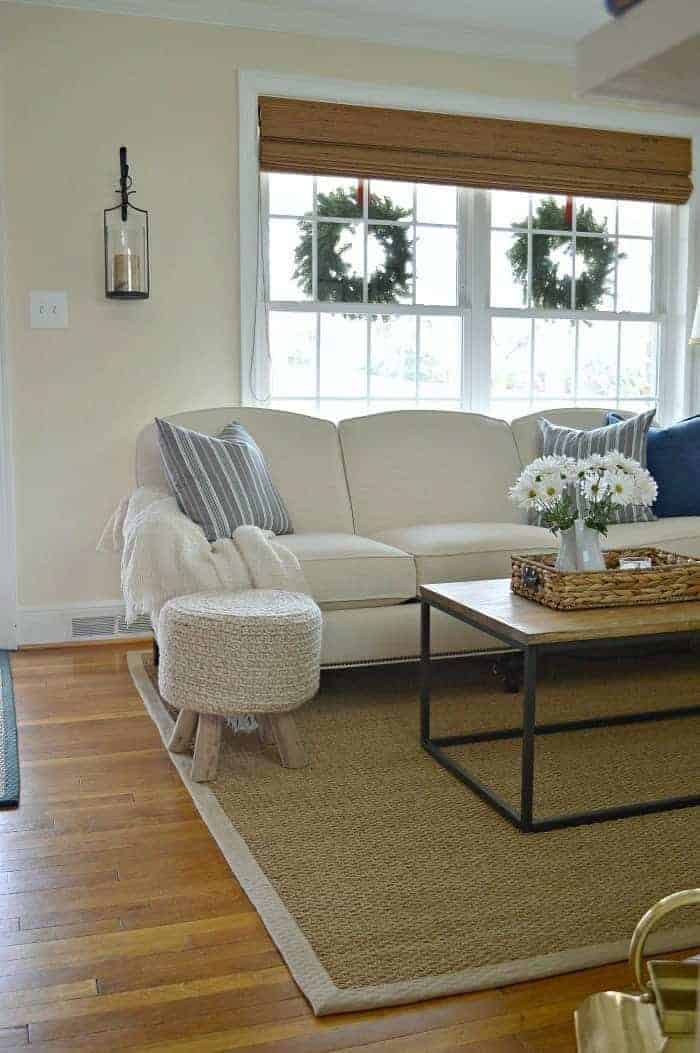 I'm not usually a big collector of anything but I have to say that my throw pillow cover collection is growing, a little too quickly. I've been purging and organizing for the first time since we moved in last July and my throw pillow covers and inserts were in need of some major help. They were a mess and all over the place until I sorted them into bins. This is the "keep" section.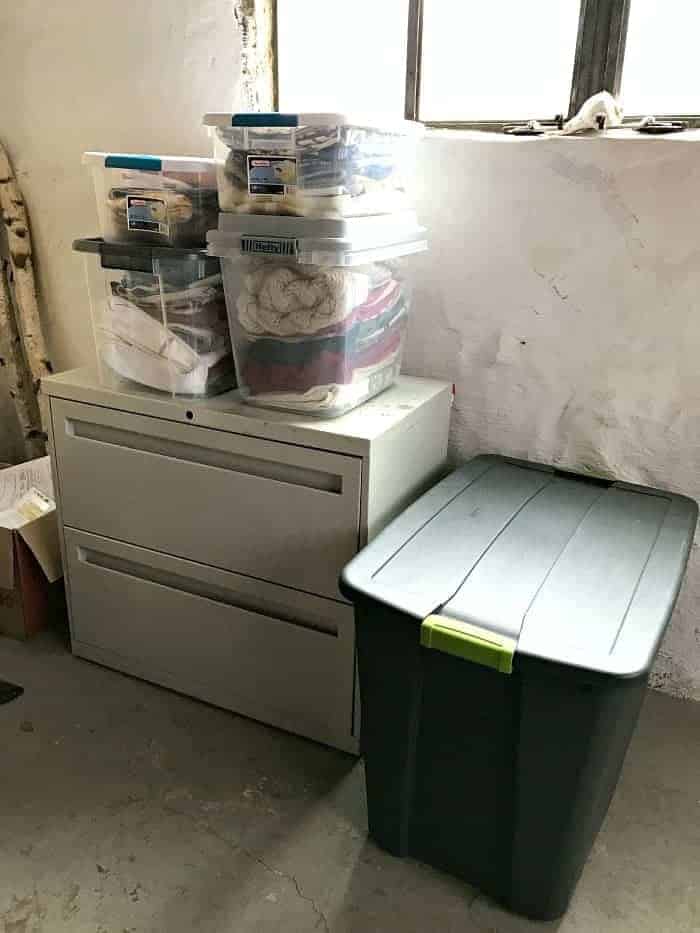 I have a good defense for my growing collection (I think).
I love to decorate with neutrals (our sofa, chairs, window coverings and rugs are all neutral) and, in order to bring color or a certain style into our home, I've found that using pillow covers lets me do that without it costing a fortune. Buying pillow covers can get pricey don't get me wrong, but it's cheaper to change them out than it is to get new furniture whenever your style changes. For me, that's often.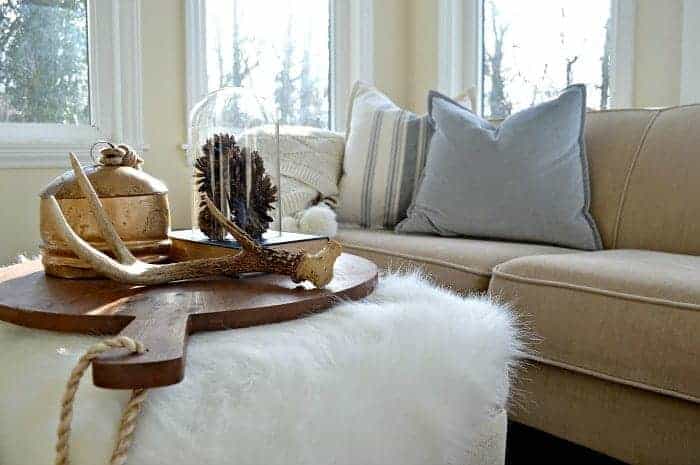 Early on in our marriage I went through a jewel tone phase. Remember that one? I was so in love with my jewel toned striped sofa, forest green comfy chair and dusty rose arm chair…for about a year or two (and that's being generous). It was the first set of good furniture we ever bought, and we weren't exactly swimming in dough, so we had to live with my poor design decision. I kept that set for 10 years and, when we moved to a new house, bought my first neutral sofa. I had learned my lesson and decided that if I needed a change, it would be with decor or pillows. Things I could change out easily.
So, what do I look for when I buy a throw pillow? It's all about the covers…and the inserts.
Throw Pillow Inserts
Let's talk throw pillow inserts first. I've gotten a lot of pillows with different kinds of inserts since I bought that first neutral sofa, and have found what works for us and what doesn't. I have a lot of inserts, 4 large bins to be exact, from poly-filled to down, and I do use most of them, but each kind is used for a different purpose. My opinion on throw pillows is that, although the cover should look great, the insert is what gives your pillow that beautifully full designer look.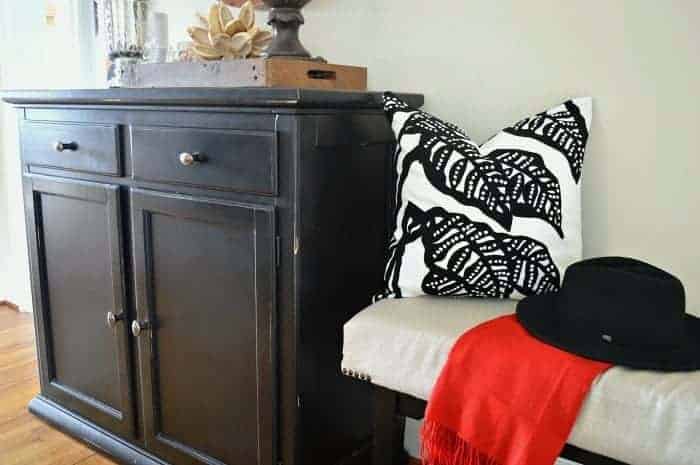 Poly-Filled Inserts
I'm not a fan of the way a poly-filled pillow feels when I sit against it, so I use those inserts for decoration only. They are great for bed decor or on a chair that's used occasionally. I also use them for the pillows on my front porch so they are good to have in your stash.
Down Inserts
Our sofas and chairs (the pieces that we sit on daily) have down-filled pillow inserts. I know that you can buy them almost anywhere now but I'm partial to a firm, down pillow, one that doesn't squish down to the size of a pancake. It took me a while but I finally found the perfect inserts at an awesome online fabric store, Robey's Fabrics. They have all different fills and sizes and they're prices are reasonable. I have a back injury, and I'm pretty particular about what I sit on, so I have a few of the 25/75 down pillows for my everyday chair and they are so, so comfortable. They are pricey but the comfort is worth it for my back.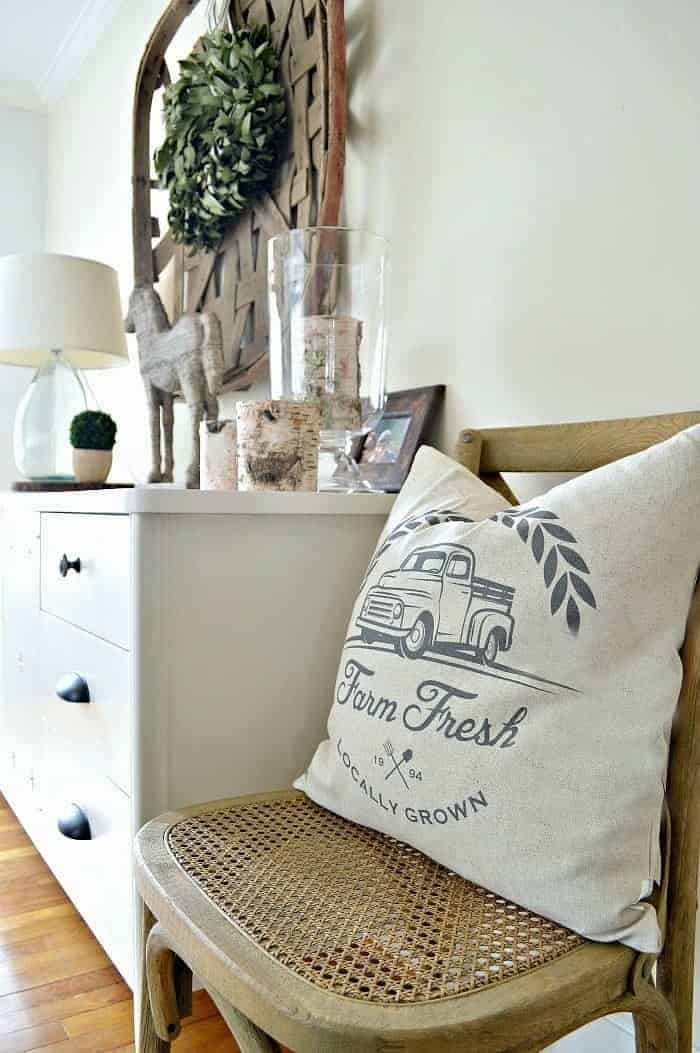 Insert Sizes
Through trial and error I've learned a thing or two about insert sizes, too. I've gotten pillow inserts that were way too small for my couch and they looked lost. Now I go with pillows that are at least 20 inches or above and get inserts that are a size bigger than my pillow covers. So if I have a 20″ pillow cover, I use a 22″ insert. It fills out the cover and it gives your pillow that full designer look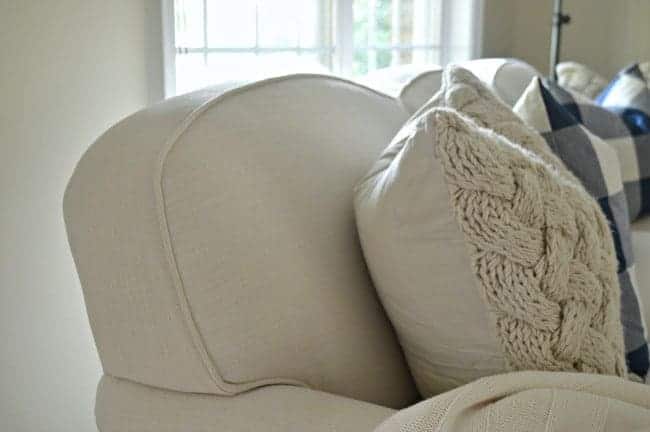 Throw Pillow Covers
Pillow covers are a personal choice so I can't offer much advice on what to get. I have everything in my stash from IKEA, I'm loving their designs lately, to West Elm and Etsy. The good news is that there's so many awesome sources out there right now and you don't have to spend a fortune to get a pretty pillow cover.
This pretty black and white pillow cover is from IKEA, $10!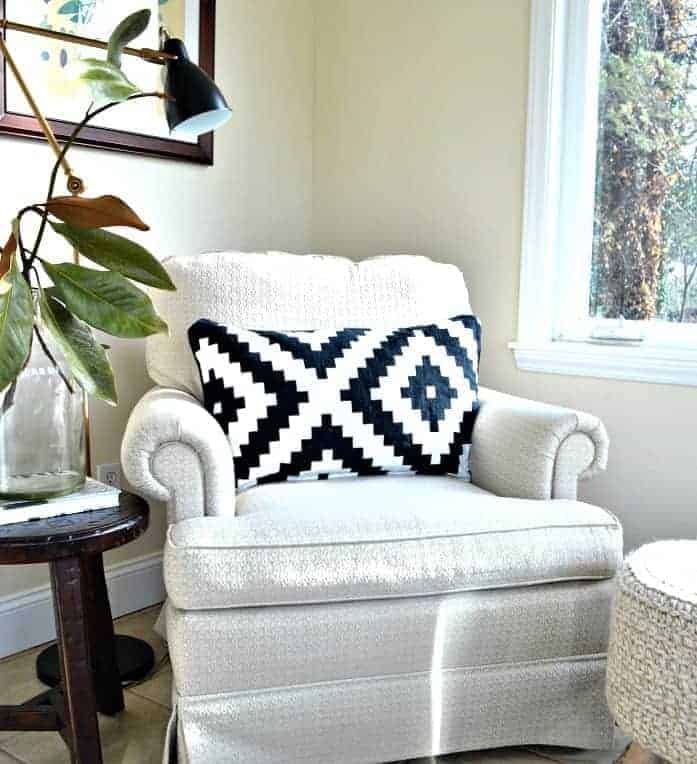 So tell me, what throw pillow tips do you have?
Sources
(Affiliate links used. If you click on an affiliate link and make a purchase, I will receive a small commission, at no extra cost to you. Please see my Privacy Policy for more info.)
Clear Bins – Home Depot
Large Gray Bin – Home Depot
Grey and Cream Striped Pillow (down insert included)- HomeGoods
Grey Velvet Pillow Cover – Pottery Barn (affiliate link)
Round Cutting Board (on ottoman) – Pottery Barn Outlet
Faux Rug – HomeGoods
White and Black Leaf Pillow – West Elm (affiliate link)
Black Cabinet – Pottery Barn (15 years ago)
Entryway Bench – DIY by me
Farm Fresh Pillow Cover – Porter Lane Home on Etsy
Cane Chair – Restoration Hardware
Tobacco Basket – Flea Market
Living Room Couch – Taylor King
Grey and Navy Striped Pillow Covers – IKEA
Blue Washed Velvet Pillow Cover – Pottery Barn (affiliate link)
Round Ottoman – Grandin Road (no longer available)
Coffee Table – West Elm (affiliate link)
Sea Grass Rug – Natural Area Rugs
Black and White Geometric Pillow Cover – IKEA
Cream Chair – Furniture store in Macon, GA (years ago)
Floor Light – West Elm (affiliate link)