Why I Love Natural Fiber Area Rugs
*As an Amazon Associate and member of other affiliate programs, I earn from qualifying purchases.
Area rugs…I've always had a love/hate relationship with them. Whether they're wool or natural fiber area rugs, I have some mixed feelings about them.
I love that they can add warmth, texture, color and pattern to an otherwise neutral space. They're also great for softening hardwood floors and they can help anchor a space.
There's definitely a lot to love but they also have a few small drawbacks.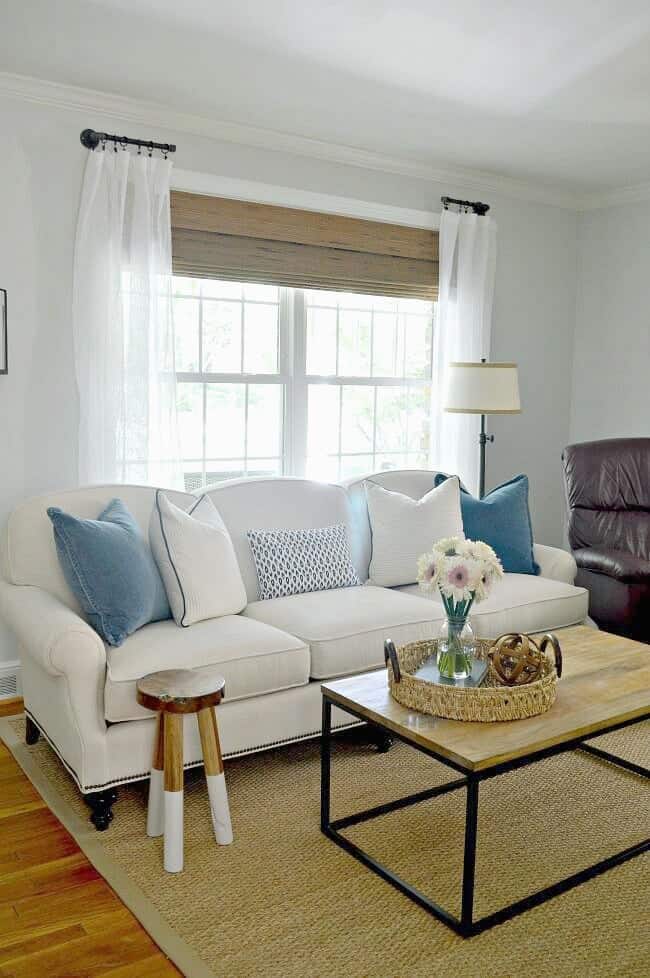 My first "nice" area rug was a beautiful wool rug. I loved the colors and the softness that it brought to my room but I didn't like the shedding. I vacuumed that rug weekly and waited for the shedding to stop but, sadly, it never did. Not even after 4 years. As a self-proclaimed neat freak it drove me nuts!
Besides the fact that it shed, profusely, I sort of tired of the color and pattern. My style changes often and having a particular color and pattern rug was not a smart choice for me. Lesson learned.
So, instead of buying another expensive wool rug, I researched other options. There's tons of styles and materials available, but I was drawn to natural fiber area rugs. I loved the fact that it would add texture and warmth to my room and be neutral enough for any decor scheme.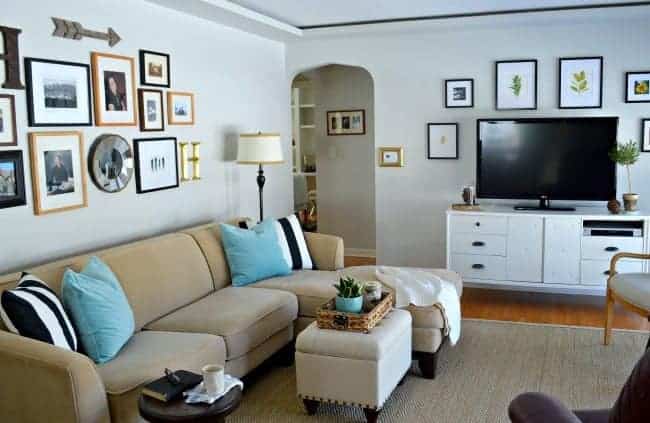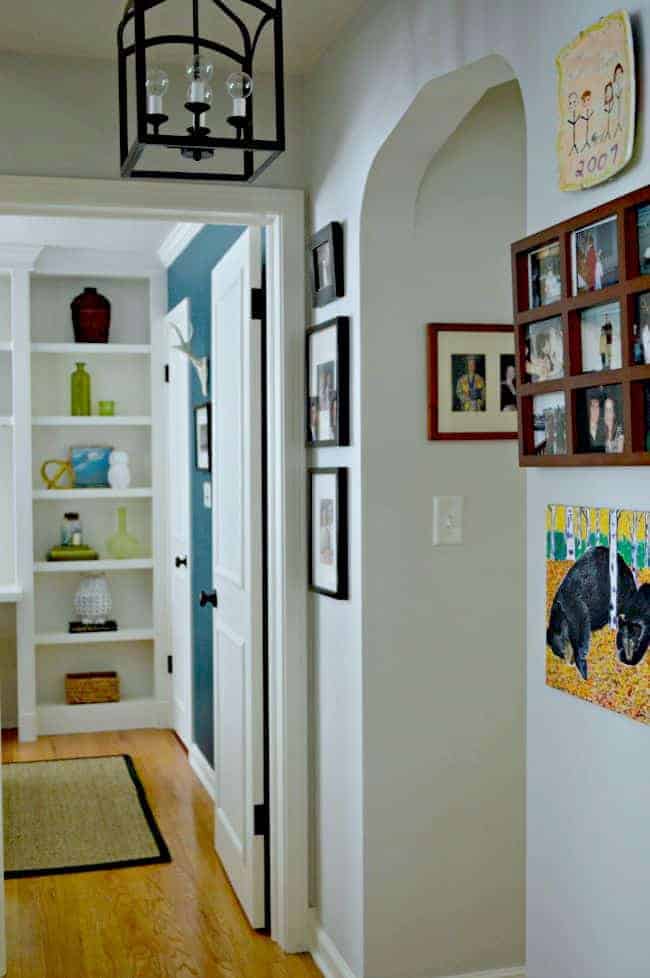 The two things that worried me about natural fiber rugs were the softness factor and, of course, shedding. I knew that they wouldn't offer the same softness as a wool area rug, but would it be a deal breaker.
I wouldn't know until I tried one out.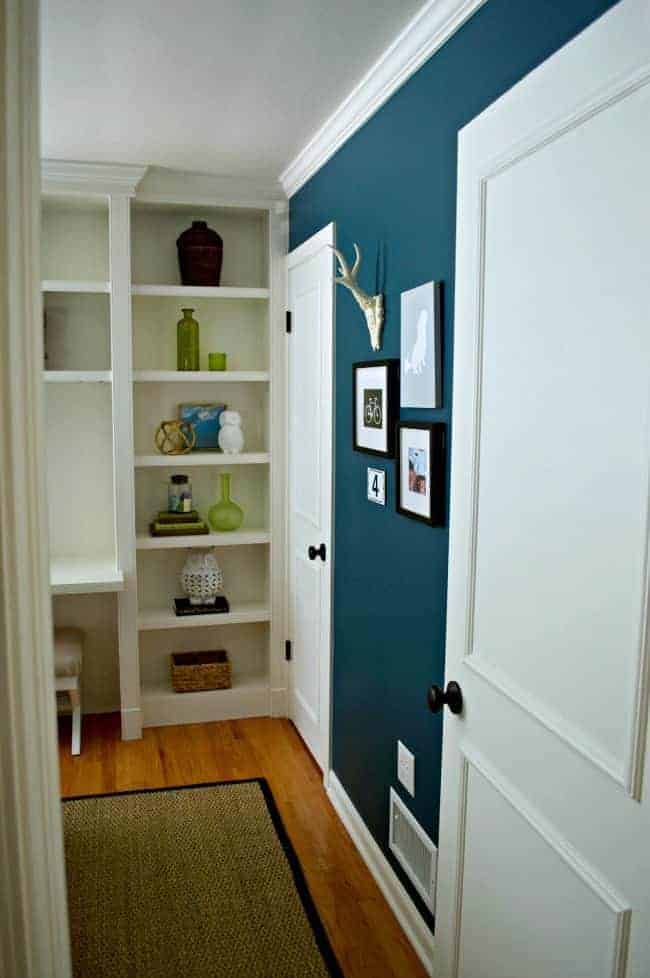 My first natural area rug was a round jute rug that I used under the dining table in our Illinois house. It was inexpensive and the perfect choice for our first try.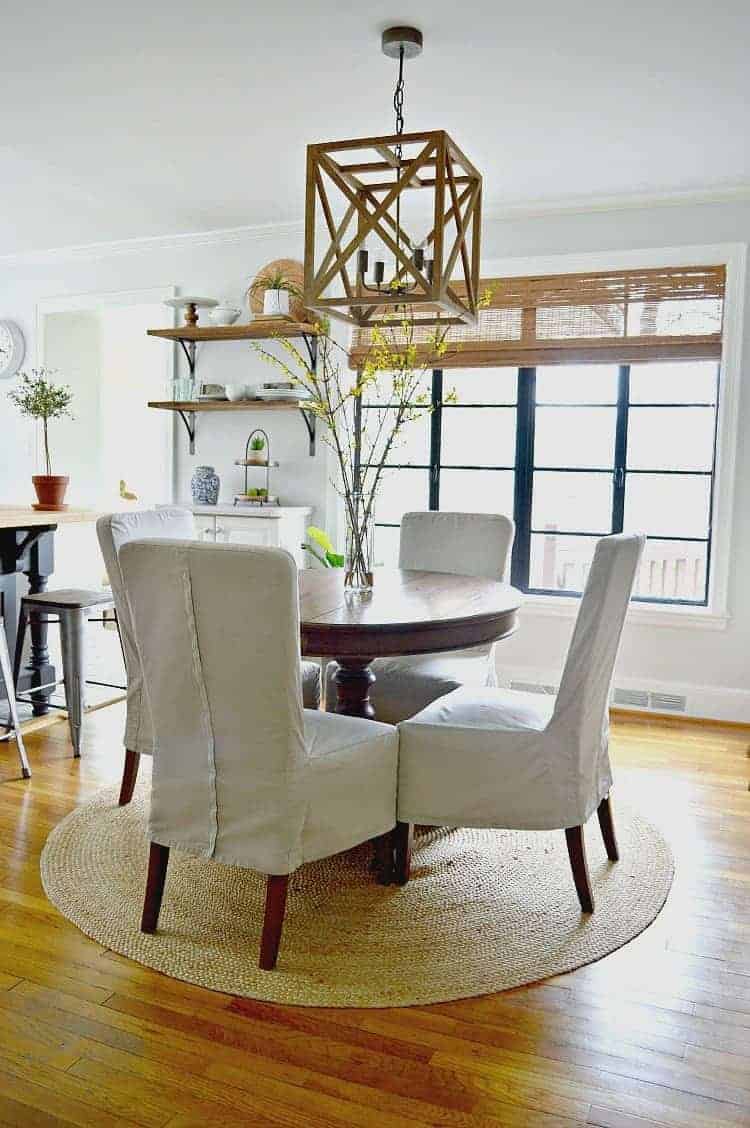 It's a great rug and has worn well these past 5 years. I did have a small tear in one of the seams but that was an easy fix. The issues that I did have with this rug were that it would pull easily and it shed. Not as bad as my wool rug, but I knew that my next rug had to do better.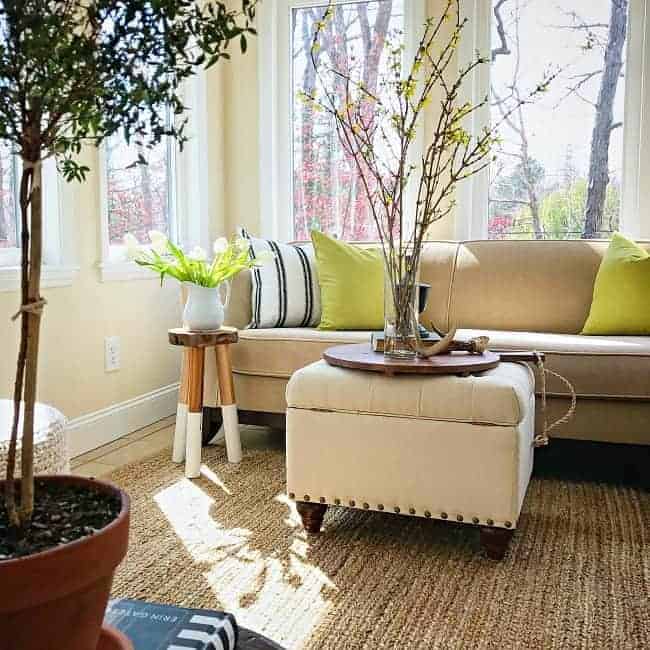 After more research and sample testing between sisal and seagrass, I ordered my next rug, an 8×10 seagrass rug. I like the fact that it was inexpensive (compared to wool), it's durable, doesn't pull, it's stain resistant and, best of all, non-shedding.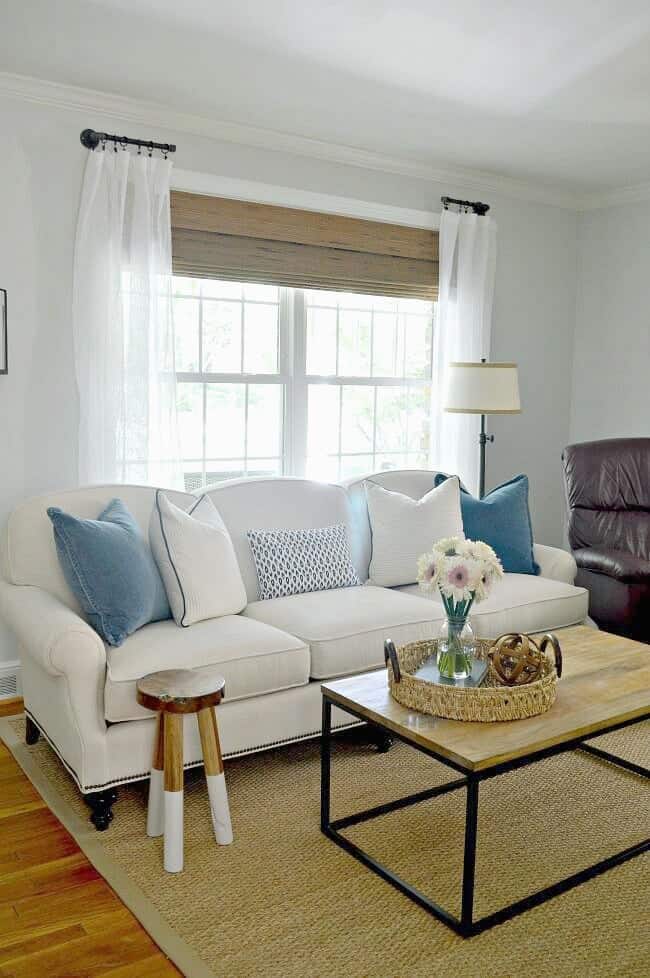 It did have a slight grassy odor when it first came but not enough to bother us, and it quickly faded.
I've had my rug for 3 years now and I love it just as much as I did when we first got it.
As for the durable and non-shedding claims? Our seagrass rug has performed well on both counts. No shedding and not one stain in 3 years, and the dog has been sick on it several times (sorry, just want to give you all the facts). If something has spilled on it, I just wipe it up and it dries without staining.
If there is one drawback to seagrass is that it isn't soft, not like wool anyway. It's not uncomfortable to walk on by any means but it's not plush. My husband actually enjoys walking on it when he has tired feet. He loves how it feels underfoot.
Another awesome reason to use natural area rugs is that you can layer another rug on top, for added color or interest. I haven't done this with our seagrass rug but I have done it with the rug in the sunroom and I love the effect.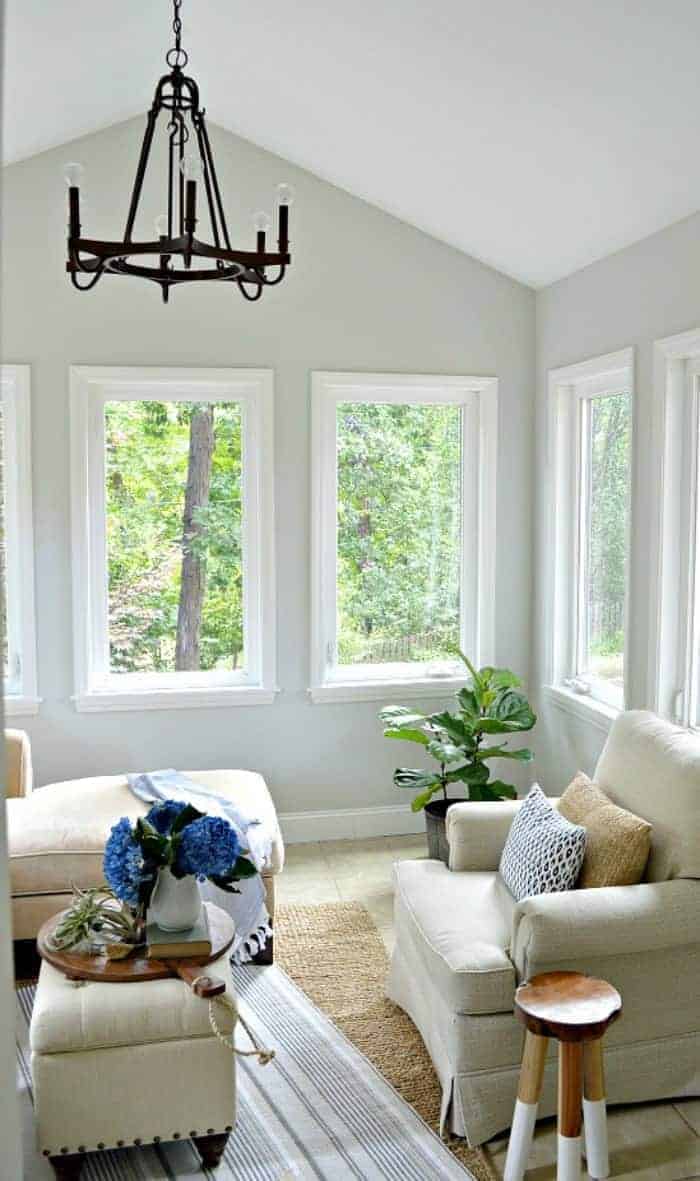 The rug in the sunroom is the Heathered Chenille Jute Rug that I bought for a steal at The Pottery Barn Outlet. I've had it for almost a year and it's held very up well. It has shed a bit but nothing like my wool rug. There haven't any spills or dog mishaps on this rug so I can't report on staining. I'll keep you posted.
The great thing about this rug though, besides the texture, is that it's really soft. I love it!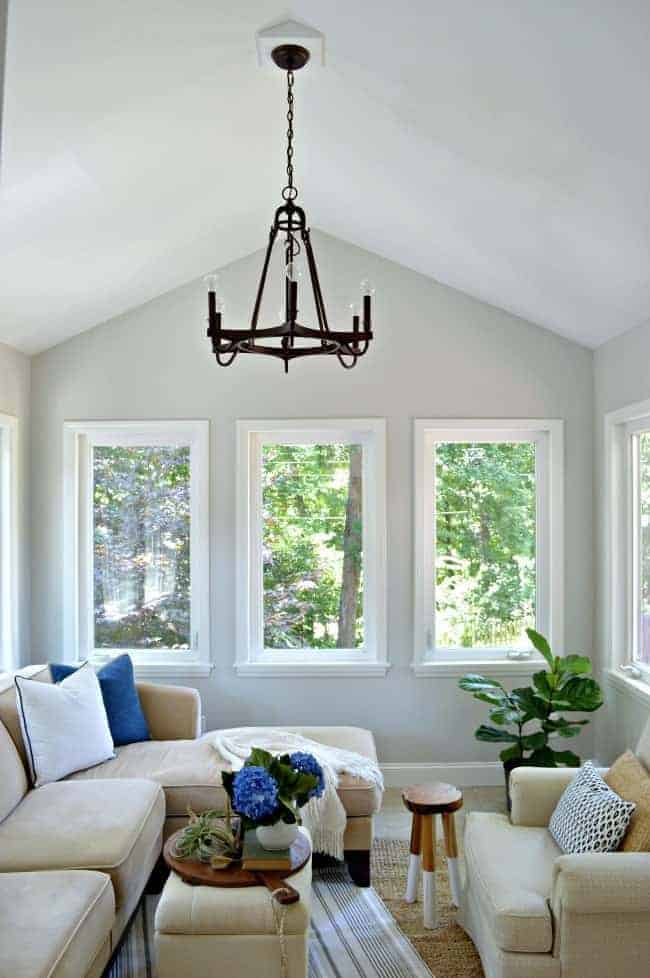 So, my love/hate relationship with area rugs?
I'm not so sure I would do wool any time soon, but natural fiber area rugs? Yes please! As a matter of fact, I'm looking to get two more, one for each guest bedroom. I guess you could say I'm hooked.
Do you have natural fiber rugs in your home? What are your thoughts on them?
My thoughts and prayers to all of those affected by the hurricane and devastating flooding.
Room Sources
Wall color sunroom – Benjamin Moore Regal Select, Eggshell, Gray Owl (50% strength)
Wall color living room and dining area – Benjamin Moore Regal Select, Eggshell, Paper White
Living room and gust bedroom natural fiber rugs – NaturalAreaRugs.com
Dining area round jute rug – Overstock (affiliate link)
Sunroom natural fiber area rug – Pottery Barn Outlet
All black pipe and curtain rings – The Home Depot (affiliate link)
Linen sheers – Crate and Barrel (affiliate link)
Wooden stool with dipped legs – Serena and Lily (affiliate link)
Blue washed velvet pillow cover – Pottery Barn (affiliate link)
Floor lamp – Pottery Barn (affiliate link)
Striped pillows – Etsy
Round woven tray – Target
Woven shade – Blinds.com
Striped rug in sunroom – Nordstrom (affiliate link)
Wood tray in entryway – West Elm (affiliate link)
Brass floor lamp – Home Goods
Dining chairs – Pottery Barn (affiliate link)
Knit ottoman – Grandin Road
Chandelier in sunroom – Lamps Plus
Dining area chandelier – bought in little shop on the North Carolina coast
Sofa – the Holmes sofa by Taylor King (bought at the Furniture Mart in Hickory, NC)