5 Tips to Create a Cozy Bedroom for Fall
*As an Amazon Associate and member of other affiliate programs, I earn from qualifying purchases.
For me, fall always means changing out my t-shirts for sweaters, pulling out my throw blankets and getting the master bedroom ready for cooler weather.
It's nice to sleep on cool, crisp sheets and have minimal bedding during the summer months, but I always look forward to the change of seasons.
Not only am I ready for a change in decor, but it also allows me to create a cozy bedroom for us to enjoy during the fall months.
Whether your space is large or small, turning your bedroom from summer fresh to fall cozy doesn't have to be difficult. Here are my 5 tips to creating a comfortable and cozy bedroom for fall.
Create a cozy bedroom for fall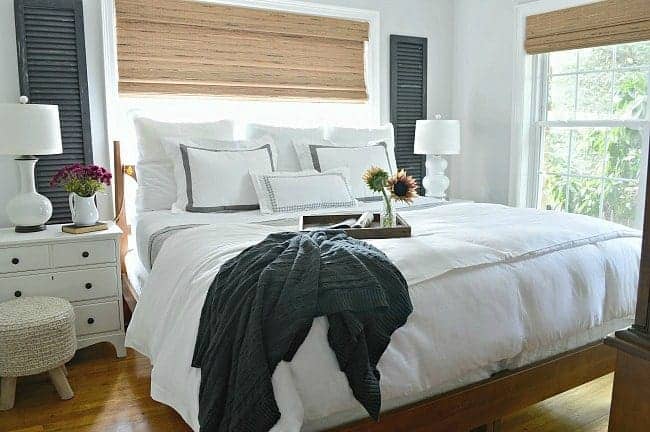 *This is a sponsored post written by me on behalf of Boll & Branch. All opinions are 100% my own.
Texture – Introducing texture to your room instantly adds style and dimension. A couple of ways to do this with a rug, a small knitted ottoman or a pretty cable knit throw.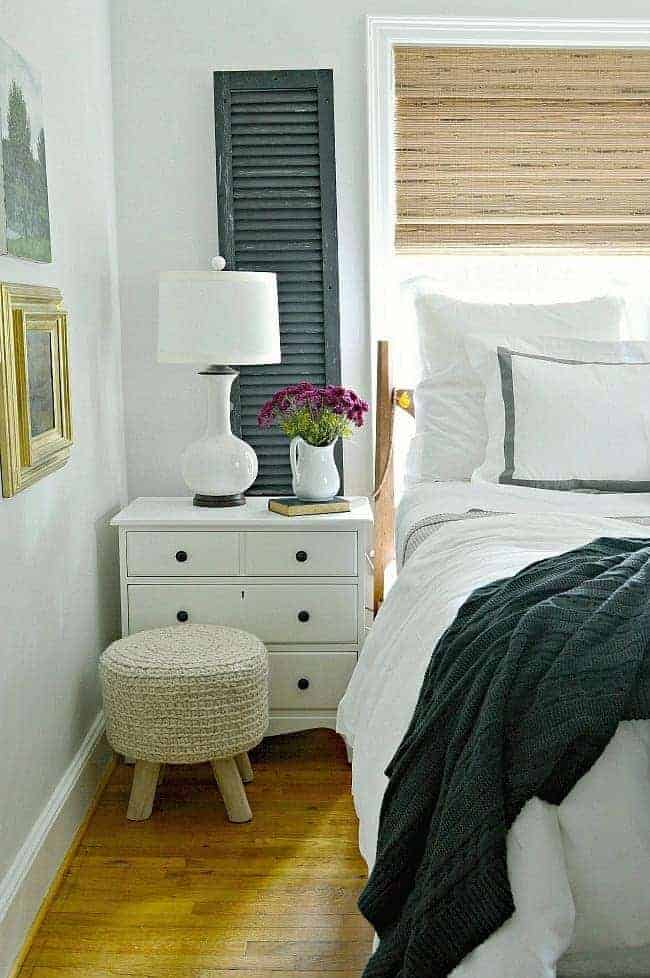 Dressing your bed with beautiful linens – I admit it, I am one picky customer when it comes to the feel and quality of my sheets.
After all, you sleep on them every night, and you'll use them for years, so you should love everything about them. My favorite is crisp white sheets, not only in the summer but even in the fall and winter.
I love that they keep the room light and bright, even on those dark and cold days that always come.
I usually keep the bed dressed very lightly for summer but I'll go all out for the fall/winter months. Besides sheets, I always add a light blanket (for cool nights) and duvet (for when it's really chilly, which is every night for the hubs 😉 ).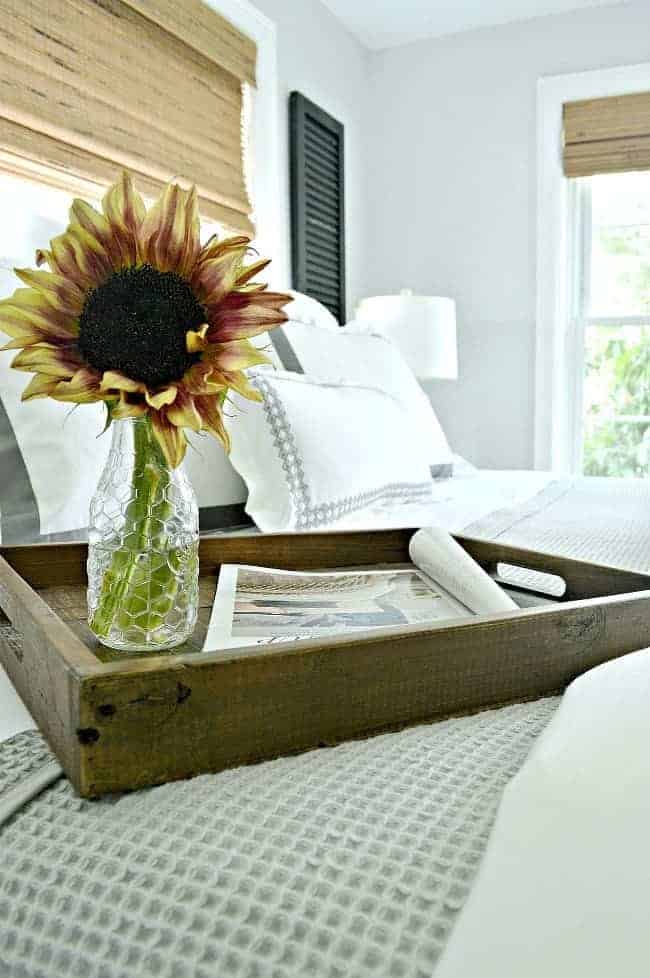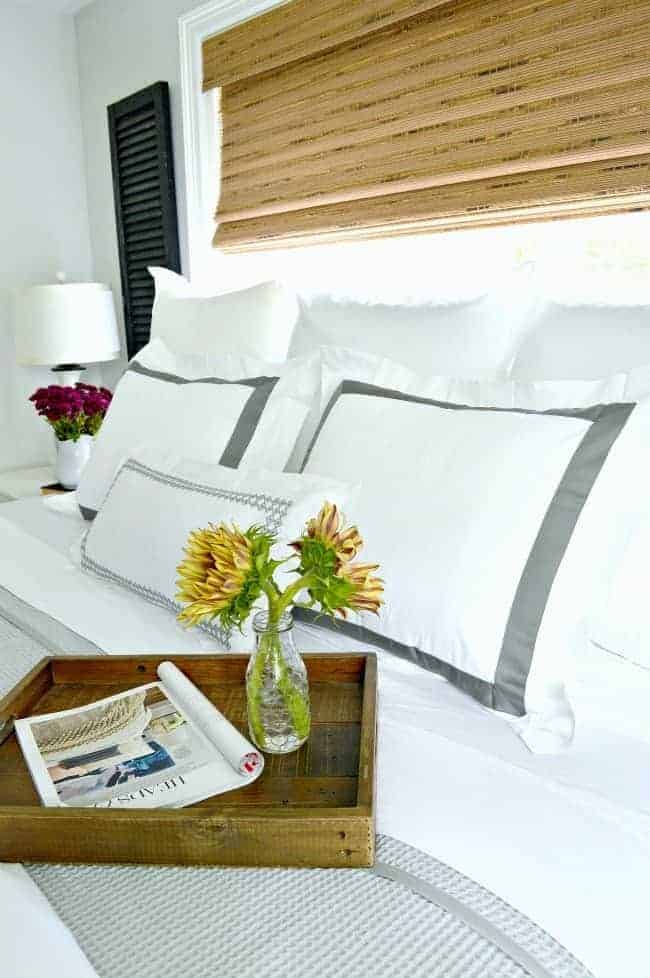 Adding candlelight and fresh flowers – Changing your bedroom over from summer to fall doesn't have to be expensive or complicated.
A softly scented vanilla candle (my favorite) and a beautiful sunflower is a quick and inexpensive way to add a touch of fall.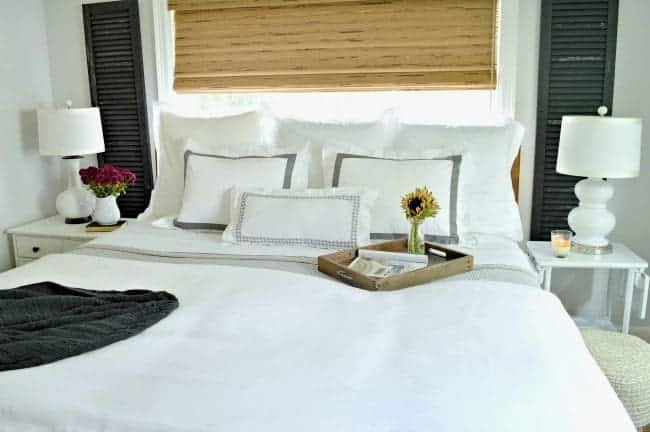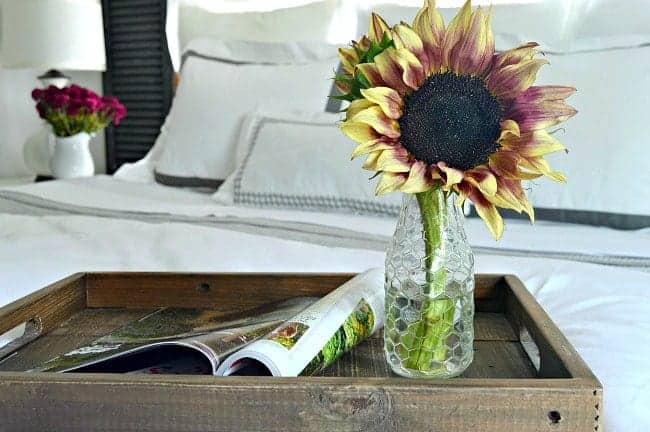 Layer, layer, layer – Adding different layers to a space is the perfect way to create coziness in a bedroom.
Whether it's with a waffle blanket in a contrasting color on the bed or a soft rug on the floor, layering is an easy way to add dimension. Not only that but it also allows you to have fun with your decor.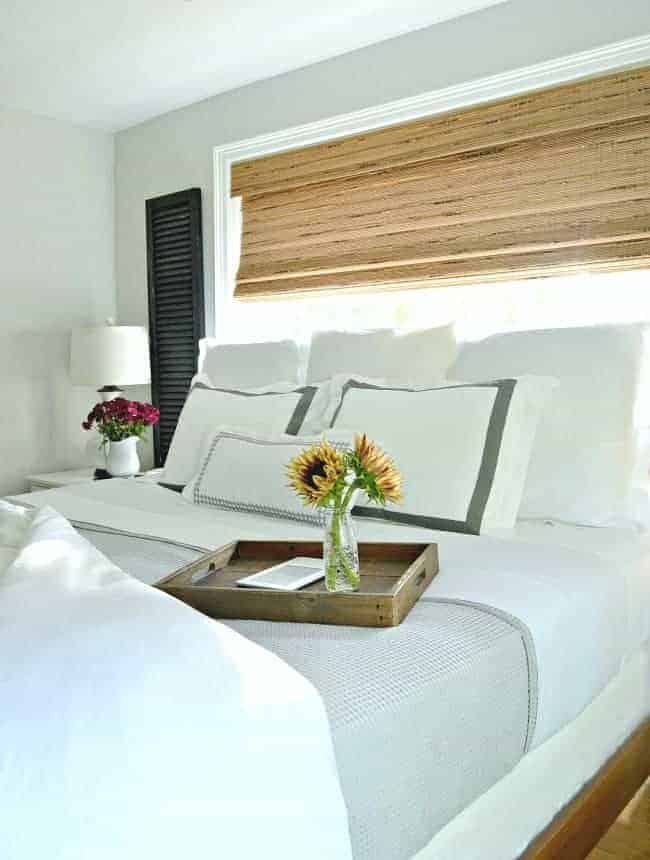 Pillows! – Who doesn't love pillows? One or two, or twelve.
Ok, twelve is a bit much, but piling on a few pillows is sure-fire way to create a cozy bedroom.
I added 3 euro shams, 2 standard shams and a lumbar sham to our bed.
I also chose the banded shams and an embroidered lumbar sham to add some contrast with all the white.
Here's my quick tip for using euro shams.
If you like to use them but don't want to buy, and ultimately store, a euro pillow, you can use two standard pillows. Used together they are the right size for the euro sham.
It's what I used in 2 of the 3 on my bed.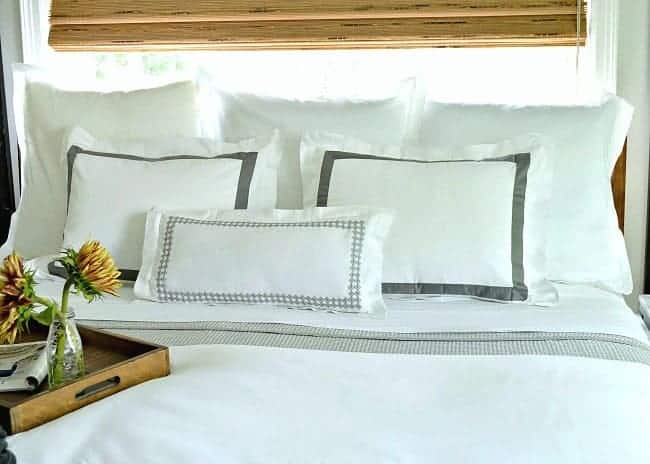 Bonus tip (the half in 5 1/2)…
Snuggling up to a cute pup while relaxing in your comfortable and cozy fall oasis may just be the best way to enjoy your space.
Just sayin'…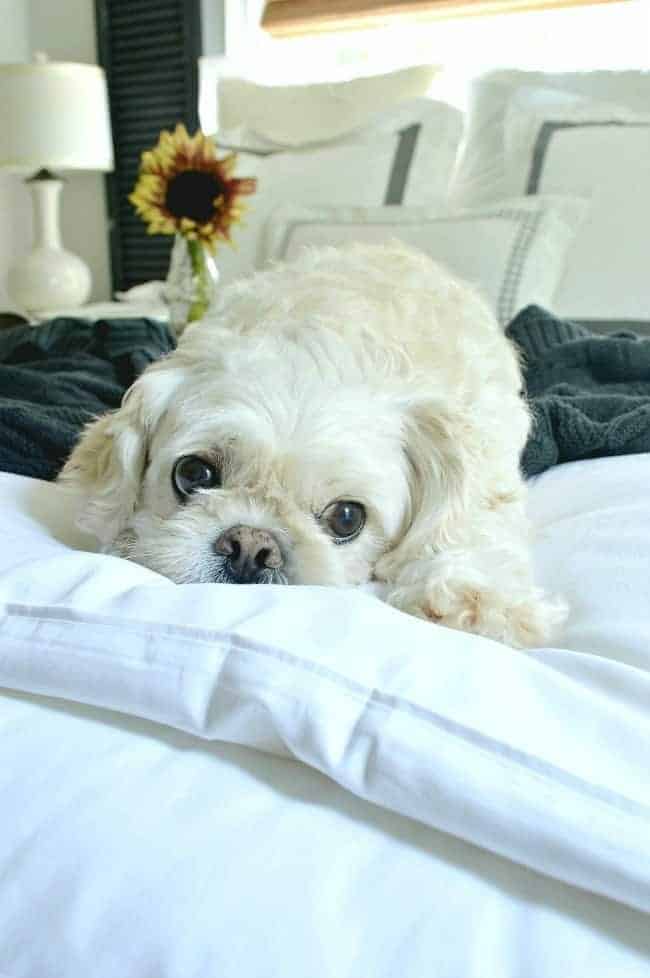 We've been sleeping on our new sheets for a few weeks now and they are truly the most comfortable sheets we've ever had. They even meet my picky standards.
Opening the package was a treat, too. All the linens were beautifully packaged and wrapped in pretty boxes, that you can reuse.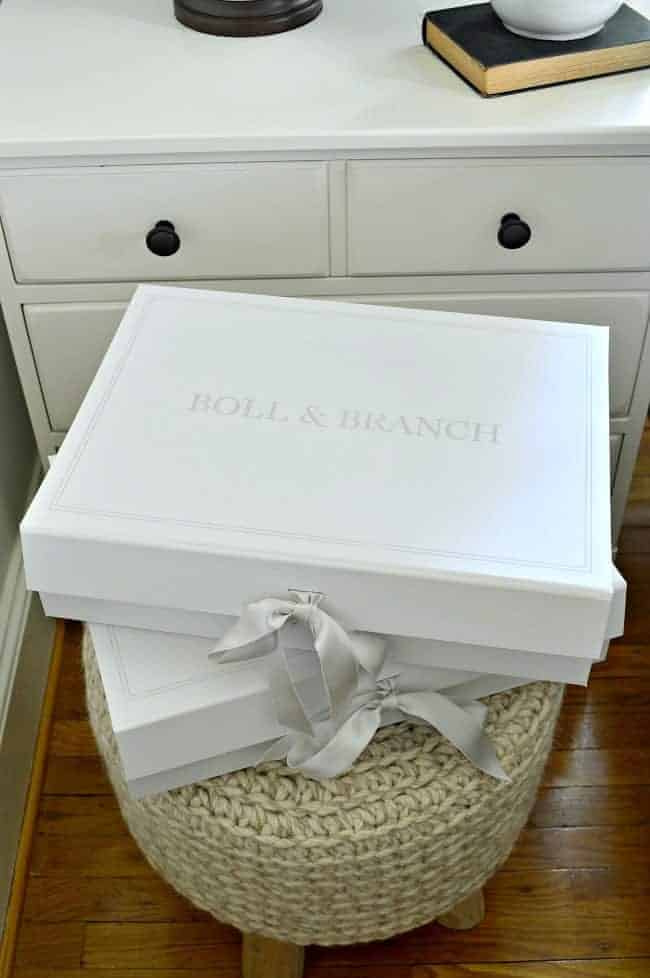 Now that the master bedroom is ready for fall, I can work on the rest of the house, (check out our Welcome Home Fall Tour).
What do you do to get your bedroom ready for the cool nights of fall?
Sources for bedding
All linens Boll & Branch –