Thrift Store Art Gallery Wall
*As an Amazon Associate and member of other affiliate programs, I earn from qualifying purchases.
I have a little secret…a secret obsession with thrift store art.
It's just one of those things that happened when we were trying to decorate our last home.
When we lived in Illinois, the land of amazing estate sales and thrift stores, I'd look around for inexpensive art pieces for our (then) new home.
On one trip to a favorite local thrift store, a small, framed watercolor caught my eye. For $1.50 I just couldn't pass it up, so I bought it, took it home and hung it up.
Since then, it's something I always search for when thrifting.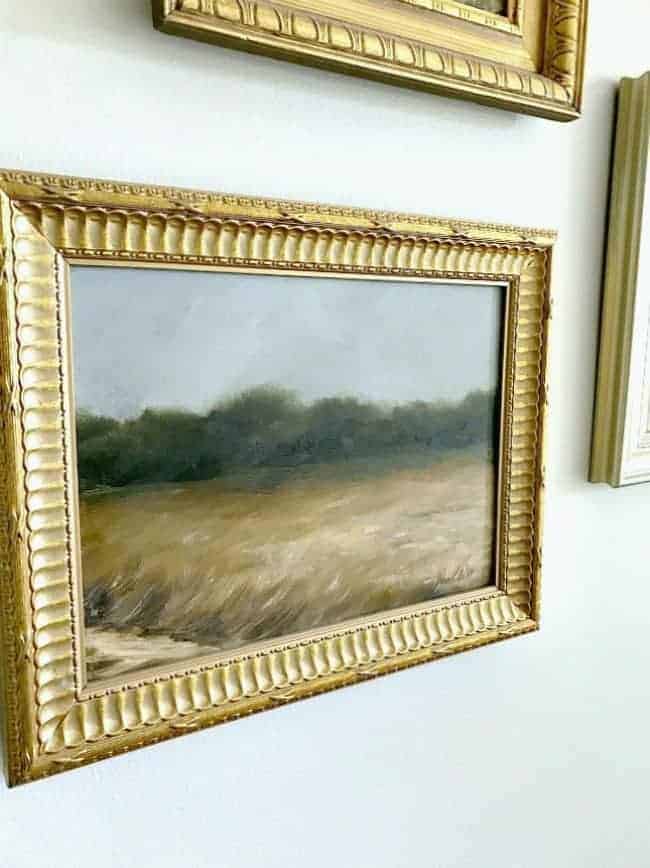 My collection has grown some since that day but we still have a small space, with limited storage, so I try to be a little choosy with my purchases.
What's my criteria?
Nothing scientific really.
It just has to be pretty, to me anyway, and it must be under $10.
As you can tell, I'm usually drawn to certain colors and scenes but I don't put a ton of thought into it. If it catches my eye and I love it, I buy it.
I don't find something every time we go out thrifting. I've actually gone months without finding anything.
It's all in the thrill of the hunt, though. Don't you think?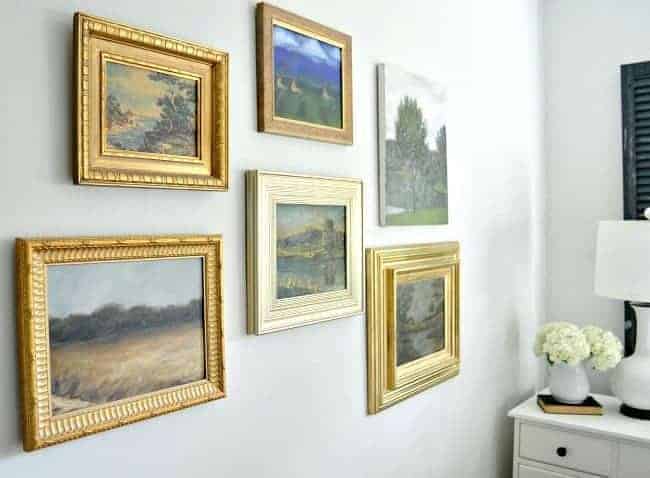 My little collection has grown to 8, with some great finds in the past few months.
So what have I done with all of my thrift store art?
When we moved into the cottage, I needed to fill a wall in our master bedroom.
I tried a couple of store bought pictures and a mirror, but nothing seemed right.
We'd been unpacking my thrift store art from our moving boxes when it hit me. I could make a gallery wall in our bedroom with all my finds.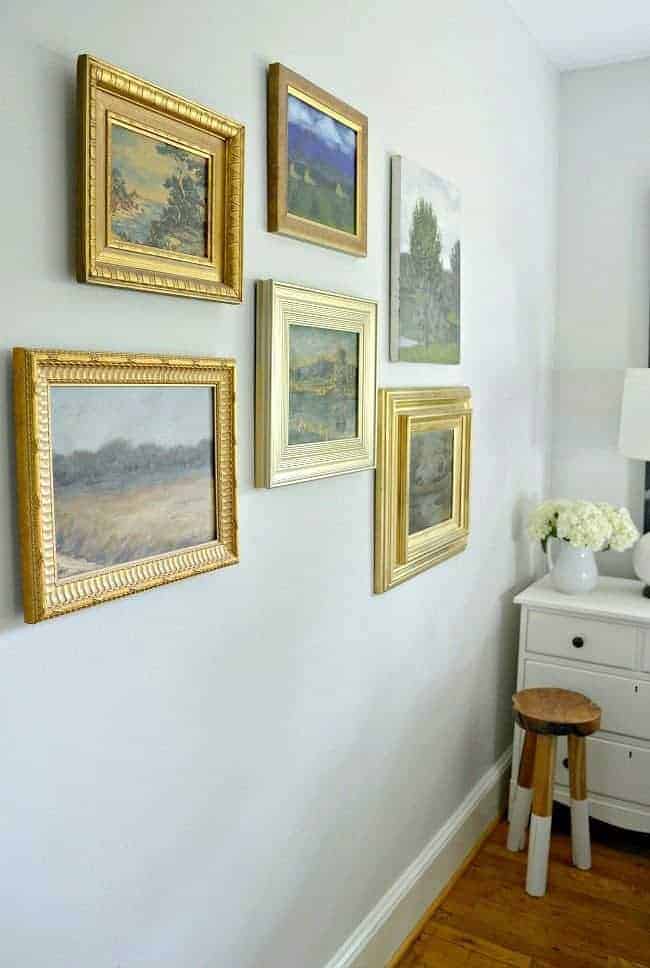 I'd never had all my pieces together so I wasn't sure how it would look, but somehow it all works.
I did have to paint one frame gold, it was too dark, but other than that, all the paintings that I've found look the same as they did when I bought them.
Well, they may all be a little cleaner. 😉
There's been no change since I hung the gallery and I'm loving the result.
The best part is that it's all pieces that I love. I mean, that's what our homes should be all about, right? Y
ou should fill it with pieces you truly love. It shouldn't matter what anyone else thinks because you live there.
Your home is your sanctuary so fill it with things that mean something to you.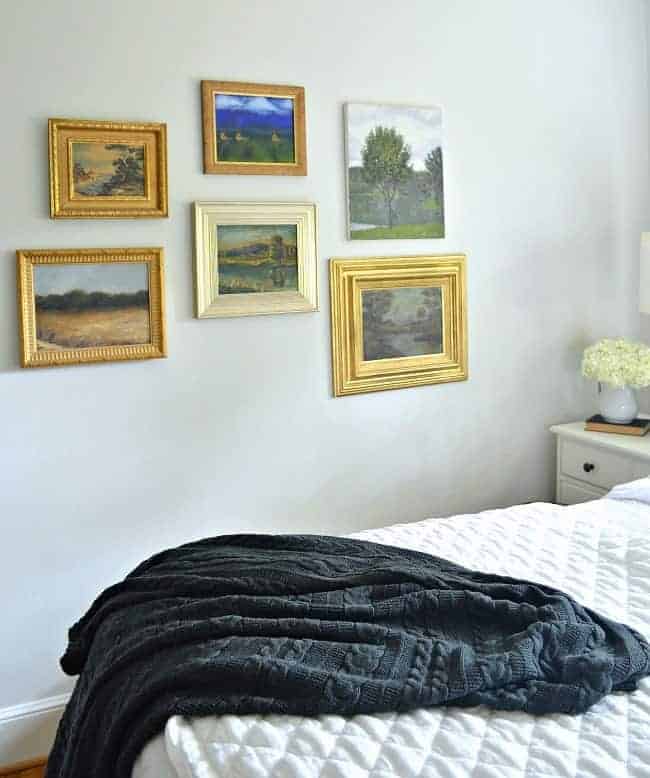 Speaking of pieces you love…
My latest acquisition was found at an estate sale about a month ago. I'm guessing that the person that lived in the house was a painter.
I found this little painting all alone, laying face down in a windowsill, and rescued it for $1.50. It's in the colors I love and it fits perfectly in our cottage.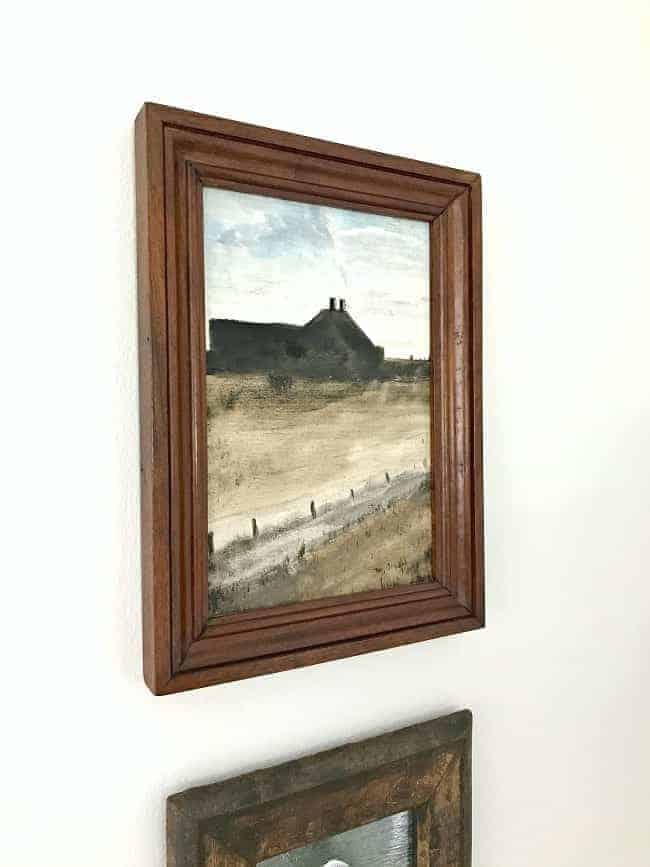 Have you ever found a great piece of thrift store art?