Simple Fall Hoop Wreath DIY
*As an Amazon Associate and member of other affiliate programs, I earn from qualifying purchases.
How to make a simple fall hoop wreath with sunflowers for the front door with an embroidery hoop (plus a video tutorial).
If you've been hanging around here for a while, then you know that every season I whip up an easy DIY wreath for our front door.
I don't want to disappoint, so we're continuing the tradition with a simple fall front door wreath with an embroidery hoop that I found floating around in the basement.
I also made a video so make sure you check it out at the end of the post.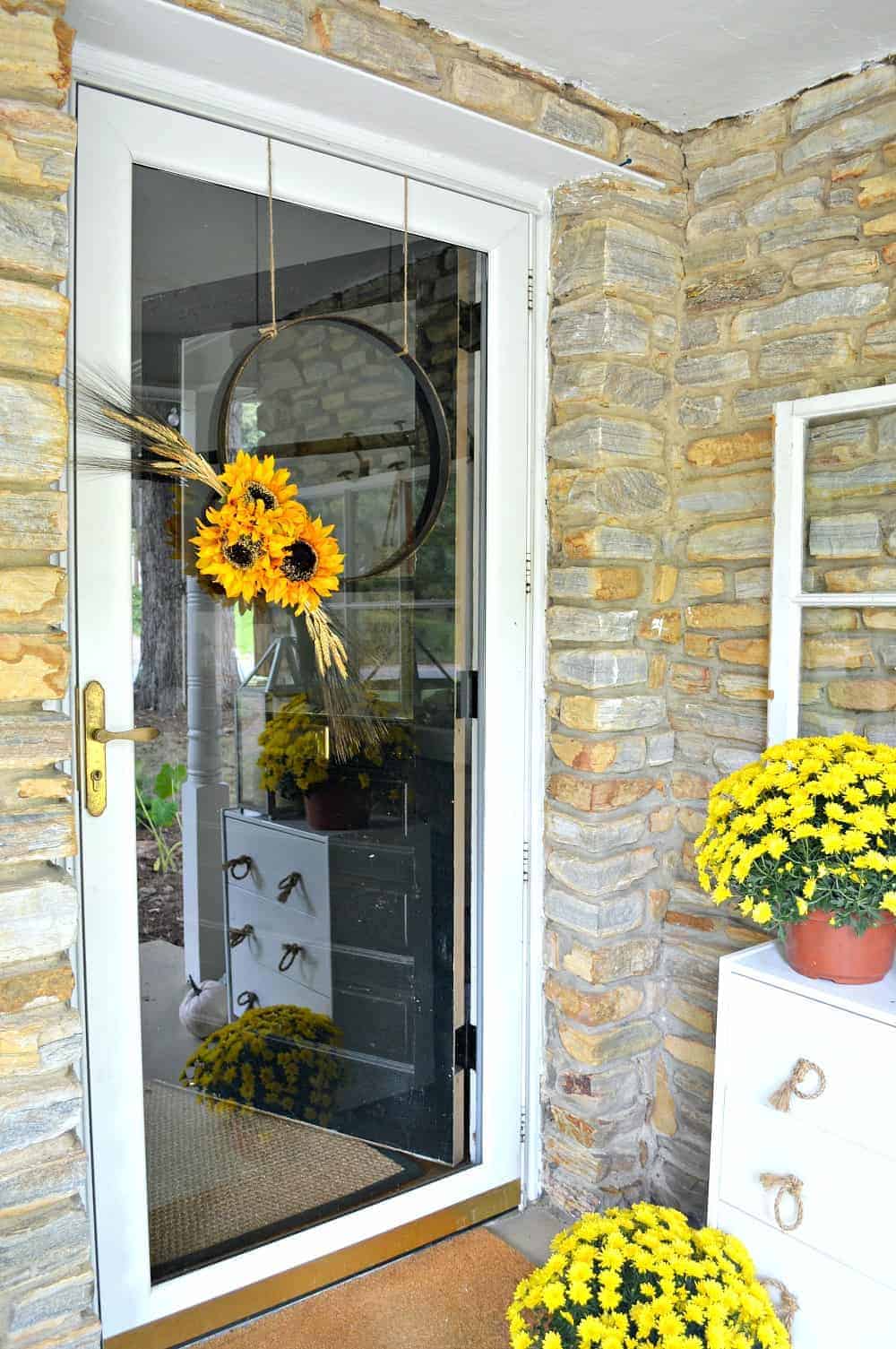 I've had a love affair with my hanging basket for the past several seasons (like my American flag basket) but I thought I'd ditch the basket and really change it up with something simple in design.
Not only is the design simple but it was also very easy to make, with just a few supplies.
Perfect for me because I get distracted easily if I'm doing anything complicated.
So let's get right to the supply list and how-to.
Supplies to create a simple fall hoop wreath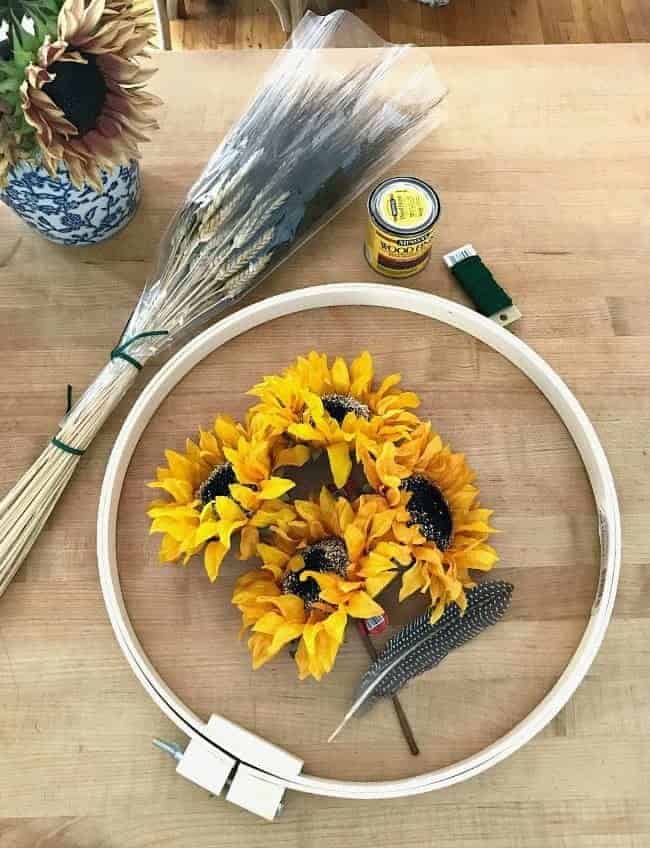 Creating a fall wreath
To start my hoop wreath, I separated the 2 pieces of the embroidery hoop.
I was going to use the inner hoop but the sticker left a residue and I couldn't remove it.
Next, I used a foam brush to stain the hoop. I wanted to warm up the wood so I used my favorite wood stain, dark walnut.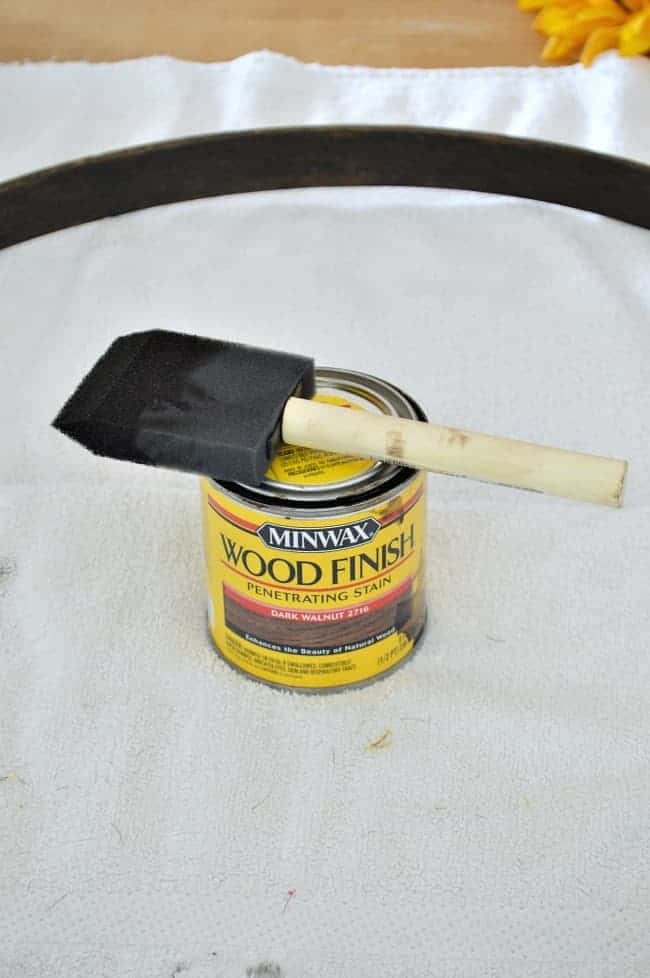 After the stain dried, I started assembling my wreath.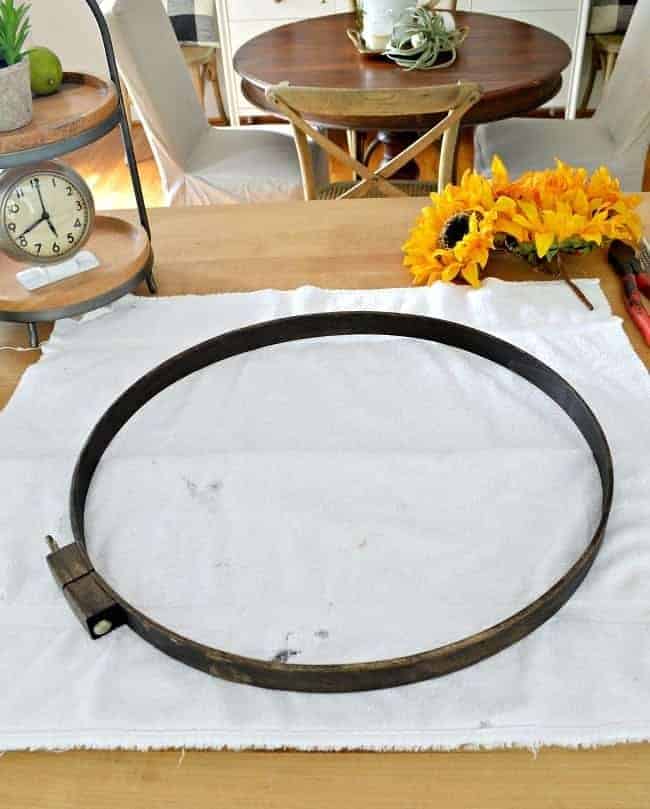 The wheat stems were pretty long so I used my wire cutters to cut some of the length. I didn't count how much was in each bunch, I just eyeballed it.
Remember, we're keeping it simple.
I split the wheat in half so both ends of the wheat had "flowers".
Next I took two pieces of the floral wire and tied the wheat together.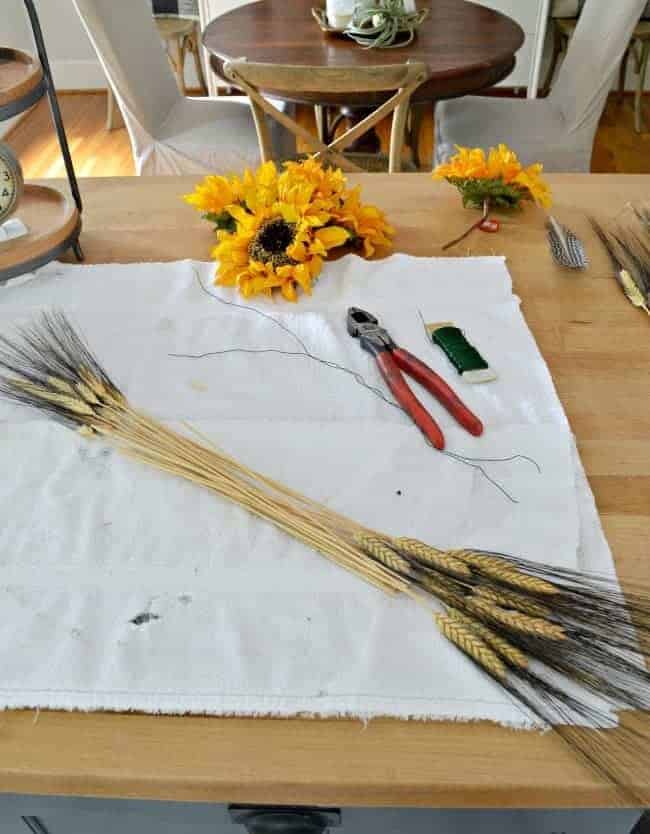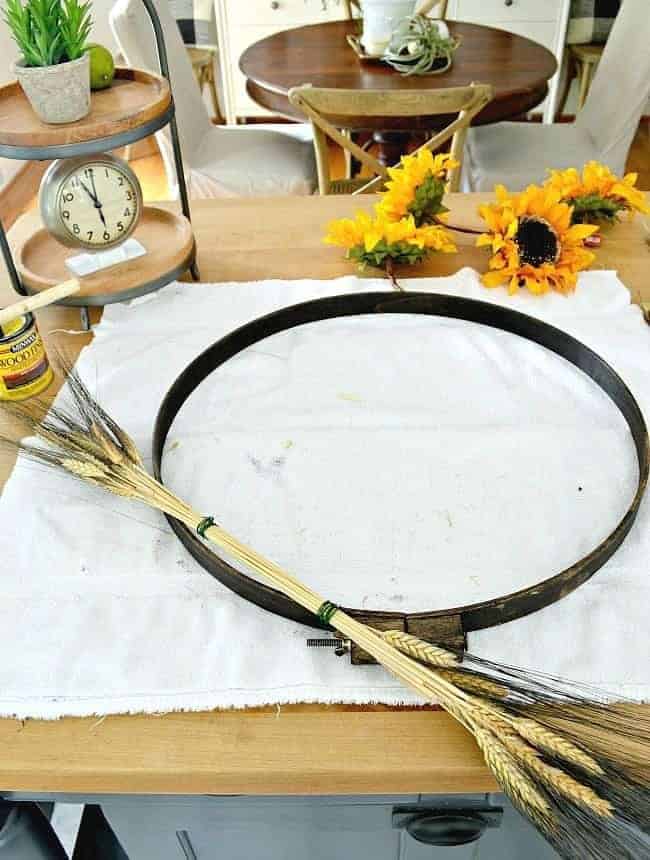 After I tied the wheat together, I took 2 more pieces of wire and attached it to the hoop.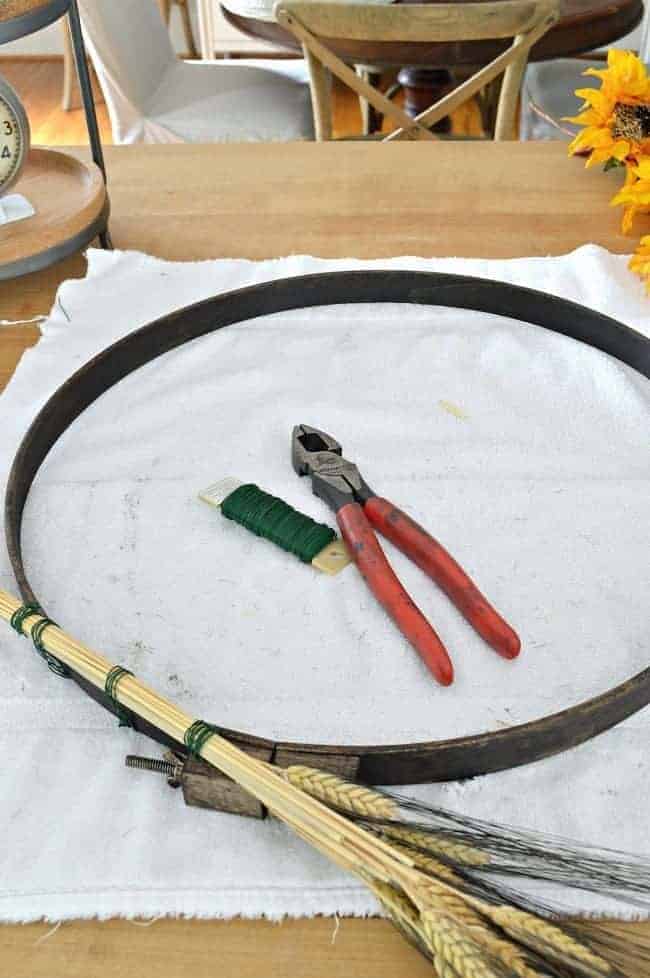 Are you still with me?
Now it was time to add the sunflowers.
First, I cut each one down with the wire cutters so that the stems were short. Then I wrapped a long piece of floral wire around the stem.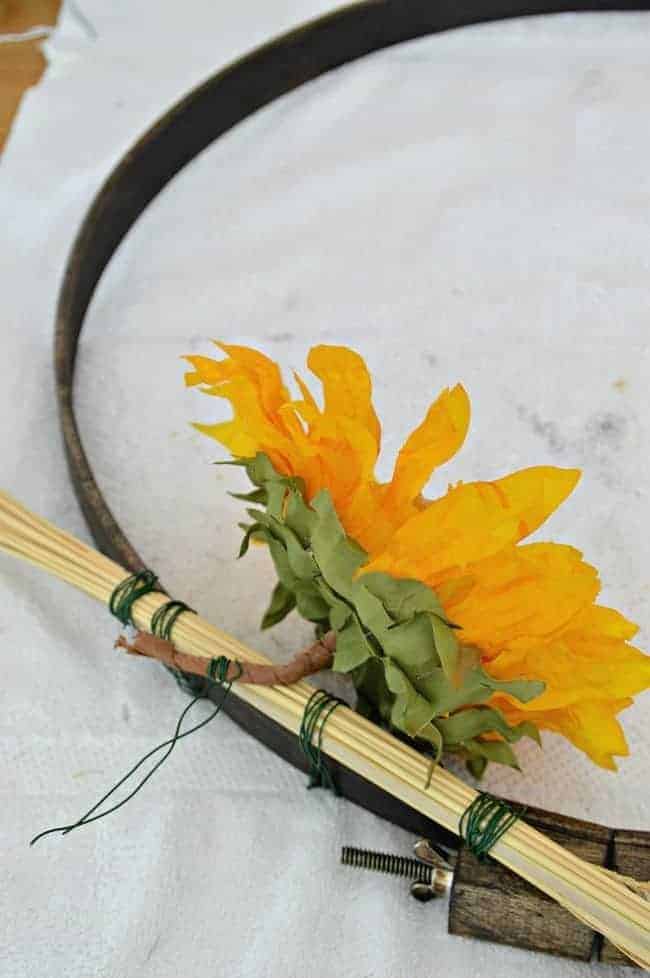 After I wired all 3 flowers, I attached them on top of the wheat and around the hoop.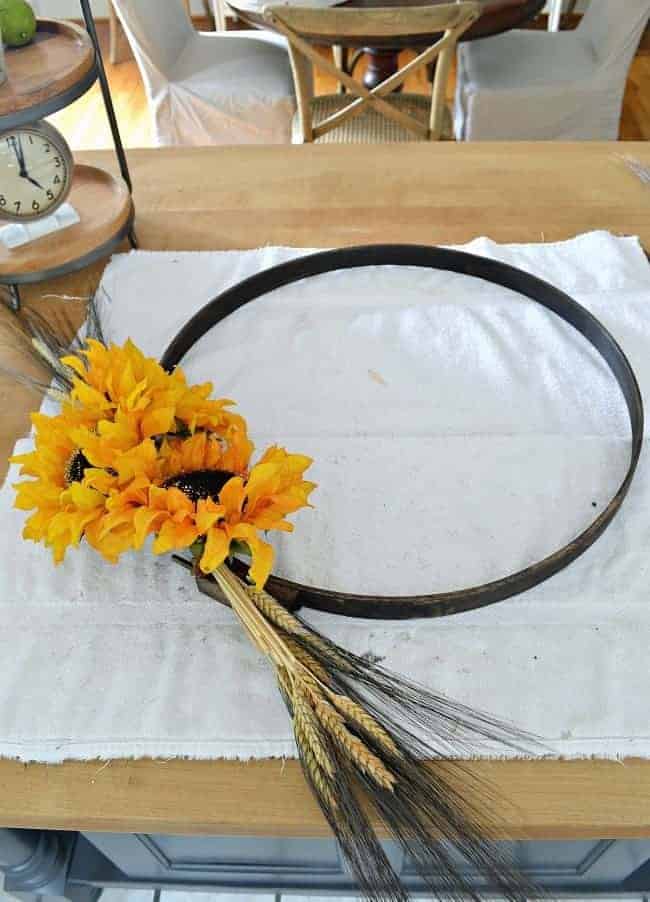 I go into most projects with an idea of what I want to do, but I'm never really sure how it's going to look until I'm done.
This one came out a bit different but I liked the asymmetrical look so I decided to hang it that way.
Not an easy thing to do.
Well, once we figured it out it was easy to hang but it took us a few tries to get it right.
Since I couldn't use a traditional wreath hanger, I went with my old standby…jute twine.
It took 2 pieces to get this simple fall wreath to hang just so.
I didn't use the feathers in my tutorial but just stuck them in by the sunflowers to see how they looked.
I actually liked it better without.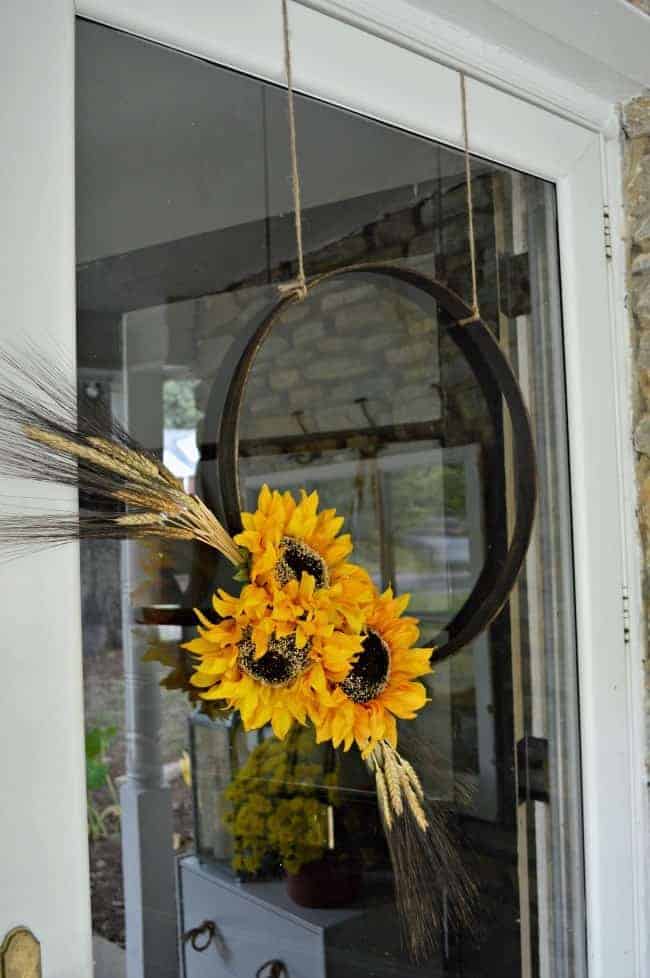 Not my usual front door decor, but it's a nice change.
I've decorated the front porch for fall and I can't wait to share it with you. It has turned out to be my favorite space in the cottage to decorate for fall.
How's your fall decorating coming along?
Check out more of my front door wreath DIYs