*As an Amazon Associate and member of other affiliate programs, I earn from qualifying purchases.
It's been a long 3 months filled with drama, a handful of moving trucks and plenty of sleepless nights worrying if everything was going to work out, but we are finally and officially in our new house in North Carolina. We closed on May 31, but we had a month left on our apartment lease, so we spent the time cleaning the house and getting it ready for all of our belongings. I had grand plans to get some painting and other little odd jobs crossed off the list, but a fall down the decks stairs a few days after our closing left me with a broken foot and two sprained ankles, which put a halt to all of my plans. Not the best start but we are in our house and that's all that matters.
So, in my last post I shared a video tour of our new house and today I thought I'd share some of the plans we have to make it ours.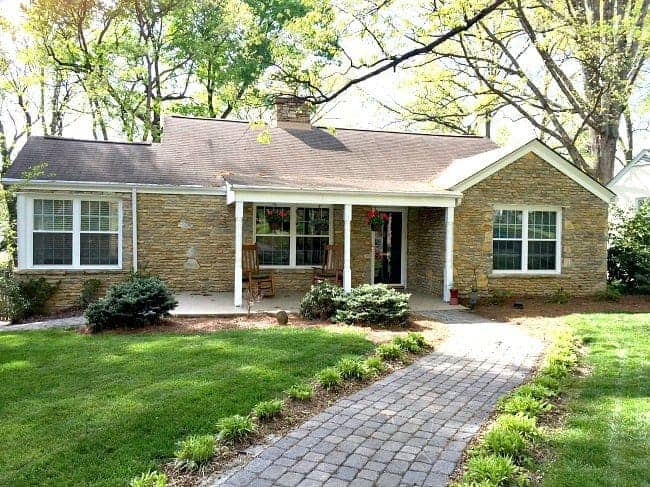 The first time I walked into the house, when it was for sale, I immediately saw us living there. I could picture where my furniture would go, how the bathroom would look when we redid it and how new paint would change the look of every room. After moving in though, reality quickly set in and I realized how much there is to do to make it into the home of our dreams. As the hubs likes to remind me, at least once a day, "we have the rest of our lives to fix it up", but it's hard to remember that in all of the chaos and boxes. Sigh…
My fall has slowed me down to a crawl so I haven't done any big projects but, besides unpacking boxes, I have worked on a small painting project and I've also started on a little something for the front porch, so I'll be sharing those soon.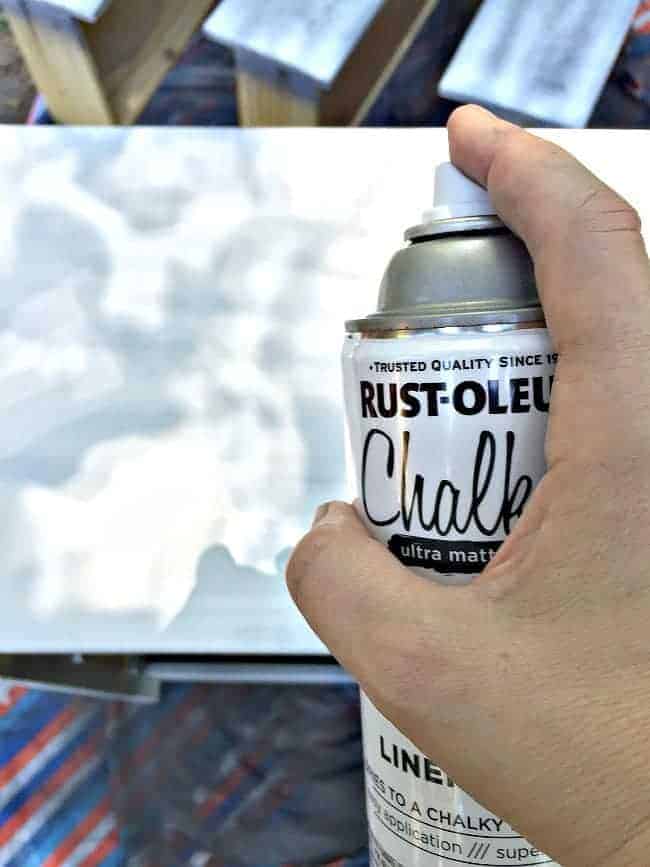 The hubs has been busy getting gas lines hooked up to the house. We brought our gas dryer with us from Illinois and we'll be getting a gas furnace, to replace the ancient oil burner, and since the house has never been hooked up to gas, it was something that needed to be done right away. We're doing all of the work ourselves, as usual, and, although it's a big job, we're saving a lot of money by doing it ourselves.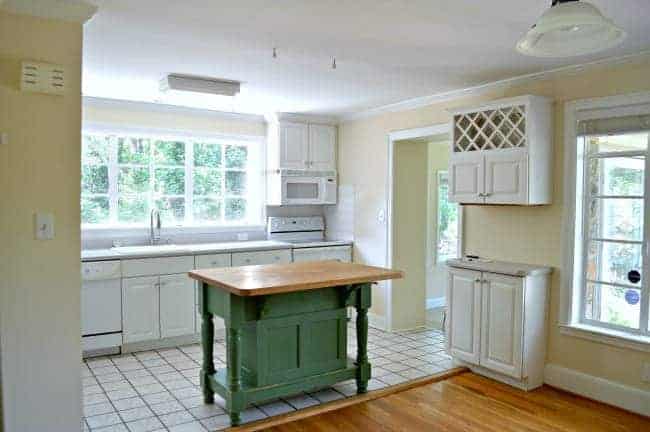 So, now that I've caught you up on what we're working on right now, I thought I'd fill you in on some of the grand plans we have for our stone cottage.
Let's start in the bedrooms.
All 3 rooms will all get new paint and crown molding, and, since the switches and outlets need work (in the whole house) they will likely get replaced. We'll add new lighting/ceiling fans in each room and new window treatments for the master (the blinds will likely stay in the guest bedrooms for now).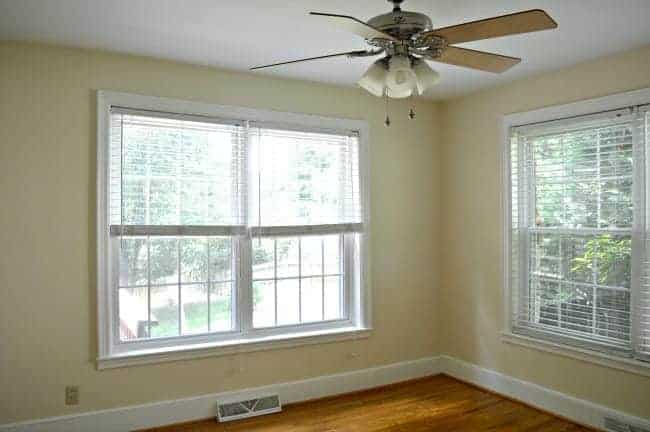 The poorly built bookcase will be removed in the blue guest room .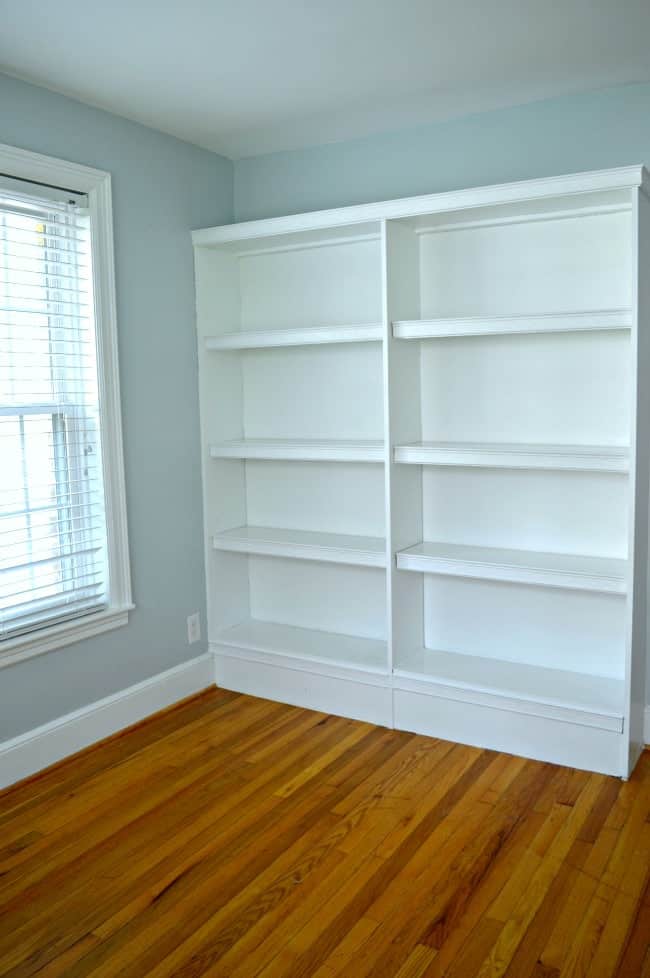 All of the original door knobs and hinges need some major work. They have been painted over so many times and not one door will close properly.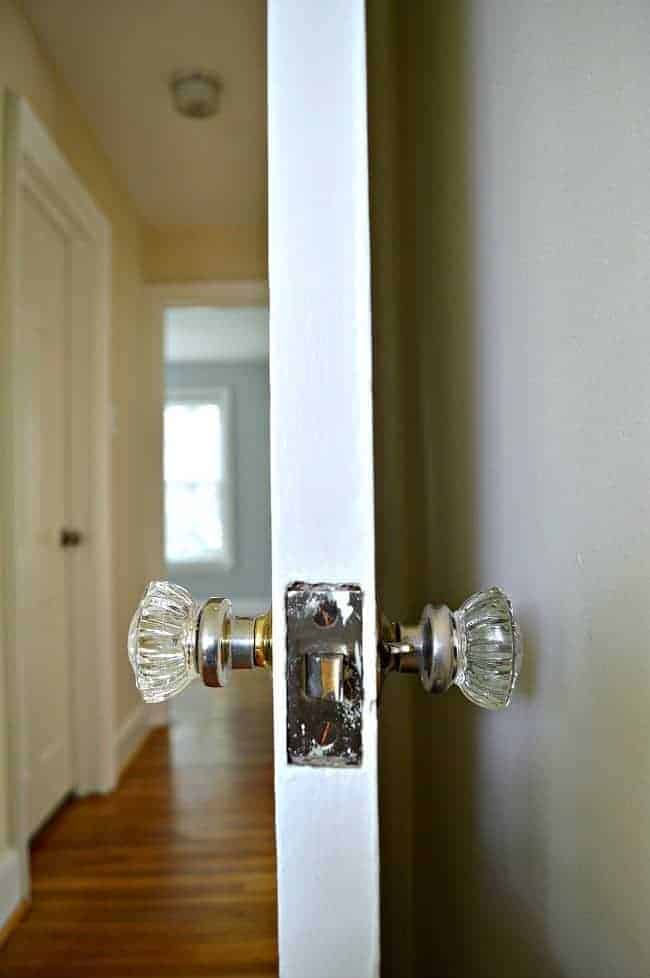 Our tiny hallway needs to be patched in several places and painted. A new light is also on the list.
This space seemed like something I could tackle right now so this is where I'm starting.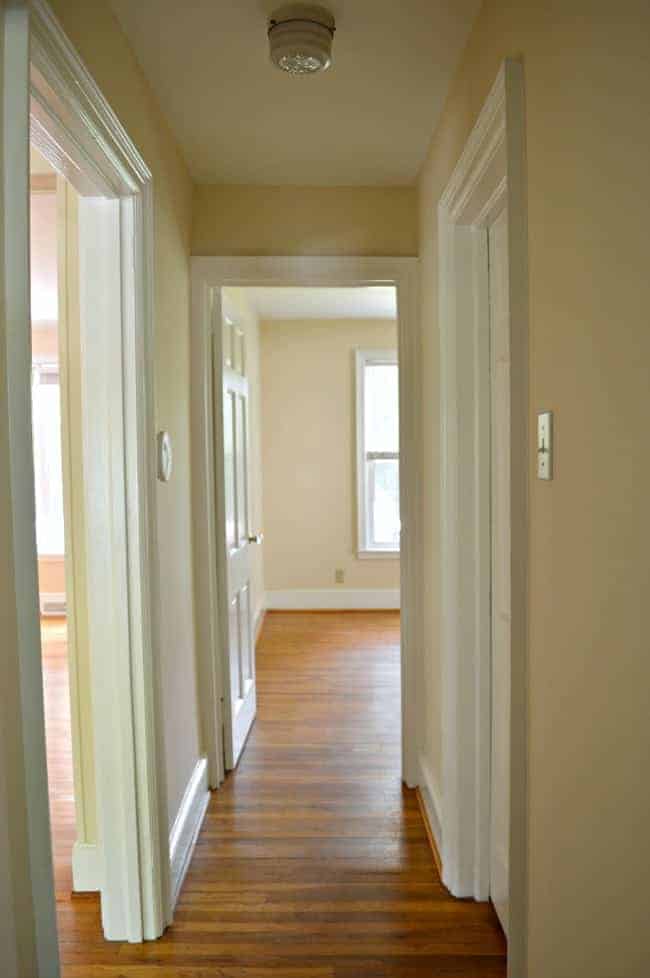 The bathroom will be completely redone…new tile, new vanity, new lighting, new mirror, some shelving and new paint. The vanity, mirror and lighting will be done soon, because the sink is awful, but the rest is not a priority.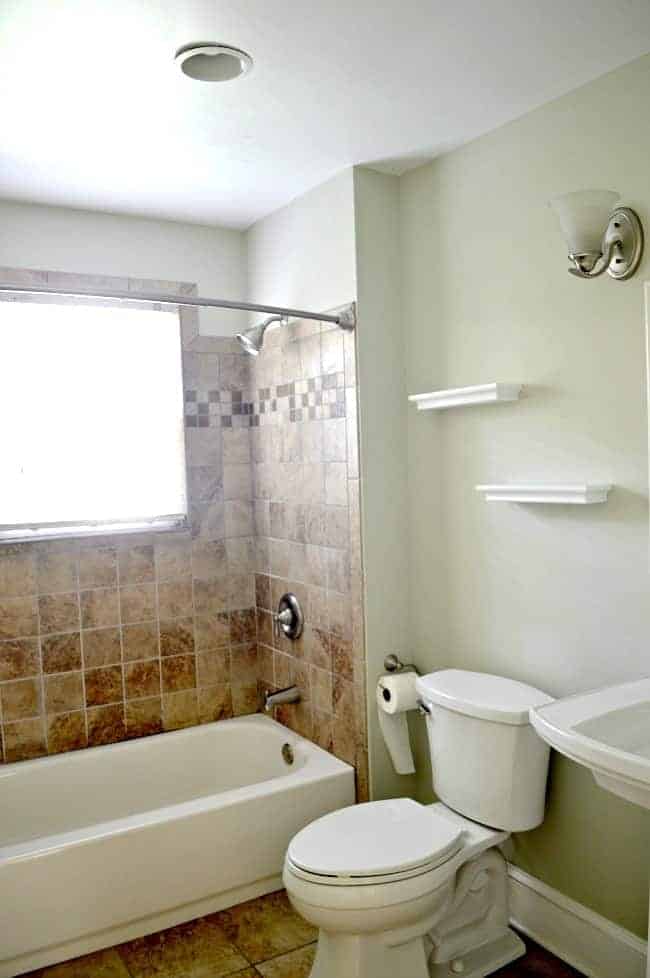 The living room will, of course, get new paint and a new beefier mantle that will hold our tv. We will replace the door that goes into the basement and the front door. I have been scouring thrift shops and ReStores looking for old doors (and I've accumulated quite the collection) and I'm hoping that the front door can get done sooner rather than later. We also need to create an entryway with coat hooks and shoe storage.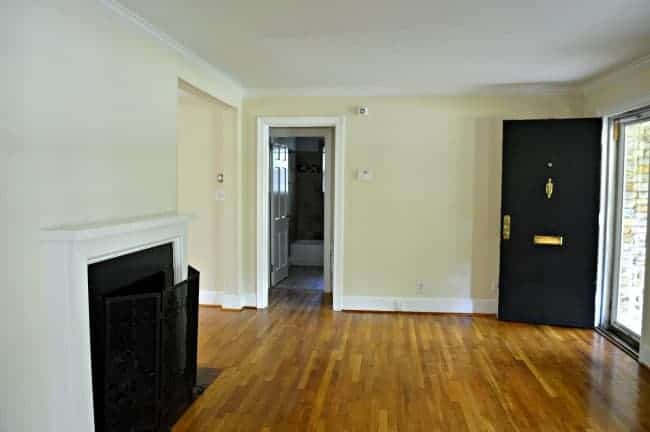 The dining area, which is connected to the kitchen, will get a new light (that I bought on our trip to the beach), new paint and a window treatment for the old casement window. Some former owner was crazy for ceiling hooks, and every room has at least one, so they all need to go and every ceiling will have to be patched and painted. Who said that owning a house isn't fun?!?
The kitchen will get a total remodel with new cabinets, countertops, flooring, sink lighting and appliances. Everything in this space is old and was never taken care of. The only thing that will stay in here is the island, but it will get a little makeover.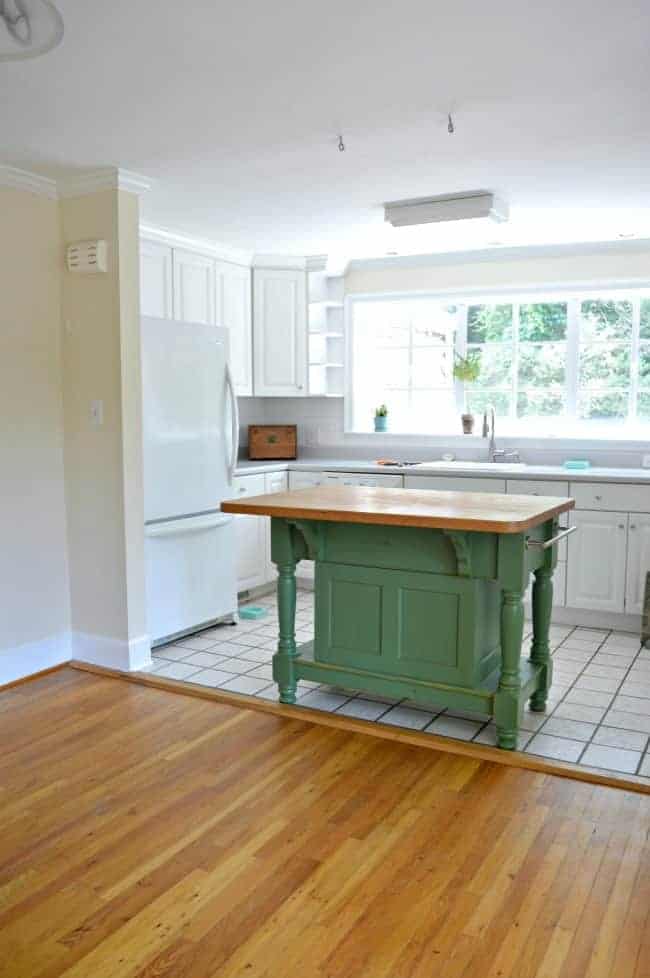 The sunroom, which was an addition on the house 10 years ago, will get a redo as well. The plan right now is to eventually turn this space into a bathroom, laundry room and mudroom. Things may change, of course, but we really need a second bathroom and this is the only space.
For now, it will get a good cleaning, new paint and all of the blinds will be removed. A new dutch door will also be hung, from my growing door collection. 😉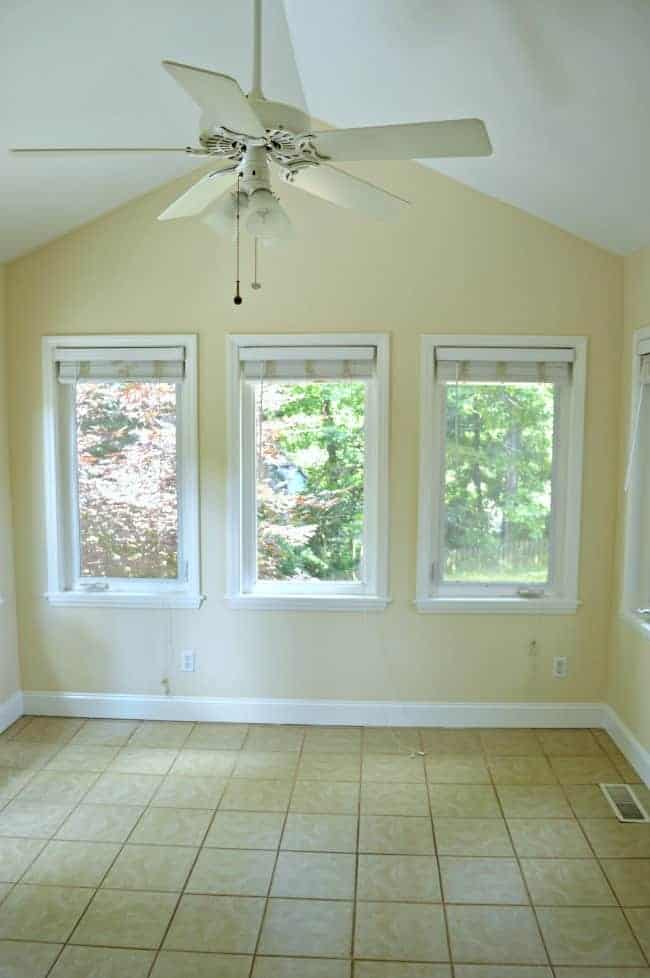 We also need to replace the oil burning furnace and 25-year-old air conditioner. Two huge projects, with big price tags, but we knew all of that coming into the house.
Phew, did you make it through? It's all a bit overwhelming but I try not to focus on the long list and just do what I can each day. That's all you can ask for, right? What about you…what projects have you worked on lately?
If you missed my last post and want to see the video of the new house, you can check it out you can check it out, here.