Tips for Buying a New Sofa
This post may contain affiliate links, please see our policy for details.
Tips for buying a new sofa or couch for your living or family room that will last years.
We recently bought a new sofa for our small living room and I wanted to share a few shopping and buying tips I've learned after making several bad sofa buys over the years.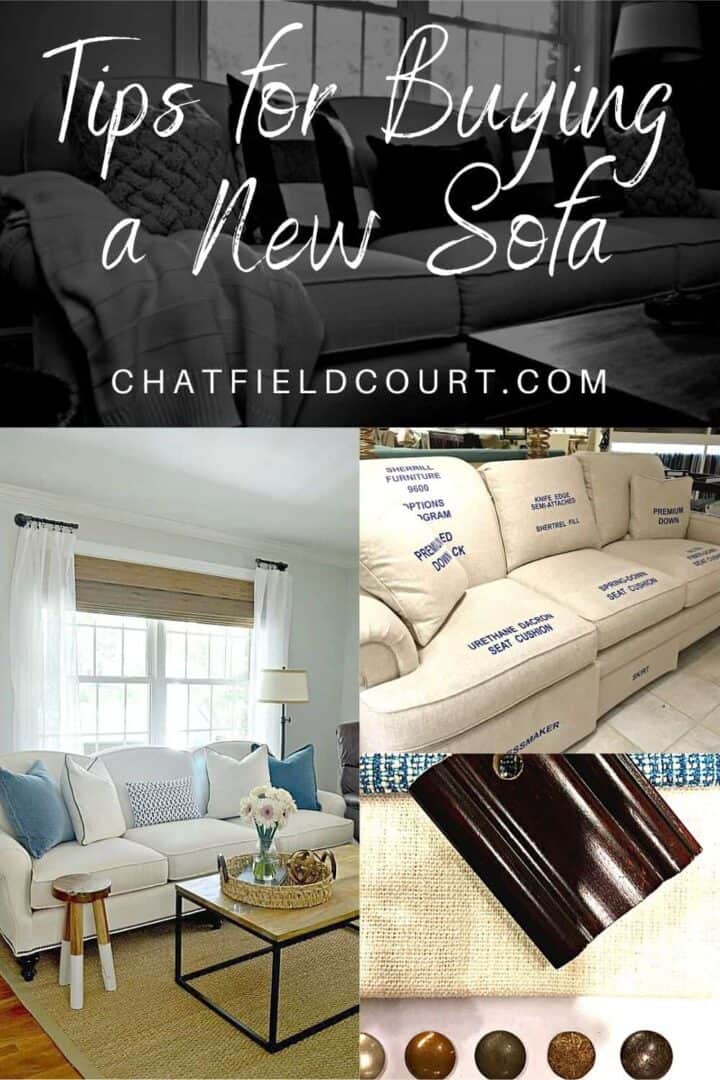 We never had any intention of buying a new sofa when we moved to North Carolina but once we moved into the new house and placed our furniture in our small, awkward living room, it became apparent that the sofa would have to go.
It was just too big for the space and partially blocked the doorway into the guest bedroom, plus there was no room for any other furniture (like the hubs' ugly recliner).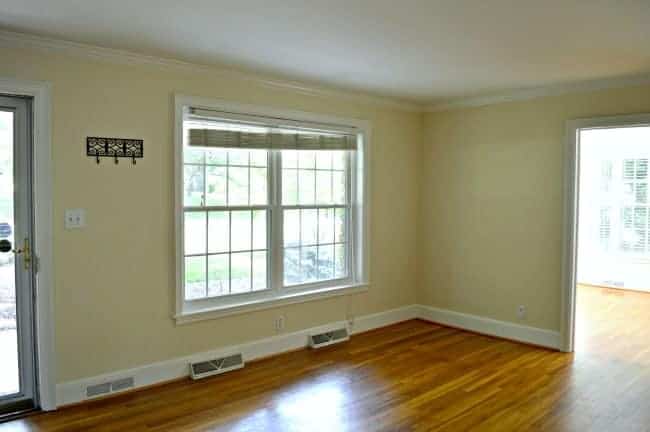 Anyway…
The sofa that we had, a sectional from Pottery Barn, was purchased about 13 years ago after a ton of research and comparison shopping.
I knew I wanted something that was built well and would stand the test of time and, although it was expensive, it's held up very well.
The only thing I ever really did was to fix the sagging couch cushions right before we moved to NC.
I'm so glad that I did it because it ended up being a great investment.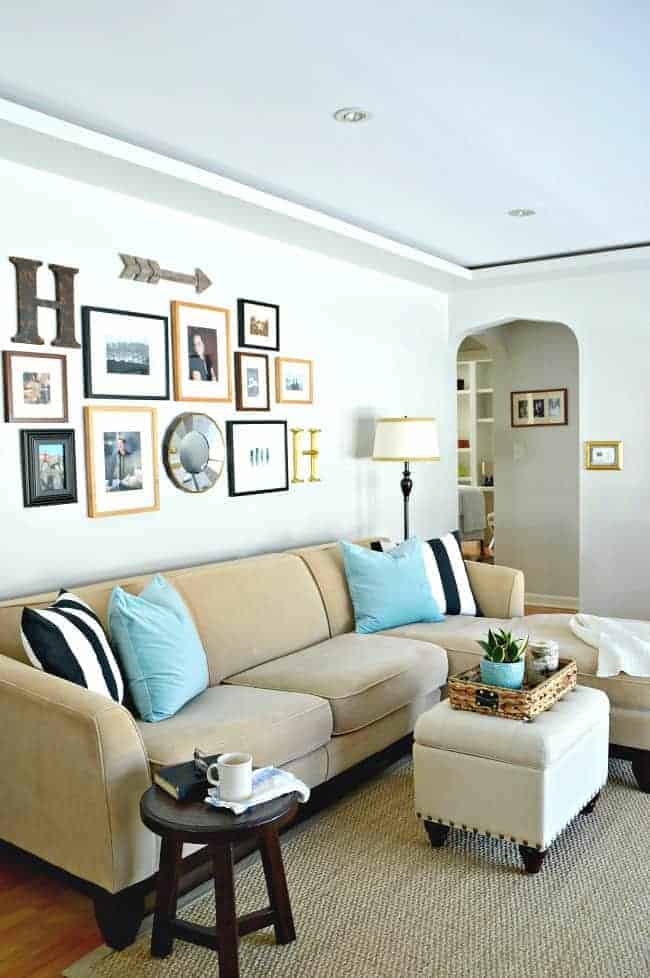 When it came time to look for a new couch for this house, I went back to the lessons I learned the first go-round.
I picked a great one last time so I was confident that I could do it again.
I'll admit it, I usually love to go shopping when I'm buying things for the house, but shopping for a new sofa isn't one of the things I get excited about.
I think it's because I know I'm spending a lot of money on something that I need to love for years and years, and it has to be done right the first time.
Ugh…so much pressure!
But I just took my time, carefully went down each item on my list, one at a time, and came out with a winner.
There are literally thousands of sofas available in all different styles and price ranges. My purchase was on the pricey side but I was going for quality and durability over the long haul.
My focus is on buying the best quality for our price range, whatever it is. Know what you are buying, buy what you can afford and buy it because you love it .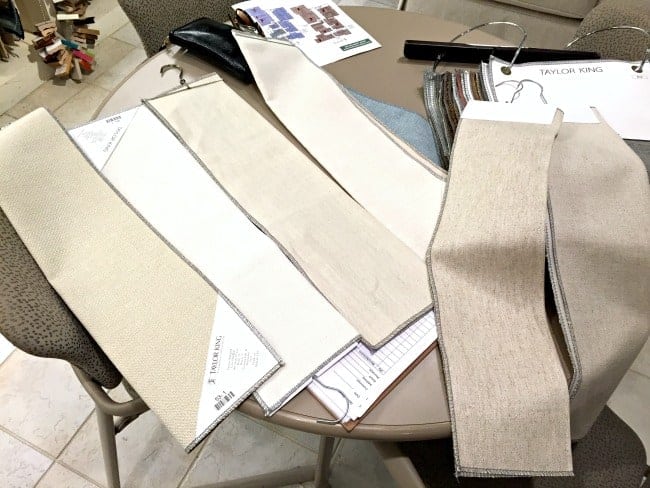 So what's on my list?
Before we get to that, there's a few things you need to do first, before you go to the store.
You should have some kind of idea what you want before you go shopping. Look online at a lot of different styles and fabrics to see what appeals to you.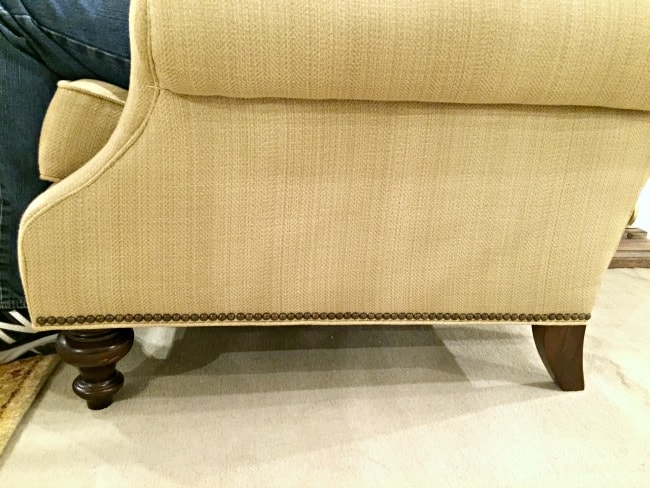 Measure, measure, measure!!!
Make sure you measure your room so you know exactly what size couch you need and how it will work with your existing furniture.
I even make a rough drawing of furniture placement so I know where everything will go.
Also, make sure you measure doorways and stairways so you know how much clearance you have.
You want to be able to get your new sofa into its new home, right?
Shopping for your new sofa
I'm lucky to live in North Carolina, where we have so many awesome furniture manufacturers.
I knew exactly where I was going to do my shopping…at the Hickory Furniture Market.
Oh.My.Goodness…talk about overwhelming.
There's so much to look at and you could easily get distracted by all of the lovelies, but we were only looking for one thing…a new sofa.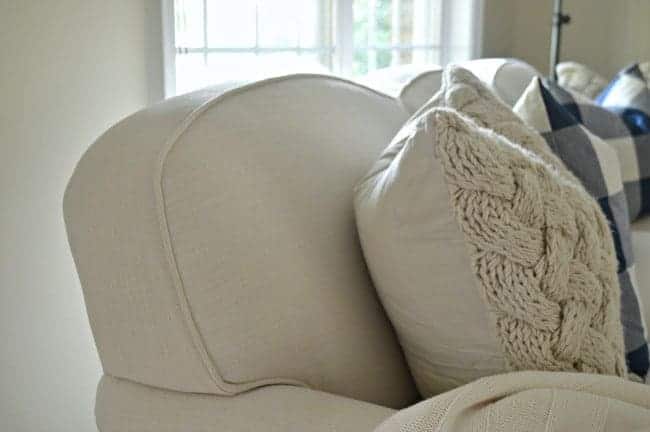 I usually walk around and do a quick inventory of sofas. I like to feel the fabrics, sit on sofas with shapes that appeal to me and narrow down my choices.
When I find a few that I like in my price range, and they are comfortable to sit and lay on (I sit and lay every which way when I sofa shop), I start to look at the way it's made…the construction.
What you should look for when buying a new couch…
The sofa should be heavy, as in, it feels heavy when you lift it.
The sofa frame should be made from a hard wood, like oak, birch or maple (that's what makes it so heavy). Soft woods, like pine, can warp.
Eight-way hand tied springs are considered best. There are machine tied springs that are considered good but I prefer eight-way hand tied.
Built-in legs tend to be stronger. Removable legs may be necessary if you need to get your sofa in a tight space but built-in legs are best.
Lift the cushions, check the quality of the decking, push on the springs.
Speaking of sofa cushions…pick them up. A heavy cushion usually means a quality foam was used, which is good. A lot of upper end sofas use down wraps around foam for comfort.
Consider your seat cushions. Should you have 1 long cushion? Two or three? I tend to go for three.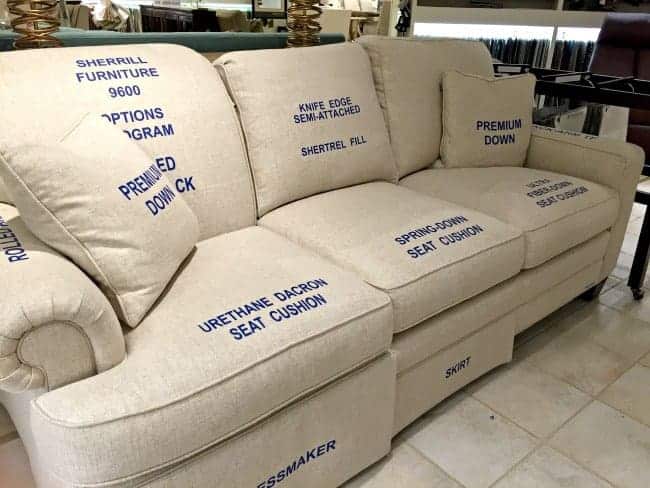 Do you want a skirt on your new sofa or open legs? I have a small space so I like to have open legs.
Also consider the arms and the back. Do you want loose cushions or a tight back. I've had loose cushions before and they drove me crazy. The constant fluffing and fixing was a real pain. My PB sofa had a tight back and I loved it, so I went with that again.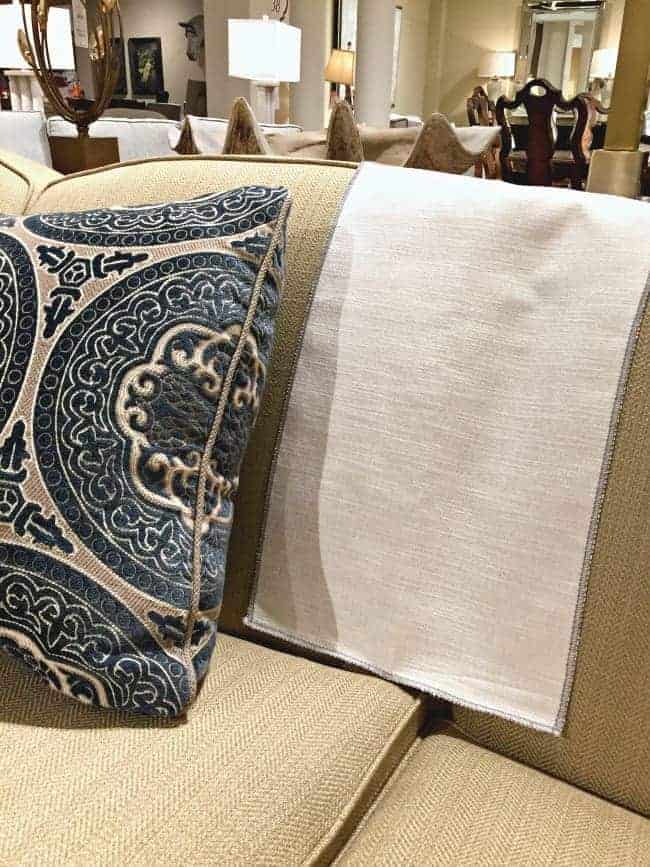 Once you've decided on shape, size and cushions, it's time to pick fabrics and finishes.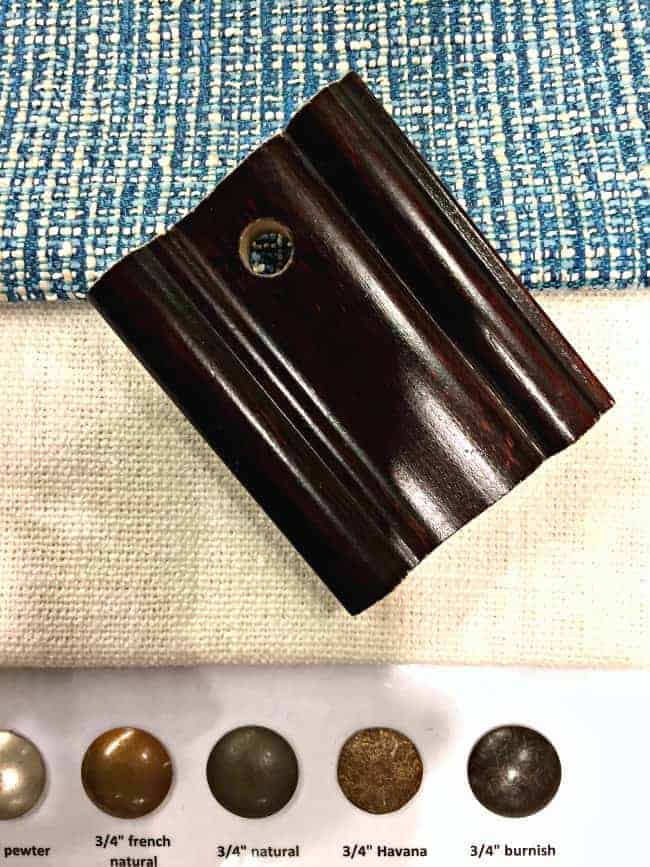 I've had a colorful, striped sofa before (does anyone remember when jewel tones were all the rage?) so I wanted to stay in the neutral family this time so that it would be in style for years to come.
I like to bring my color in to my room with throw pillows…lots of throw pillows.
It's really the easiest way change the look of your sofa, and your room.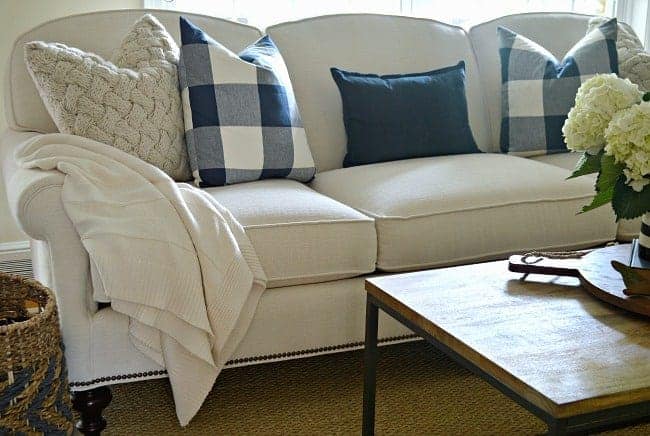 I think that picking out your fabric is the hardest part of this process.
Everyone has their own wants and needs but I tend to go for something durable, with a tighter weave.
A fabric that can easily be cleaned when the inevitable spill happens.
The PB sofa we bought years ago was supposed to have a durable fabric.
It was great, for the most part, but if something spilled on it, you could see where I wiped it up.
It didn't matter if I scrubbed, brushed or blotted, you could see the spot.
It's the reason I was so focused on getting a fabric that could withstand cleaning.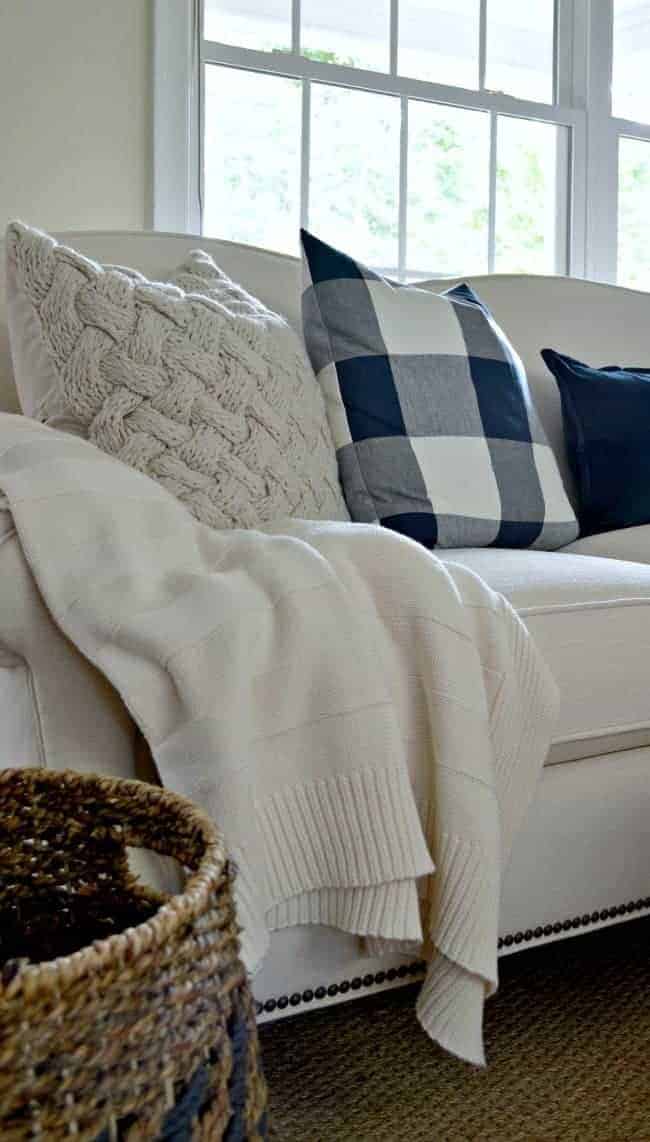 After comparison shopping, I ended up going with the Taylor King Holmes sofa and it seems to be excellent quality.
We also went ahead and purchased a warranty for spills on the fabric.
I don't usually buy a warranty but when you're spending a fair amount of money on a quality piece of furniture, it's a good idea.
I'll be sure to give an update to share how it's holding up.
This room is still a work in progress, but it's looking so much better than when we moved in, and there's more room for my other furniture (with the sectional out of the picture).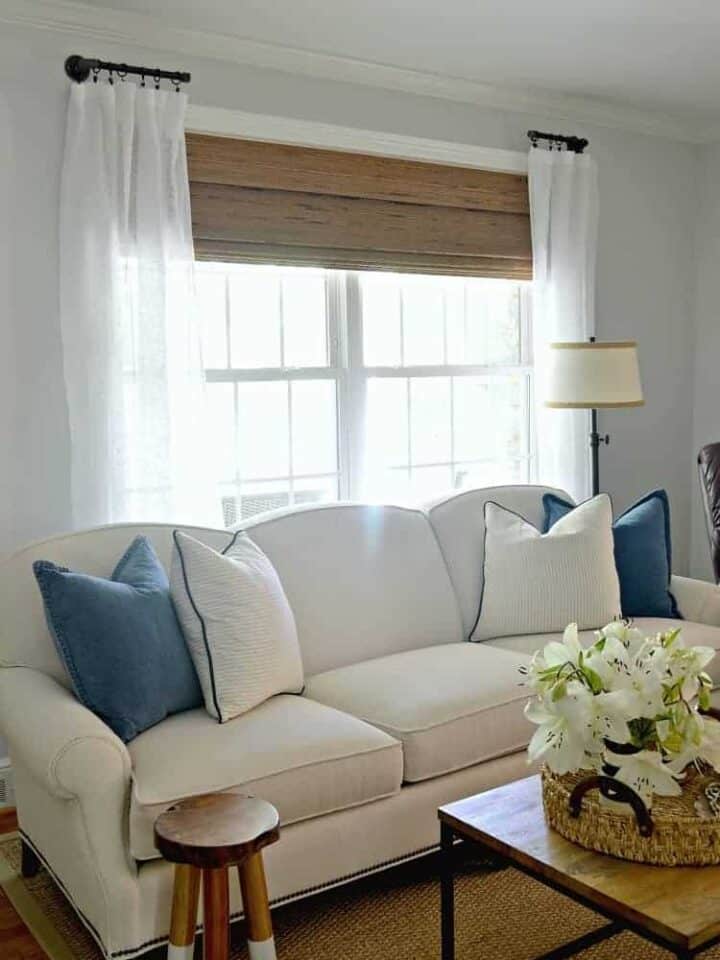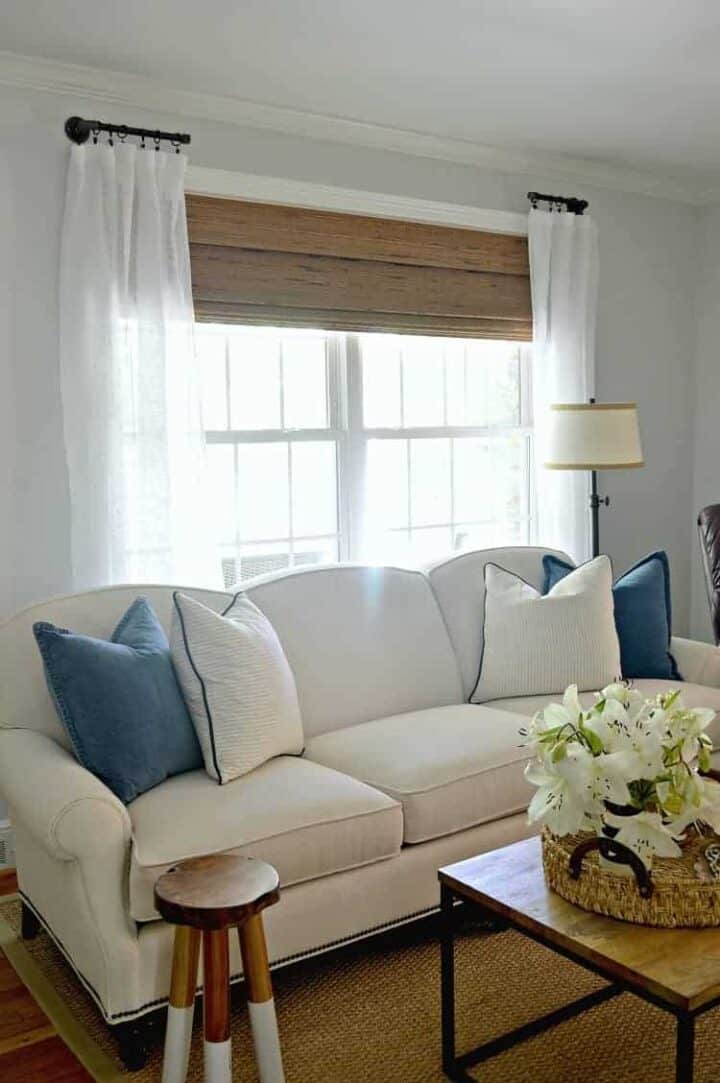 It's a big investment and you'll have it for a long time, so you have to love it.
Completely…no doubts…no reservations.
Any tips you've learned from buying a couch?
So you want to keep your old couch but it needs new cushions? Check out how to fix sagging couch cushions…the easy way.