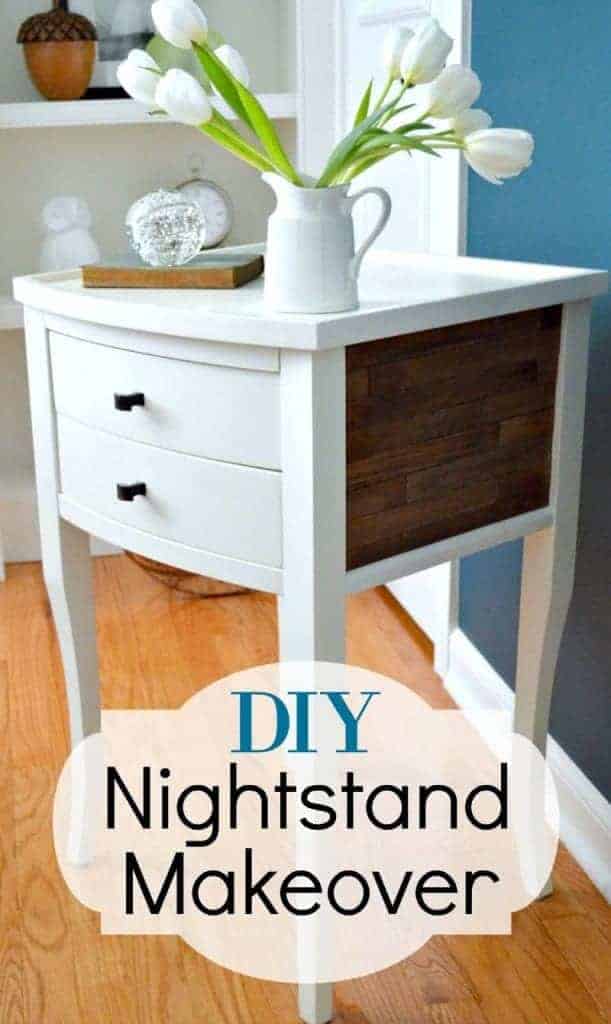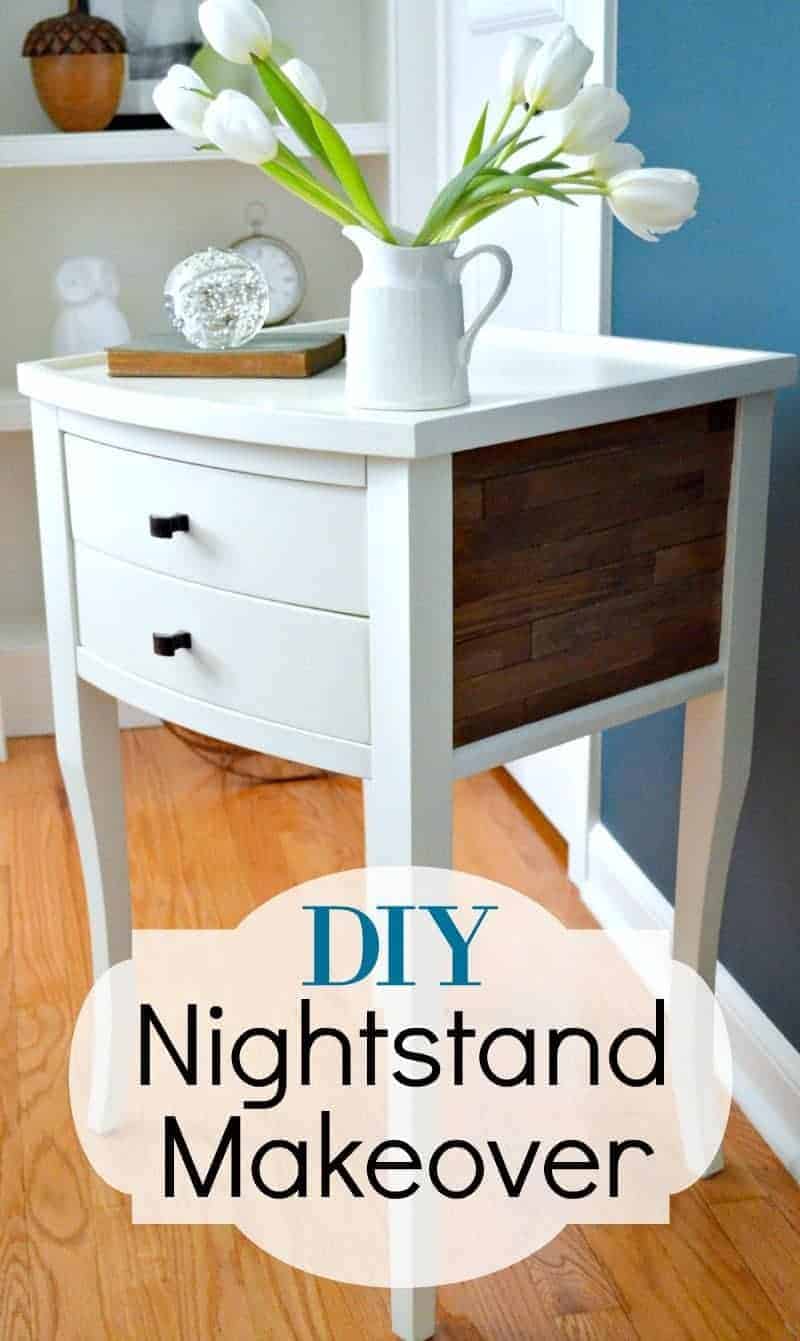 In January I shared the mood board for the guest room redo, which included a new nightstand from West Elm. After starting the redo and assessing my needs and wants for the room, I decided to stick with what I had and to try to give the old nightstand a new look.
*This post contains affiliate links.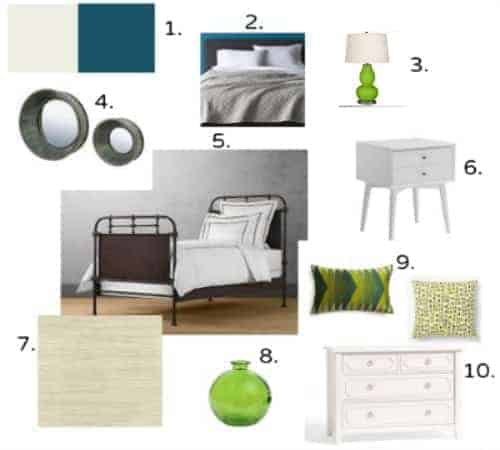 I bought this piece years ago. I don't remember where I bought it but I do know that I didn't spend a whole lot of money on it (and you could tell). Although it's made of wood there was a big gap on both sides, between the leg and the wood on the side, that I wanted to try to disguise with trim, but instead I came up with another idea.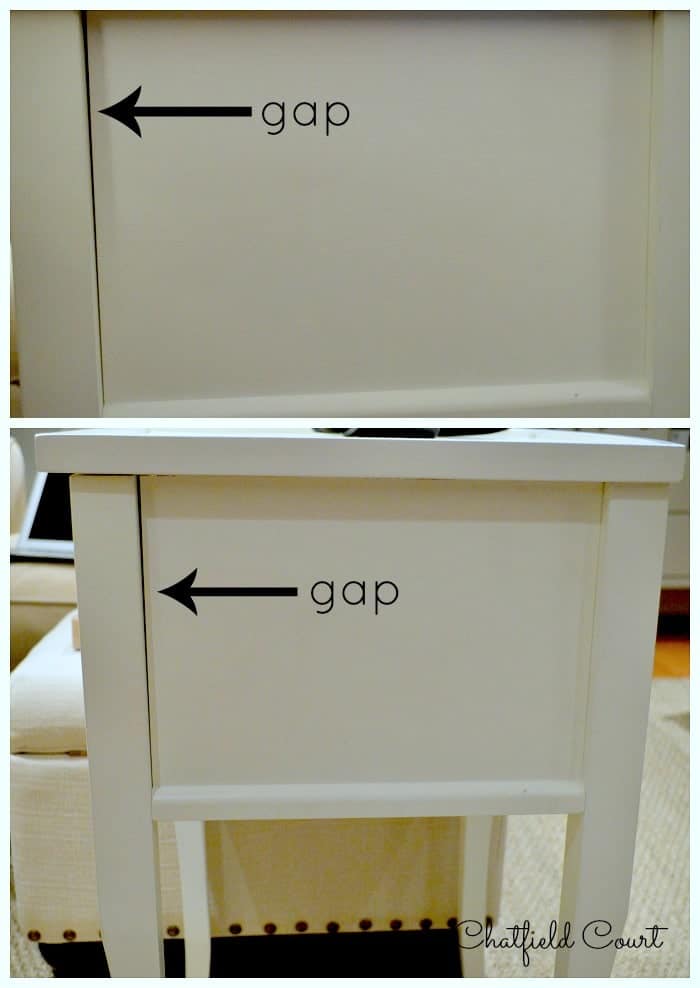 I decided to try to use paint sticks to give it a different look and to cover up the gaps by the legs. Because I love the look of rustic planked walls, I thought I would try that idea but on a much smaller scale (and on a piece of furniture). I figured that I had nothing to lose by trying and dove right in.
The supplies I used to complete this project were 25 paint sticks, a razor knife, sandpaper, dark walnut stain, and Elmer's wood glue.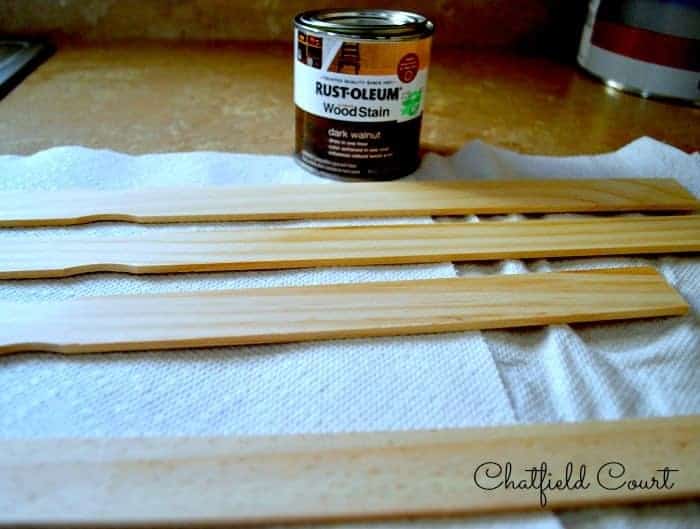 First, I laid a few of the paint sticks on the nightstand so I could see where the seams would lay and how I wanted them placed. Once I had an idea of what I wanted, I used the razor knife, to cut the notched handle off, so that I had straight pieces. Then I sanded all of the edges that were cut. Since one stick wasn't long enough to fill a whole row, I ended up using a small piece of another stick and staggering my seams to keep the rustic feel.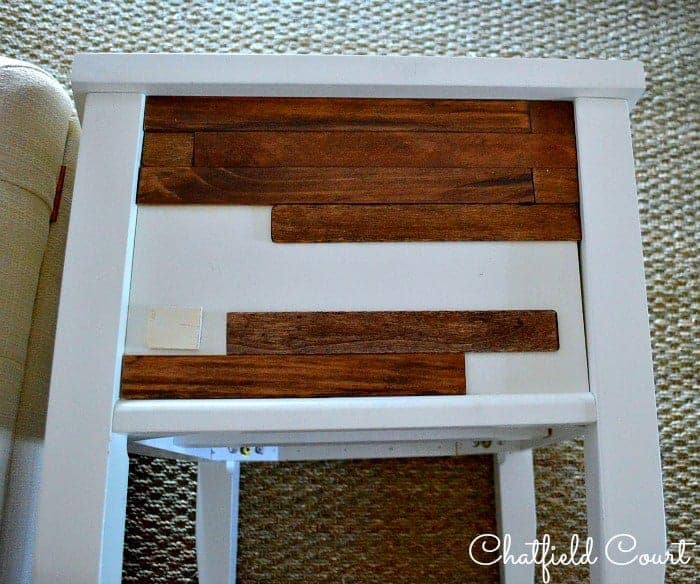 Once I got a few rows worked out, I used a paper towel to stain the top, sides and ends of each paint stick so that no raw wood was visible. I ended up with sticks from 3 different stores so they were made from 3 different kinds of wood and I really liked the variety that this gave me.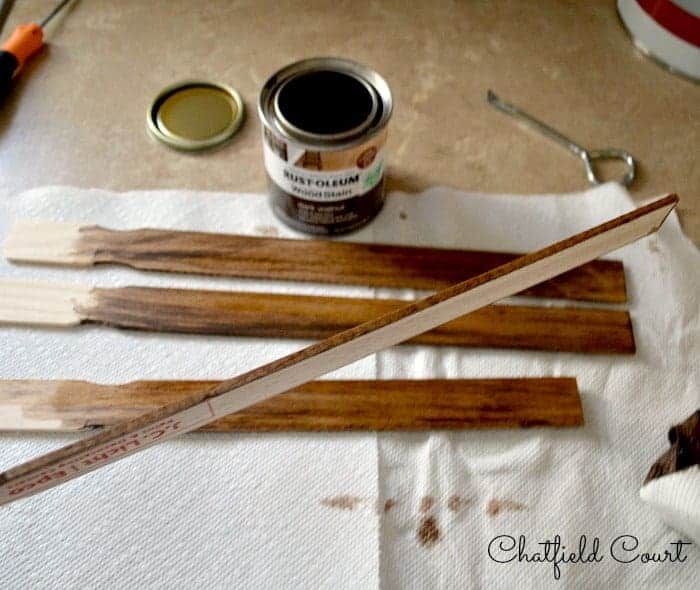 After they were dry, which didn't take long, I glued each piece to the side of the nightstand. To ensure that my sticks stuck, I ended up using a heavy weight and some canned beans to weigh them down until they dried. I would do a few rows, let them dry, do a few more, until one side was done. I flipped the nightstand over and followed the same procedure for other side. That's it. This project really was so easy but it did take me take me some time to complete because I had to let the glue dry before I could remove the weights and move on to the next row.
You can really see the difference in the wood in this pic. Plus the gap is gone!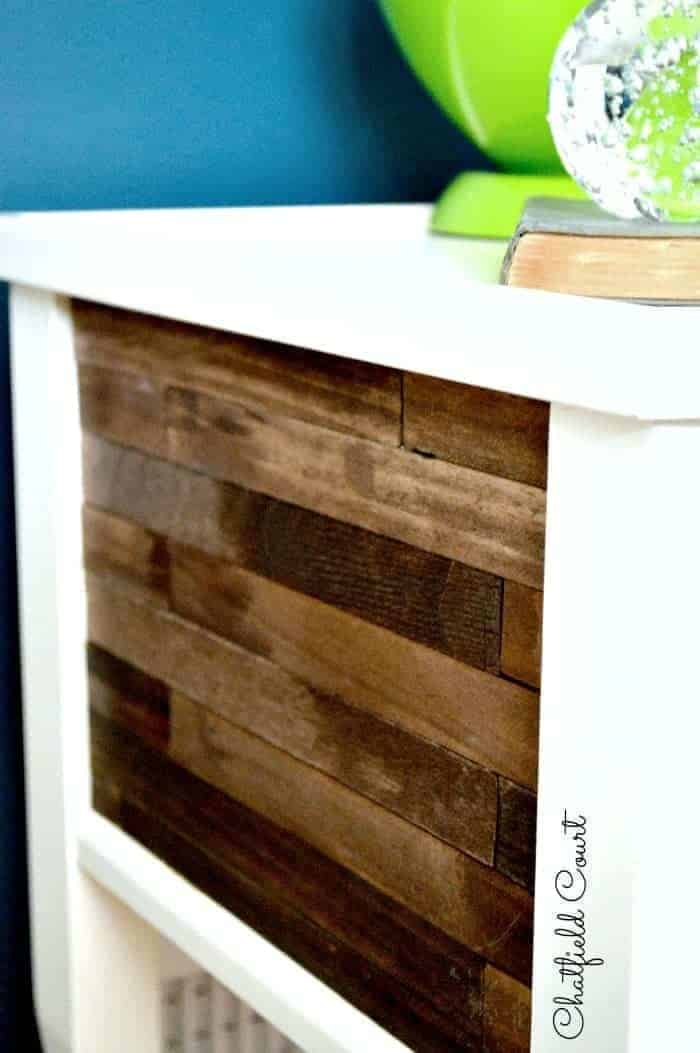 I also switched out the glass knobs with 2 oil rubbed bronze knobs that I had in my stash to bring the rustic look to the front of the nightstand.
So what do you think? Is this nightstand makeover something you would try? I like that it cost me nothing to do, since paint sticks are free and I already had the glue and the stain on hand, and now I have a "new" rustic-looking nightstand.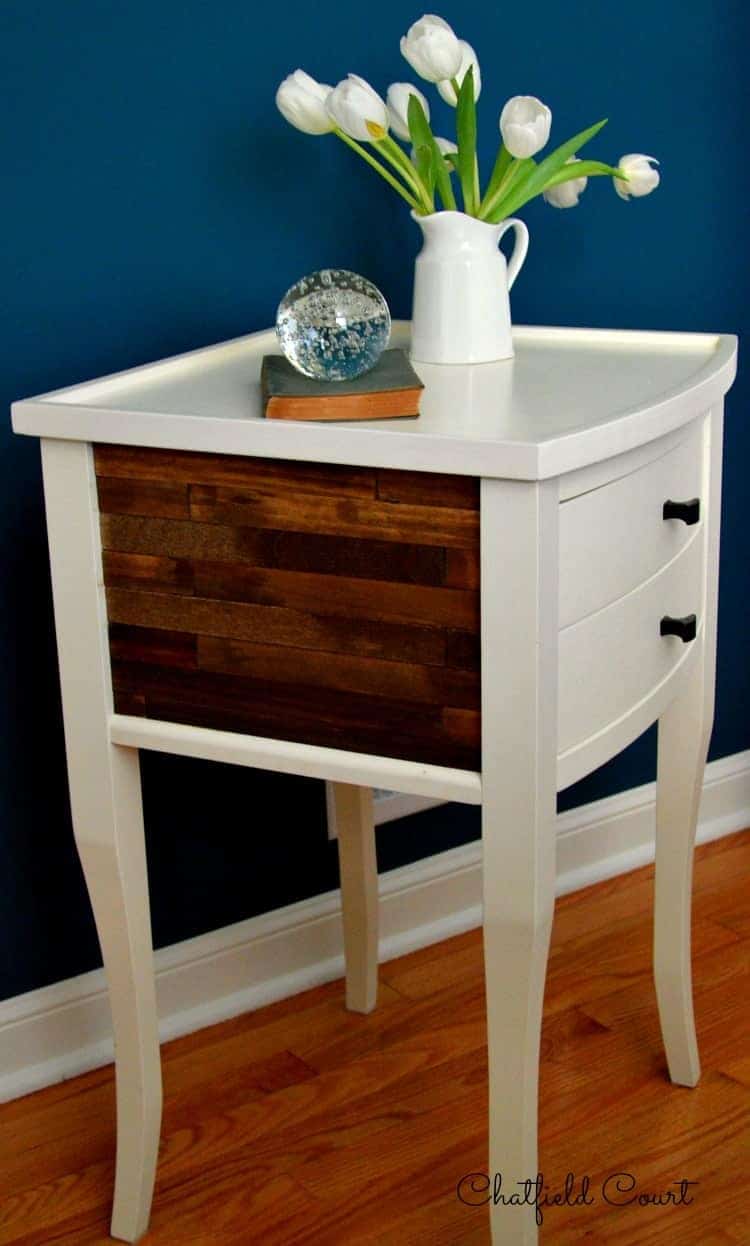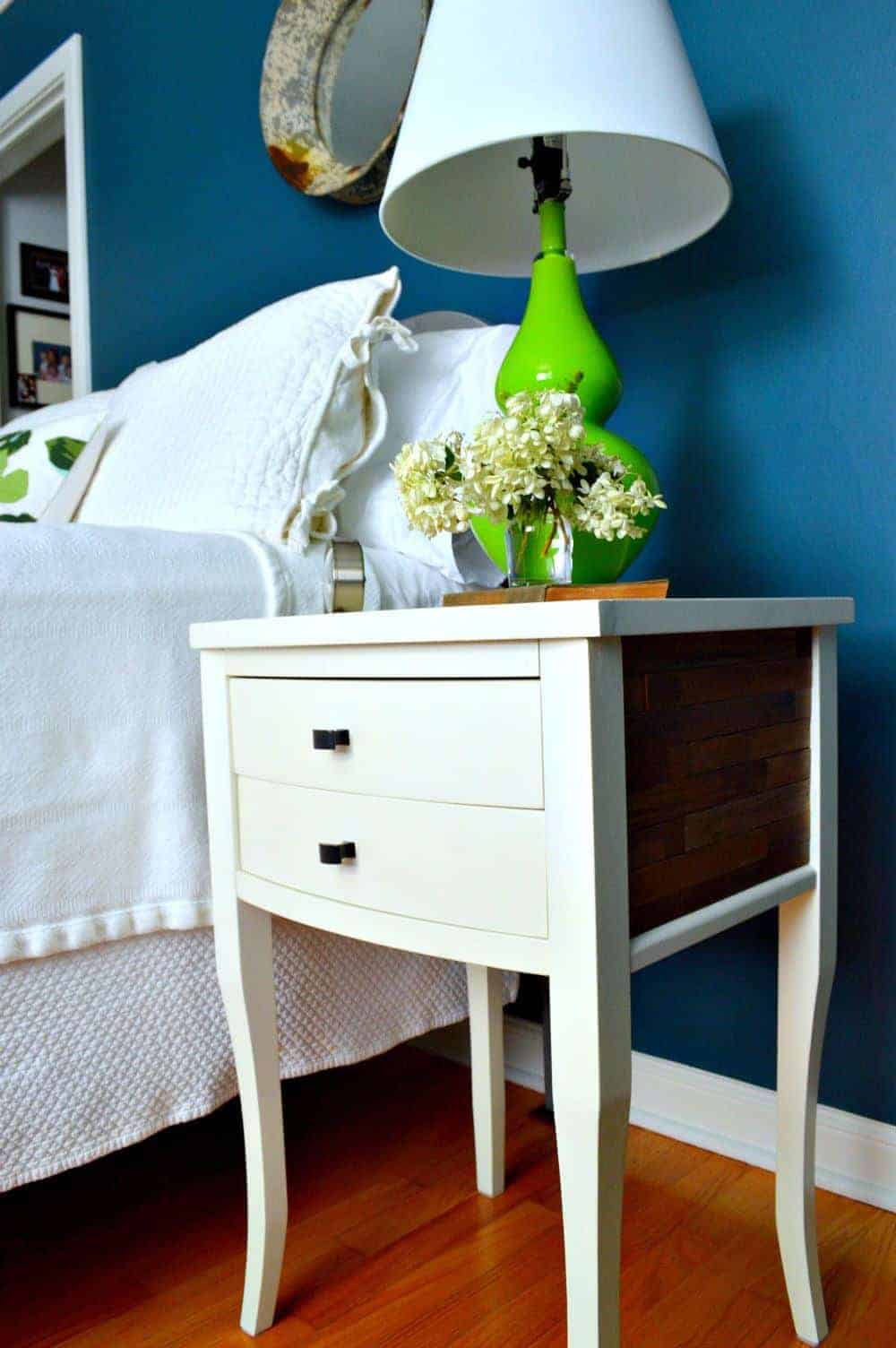 As always, thanks so much for stopping by!