Guest Bedroom Makeover Reveal
This post may contain affiliate links, please see our policy for details.
I can officially cross the guest bedroom off of the to do list because I am finally done…well 95 percent done. I have been busy caulking, sanding, painting and decorating and I am ready to share the results with you. I still have one wall that I'm not done with and I'm not sure what I'm going to do with it, but I'll figure it out sooner or later. 😉 Finding the right pieces to add to a room always takes time.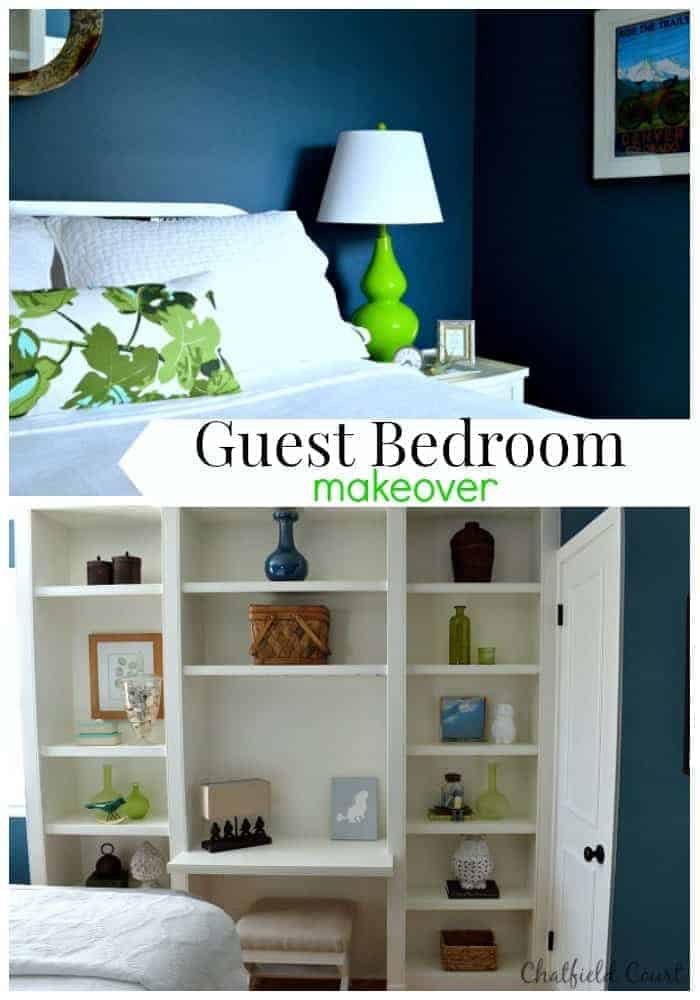 This room is one of the nicest in the whole house with a beautiful built-in bookcase, crown molding and great natural light. The negatives are that it doesn't have a ceiling light, it's on the (very) small side and there were some large holes and an ugly outlet in the middle of one of the walls. We weren't going to add a ceiling light right now and I can't do anything about the size, but we could fix the large holes and ugly outlet in the middle of the wall.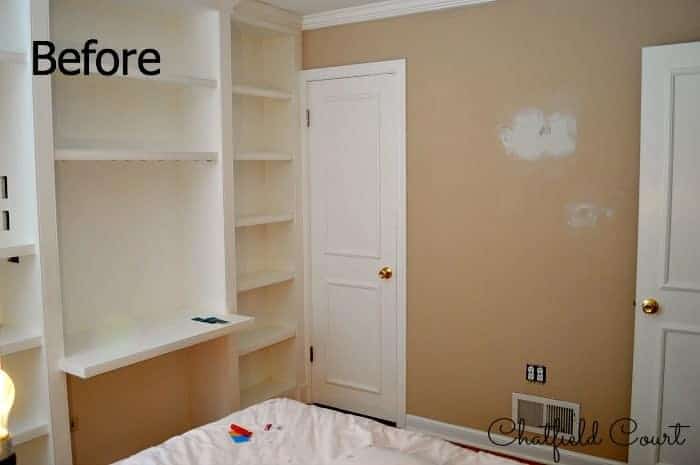 I started this room redo by making my very first mood board. The green lamp was my inspiration color and I knew that I wanted to try something different and go a little bold with the paint.
The first project I tackled was to remove all of the cracked caulk around the ceiling and the bookcase and to recaulk.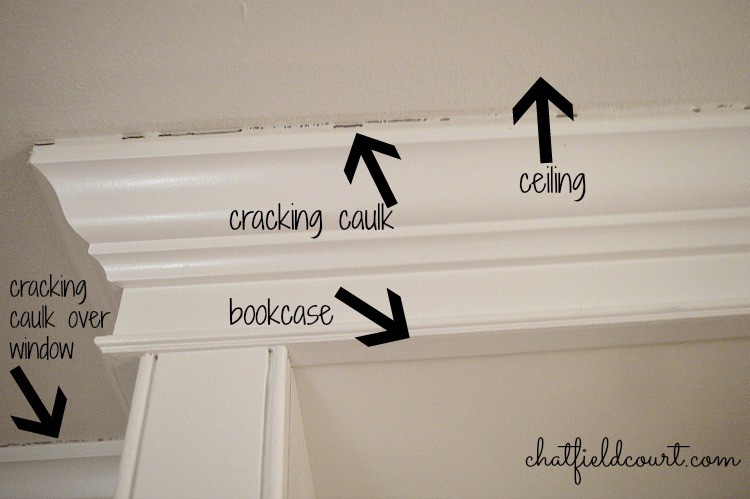 Next, the hubs worked on moving the electrical outlet for me and replacing the other faulty outlets.
After we finished patching the humongous holes in the wall, it was time to paint.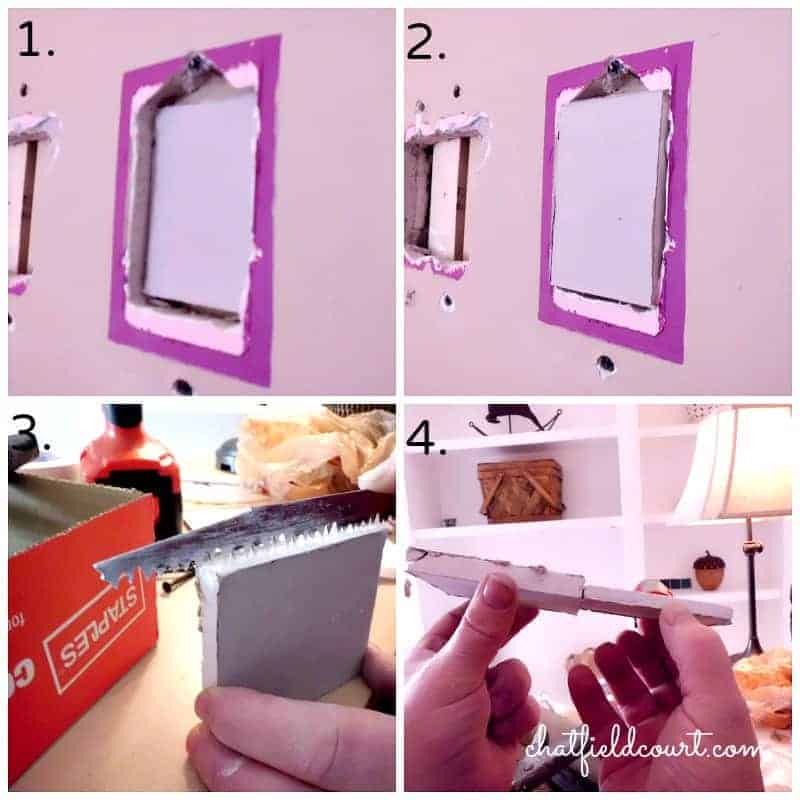 First I painted the ceiling and then it was onto the crown molding and the bookcase. Next came the good stuff…color on the walls, and I ended up choosing Martha Stewart Plumage, mixed in BM Regal. I almost chickened out going that dark and bold but I'm glad I didn't because I love it, the room gets a lot of light and there is a large white bookcase so it doesn't seem dark at all.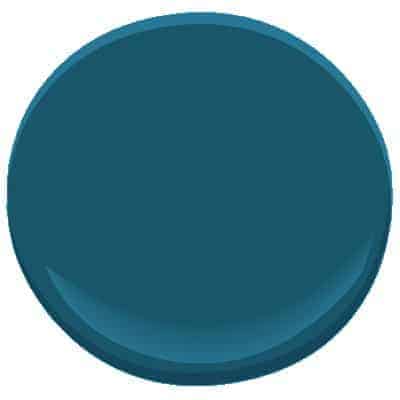 As far as furniture goes, I ended up using pieces that I already had. The antique iron bed was found 2 years ago at a flea market. We just cleaned it up and spray painted it silver but I may end up changing it.
I had a big dresser on the one wall that was going to be replaced with a smaller one but I'm not sure if I want to put anything there again. It's a small room and it's not an absolute necessity to have one so I'm undecided. I also gave the nightstand a much needed makeover, so there was no need to replace it.
Some simple, classic, white bed linens, fun accessories for the bookcase (still tweaking that), a mirror for the wall along with some vintage travel posters, and new hinges and door knobs.
Enough of my jabbering, I give you the guest bedroom reveal!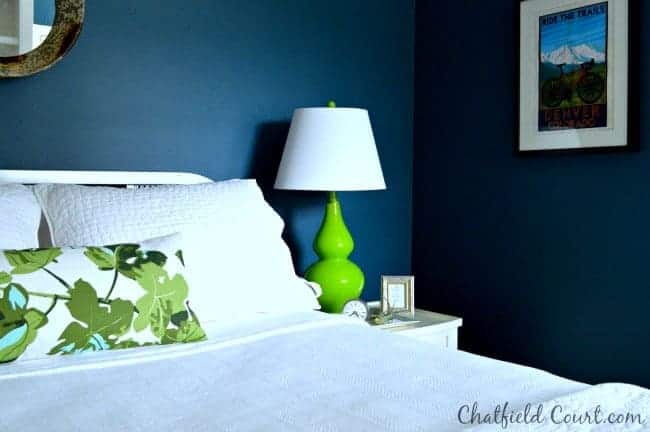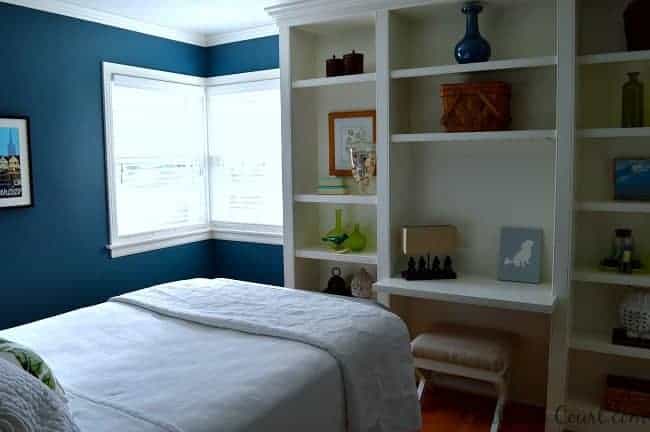 It was difficult for me to put up this picture because bookcase styling is not one of my strong suits so please be kind, I'm always still working on it. 😉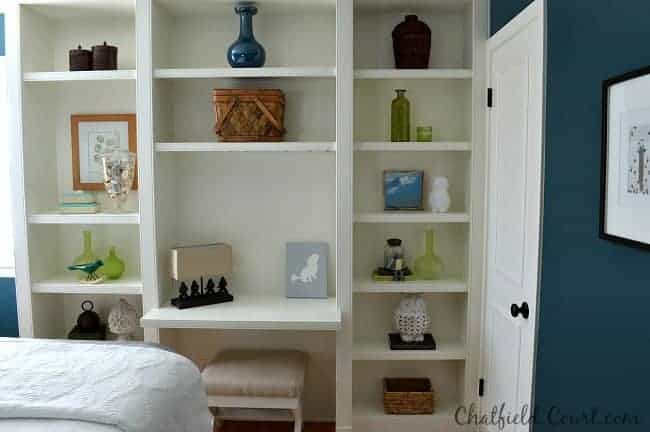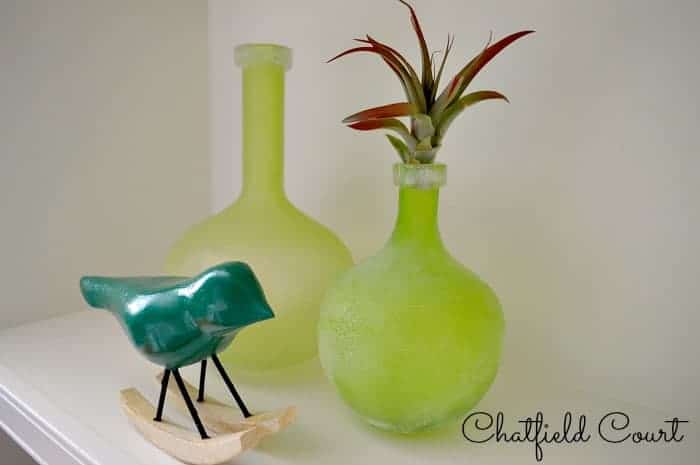 So what do you think of the dark color? Have you taken the plunge and painted a room a bold color when you weren't sure about it?
If you want to see more room reveals, you can check out our kitchen remodel and our sunroom makeover in our new cottage.
Thanks so much for reading!