Info on the Guest Bedroom Redo
This post may contain affiliate links, please see our policy for details.
Since my last post about the guest bedroom redo ran a little long, I thought I would do a separate post on the paint colors and sources. Just to recap this is where we started…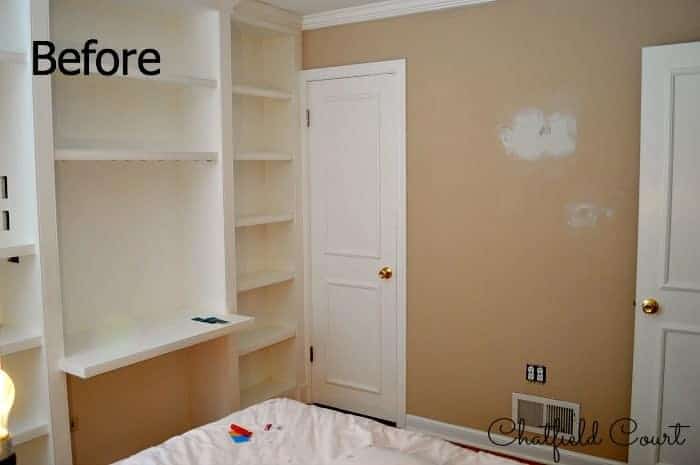 Holes in the wall, pinky beige paint, electrical outlets that needed work and a bookcase that was in dire need of a paint job.
This is the after…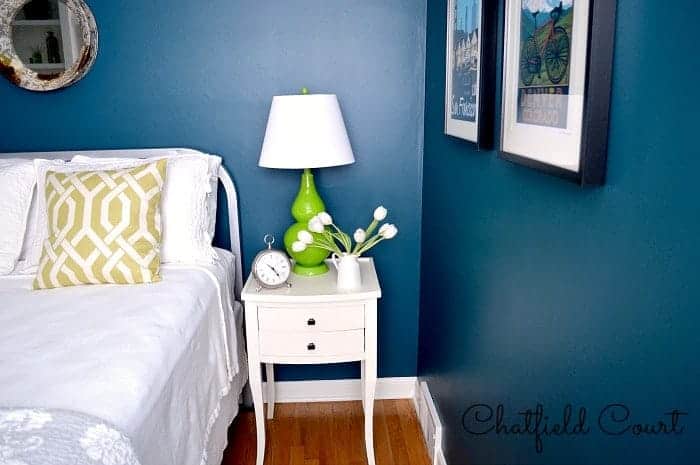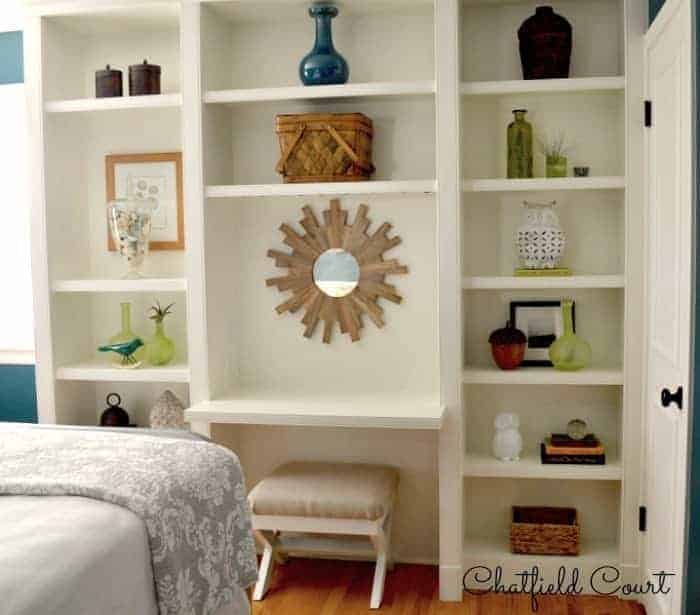 Ah the bookcase. As I stated in the last post, it was hard to share this pic because styling a bookcase is not my strong suit. As you can see, I only used a few books and I only add something if I really love it or if it has special meaning. For example, the glass vase on the second shelf on the left holds all the shells that we gathered as a family. Every Christmas Eve morning, when we lived in Florida, we would go to breakfast and then for a walk on the beach. All the shells we collected were then put in this jar. I still pick up a rock or shell whenever I go away with my family as a reminder of the time we spent together.
Here is my source list (I have no affiliation with any of these companies):
ceiling paint – Benjamin Moore White Dove in pearl finish
trim paint – BM White Dove Advance
wall paint – Martha Stewart Plumage (MSL163) mixed in BM Regal Select eggshell finish
window blinds – Blinds.com
antique iron bed – found at a flea market 2 years ago, painted silver
coverlet – HomeGoods (2 years ago)
shams – Pottery Barn
pillow covers – Etsy Pop O' Color
porthole mirror – Decade in Denver, CO (I got it when I was visiting my daughter)
vintage travel posters – I got the San Francisco one from Zazzle.com and the Denver one from AllPosters.com (my girls live in Denver and SF), Ribba frames from Ikea.
green lamp – my inspiration color, I bought this at HomeGoods a few years ago
nightstand – Target, a few years ago; redone with paint sticks by me
bench – I bought it at HomeGoods years ago and just painted and recovered it.
door knobs, hinges – oil rubbed bronze, Home Depot
bookcase accessories – some I've had for years, the rest from various sources..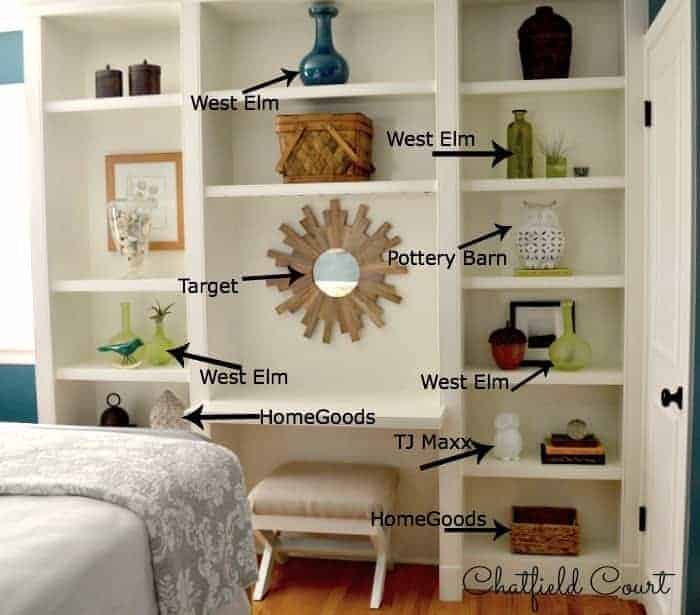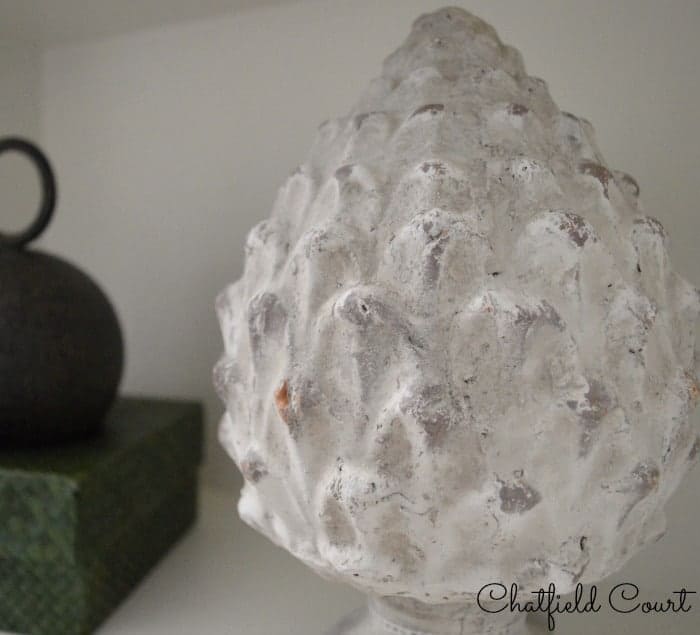 I bought a few air plants at West Elm (they are in the bookcase) and I love them. A touch of greenery and so easy to care for, once a week I just soak them in a large bowl of water for ten minutes then lay on towel to dry. So easy.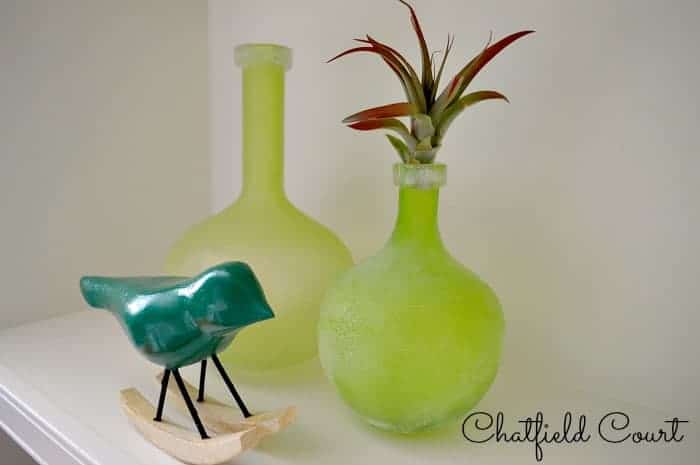 I still have one wall to decorate and I need to decide if I want to put a rug down, I haven't found anything I like yet and it may end up interfering with the closet and bedroom door. I also would like to find a lamp to put on the desk in the bookcase. If you have any questions about anything, just post it in the comments and I will answer it for you.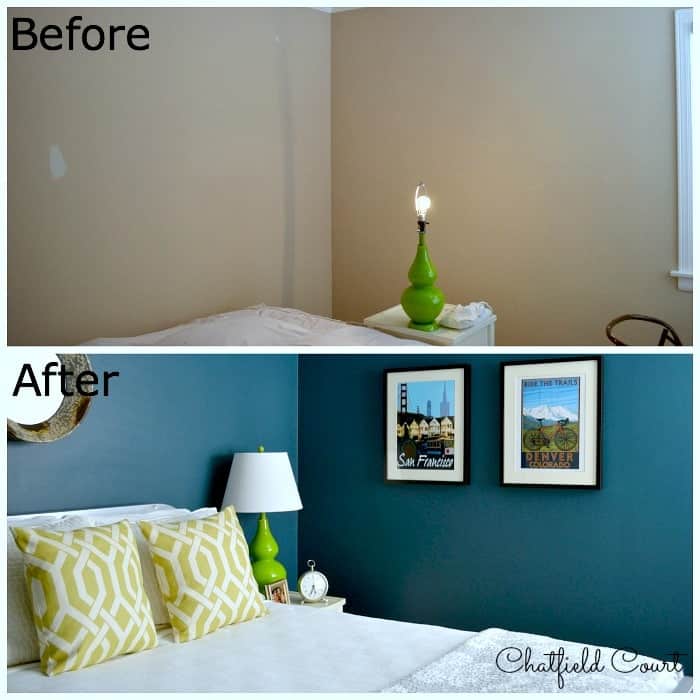 I'm on to the next room…my 2nd guest bedroom. I have some big issues to tackle involving a wall and water. Who said decorating isn't fun? 😉
What about you? Are you starting any new projects?
I am now on TWITTER. Come and check it out! You can also see me on FACEBOOK and PINTEREST.