Bathroom Redo Details and Space-Saving Ideas
*As an Amazon Associate and member of other affiliate programs, I earn from qualifying purchases.
If you read my last post, you saw that I have just finished the redo on my one and only, small bathroom.
I posted some before and after pictures, but I wanted to share some of the details, including some space-saving ideas I used.
Just to remind you, here's a before and after. You can read about painting the vanity here.
I painted all of the woodwork and the door with BM White Dove and I used BM Gray Owl on the walls and ceiling, which was not part of the original plan. There is a lot going on on this ceiling, with 5 can lights, an unused light box and a ceiling fan cover that was old and dingy, so I decided to use the Gray Owl to paint the light box cover and fan cover. I just sprayed some primer on them and then painted them out in Gray Owl. Now they just blend in with the ceiling and are a lot less noticeable.

There is a small niche with 3 shelves that was unfinished and had a curtain across it when we moved in. I removed the ugly shower curtain and installed some molding near the floor. With lots of caulk and some paint, it looks much better and it provides me with some much-needed storage space.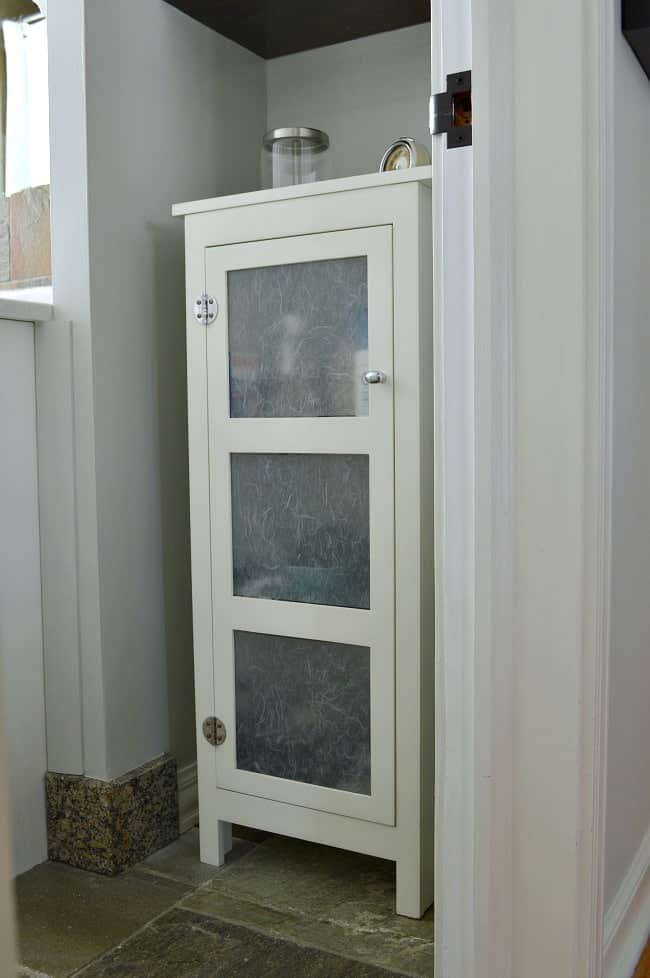 The shelves in the little niche are the only thing that didn't get touched by my paintbrush, but I did have to fix them up a little because there was a big, ugly hole in the underside of each of them.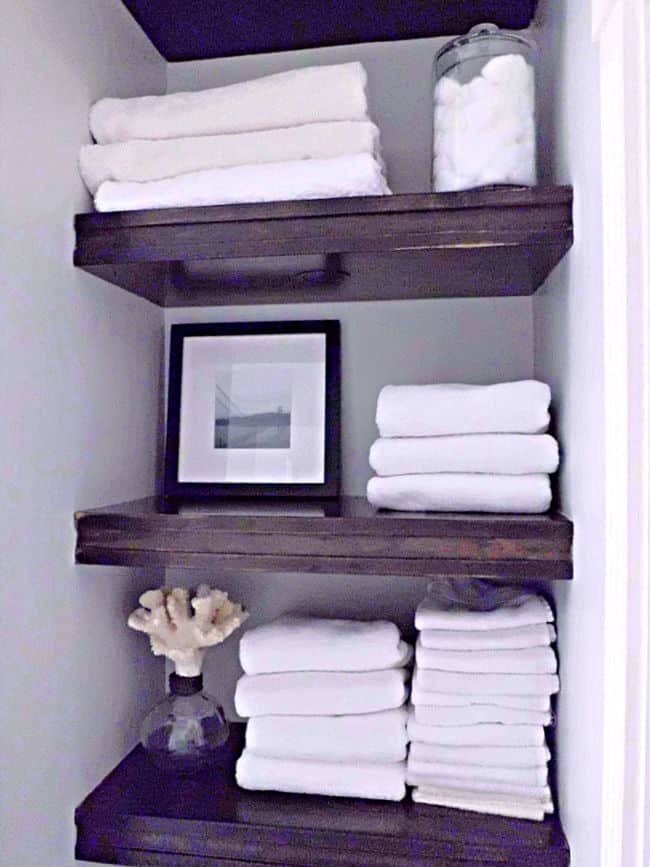 The previous owner must have been planning on using some lighting, we did find wires in the walls, but some of the wires were cut and it was just a mess, so I left the wires and I found these galvanized steel snap-in hole plugs that are used for electrical boxes.
I sanded them a little bit, and sprayed them with ORB spray paint. Now you can hardly notice that there were gaping holes in the wood.

Space Saving Ideas
Space…we all need some extra space and because there is very limited space in this bathroom, I had to come up with a solution to store extra toilet paper.
I didn't want it out in the open, so I figured a way to hang it in the vanity.
Inside the cabinet, there is some extra space between the sink and the bottom shelf, so I came up with the idea to put a board across the side so that I could attach 3 door stoppers, that I bought at Home Depot, to it (you know the things you use to keep a door from hitting the wall?).
I just used caulk to attach a piece of extra wood I already had in place, and screwed in the door stoppers. They are long enough that it holds a roll of toilet paper and they are out of the way so you can just reach in and grab one.
It's an effective, easy and cheap (less than $4 for the stoppers) storage solution.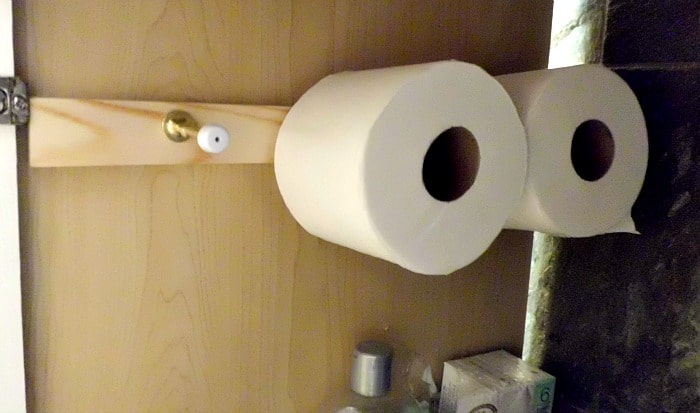 The next space-saving trick was to put a magnetic strip in my top drawer for my hair pins and barrettes.
I bought a small roll at Hobby Lobby and used some silicone to keep it adhered to the inside of the drawer. Now they are within easy reach and I don't have to fish around the drawer to find one.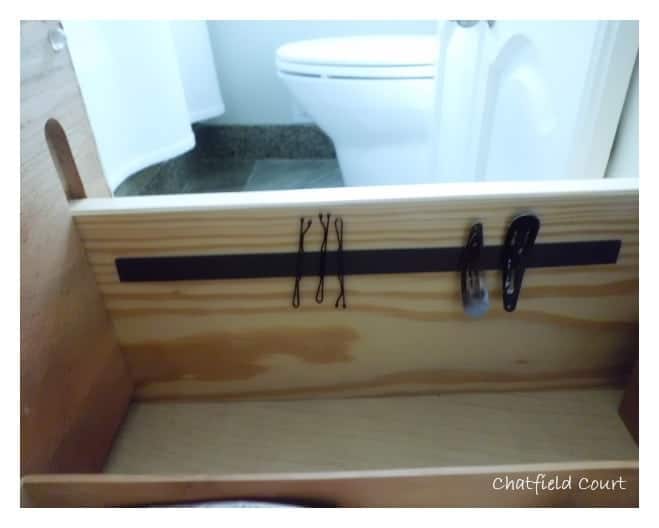 So, that's it for bathroom redo.
I'm ready, and I'm sure you are too, to move onto something else. In total, I ended up spending just under $250 for everything…paint, primer, caulk, door knob and hinges, cabinet knobs, a new window blind and molding.
Not too bad. Although there is more that we want to do in here, like removing the slate by the vanity, getting a new, taller vanity, and even making the room bigger, I am done in here for a long while.
We have also talked about putting a bathroom down in the basement at some point but we've only been in the house for 3 months, so we're in no hurry.
This bathroom now feels more like it's our style and I am excited to get to the other rooms to do the same. Thanks for sticking with me through all of my bathroom posts.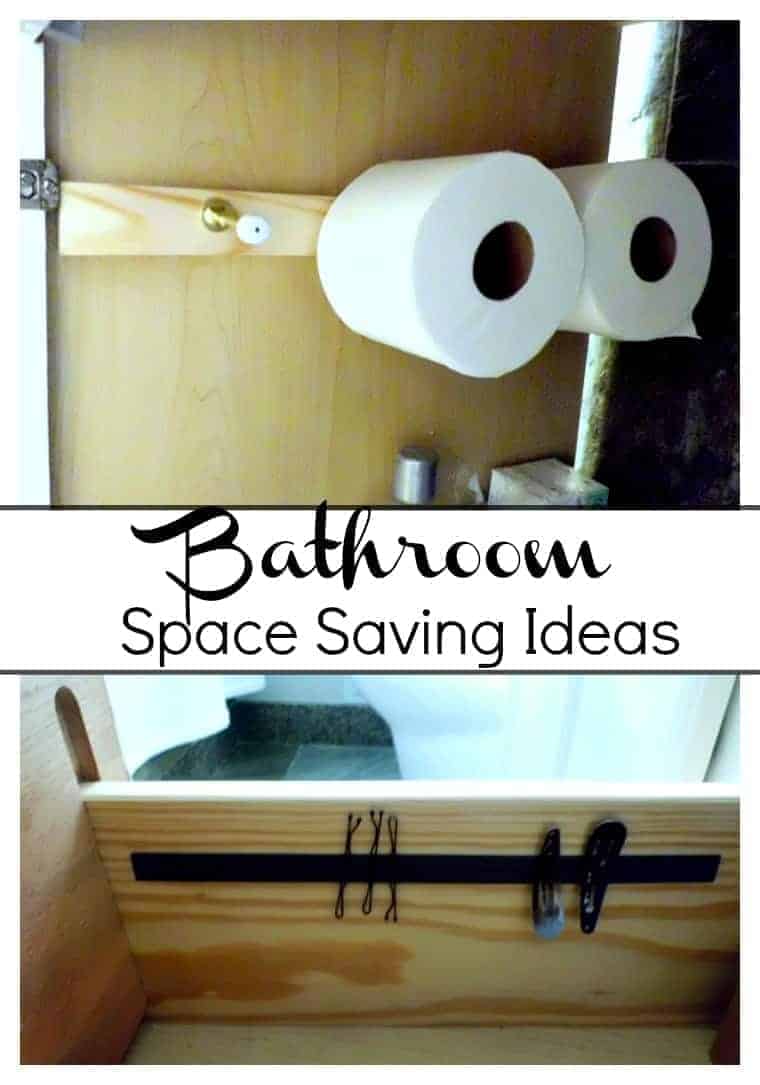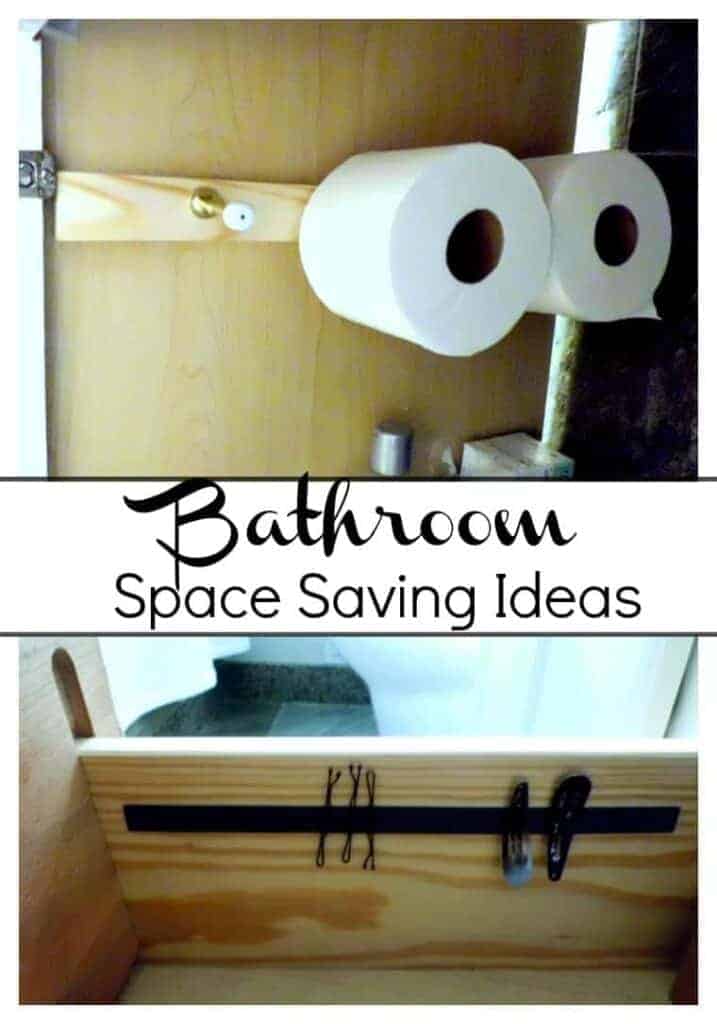 Do you have any space-saving ideas? I could use them because I have other small rooms to deal with…umm, can you say kitchen?
Please follow what I'm up to on Pinterest, Facebook, and Instagram.
Have a great day!