Christmas Decor Ideas: Red in the Sunroom
*As an Amazon Associate and member of other affiliate programs, I earn from qualifying purchases.
Christmas decor ideas for a small cottage sunroom with red and a touch of navy.
Our cottage sunroom has become one of my favorite rooms to decorate for the holidays.
We don't have a lot of room for holiday decor so I have to carefully choose how I want to decorate it every year.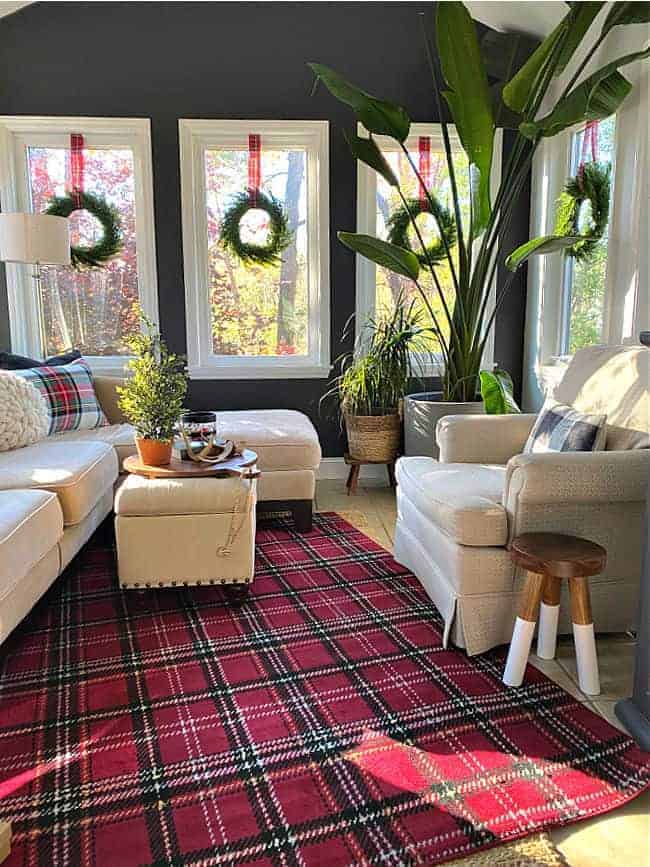 ---
I don't do a lot of holiday home tours anymore but Carrie's. Lovely Etc., is one of my favorites.
Today I'm joining her and some of my blogger friends for the Very Merry Christmas Home Tour.
Make sure you check out all of the amazing holiday home decor inspiration at the end of the post.
---
Sooo…
After a lot of stops and starts while decorating this small space, this year turned out to be a red Christmas year…with a little touch of navy.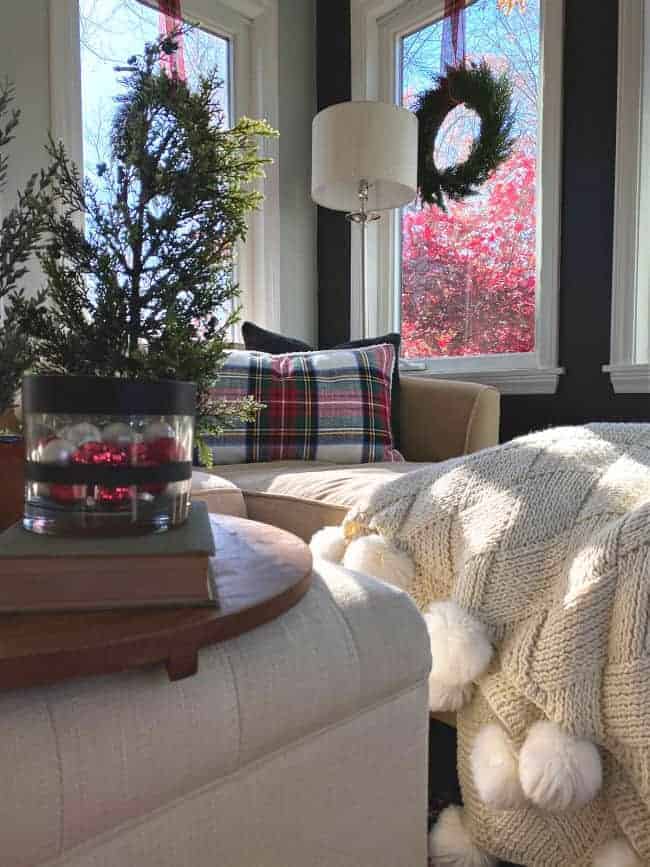 I've never paired red and navy together for my Christmas colors but I have to say that I really love it!
So different from my usual holiday decor…so fun and fresh.
I'll definitely be using this color combo again.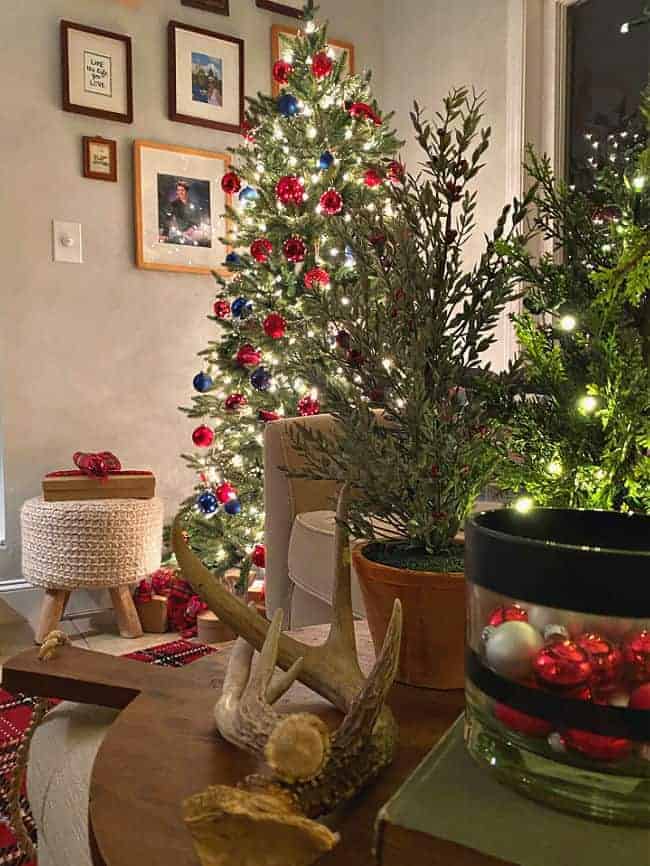 I usually plan out my colors and decor weeks, even months, in advance but I was totally winging it in the sunroom this year.
For a while there I wasn't even going to decorate the sunroom at all.
I brought the tree up from the basement but found out quickly that most of the lights didn't work.
After working on it for hours I was ready to give up and pack it all in.
Instead I walked away and left it for a few days.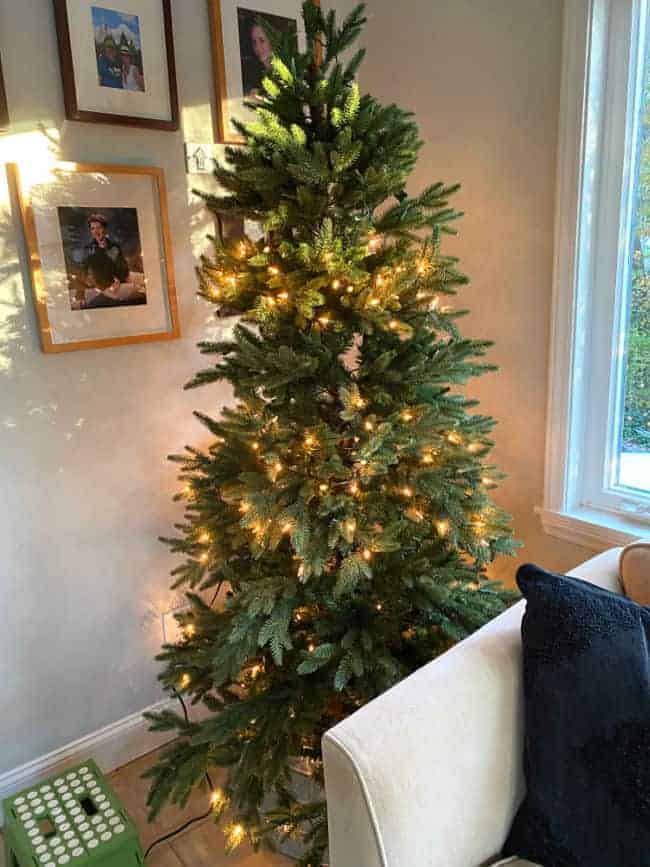 In the end I abandoned the burnt out lights, strung a couple strands of new lights on the tree and pulled out the box of red ornaments.
I was liking the red but I thought the tree needed a little something different.
There were a few navy ornaments left over from our main tree in the dining room so I mixed them in.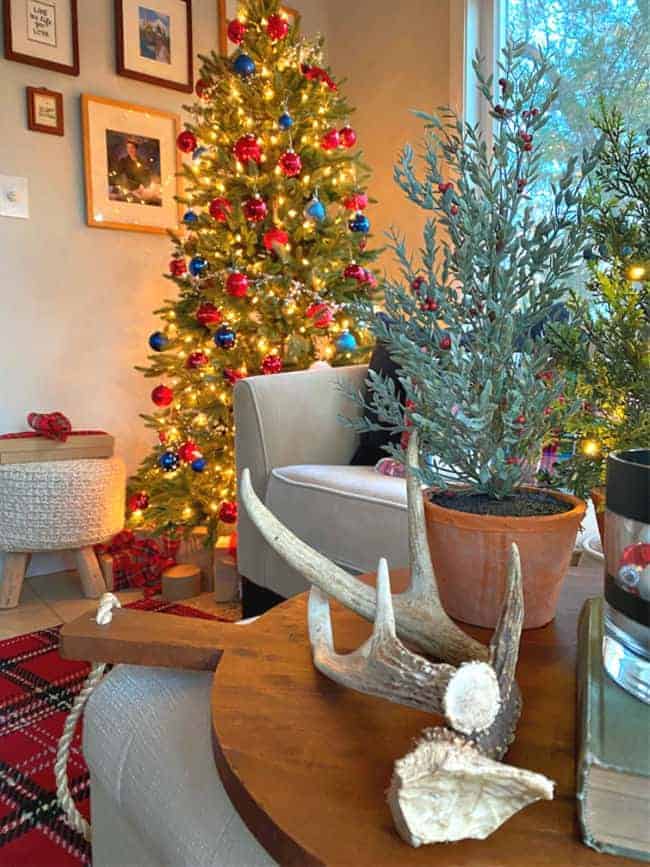 I love the richness of the red and navy.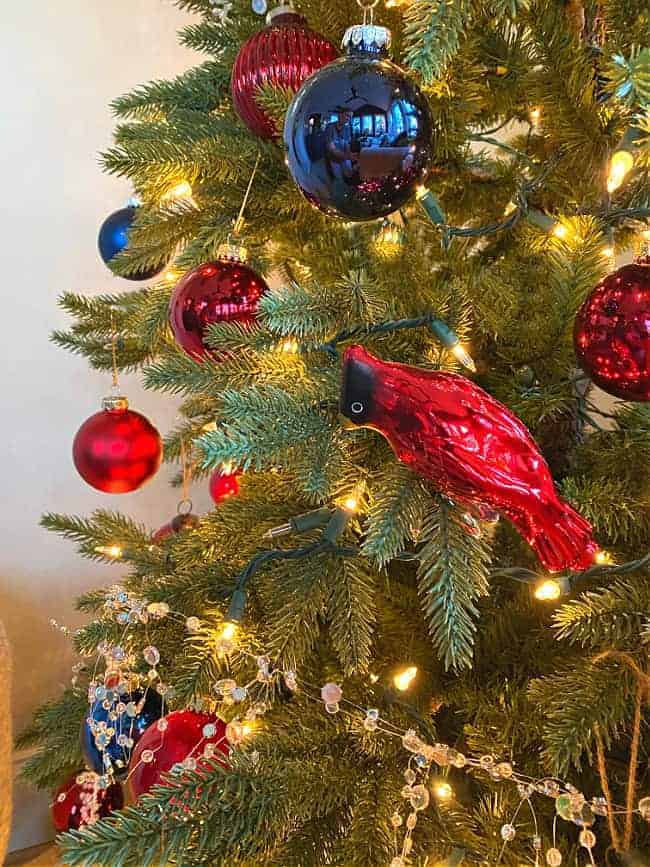 The element that took this room to another level though, is the red plaid rug.
It's just an indoor/outdoor rug I found online, that I laid diagonally over the jute rug.
It adds a layer of coziness to this already small room.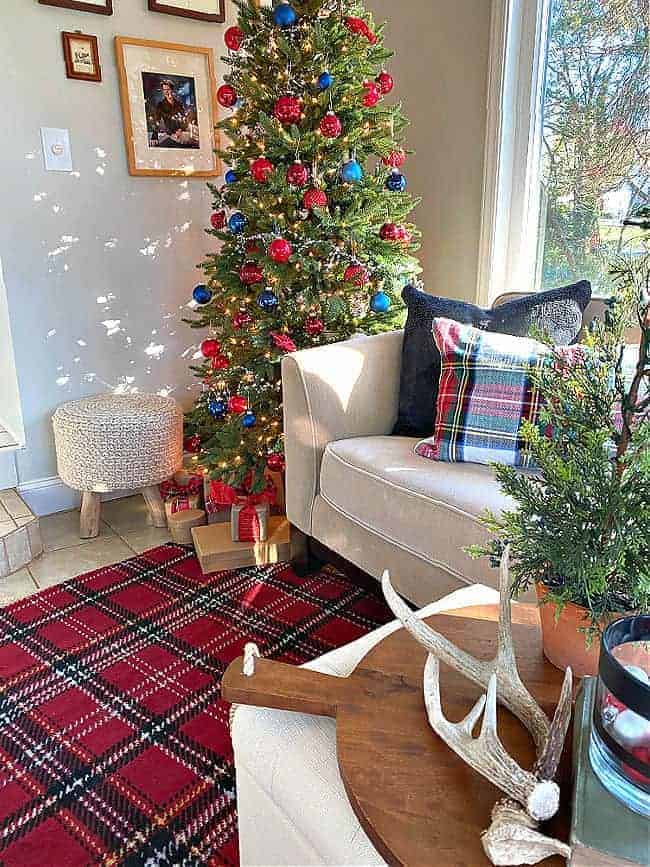 I was going to go all out and use red pillows and a red throw but I decided that the rug was enough.
Instead I just went with a couple navy and red plaid pillows and red plaid ribbon for the window wreaths.
They tie everything together without going overboard.
As for adding Christmas decor…I don't have any available space except for on the large board I keep on the ottoman.
I kept that simple as well with a couple of small trees, 2 found deer sheds and a small vase with red and white ornaments.
You can't get much simpler than that!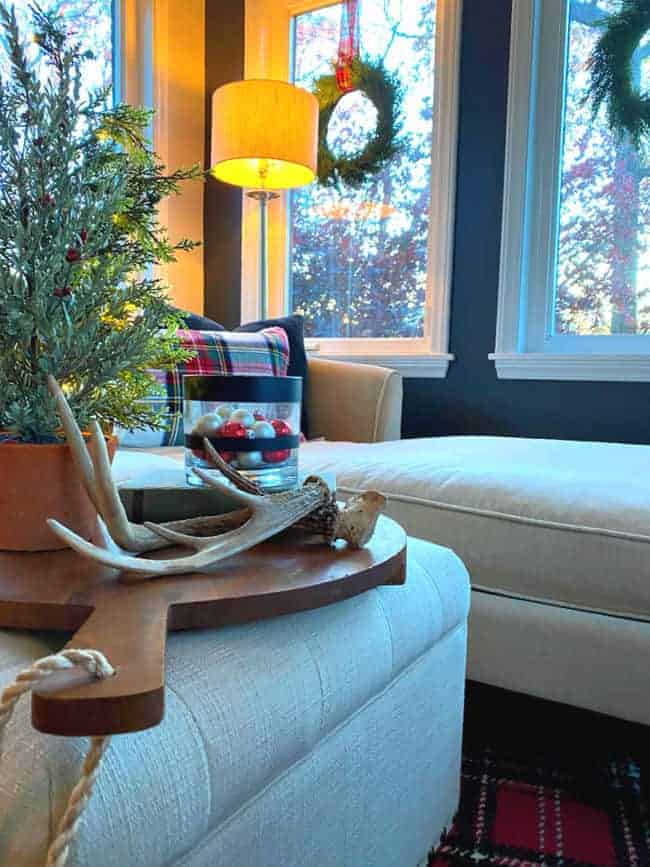 I love how this space turned out! Especially with the dark accent wall that I painted earlier in the year.
Mother Nature's beautiful show outside just added to the warm feeling in the room.
Not bad for a room that I almost gave up on.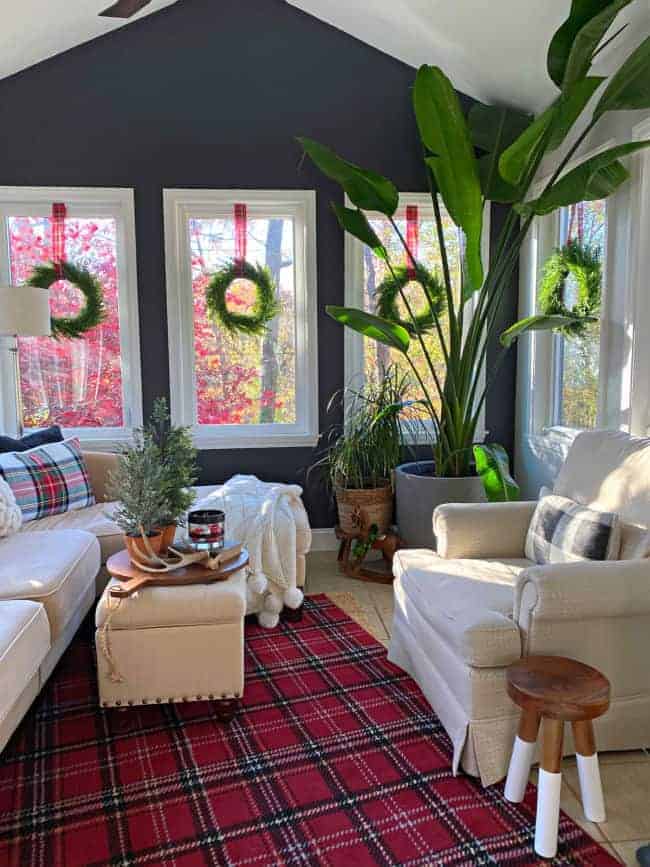 I think it's my favorite Christmas room ever.
I'm not sure how I'll top it next year.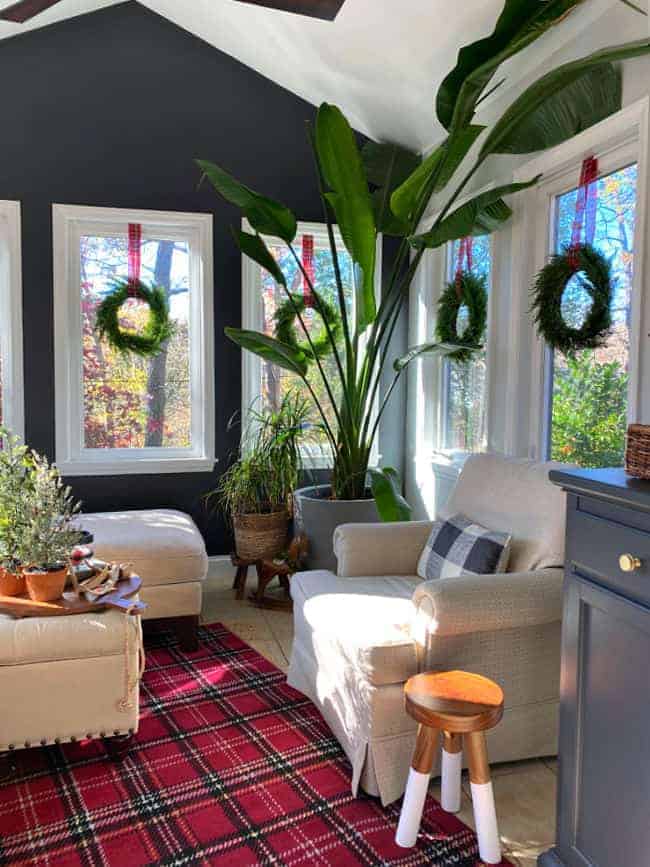 Take a look at how the cottage was decorated for Christmas in year's past…
Don't forget to check out the rest of the Christmas decor inspiration from my blogger friends. Enjoy!

Lovely Etc * DIY Beautify * Up to Date Interiors * What Meegan Makes * Sunny Side Design

Chatfield Court * Sweet Pea * Repurpose and Upcycle * Hey There Home

At Lane and High * Postcards from the Ridge * Making it in the Mountains * Lehman Lane
Newly Woodwards * Thrifty and Chic * Bright Green Door * Refresh Living