How to Make a DIY Christmas Ornament Wreath
This post may contain affiliate links, please see our policy for details.
How to make a DIY Christmas ornament wreath for your front door or to hang in your home for the holidays.
I love making some of my own Christmas decorations every year.
I'll usually make some ornaments but our front door holiday wreath, like my easy DIY magnolia wreath, is always at the top of my to-do list.
This year my inspiration was our main Christmas tree.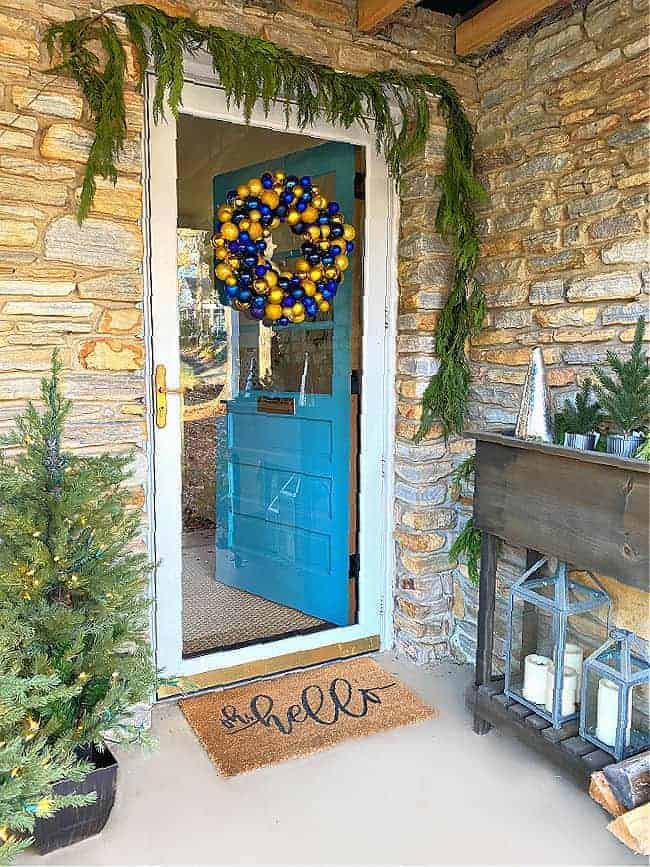 I wanted to bring the navy and gold color scheme that I chose for our main tree outside to our front door.
My DIY wreath idea seemed like a good way to do that.
I usually like to use what I have on hand when I make a wreath but this one called for lightweight plastic ornaments.
They're not something that I had in my stash so I had to order them online.
The good news is that they were relatively inexpensive.
Supplies to make an ornament wreath
Putting together your holiday wreath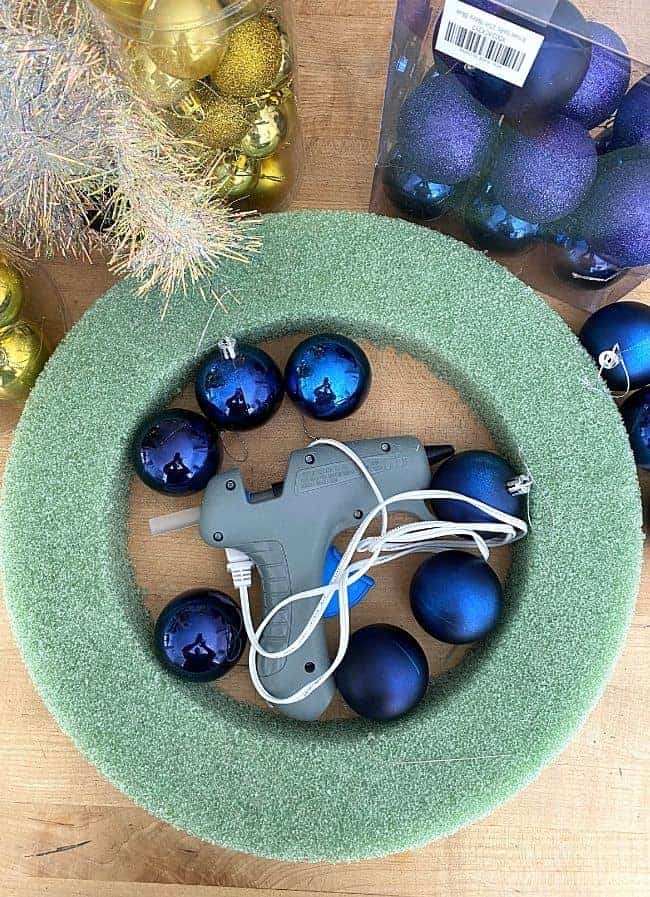 This wreath was simple to put together but I did do a few things before I started gluing the ornaments.
I wanted the colors, in this case navy and gold, to be spread around evenly so I started by laying out the first layer first, inside and outside the form.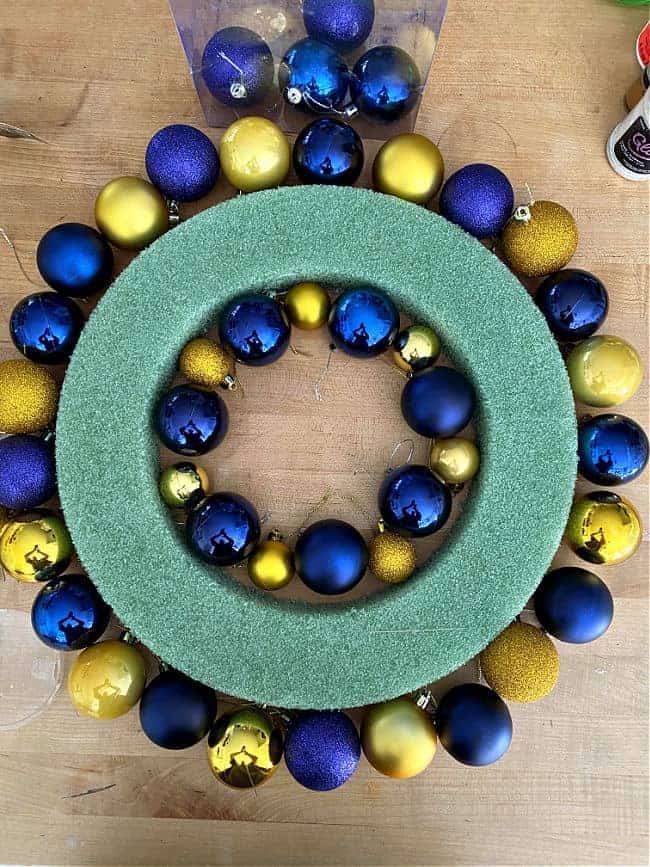 Once I was happy with the placement I pulled out my hot glue gun.
Because I was using a styrofoam wreath form I put the hot glue on the plastic ornaments and then stuck it on the wreath form.
I didn't have any issues with melting.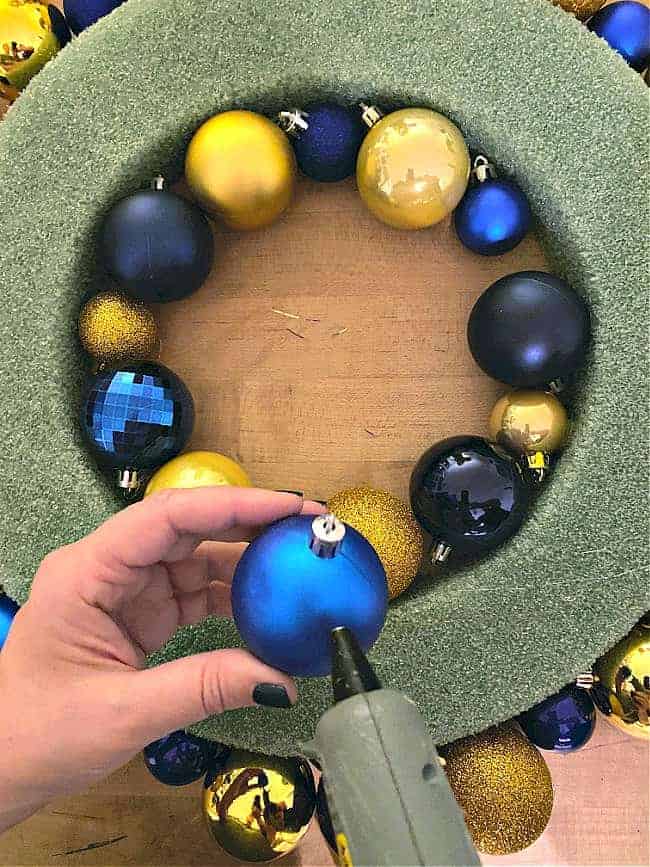 Once I glued the first layer on the inside and outside of the wreath form, I glued my tinsel around the top.
The tinsel serves as a filler for spaces left by the round ornaments. It's better to see sparkly tinsel than it is to see styrofoam.
I did add a few spots of hot glue on the wreath form for this step, and used what I had handy to push the tinsel into the hot glue.
For me that was a pair of scissors.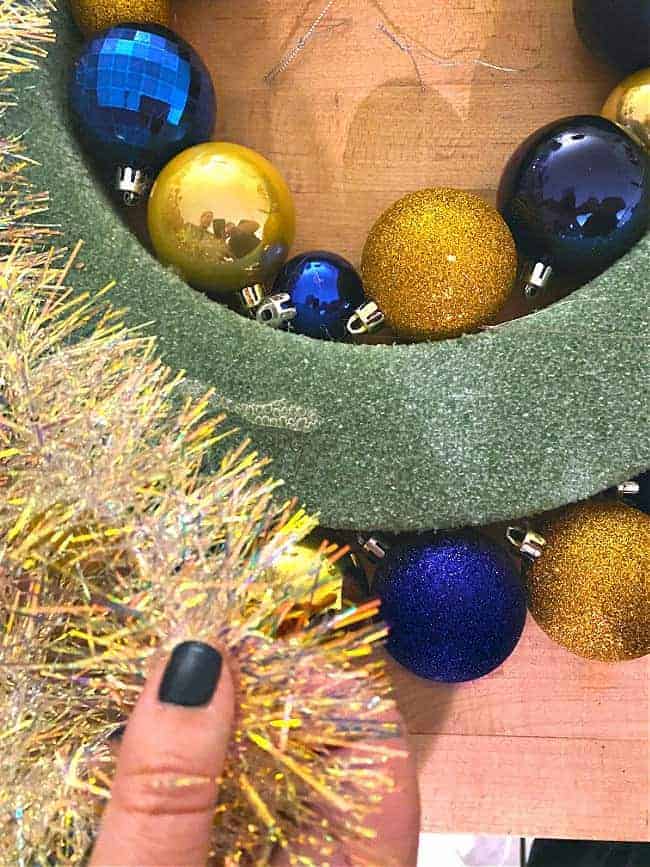 I set aside the left over tinsel to use in any open spots once the wreath was complete.
After I glued the tinsel on I started filling in the rest of the wreath form with the plastic Christmas ornaments.
I just tried to sprinkle color around without grouping too much of one color in one spot.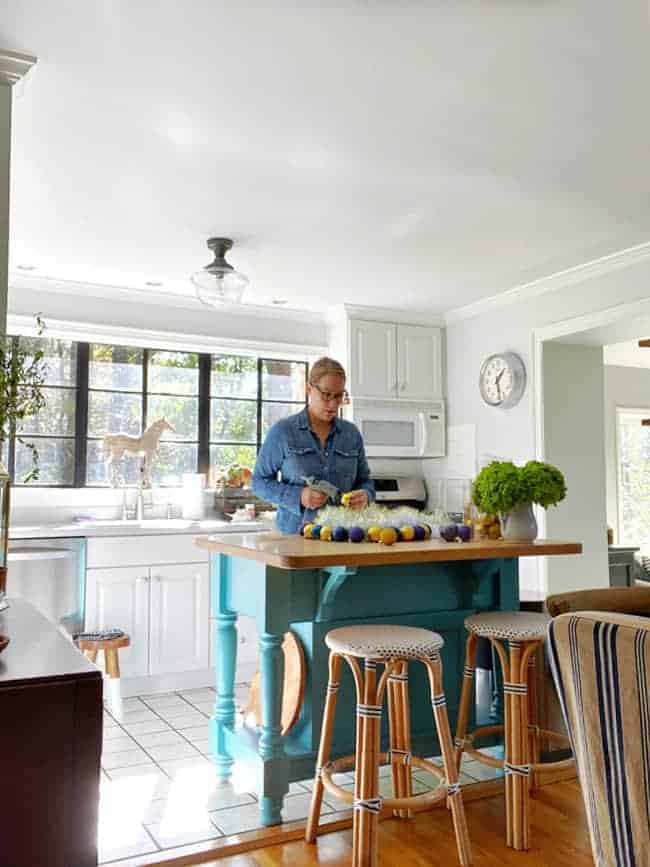 It took a while to fill it all in but I took my time. I would glue several ornaments on and then walk away to do something else.
Later I'd come back to it and check my work to see what I needed to add.
This helped me to keep a good balance and not create a lump of a mess.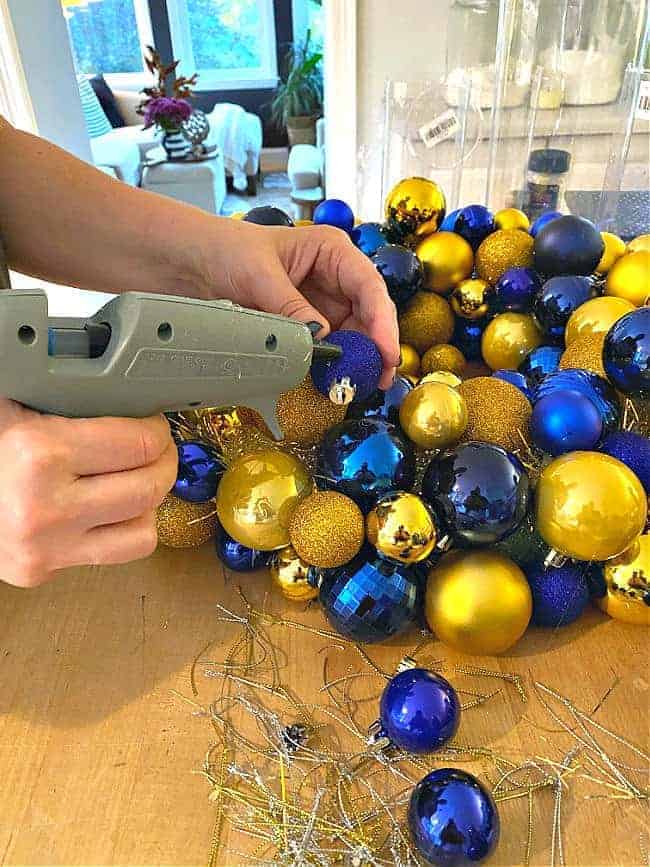 It's easy to just keep gluing balls on here and there so you need to take time to check your work.
Remember that every tiny opening doesn't have to be filled in, that's what the tinsel is for.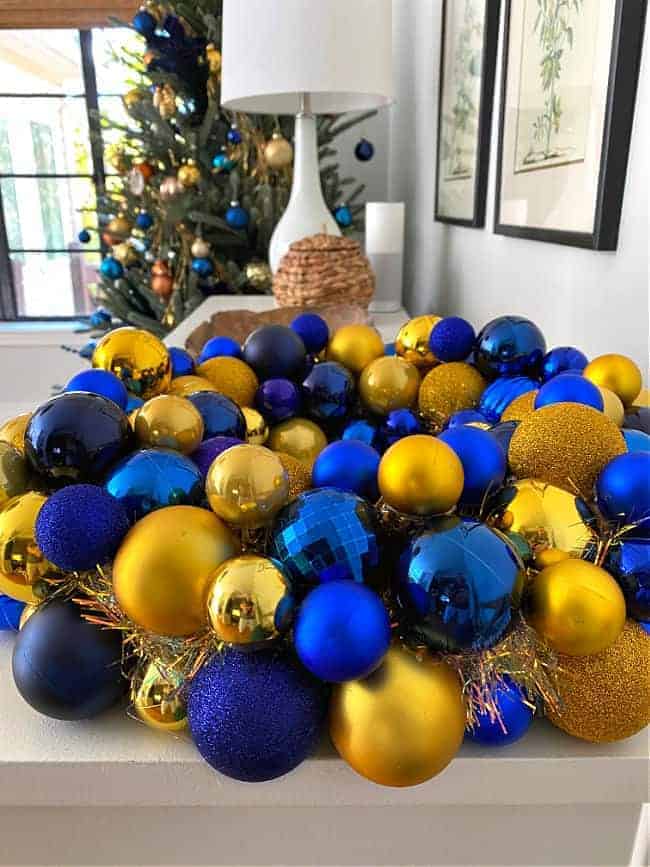 Hanging your DIY ornament wreath
When I was happy with my work, I took some fishing line and hung it on my front door.
The plastic ornaments are very lightweight so fishing line or ribbon is perfect for hanging it.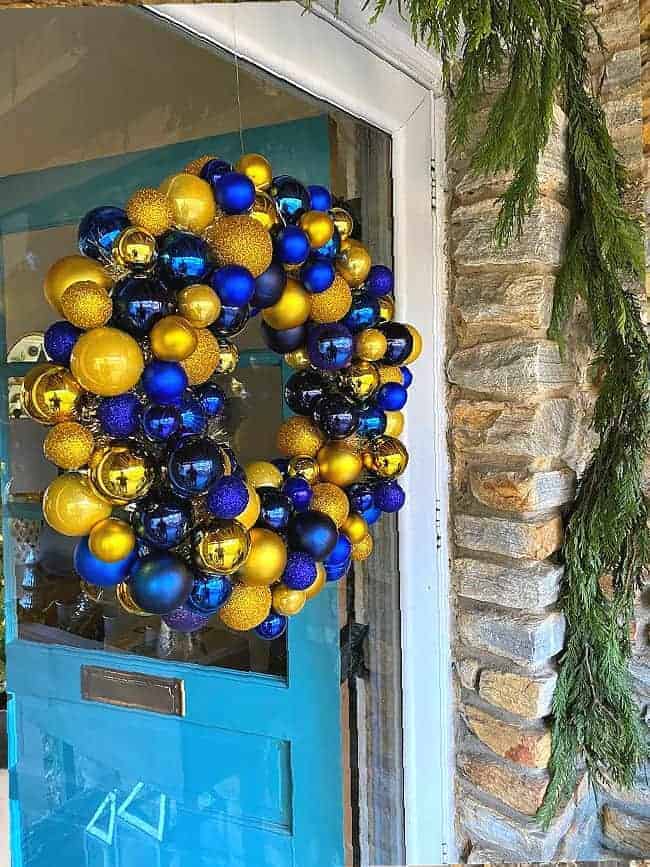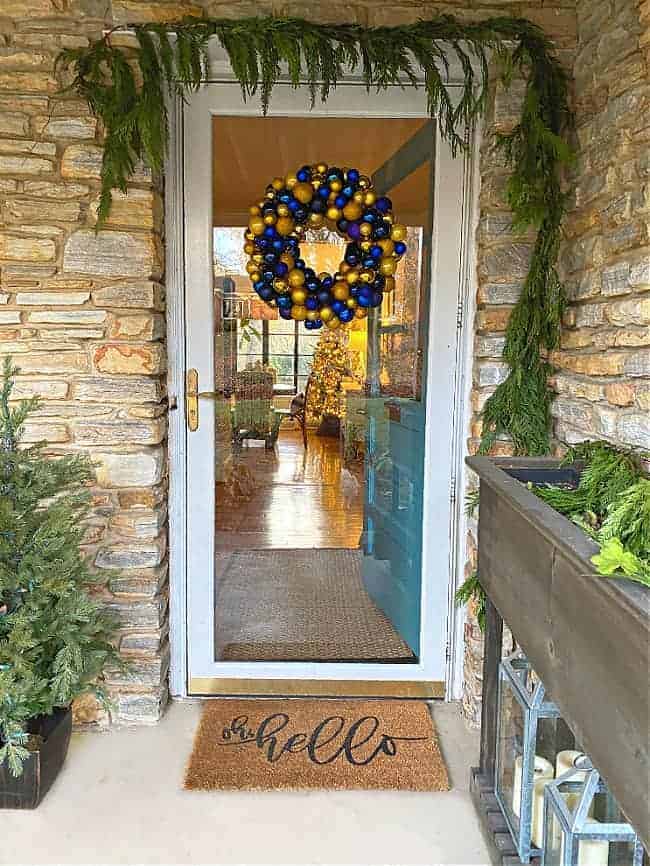 Now when you look in my front door you can see the navy and gold ornament wreath and the navy and gold on our Christmas tree.
I love it when a plan works out!
Don't forget to check out my past DIY Christmas wreath projects…