Disclosure: As an Amazon Associate and member of other affiliate programs, I earn from qualifying purchases.
Hey there friends! Before we take a peek at our Christmas porch, I just wanted to thank you all for the lovely comments and emails from our cozy Christmas cottage tour. I really enjoyed reading each comment and hearing about your Christmas decor and where you put your tree in your own home. I am truly grateful that you took the time to stop in to tour our home and share your thoughtful comments. Thank you!
Now, let's get to the fun part...our cottage Christmas porch. (I also added a quick video of the porch and a source list at the end of the post)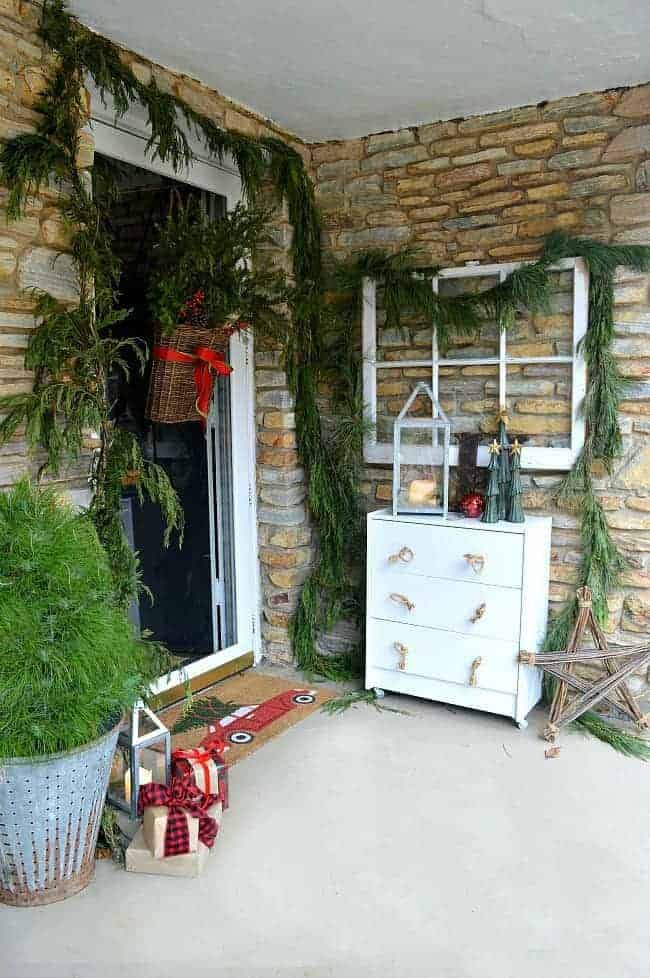 This is the first house we've ever lived in that's had a covered front porch and we really enjoy it. The hubs loves sitting out there after dinner, on a warm night, and watching the world go by. I enjoy that too but, if I'm totally honest, I really love decorating it each season.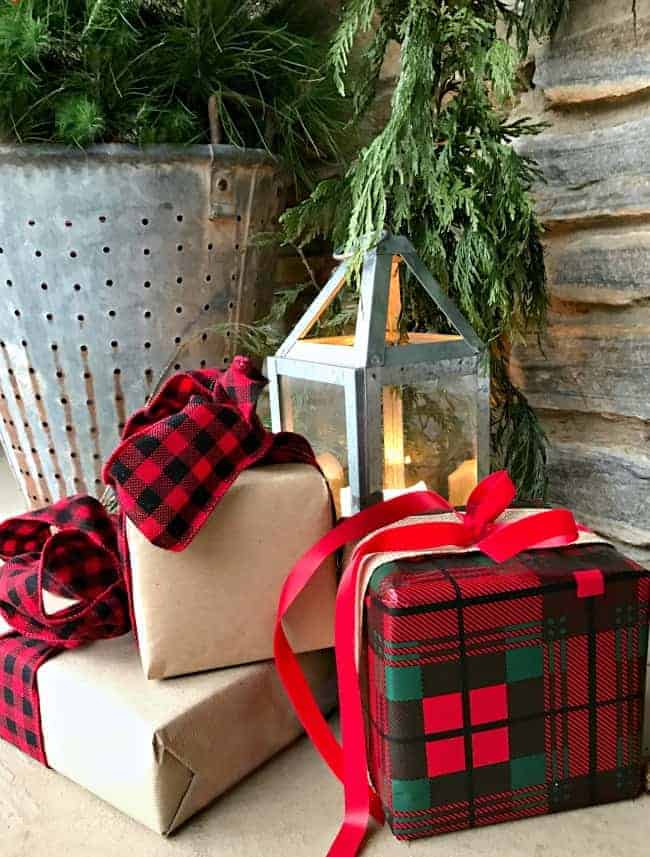 Finn loves to sit out here, too, and he's ready to show you around, bow tie and all. 😉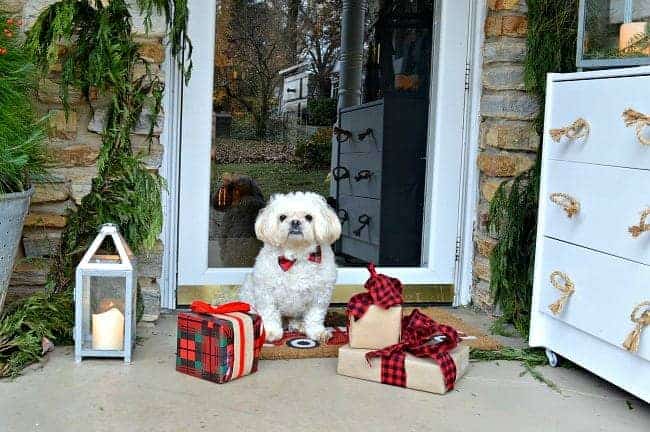 I decorated the outside with the same thought as inside, traditional Christmas colors and lots of greenery.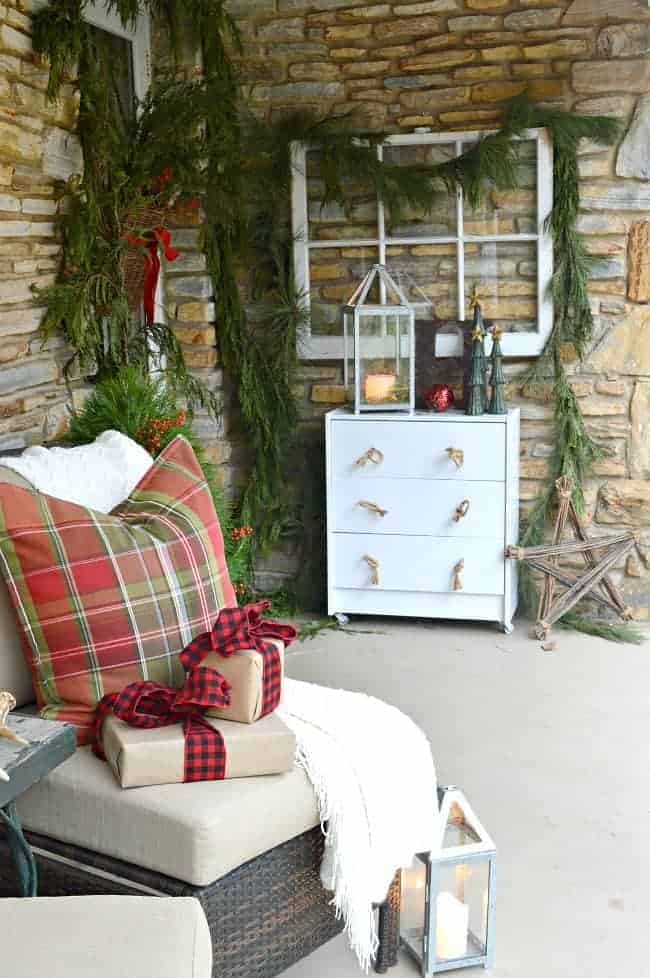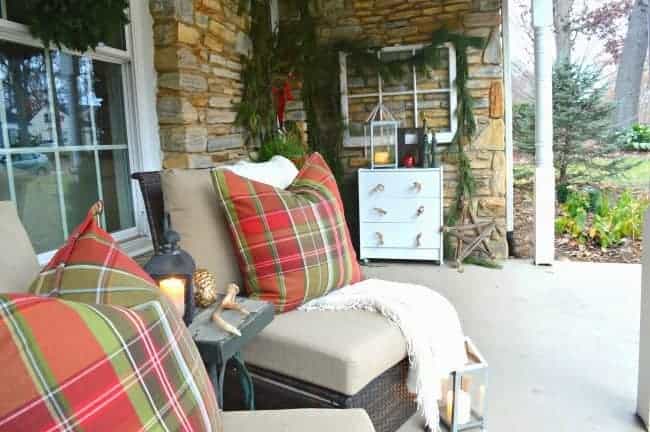 I didn't do a traditional wreath this year. Instead I filled my hanging basket with fresh greens, berries and pinecones from our yard and added a couple of birch sticks. A bow around the basket and the front door is good for the season, and it didn't cost me a dime.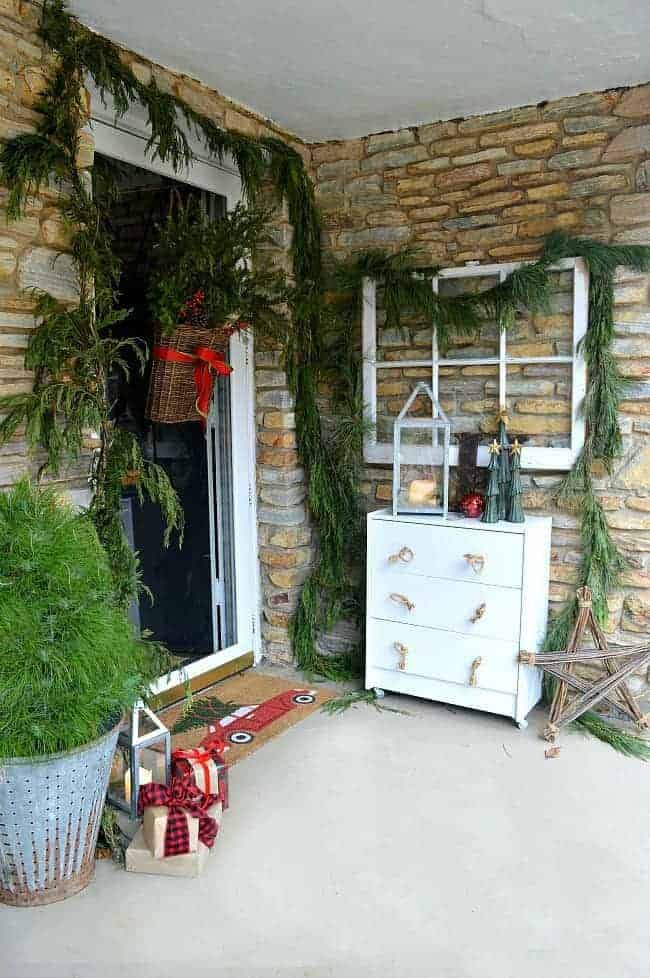 A large lantern and wooden trees were added to the IKEA Rast, that I turned into a garden tool storage chest.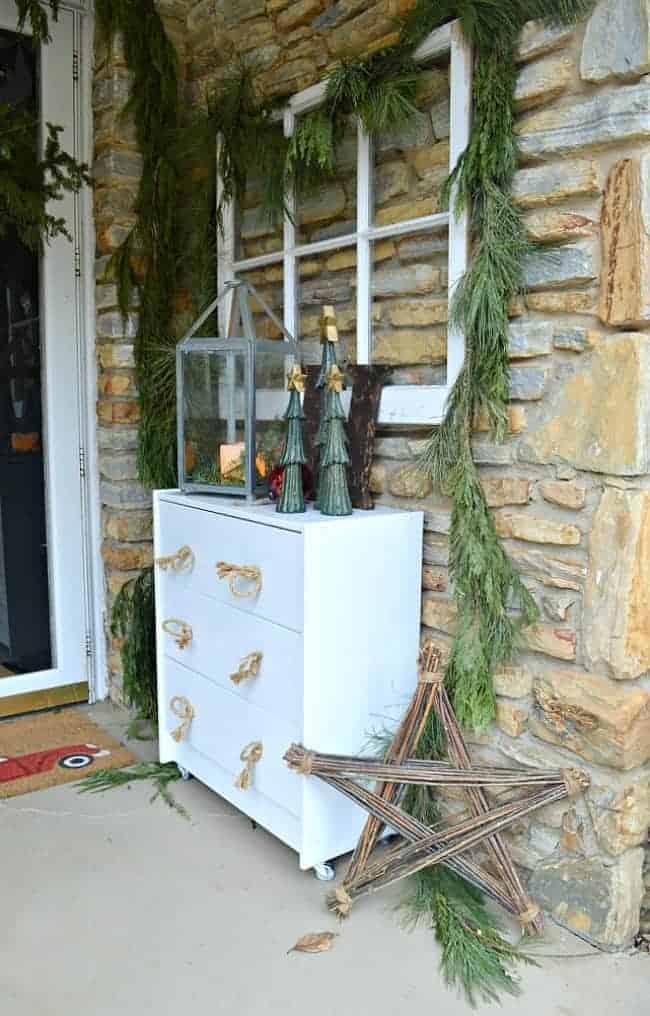 The other side of the porch is the spot we enjoy most. I got these outdoor chairs from Wayfair and love them. They are sturdy and so comfortable. It's the perfect spot to hang out and watch the world go by.
This past weekend, I hung wreaths with red ribbon on my front windows. I was going to use real but I found these nice faux ones for about the same price. I like that I can use them again, for years to come.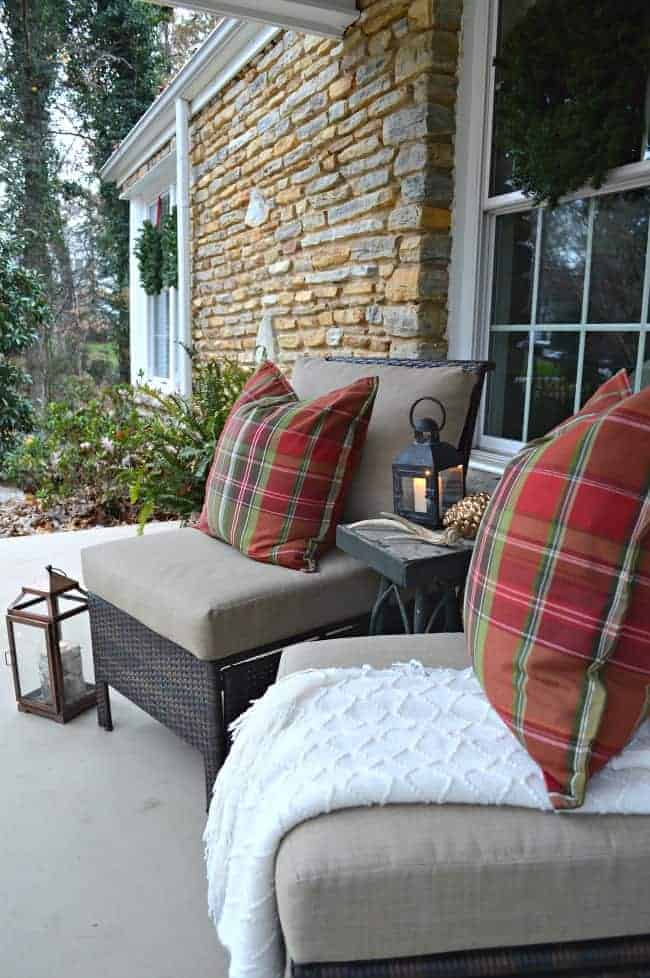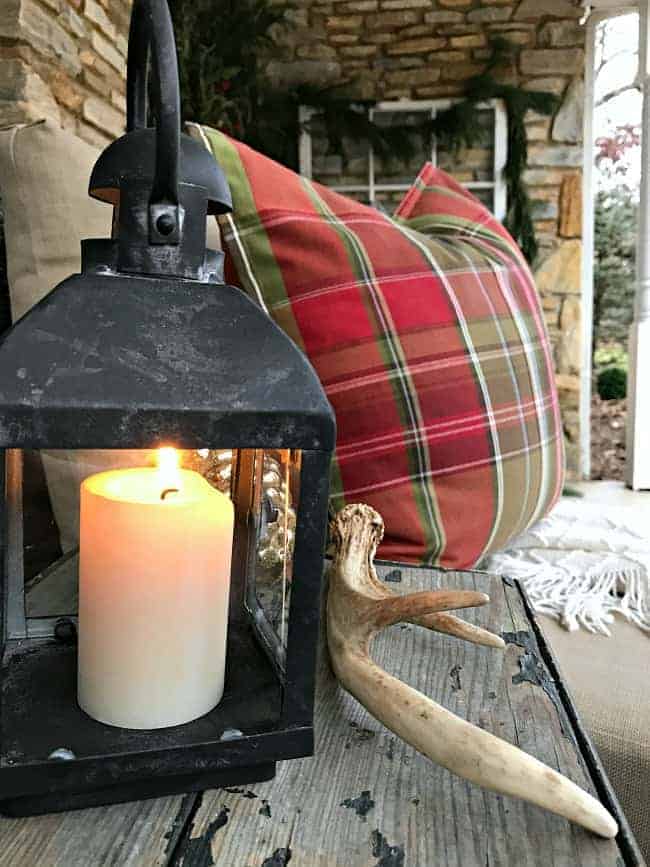 That's it for the tour our cozy Christmas porch.
This isn't the porch, obviously, but it's the view you have when you're standing on the porch, looking in the front door. 🙂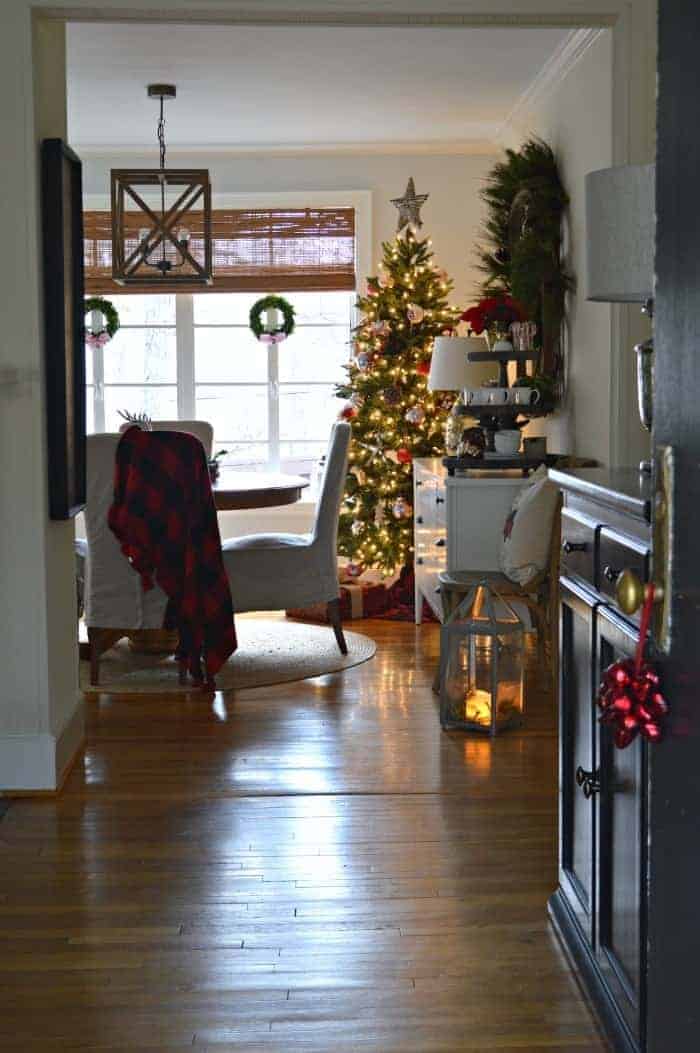 I shared a (very) quick, unedited video below to give you a different perspective on the porch. I apologize in advance for the cameo of the hubs as he rakes the 1 million leaves we've been blessed with. Just kidding...I think it's more like 2 million. 😉
How about you? Have you started your decorating yet?
Hope you have a great week!
Sources
(Affiliate links used. If you click on an affiliate link and make a purchase, I will receive a small commission, at no extra cost to you. Please see my Privacy Policy for more info.)
Galvanized Lanterns - The Home Depot (affiliate link)
Front Door Holiday Mat - The Home Depot (affiliate link)
Small Chest - IKEA Rast
Outdoor Chairs - Wayfair (affiliate link)
Olive Bucket - Flea Market
Plaid Pillow Covers (a few years ago) - Pottery Barn (affiliate link)
Small Black Lantern - Terrain (affiliate link)
Stick Star (a few years ago) - Target (affiliate link)
Vintage Window - Flea Market
Cream Throw - HomeGoods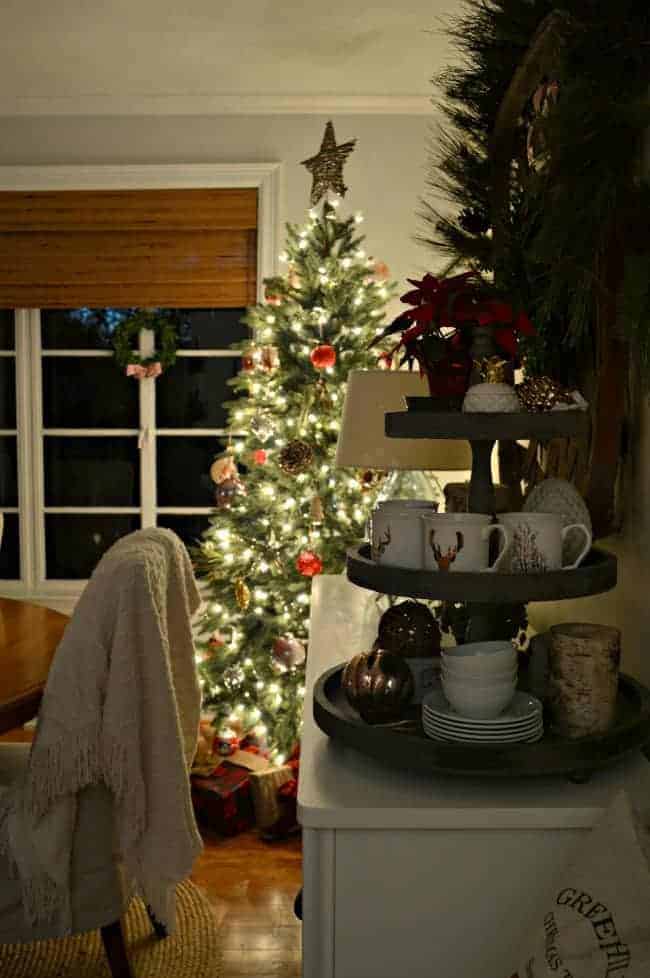 A Cozy Christmas Cottage Tour