Disclosure: As an Amazon Associate and member of other affiliate programs, I earn from qualifying purchases.
I already shared my spring home tour last week but today is all about creating a pretty spring vignette. If you've followed me for awhile then you know that I usually like to keep my decor simple. Our cottage is pretty small, and we don't have a lot of surface area for decor, so I like to spread spring around with a few simple but pretty spring vignettes.
If you're stopping in from Kingsbury Brook Farm, welcome! I'm so excited to be joining Kendra, from Joy in our Home, for her Spring Festival Blog Hop today. There are 23 more blogs joining in on the hop, in a few different categories, so make sure you check them out.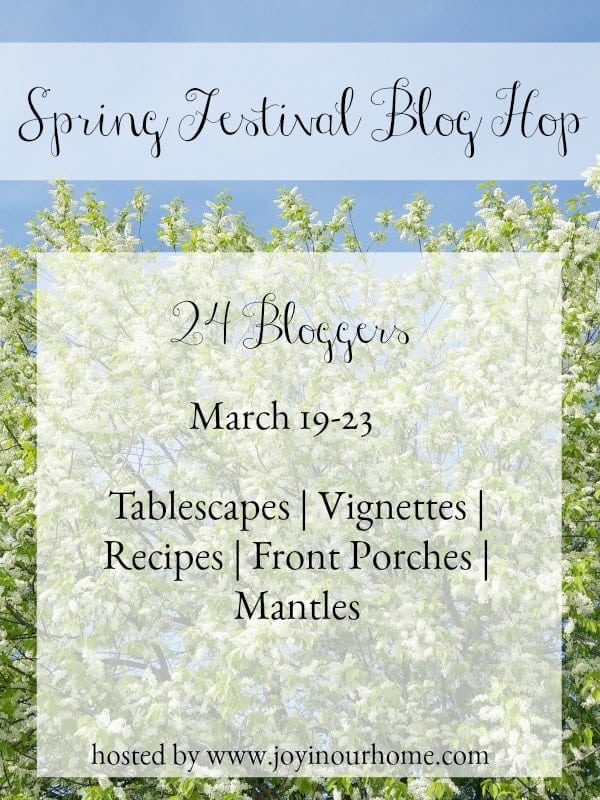 So let's talk spring vignettes.
I really don't have a secret formula when it comes to creating vignettes. Like most of my decorating, I like to keep it simple and try to work with one piece at a time. One thing I know for certain is that there will always be fresh flowers involved.
For this spring vignette I went for a cute Easter, spring color theme. I don't usually do a full-out Easter display but I found this adorable bunny cake stand from HomeGoods and couldn't resist.
With one piece of the puzzle in hand, I was ready to start creating my spring vignette. The first thing I had to do was to find a way to corral all my goodies. I needed something big so I pulled out my old round wooden cutting board.
With my base in place I was able to start with the cute bunny cake stand, followed by a checked navy napkin, dessert plates and another bunny on top.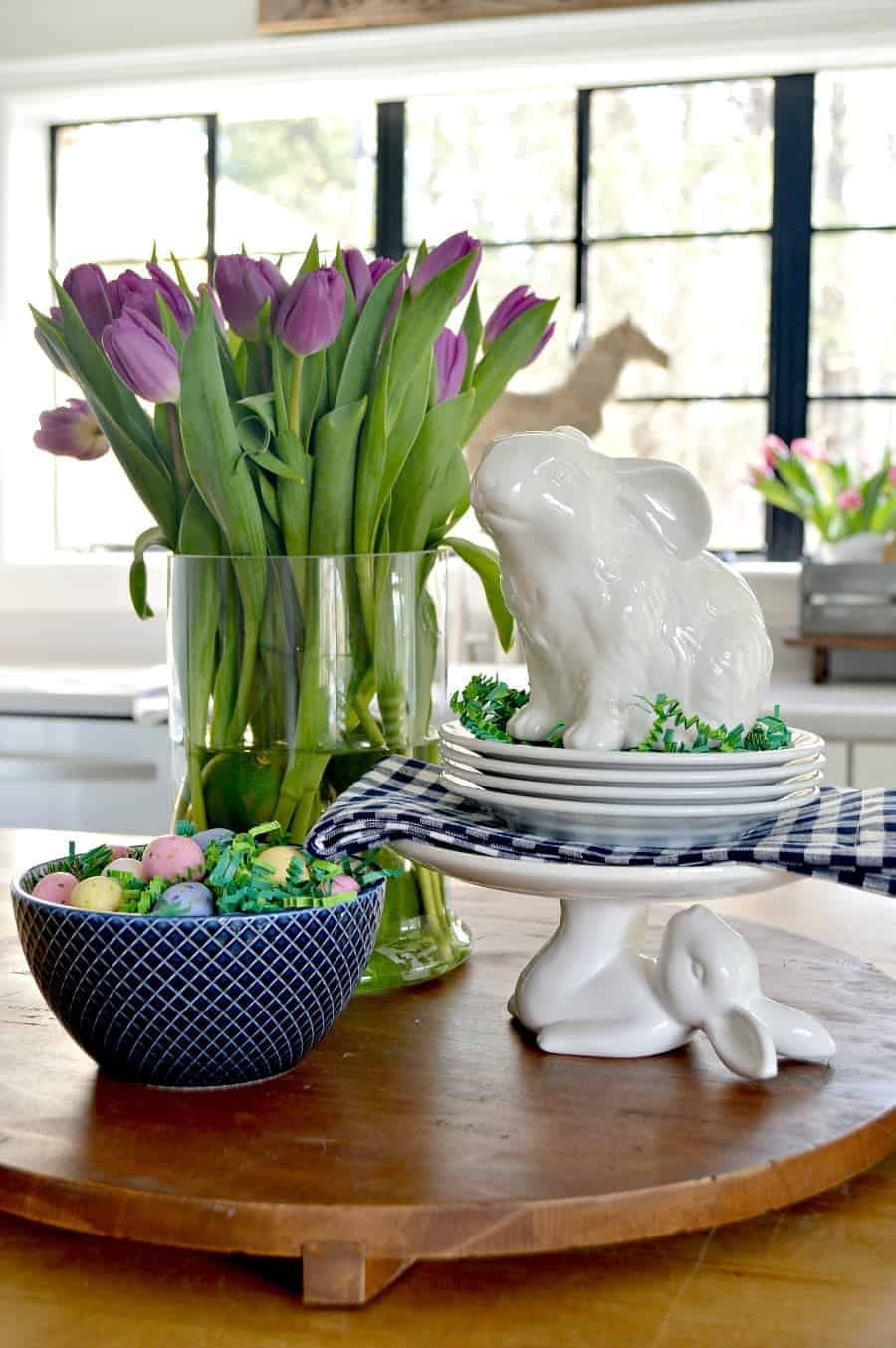 I'm still loving the blues, and I have a lot of blue accessories, so I stuck with that. You don't have to go with all pastels this time of year. Decorating is using what you love, regardless of the season.
I added a pretty navy bowl filled with paper grass and a bit of color with candy eggs. Navy checked straws in a little glass rooster jar adds more color and texture to my spring vignette.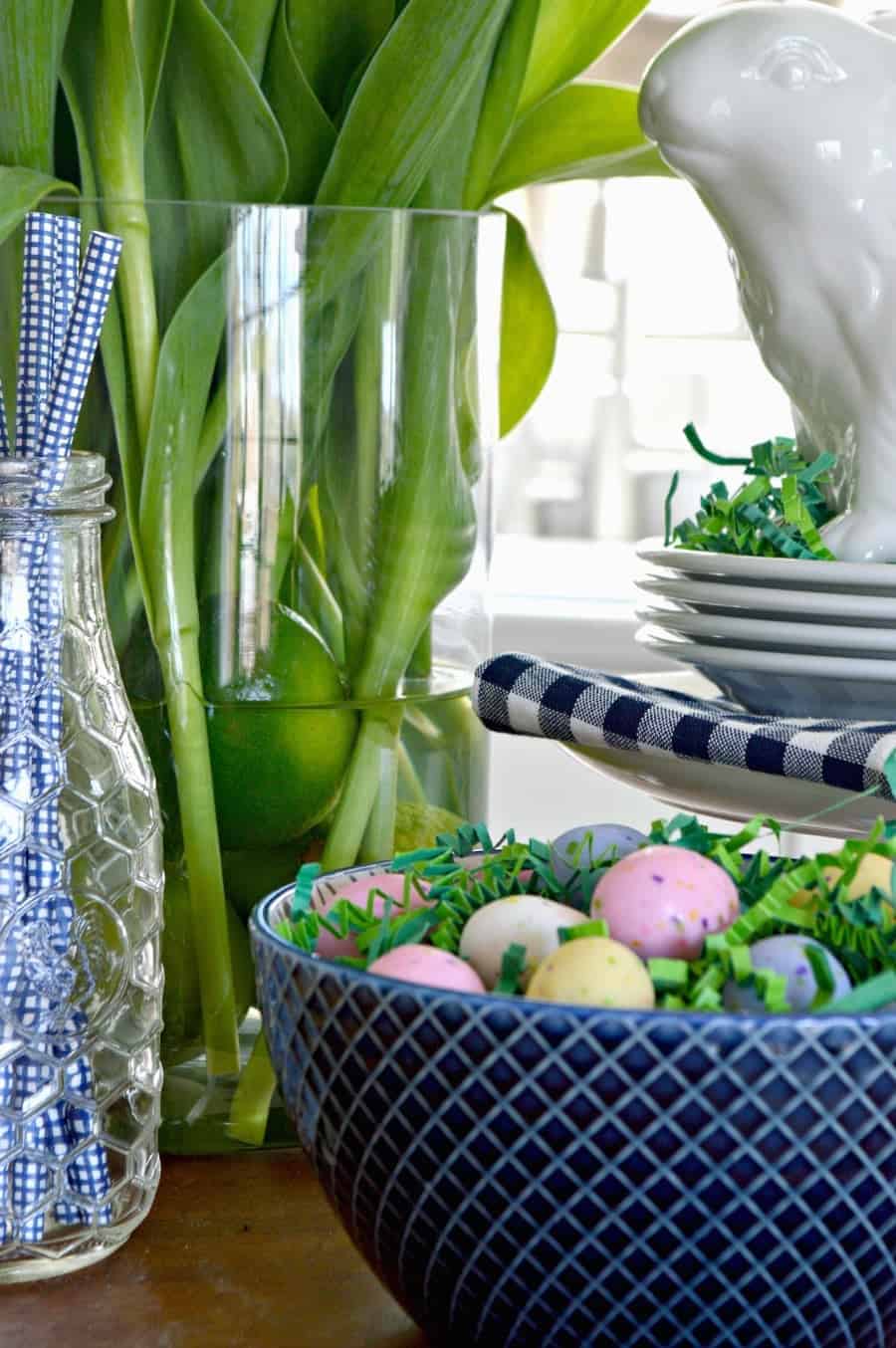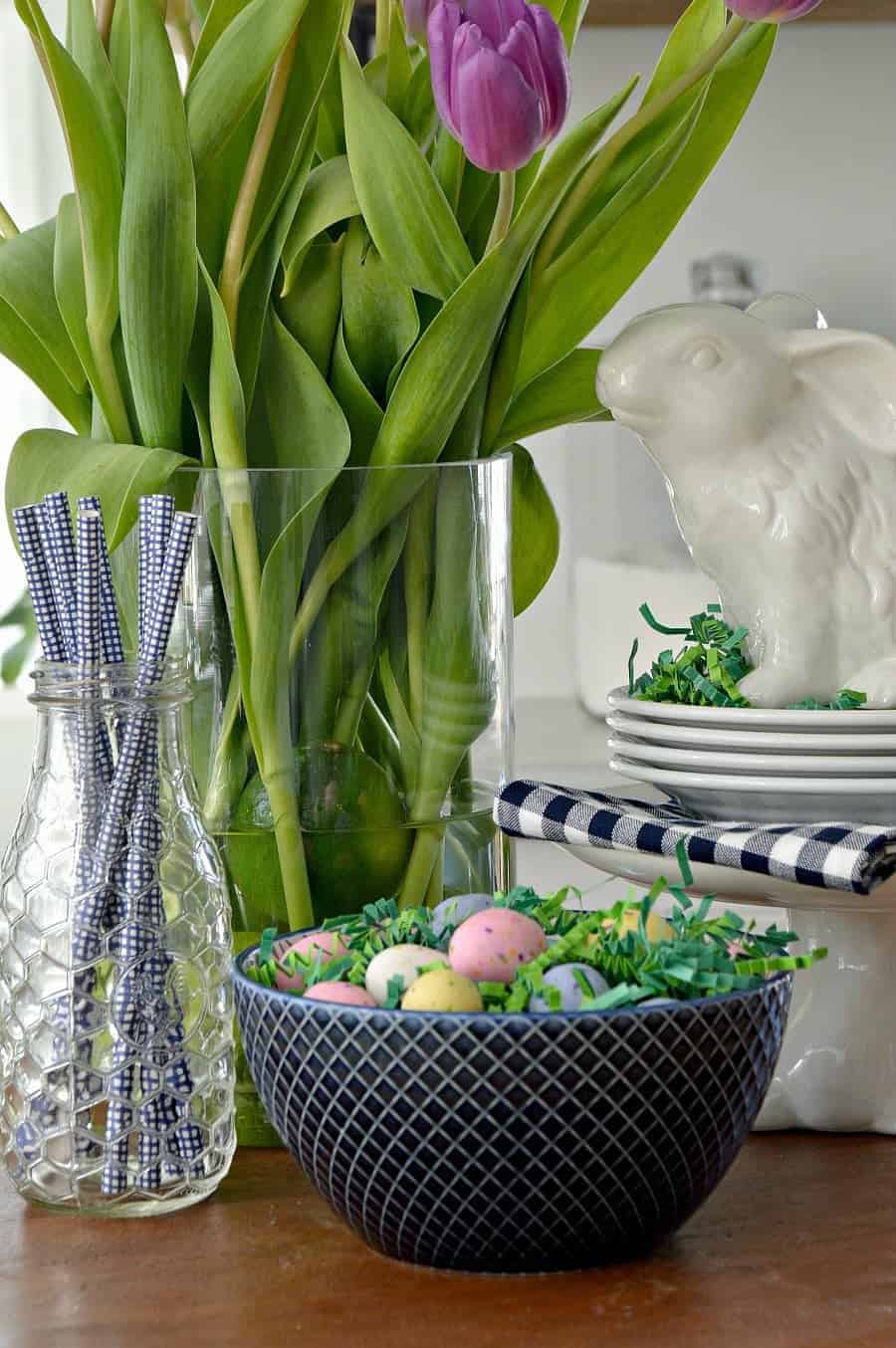 Like I said, fresh flowers are my go-to for any kind of vignette I create. I splurged for this one and bought 2 bunches of purple tulips from Trader Joe's. After I put them in my simple glass vase I felt like something was missing. $2 worth of limes was just the trick. I just plopped them in and arranged my stems around them.
And yes, in case you're wondering...plopped is an official decorating term. 😉
I'm loving the pop of bright green from the limes.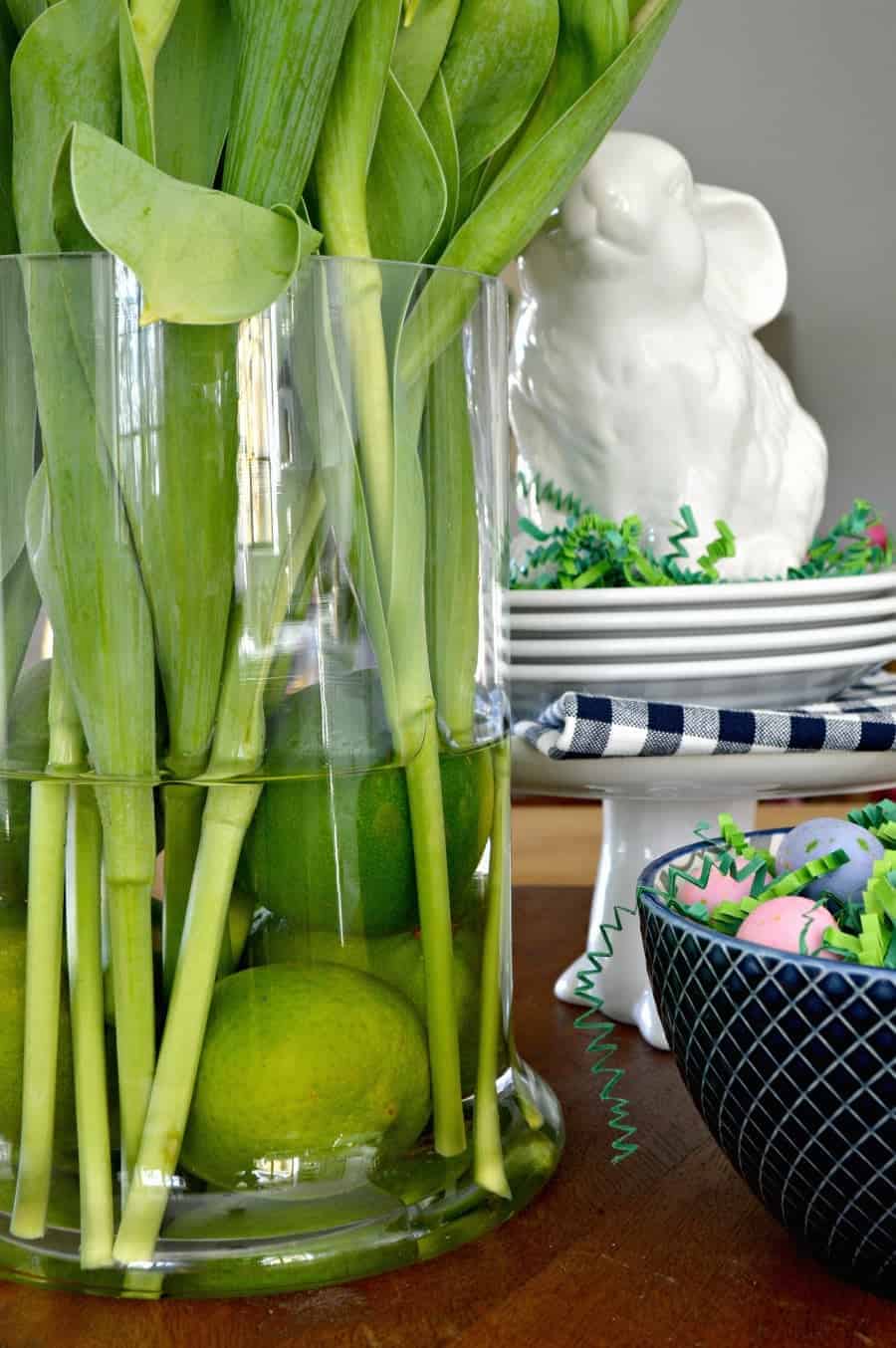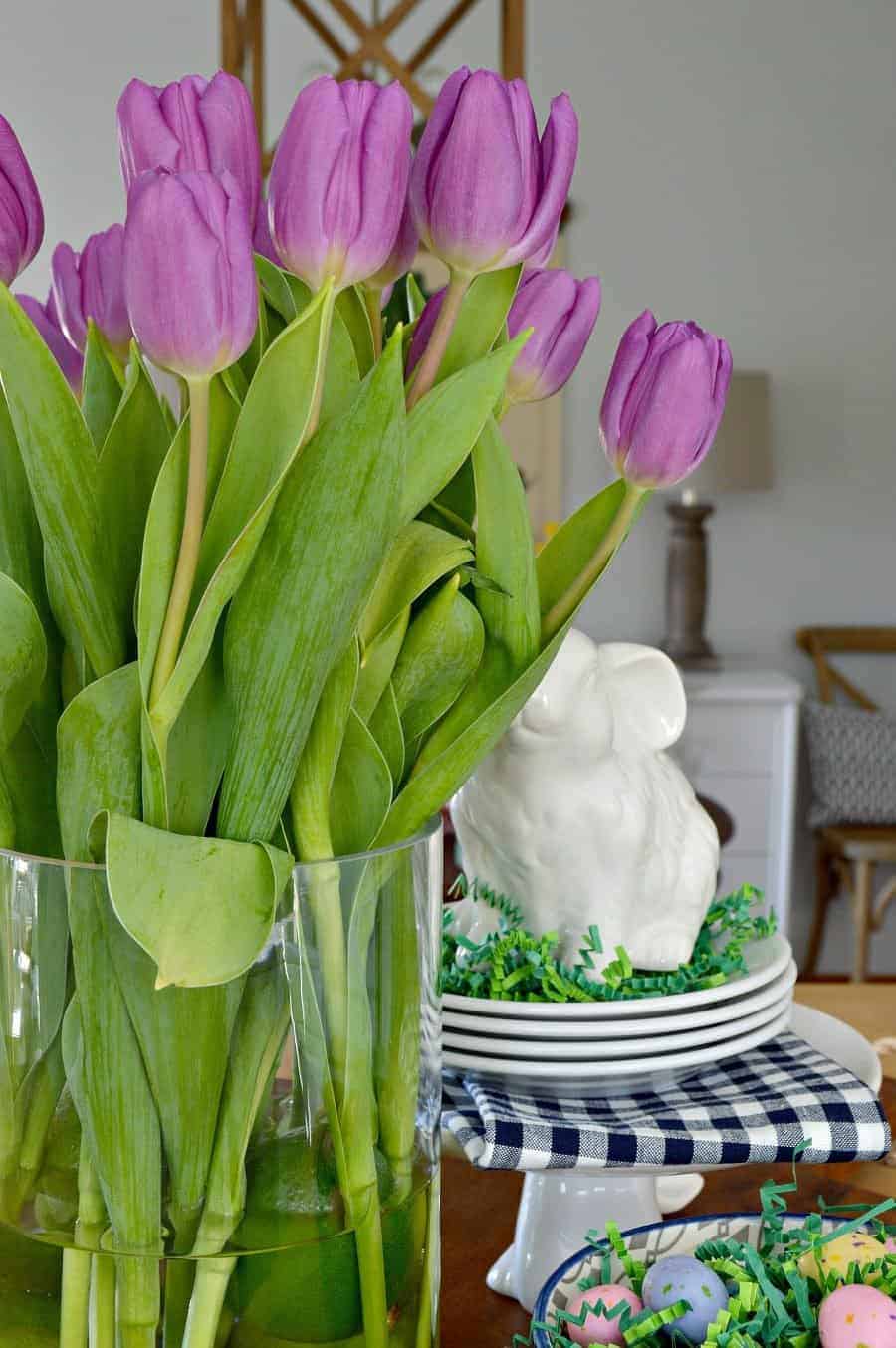 It's colorful, fun and pretty. All the things you need for a beautiful spring vignette.
The kitchen couldn't have all of the spring fun so I added a bit of color to our small entryway. I tried something different with this space and styled it two different ways. Again, I went simple.
A pitcher with tulips, some faux greens (that I already had) in a straw bag and a wooden bird.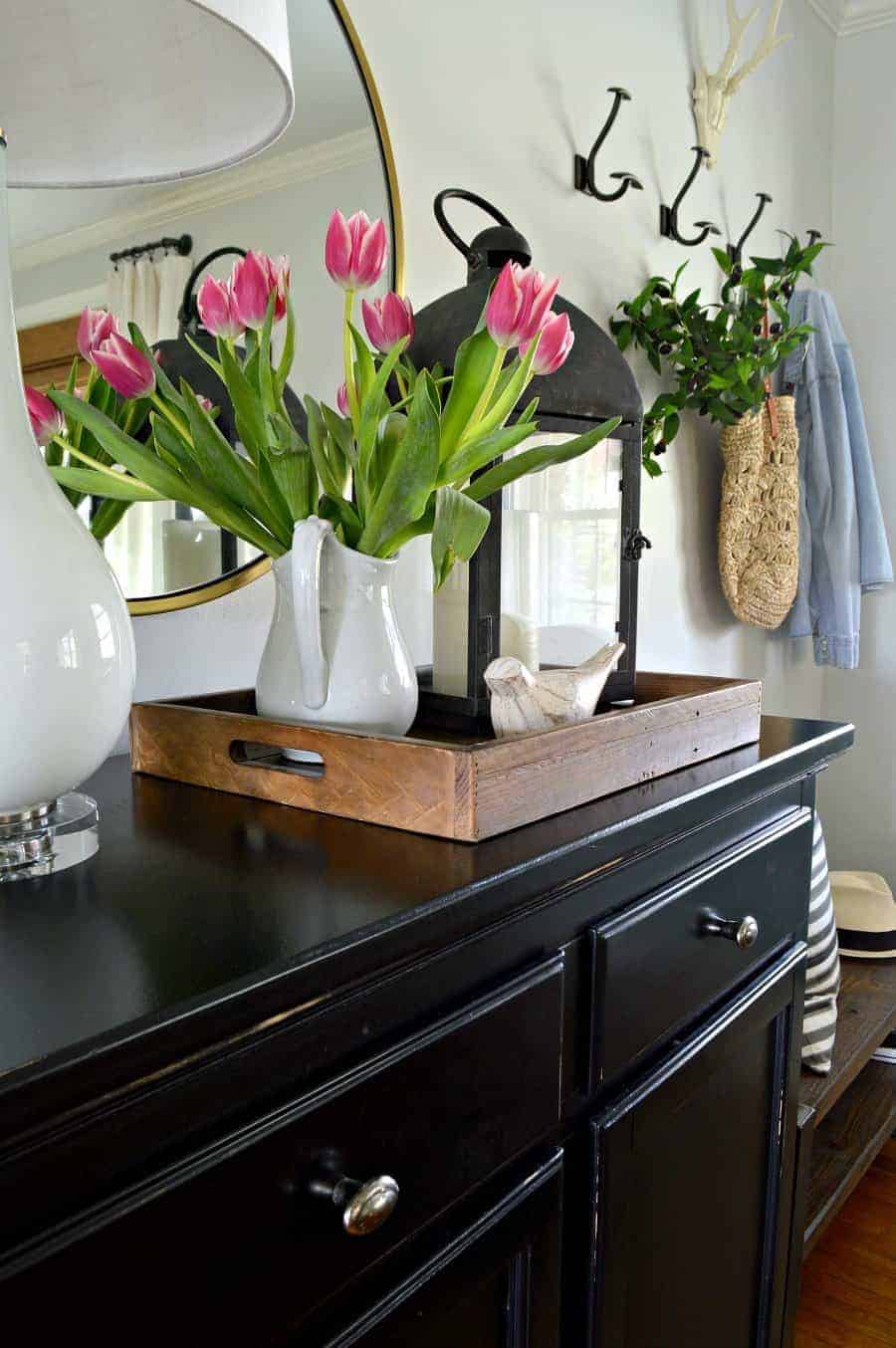 For the second one I just traded out the pitcher of tulips for a preserved boxwood under a cloche, while the tulips hang out in the straw bag. Real ones won't last long but you could easily switch them out for faux stems.
Either way it's nice to walk in the door and see spring color.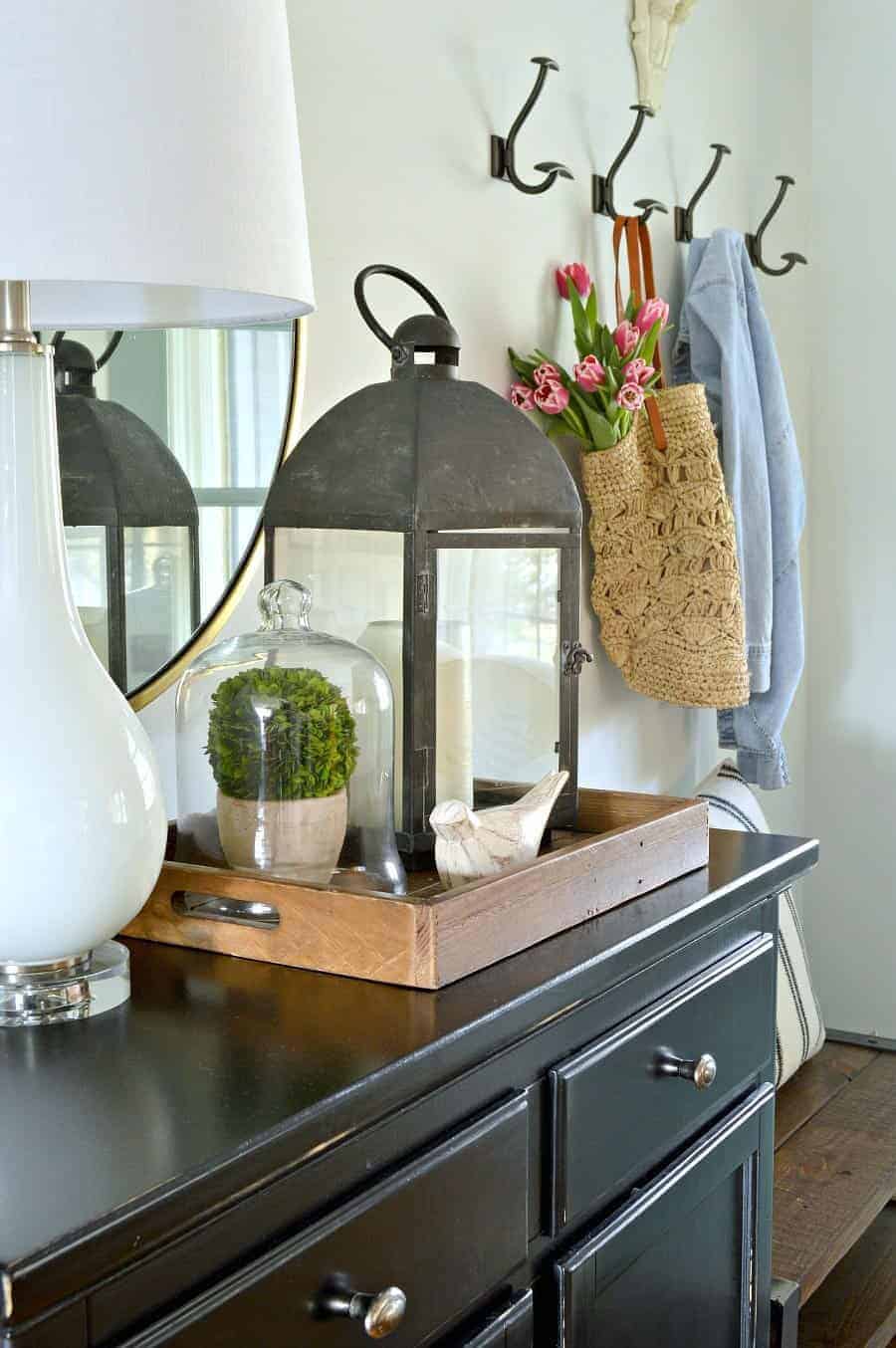 I hope I was able to convince you that it really is easy to add some simple but pretty spring color to your home.
Happy 1st day of Spring! Thanks for stopping by!
Carrie from Curly Crafty Mom is up next with her spring vignette so make sure you visit her. And don't forget to check out the other blogs.

Timeless Creations | The Crowned Goat | The Painted Hinge
City Girl Meets Farm Boy | Live Laugh Rowe

Joy In Our Home | Kingsbury Brook Farm | Chatfield Court
Curly Crafty Mom | 2 Bees in a Pod

Love In My Oven | Countryside Cravings | Crisp Collective
Berly's Kitchen | Kelly Lynns Sweets & Treats

White Arrows Home | DIY Beautify | Poofing the Pillows
Little Brags | Noting Grace

Repurpose and Upcycle | Pennies From Heaven Home
The Homemaking Momma | A Brick Home