DIY Dresser Makeover in Navy
This post may contain affiliate links, please see our policy for details.
An easy DIY dresser makeover in navy for added guest bedroom storage.
You've already seen our guest bedroom makeover update, but today is all about the Goodwill dresser that got a quick makeover with 4 new feet and paint, Benjamin Moore Hale Navy.
Are you ready for a good ol' fashion DIY dresser makeover before and after?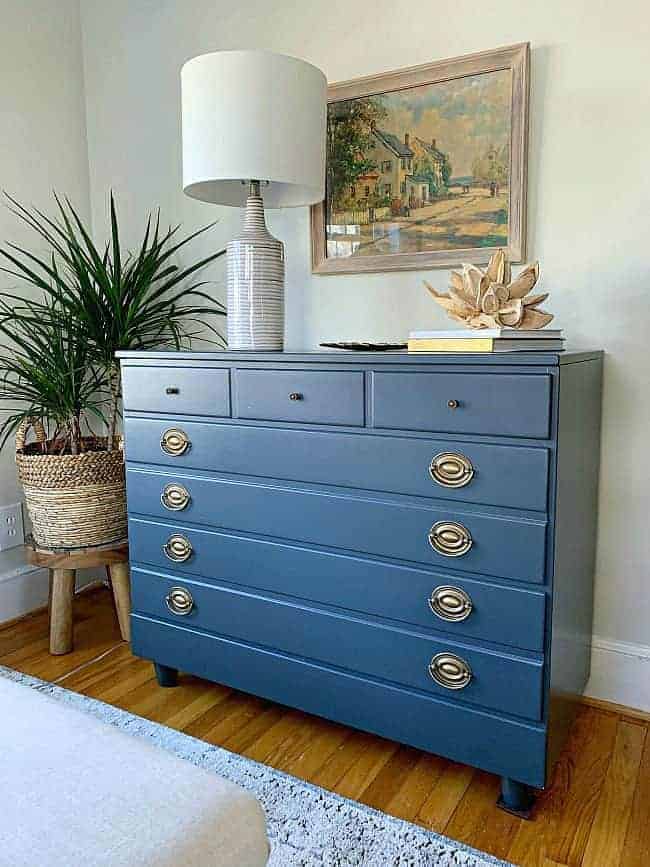 Don't forget to check out the sources for this makeover at the bottom of the post.
This old dresser started out as an ugly duckling. I found it at Goodwill and as soon as I saw it, I knew that it was coming home with me.
The outside was a little rough but it was well-made and very sturdy. I looked inside the top drawer and saw that it was made by Ethan Allen.
It was a very lucky find.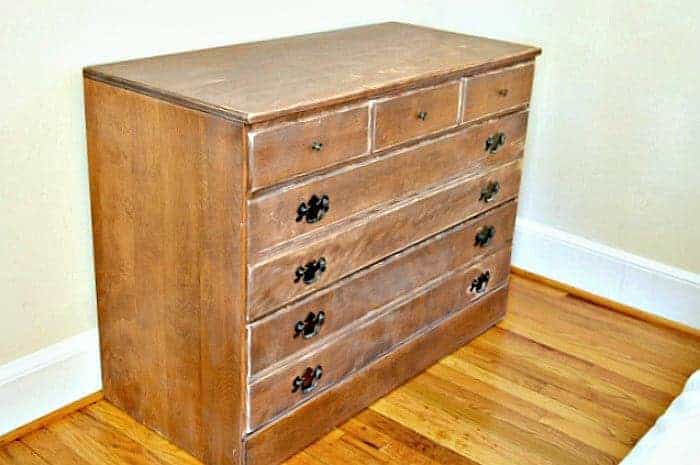 I made the hubs stand by it while I skipped up to the register to hand them my $5.
Yes, I got this baby for only $5 (and yes, I actually skipped up to the register)!
I brought it home and it sat in our basement (in our Illinois house) waiting for it's fab makeover.
We ended up moving to North Carolina before I could do anything with it so it came along in the hopes of a proper home, and fresh paint.
Once we were all settled, I decided that it was finally time to give it a makeover.
Like I said, the outside was in rough shape so I knew it would need a coat of paint.
Before I could get to that though, I had to take off the old hardware and give all the wood a good sanding.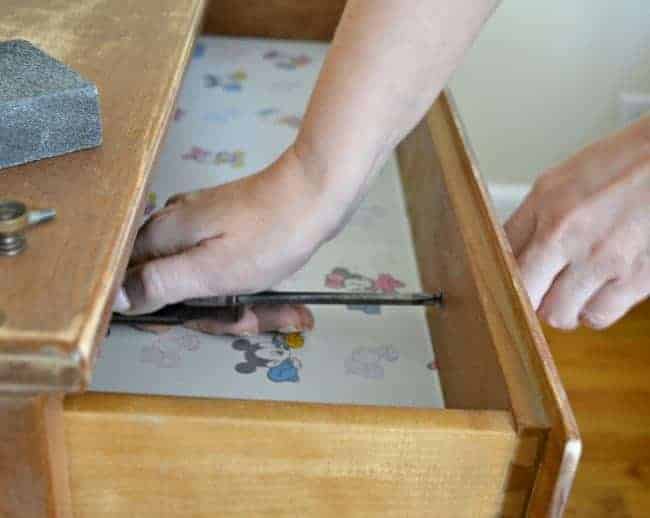 Besides the battered exterior, the dresser sat pretty low so I decided to give it four chunky feet to give it some height.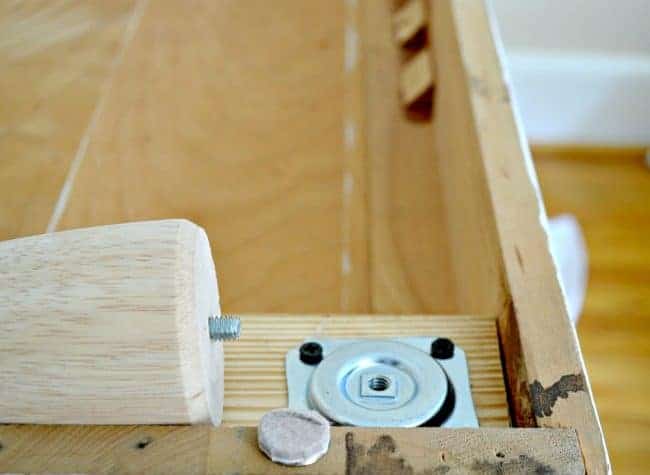 Next, I gave it a coat of paint. The first time I painted it I used a soft, icy blue color.
I also found some beautiful antique brass hardware to replace the old hardware.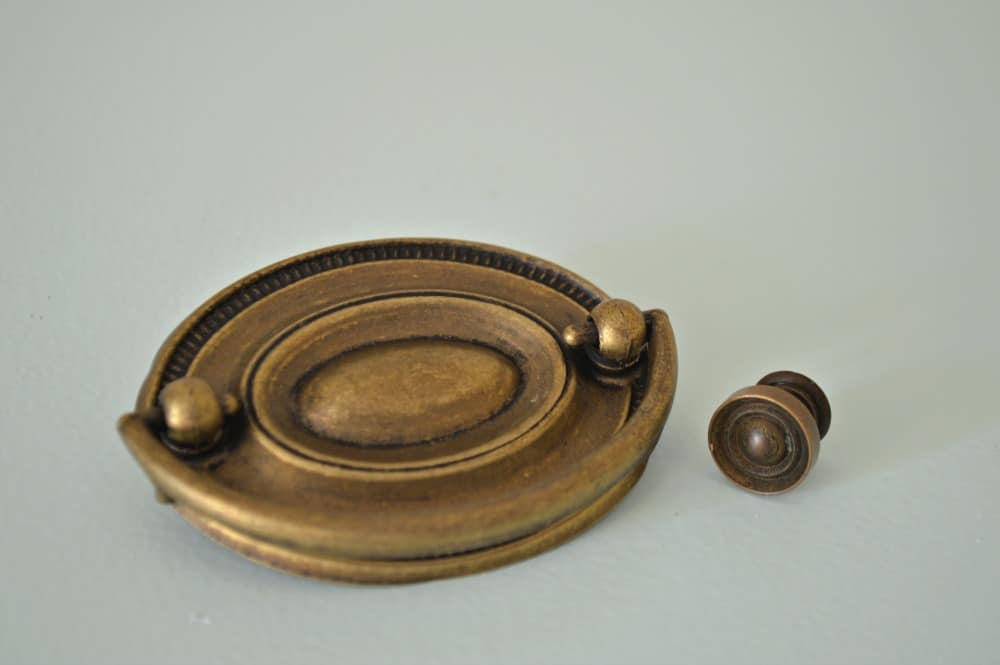 I love how it turned out!
We ended up putting it in the guest bedroom and the hubs used it to store his work clothes.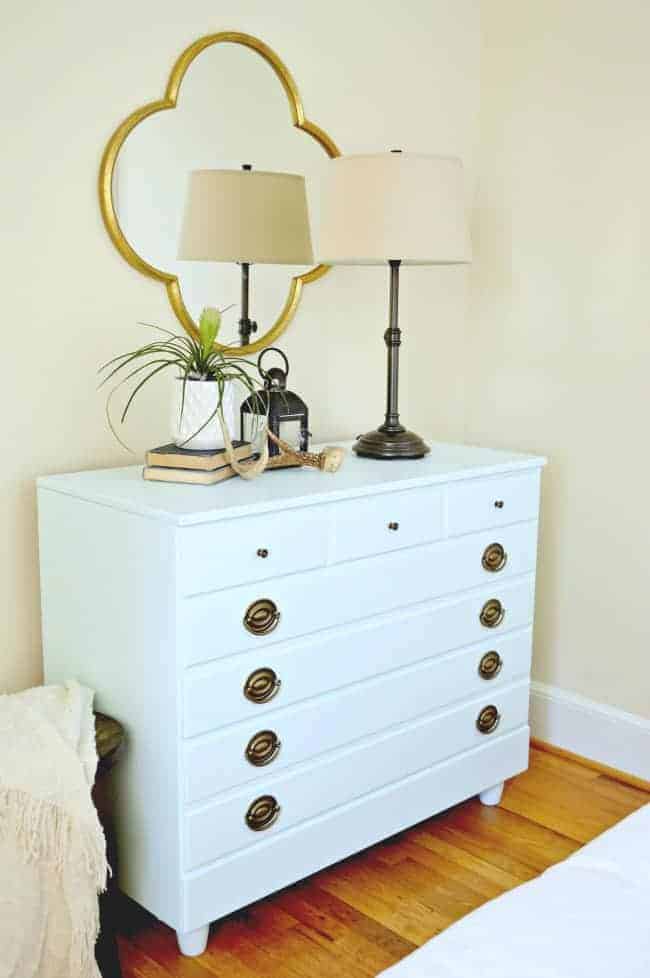 All was well for awhile and then we started the construction on the new powder room. We left the dresser sit in the room so the hubs could have quick access to his clothes.
Big mistake!
With all the tools in the room it got pretty beat up so I knew that it would eventually need another makeover.
Quick DIY Dresser Makeover Supplies:
paint brush
sanding block
small paint roller (I like this one)
paint
Best way to paint a dresser
I did all of the hard stuff the first time around so all it needed was a quick sanding and a couple coats of navy paint.
I removed the brass hardware, gave the dresser a quick sanding, wiped it down to get the dust off and applied my paint.
My weapon of choice when painting furniture is a small paint roller so I got that out and went to town.
I'm not sure that it's the "proper" way to paint furniture but I like how easy it is and I always get a perfect finish with no brush marks.
I do use a brush to cut in tight spots but I do that first and then go over it with the roller.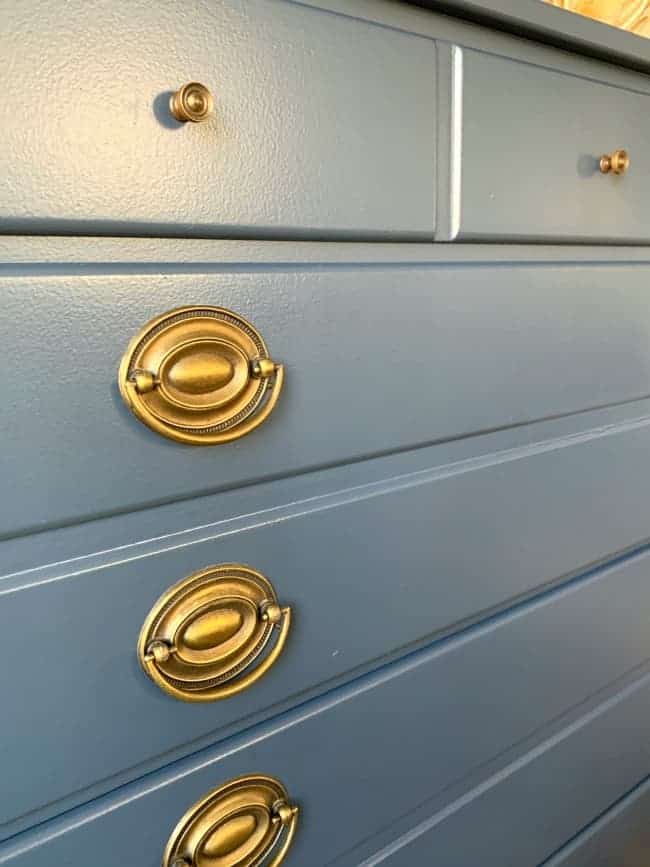 Best Paint for a Dresser Makeover
Any time I have to paint furniture, or cabinets, my paint of choice is Benjamin Moore Advance in Satin finish.
It goes on smoothly, dries to a beautiful finish and is very durable. With the right tools, a brush and roller, it's the only paint I use when painting furniture.
Just 2 quick coats, plus drying time, and the dresser had a completely new look.
I love how the navy sets off the antique brass of the hardware.
So pretty.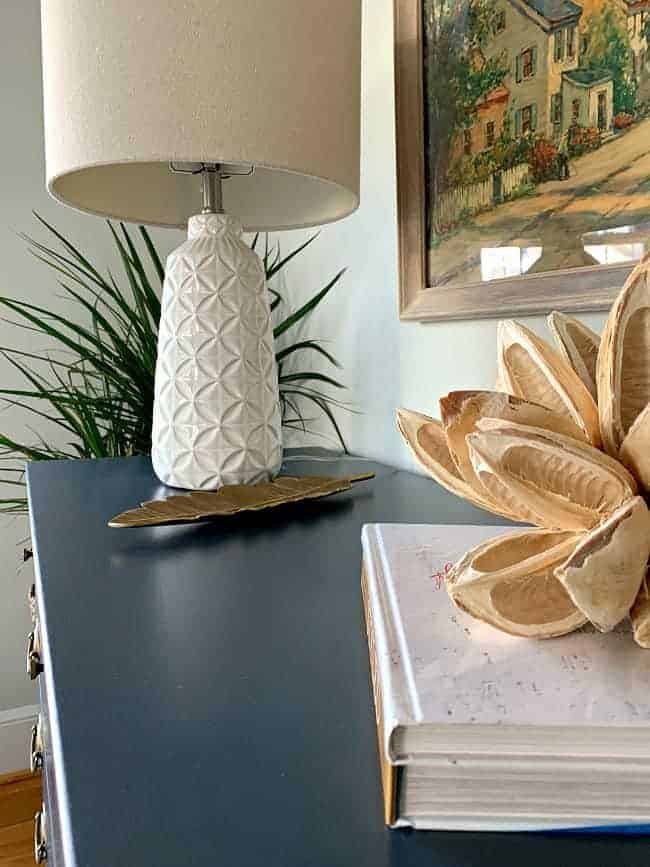 Take a peek at the feet that I added. It's a quick and inexpensive way to change up an old piece of furniture, and add some height.
I hung my thrifted painting (that I fixed up) and found a lamp in the perfect height.
I love everything about this side of the room.
Now I just need to get at that crown molding, and figure out the off-center ceiling light fixture.
I'm so close to calling this one done.
Want to see more?
CHECK OUT OUR DIY FURNITURE PROJECTS HERE!
Also, check out the rest of the guest bedroom, and the new powder room.
Guest Bedroom Sources
paint – Benjamin Moore Hale Navy, Advance Satin finish
brass hardware – Ebay
dresser – Goodwill
feet for dresser – Amazon
lamp – HomeGoods (similar style)
3 legged stool – HomeGoods (similar)