DIY Faux Branch Antlers and a Free Printable
*As an Amazon Associate and member of other affiliate programs, I earn from qualifying purchases.
Hey there! I hope you had a great holiday weekend! Ours was quiet but nice with a couple days of beautiful weather. We took full advantage and spent most of our time outside cleaning up the yard and doing a little outdoor holiday decorating.
I've been on a crazy crafting kick lately (I shared my mercury glass ornaments last week) and thought I'd share another easy project I just did that I found while lurking on Pinterest, DIY faux branch antlers. I'm also offering you a free holiday printable at the end of the post.
Holiday decorating has been in full swing in our house for the last few weeks, and I was trying to add a little holiday color to our small entryway, so I thought faux branch antlers would be the perfect addition.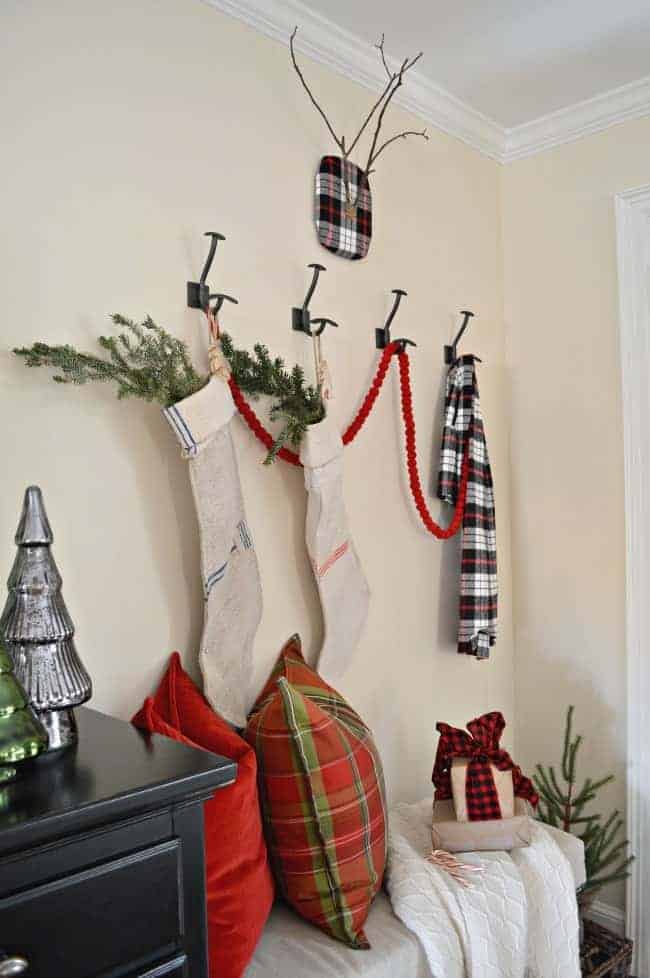 Perfect for me because it's a quick and easy craft and it only cost a couple of bucks to make (sorry, couldn't resist 😉 ).
It's the ideal craft for this impatient crafter.
Yes…I'm impatient when it comes to most projects. I'll try anything but if it's not easy, or if it takes too long to do, I lose interest and move onto something else. Because of that one tiny, little flaw (and it's my only flaw 😉 ), I have a lot of unfinished craft projects laying around.
This one, though, made the cut.
Supplies
wooden plaque
fabric
stapler
spray adhesive
sticks
hot glue
twine
small finish nails
My first thought was to use spray adhesive to attach the fabric to the wood plaque, but it was a fail. The fabric stuck but I had a hard time getting the lines straight and I knew that if they weren't straight, it would drive me nuts. It's the perfectionist side of me, I guess.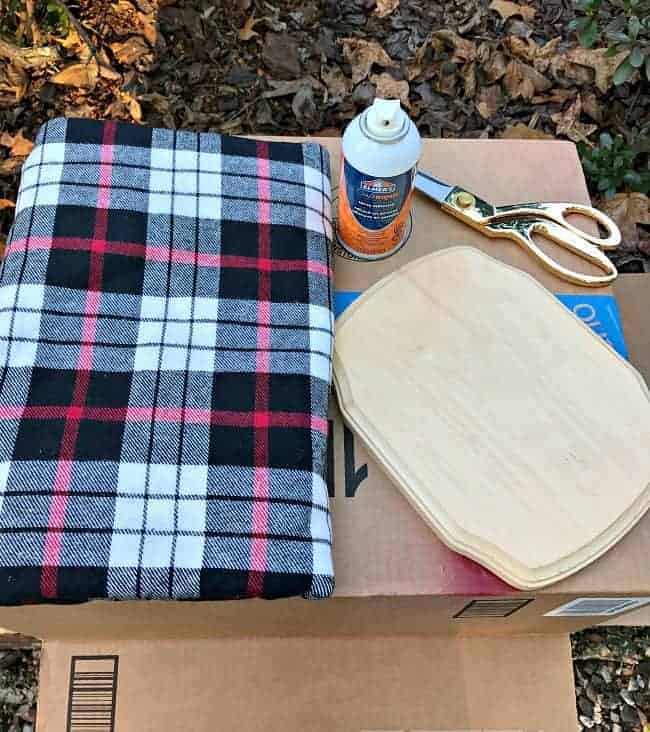 So, round 2 was with the stapler. I didn't bother removing the glued on fabric, I just stapled another piece right over it. It worked out well and I was able to keep all of the lines straight.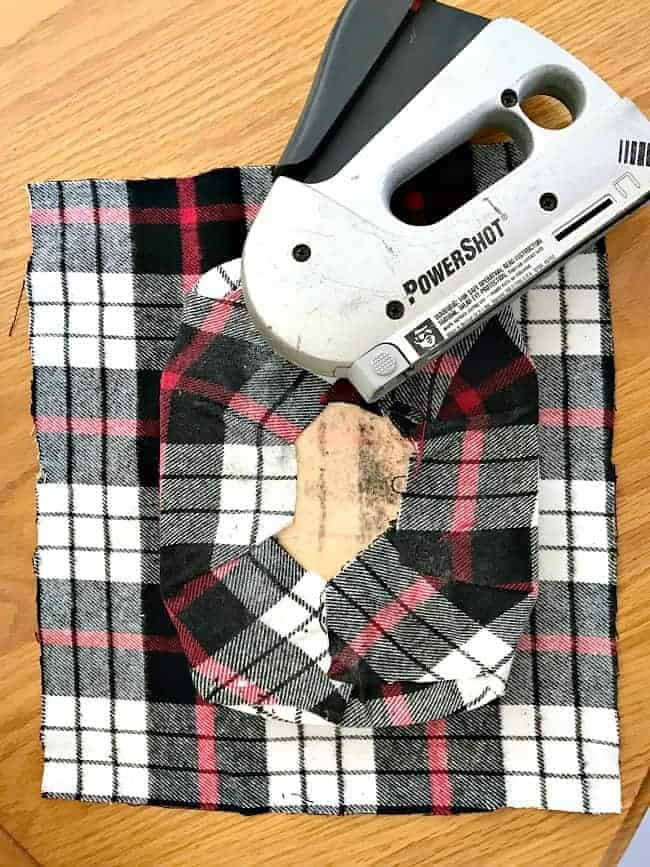 I wanted to finish off the back so I cut and fit 2 scrap pieces of fabric and used spray adhesive to attach it.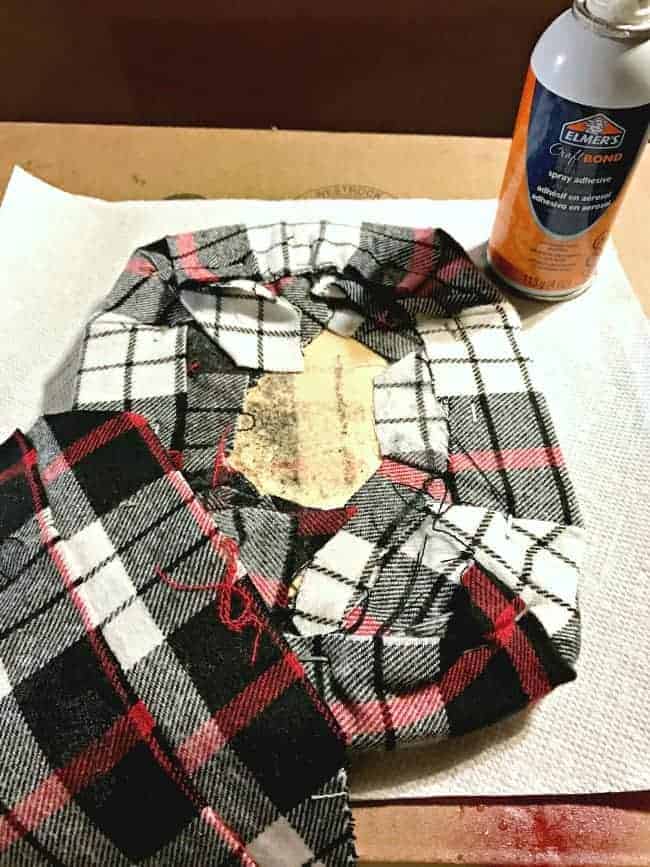 It's not pretty but it covers the wood in the back.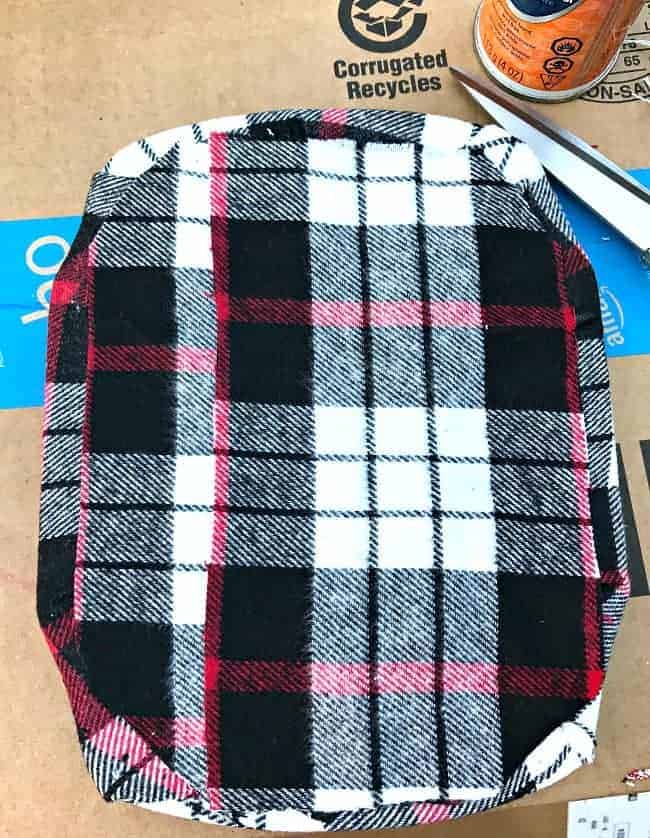 A little walk around the yard with Finn, and I found the perfect branch "antlers".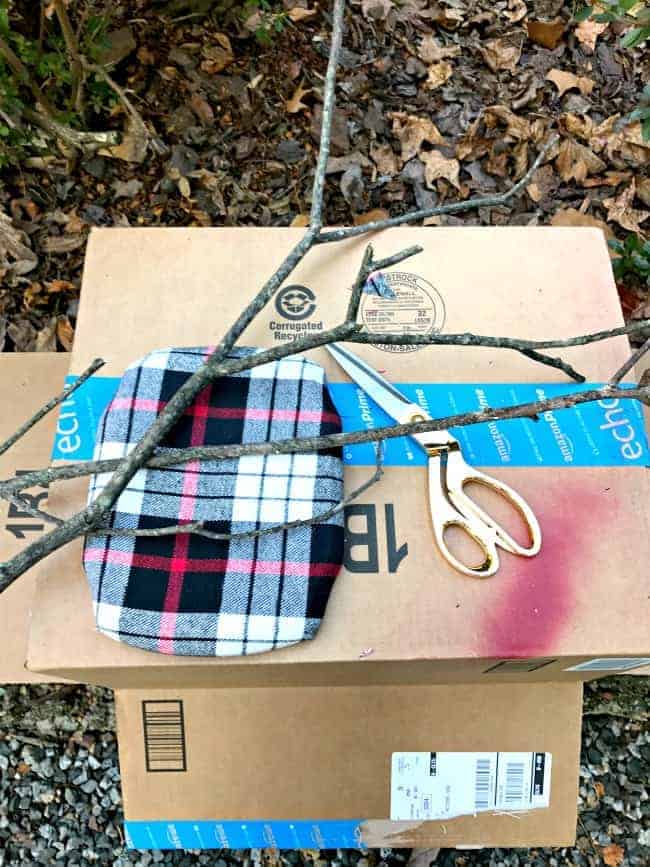 Attaching them ended up being the tricky part.
I tried using hot glue to hold the sticks on the plaque, but it didn't work.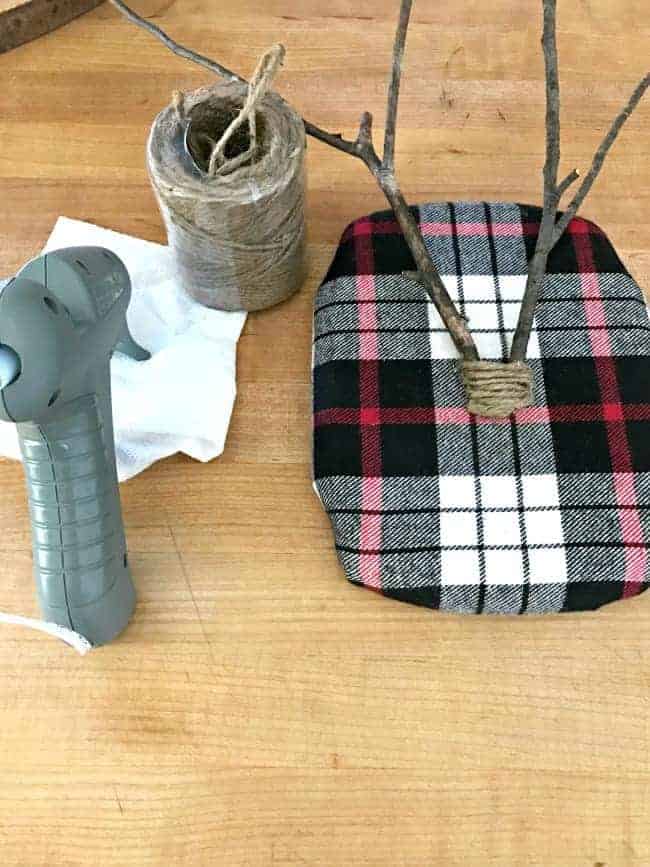 So I added a small finish nail at the bottom of each stick.
To hide the nails and add a bit more stability, I used hot glue and some twine.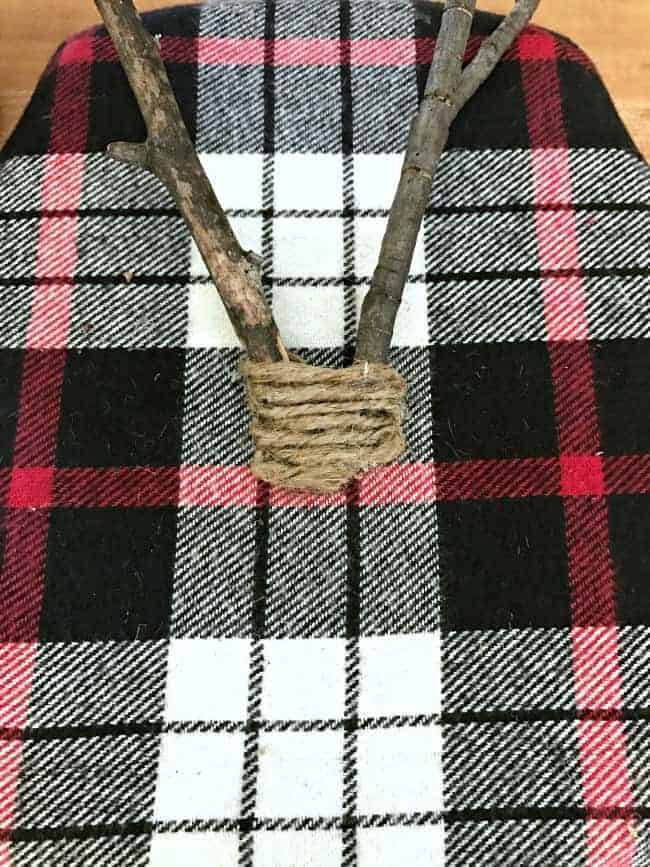 A couple of 3M velcro strips to hang it up and our faux "antlers" are done.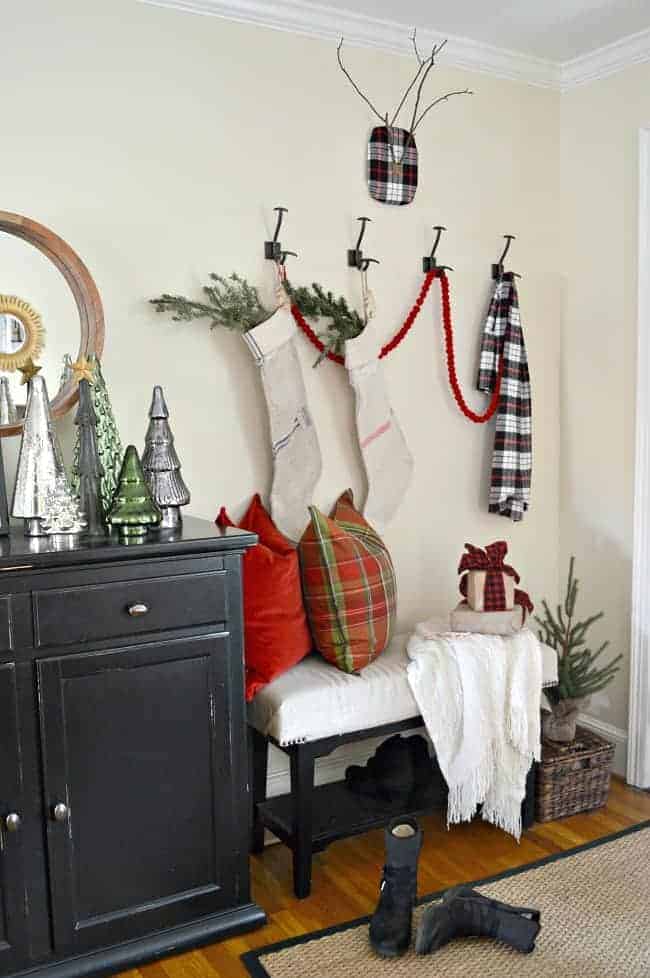 So easy and, even though I hit a few snags, it was a really quick craft.
Speaking of antlers…
I wanted to thank you all for stopping by every time I post. I can't tell you how much I appreciate the thoughtful comments and emails I get from so many of you. Your support and comments are what keeps me going, and I wanted to offer you a small token of my appreciation, a free printable that I created for the holidays.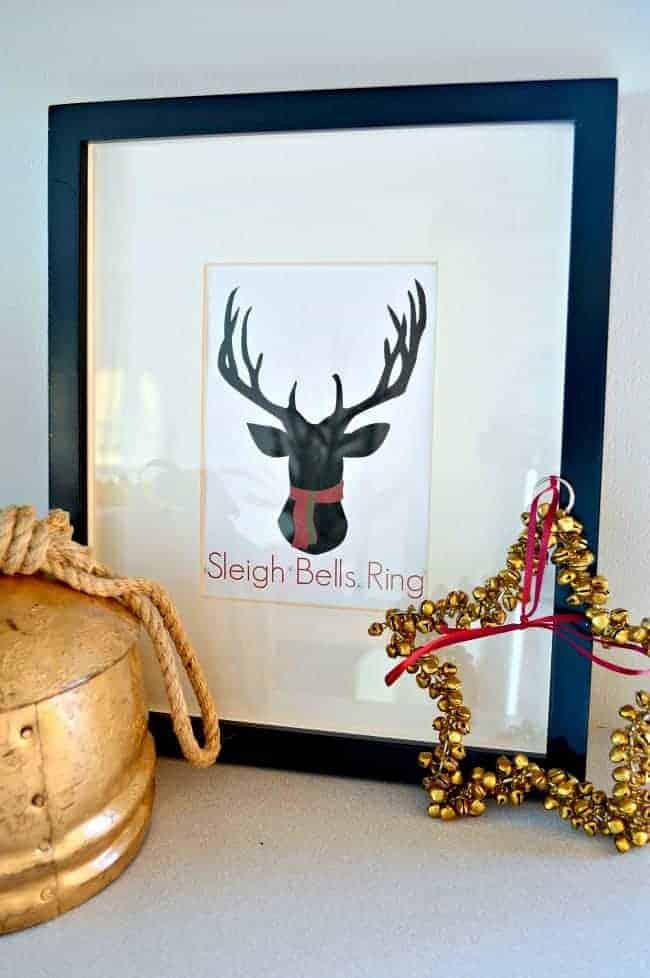 If you want to download it, just click on the picture below and a new tab will open. From there you can download it.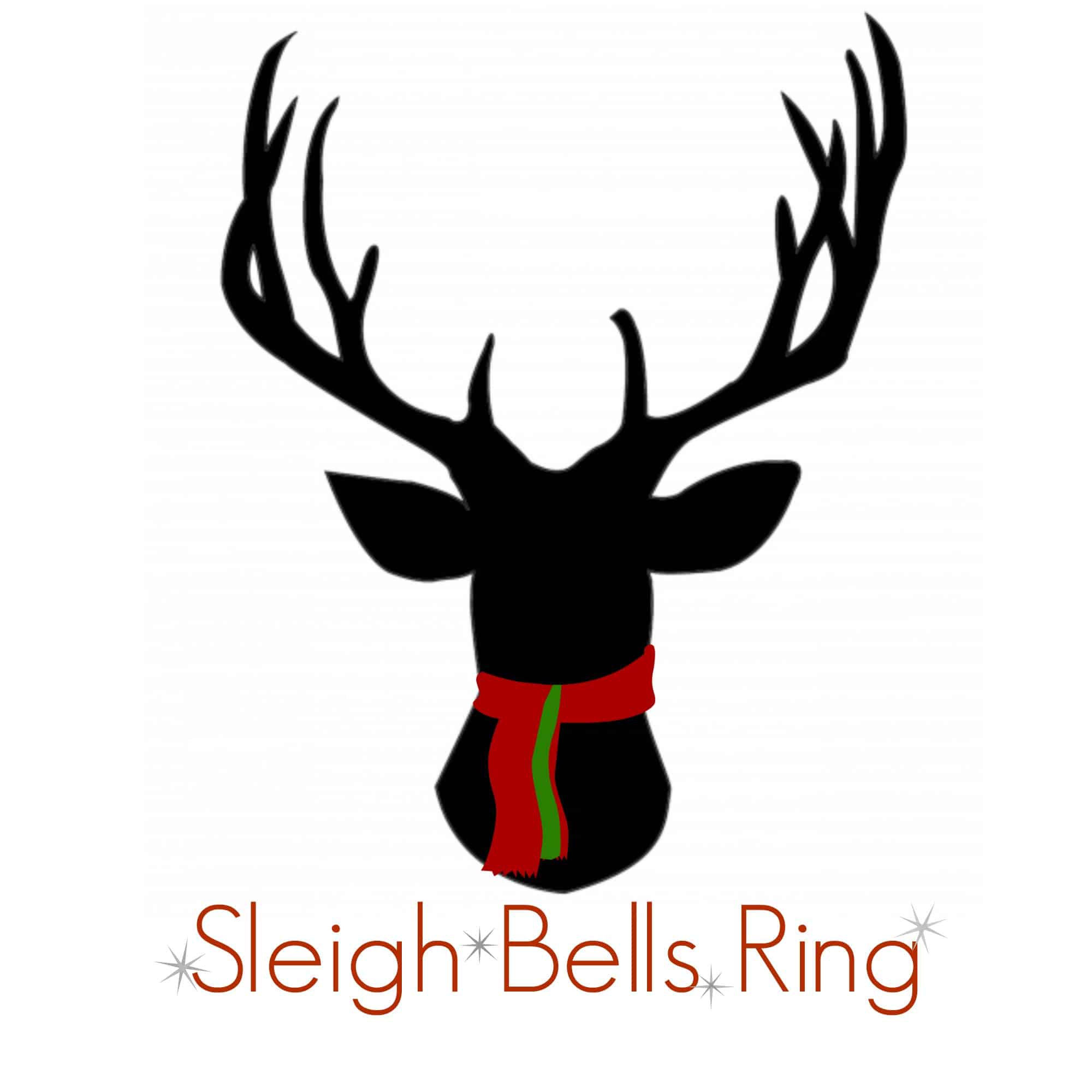 Make sure you stop back in on Thursday. I'm part of the Home For The Holidays, Cozy Christmas Cottage Tour. It's running all this week and I'll be sharing our home decorated for the holidays.
Thanks again for stopping in. Have a great week!!!