This post may contain affiliate links, please see our policy for details.
How to add style to a room with a hand painted DIY accent wall. An inexpensive alternative to wallpaper.
Our guest bedroom/studio is the last room in the cottage to get painted.
This small space is only used by me for crafting and small projects so it was last on the to-do list.
When I started this room I knew that I wanted to do something different with the walls. I tossed around the idea of hanging wallpaper, and even looked at some samples, but I didn't want to spend a lot.
If you've ever wallpapered a room before then you know how expensive it can be.
So…
I came up with a fun, easy and inexpensive way to create a kind of DIY accent wall that I would paint myself. I guess you could call it faux wallpaper.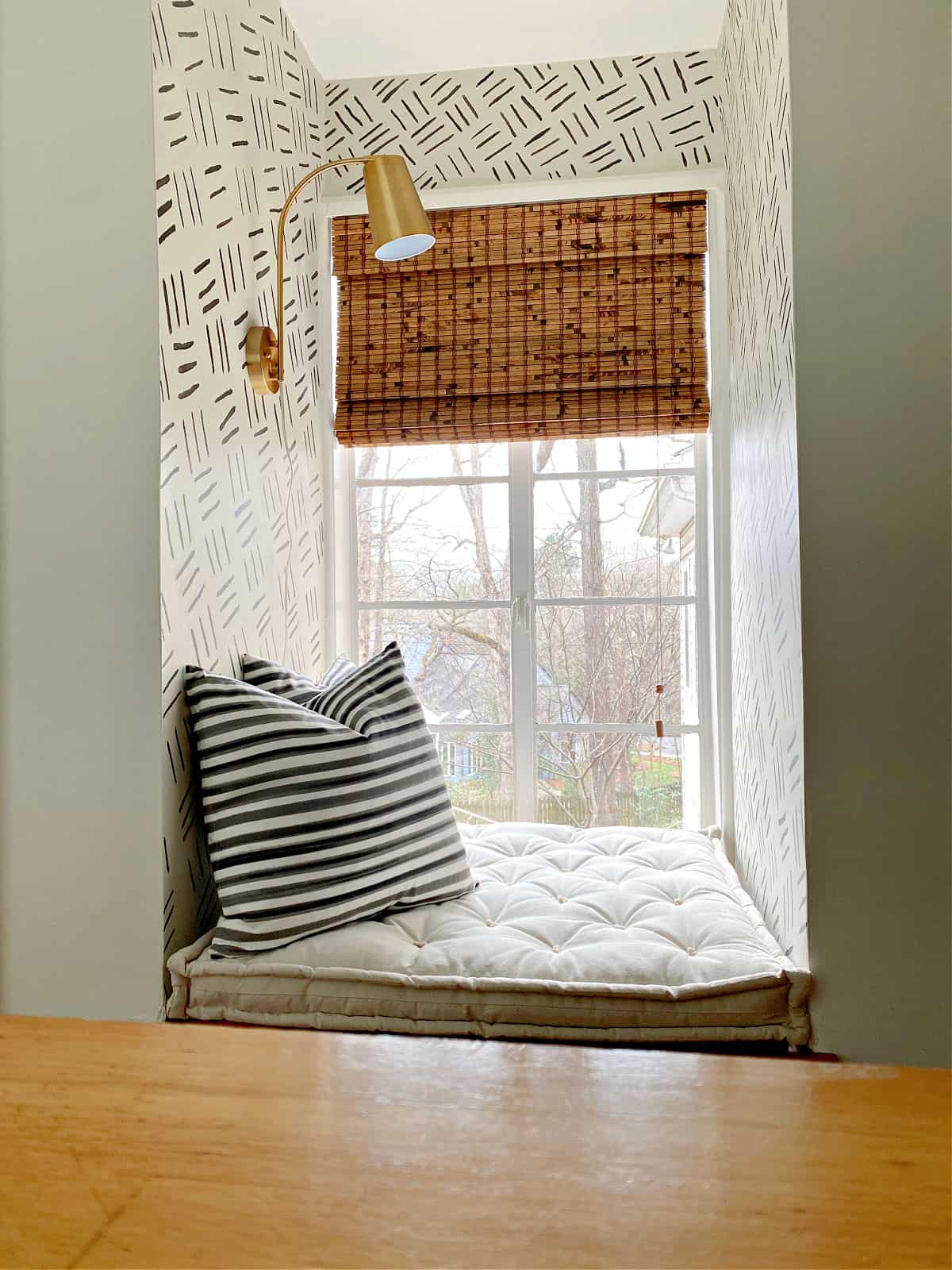 We have a unique window nook in this room so I knew that it would be the perfect place to try a feature wall treatment idea.
Now that I figured out the "where" part, I had to figure out what to do.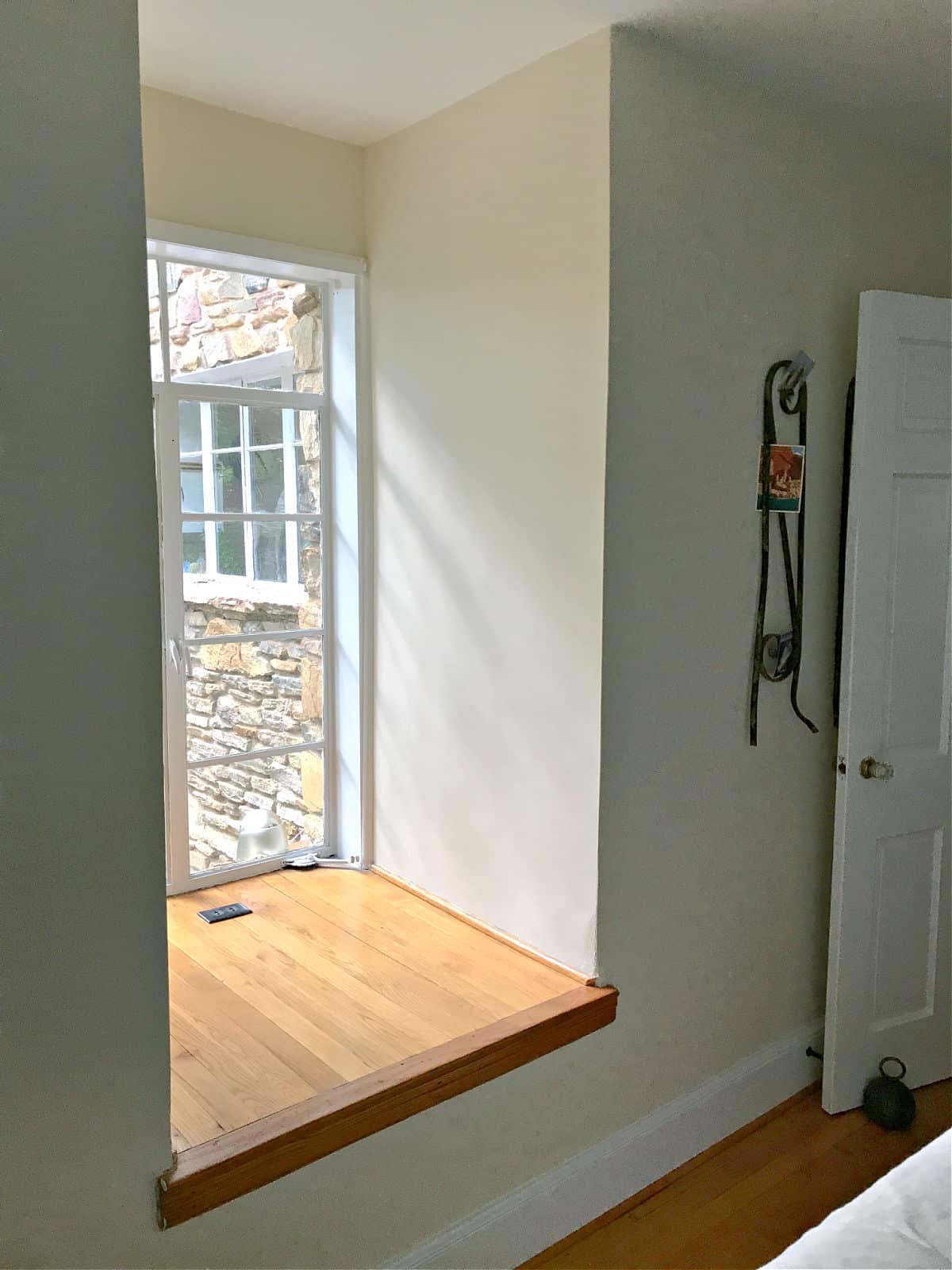 What is the best way to paint an accent wall
Keep it simple and practice!
I'm not an artist so I knew I had to keep it simple. My design of choice turned out to be lines. Other easy paint designs for walls could be dots, dashes or strokes.
To come up with a pattern for my lines I used cardboard from a box and practiced different techniques.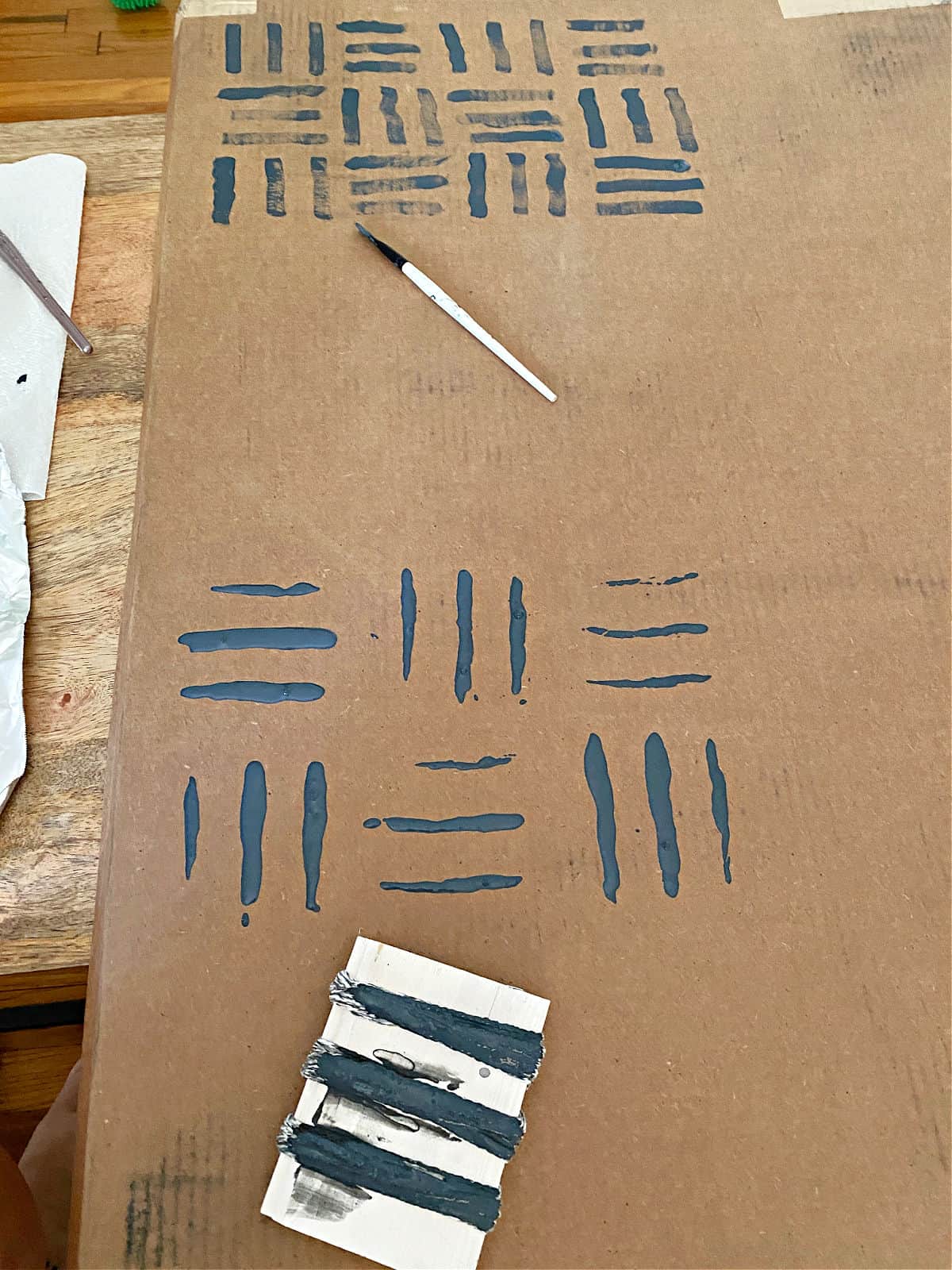 I hand painted some lines in different configurations and even tried making lines with a template made of string and a block of wood.
Hand painting gave me a little more control so after practicing for awhile I moved over to the nook to begin.
Supplies to create a painted accent wall
clean damp rag
base paint for wall
paint to create accent wall
I'll admit that I was nervous to start and I stood for the longest time just staring at the wall.
What if it didn't look good?
What if I did all three walls and it wasn't what I'd hoped it would be?
A lot of what if's so I took a step back, a deep breath and tried to rethink my plan.
After giving it some thought I decided to cheat a bit on my design and use some chalk.
Yup, chalk!
I found a piece of white chalk and began creating my accent wall design before I painted anything.
I started at the ceiling, on the left side of the wall, and worked my way right.
What I quickly learned was that in order to get the look I was going for, I needed to line up my blocks of 3 lines so that they moved down the wall on a diagonal.
This was purely preference on my part and what seemed right to my eye.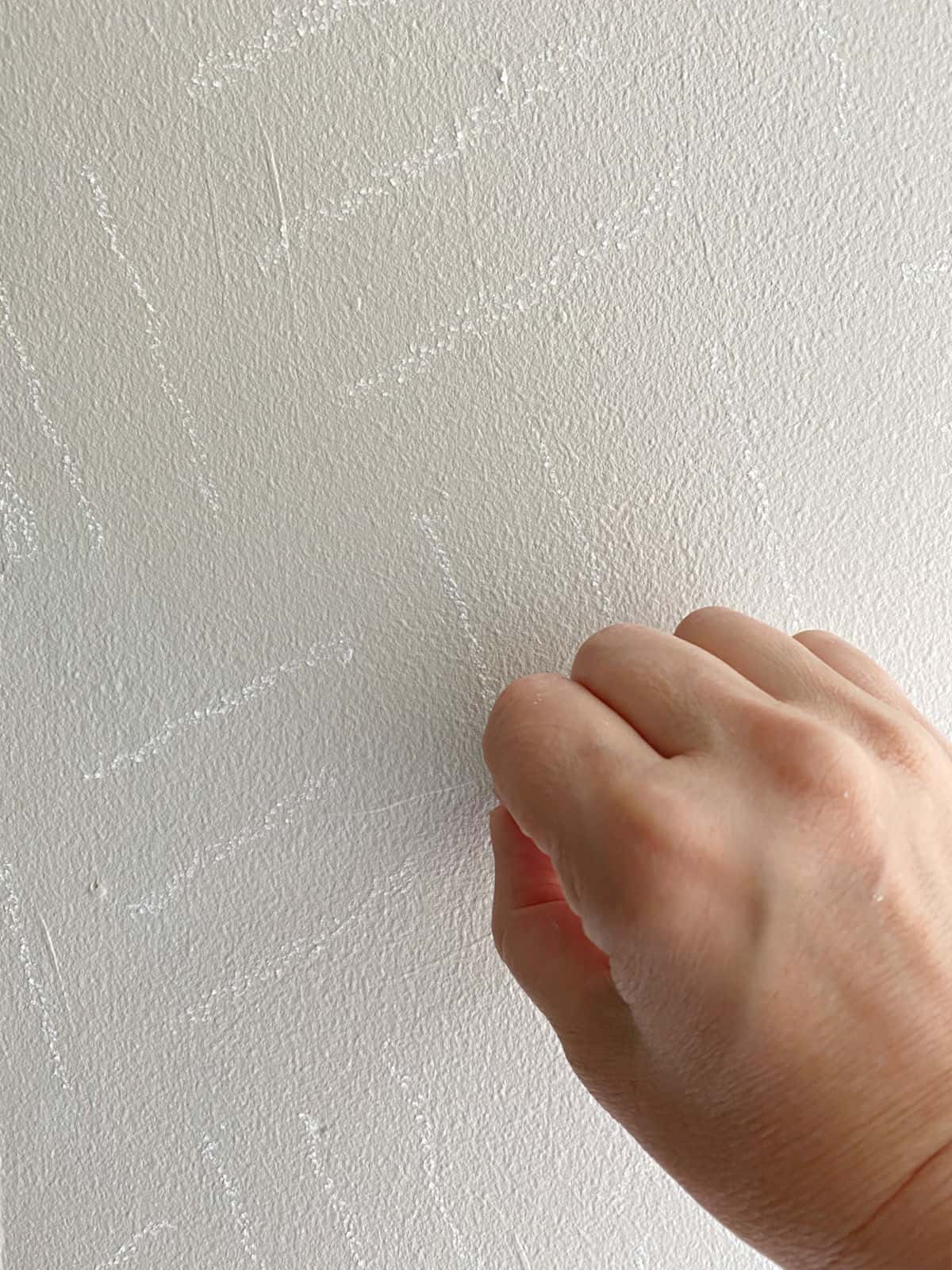 There was a lot of erasing (by way of a clean, damp rag) but once I found my groove, it went quickly.
After I finished chalking one wall I began painting my lines, using a dark gray paint that I had left over from another project.
I simply painted right over the chalk line using a small artist's brush.
Once in a while I would need to wipe the chalk off of my paintbrush so I kept a clean rag handy.
Other than that, the chalk worked well and I was able to quickly paint the wall with no mistakes.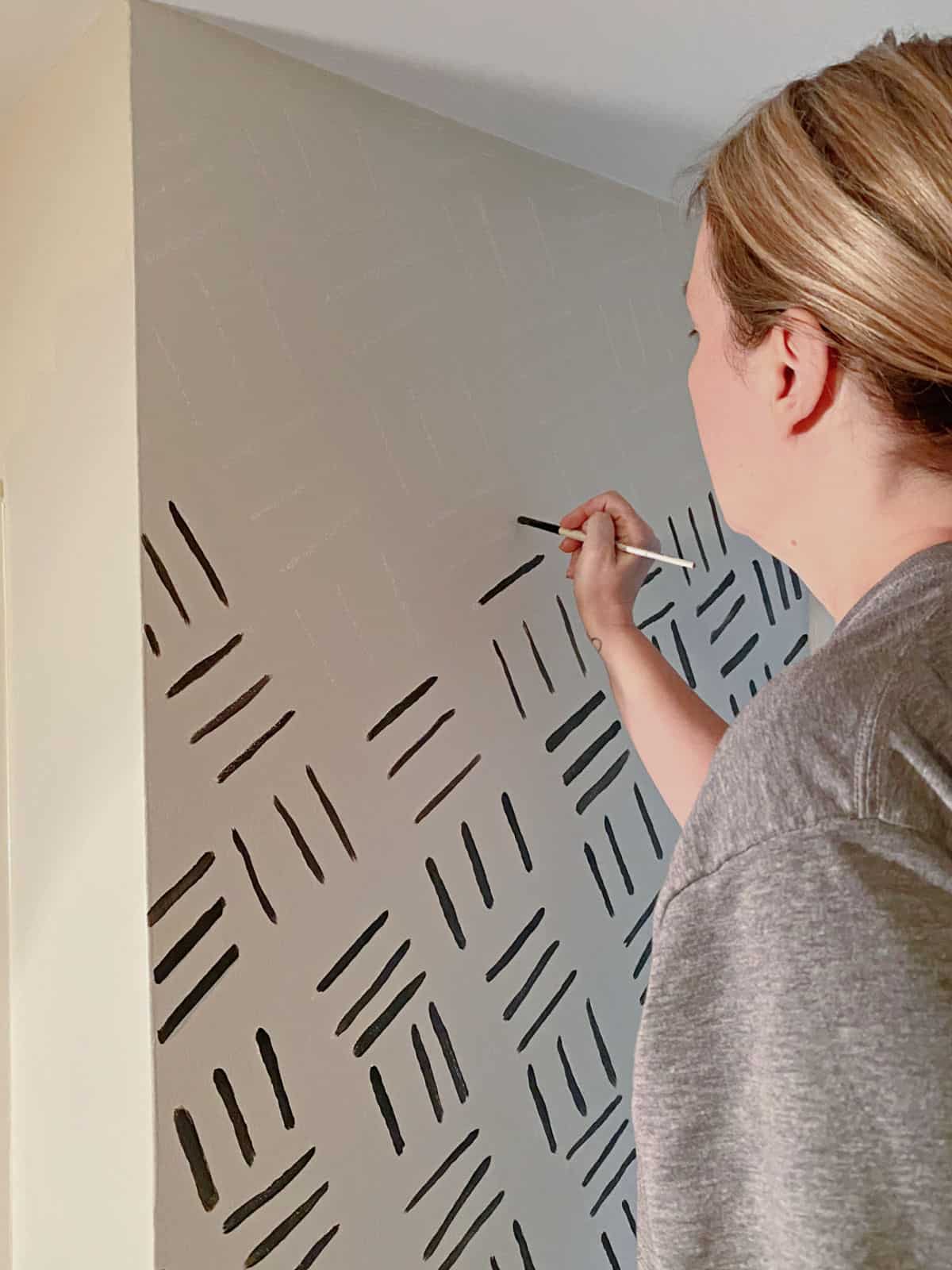 I'm not an artist so the look I was going for wasn't perfection.
I wanted it to have a handmade look and that's what I got, although I will admit that it took time for me to accept the imperfections.
After the first wall was done I moved on to the window wall and then the last wall in the nook.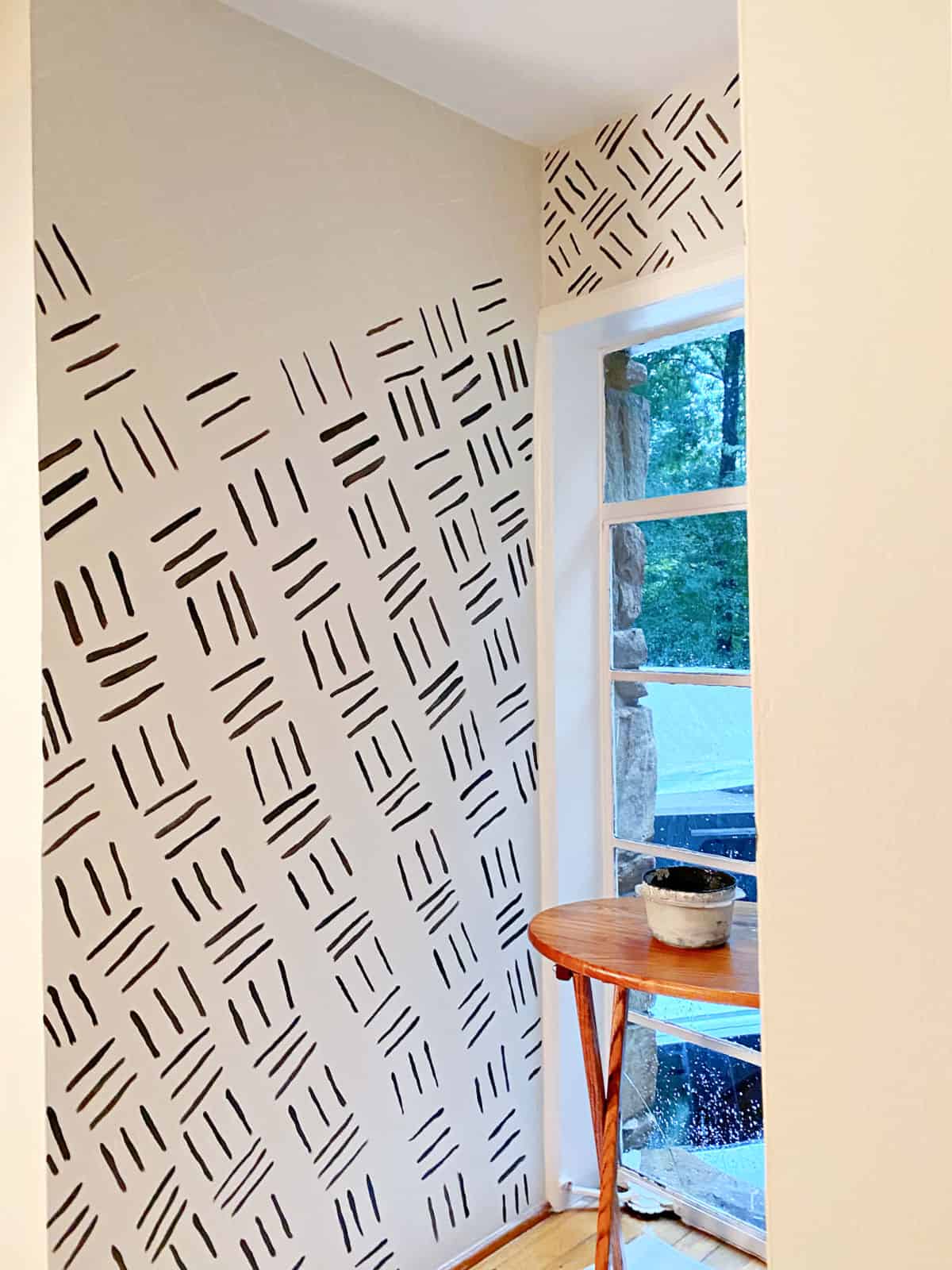 The original plan was to do the whole room but I decided that the nook was more than enough and it made my paint design special.
To finish the nook I hung a brass reading light, installed a new woven shade on the casement window and added a cushion and pillows.
Now it's the perfect little spot to sit, relax and write notes in my notebook every day (yes, I'm old school).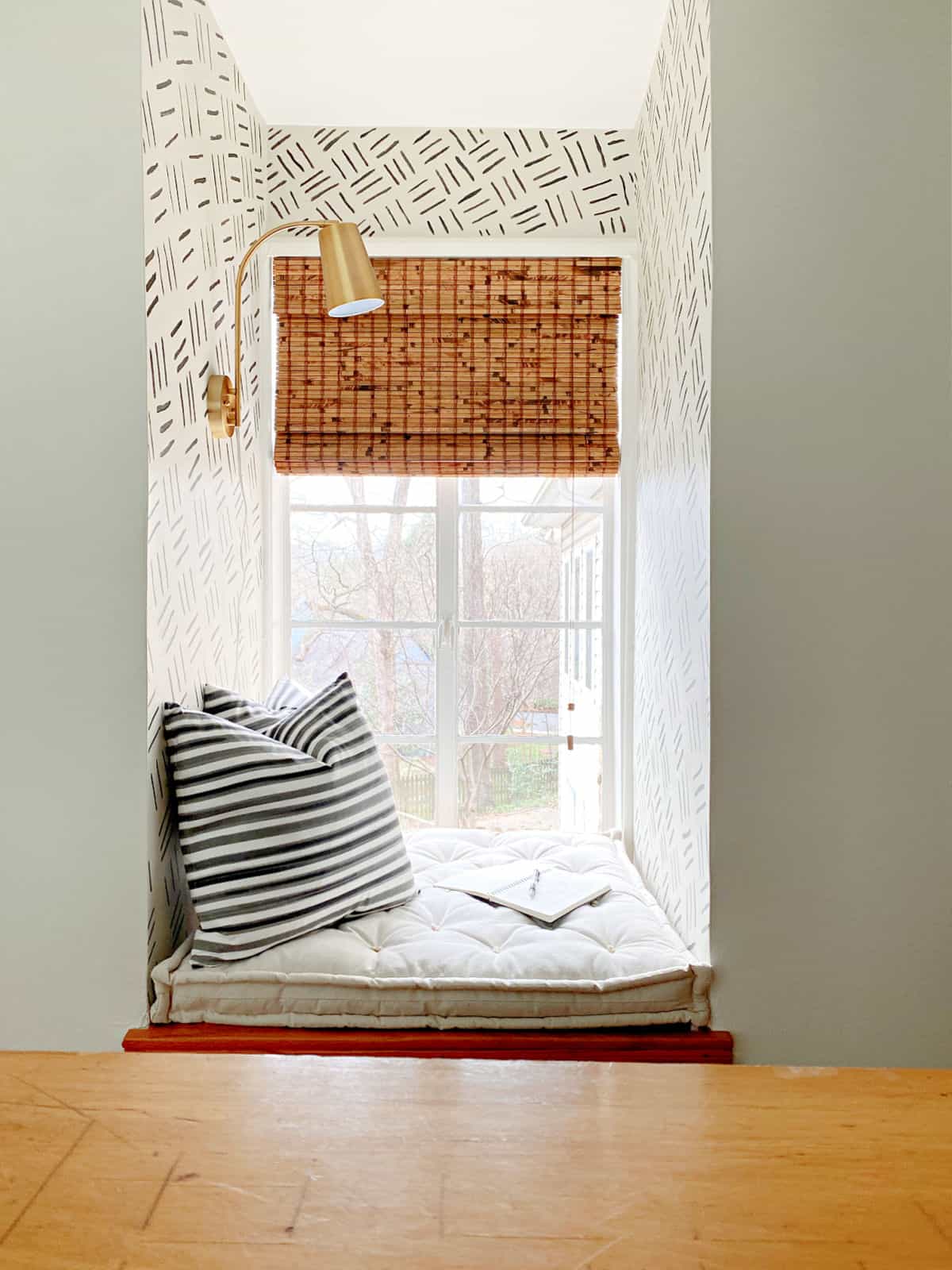 With the window nook done I moved on to the rest of the room.
I painted the other walls with the base color I used in the nook and painted the doors (see Bedroom Sources at the end of the post).
I laid a seagrass rug and set up an old artist's desk for my craft projects.
It truly feels like my own creative space where I can work, craft…and relax.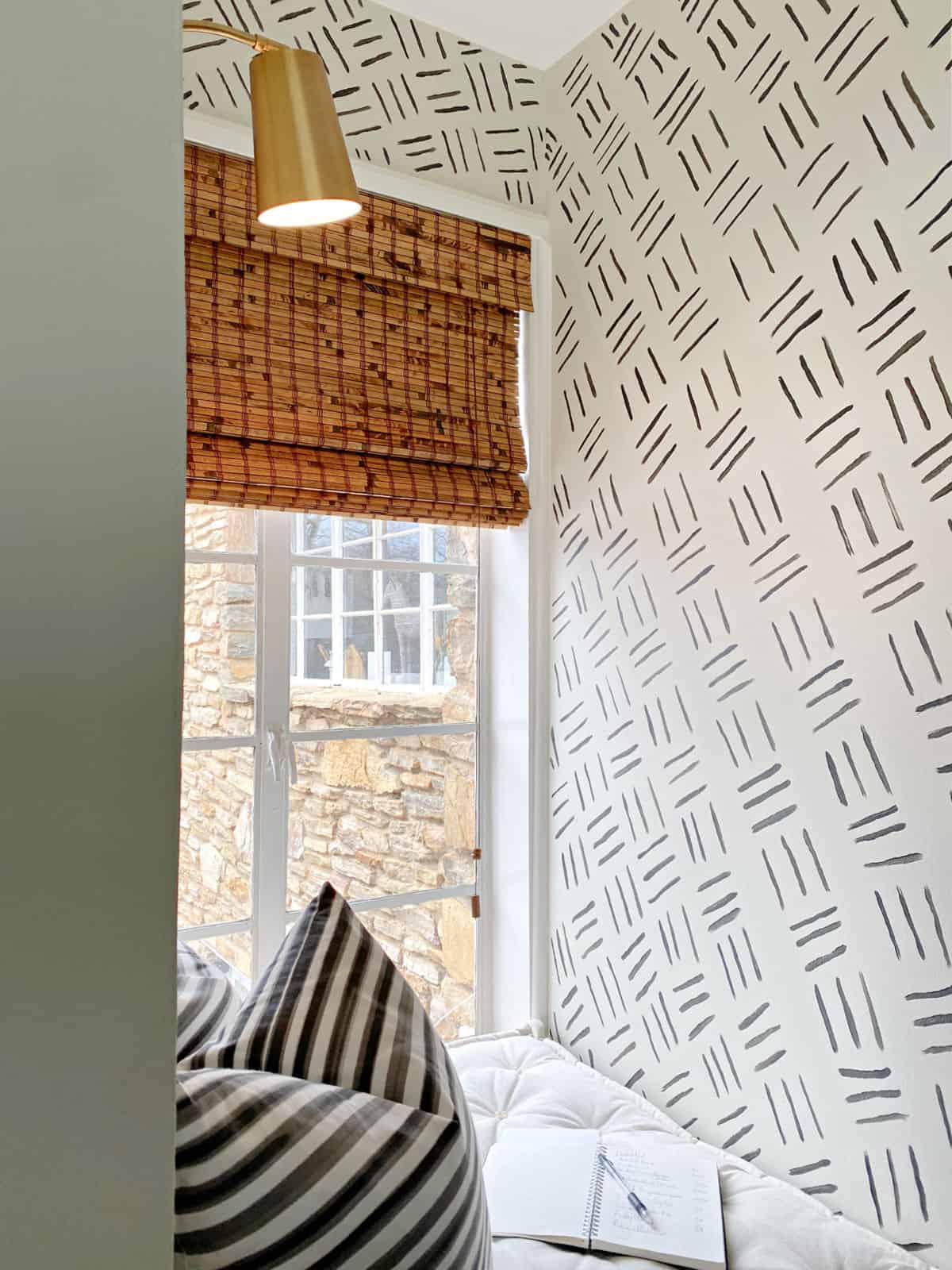 Now that I embraced the handmade aspect and imperfections of my bedroom accent wall, I really love it.
It's one of a kind…and it was inexpensive to create.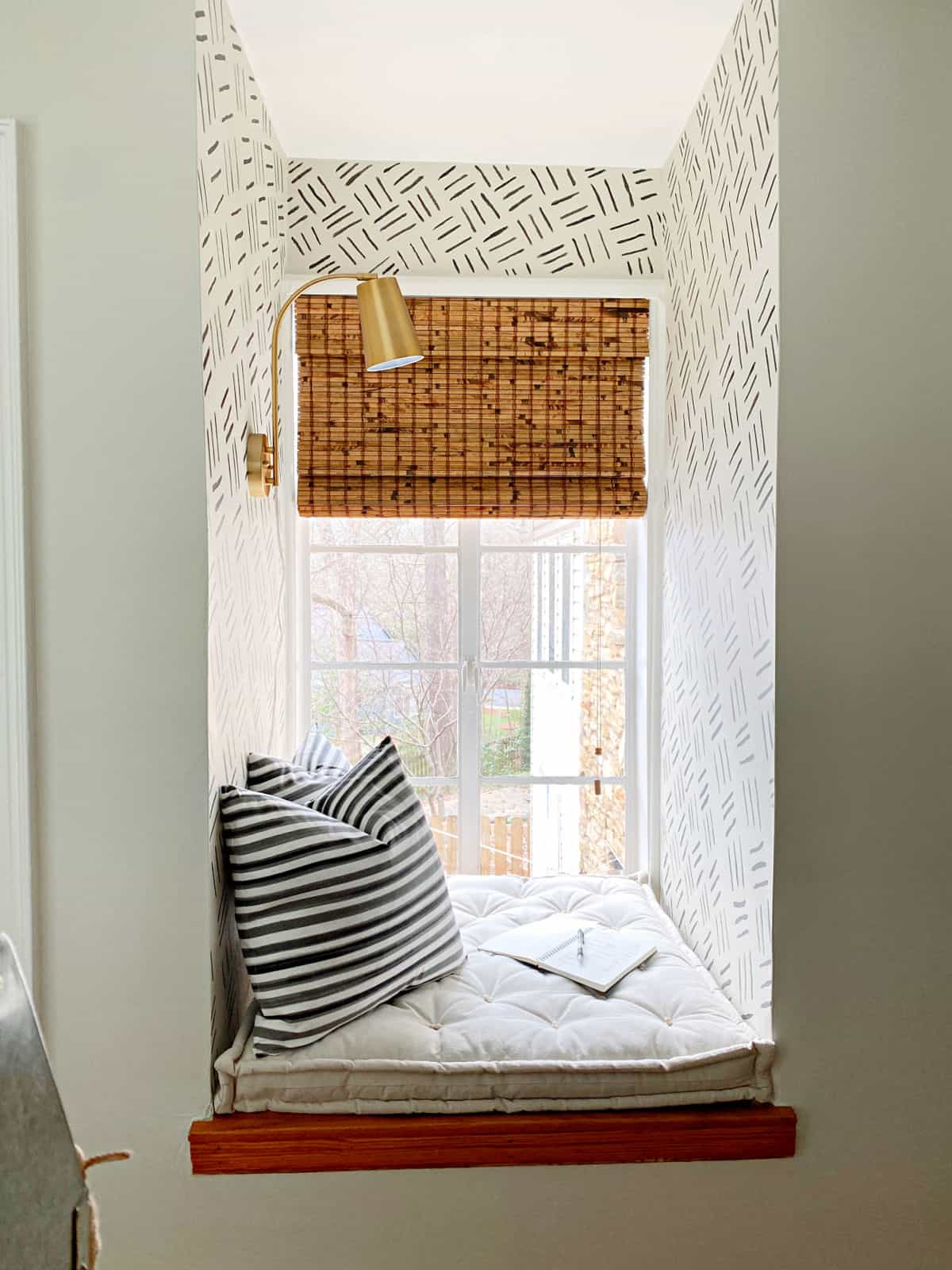 Bedroom sources
accent wall paint – Benjamin Moore Wrought Iron
base paint – Benjamin Moore Halo
woven window treatment – Malay Oak
More wall treatment ideas…