*As an Amazon Associate and member of other affiliate programs, I earn from qualifying purchases.
Hey there! Well, I'm back. I know…long time, no see. I didn't plan on being away for so long, but we got busy with this house buying stuff and getting settled in our new city, so I decided that, instead of posting just to post, I'd wait until I had something worthwhile to share after we closed on the house.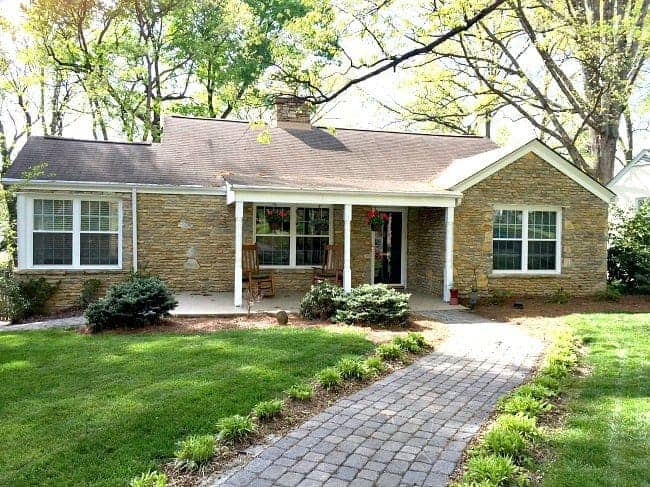 It's a done deal and she's all ours! We finally closed last week but our lease on the apartment doesn't end until July 1, so we've been spending our time cleaning, packing up the apartment and doing a few small projects before we move at the end of June. Oh, and there was the little spill I took down the deck stairs last weekend. Instead of packing and working on the house, we spent half the night in the emergency room. I hurt my foot and I'm pretty bruised and battered, but I'll be ok. It could have been so much worse. It's not an ideal time to be sidelined with an injured foot but what are you going to do…right?
Anyway, since we don't have any projects to share just yet, it's the perfect time to bring you in and give you a tour of our new digs.
Our little stone cottage was built in 1946 and has 3 bedrooms and 1 bathroom in almost 1400 square feet, just a bit bigger than our house in Illinois. There's a basement with a garage (the hubs is giddy with excitement) and a beautiful lot with tons of room for Finn to run around. Oh, and did I mention that I have a covered front porch? The biggest front porch I've ever had, and I can't wait to decorate it.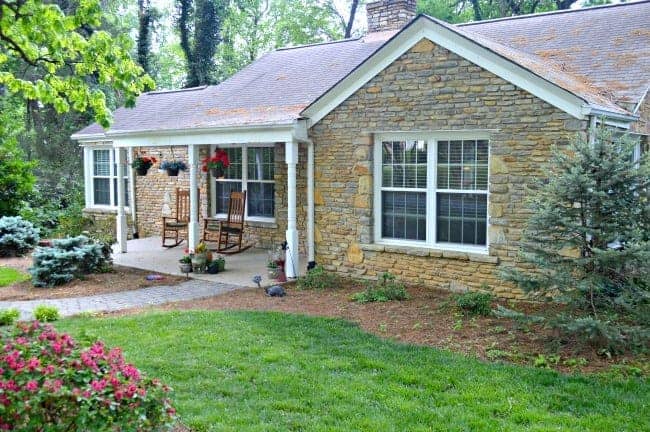 I'll show you the rest of the outside another time. Let's go in and have a look around.
Coming in through the front door you see the living room. It's not a huge room, and it'll be a challenge placing our furniture, but it does have a fireplace.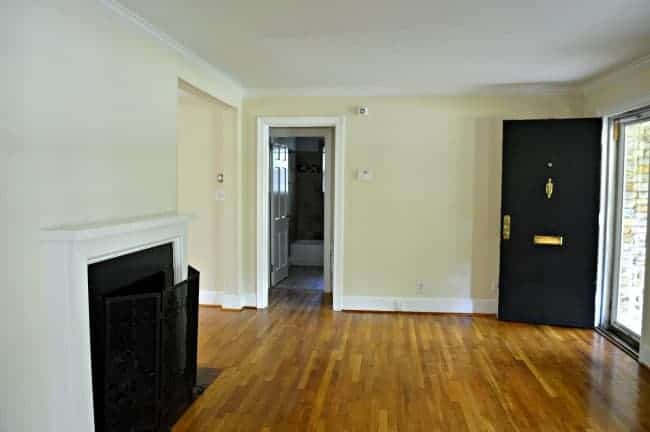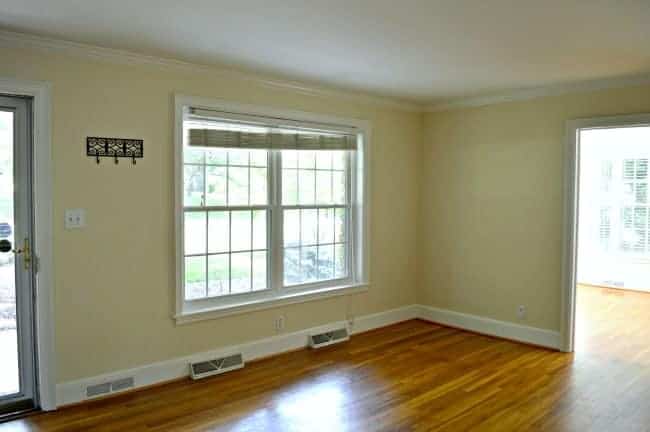 From the living room, you walk into one of the guest bedrooms. It has tons of light and an original casement window with a built-in seat. Bed placement will be a challenge in here but it's such a great room.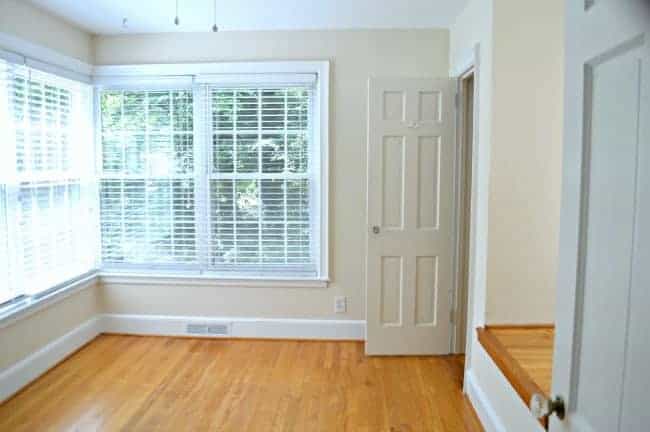 On the other side of the house we have the master bedroom, bathroom, and another guest bedroom. The blue guest bedroom has the biggest closet in the whole house (there are only 3) and it has a bookcase. The bookcase isn't made very well and takes up valuable real estate so it will have to go.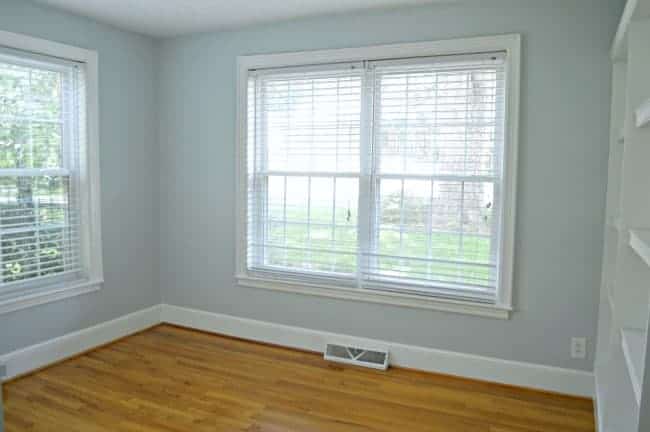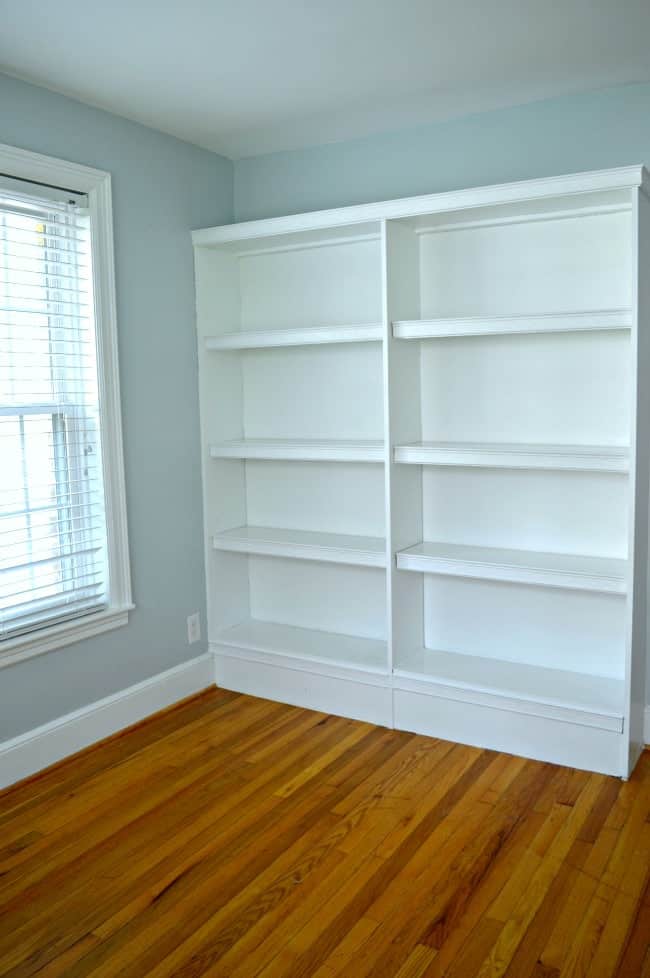 After living with 1 bedroom in our Illinois house, we swore we would never do it again but here we are…1 small bathroom. It was recently redone but I have big plans to redo it again to fit the era of the house. The first thing that we'll do is install a new vanity so that we have a little extra storage.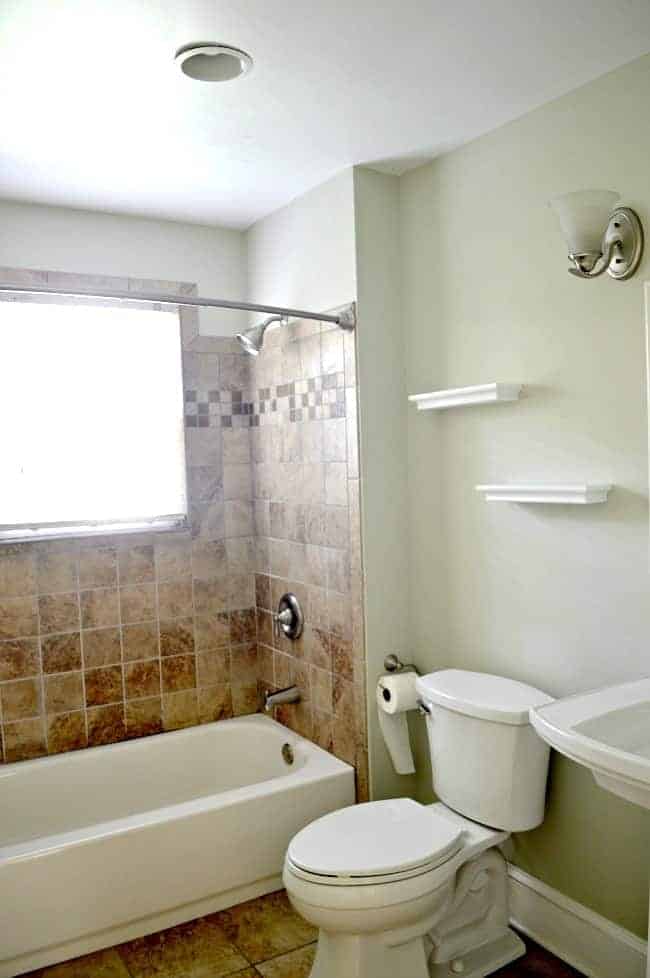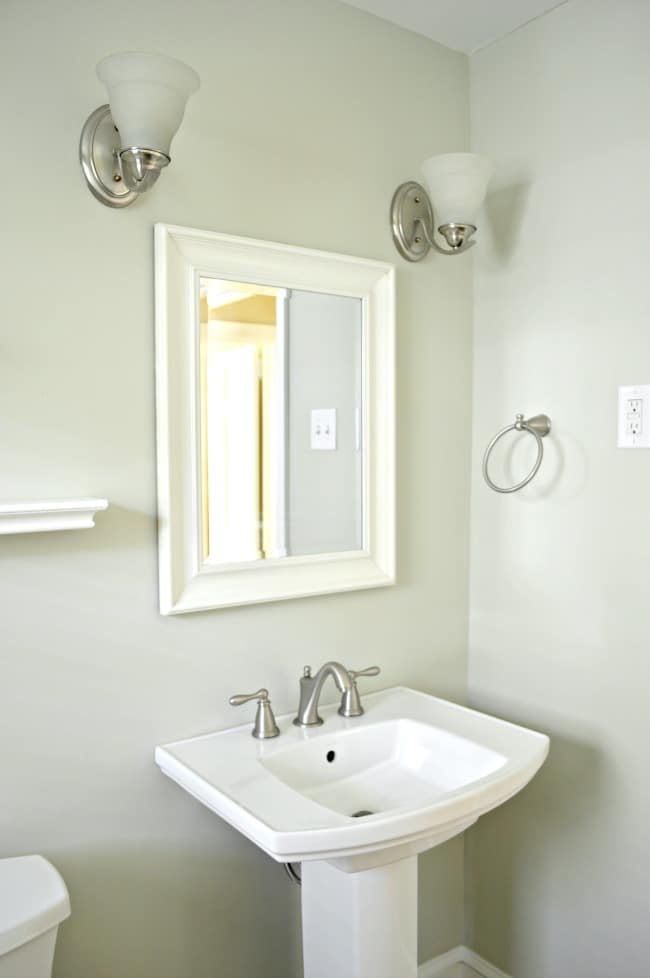 The master bedroom is in the back of the house, overlooking the backyard. It's small but I think we can fit the necessities. This room is the first on the to-do list. Very soon it will have new paint, window treatments and ceiling fixture.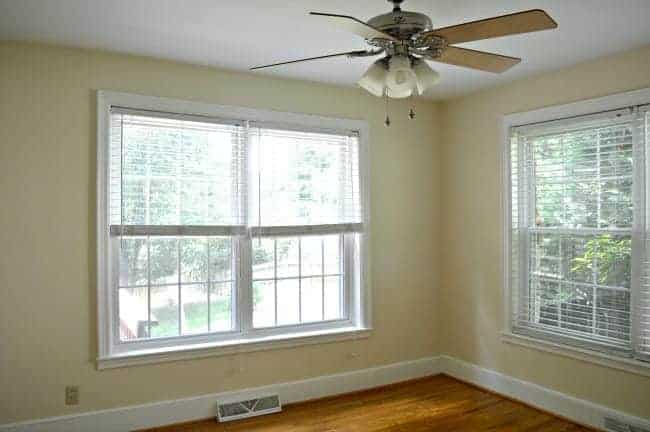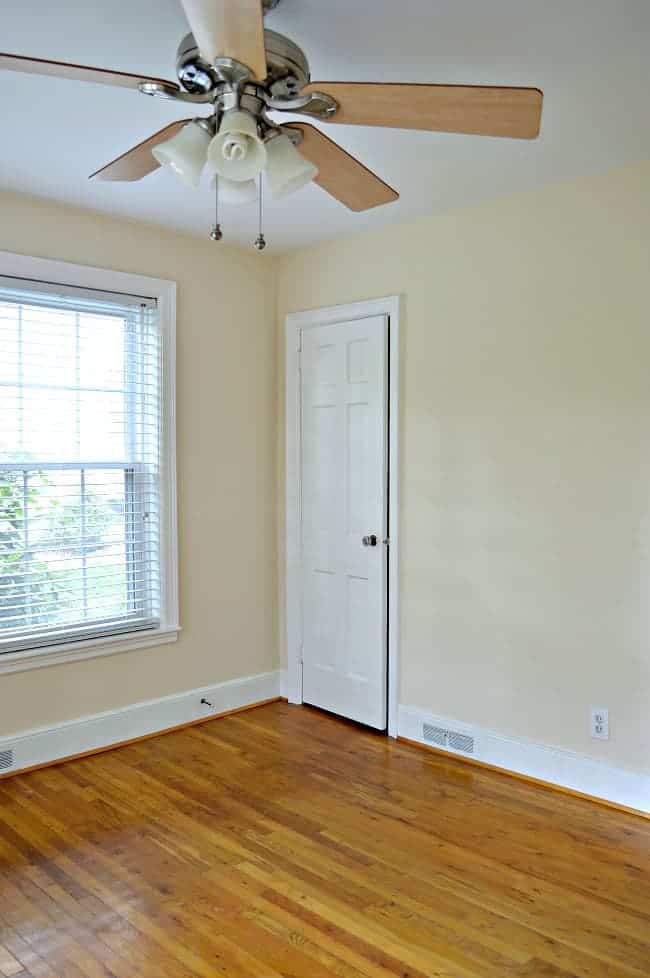 Back out to the living room and we'll head into the kitchen and dining room, aka our favorite space in the house.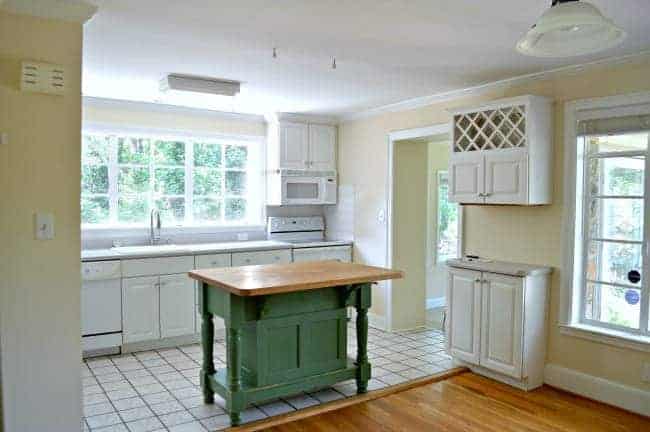 We have plans to redo this space, too. The cabinets are old and not the best quality so they will go, along with the countertops. It's ok for now but eventually, we'll redo it all. For now, though, we're going to replace the stove and dishwasher. We'll be having gas hooked up to the house so the electric stove will be replaced with a new gas stove (again, the hubs is giddy with excitement). It's the little things with him.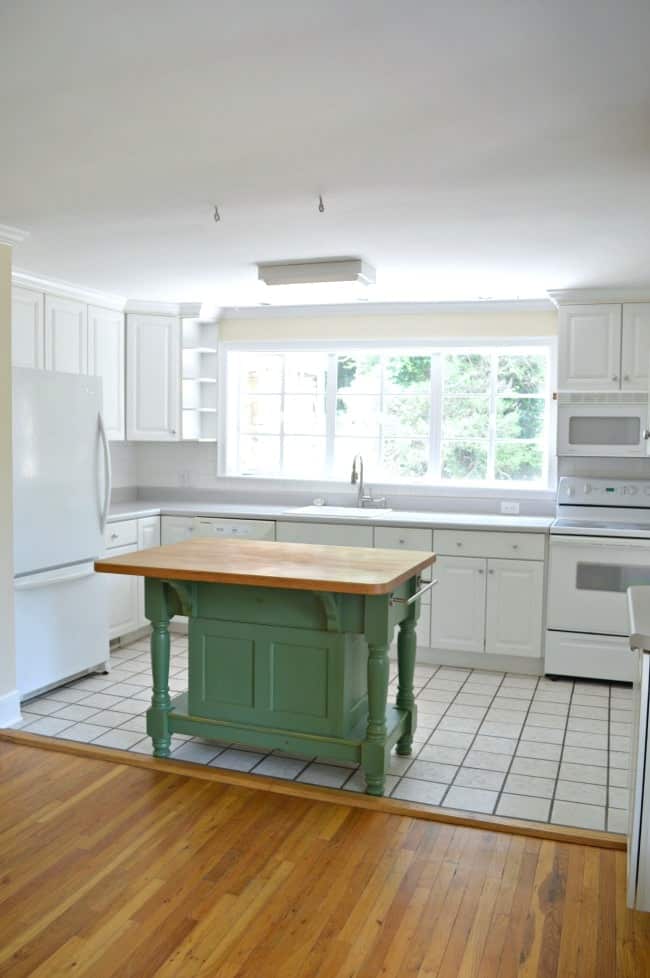 I love the two original casement windows in this room. The one over the sink looks out onto a wooded lot next door and the one in the dining area looks out over the backyard. We are in the city but can't see any of our neighbors. Love that!
In our Illinois house, our dining area was in the living room. It'll be nice to eat and not look at the tv.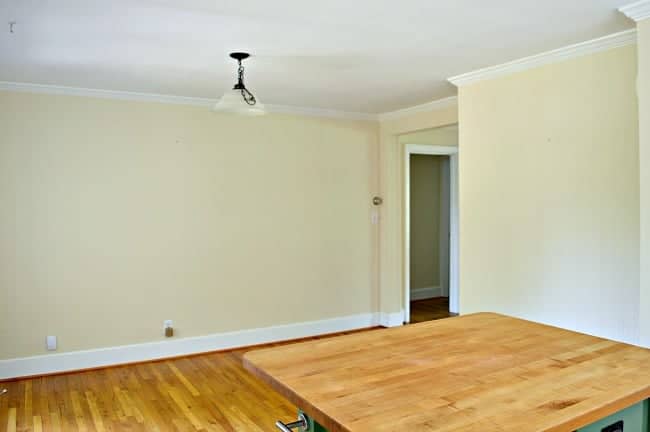 The last room, which is off of the kitchen, is the sunroom. It was added on several years ago and, although it's pretty, it doesn't really fit with the style of the rest of the house.
We have big plans for this room but I'm running long, so I'll share all the details another time.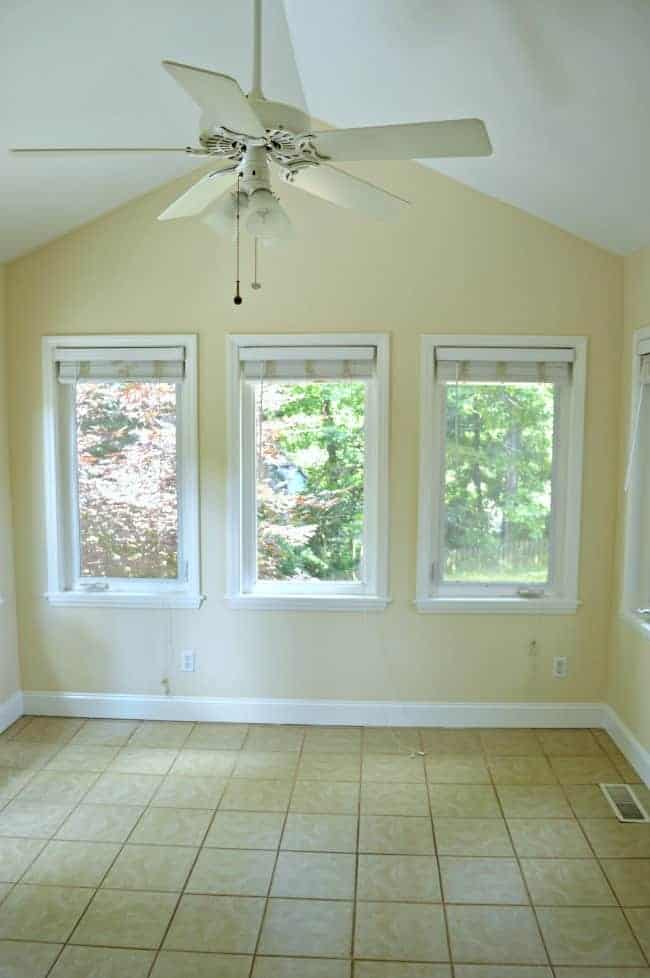 There you have it…our little stone cottage. We have so much to do and our heads are spinning, but we're excited about this next chapter. Stay tuned for all of our projects, which will resume the minute my foot heals.
You can read the strange but true story about how we found our new house, here.