Disclosure: As an Amazon Associate and member of other affiliate programs, I earn from qualifying purchases.
Propagating a fiddle leaf fig in water is so easy to do and you will get a beautiful new plant for free.
I've already shared my tips on fiddle leaf fig care and repotting a fiddle leaf fig, but today is all about propagation.
I bought my Leo 3 years ago and I've watched him grow and thrive into the big plant he is today. I've always wanted to try to propagation but I was afraid that I would do something that would harm him.
Once I repotted him to a bigger pot though, he sprouted up so tall that his main trunk started to sag. That's when I decided it was a good time to try my hand at propagation.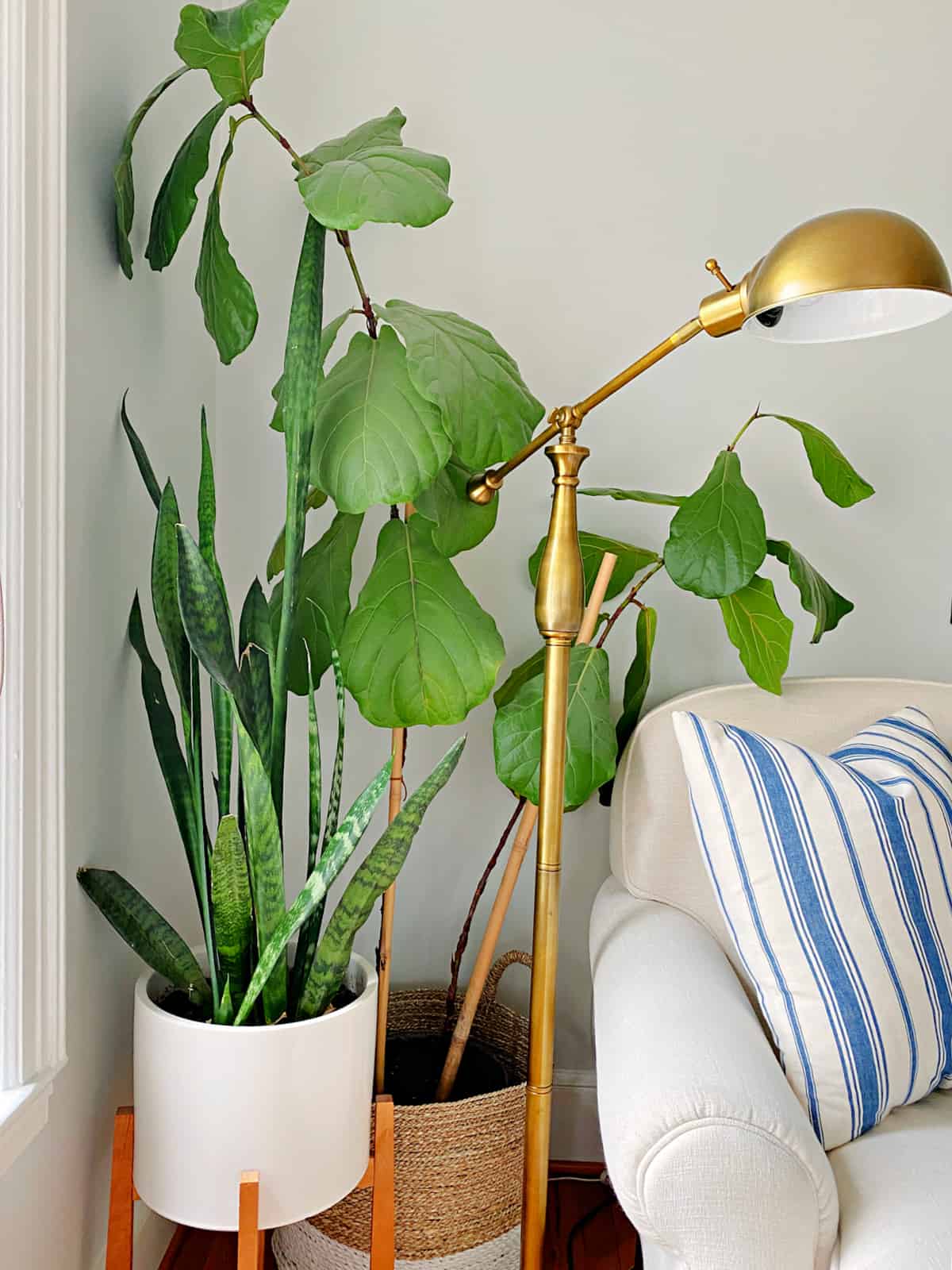 Can you propagate a fiddle leaf fig leaf?
The short answer...yes! And there are three different ways that you can do it.
3 ways to propagate a fiddle leaf fig
Never having propagated a fiddle leaf fig before I started researching. In all that research I learned that there are 3 ways to propagate a fiddle leaf fig...
in soil
placing a cutting in water
air layering
Putting a cutting in water seemed like an easy way to root my plant so that's the method I tried.
You can propagate any time of the year but during my research I learned that doing it in the spring was best so that was my goal.
Cutting your ficus for propagation
Before you put clippers to your ficus you want to look at your plant to see where the best place is to make your cut.
Ideally you want a stem that is 12-18" long with one to three leaves and 2-3 nodes, as this will increase your rate of success.
Leaving more than 3 leaves may prevent your plant from using the energy that it needs for the new roots.
A node is where a bud, leaf or branch is located along a stem, and where your new roots will grow during propagation.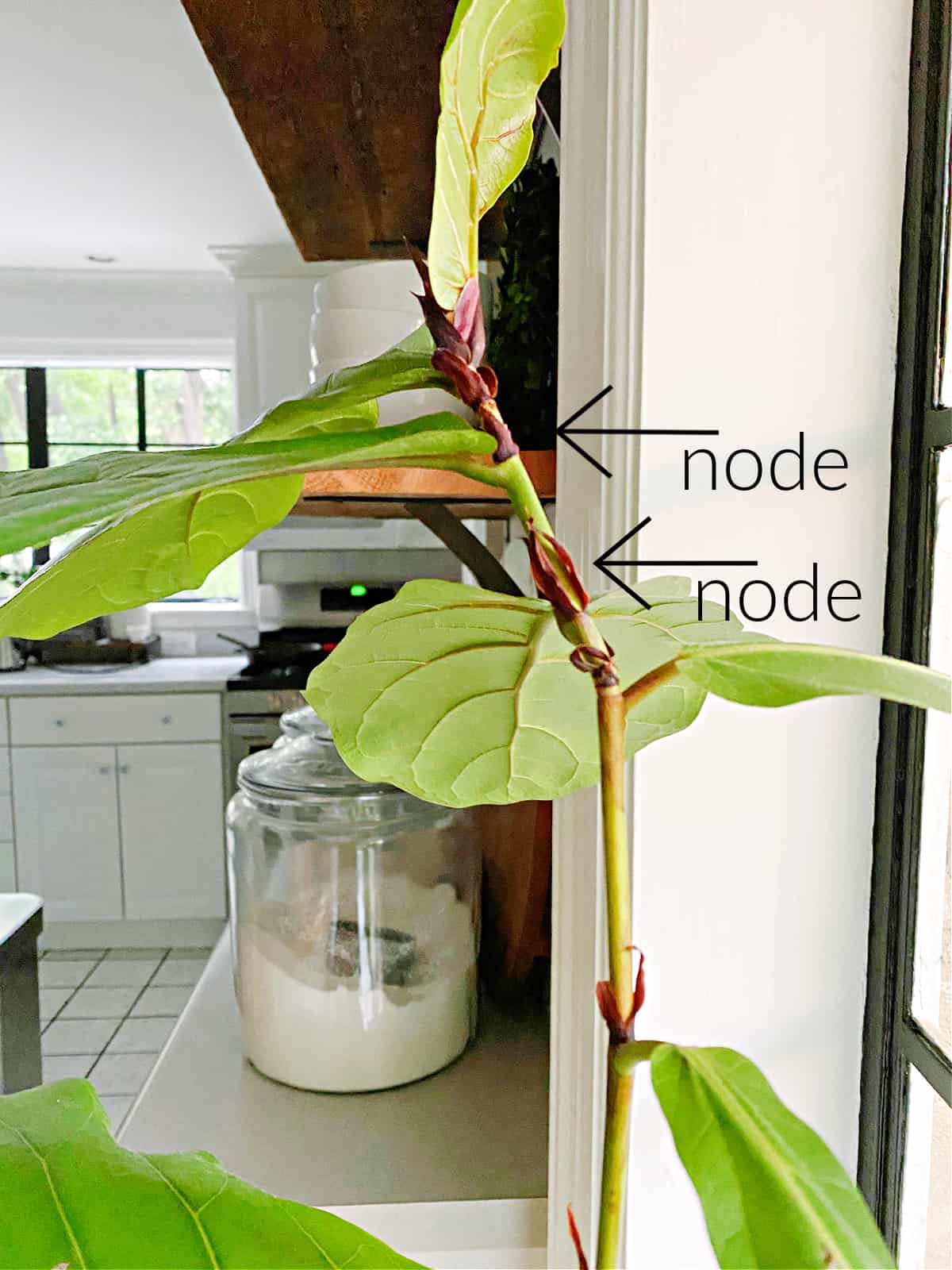 ---
---
To make your cut you want to use sharp pruning shears with clean blades. My favorite shears are made by Fiskars.
Once you've cleaned your shears and have found a good spot to trim you want to cut your stem at an angle, which allow more surface area to drink up the water.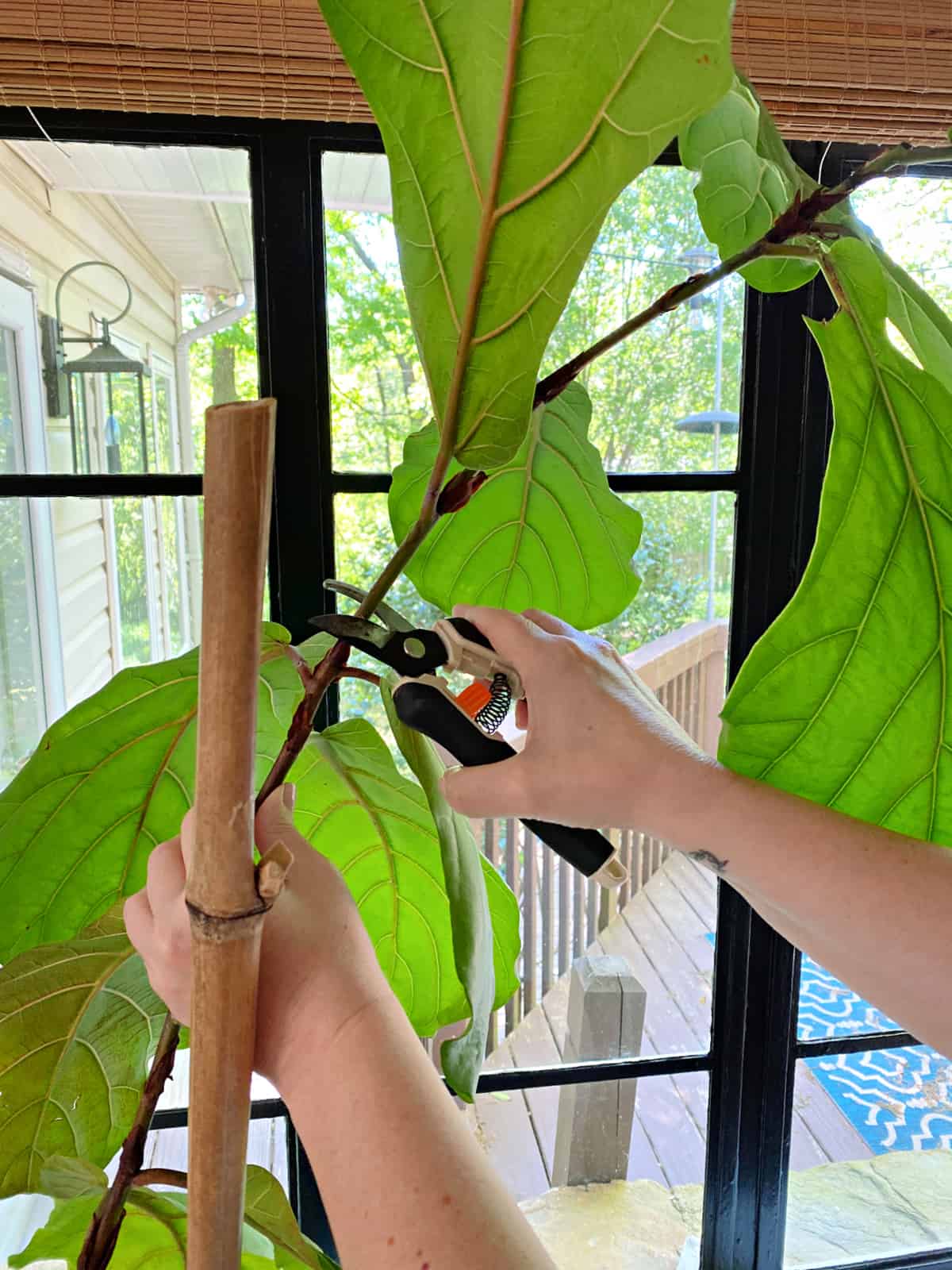 You may see a milky white substance on the stems of your plant after you cut them. It's perfectly normal. Just take care not to touch it or let any get on your carpet.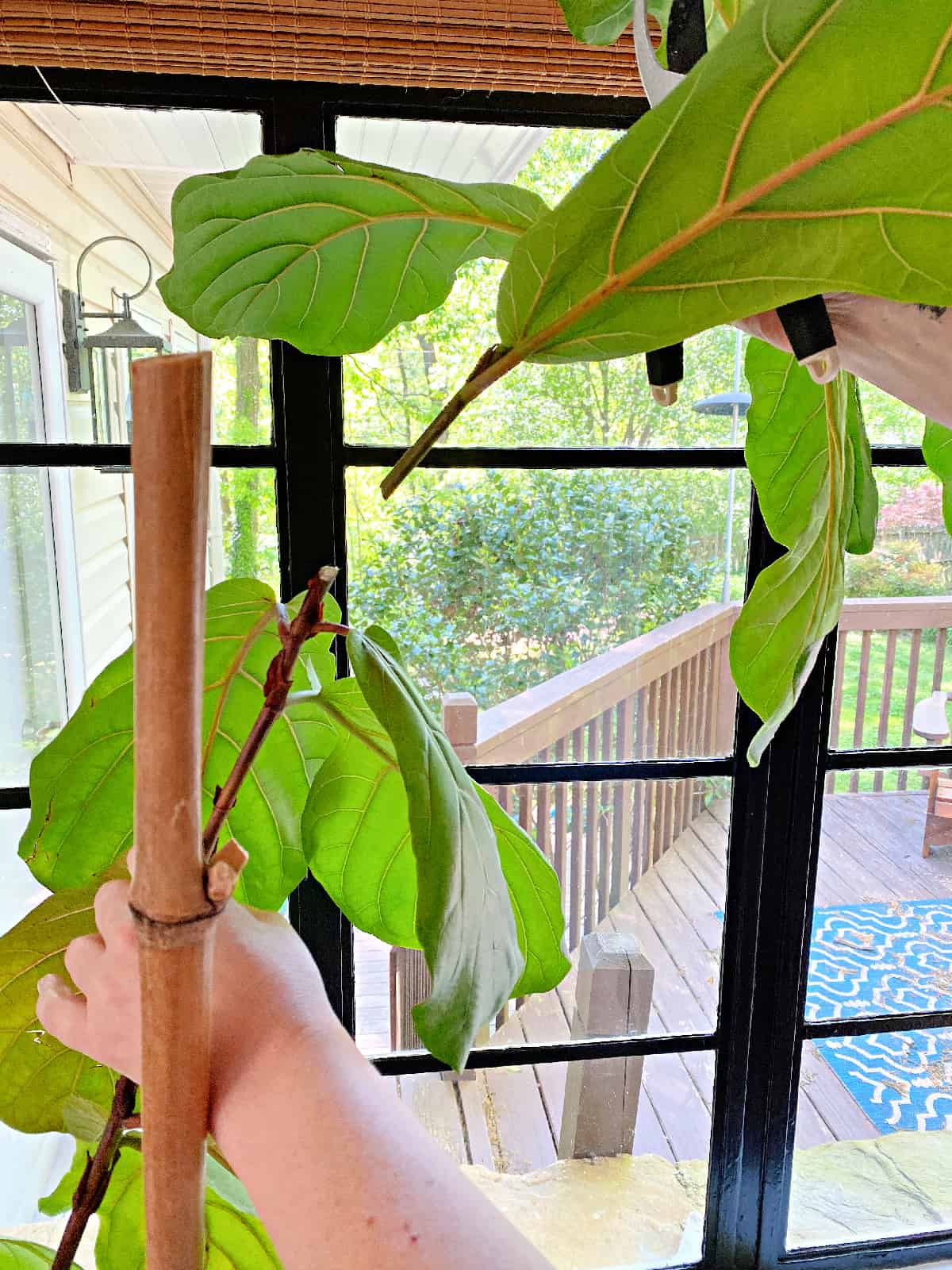 Rooting a Fiddle Leaf Fig
After you cut your stem you want to place it in a bottle of water and keep it in a warm, well-lit spot where it will get indirect light.
I read a lot of articles that said you should use distilled water but I used the water right out of our tap and didn't have any issues.
One thing you do want to remember is to not let the leaves sit in the water. You also want to keep an eye on the water level (the roots must always be submerged).
Some people change the water in their jar or vase every few days but I ended up changing mine either when the water level dropped or the when the water was getting dirty, which was roughly once a week.
Now it's time to watch the magic happen.
In about 2-3 weeks you should start to see roots. They will start as little white nubs.
Mine started rooting 3 weeks after I put the stem in water.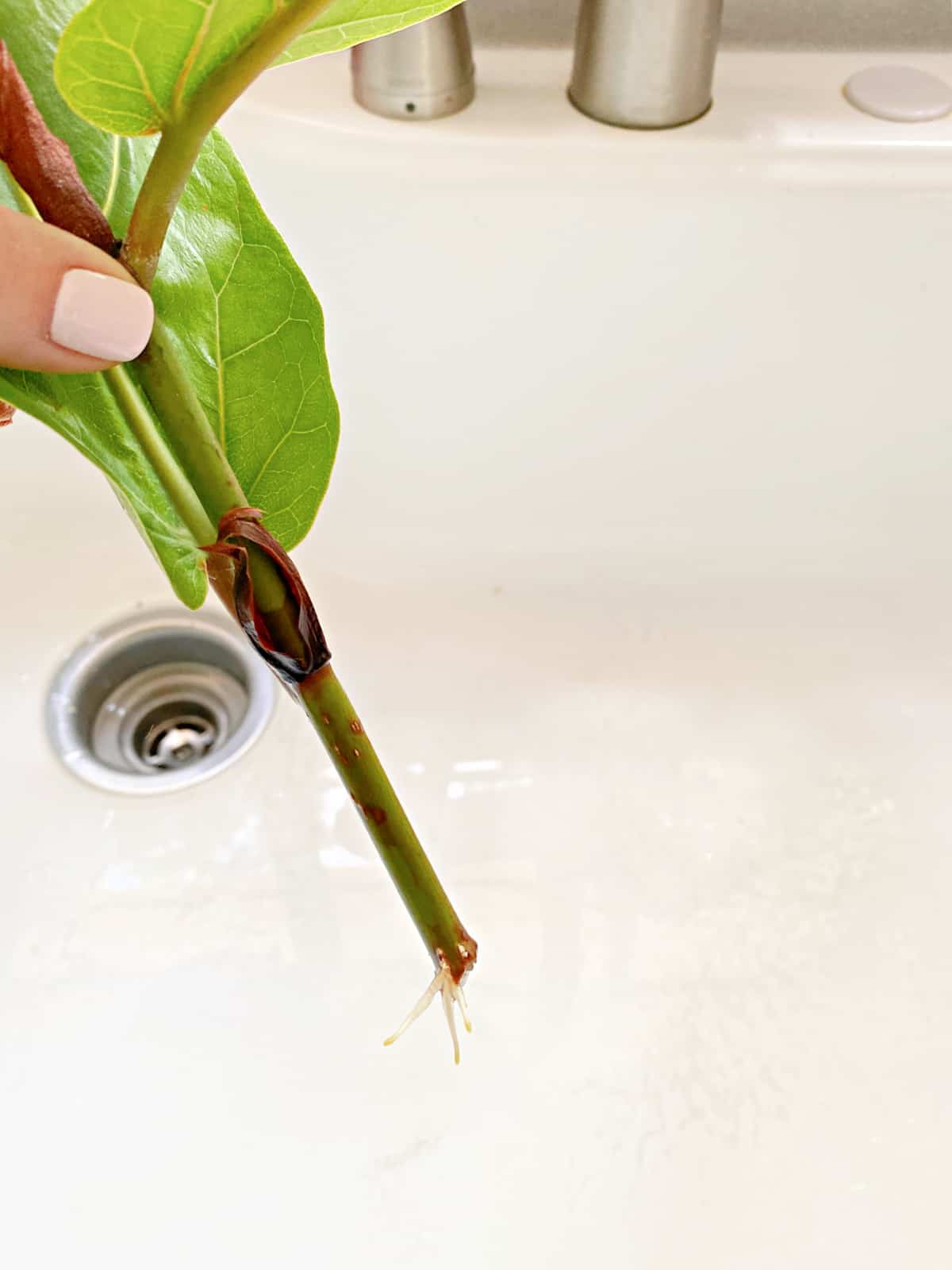 And a big surprise was that a new branch started to grow out of the node right below my cut on Leo.
Success!!!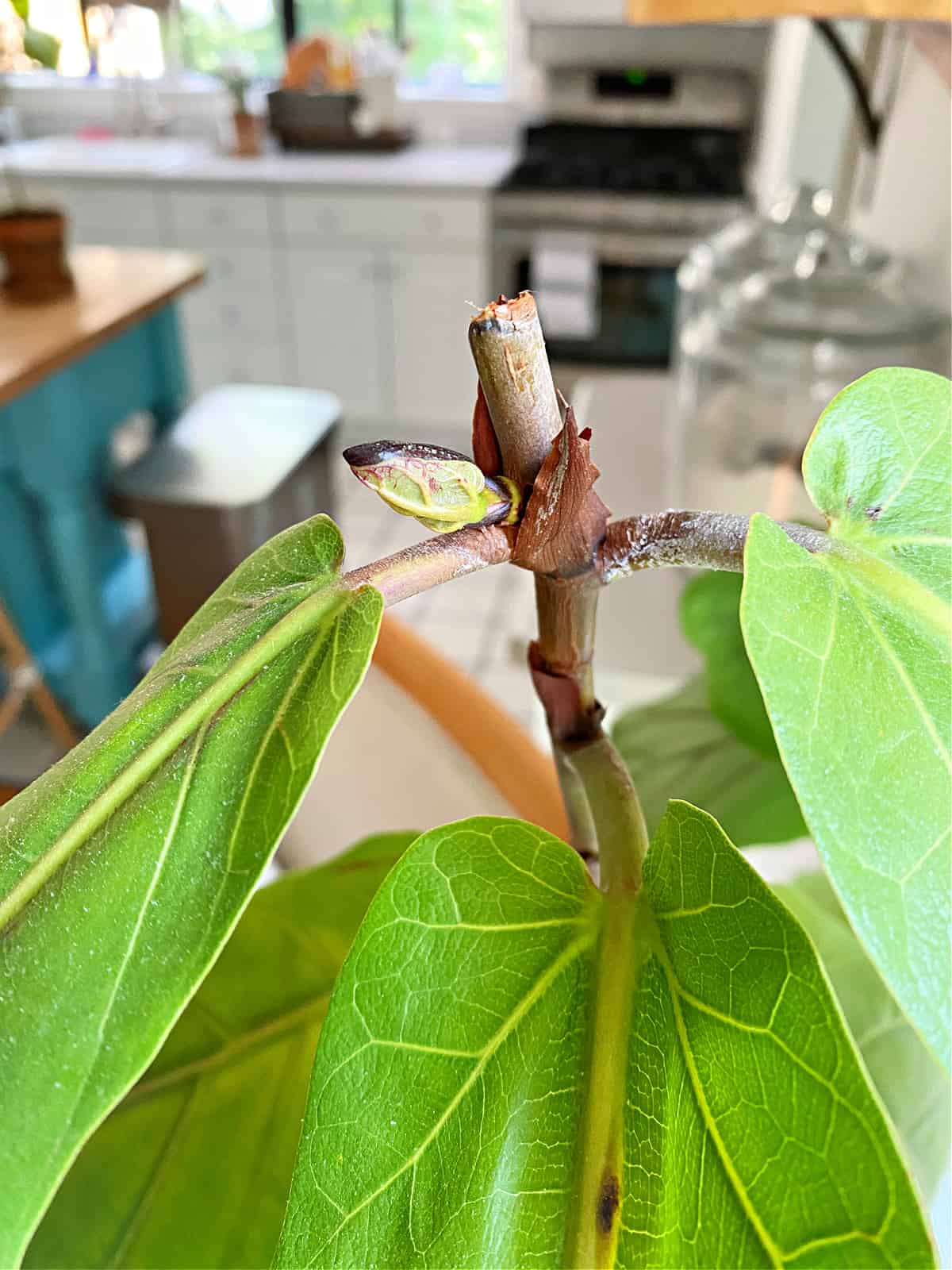 After 3 more weeks the roots were getting thicker and longer.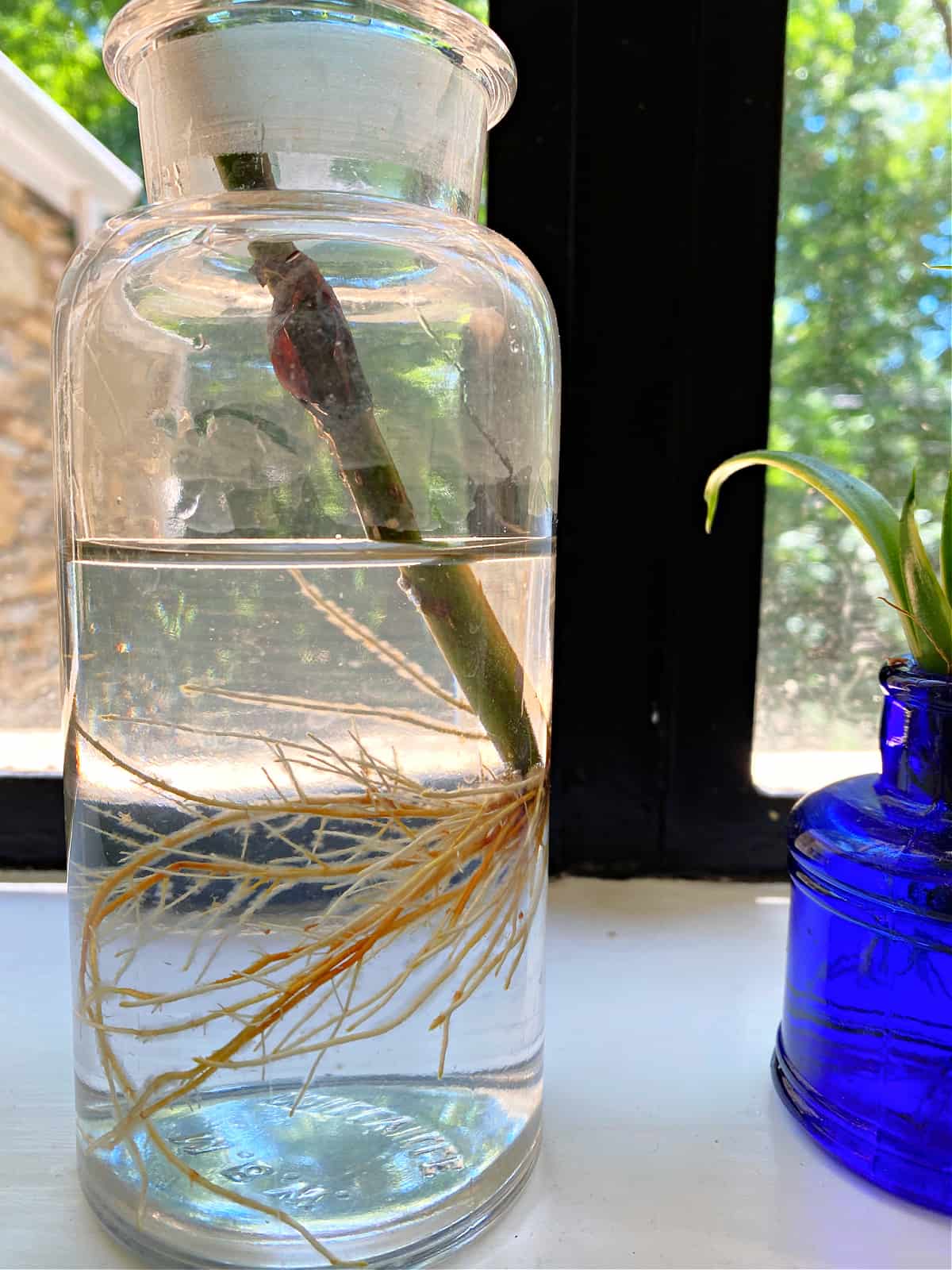 How long does it take a fiddle leaf fig to propagate?
Mine was ready to plant 3 months after I started the propagation process. Sometimes it will be a shorter process and sometimes longer.
You'll know when it's ready to plant when the roots are a couple of inches long with smaller roots growing out of the bigger roots.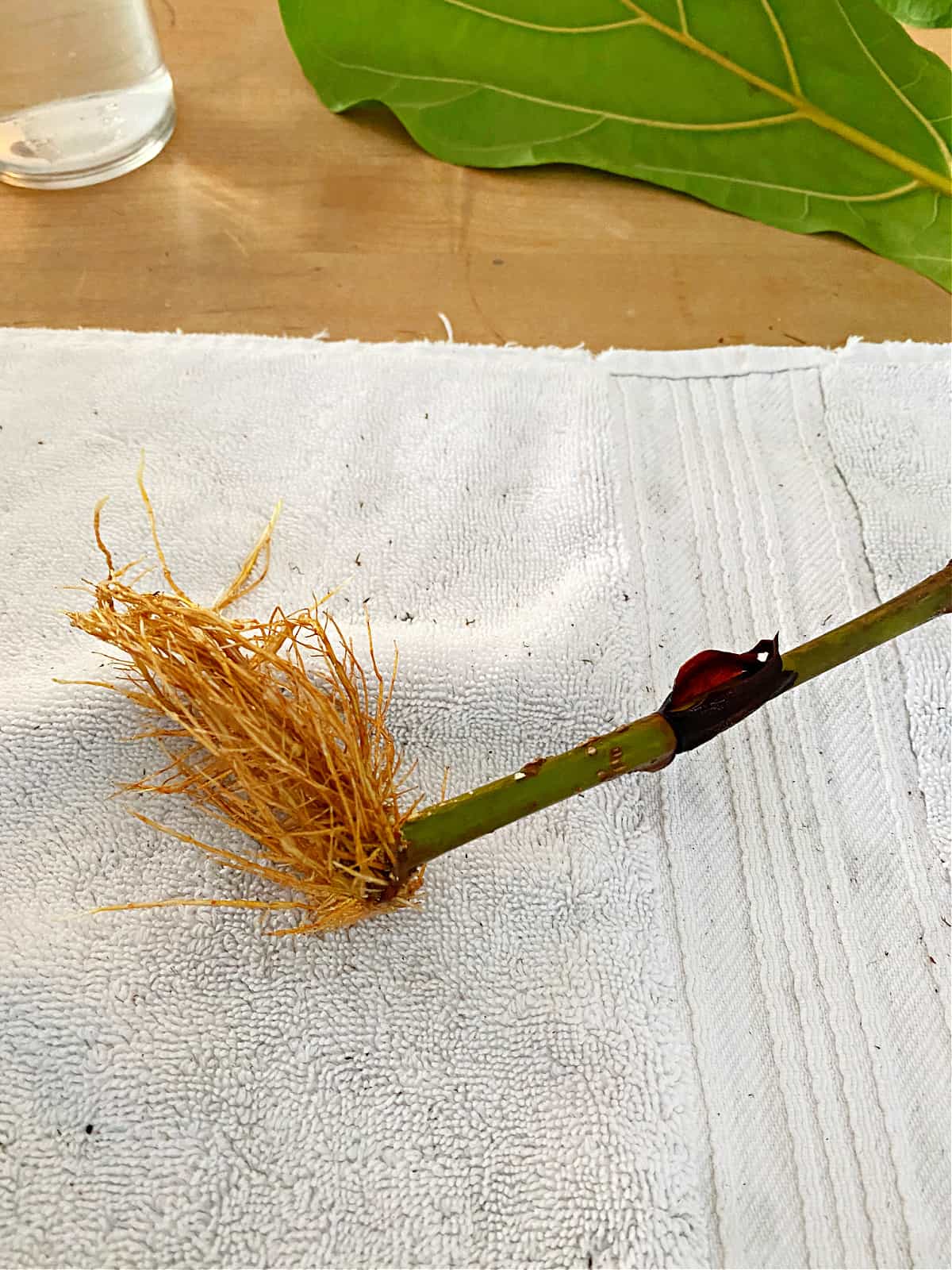 Planting Your New Ficus
Planting my new little FLF was the easy part.
You can use a 1 gallon or medium pot with drain hole along with a well draining potting soil with perlite.
The potting soil I used was the same brand I chose to repot Leo in the beginning of spring.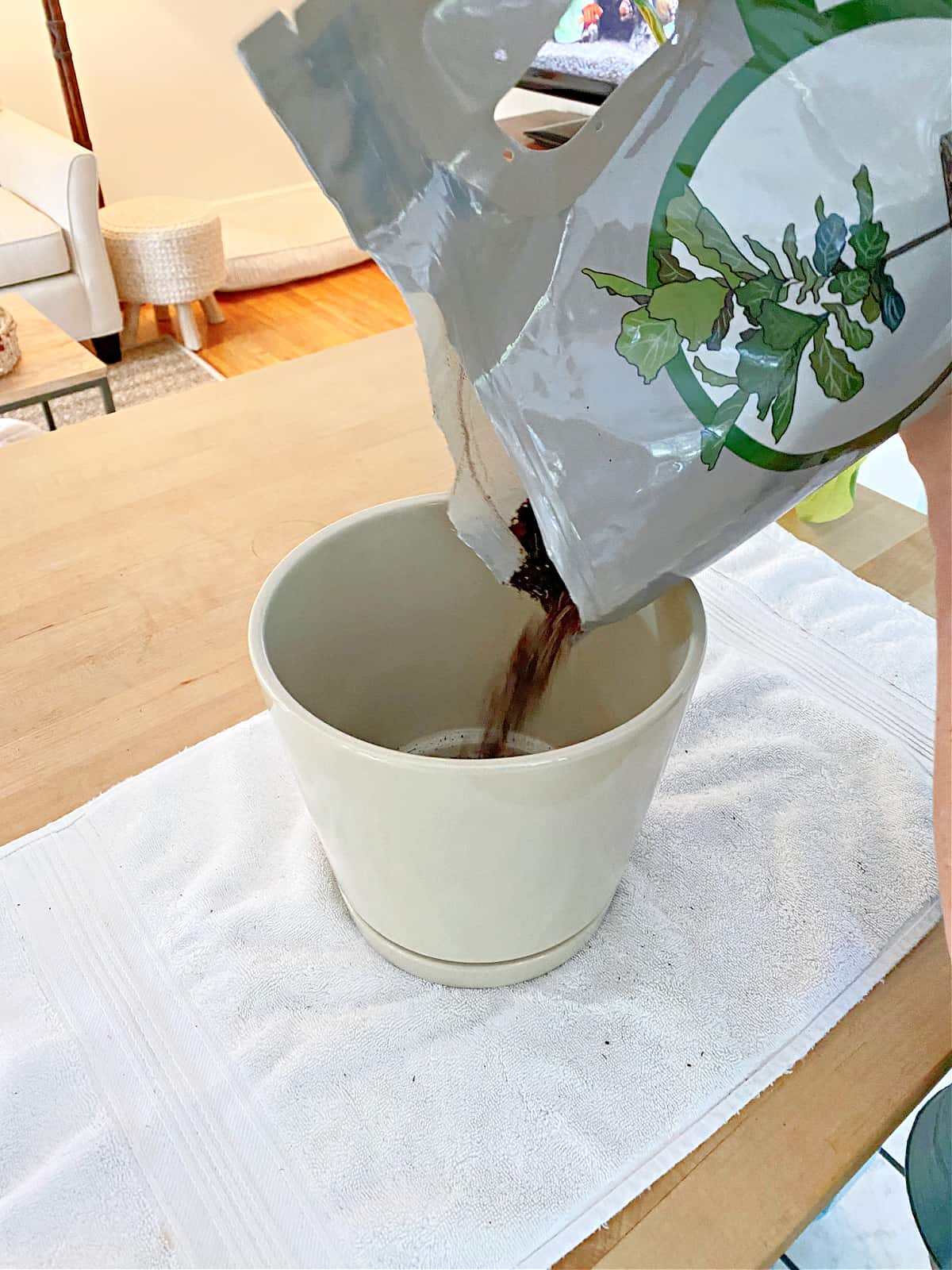 I just poured a bit of soil into my pot, placed the stem in the center and covered it with more soil.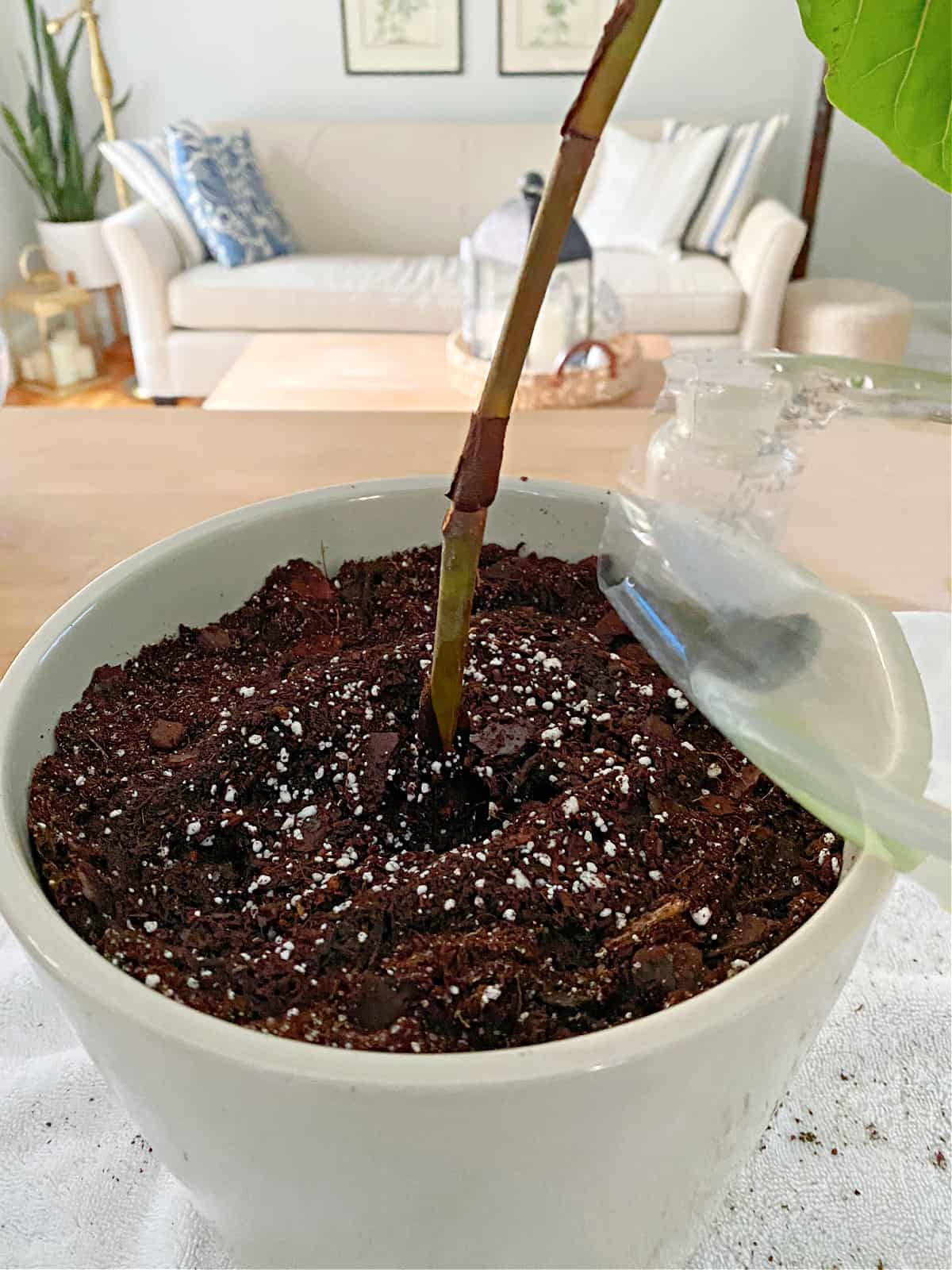 You want to water your new plant well but don't use fertilizer for a while, which could be too much for the new roots.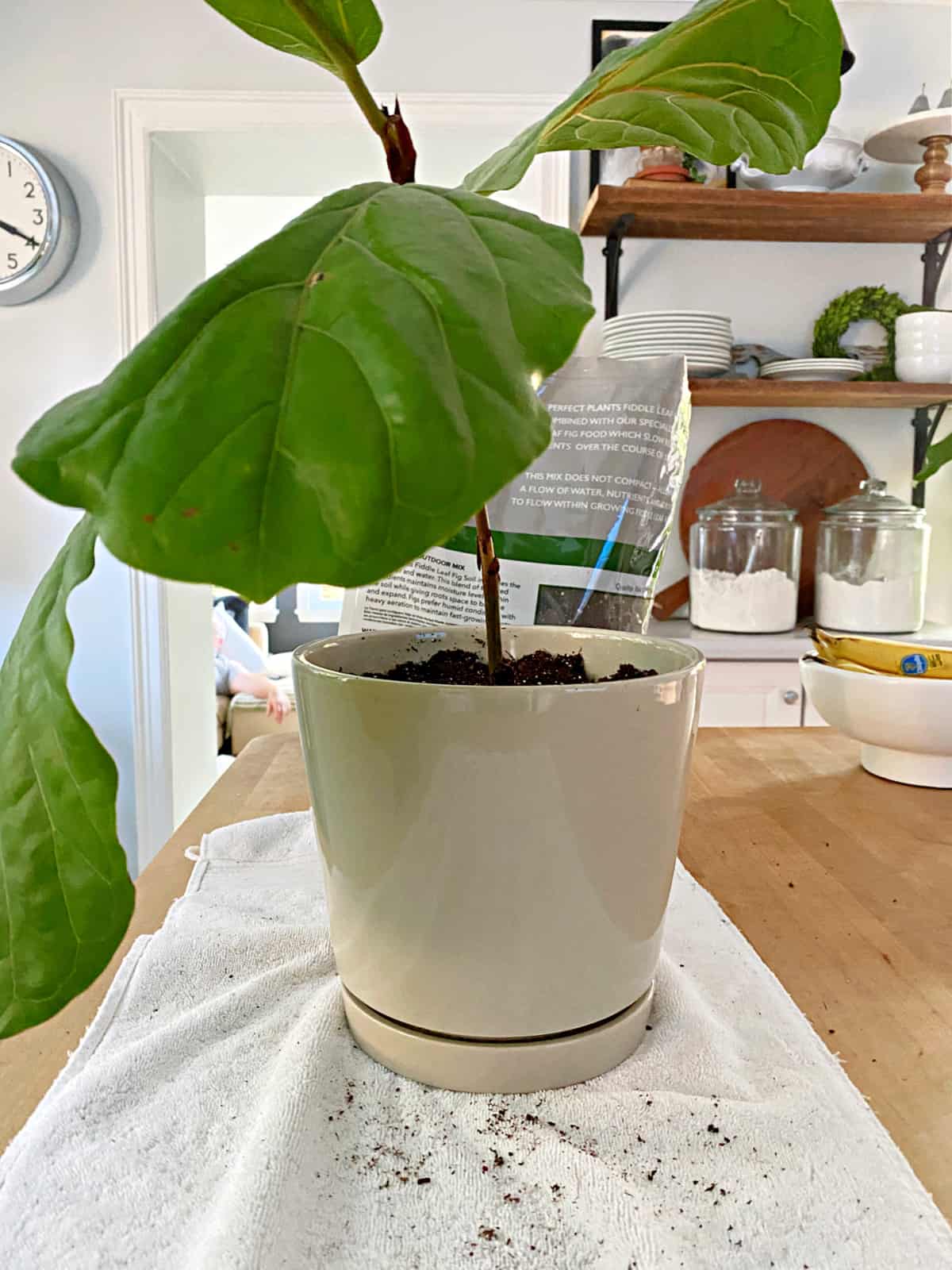 Place your new fiddle leaf fig plant in a warm spot with plenty of indirect sunlight and watch it grow.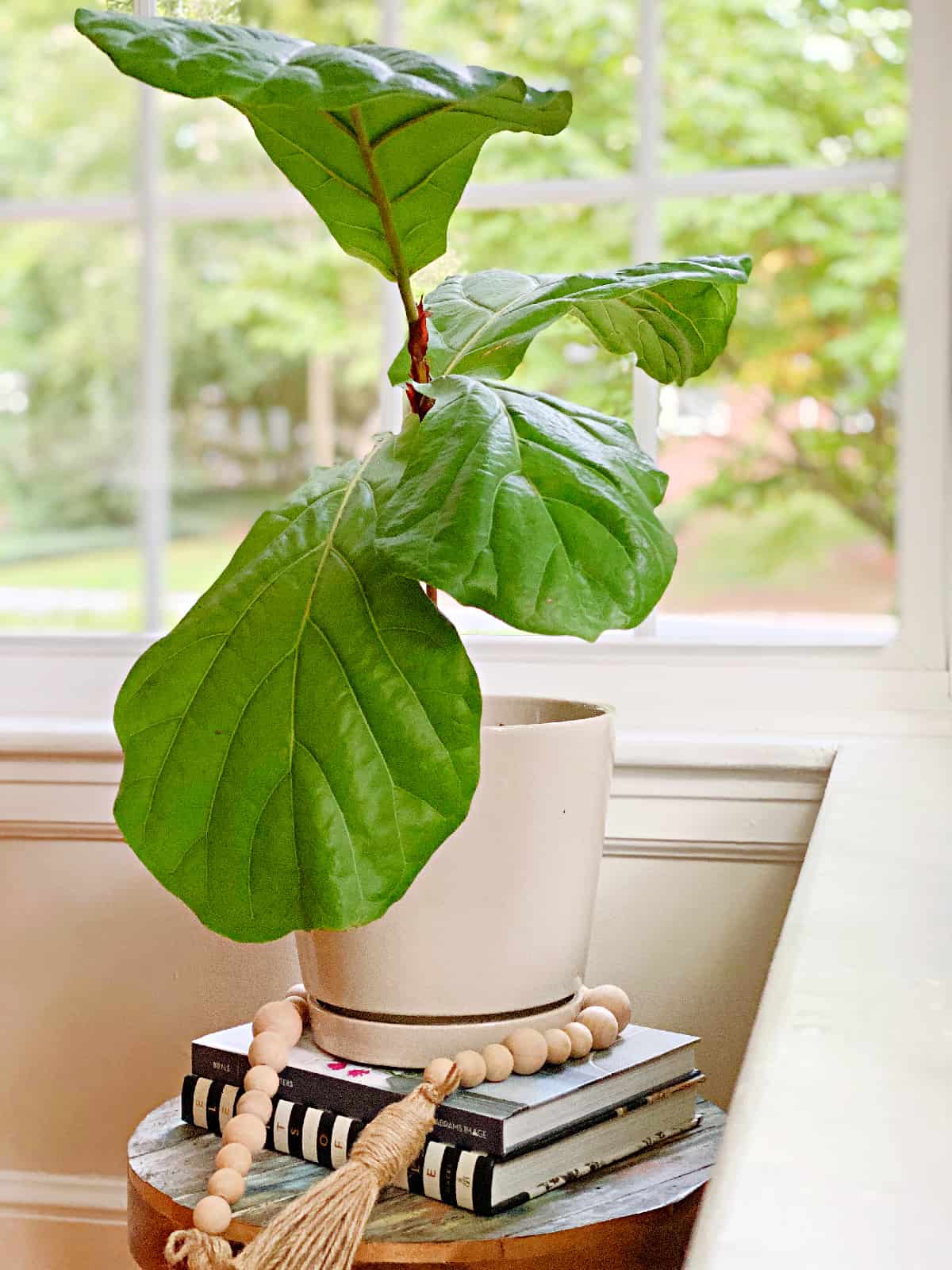 Welcome to our family, Fiona! I can't wait to watch you grow!