Simple Christmas Front Porch Ideas
This post may contain affiliate links, please see our policy for details.
I have to confess that decor posts are a tough one for me. Don't get me wrong I love to decorate, but it doesn't always come easy for me. I feel way more comfortable doing and sharing DIY projects. I have a lot of confidence in those. Decorating…not so much…not all the time. It seems like some people can effortlessly put a room together and it will be beautiful. As far as my own house, I am not one of those people.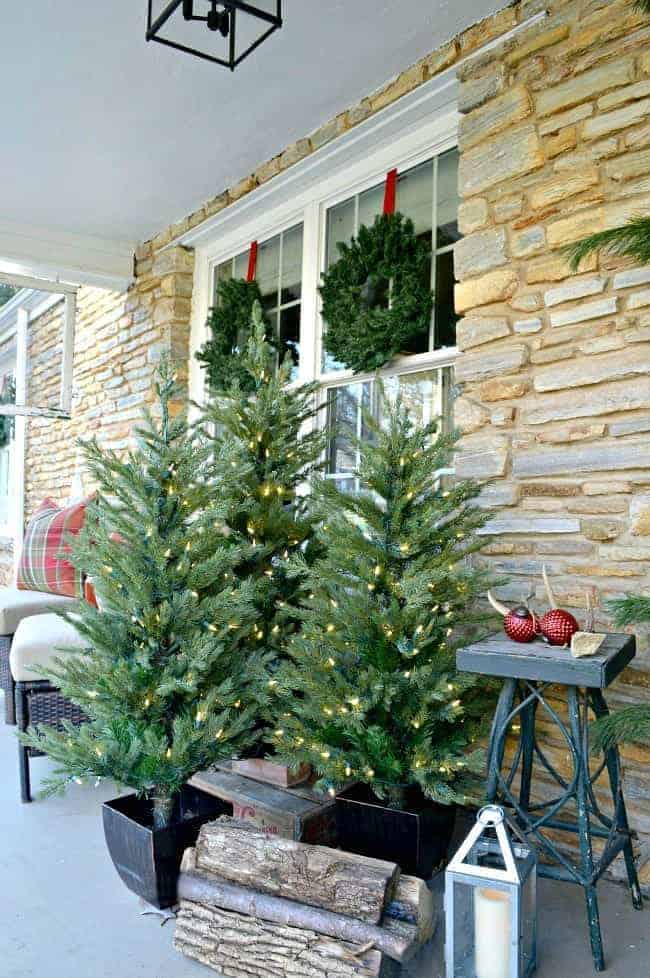 There's nothing effortless about my decorating. Sometimes I struggle with our spaces and end up tweaking long after I think I'm done in order to get things just so. Even then I'm not always happy with the way it turned out.
I'm not telling you this so you'll tell me that I'm the greatest decorator ever. The reason why I'm confessing this to you is so you know that I struggle with it. I'm confessing to you so that you know you're not alone if decorating doesn't come naturally to you either. I have a decor blog and I'm confessing that it's not always easy for me, especially in my own home.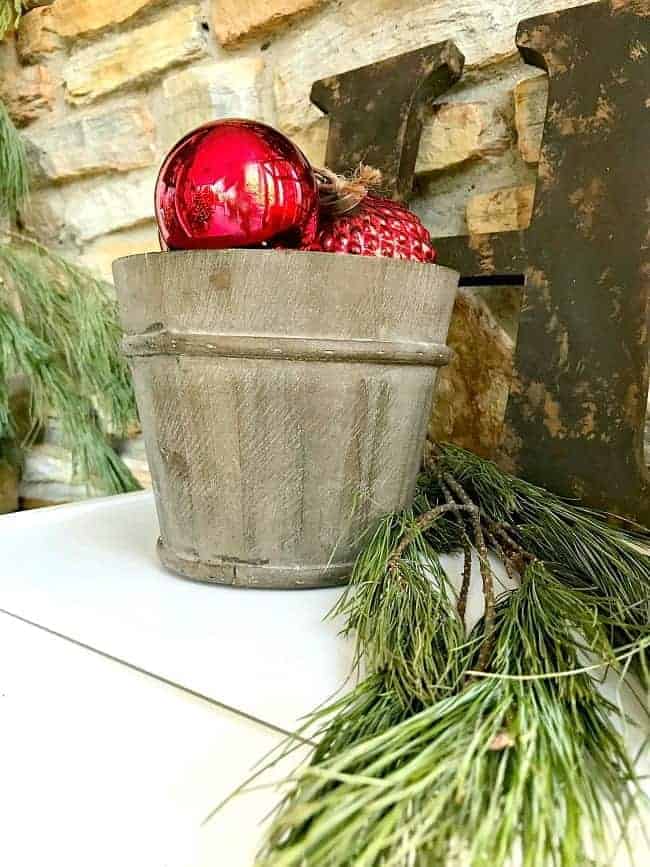 There's no right or wrong in decorating, not in my book anyway, but I usually have a vision of how I want a space to look and I work to achieve that. For me, for our home. If that's not bad enough, it also goes up on my blog for anyone to see. Yeah, it's way out of my comfort zone. I mean, you're putting yourself out there for everyone to see…maybe even criticize. I guess I've gotten used to it, developed a thicker skin, but it's still hard.
Ok, now that I've bared my soul to you, I thought I'd share some of my simple Christmas front porch ideas. This is a perfect example of me struggling to decorate a space.
I knew that I wanted to add a few small trees to the porch but, beyond that, I had no idea where it was going to go.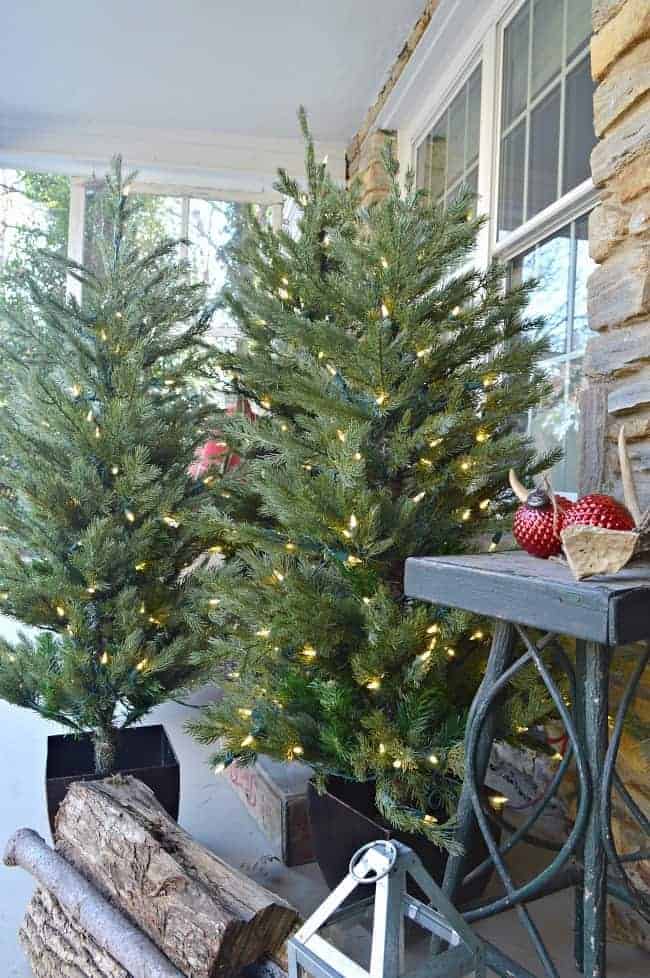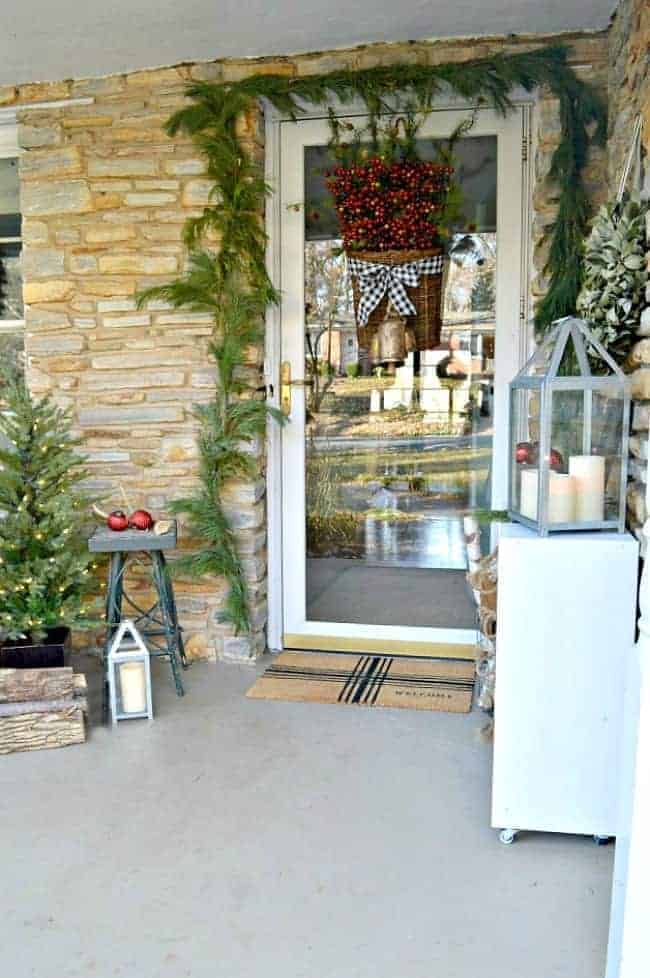 I struggled for two weeks and then I ended up bringing my Christmas decor out of the basement and just started playing with it. Adding and subtracting until it felt right.
I took down the vintage window I had hanging over the IKEA dresser that I recreated and hung up a dried bay leaf wreath from last year.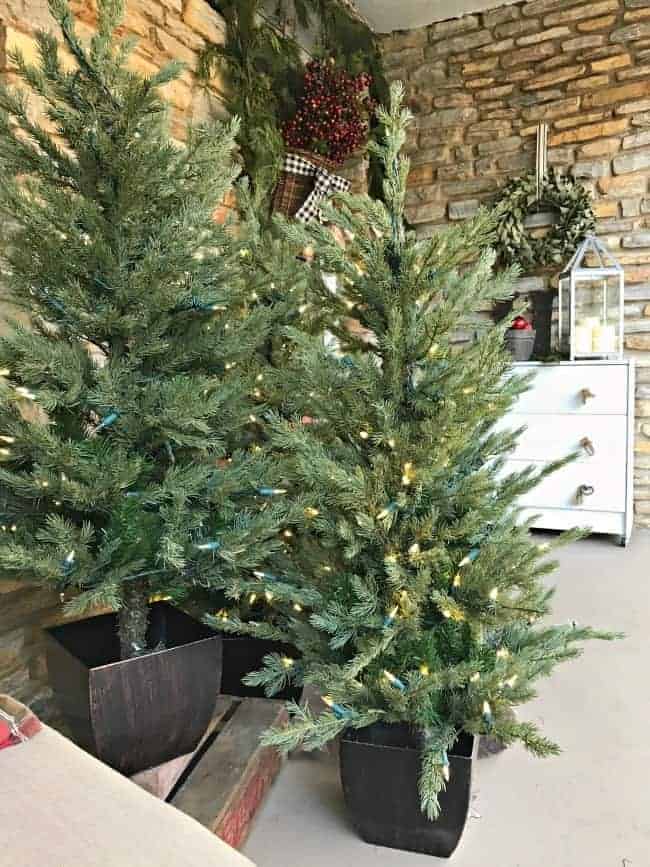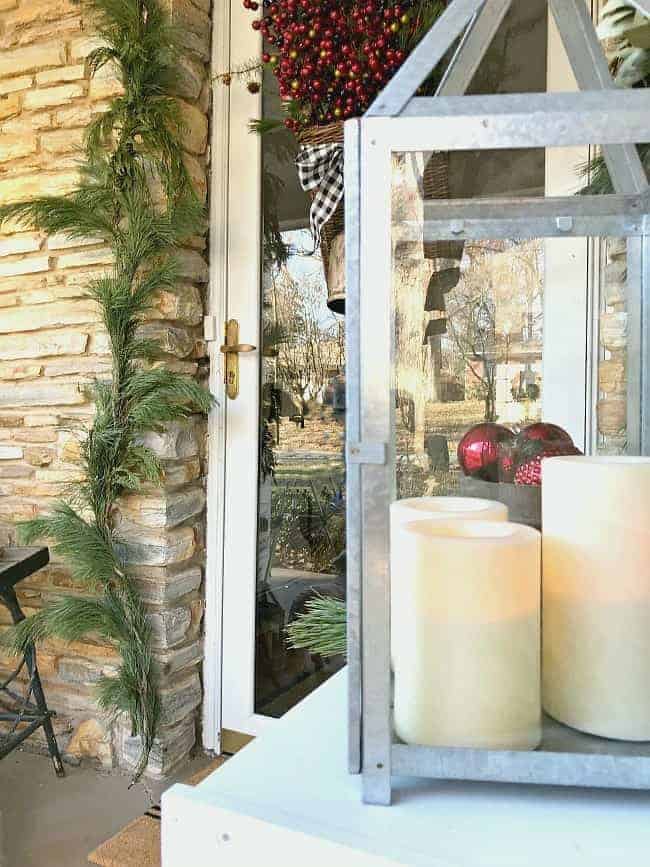 I loved how the trees looked so I went with the rustic feel and added a few pieces of firewood, my vintage twig table, and a galvanized lantern. Simple and woodsy.
Of course, nothing beats having a cute model in your space (bowtie and all). It's the best decor of all. Want to know how I got him to sit still? I'm dangled a reward in front of him. His favorite snack…a carrot.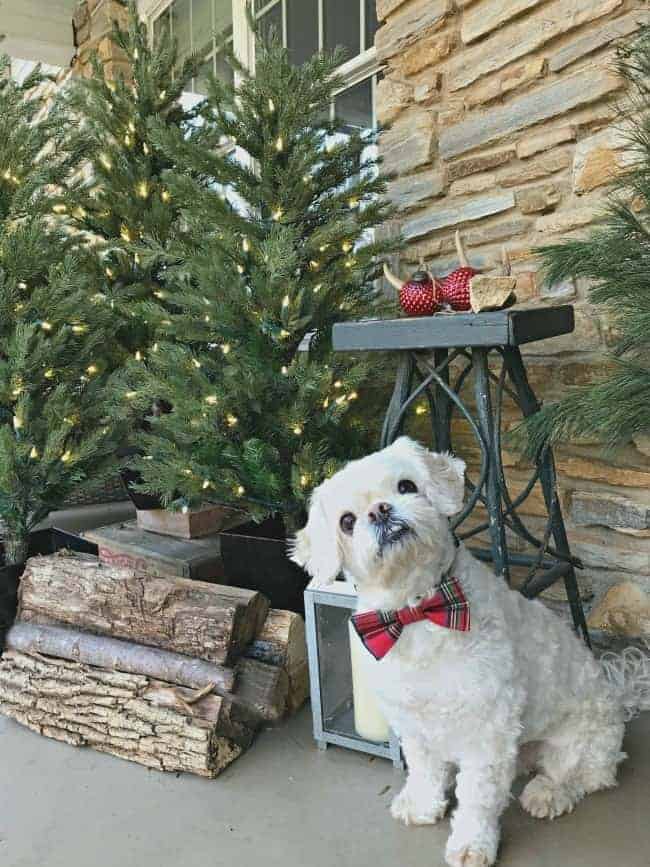 I left the old screen, that I got for a couple of dollars at the flea market this year, and added some red with a plaid pillow on each chair.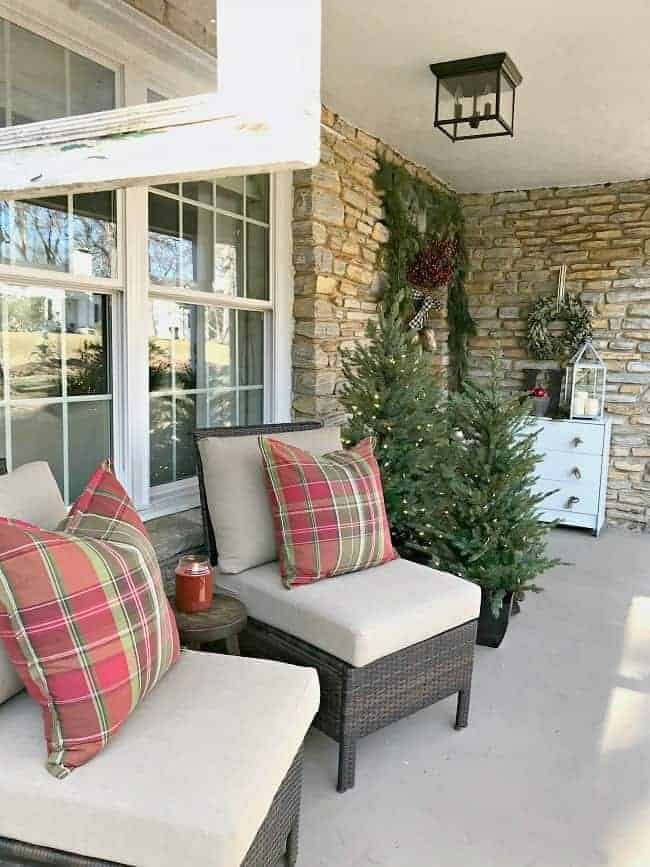 I hung garland around the door last year and loved it so I went with it again. It definitely works with my rustic, woodsy theme.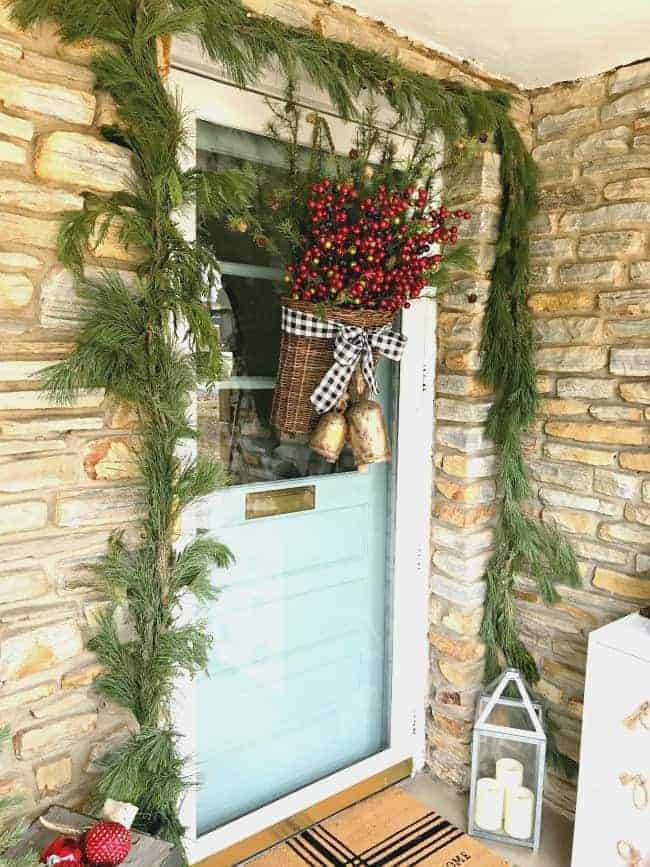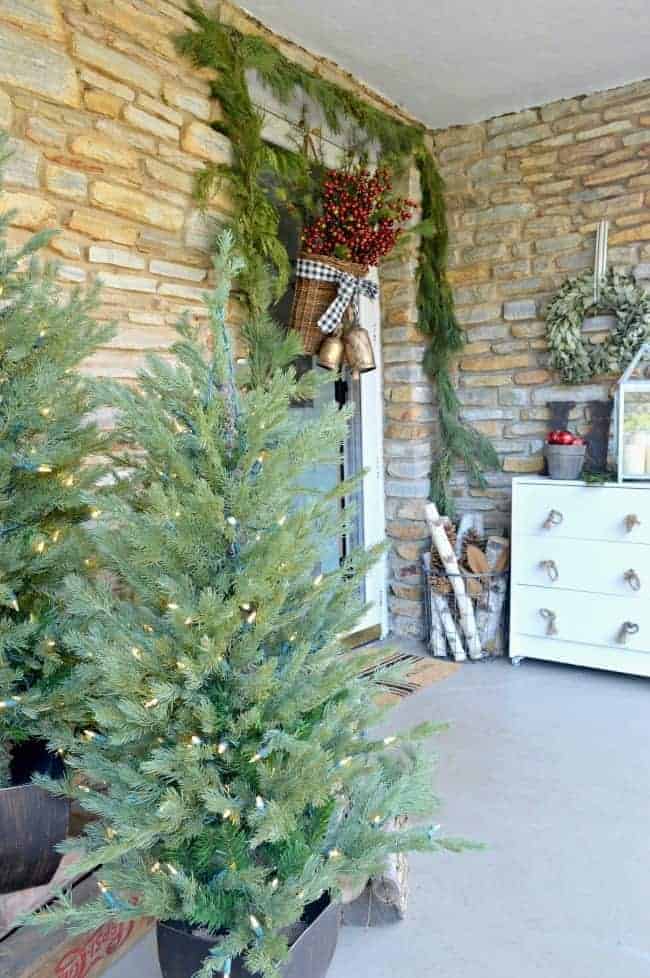 I filled a wire basket with birch logs and pinecones and hung my DIY front door basket on the door. Love the addition of the cowbells on the basket and you can really see the pretty color of my new front door.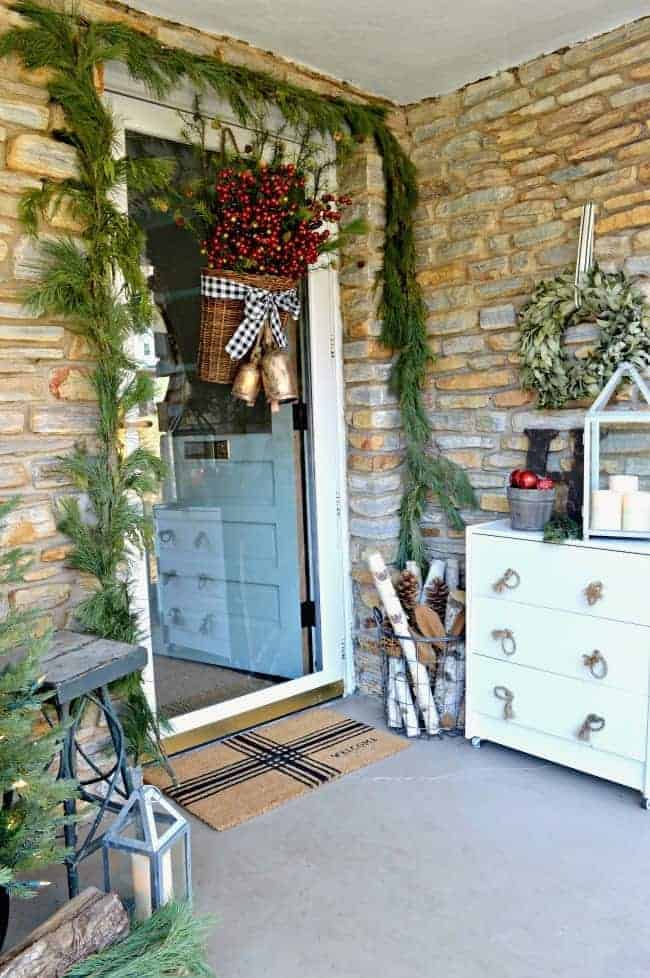 I love the woodsy feel of the porch and, of course, it helps that we have that beautiful stone to really set it all off.
Hopefully, it will stay this way. But you never know.
So tell me what kind of decorator you are. Does it come easy for you or do you struggle with it like I do?
Check out my other Christmas decorating posts.