Cottage Christmas Kitchen
*As an Amazon Associate and member of other affiliate programs, I earn from qualifying purchases.
I never thought I'd be this excited to share our cottage Christmas kitchen but, yup…I am.
This kitchen has quickly become a favorite space in our little cottage, and that's even before we've done any updating.
I think it's the openness and that big beautiful window. It just really draws you in to the space.
I tried to keep it simple, as far as holiday decor goes, and I'm loving how festive it feels (even without using red).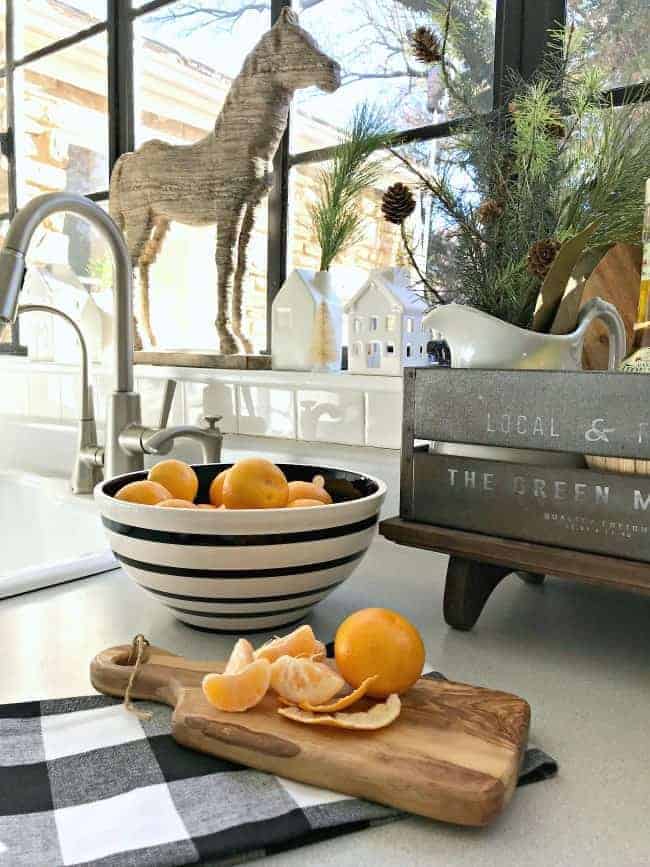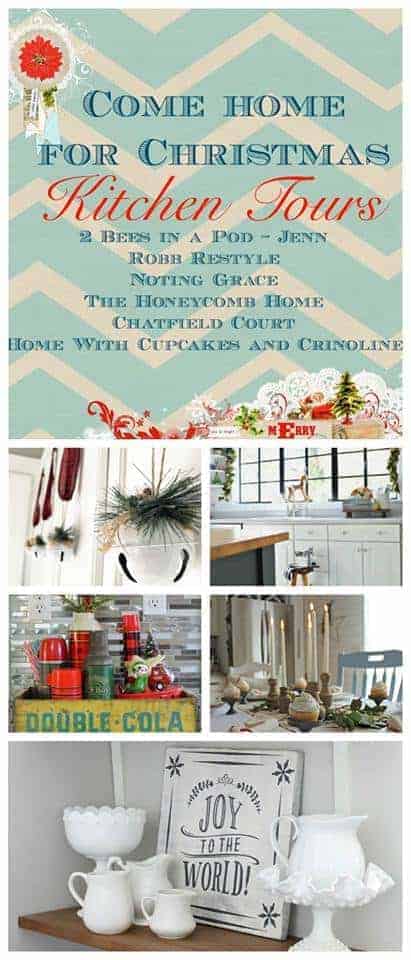 I'm so excited to be joining 2 Bees in a Pod who are hosting the Come Home for Christmas Tour. Each day this week a different room was shared by a group of talented bloggers. Today is the last day, and it's all about kitchens, but you can check out the links at the bottom of the post and visit your favorites.
You can also find a source list for this space at the end of the post.We haven't done a lot to this space since we moved in but it really feels like "us".
Probably more than any other room. Yes, the cabinets need to be replaced, as well as the countertops, but just painting the window black, hanging my Farmers Market sign (that I made, here) and adding decor that means something to us just makes it special.
I love dressing the big window over the sink and even tried my hand at making a magnolia leaf garland, here.
You can see that the leaves have already started to dry and curl.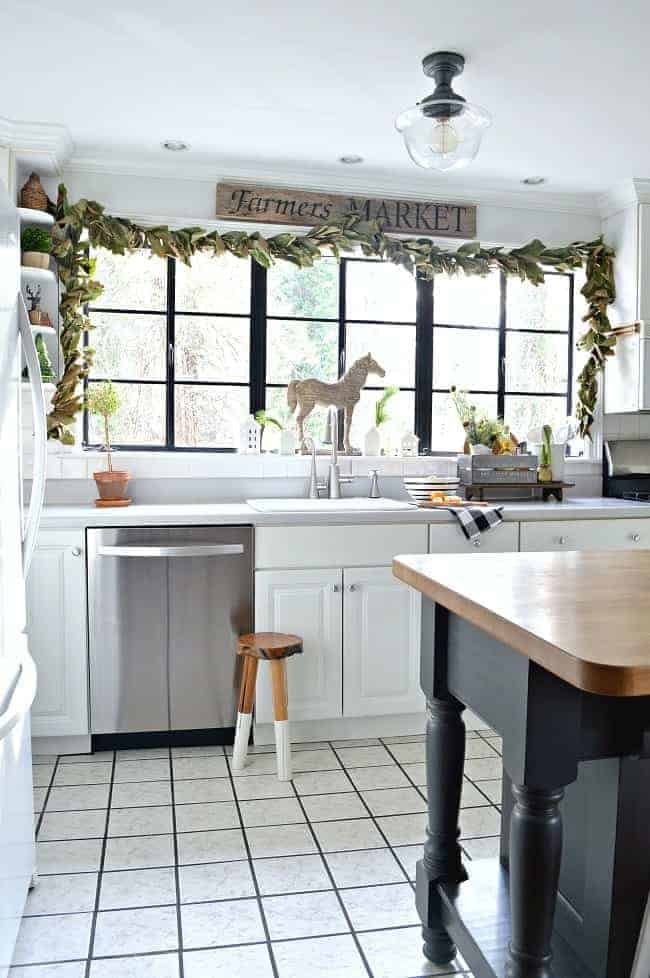 I always thought that you had to have a big beautiful space with top of the line appliances, marble countertops and a 10 foot island but this kitchen has definitely changed the way I feel about that.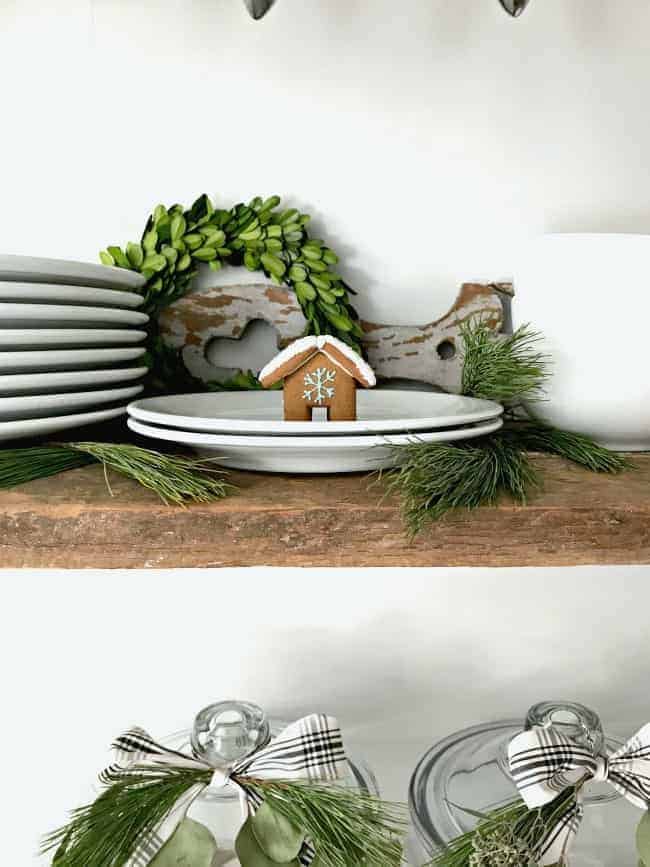 No marble countertops here or top of the line appliances, and we could never fit a 10 foot island, but I wouldn't change the size for anything.
It's small and cozy and it has just enough space for the two of us. Plus that window…I could never give the window up. 😉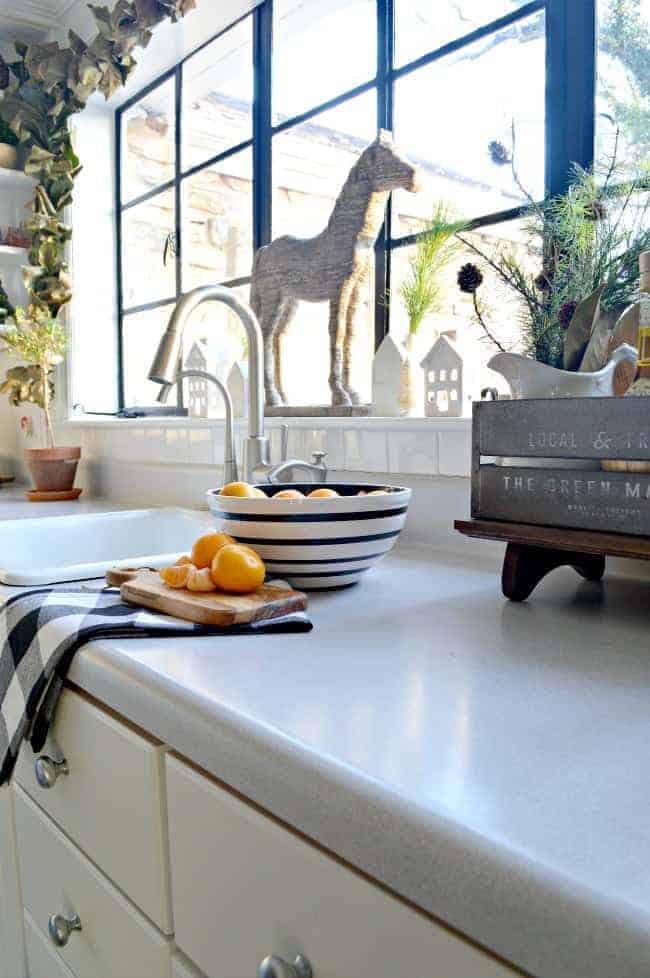 This little area of the kitchen was my least favorite when we moved in.
There was a cabinet hanging on the wall with a very dusty built-in wine rack (you can see how it looked before the transformation, here).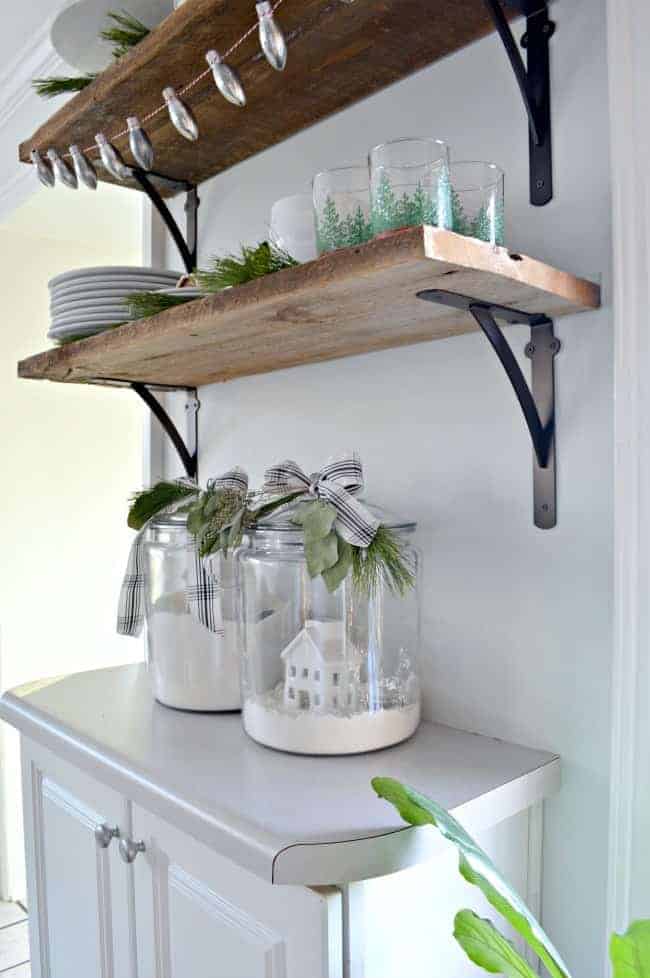 It didn't take me long to rip it down and add 2 simple barn wood shelves. Now we store our everyday dishes here so they're always within reach, and it freed up a little bit of cabinet space for food (since we don't have a pantry).
Now we really love this area, and it was so fun to decorate.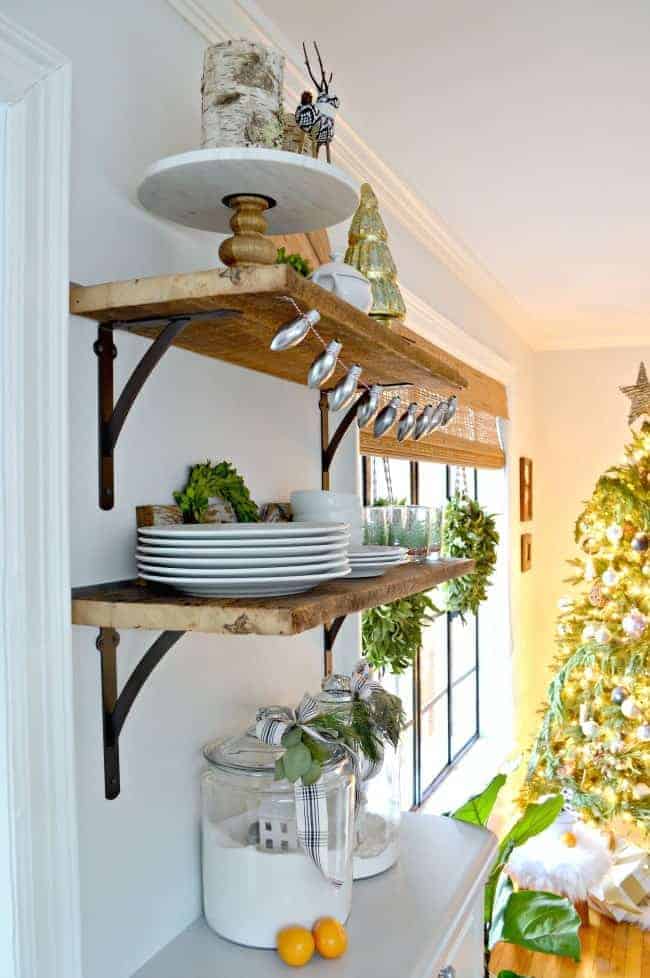 The island in our kitchen is a big favorite in our house.
When we were buying the house we fought long and hard to keep it (apparently the sellers loved it too).
We think that it was custom made and put together right in the house. The only modification we've done is a quick coat of paint.
I love it and it's the hardest working piece in this small space, giving us storage as well as a large work surface.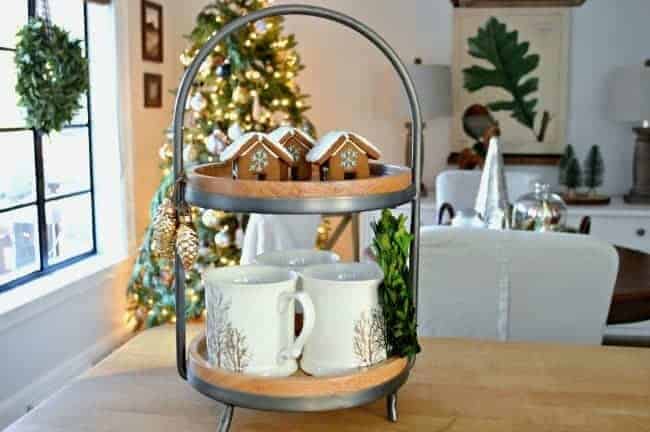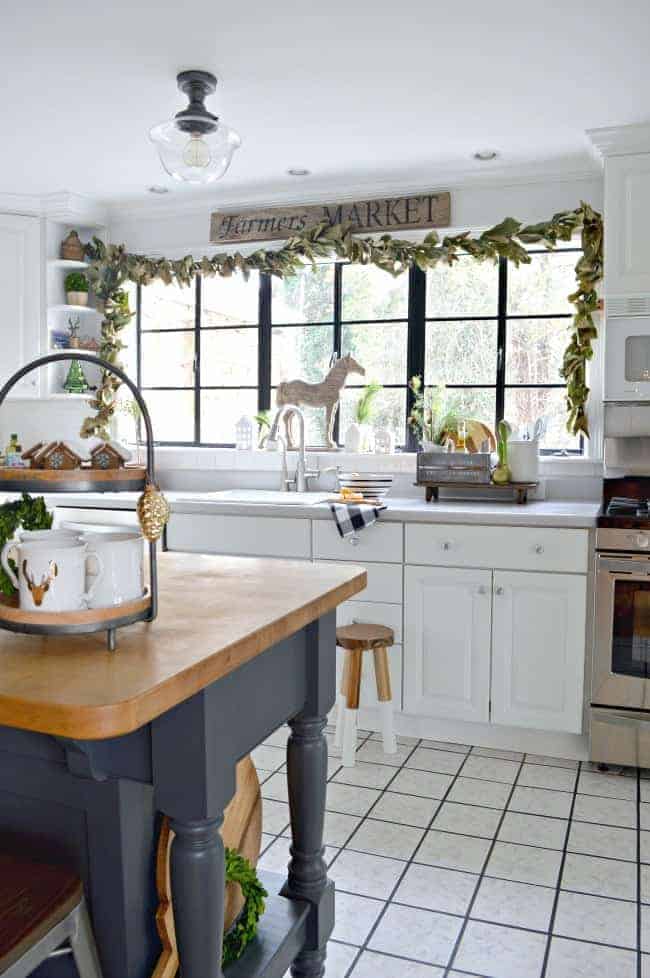 Most of the greens I used are real, and right from the yard. I did tuck a faux stem in here and there but it's hard to tell which is which.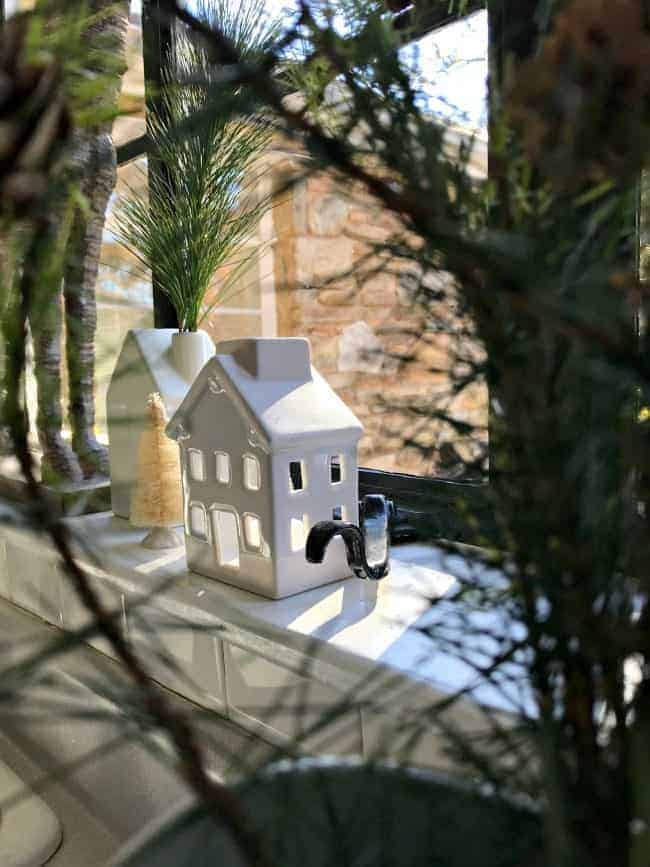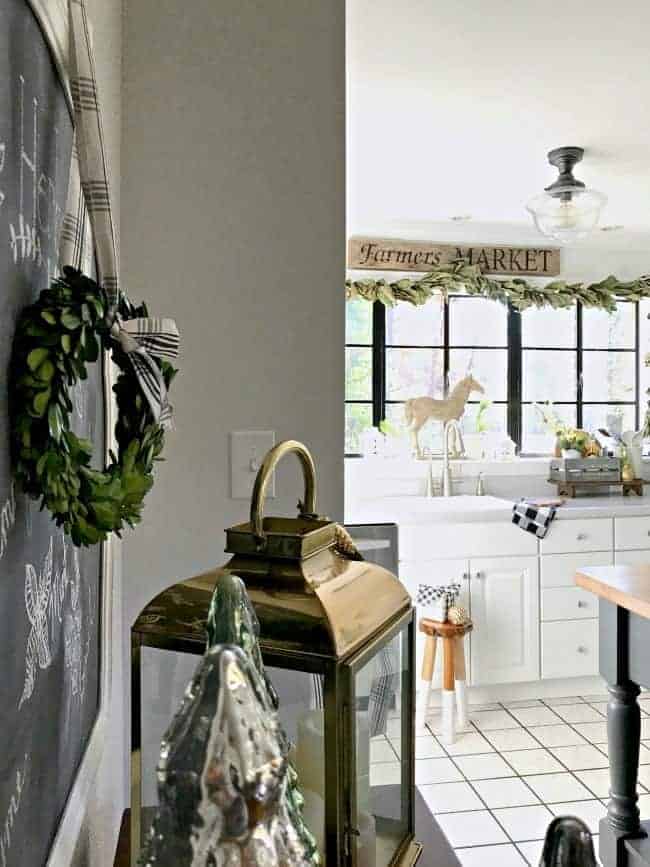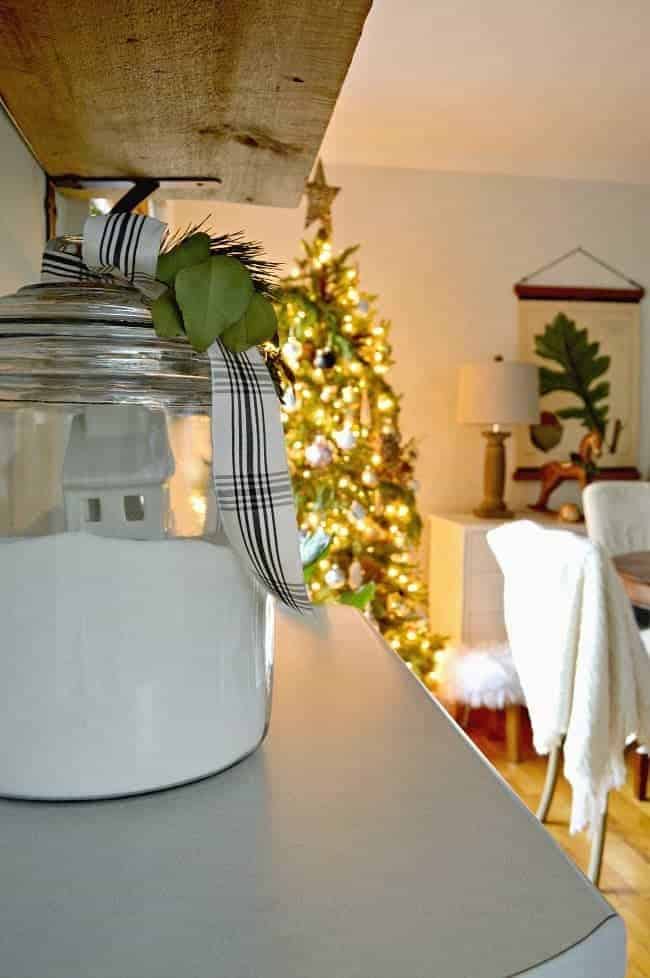 I think you've seen just about every inch, at every angle. Thanks so much for touring our cozy Christmas kitchen space.
What about you? Have you started your holiday decorating yet?
Happy Holidays!!! xx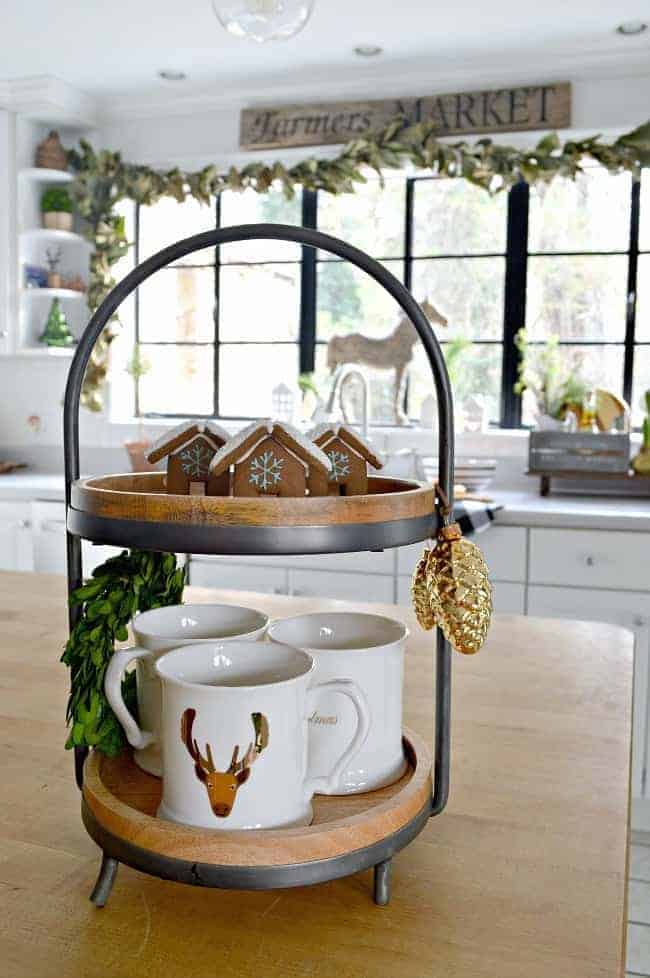 You can also check out the rustic glam dining room that's all decked out for the holidays.
Sources
Wood stool – Serena and Lily
Black and white striped bowl – Hobby Lobby
Horse – Wayfair
Black and white checked towel – Amazon
Little white houses – Target
Large glass jars – Target
2 tiered tray – World Market
Large brass lantern – Pottery Barn
Christmas coffee mugs – HomeGoods
Make sure you visit the other blogger's holiday spaces.
Entryways/Foyers
Living Rooms
1915 House
Bedrooms
Dining Rooms
Kitchens
Chatfield Court (you're here!)