A Different Kind of Spring Home Tour
*As an Amazon Associate and member of other affiliate programs, I earn from qualifying purchases.
I usually like to share a spring home tour with you every year but I wanted to do something a little different this year. Most spring home tours are all about the pretty spring touches that are sprinkled around the house. Lots of flowers and a change of bedding and pillow covers are the usual fare but, to me, getting the house ready for spring (and summer) isn't just about flowers.
Yes, I love adding fresh flowers around the house (if you want to see more check out my Instagram) but spring also means that it's time to freshen the house. For me the only way to do that is to give it a good cleaning.
So, I'm not only sharing my spring home decor but also how I get my house ready for spring.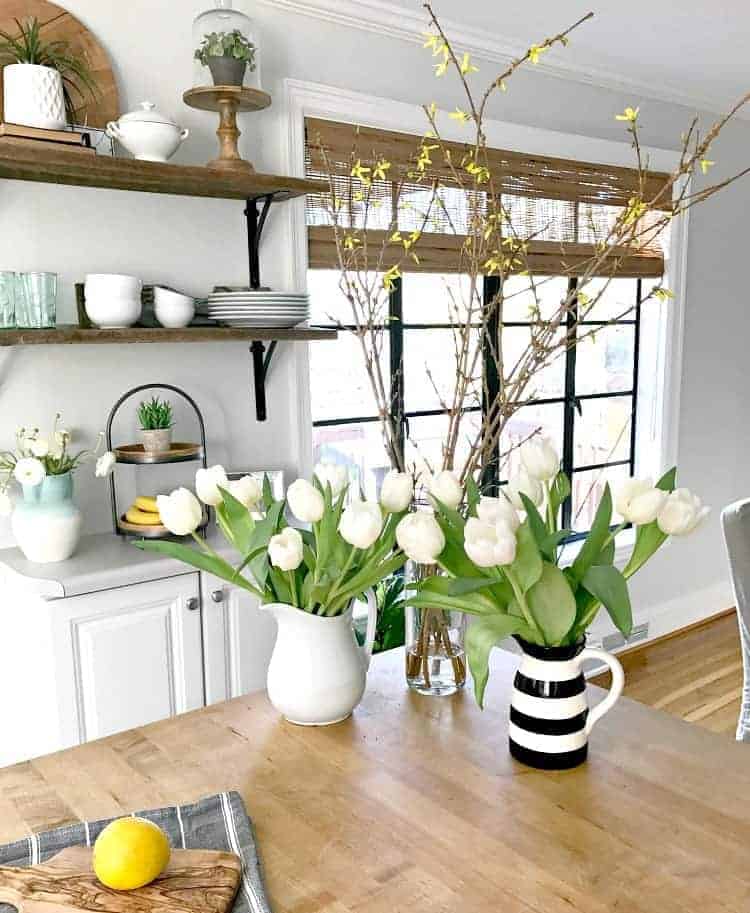 Spring Bedding
My spring home cleaning ritual usually starts with the changing of bedding. I don't go by the calendar when I'm changing bedding but by the temps outside. Once we turn the heat off, I know its time to get my spring and summer bedding out. This is a good weekend job that starts with stripping the whole bed and throwing it in the wash. While that's going, I vacuum the mattress and as much of the boxspring as I can. I also give the bed frame and headboard a cleaning and we spin our mattress. After the linens are clean and dry, I make the bed and bring out the clean bedding that was put away in the fall.
There's nothing like slipping under cool, crisp sheets after your bed is all clean and ready for spring.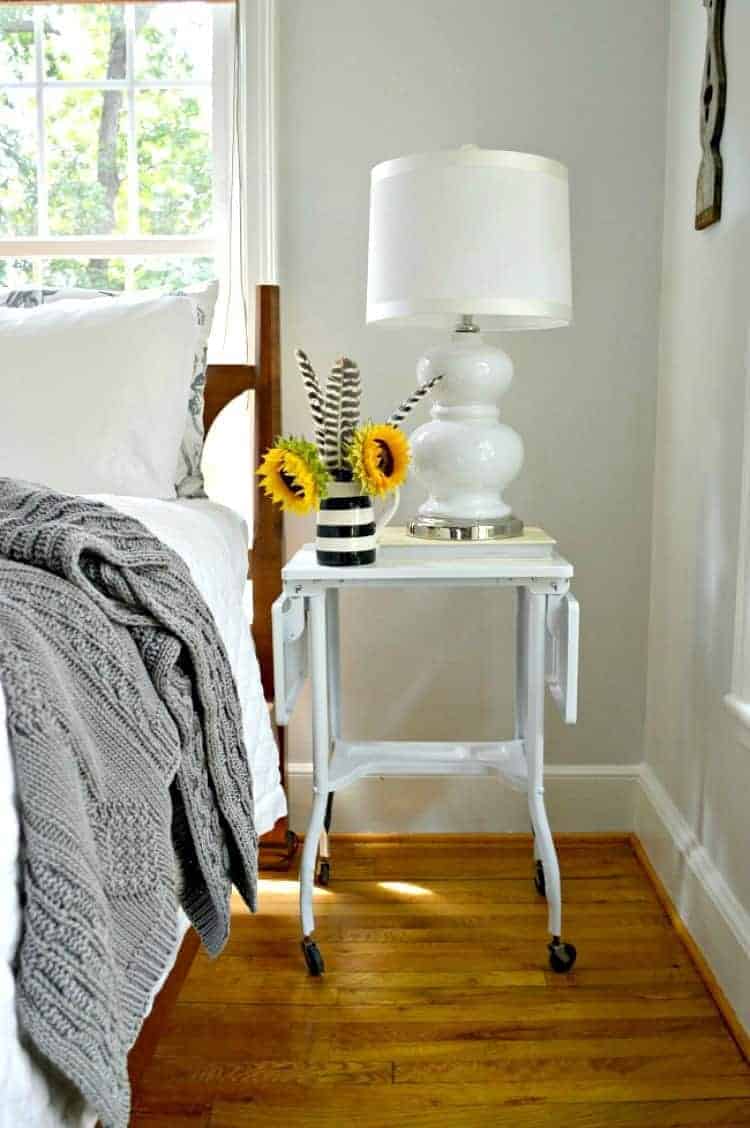 Windows
This is, by far, my least favorite task to do when I'm getting ready for spring and summer. Besides cleaning the glass, the blinds all get vacuumed and cleaned as well. I hate every minute of it while I'm doing it but, once it's done, I'm glad I did it.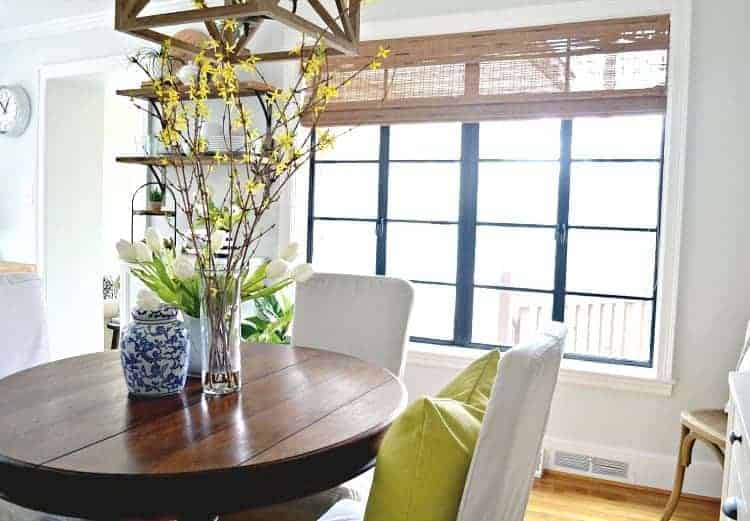 Bathroom
I clean the bathroom on a regular basis but when I'm spring cleaning, I like to take the shower curtain down and run the it through the washing machine (you can see how I do it here). I also wash the fabric shower curtain as well as the bathroom rug.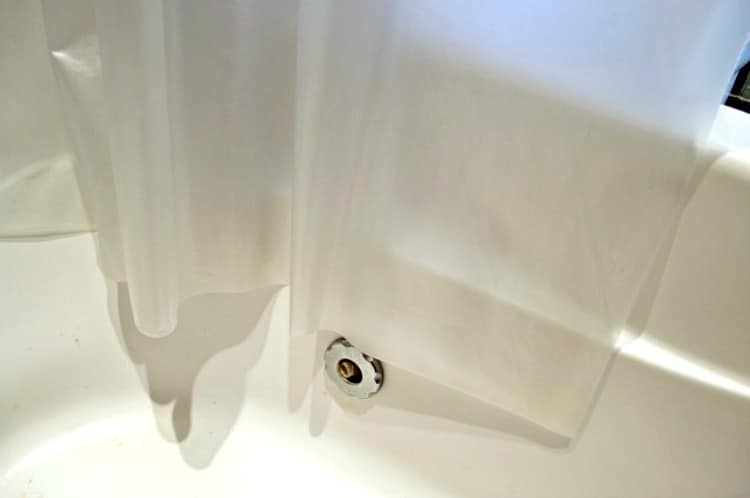 Closets
We have a small house, with only 3 closets, so I'm only able to have clothes out for one season at a time. When I bring out the warm weather clothes and pack up the winter ones, I always do a quick inventory. Things that haven't been worn in a year get donated and I make sure everything is clean and there are no holes or tears. It's a pain to do but it's a good way to keep my small closet in order.
Floors
Spring is a great time to give the floors a good cleaning. We don't wear shoes in our house and vacuum regularly so it ends up being a quick and easy job. I also like to give our area rugs a good cleaning by moving all the furniture off of it and vacuuming.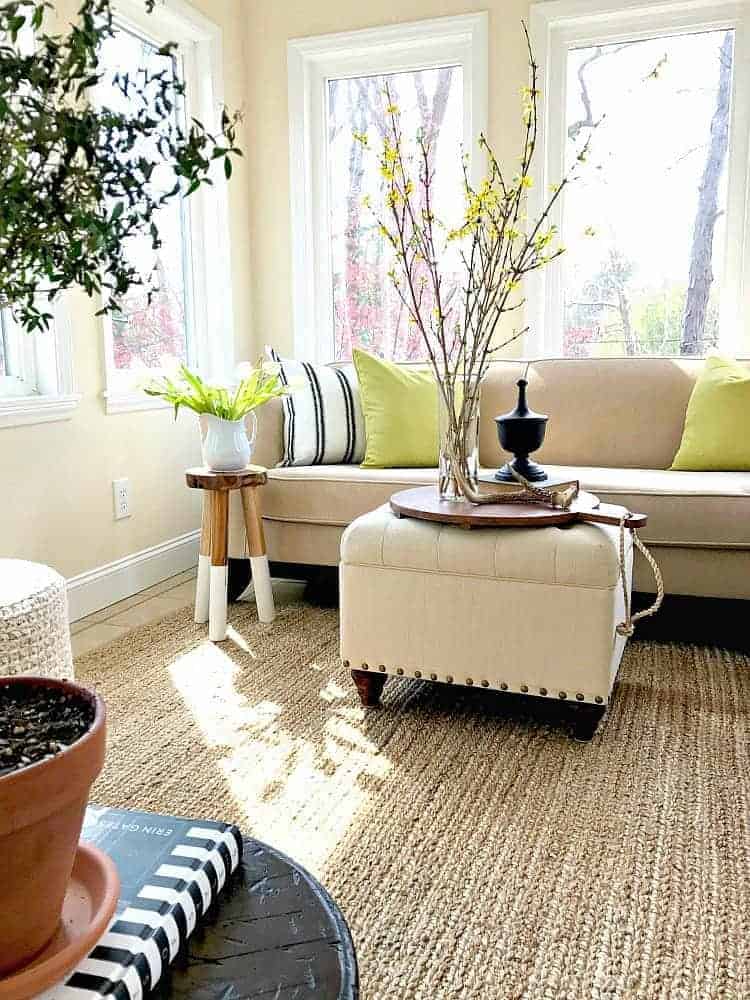 Outside
Not only do I clean the inside of the house but I also go outside to do a thorough cleaning of the front porch. That means dragging the hose up and hosing down the walls, windows and porch. The chairs get a good shower too, since they're waterproof, and the IKEA cabinet gets wiped down with a wet towel. Once everything is clean and dry, I add a pretty spring basket.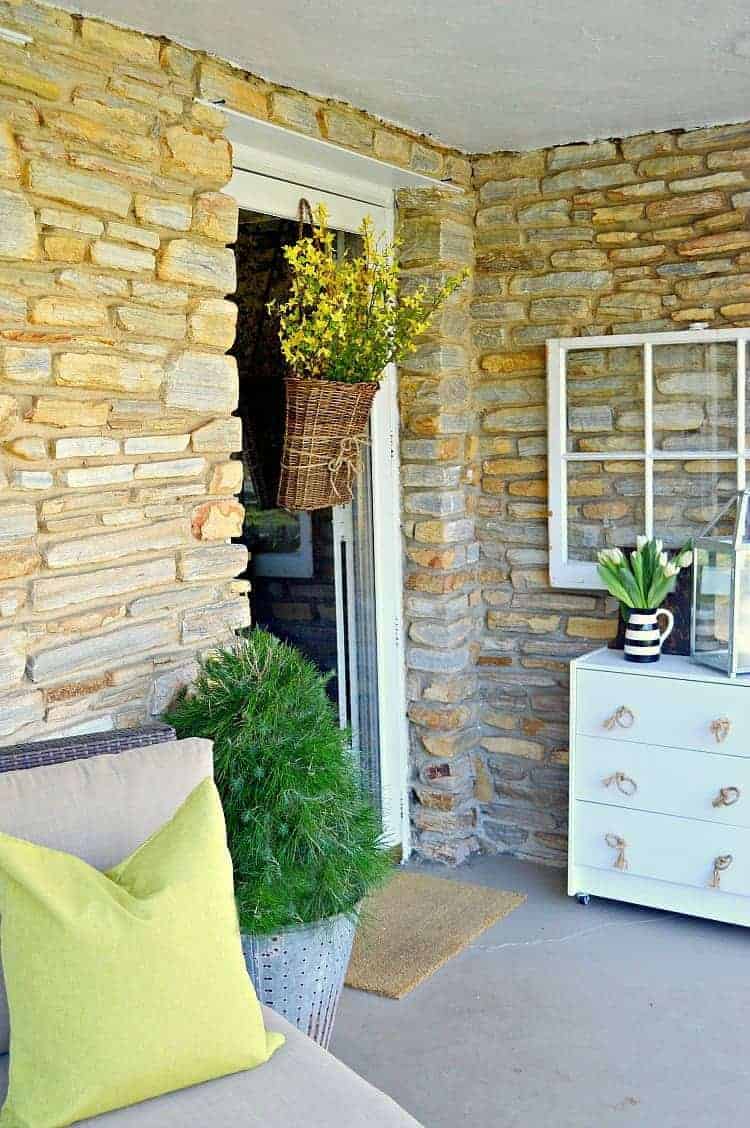 Pretty Spring Touches
Of course, the best part of getting the house ready for spring is getting the "pretties" out. For me, that usually means changing the heavy winter pillow covers for lighter, more spring-like pillow covers. I also love adding fresh flowers. I've given up buying snacks at the grocery store so I can get a small bunch or two of fresh flowers once a week. I try to keep the budget at $10-$12 weekly, and I will spend even less if I can get to Trader Joe's.
I love to spread them all through the house and I'm fanatical about taking care of them so that they last a whole week. It's definitely a splurge for me but they make me happy (much happier than a snack). 😉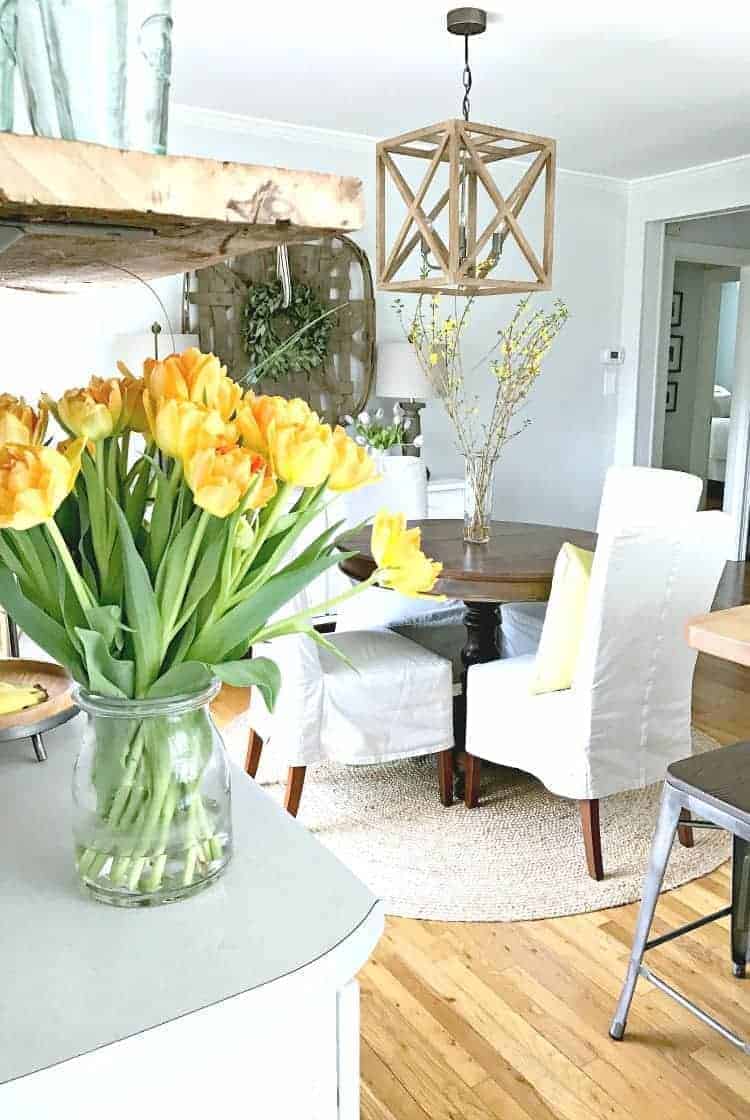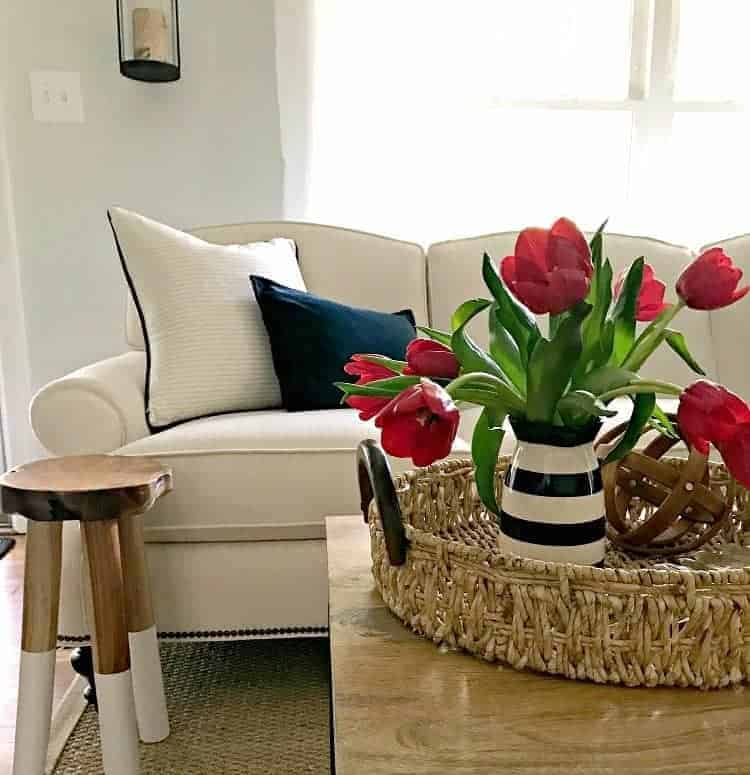 Spring is my favorite season and I love adding spring touches to our home but the cleaning part? Not so much. Although I don't like doing it I love how the house feels when I'm done. I think it's worth it.
What do you do to get your home ready for spring?