Switching Rooms to Change the Look of Your Home
This post may contain affiliate links, please see our policy for details.
Switching rooms to change the look of your home and the way it functions.
Before we moved out of our tiny cottage it went through a major change.
We didn't have to move walls or do any kind of major renovation and it was cost us nothing to do (well, until I decided to do a bit of redecorating).
So, what did we do?
We switched, or swapped, the dining room and living room.
When we moved into our little stone cottage 5 years ago we did what most people do.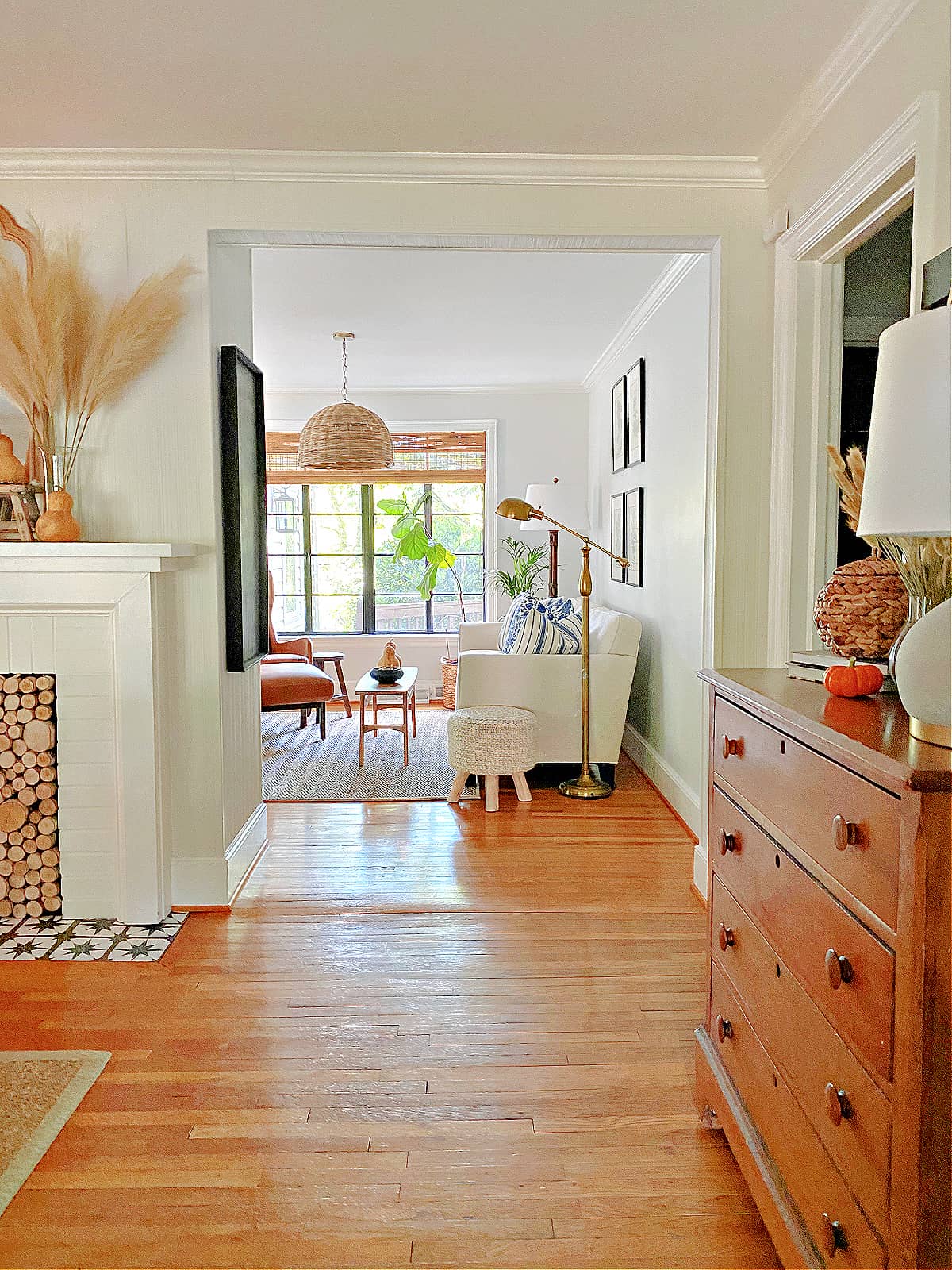 We placed the appropriate furniture in the rooms labeled "living room" and "dining room" on the real estate listing.
The room right off the kitchen was a natural fit for the dining room.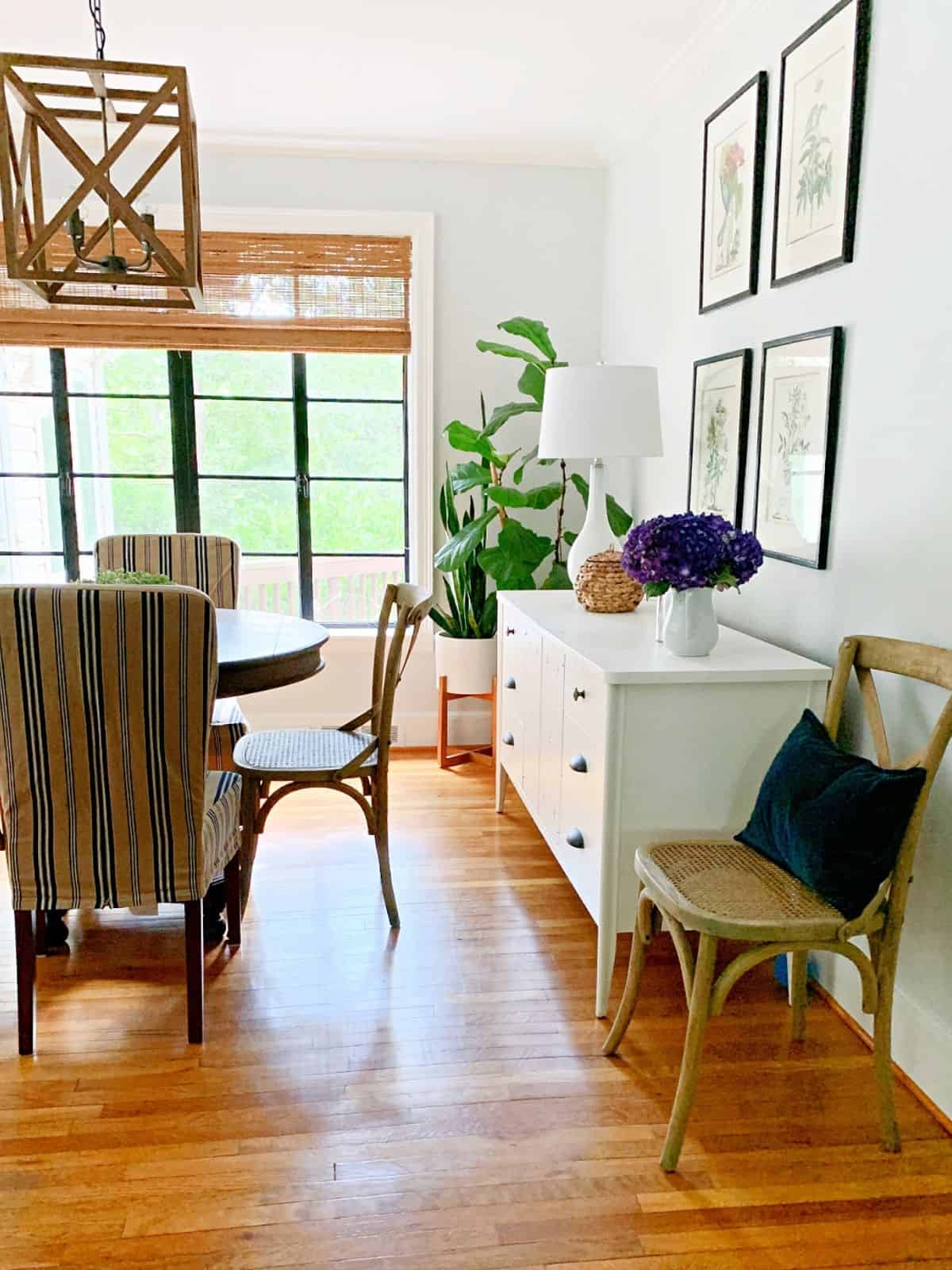 The larger room in front of the house, with a fireplace, was designated as the living room.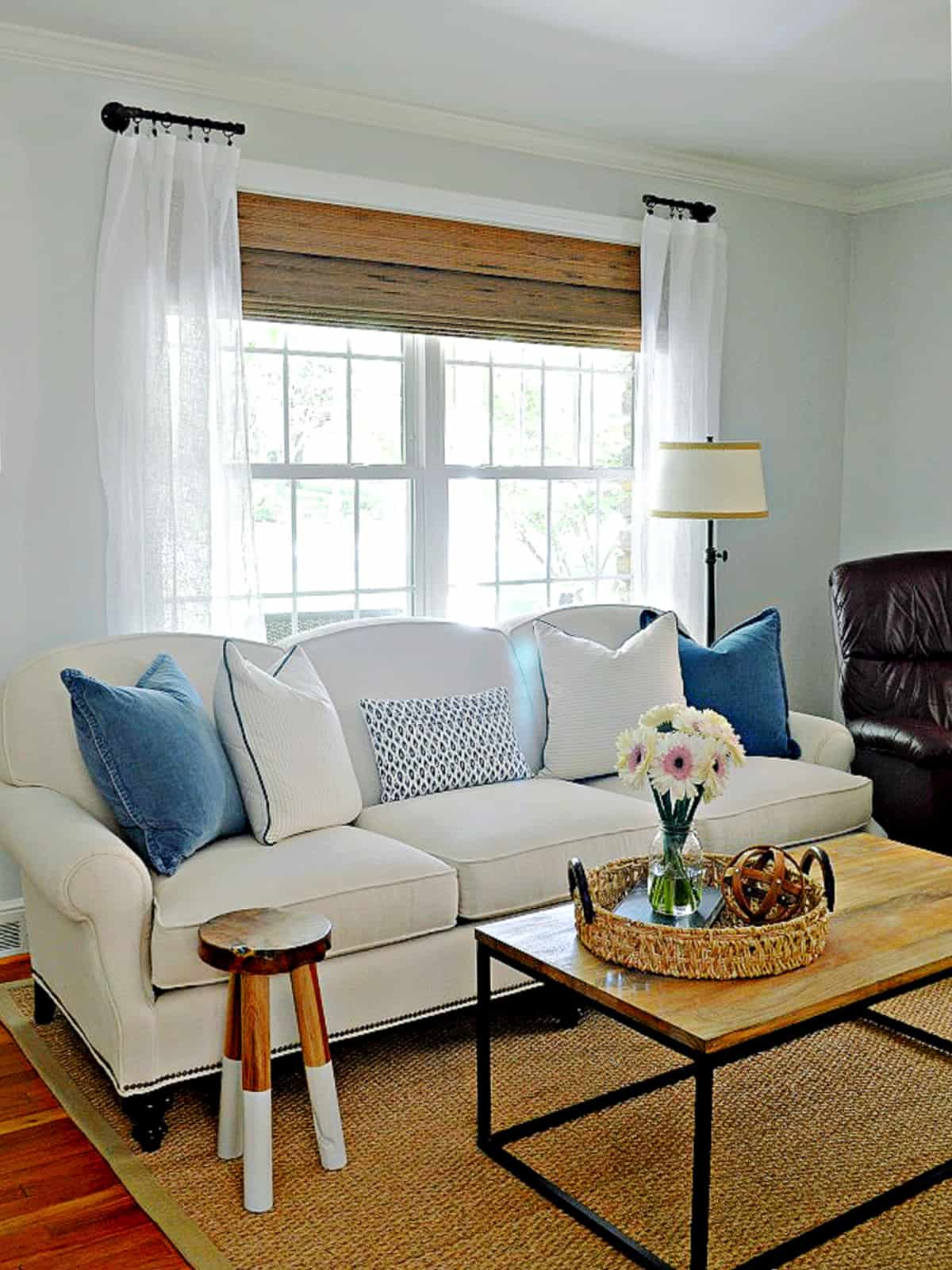 This arrangement worked for us but every once in a while I had a burning desire to swap rooms.
Dining Room and Living Room Before the Switch
The room right off the kitchen (the dining room) had a beautiful view of our backyard and great light. It's one of the things that drew me to our house.
I loved it but we didn't spend a ton of time in it because…well, it's a dining room.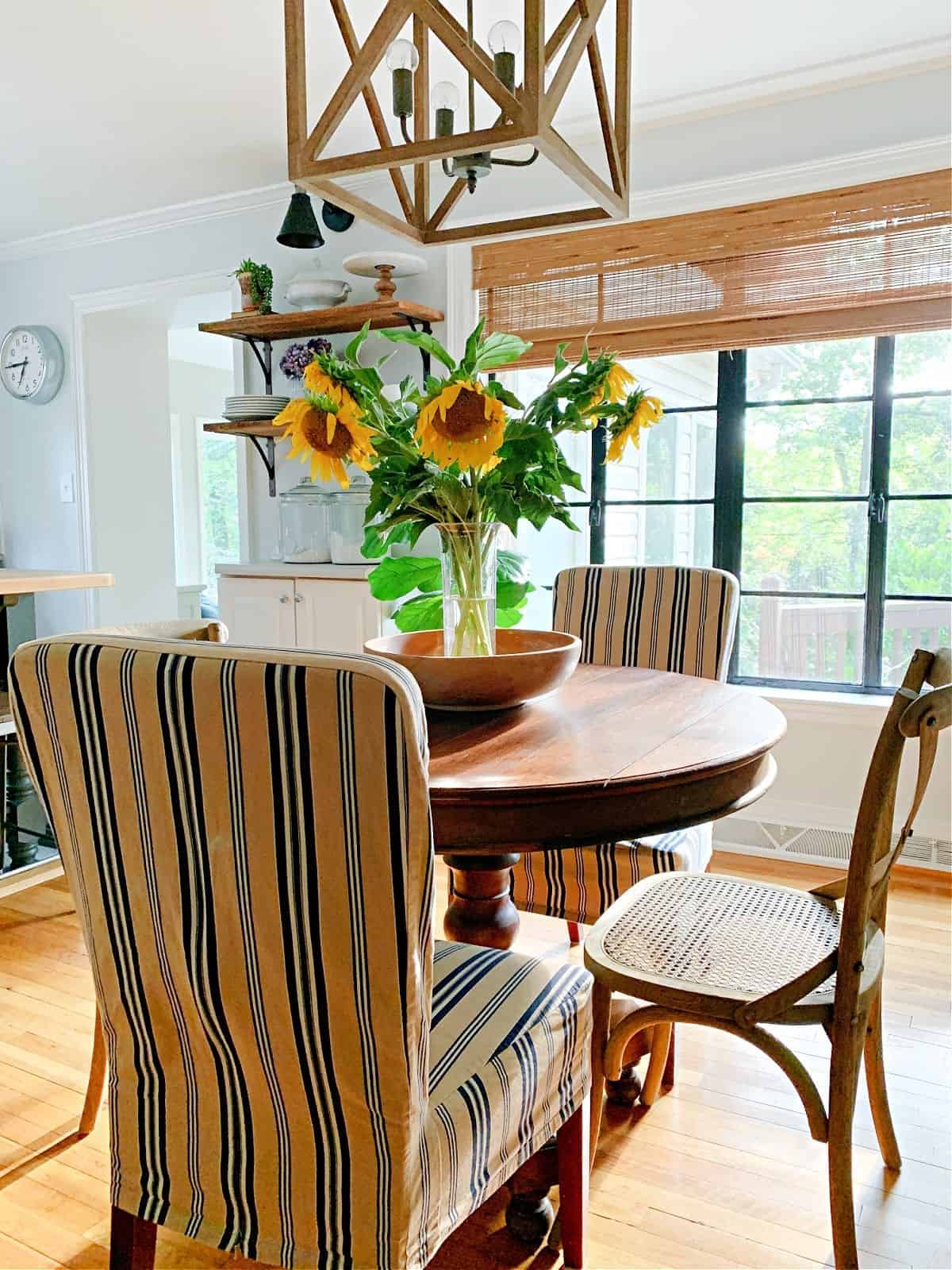 The living room (the room in the front of the house) was small and always dark.
We had a big oak tree in front of the house, as well as a roof on the front porch, so we didn't see much sun.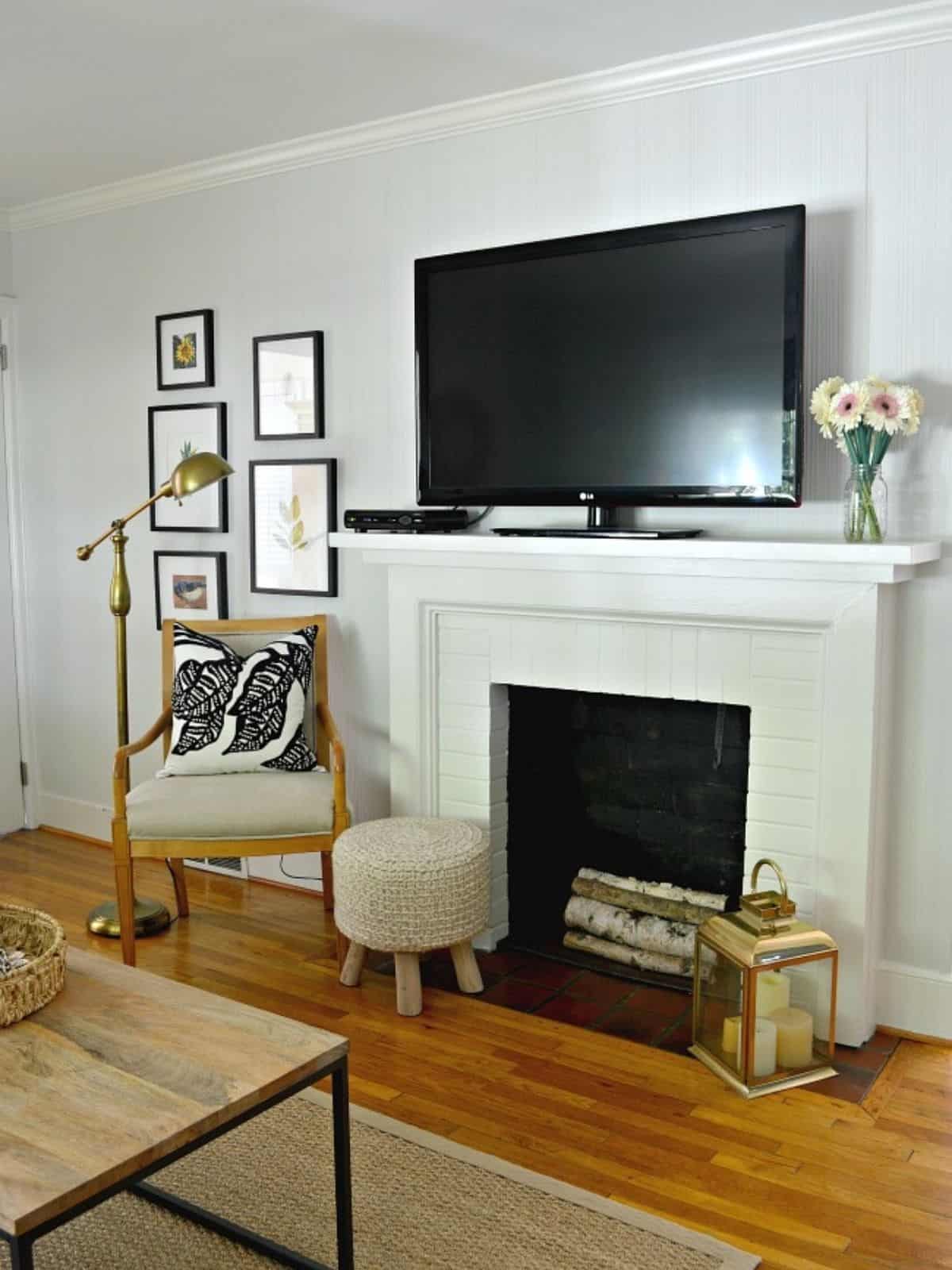 Since most of our time was spent in the living room, I always longed for the natural light that the dining room got but I knew that would never happen.
So I lived with it for 5 years figuring the current layout was the way it was supposed to be and fighting that urge to switch up the rooms.
Then Roger hurt his back and spent months in the back of the house in our sunroom, the only space he was comfortable in, while I was in the front of the house in the living room.
I spent a lot of time during those months walking back and forth from living room to sunroom just to talk or check on him. Not ideal for spending time together.
That was the kick in the pants for me to forget the rules and switch the rooms like I had always wanted.
Can I switch rooms?
It's totally possible to switch rooms but there are a few things to consider.
The first thing you need to consider is the size of your rooms and the furniture you want to put in them.
Do you have room for comfortable seating in the living room? Can you fit a TV?
Is there a place to plug in a TV without running electrical (unless you want to do that)?
Is there enough space in the new dining room for a table and chairs?
These are all things you need to consider before you start moving things around.
To figure all that out you want to make sure you measure your rooms and furniture so you're certain it will fit in the new space.
Is it good to switch up your room?
It was really great for us!
We've been able to enjoy our spaces so much more with the rooms switched. And we could at least see each other again.
And, if you're like me and like to switch things up once in a while, this is a great way to do that. Plus it can be totally free!
Ok, so I did end up spending some money after I did the switch but just switching the rooms around was free.
Can i swap my living room and dining room?
You can if you have enough space for your furniture.
It's really not about what a room is "supposed" to be, it's about how it works for your lifestyle.
Plus you'll never know how well a room will work unless you take the leap.
A couple of things we gained from this switch, besides the fantastic natural light in the new living room, was that I got a dining room with a fireplace (without a TV on the mantel).
That's not something that everybody has so that was nice.
I was also able to put my Christmas tree up in front of the window in the dining room, something I was never able to do before.
Homes with dining room entry
Before switching the dining room and living room, our tiny entryway spilled into our living room.
With the rooms switched, and our big couch out of the way, the entryway actually felt more roomy.
I've never had an entryway open up to a dining area so I wasn't sure how well it would work out.
The extra space actually made it easier to get in and out of the house with our two dogs, something I'd never even considered before the switch, so it was definitely a big bonus.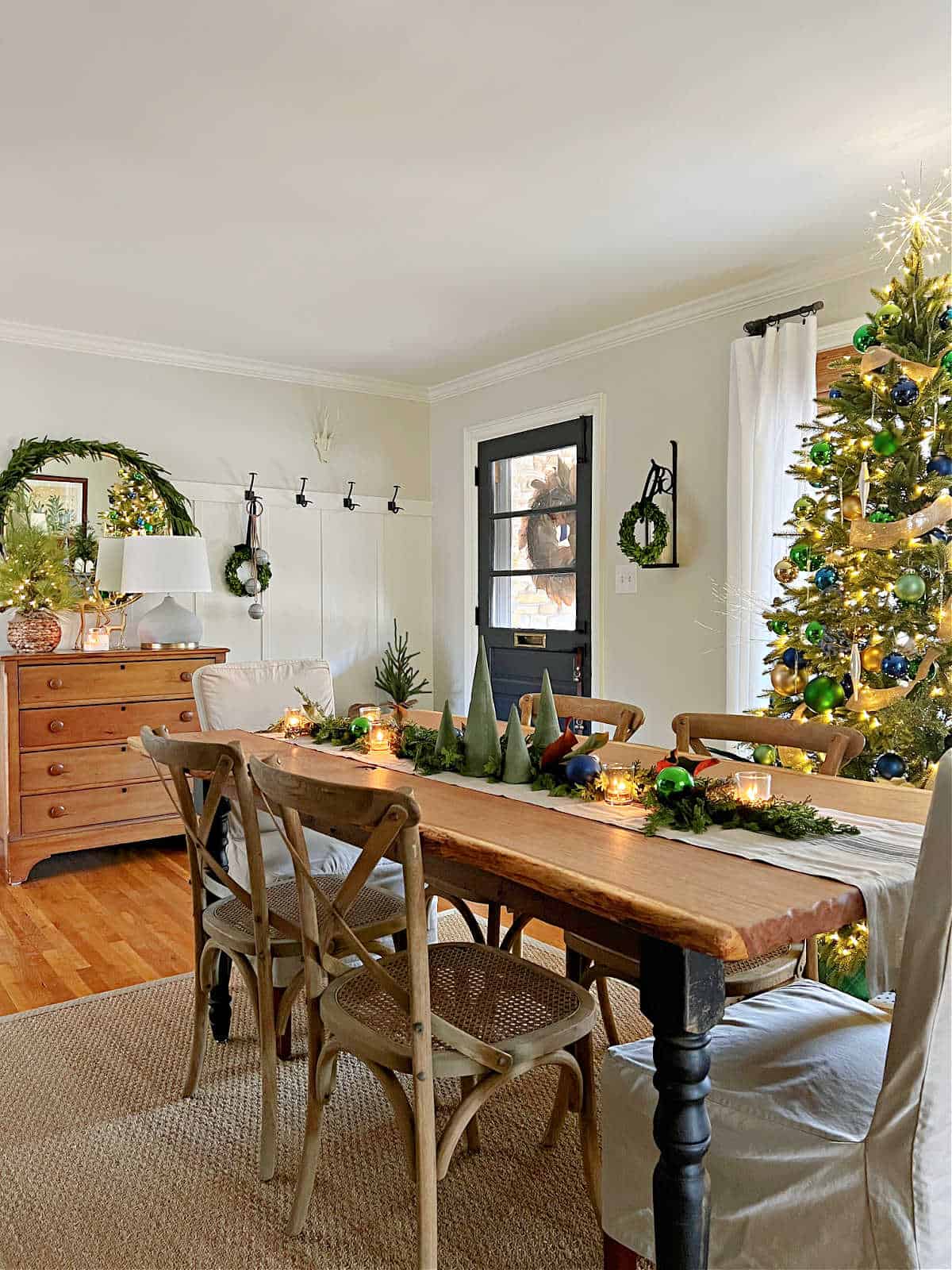 Kitchen and living room combo
The former dining room area was smaller than the former living room but my furniture fit.
It was definitely cozy but it had everything we needed…a comfy spot to sit and watch tv, tons of natural light and a beautiful backyard view.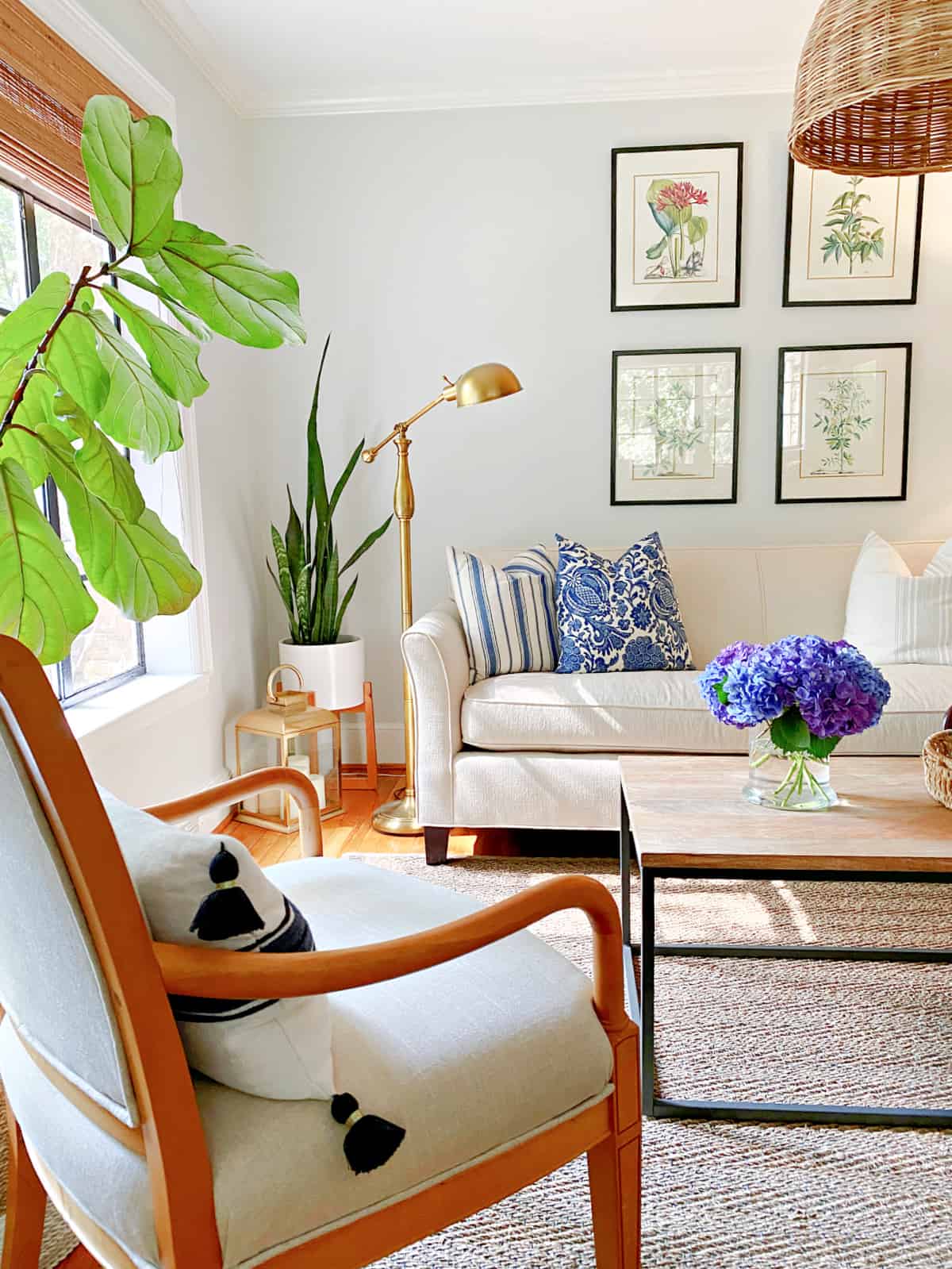 The bonus was that we could be together when one of us was cooking or cleaning up in the kitchen.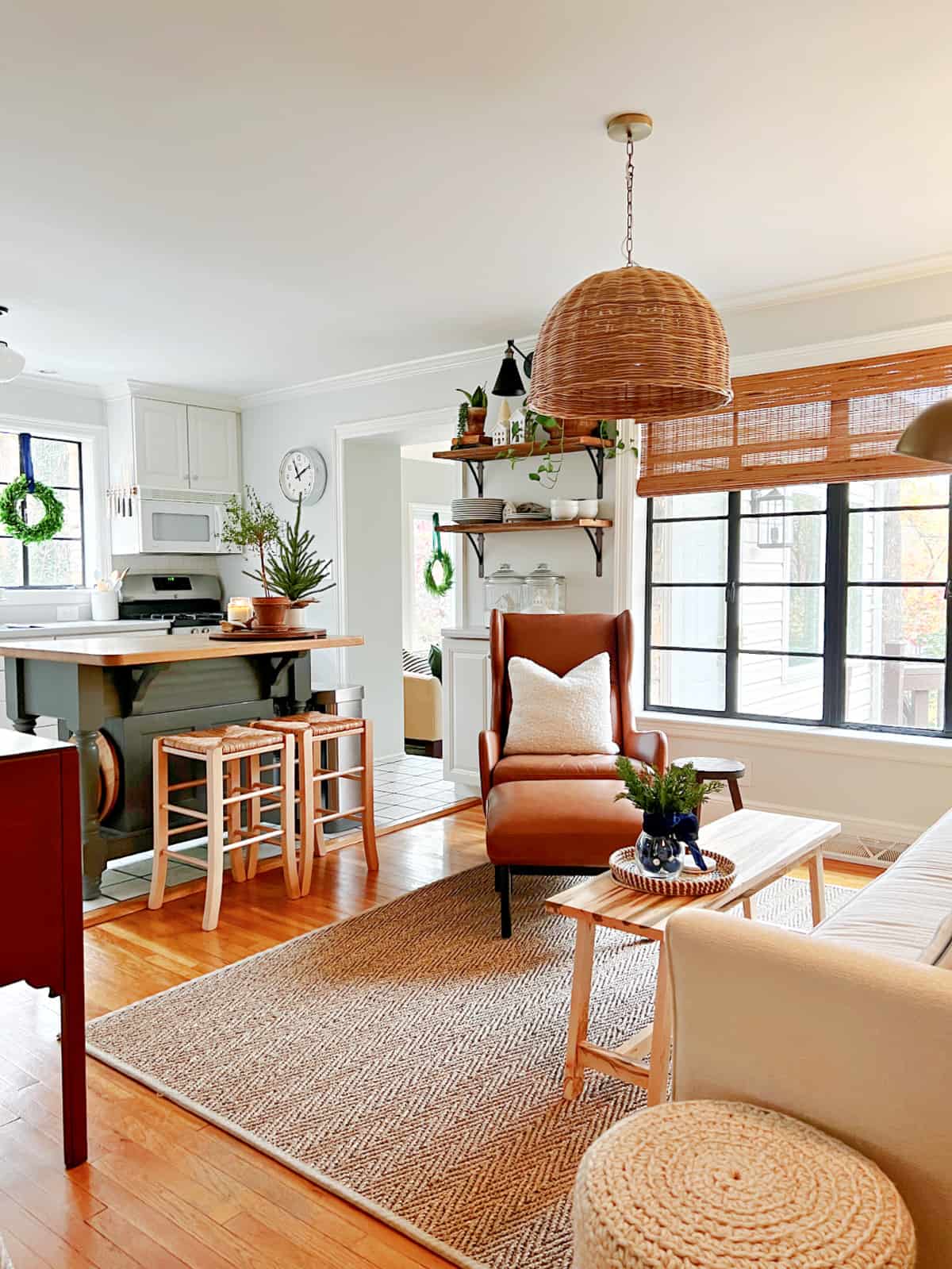 Most of our time was spent either in the kitchen or living room anyway so now we had both spaces connected. The perfect setup for us!
The Decorating Changes I Made
Switching the dining and living rooms doesn't have to cost a dime but I decided to make a few changes while the rooms were ripped apart.
I painted the new dining room wall in BM Halo, just like my studio. I also painted the fireplace wall black and installed vinyl stickers on the fireplace.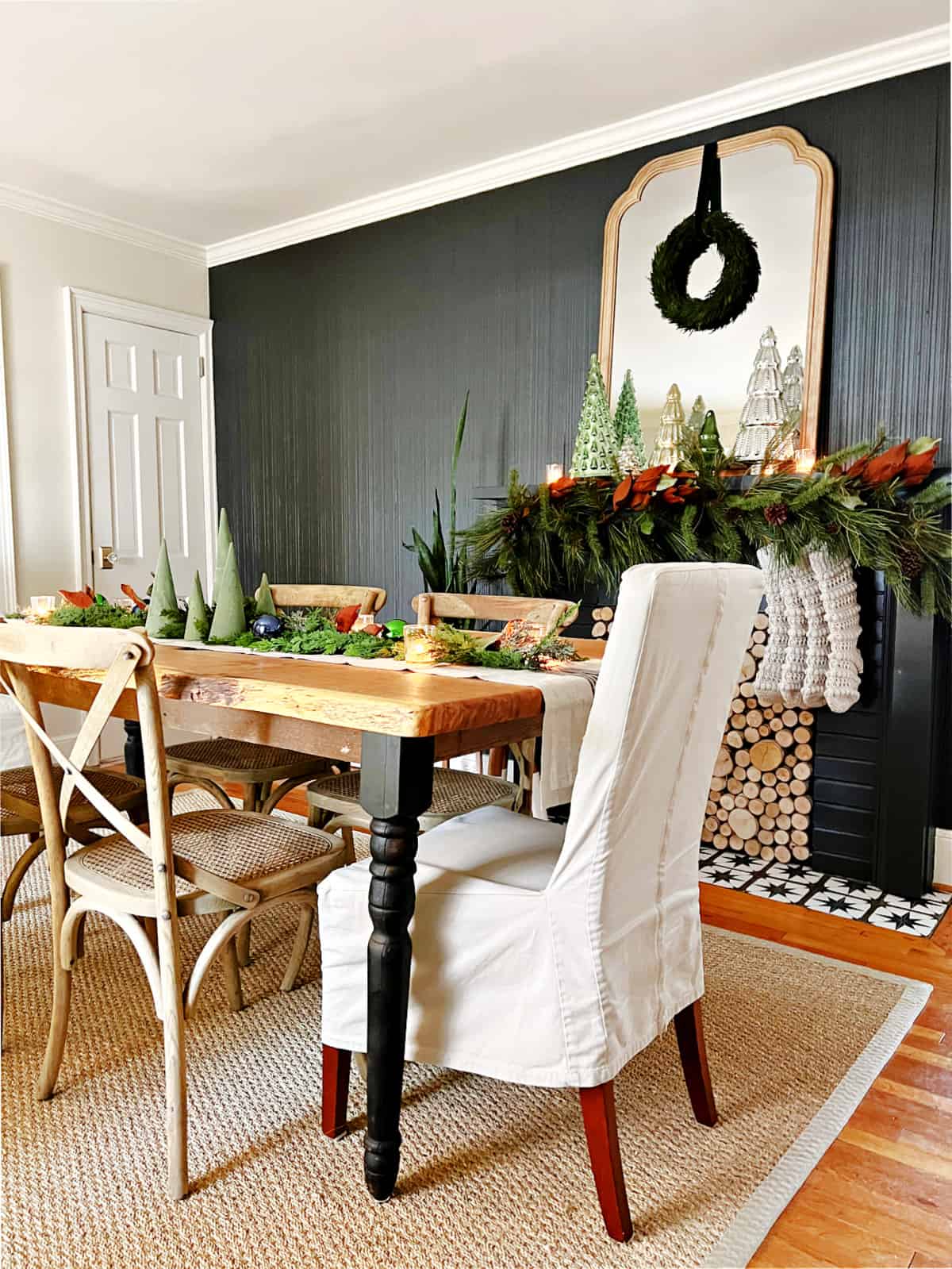 The easy board and batten that I installed in the entryway last year also got a coat of white paint (from the black I painted when I first installed it).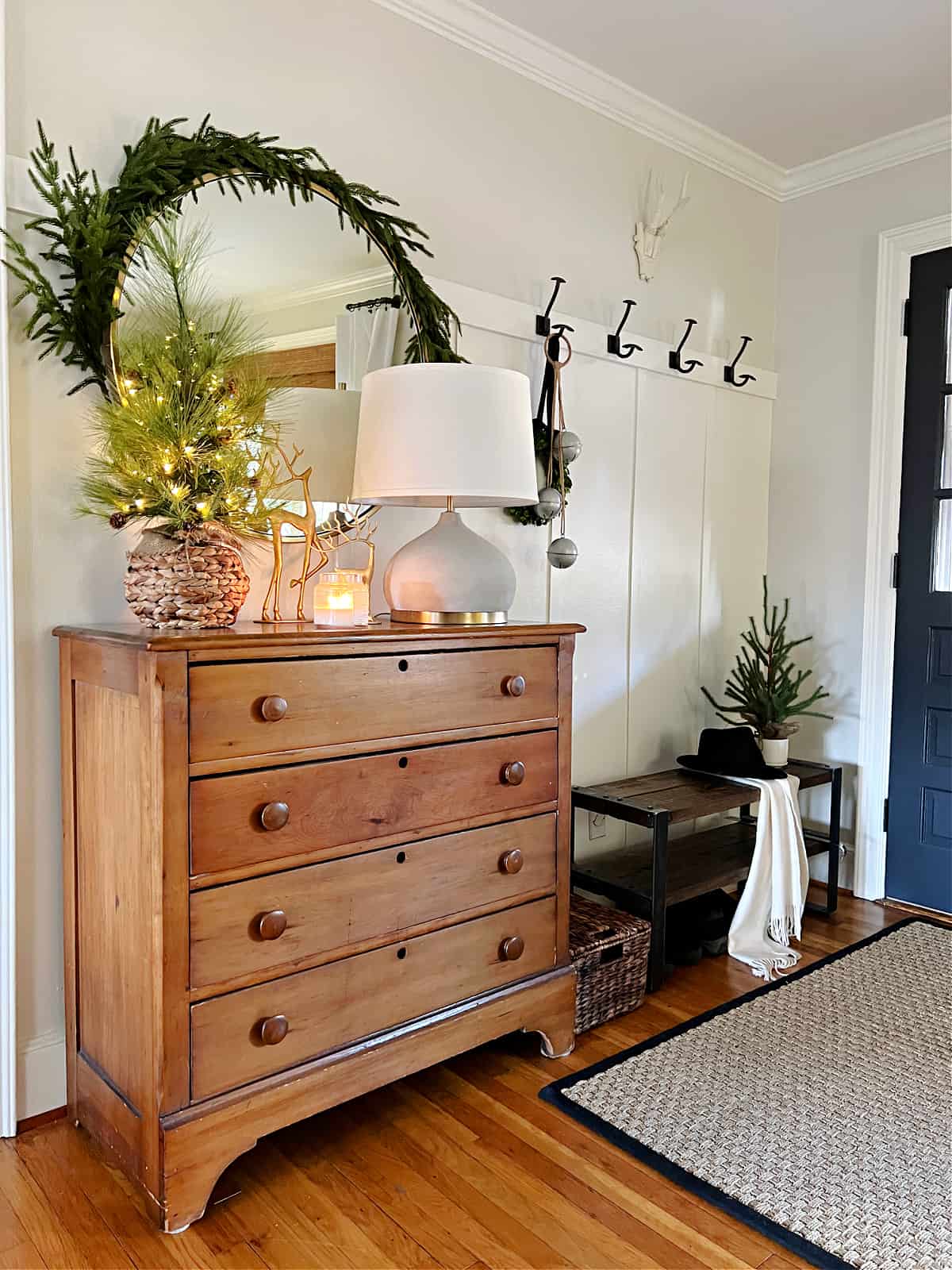 I also switched out the small round dining table to a long table, something I had wanted to do for years but couldn't do because of space.
The new living room saw a few furniture changes.
I was finally able to get rid of Roger's very old recliner and get him a new chair, that fit better in the space and was more comfortable with his hurting back.
I also got a new couch. The other one was just not comfortable with my back injury so I found an old sofa on FB Marketplace, for a $100, and had it reworked and reupholstered just the way I like it.
It fits the room, just like the other one did, but it's much more comfy for my back.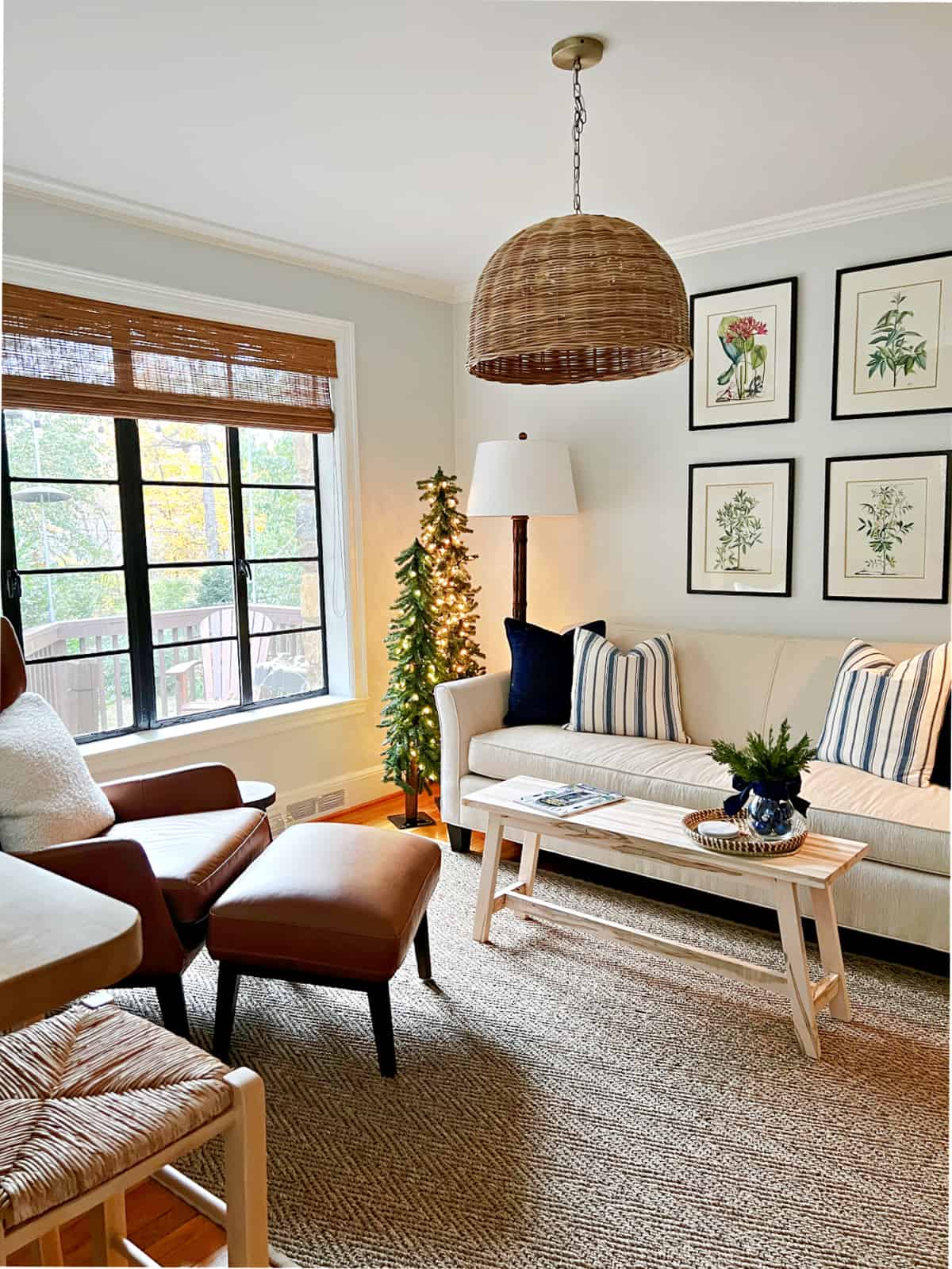 The moral of this switching rooms story?
Don't let doubt hold you back from going against the norm (in our case switching rooms traditionally labeled "living room" and "dining room"). You may be pleasantly surprised.
My only regret is that it took me 5 years to do it.
Better late than never!
Don't forget to check out our switching rooms web story.