*As an Amazon Associate and member of other affiliate programs, I earn from qualifying purchases.
We are in our new home as of 2 weeks ago. It's all been a blur of moving out, closing on our little stone cottage and our new home, and moving in. Remember, this all happened in a short span of 6 weeks!
Ok, so before we get to the photos, let's get the particulars out of the way.
Our new cottage is a 1965 brick ranch on 1 acre of land. We are further out in the country so there are lots of fields and farm animals all around us. A far cry from the city sounds that we moved from.
The new house, which we named after Chocolate Creek, which runs behind our property, is around 1700 square feet with 3 bedrooms and 2 very small bathrooms.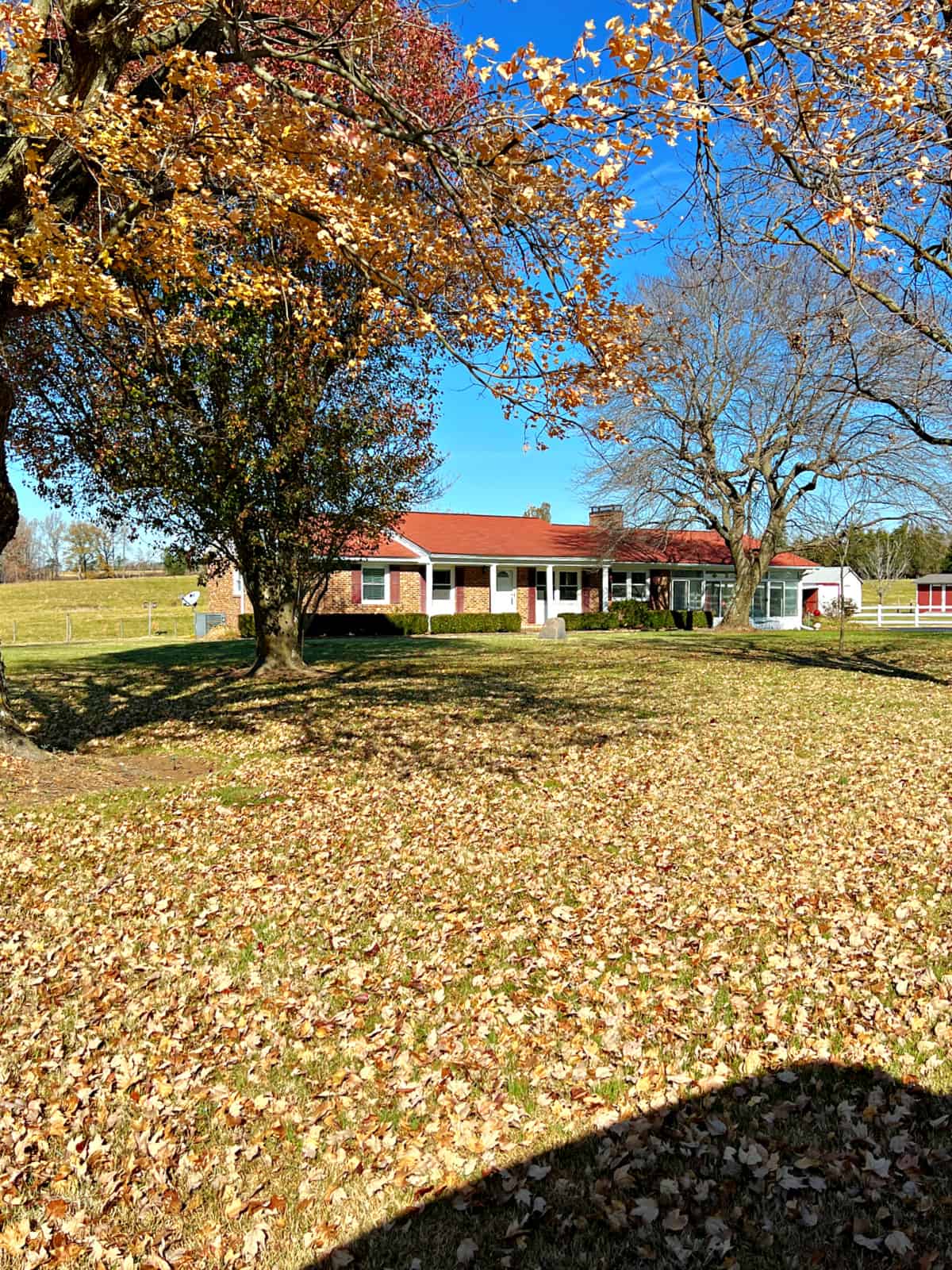 The house hasn't seen a lot of updates in it's 56 years so it's retained many of the original features, like old tile in the bathrooms and original hardwood floors.
The kitchen looks like it was the only room remodeled. It seems that it was updated in the 80's with oak cabinets and solid surface countertops.
It's livable for right now but because the cabinets have seen better days, it will eventually get a total DIY remodel.
Now that that's taken care of, let's take a look at the house before we moved our stuff in.
Family Room
This room is typical of the time period. It's open to the dining area and kitchen (complete with railing) and is a step down (typically called a sunken living room).
It does have a nice fireplace with propane logs that has come in handy with all of the cold weather we've been having.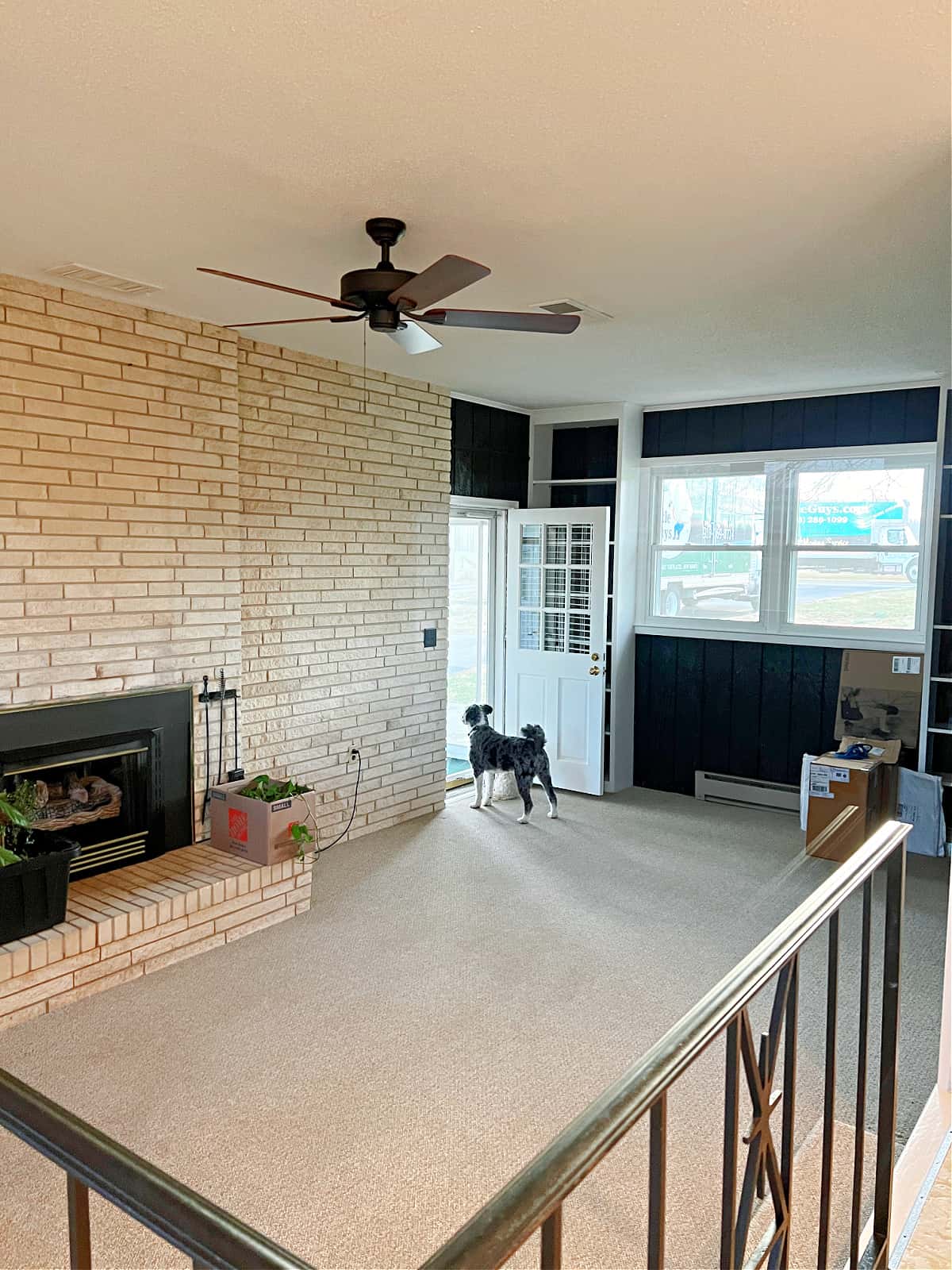 My immediate plans for this space are to rip out the old rug and install new hardwood flooring. I'll also paint the textured wood paneling that is stained black.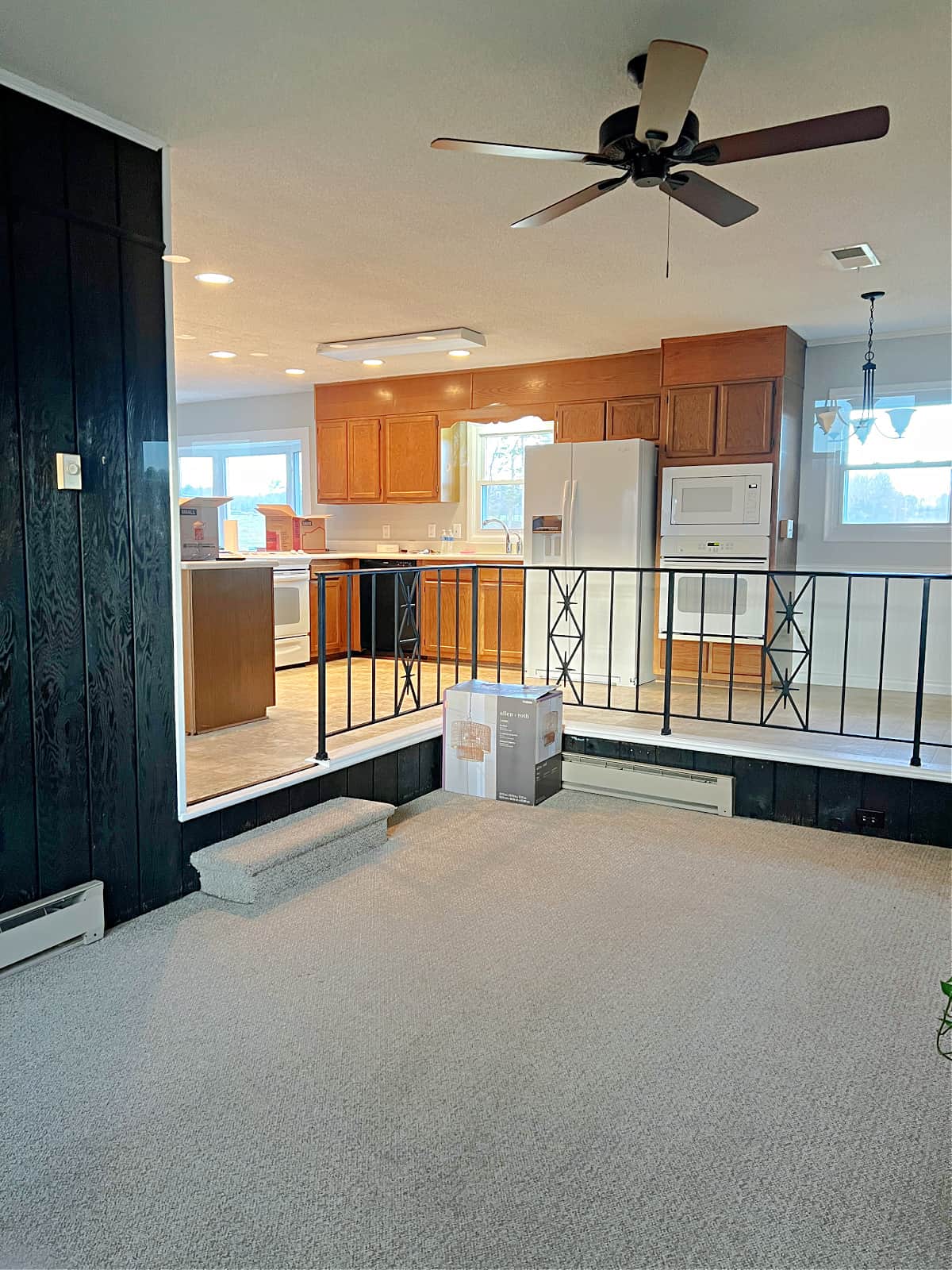 A new window treatment will be installed on the window to complete this space, and give us some privacy.
Eat-in Kitchen
This is the one space in the house that needs the most work.
The kitchen itself is a nice, large space but it's poorly laid out and the cabinets need to be replaced.
I was going to paint them just to hold me over but once we moved in I realized that they were in worse shape than I thought.
The little attached dining area has several issues.
One issue is the size of the space. Right now it's a bit tight but once we reconfigure the kitchen, it will work well.
There's nothing to be done about the off-center window but the unsightly breaker box can be camouflaged with artwork.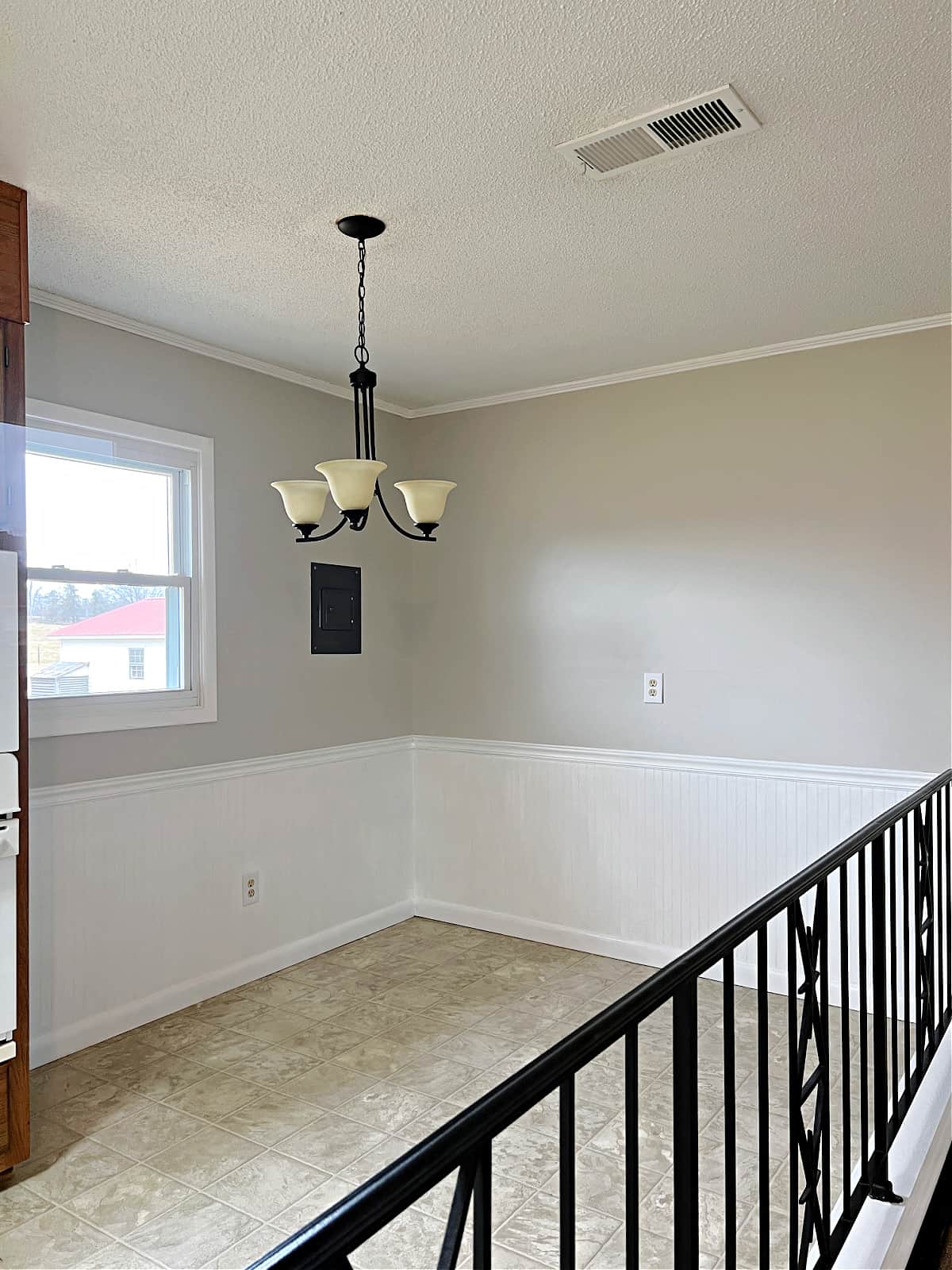 The off-center light can also be fixed. (Sigh…I'm spotting a trend here)
One other issue in the kitchen/dining area, and it's a massive one, is the ceiling.
It has a popcorn ceiling that was badly patched when they did the kitchen remodel.
Unfortunately, in order to fix it we will have to redo the ceiling in the hallway, laundry area, kitchen, dining area and family room, since they are all attached.
Den
This space is in the front of the house, next to the entryway. I'm not sure how the previous owner used this space, but we will be using it as a den.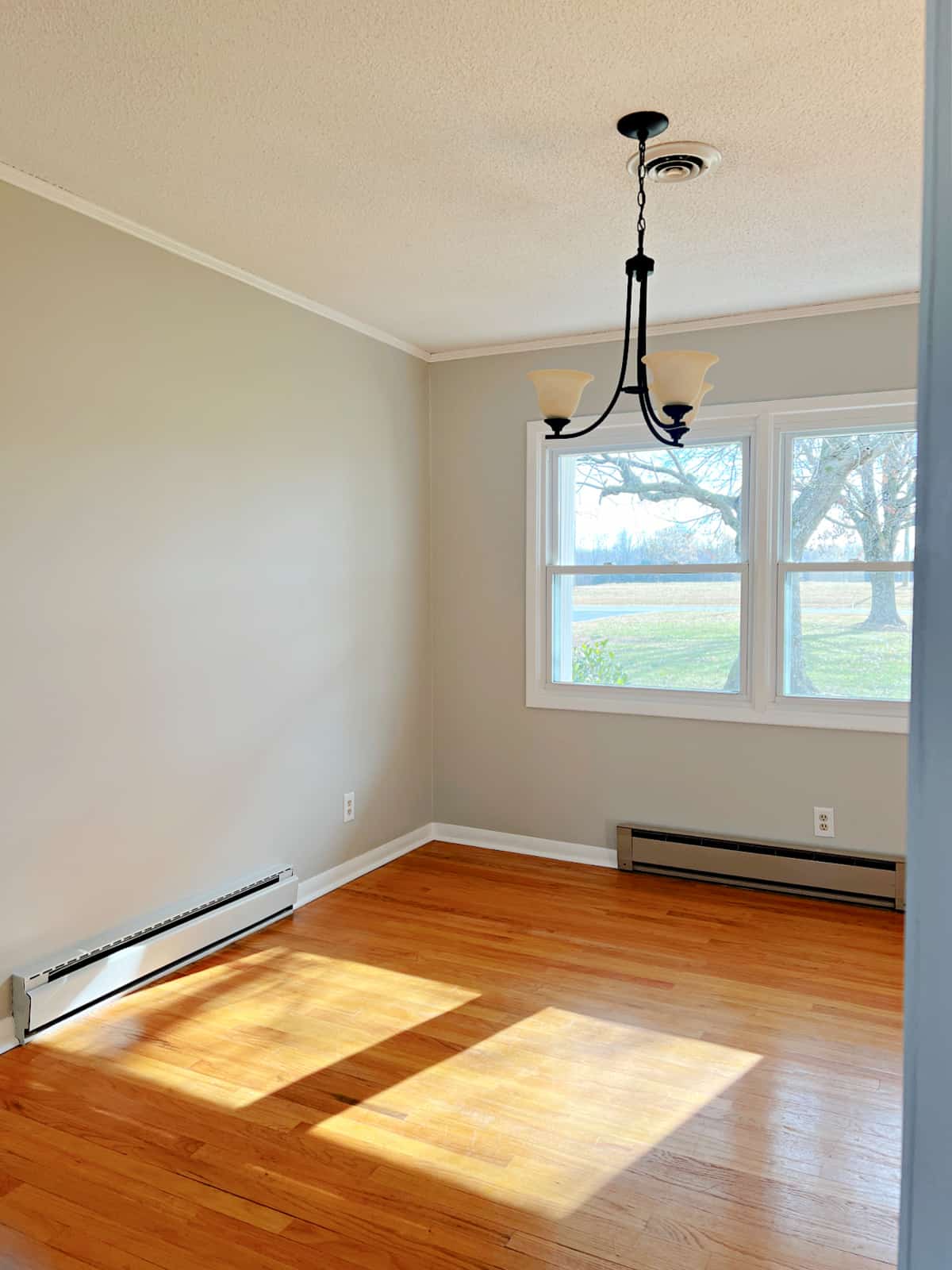 Roger and I went round and round with this room, trying to decide if we should use it as a dining area instead.
If we did that I would have had to get rid of our sectional, that I plan to use in here, and I had no idea what I would do with the little dining nook (we don't need two places to eat).
For right now it will be our den. Maybe, once we redo the kitchen, we may rethink this space and make it a dining room.
Master Bedroom
At the end of the hallway is our master bedroom. I was hoping to get a bigger space this go-around but it wasn't meant to be.
This room is almost the same exact size as our bedroom in our little stone cottage.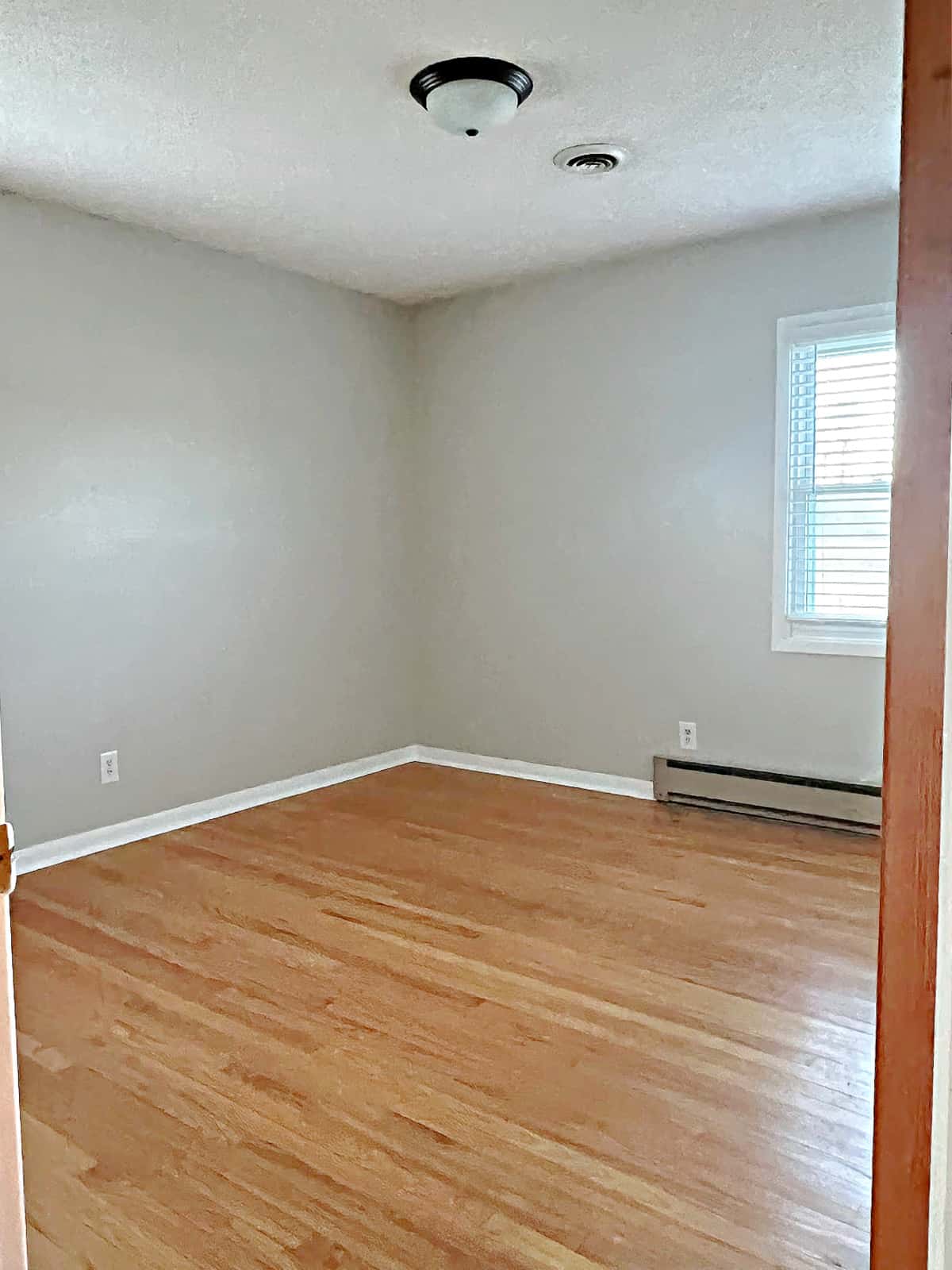 We also have a window to contend with behind the bed.
It's a bit better than the last house in that it isn't directly behind the bed but it is on the same wall, and very off-center.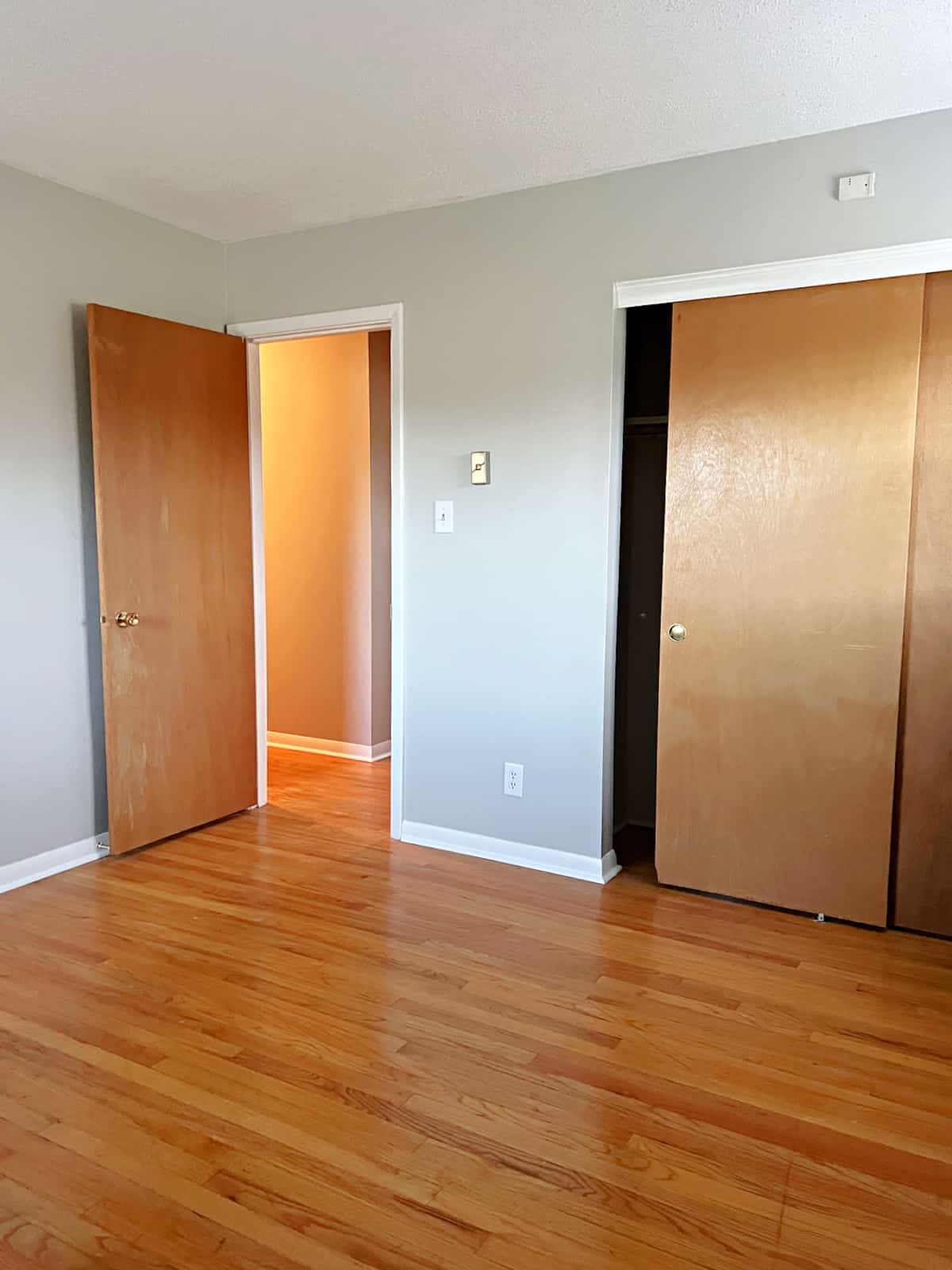 I don't have a solid plan for this room but I do know that I want to redo the ceiling and put some kind of wall treatment behind the bed.
I'll also treat the bedroom, bathroom and closet doors to a little facelift as well.
Guest Bedroom
The guest bedroom is in the front of the house. Like the master it is similar in size to our last guest bedroom.
This one has a nice sized closet for storage though. Always a welcome addition.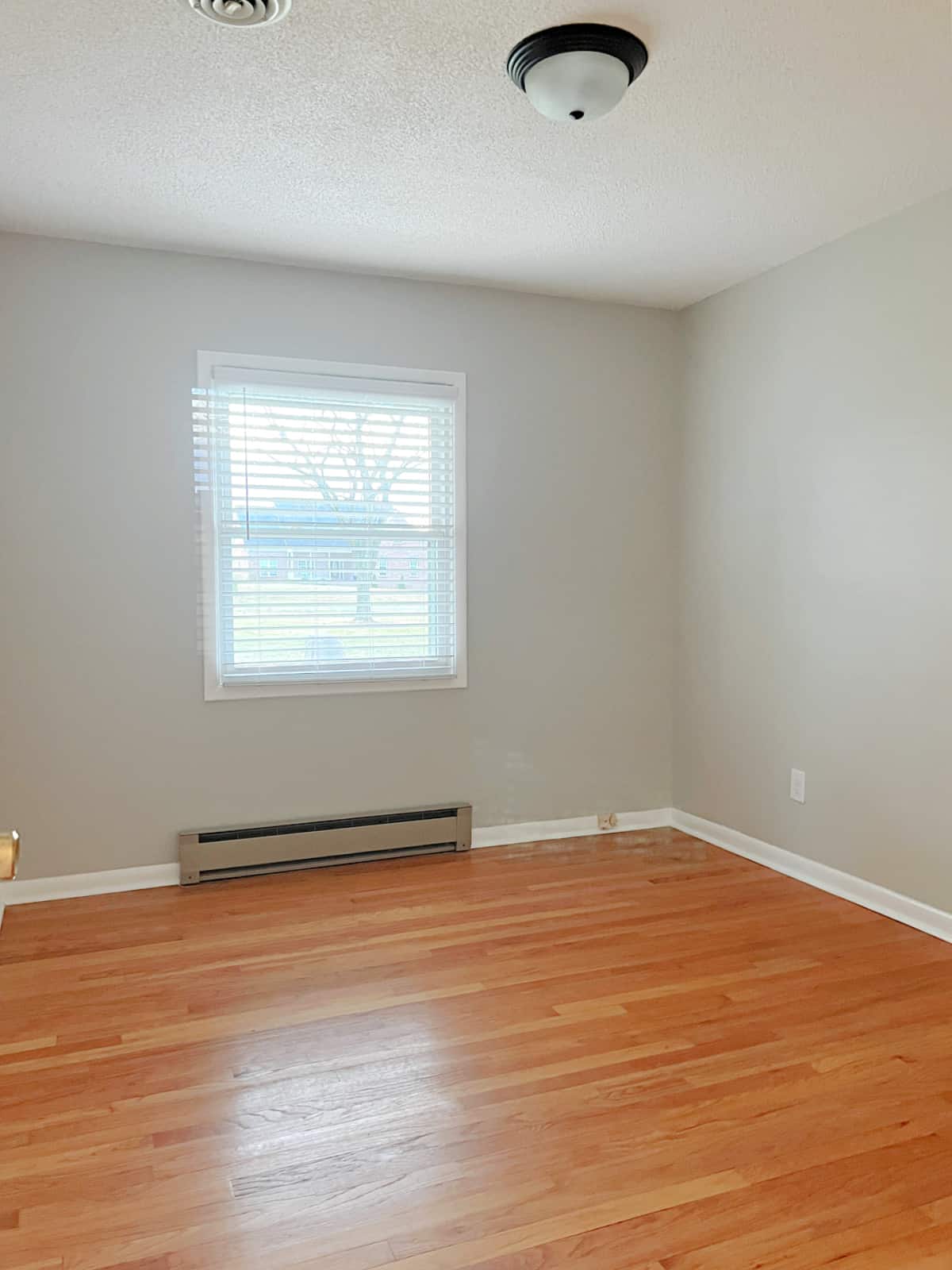 I have no idea what I will do in this room, besides setting up our DIY platform bed and thrift store dresser.
It will need paint and something done with the ceiling but I'm not sure what that will be yet.
Studio
As I did in the last house, our second guest bedroom will become my studio. It has 2 windows, that look out the front and side of the house, and gets great light.
This room isn't a priority to redo so I have no idea what it will look like.
I do know that at some point it will get new paint and a ceiling treatment. Oh, and I will fix the blind.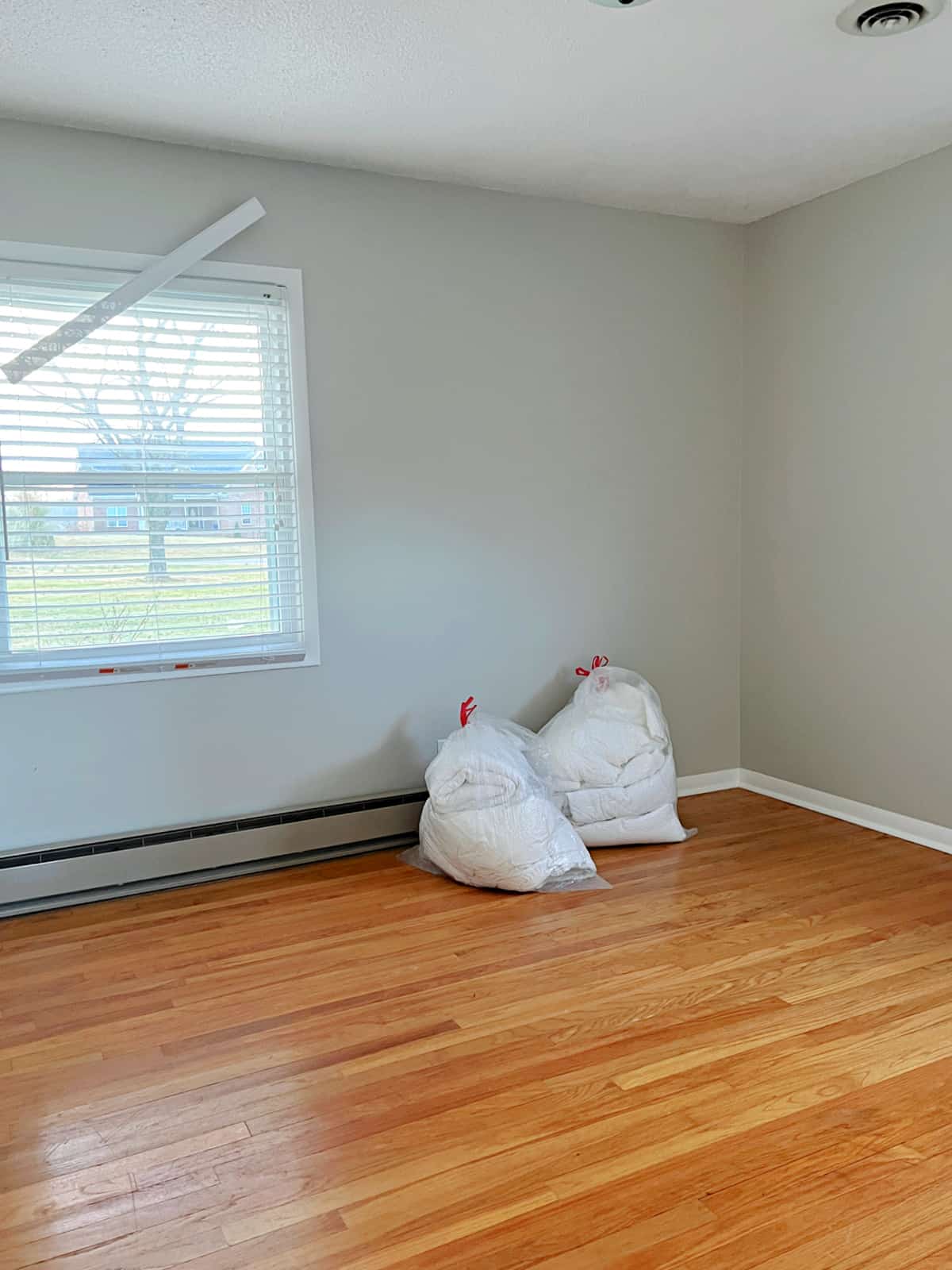 Sunroom
This space seems like it was a carport at one time. It now has screened-in windows all around and a propane heater for the colder months.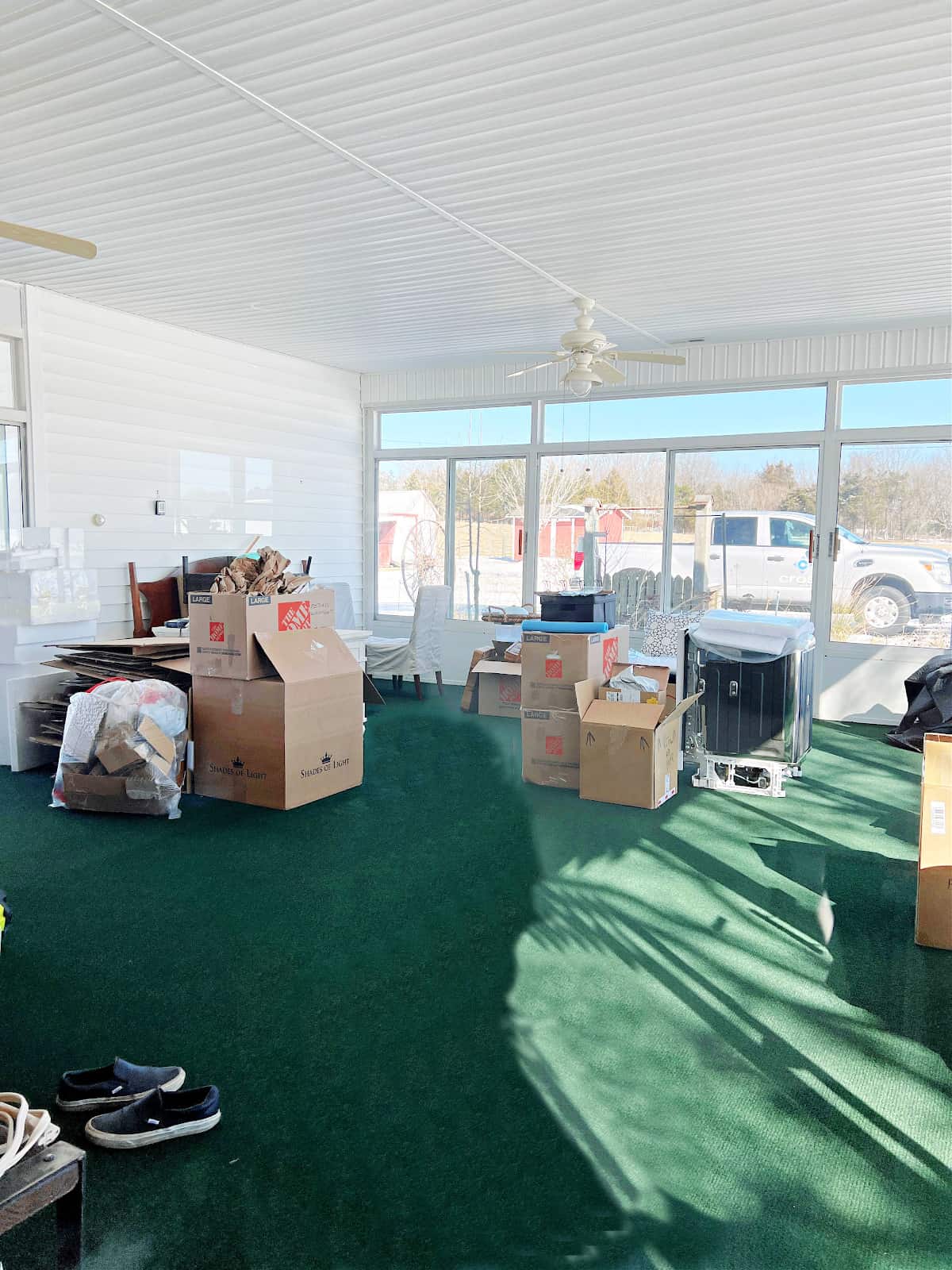 I'm not sure what we'll do with this space but it has been a lifesaver since we moved in.
We used it as a staging area for all of our moving boxes so that we could work around the house and place our furniture without boxes all over.
Hallway Bathroom
Although we have two full bathrooms (yay!) this space is really tight.
It does have a nice size shower, which is a huge plus, but no natural light.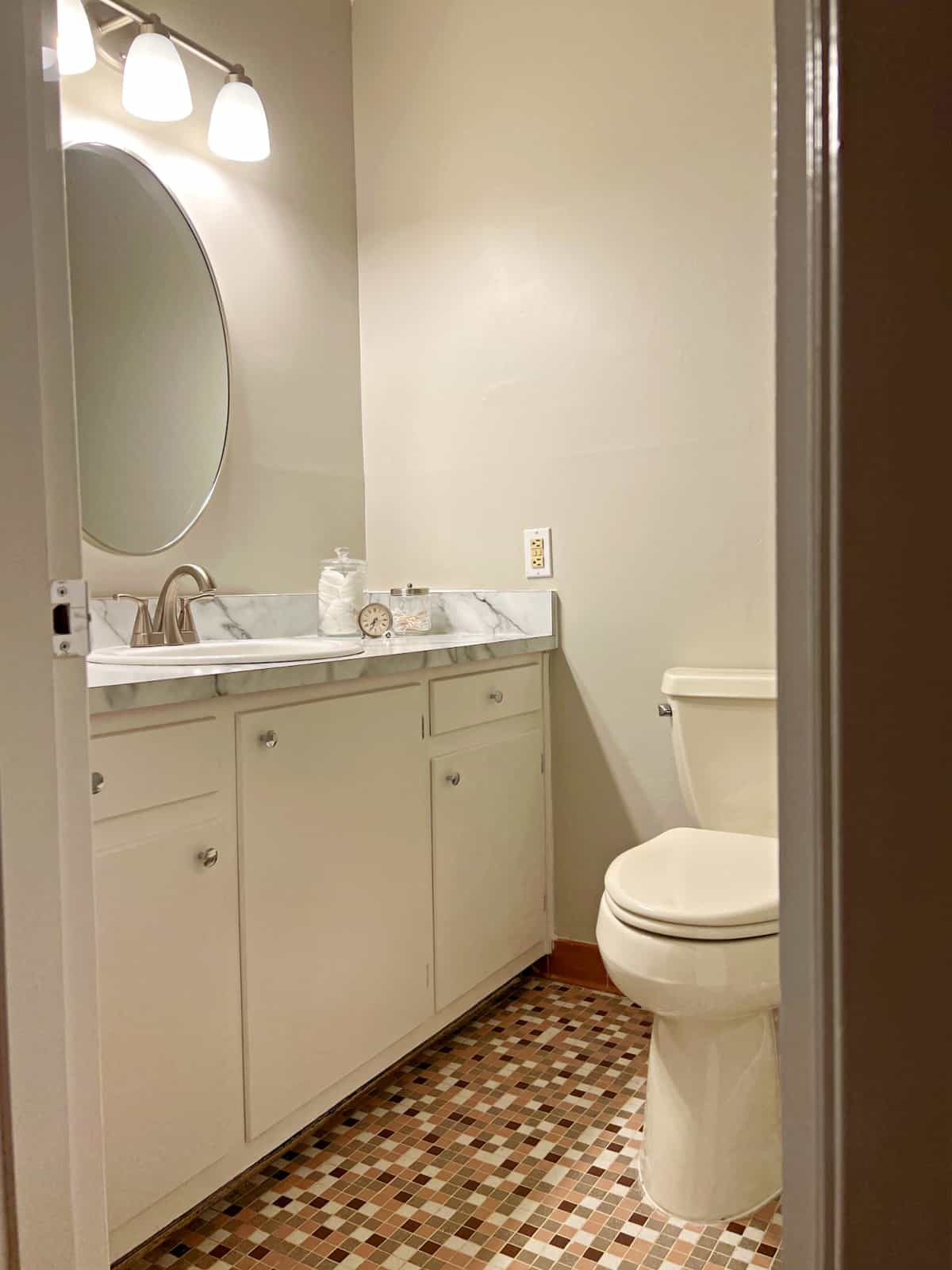 Eventually this space will get a gut job.
We'll do new tile, a new vanity, new paint and ceiling. For now it works and the old tile is still in great shape.
Master Bathroom
We haven't had a master bathroom since we lived in Florida, 4 houses and 12 years ago.
It's an L shaped space with powder blue tile everywhere but like the hallway bath, it's in excellent shape.
Like the other bathroom it will eventually get a complete makeover with new tile, a bigger vanity and new paint.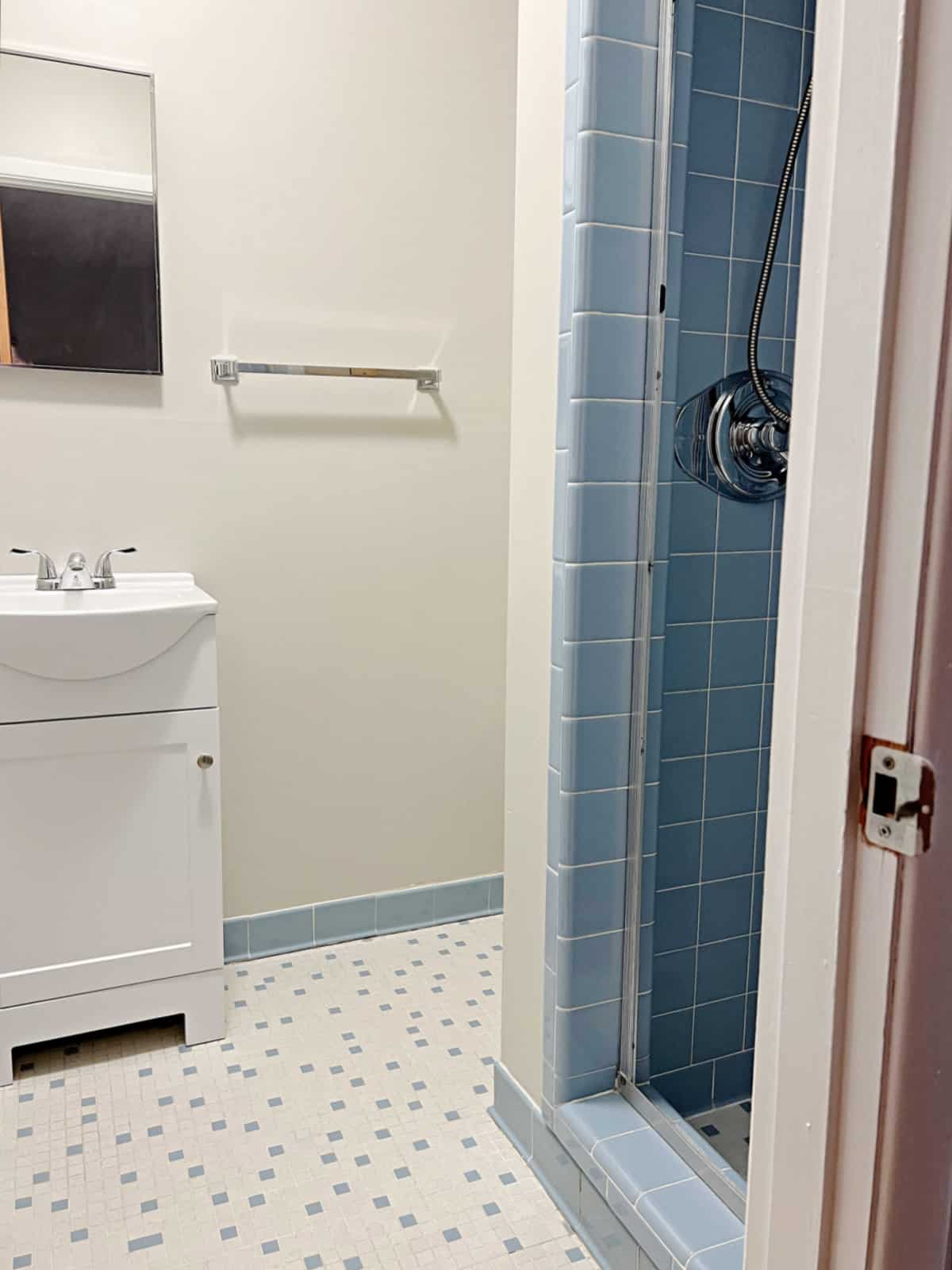 The best part of our house isn't inside, it's actually the land.
It's the whole reason we bought our house.
We loved the fact that it was a flat, 1 acre lot with a two car garage and a carport for my truck.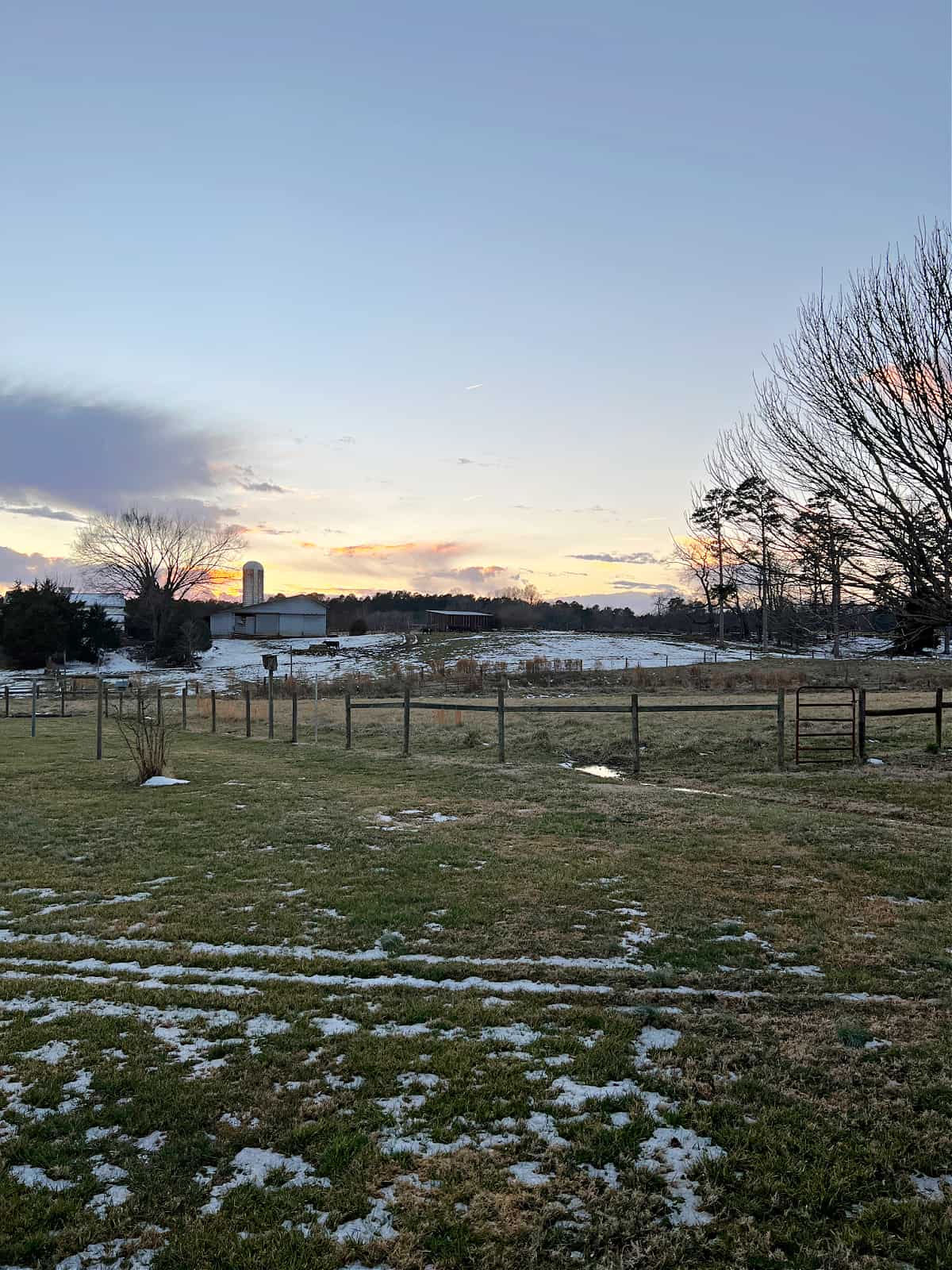 We also have a long, paved driveway with enough room for Minnie, our cargo trailer conversion, and our new trailer.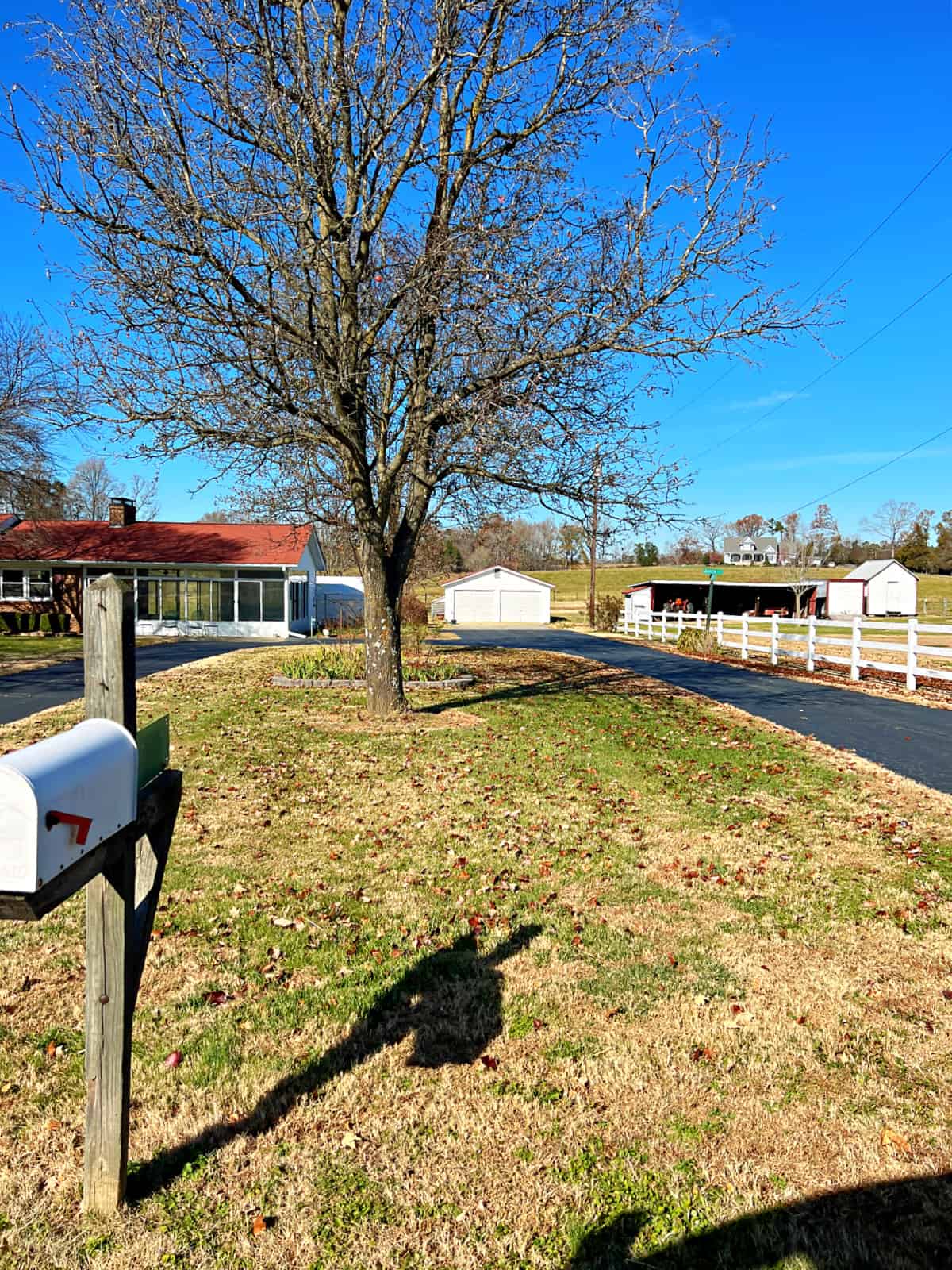 It's really perfect for our needs and we're looking forward to spring so we can get out there and really use it.
So that's a complete tour of Chocolate Creek Cottage. As you can see we have a lot to do so I'll be sharing my projects for quite some time.
Actually I've already started my first project, painting the living room textured paneling. It was stained black and although I love me a dark and moody painted wall, it just didn't fit.
Let the projects begin!