Thanksgiving Craft with Indian Corn
This post may contain affiliate links, please see our policy for details.
A quick and simple Thanksgiving craft using mini Indian corn and raffia. So easy that you can do it in minutes.
'Tis the season for fun and fast fall and Thanksgiving crafts. I recently created an easy fall sign in just a few minutes and now I'm making Indian corn Thanksgiving decor even faster.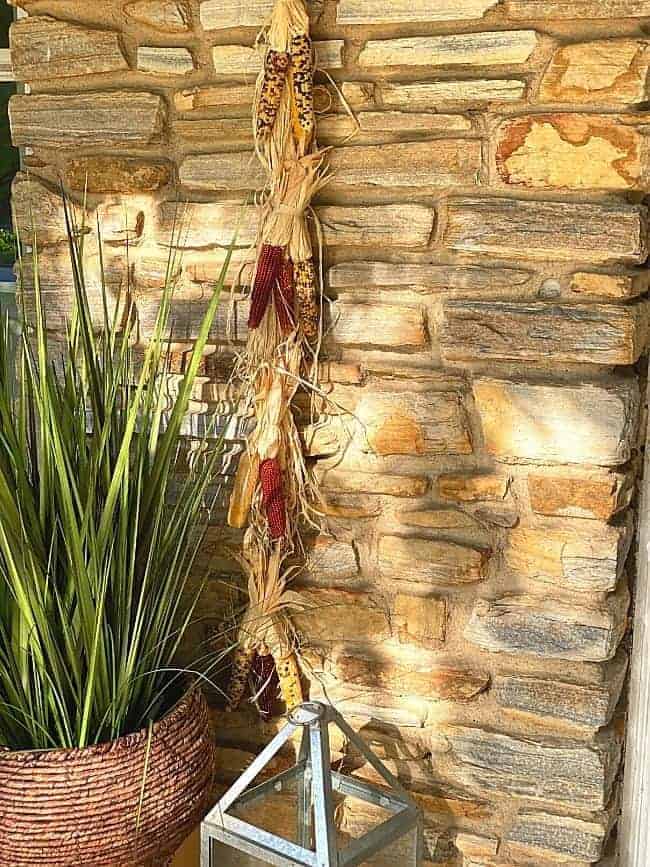 Before we get to this easy project, let's talk a bit about Indian corn (an often overlooked fall decoration).
How do you decorate Indian corn?
There are so many fun ways to decorate with Indian corn. Last year I created a DIY Indian corn wreath for our front door. It was a really easy project to do (I know…I say that a lot!), plus I love how big and bold it is. It certainly says "fall".
You could also make a simple, traditional door hanger with 3 Indian corn cobs tied together with raffia or string.
Can you save decorative Indian corn?
Yes!
I have had my Indian corn in storage for more than 2 years now without any issues. The leftover corn from my wreath project was carefully wrapped in newspaper and stored away in my craft cabinet.
The wreath itself is stored in our cool, dry basement when it's not hanging on the front door. I always cover it with a large plastic bag and hang it from the rafters. Of course if you tend to get little mice critters that come to visit, you may want to store your Indian corn in an airtight plastic bin (they can chew through a cardboard box).
How do you hang Indian corn on a door?
You can either try this simple craft, or you can make a wreath, like my DIY Indian corn wreath.
If you want to go an even easier route, and a bit more traditional, you can tie 3 corn cobs together by the husks with raffia, string or ribbon and hang it on your door.
Ok, let's move on to this simple Thanksgiving craft…
Supplies to make hanging Indian corn decor
small Indian corn cobs
raffia (60″ long lengths)
We all know how to hang Indian corn on our front door by tying the husks with raffia, but I'm going a bit further and hanging several Indian corn bundles on long lengths of raffia. It's perfect to hang on your front door, or in my case on the stone wall next to my front door.
It would also be a unique way to dress up the center of your Thanksgiving table as a table runner.
Creating our hanging Indian corn decor
Don't blink because you may miss out on how I made this. Seriously, it's that easy and it can be done in 5 minutes.
First I unwrapped all of the mini Indian corn cobs and unpacked the raffia. I bought a package that has long lengths so that I could hang my trios of corn down the length of the raffia bunch.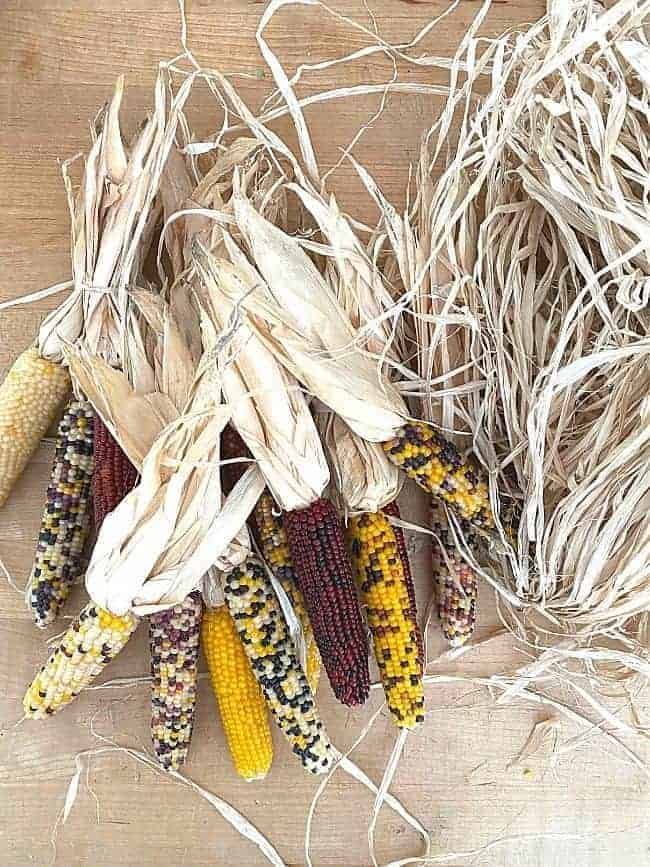 Next I pulled out a piece of the raffia from the bunch and tied it around the husks of 3 mini corn cobs.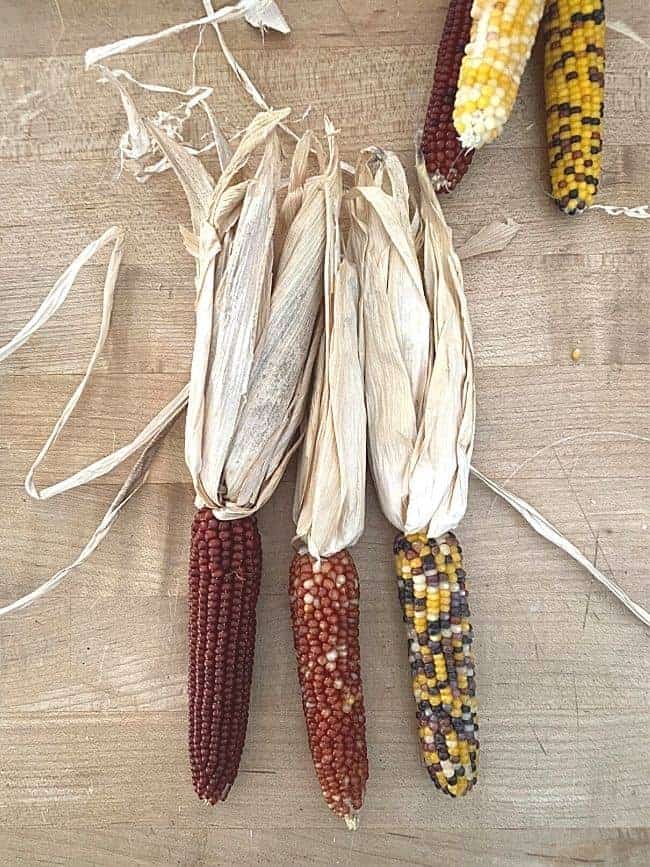 Make sure you tie it tight, in a knot, but don't break the ends, you will need them to tie the corn trios to the raffia.
When you have several trios tied up (I made 4), you can start tying them to your long lengths of raffia.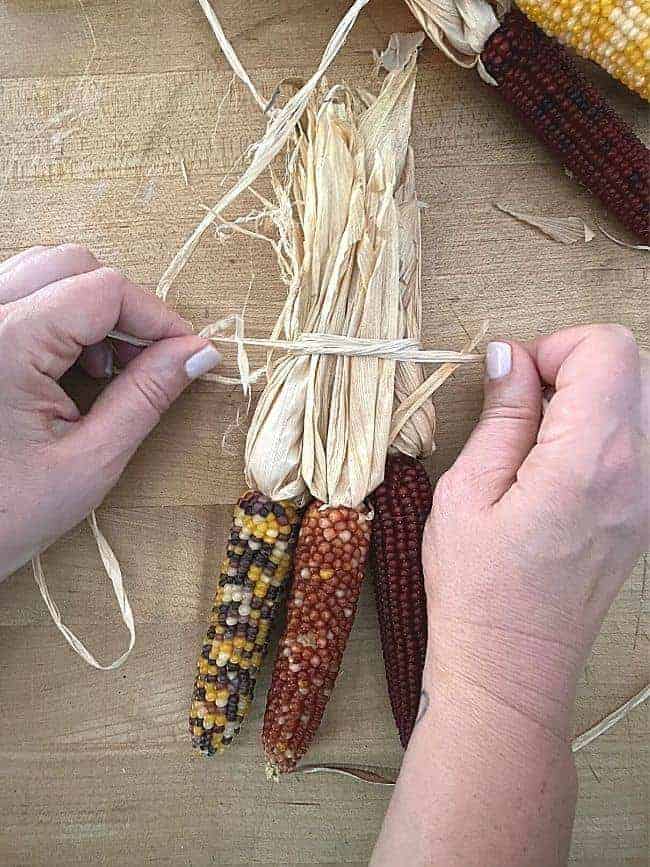 Before I started tying the trios of corn to the raffia, I made an open knot in the top so that I could hang it up. I just used a piece of the raffia to tie the knot and all the pieces together.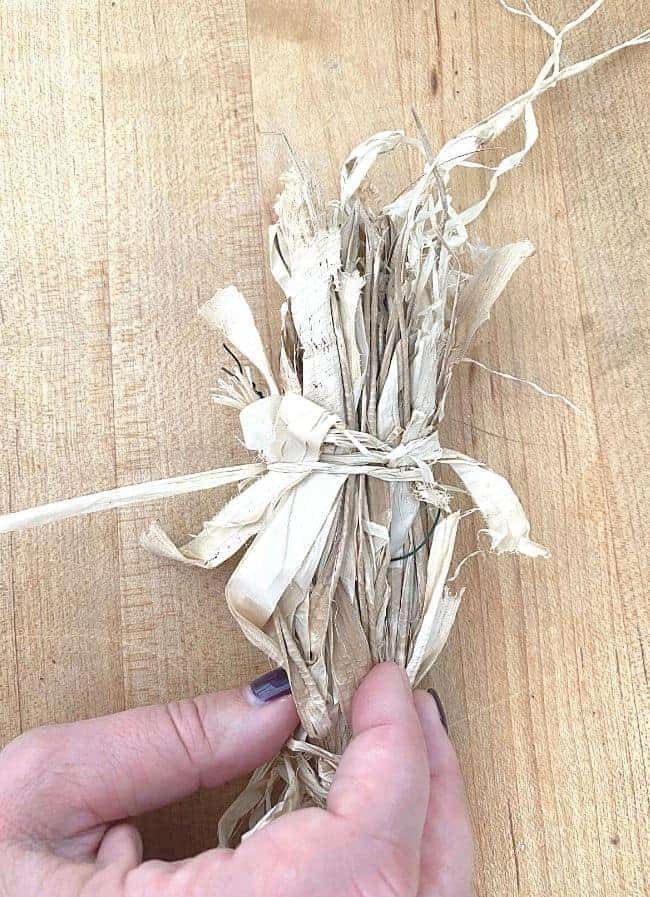 For a bit of added security I also threaded a piece of floral wire through the raffia knot just in case.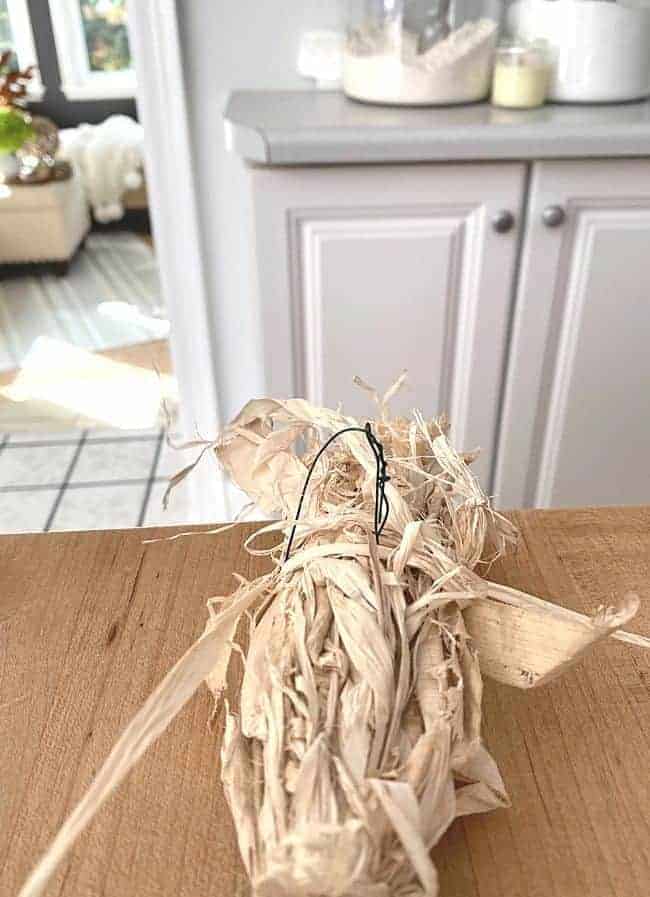 Next I laid the length of raffia (the whole bunch) on my kitchen island and tied each corn bundle so that the tips of the corn cobs in one bunch was touching the tops of the husks of the next bunch.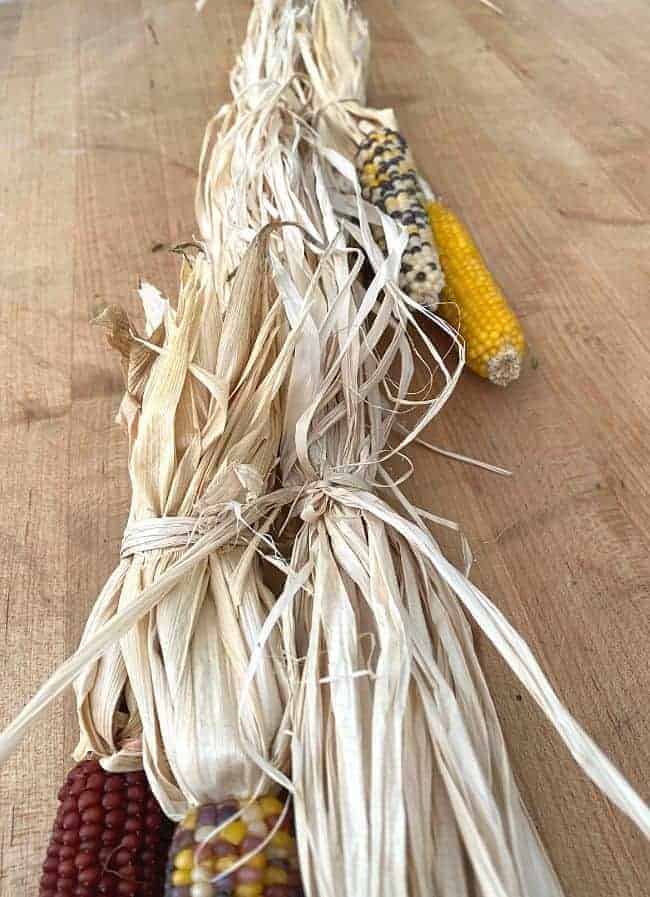 When all 4 bunches were tied on to the raffia I took it outside and hung it next to my front door. My Indian corn wreath is currently on the door so this is a nice accent.
Of course you could always hang it right on your door instead of a wreath, or use it as a table runner.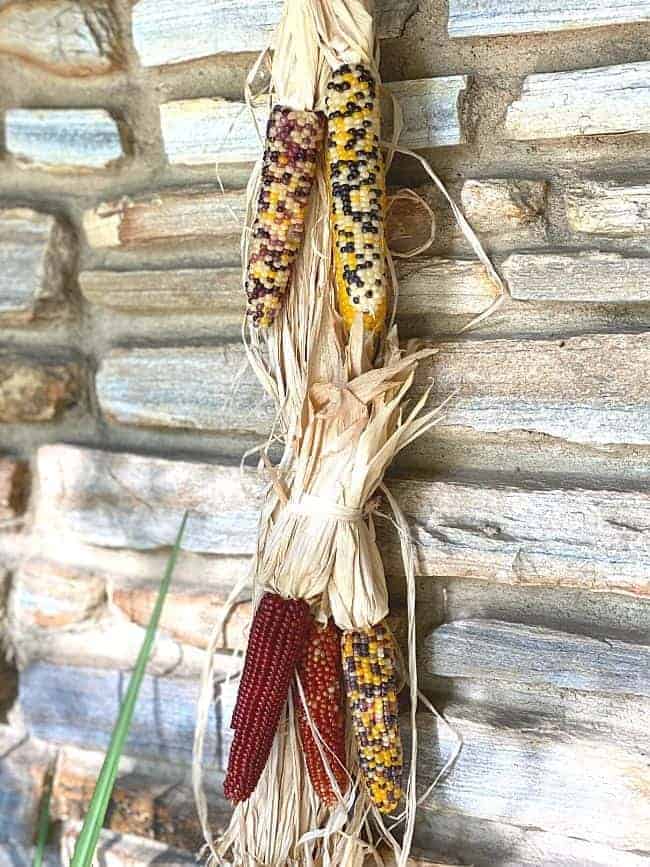 That's it!
Like I said, so easy to do and now I have some unique Thanksgiving decor that I can use for several seasons to come.
Maybe I need to name my new creation…mini Indian corn raffia hanger thing-a-ma-jiggy?
Yes…perfect!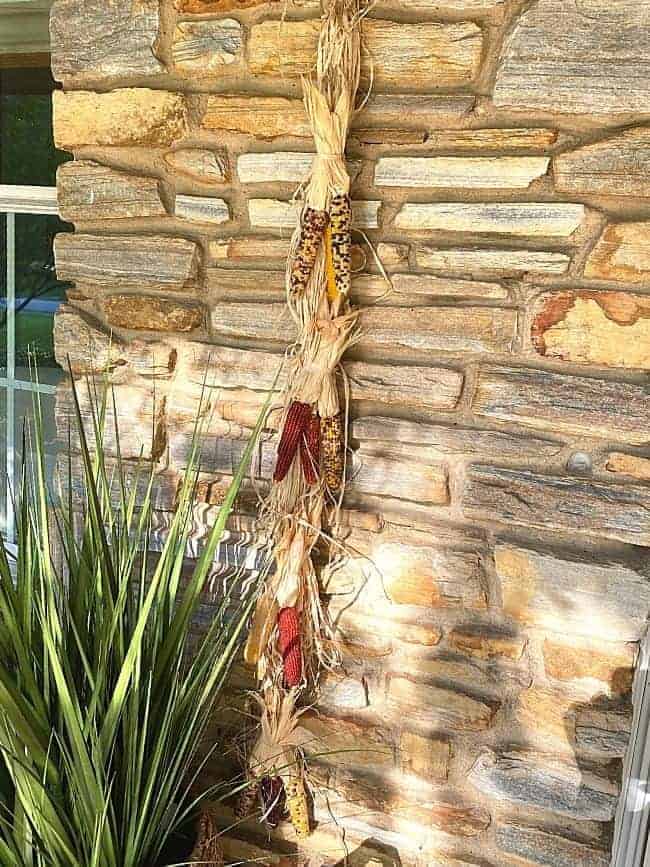 Check out more of my fall craft ideas…