The Best Ever Deviled Eggs
*As an Amazon Associate and member of other affiliate programs, I earn from qualifying purchases.
The best ever deviled eggs recipe made with sweet pickles, bacon and easy-to-peel hard boiled eggs.
This is a favorite recipe of mine that I've been making for years for picnics, holidays or as a special treat for the hubs (just like the pickled eggs recipe that we've shared).
I know what you're thinking…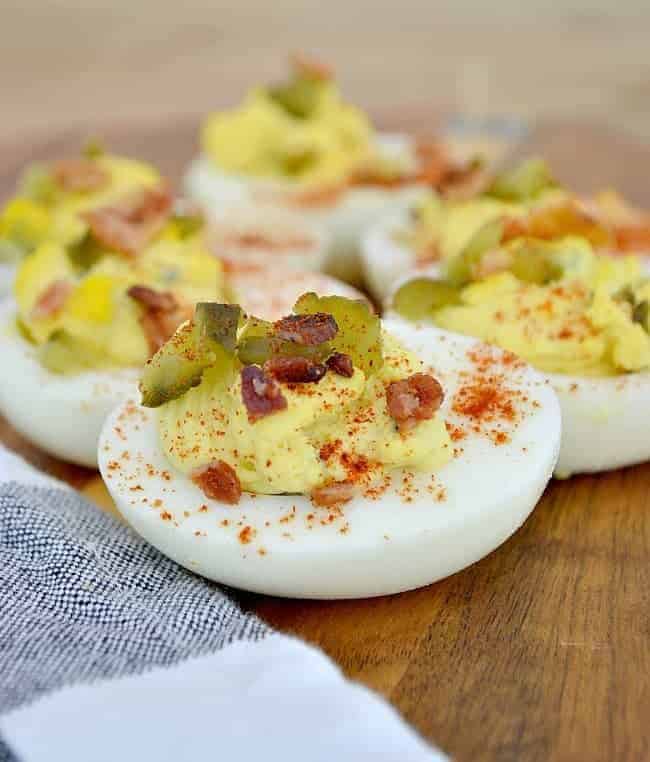 …best ever?…really?
The hubs says it's true so it must be…right? 😉
---
Anyway, I'm excited to announce that I'll be joining in on a new series with some of my favorite blogger friends.
It's all about recipes and each month we'll all be sharing our take on different themes. This month's theme is picnic recipes.
Are you ready to get cookin'?
---
In my book, you can't have a picnic without deviled eggs. They are, without a doubt, the perfect picnic food.
They're super easy to make, you can eat them with your hands and they're totally delicious.
This particular recipe is a group effort in our house. The hubs always makes the hard boiled eggs and I do the rest.
It seems like he's always trying to perfect his method but his current way seems to work quite well.
Perfect hard boiled eggs that are so easy to peel.
Perfect hard boiled eggs
Fill a large pot with water and add a half cup of salt (not for flavor but to help with the cooking process). Cover and bring to a boil
Once the water boils, quickly add your eggs and boil for 15 minutes.
Remove from heat, pour water out and peel eggs under a stream of cold water. Caution: the eggs are very hot but you must peel them while they're hot.
Voila! The perfect hard boiled egg!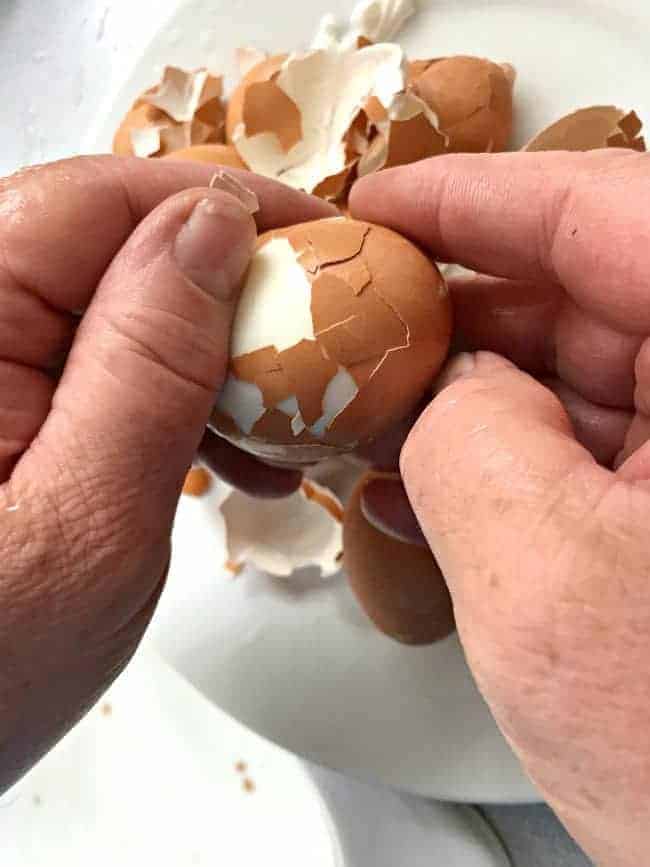 After your eggs are peeled it's a good idea to put them in the fridge to cool them off. This makes them easier to work with.
Once they're cool, we can start creating our delicious picnic treat. This is where the hubs hands the baton, errr…spatula, off to me.
I start by slicing the eggs in half and removing the yolks into a large mixing bowl.
Have you ever seen a dark ring around the yolk of the egg? That means it cooked a little too long. It doesn't look appetizing but it's totally harmless and still makes a delish deviled egg.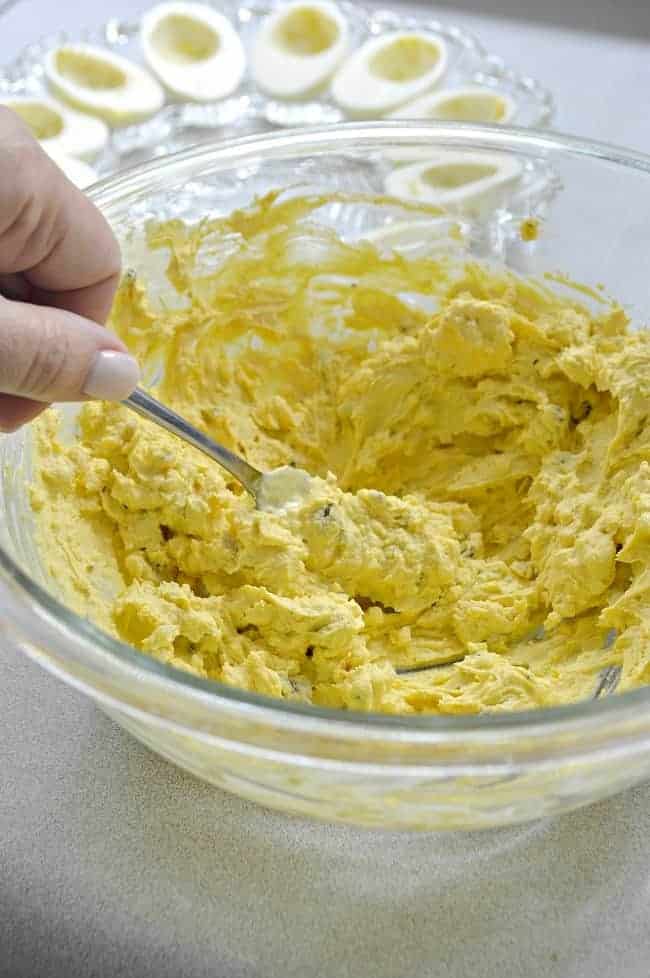 How to make the best ever deviled eggs
After all the yolks are removed I add all of my ingredients (mayonnaise, mustard, sweet pickles, salt and pepper).
Mash all the ingredients together with a fork
Spoon mixture into a baggie and cut off one corner
Pipe mixture into egg halves
Garnish with a sprinkling of sweet pickle, bacon and paprika
Enjoy!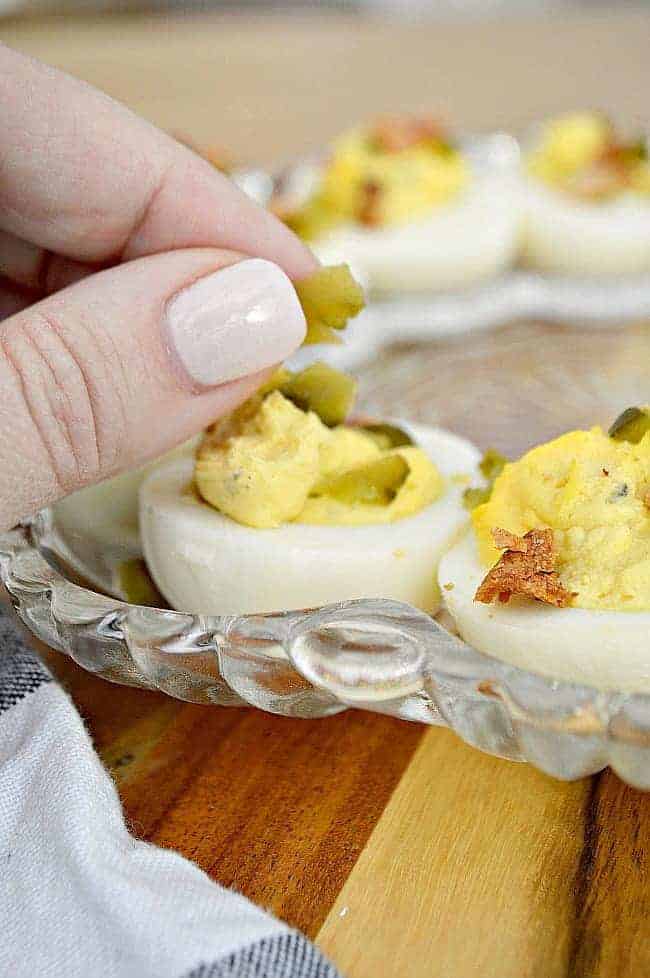 These definitely are the perfect picnic treat but we also love them during the holidays and they're always a hit at parties.
The recipe card is at the bottom of the post, and don't forget to pin the post for later.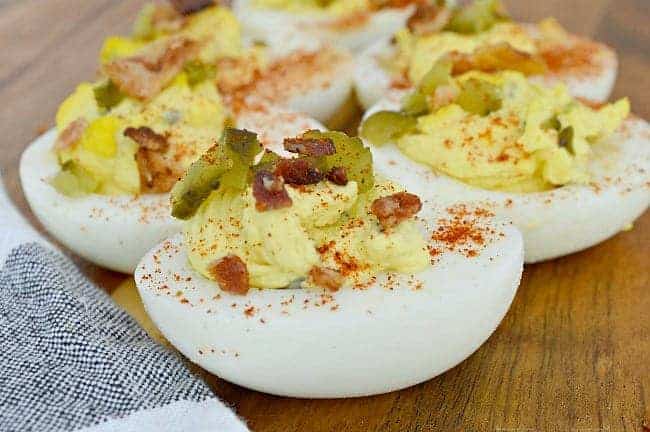 So tell me, what's your trick for making the perfect hard boiled egg?
Don't forget to check out the rest of The Cooking Housewives and their picnic recipes.
Maybe you'll find that perfect one for your next get-together.