A Navy Blue Dining Room with Benjamin Moore Hale Navy
*As an Amazon Associate and member of other affiliate programs, I earn from qualifying purchases.
Bringing drama into your home by creating a navy blue dining room with Benjamin Moore Hale Navy and textural elements.
Moving into a new home brings on lots of new challenges. When it comes time to start decorating one of the first things to consider is paint color for the walls.
I usually go neutral with a light gray or greige paint color but our small dining room, or dining area, called for something bolder.
Could I get away with a navy blue paint color? Maybe an old favorite…Benjamin Moore Hale Navy?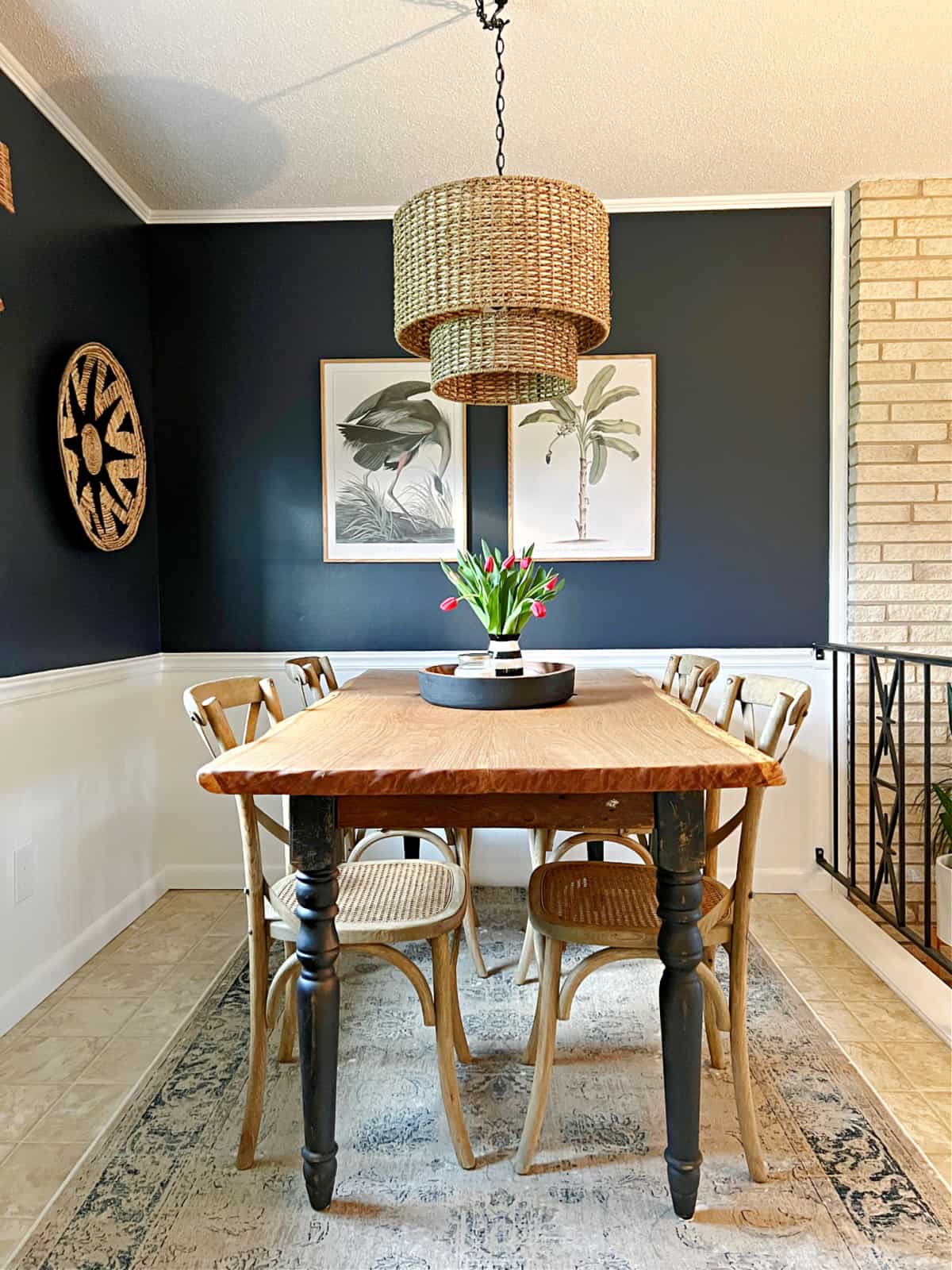 Is blue a good paint color for a dining room?
My short answer to this question is…why not?
I don't look at paint color as right or wrong or good or bad, I look at it by asking myself how it will make me feel.
Will I love it for the long haul? Will it go with the decor in the rest of the house? Will I enjoy being it that space with the walls painted my color of choice?
If the answer is yes to all of those questions, then I go for it.
I mean, it's just paint, right?
If you don't like it you can paint over it.
Creating a dining room/dining nook
When we moved into Chocolate Creek Cottage it was difficult trying to figure out what some of the spaces were used for previously.
Remember I talked about using rooms to suit your needs instead of using them the way they are "labeled"?
Well, we had a lot of that in this house. There is a room in the front of the house that could have been used as a dining room but we didn't need a big, formal space.
Instead we turned a weird little nook off the kitchen into our dining room and it turned into a perfectly cozy spot to gather for meals.
So what can we fit into our dining room nook?
Nothing fancy. Just a table and four chairs are about it.
To add a little personality to a space that could get boring really quickly, I decided to go bold on the walls with a beautiful navy blue paint.
Was I afraid that it would be too dark?
Not in this particular space.
The dining area is open to the living room and kitchen so there's only two walls.
Plus the previous owner added bead board to the lower half of both walls, which would be painted white, so the navy would only be on the upper half of two walls.
That, plus the fact that there was a window in this small space, gave me the confidence to move forward with the navy.
A couple of design hurdles to tackle
With the room function established and the paint color picked out, it was time to tackle some of the odd design issues in this space.
The first one was the off-center, builder-grade light.
I decided to fix that with a new light fixture, with lots of texture, and a little bit of swag action (more on that in another post).
The second issue was an ugly breaker box in the middle of the wall.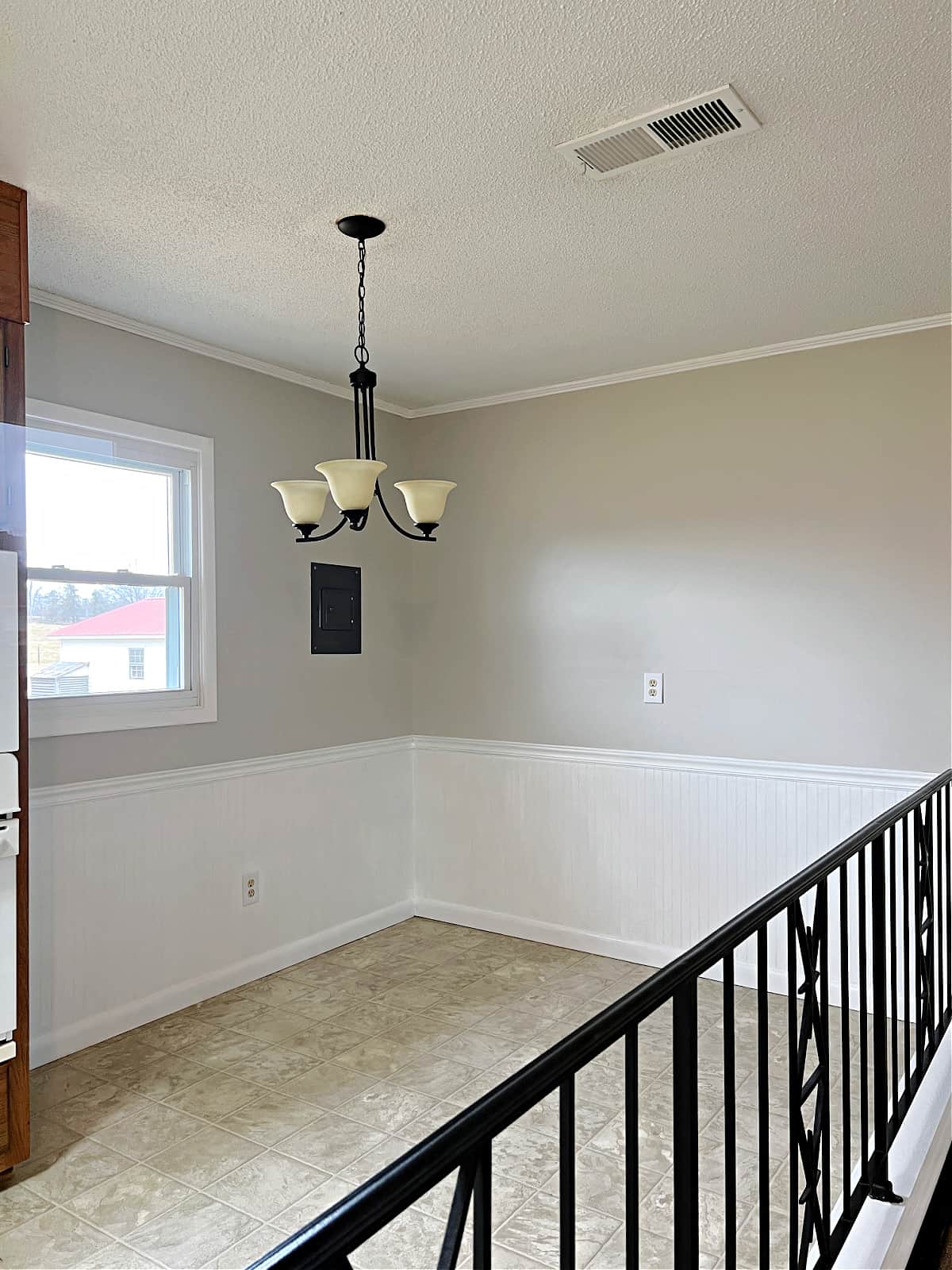 It took me a while to figure this one out but I solved this issue by painting the cover of the box in the same navy and hanging a lightweight basket over it to further conceal it.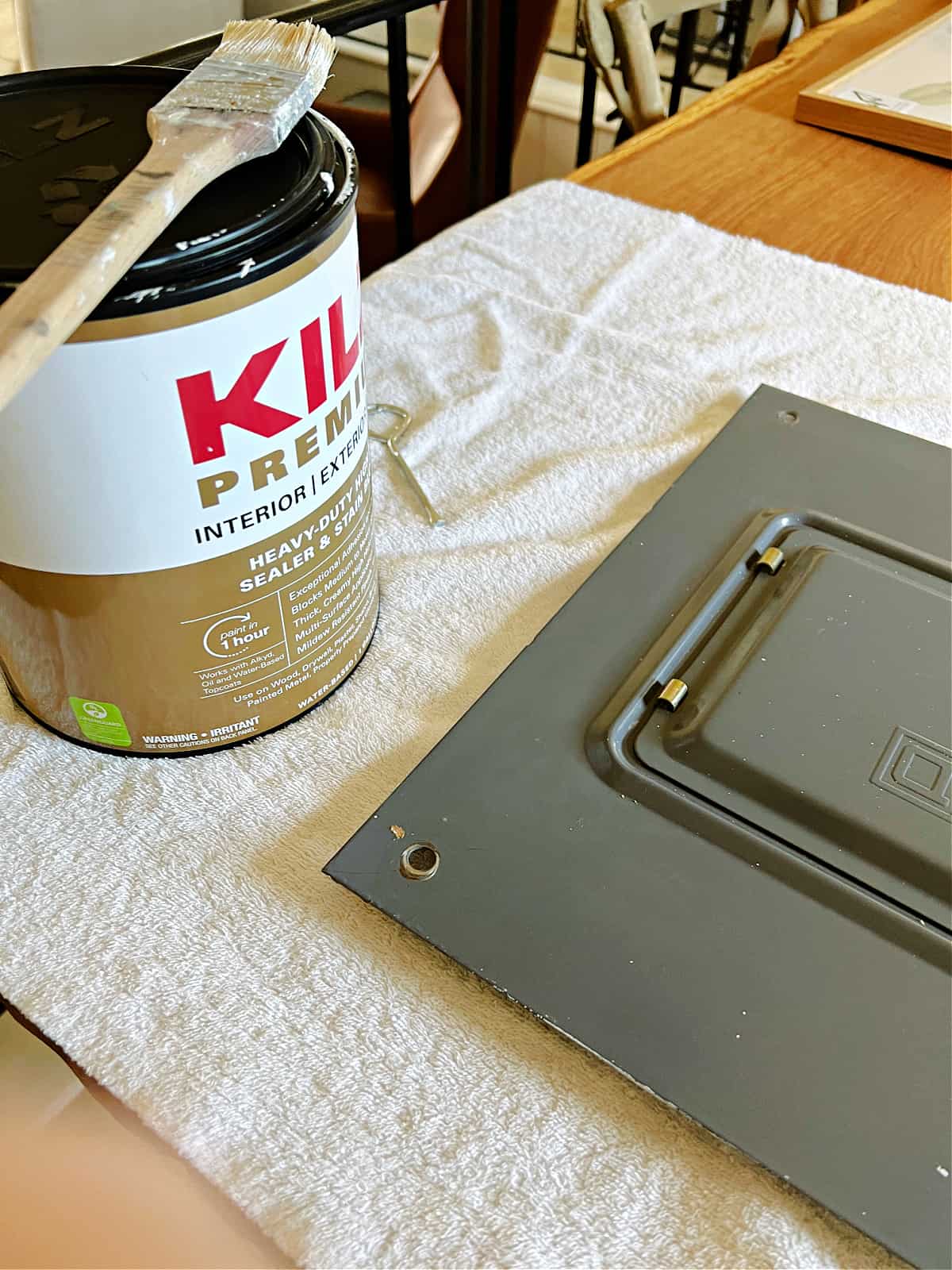 The third issue was an off-center wall outlet in a very conspicuous spot.
This one was the easiest fix with a wall outlet cover made especially to cover an unsightly outlet (more on this in a later post).
How to customize a dining room with paint
Now that all of the issues were figured out I started the caulking, priming and painting process.
The trim and beadboard were caulked and painted in the same white.
Next the navy paint went up. I knew with the first coat that it was the right choice.
It looked sharp with the white on the trim and the white stone on the fireplace.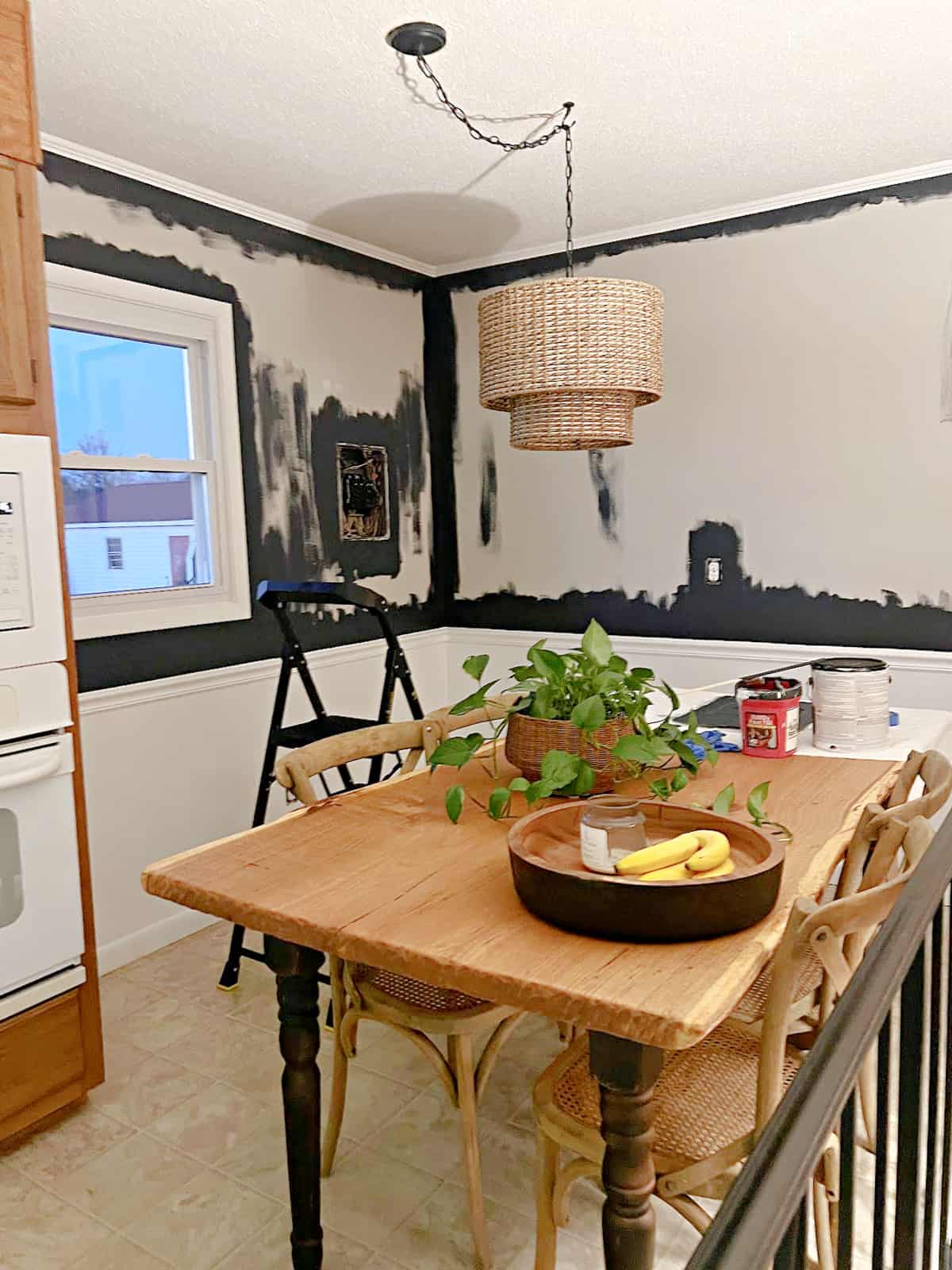 Navy blue dining room finishing touches
With the painting done and the 3 major issues addressed, all that was left to do was to put the room together.
I hung a woven shade on the window for some interest, laid a rug for a bit of color and moved in my table a chairs.
The last items were a couple of prints on the wall.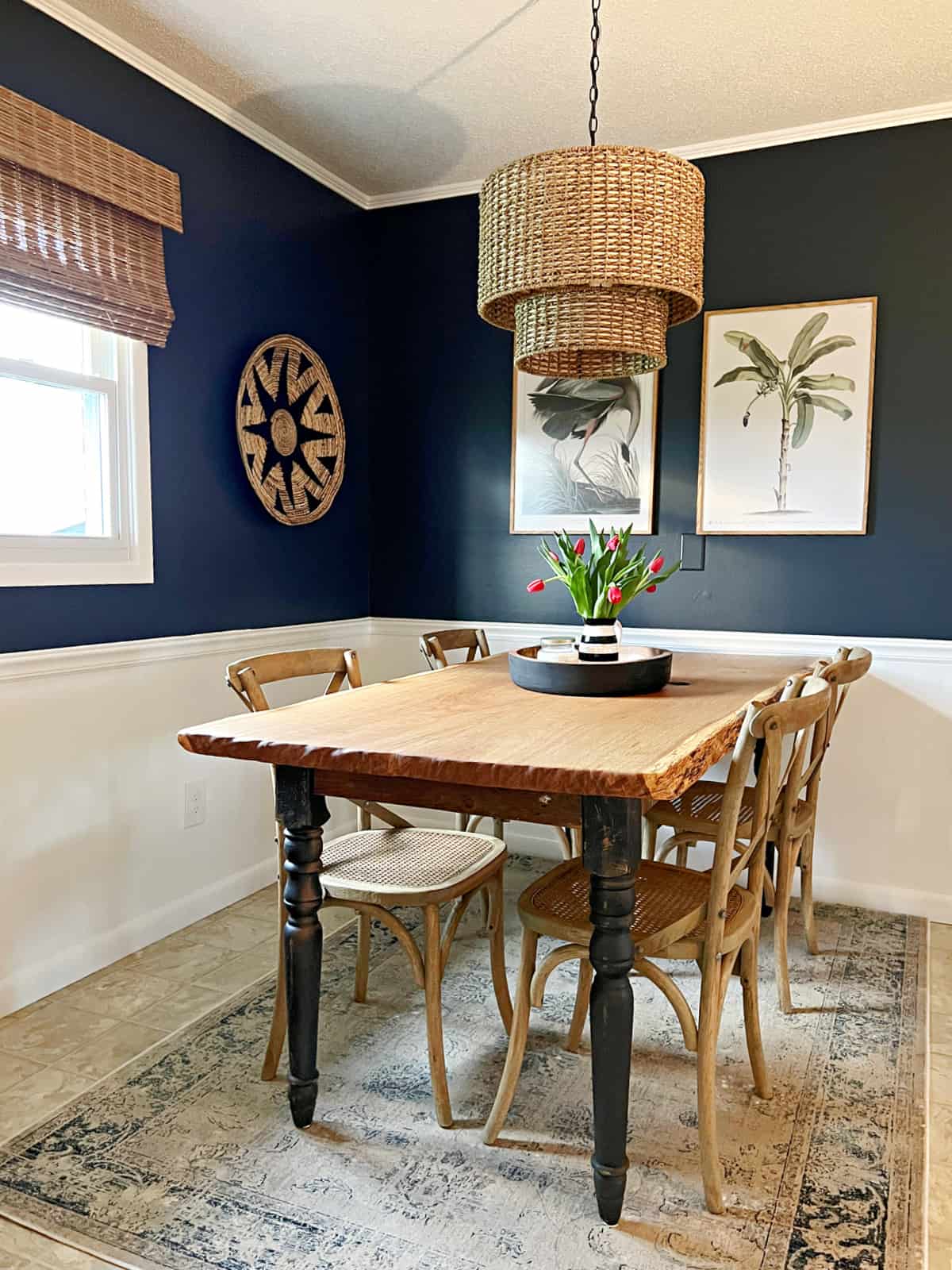 It's the first time I've painted walls in my house a navy blue and I'm sure it won't be the last.
I love how they turned out. It was the perfect choice for our odd little dining room space.
We still have some projects in this space to tackle, like the linoleum flooring and the popcorn ceiling, but this is enough to hold me over for the time being.
Would you ever use navy blue paint in your dining room?
Want to try Benjamin Moore Hale Navy in your home?
You can easily sample BM Hale Navy or any other paint color you choose in your own home using Samplize.
Just go to Samplize.com and pick out the paint colors that you want to sample in your home.
Each re-positionable paint sample only costs $5.95, which is very reasonable, and you can move it around your room to test it in different light. So much easier than buying paint samples and painting it on poster board.
Check out more paint posts